Posted by

Todd Thomasson on Feb 28, 2023 9:48:11 AM
One of the common gripes that we hear from homeowners is that they feel they have a "boring backyard." In fact, this is one of the main catalysts for going through a backyard renovation in Northern Virginia.

While people often say they love spending time outside, if they feel like their yard has very little to offer, they might be wondering how they can transform a boring backyard into something exciting.

There are a lot of ways to go about a boring backyard makeover, but we'll get you started with a variety of backyard transformation ideas.

At the end of the day, your own imagination and budget will dictate how far you want to go to transform a boring backyard into something exciting.
Backyard Transformation Ideas
The truth is, your backyard can be pretty much anything that you dream it to be (so long as it is within the confines of your budget, of course).

To get you dreaming, we're talking about an array of ways to transform a boring backyard.
Add a Patio as the Heart of your Space

Adding a patio automatically gives you enhanced functional space. Now you can have a place to sit and relax, dine, and incorporate other amenities.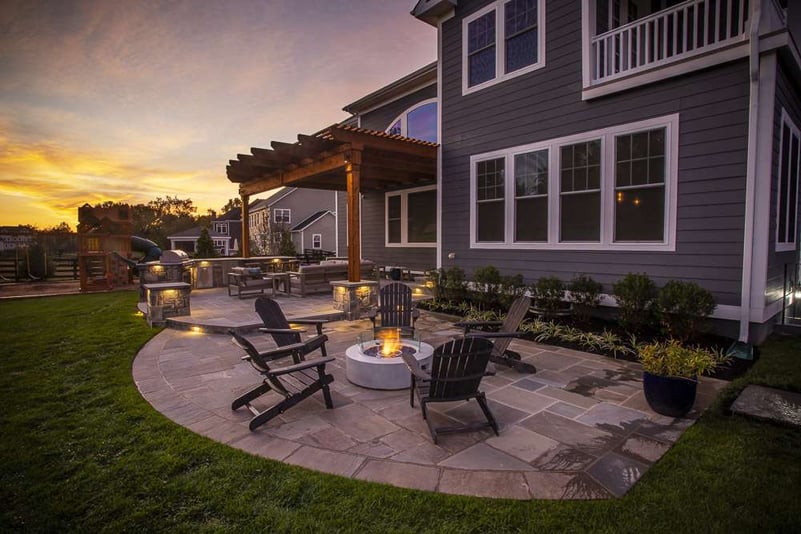 We often call a patio the "foundation" of an outdoor living space because it really does become the heart of the area. While you might add on various other amenities, it's that patio space that generally ties it all together.

A patio becomes a space where you can maximize time outside and begin making special memories with family and friends. If you're looking to transform a backyard, a patio is an excellent starting point.
Build a Deck
Adding a deck is another way to transform a boring backyard.

When it comes to making your outdoor space more usable and fun, a deck can be the perfect addition.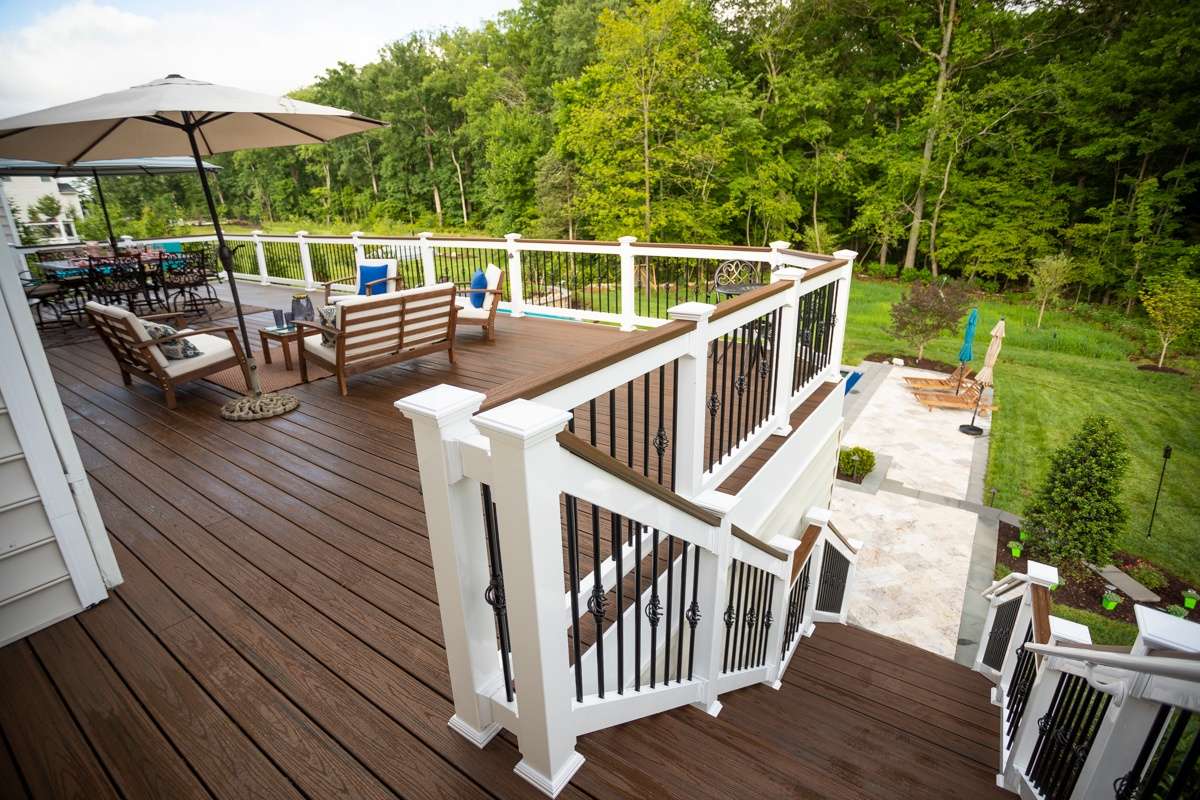 Decks help to create extended living space right off of your existing home. That means you can spend more time with your friends and family grilling up some food and dining al fresco, reading a book outside, watching the kids swim in a nearby pool, or just having a place to sit back and relax.
Incorporate an Outdoor Kitchen
Do you love having friends and family over to your home? If so, then you may love the idea of relaxing, eating, and spending time together outdoors. But if you don't have a space for this, that's a problem.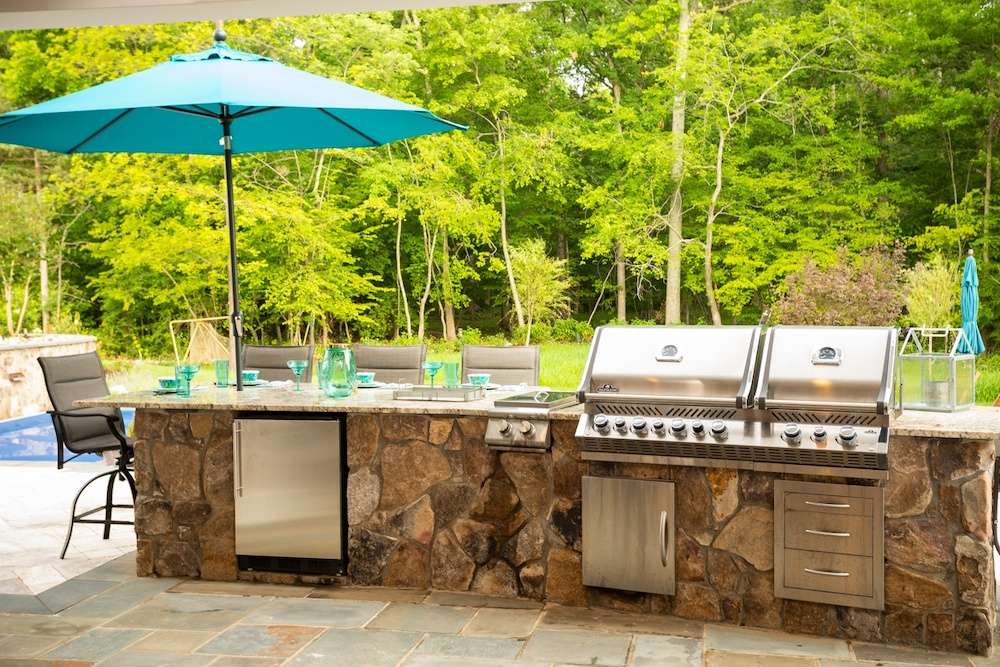 If you are looking to transform a boring backyard into something exciting then you might also want to consider an outdoor kitchen.

With an outdoor kitchen, you can cook and eat your meals outside. Today's outdoor kitchens can come with all the bells and whistles.

This might include a wraparound island, built-in grill, sink, dishwasher, refrigerator, ice maker, and more!
Cover Your Outdoor Space with a Pavilion
Adding covered space is a great way to get a boring backyard makeover. Suddenly you have a space that can defy the weather!

The addition of a pavilion truly makes your space feel like an outdoor room and gives you the amenities of the comforts of being inside while still enjoying the great outdoors. You can incorporate lounge seating, an outdoor fireplace, a dining area, and much more.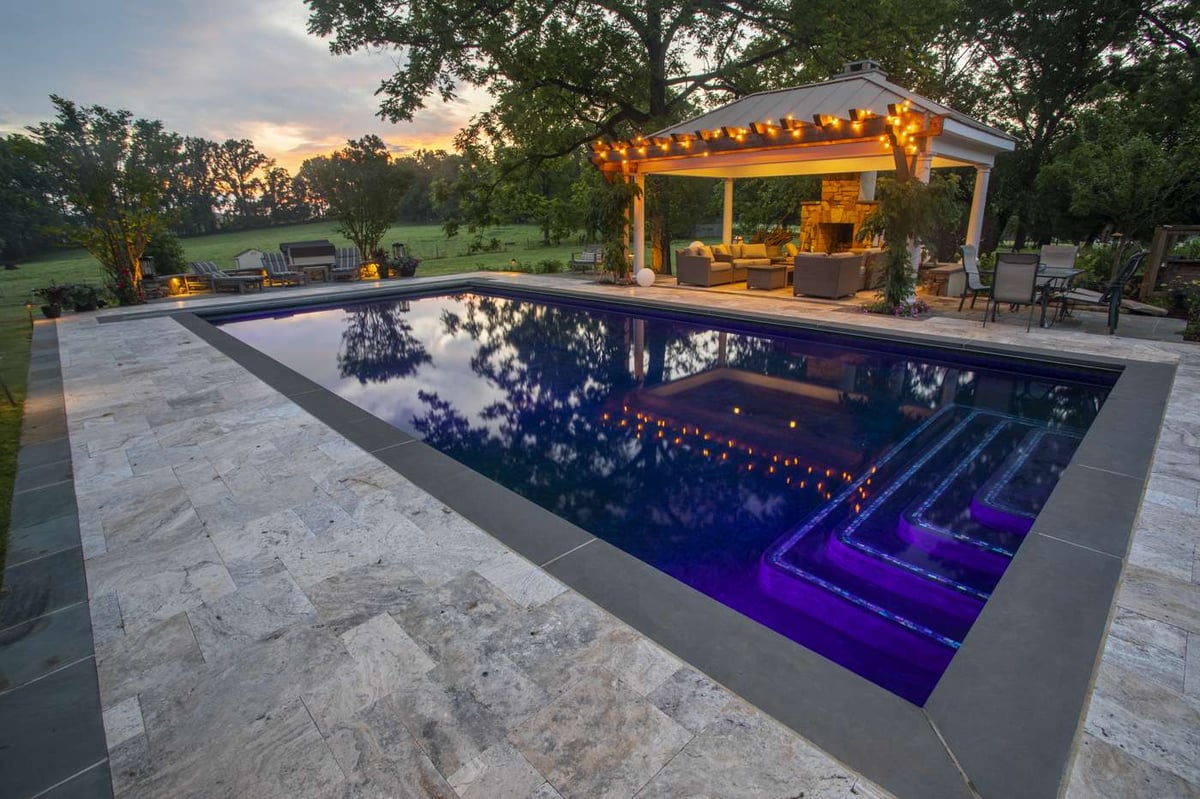 You can also incorporate television into your covered outdoor living space. Imagine being able to sit outside by the outdoor fireplace and watch the big game or even have some friends over to watch an outdoor movie.

Suddenly your backyard is anything but boring!
Light Up Your Outdoor Space with Landscape Lighting
An amazing backyard can still be boring if the fun has to end when the sun goes down. That's why lighting up your backyard with landscape lighting will allow you to keep the fun going day or night.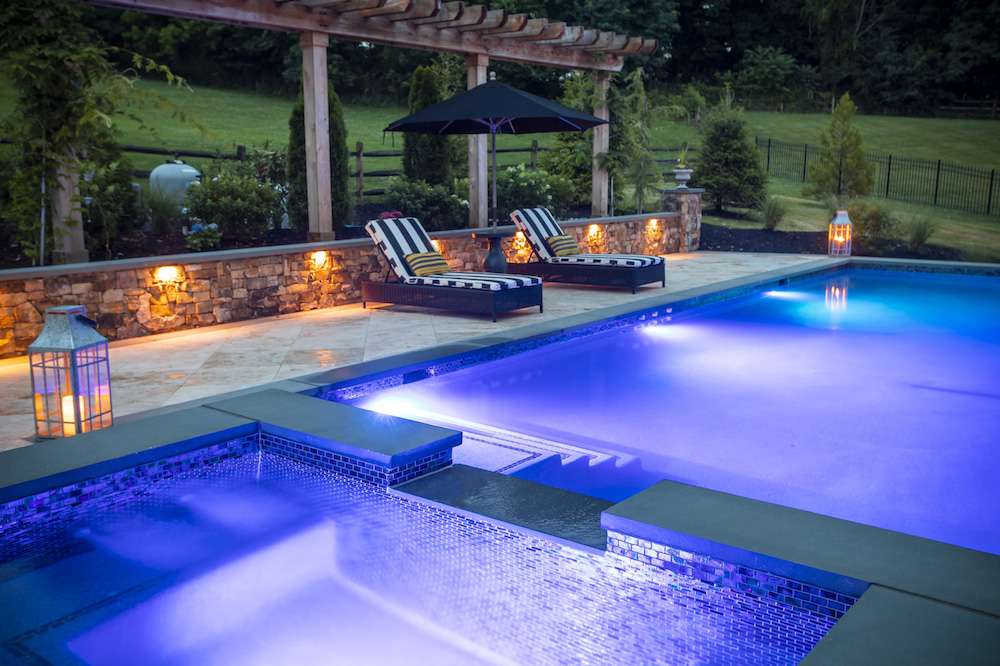 Light is such an important functional addition to an outdoor living area that it simply cannot be ignored. It's literally the difference between a space that is usable in the evening hours or one that is left in the dark.
Add a Fire Feature
Incorporating an outdoor fireplace or fire pit is another great way to transform a boring backyard. Imagine sitting on your patio and having the roar of a fire burning next to you. It's definitely a feature that takes your space to another level.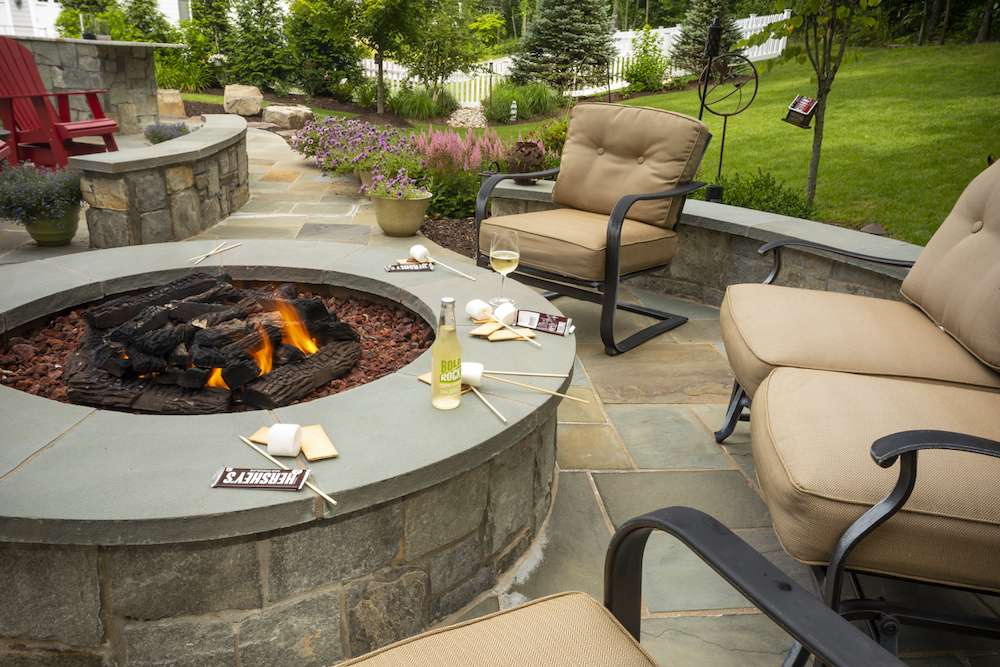 Fire features add light, heat, and ambiance to your outdoor space.

They typically become a gathering spot where people hang out. As a result, you'll naturally find that you're spending a lot more time outside.
Mix in Recreation Spaces
You might also be looking for areas where you can just hang out and play lawn games and socialize. This might include a cornhole area, volleyball pit, horseshoe pits, or even a kid's play area.

We have also installed bocce courts for homeowners.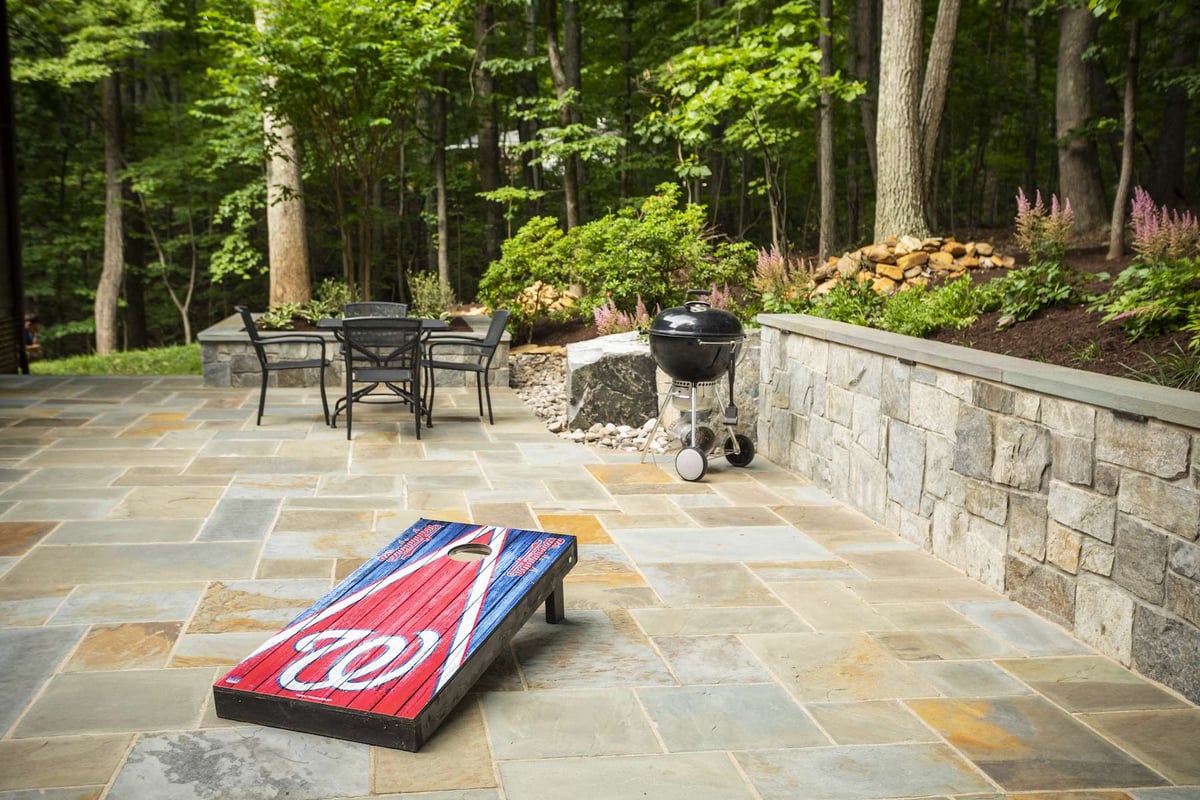 A big backyard opens up the possibility for a variety of recreation spaces that will give you more things to do when you have friends and family over to visit. These types of spaces can absolutely be an important part of a boring backyard makeover.

Suddenly your yard is anything but boring!
The Ultimate Addition: A Swimming Pool
Of course, in talking about a boring backyard makeover we can't overlook one of the most exciting additions…a swimming pool.
Even if you have an existing pool, if it's old and outdated, you might not be getting nearly as much use out of it as you desire. Today's swimming pools have come so far with more exciting features than ever before.

There are also numerous swimming pool features that can make an ordinary pool extraordinary. Add-ons like tanning ledges, water features, lights, spillover spas, and more can make a world of difference in how much you use and enjoy your pool.
Getting Started on Your Backyard Renovation in Northern Virginia
Are you ready to transform your space from "so-so" to spectacular? The key is to find a contractor who is experienced with designing and building these types of larger projects. After all, an outdoor living area is no small expense…and you want to be sure it's done right.

This can be achieved by choosing the best company for the job. By finding a company that has the experience and the skill to build a project like this, you can feel confident that mistakes will be avoided and that your space will come together in a way that you'll fully enjoy.
Once it does, you'll find that your backyard is now anything but boring. In fact, your younger kids now want to invite their friends over to your house all of the time rather than leave. You'll find that your grown children are suddenly coming back home to spend more time with you. Or you'll find that your friends suddenly view your house as the best for entertainment and love coming over to hang out.

The point is, regardless of what your specific goals were, by creating a spectacular backyard you are now getting prolonged use out of the space. But even more important, you're spending time together. By bringing people together with activities to enjoy doing collectively, you are creating memories—and that's priceless.

Are you ready to get started on the outdoor living space of your dreams at your Haymarket, Gainesville, or Purcellville, VA home? If so, talk to an expert, choose a solution that rocks, and get ready to see your dreams begin to take shape!