LANDSCAPE LIGHTING SERVICES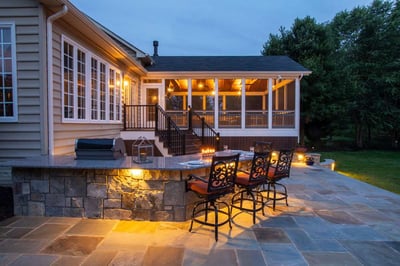 Landscape lighting is a great addition to your home's landscape design not just for its aesthetic benefits, but also ensuring that you get the most functional usage out of your outdoor living areas.
Here at Rock Water Farm Landscapes & Hardscapes, we've been illuminating properties for increased beauty and usability since 2005. Our landscape designers work with both existing properties that need improvement as well as adding landscape lighting into new projects.
Landscape Lighting Ideas
There are many ways that landscape lighting can enhance your home in Ashburn, Aldie, Leesburg, VA and surrounding areas. Some of these techniques are:
Accent Lighting:

These landscape lighting techniques can be used to aim light up into trees or onto specific architectural elements of your structure, or also be aimed down to create a soft glow onto surfaces. Multiple lights are used to define unique textures vs. the flat appearance of one light fixture.
Wall Lighting:

Landscape lighting can be installed within decorative and retaining walls to highlight their beauty at night as well as direct guests to the tops of walls used for seating.
Step Lighting:

Small lighting fixtures can be installed on the risers of stone steps to increase safety during their use in nighttime hours.
Path Lighting:

Whether a walkway in the front or backyard of your home, landscape lighting can create a warm glow leading property visitors to areas on your property.
Security Lighting:

Landscape lighting will deter intruders by reducing dark corners where it is easier for them to hide and/or look for common break-in points.
Outdoor Kitchen, Pergola or Pavilion Lighting:

Outdoor living enhancements such as these can have small fixtures installed in them to make their areas more usable.
Professional Landscape Lighting Design & Installation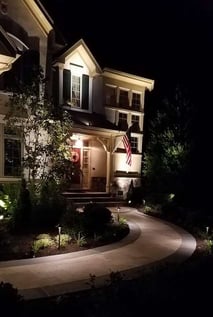 Our landscape lighting designers will meet with you to learn your lighting needs and establish a budget for your project. They will discuss your options for lighting fixtures to find the right solution for your property.
All of the landscape lighting fixtures we install are professional grade products, not found in your local home improvement stores. The fixtures are built to withstand the pressures of an outdoor environment and will be durable enough to last for many decades. All lighting is also fitted with LED bulbs which will last longer and use 80% less electricity than traditional incandescent bulbs.
We would love to talk to you about how landscape lighting can enhance your property. Feel free to check out pictures of landscape lighting projects we've completed and contact us for a free consultation.