POOL DESIGN & LANDSCAPING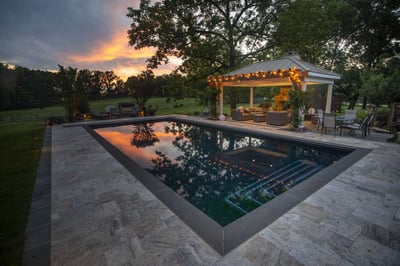 Beat the summer heat with a beautiful aquatic oasis right in your backyard. Have a place where your family can relax, you can host fun pool parties and get exercise swimming in a custom pool.
Rock Water Farm Landscapes & Hardscapes has been one of the premier pool builders in Loudoun County, Virginia since 2005.
Our expert team of pool designers and construction team has created one-of-a-kind swimming pools and spas for both existing homes and new construction for Ashburn, Aldie, Leesburg, VA and surrounding area residents.
Pool Design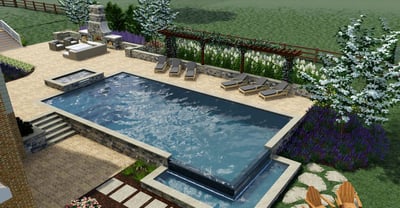 As both pool builders and landscape designers, we understand that building a pool on your property can be a big undertaking. Our design experts will meet with you to learn your preferences, show you examples of pool styles and help you establish a budget for your project.
We'll attend to every detail such as: permitting, surveying, pricing, automation, water quality, selection of materials, pool lighting, and more. Rest assured that every detail will be considered and discussed with you.
Landscape Design for Pool Areas
Most pool companies in Ashburn, Aldie and Leesburg, VA focus mainly on designing and building pools, not the areas that surround them. Many times, this means there are items surrounding the pool that are forgotten and can be a big impact on you getting the most out of enjoying your new outdoor living area.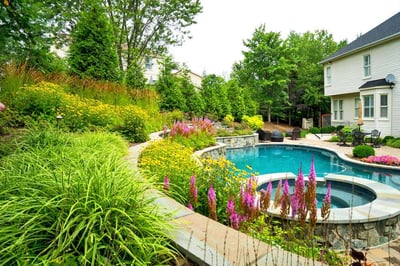 If your backyard is being completely torn up when installing a pool, it's a great time to also consider the areas that surround it.
Rock Water Farm's design team can help design the entire pool area for you, including items such as:
Natural stone pool patios and walkways cool to the touch

Pool houses, pavilions and pergolas for shade

Fencing, screens and hedges for privacy

Fire pits and outdoor fireplaces for warmth on cool nights

Outdoor kitchens for preparing pool party food and cocktails

Beautiful trees, shrubs, perennials and ornamental grasses

Sod installation for instant lawns
Getting Started with your Pool Company
We invite you to browse pictures of the pool areas we've designed and enhanced. Pool installation is a big decision, and we're ready to talk whenever you would like to ask questions or are ready to dive into the pool design process!