Posted by

Todd Thomasson on Jul 9, 2020 8:49:32 AM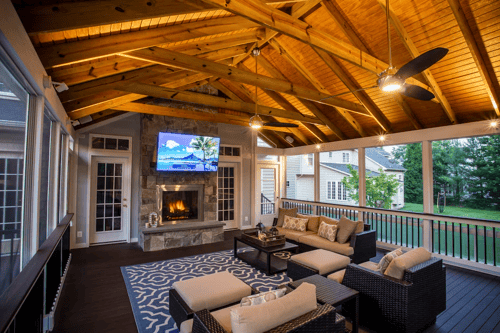 When it comes to making your outdoor space more usable, a deck can be the perfect addition. Decks help to create extended living space right off of your existing home. That means you can spend more time with your friends and family grilling up some food and and dining al fresco, reading a book outside, watching the kids swim in a nearby pool, or just having a place to sit back and relax.
Whether you want to add a second-story deck to an upper level or you're considering a ground-level deck, maybe in conjunction with some additional hardscape areas, you might have questions such as, how much does a deck cost?
We put together this article to provide you with some ideas of what might typically be included in a deck project as well as some information on how various features can impact deck prices in Ashburn, Aldie, and Leesburg, VA.
How Much Does a Deck Cost?
As you may have assumed, the number one factor that primarily drives deck cost is size. The bigger the deck, the more costly it will be. That is why it is difficult to give you an exact cost without knowing this information.

However, there are other factors that play into your deck cost that we'd also like to discuss.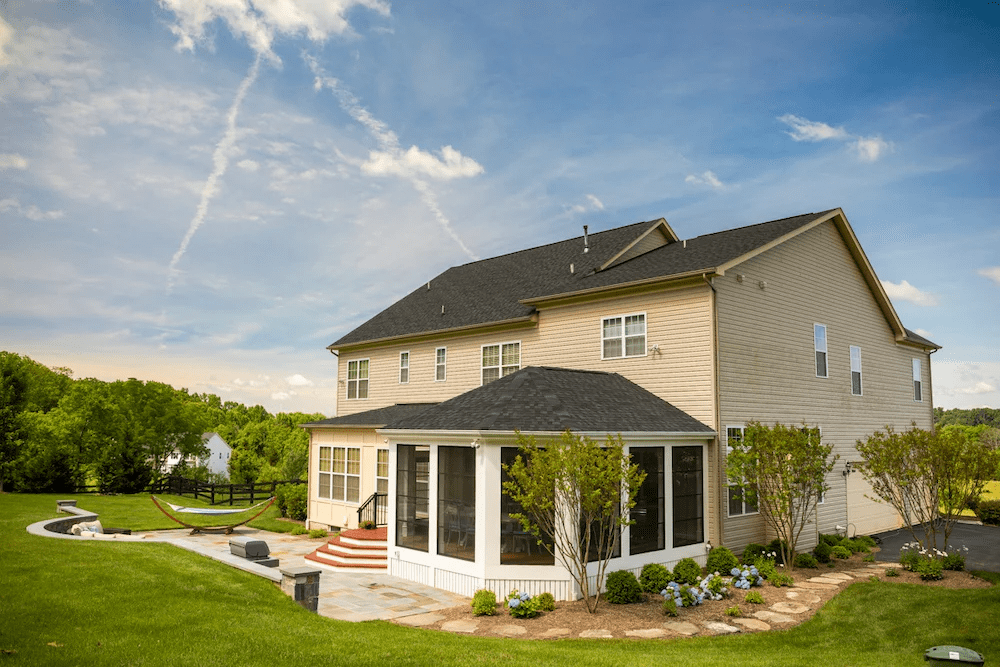 As with any project, the type and the number of features that you add to a deck are going to dramatically impact the deck cost. To have a starting point, it's safe to say that most of our decks start around $30,000 for the deck itself, without a lot of add-ons.
But it's also not unheard of for our clients to build a large deck with a number of features and approach the $100,000 range.
This does not include actually adding a hardscape patio, so the cost of the patio would be added to that.
A standard patio underneath of a deck is going to start around $20,000 and increase based on size as well. Anything from kitchens to fireplaces to other features on that patio will make the overall patio cost rise.
What Impacts Deck Cost?
One of the big factors that impacts cost is the material from which we build decks.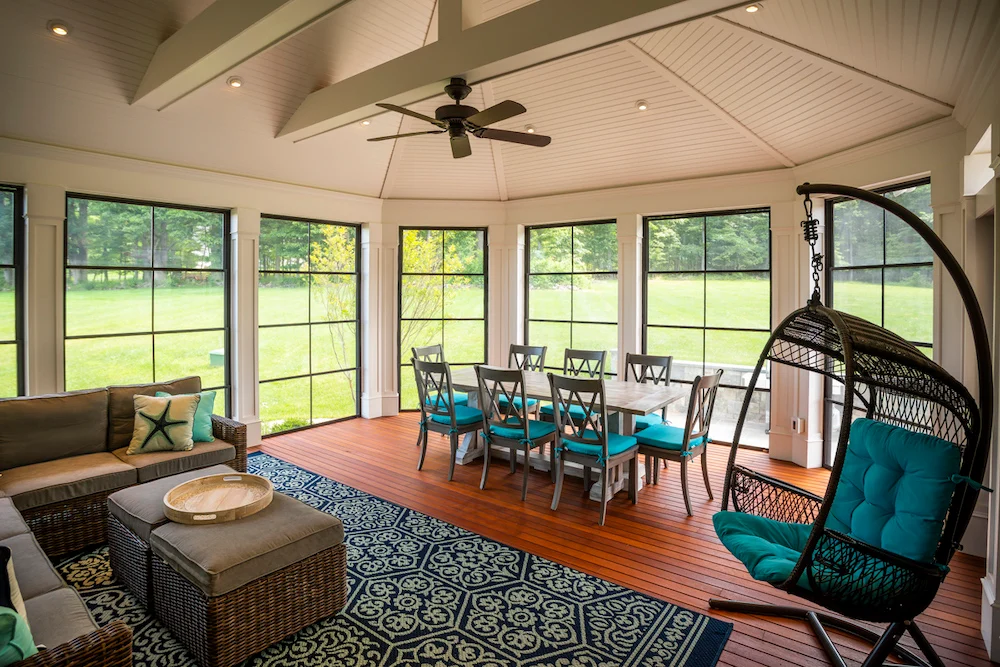 We want to be clear that Rock Water Farm does not build pressure-treated wooden decks, so the deck prices we've mentioned above are for a deck built from a low-maintenance wood alternative.
The superiority of new deck building materials is the reason why we will not work with pressure-treated lumber. Pressure-treated lumber will ultimately need ongoing maintenance or even replacement as time goes on. That means that while you might pay more for new decking material, it's also going to be longer lasting without the maintenance.
Consider some of these points.
The new decking materials won't succumb to rot or require regular and ongoing maintenance. In order to extend the life of a wood deck, homeowners generally have paint, stain, or seal the decking periodically. However, with wood alternative materials, like composite, decks need only be swept or washed occasionally to maintain the look.

Since wood decks can warp or are more likely to experience weather-damage and breakage, there's a safety factor, too. Even naturally occurring knots in the wood can compromise structural safety in a way that will not happen with a man-made product that is structurally engineered to be safer and sturdier.

Whereas wood can succumb to termite and boring-insect damage, this isn't a concern with composite or other new decking materials.

These new materials also do not splinter, which is particularly important when walking barefoot on the deck. Families with children or pets really appreciate this benefit.
What Features Impact
Deck Cost
?
As with a patio or hardscape area, it's ultimately the features that you add to your deck that make it special. A plain deck with no added features offers no entertainment value. But more importantly, it doesn't beckon for you to come outside and spend time there. If you're going to invest in adding a deck to your home, you want to be inspired to spend time there.
Let's look at some of the most popular deck features.
Adding a Roof
One of the most popular features that homeowners are interested in is a roof, or what we might also call a "porch area." Adding a roof to a deck is one of the best ways to extend the time you spend there. You can be outside even if it's raining. In fact, if you add some infrared heaters, you could be "outside" when it's snowing!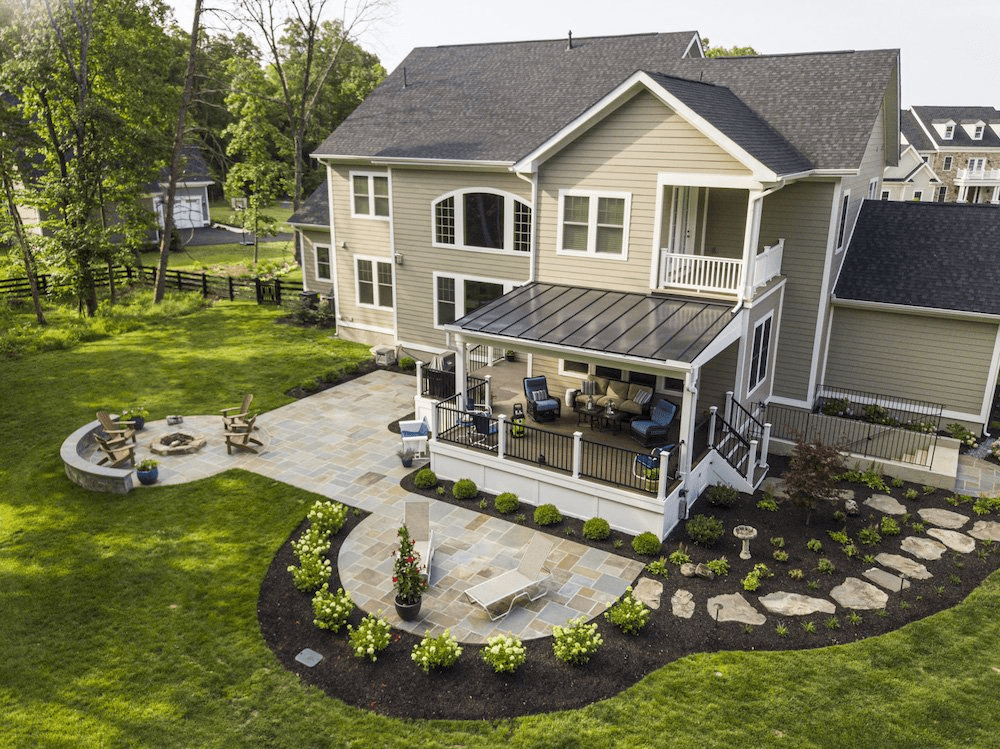 The deck cost with an included roof is usually $75,000 to $125,000 and can go upwards from there.
Some of the add-ons that can impact pricing even further are the following considerations.
Is it open or screened in?

Do you want motorized screens?

Are you installing infrared heaters?

Will it have windows?
Adding a Pavilion
Another way to get some covered space on your deck is to add a pavilion. Whereas adding a roof to your deck is attached to your home, a pavilion can be a free-standing structure.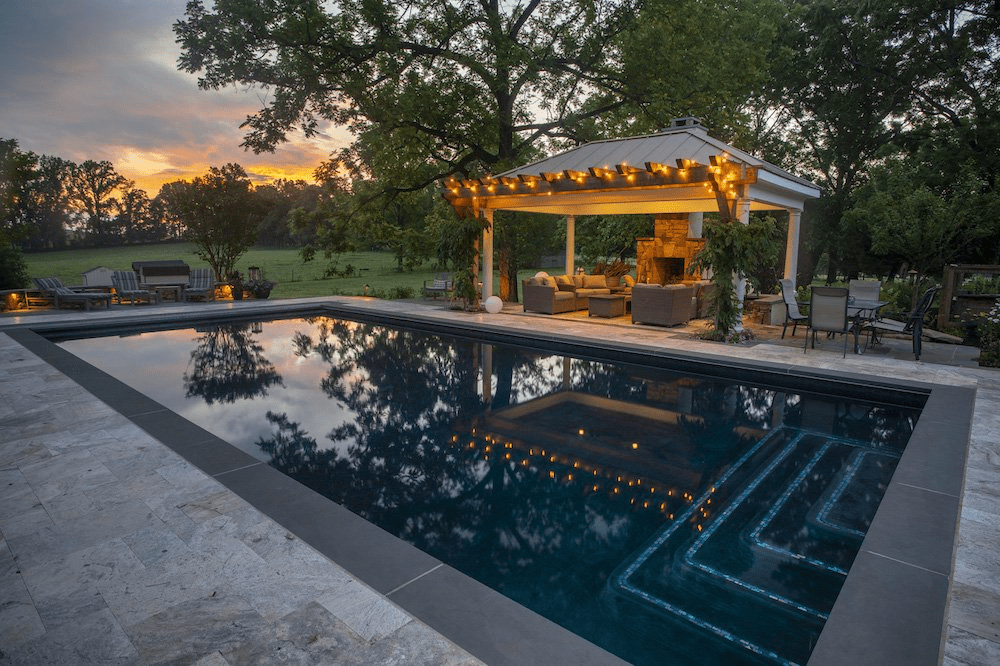 Pavilion costs usually start at $35,000 and can go upwards from there. A pavilion that also features infrared heaters, fiber optic ceilings, and more can be anywhere from $50,000 - $100,000 depending upon size, features, etc.
Adding a Pergola
A pergola can be another way to get some covered space on your deck, though it's not a complete cover in the same way that a roof or pavilion would be. People like pergolas for the openness of them—they do allow some filtered sunlight to come through. Many people also just like the aesthetic appeal of a pergola.
Pergolas start at $10,000 and can go to $35,000 or more, depending upon the size and features. These are not pergolas built from kits but rather custom-made, original pergolas constructed from high-quality materials.
Additional Deck Features
Though the structures we mentioned above are some of the most popular and therefore play a big role in deck cost, they aren't the only features you might consider. Here are some other deck features to consider.
Countertops with built-in grill

Fire features

Lighting

Ceiling fans

Step-down or step-up areas

Unique shapes and deck bump-outs
All of these different features are obviously going to have a direct impact on the deck cost, but they can also take your space to a whole new level. A lot of clients who reach out to us say that every deck in their neighborhood looks the same and they want something completely unique. It is these types of features that can help achieve that goal.
Deck and Patio Combinations
Of course, many homeowners also want decks to be built in combination with other areas. Decks and patio combinations can give you the best of both worlds. While you might have an upper level deck that attaches to an upper level door, you might want your basement or lower level to exit to a patio.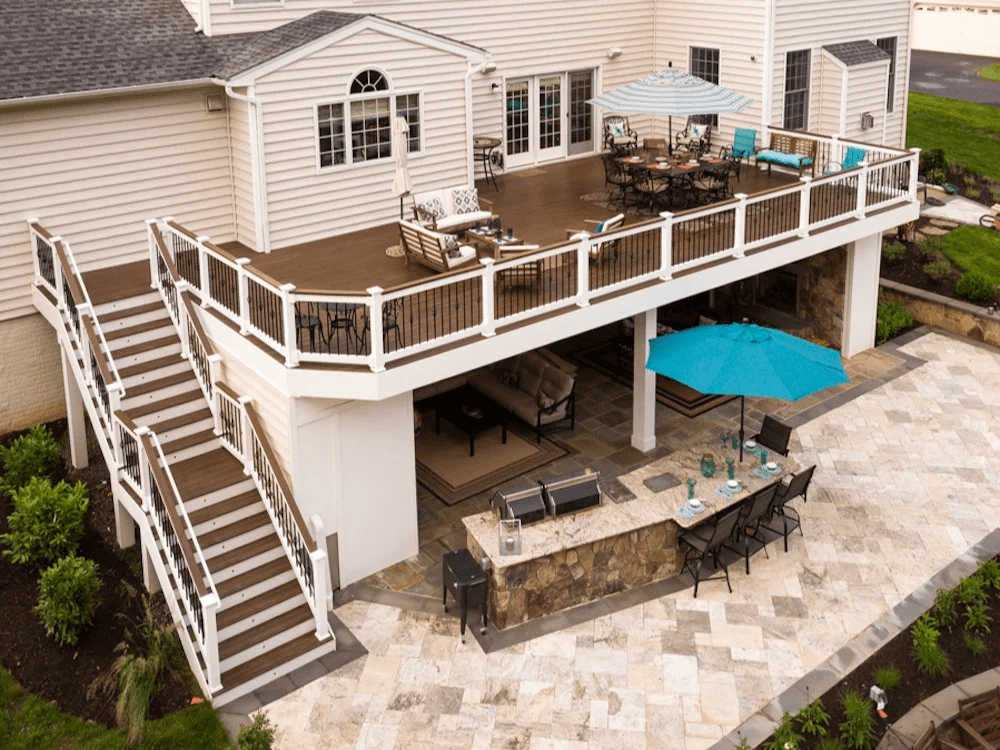 Making sure that the deck and the patio work well together is important. For instance, you want to make sure that the stairs leading up to the deck aren't obtrusive to the patio in any way.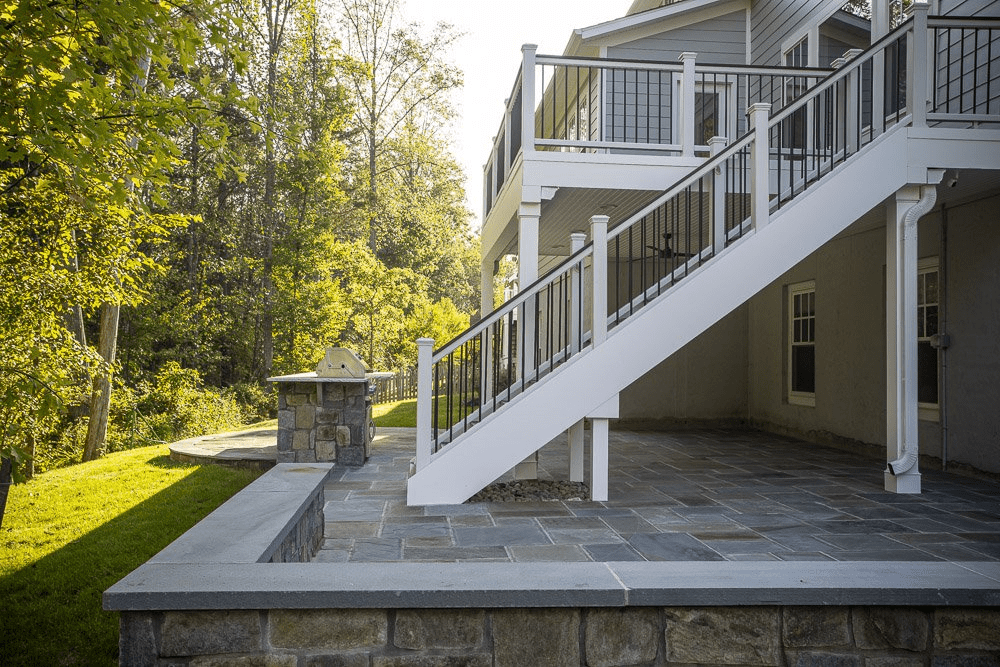 Ideally, if you are going to have both spaces, you want them to be designed at the same time. Even if that means you'll have them built in phases, you want to make sure that both spaces are incorporated into a master plan so that they work well together from both an aesthetic and a functional standpoint.
As we mentioned, some homeowners love the idea of creating usable space underneath an upper-level deck. This can be achieved with special roofing material that allows any rainwater coming off of (or through) the deck to be filtered away. That means you can have recessed lights, a ceiling fan, and other features that make the underneath space feel like a true outdoor "room."
Choosing Deck Builders in Ashburn, Aldie, and Leesburg, VA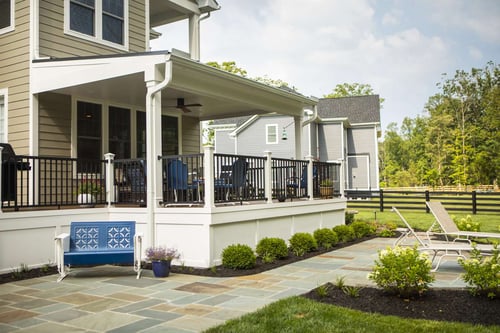 Chances are, you don't want a deck that looks like any other deck you see at your neighbor's. You want something that helps make your outdoor space unique and adds tremendous value and enjoyment to your home.
It's important to recognize that not all deck builders are going to be able to accommodate your requests. Many standard deck builders are used to putting in cookie-cutter or builder's grade decks and they don't really deviate from those plans.
But working with a company that can design and build a one-of-a-kind space will help set your property apart.
This might involve a complex space with more than one finished area. And as we mentioned, sometimes it could mean phasing out a project over time. This is why it's important to hire a professional that has an eye for design but also knows how to properly execute the construction (and in what order).
At Rock Water Farm, we believe there is no room for error when it comes to investing your hard-earned money into a space that you can be proud of. After we have a chance to learn more about the area you intend to add a deck and explore some must-have features, we can give you a better idea of your deck cost. We know that when designed and built properly, your deck (and the surrounding areas) can become an oasis where you'll create a lifetime of memories.
Are you ready to get started on the deck of your dreams at your Ashburn, Aldie, or Leesburg, VA home? If so, talk to an expert, choose a solution that rocks, and get ready to see your dreams begin to take shape!