Posted by

Todd Thomasson on Jan 9, 2023 3:12:00 PM
Do you love having friends and family over to your home? If so, then you may love the idea of relaxing, eating, and spending time together outdoors. But with a backyard that doesn't have much to offer, you might feel as though your get-togethers are lacking when it comes to the fun factor. You want to make your backyard party-central and in order to do so, you need to add some real excitement.
An outdoor kitchen is definitely one way to up the ante of your outdoor experience. With the incorporation of an outdoor kitchen, you can prepare and eat your meals outside. But maybe that's not enough?
After you've cooked and eaten, if you have nothing else to keep you outside, you may just head right back in. That's why you may also be thinking about some additional amenities for your outdoor kitchen design. You love entertaining and secretly may even want your backyard to be everyone's favorite spot to hang out. Because of that, you may want to be able to get more than just a boring little island and a grill—you're more interested in something truly spectacular.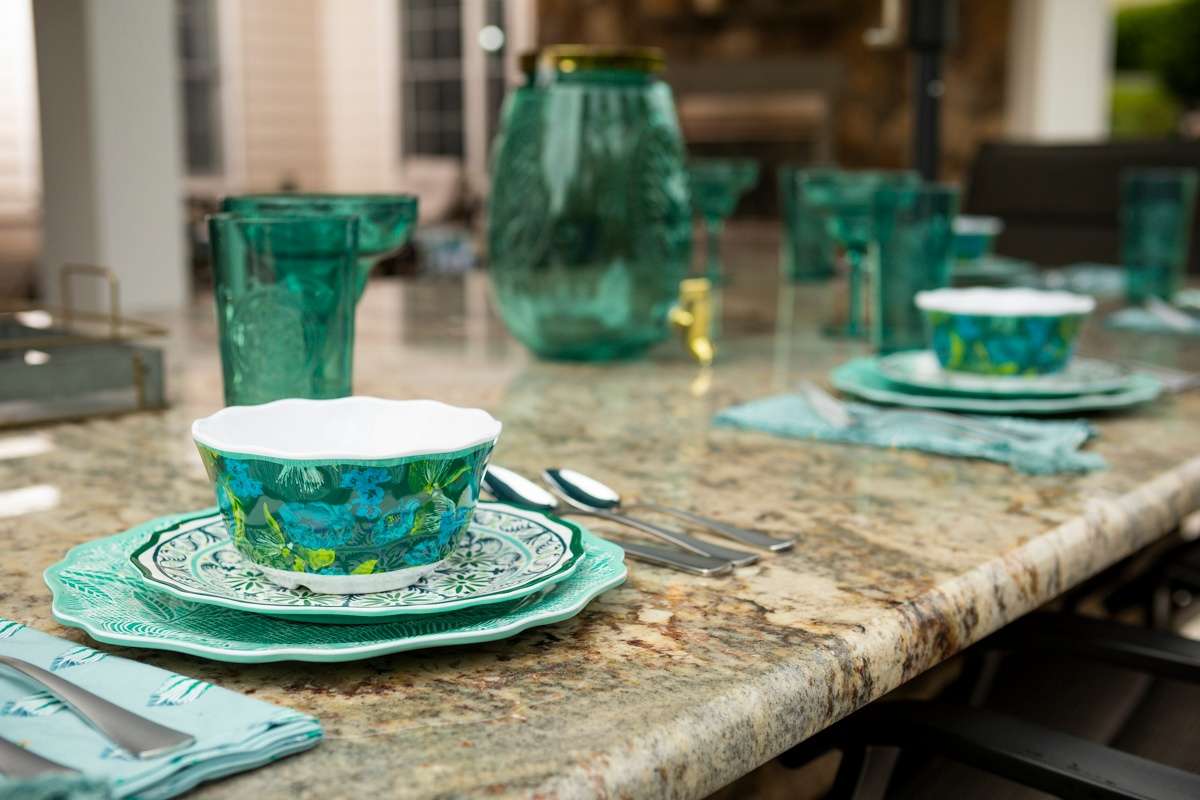 If any of this is sounding familiar to you, then you're probably looking for some outdoor kitchen design ideas that will make people love coming to your house and not want the party to end! If that's the case, then here are 9 ideas you should definitely consider.
1. A Full Kitchen
Even if you add a built-in grill to your outdoor kitchen design, if you're lacking features such as a refrigerator, freezer, ice maker, or even cabinet space to store utensils and other kitchen tools, then you may still find yourself constantly running in and out of the house. However, by putting everything you'd need in the outdoor kitchen, you can enjoy more time outside without having to leave the space.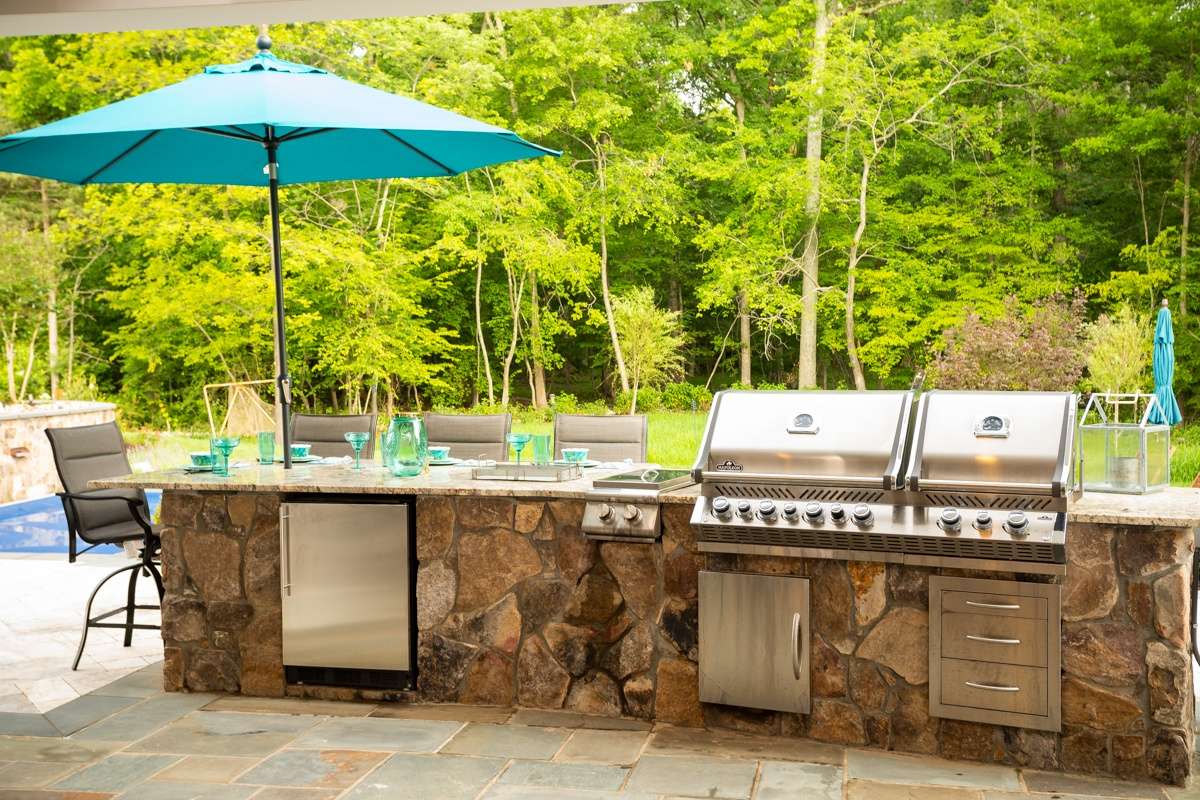 In addition to some of the other features mentioned, this might also include a dishwasher, trash receptacle, and maybe even a kegerator! Basically, anything that you can dream of for your indoor kitchen can be incorporated as part of an outdoor kitchen and it can make your time outside so much more enjoyable.
2. An Island with Wrap-Around Seating
Another idea for an outdoor kitchen is wrap-around seating. It's great to have a built-in grill, but when you extend that island even further and include space for family and friends to sit then it takes your outdoor kitchen design to a whole new level. Cooking becomes an interactive experience and the chef can feel like he or she is still part of the fun, even while doing the grilling for everyone.
There are different outdoor kitchen design ideas that would work for an island setup. An L-shaped outdoor kitchen is a popular choice as it fits well and flows with most spaces. However, a U-shaped kitchen is also a possibility to consider, and often popular with more serious chefs as it really enhances that interactive experience (think about your last trip to the Hibachi Grill!).
However, it's important that the U-shape is designed properly in order to give you the proper amount of social space versus cooking space so that it doesn't start to feel crowded.
3. A Big Patio with Ample Seating
If you love to entertain then you absolutely want to make sure you have a patio that is big enough to accommodate all of your guests. They just won't feel like part of the party if they get pushed into the lawn to eat because your patio was too small for a big table.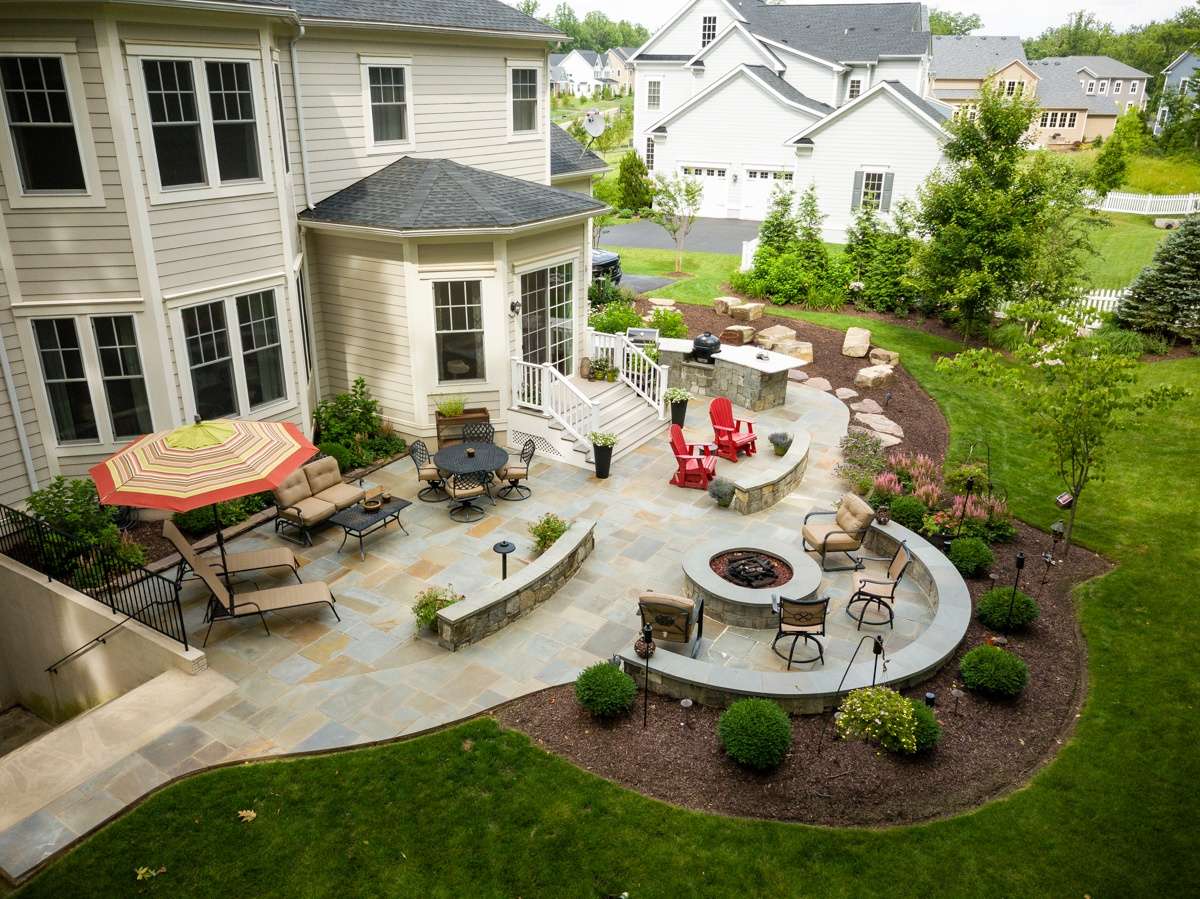 Unfortunately, it's a common outdoor kitchen mistake to design the patio too small or without a lot of forethought given to how much seating you want to have. One of the important questions that should be asked during the design phase is what size table (or even how many tables) you want to be able to fit on the patio. This is a critical detail around which to plan your space.
4. Shaded Areas for Guests
Shade is such an important element of outdoor kitchen designs. Whether it's created with the use of strategically positioned trees, pergolas, or even a covered pavilion, it's important that you have a place where family and friends can escape from the glaring rays of the sun and find some respite.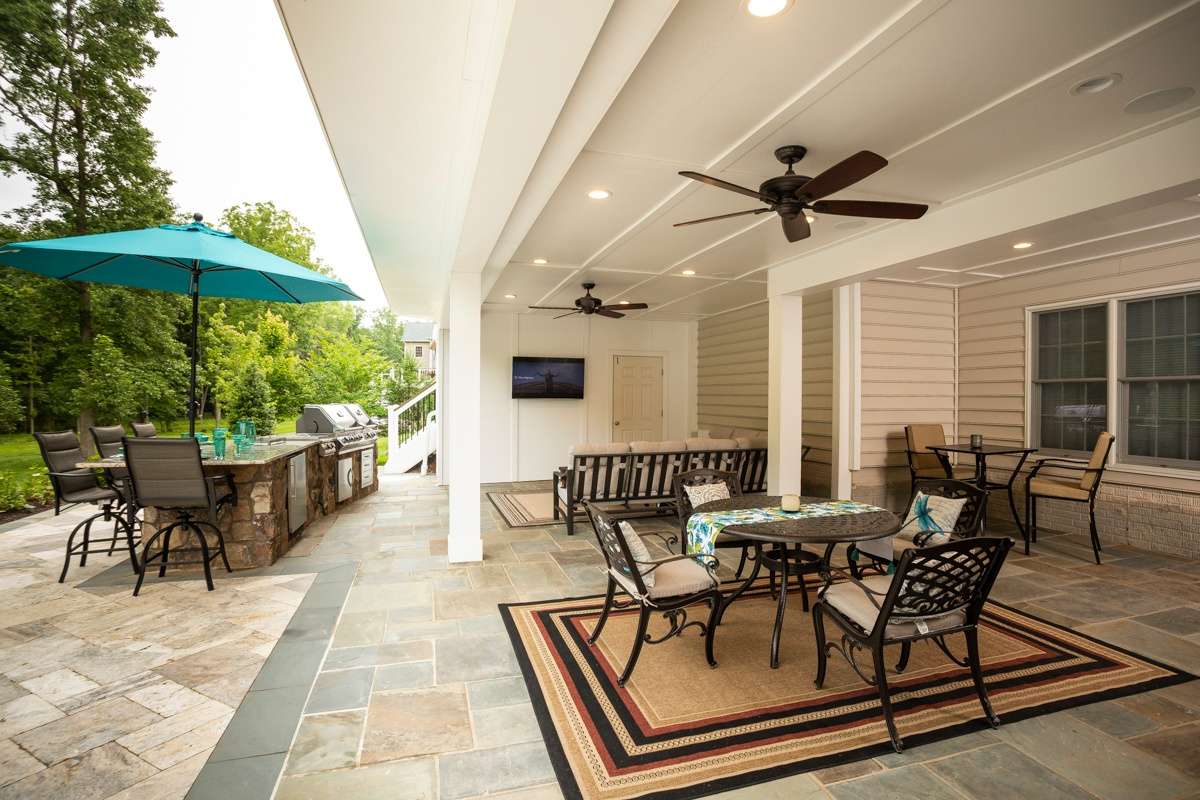 If you are incorporating a pergola or a covered roof, you might even consider adding a fan to help circulate air and offer a nice breeze. The addition of an outdoor fan will also help keep pesky bugs like mosquitoes and flies away as the downward draft makes it more difficult for insects to fly.
5. A Weather-Defying Outdoor Kitchen
Besides shade, there are other benefits to adding a pavilion with a roof to your outdoor space. A pavilion allows you to use your outdoor kitchen in any weather, including rain or even snow. In fact, it's even becoming more popular to incorporate infrared heaters into pavilions to provide heat and allow you to use the space year-round.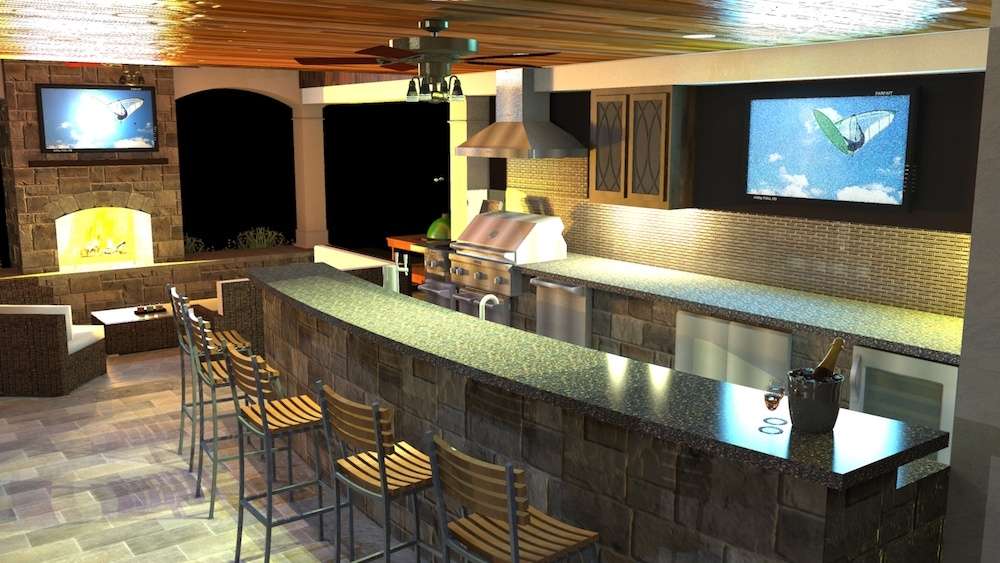 A pavilion truly makes your space feel like an outdoor room and gives you the amenities of the comforts of being inside while still enjoying the great outdoors. You can incorporate lounge seating, an outdoor fireplace, a dining area, and much more.
6. Audio and Video Additions
You can also incorporate a television into your covered outdoor living space. Imagine being able to sit outside by the outdoor fireplace and watch the big game or even have some friends over to watch an outdoor movie.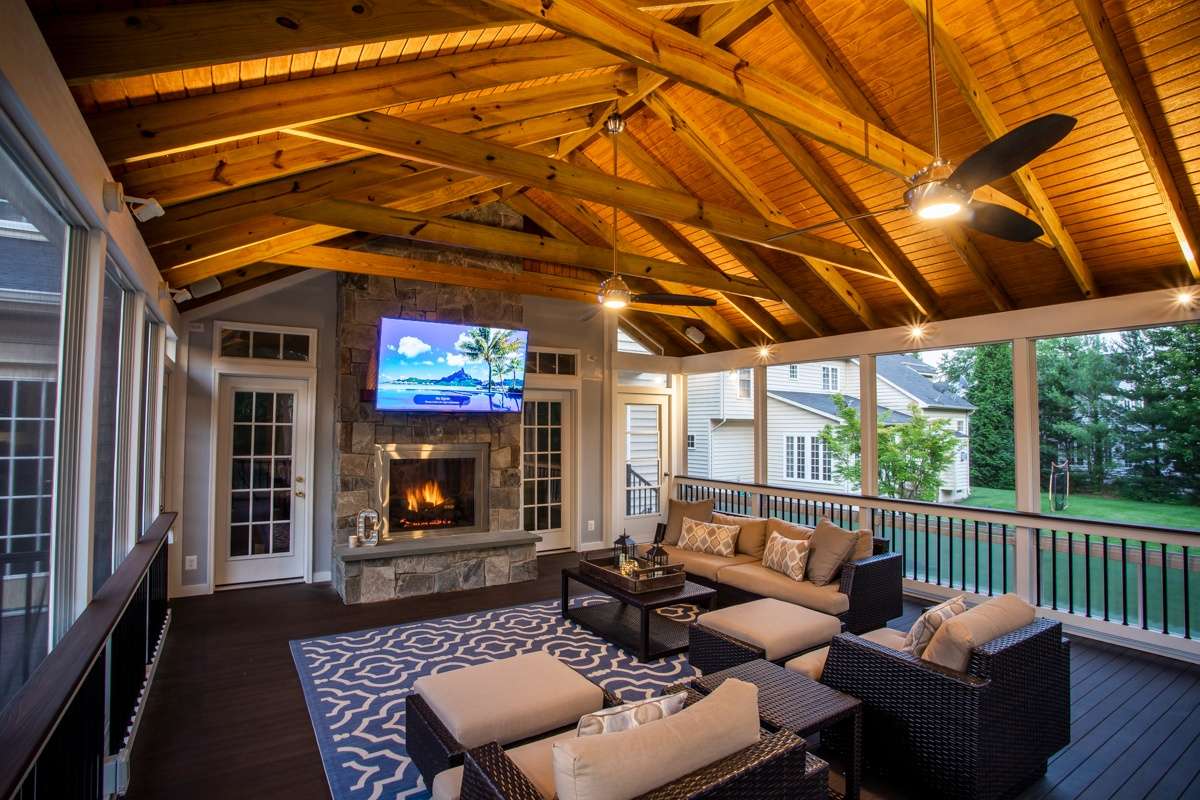 Incorporating outdoor speakers into your space could also allow you to have surround sound for your television or to play music in your outdoor space. Nothing quite enhances the outdoor lounge experience like having some of your favorite tunes playing.
7. Outdoor Lighting
Lighting up your backyard with landscape lighting will allow you to use your new outdoor kitchen and it's surrounding areas at any time of day or night. Light is such an important functional addition of outdoor kitchen designs that it simply cannot be ignored. It's literally the difference between a space that is usable in the evening hours or one that is left in the dark.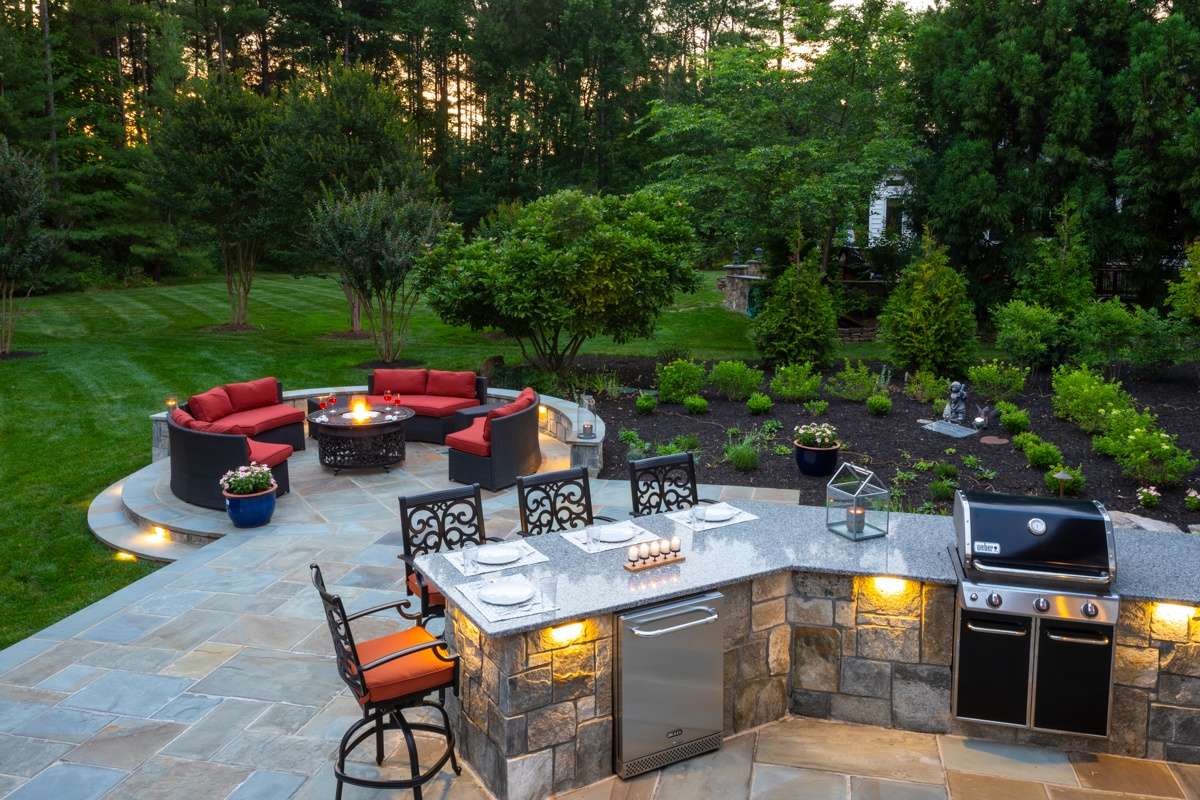 But beyond functionality, outdoor lighting is also valuable for the aesthetic appeal it can offer. These days, landscape lighting has come incredibly far. You can take your outdoor party to a whole new level with fully automated lighting that can be controlled through an app on your smartphone.
That means you can change lighting setups including brightness and even color! If you're having a special celebration or event you can create theme lighting that would enhance the entire experience. This might include school colors for a graduation party or even team colors to celebrate a win! The possibilities are endless.
8. An Outdoor Fireplace
By adding an outdoor fireplace to your kitchen pavilion area, you can get extended use out of your space by helping keep it warm. But it also adds an element of ambiance like nothing else can.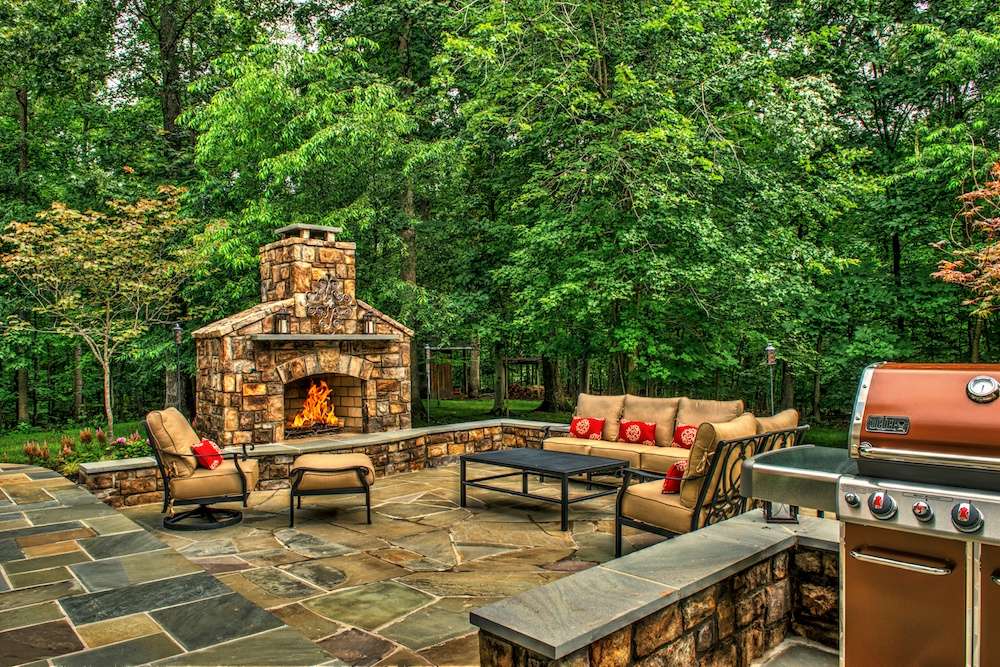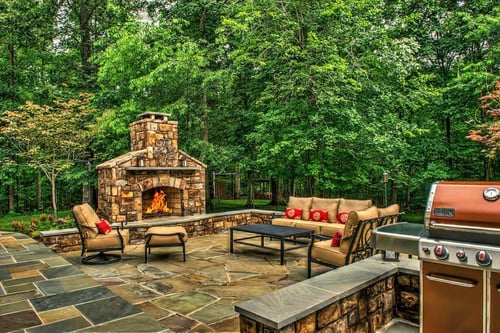 After enjoying a delicious meal from your outdoor kitchen you and your family or guests can then move over to the lounge area to sit by the fire and share some after-dinner drinks. The warmth and the beauty of fire tend to bring people together and make the experience even more enjoyable.
9. Recreational Additions
Once you're finishing cooking and feasting, you'll likely want activities for your family and friends to enjoy at your outdoor party. If you're a group that likes to stay active then you might want to consider various recreational additions to an adjacent area of the lawn to keep everyone busy.
This might include a cornhole area, horseshoe pits, or even a kids play area. We installed a natural playground spot where the kids could climb boulders and enjoy playing nearby while the parents hung out in the pavilion.
If bocce ball is more your speed, we've installed bocce courts, as well. A regulation bocce court will take up a lot of space but if you have a large yard and it's something that you and your friends really enjoy then it would be a great addition.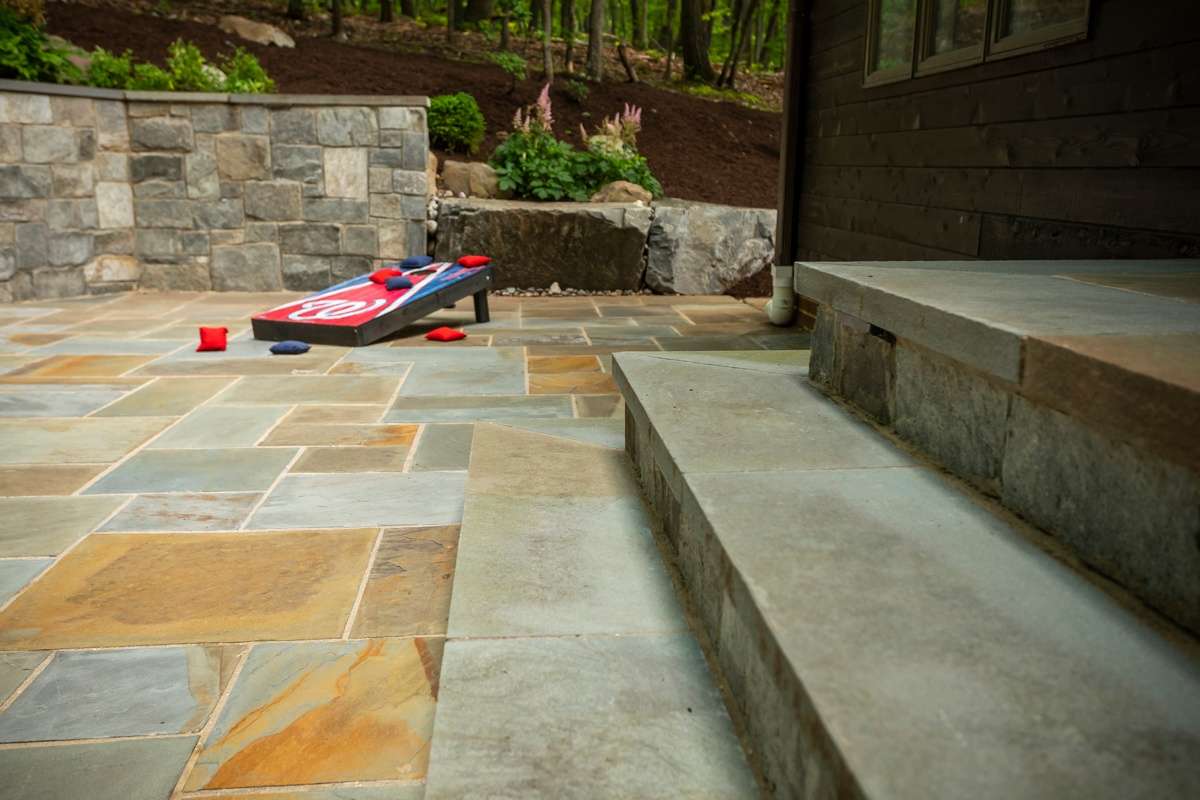 The idea is to think about what you like doing the most.
Ask yourself: What would keep me and my family outside for at least four hours?
Then use that information to start creating your dream backyard. There's no reason that you can't have an activity that you love right in your own backyard. Do you play volleyball every time you go to the beach? Then why not add a court to your backyard? Do you travel somewhere to go to a pool? Instead, you can have the amenities right outside of your home rather than have to leave your house to enjoy them.
Finding
Outdoor Kitchen Designers in Ashburn, Aldie, or Leesburg, VA
A spectacular space that incorporates many of these outdoor kitchen design ideas is not something that can be built by any ordinary contractor. It's important that you find outdoor kitchen designers who are experienced with designing and building larger projects with a lot of detail.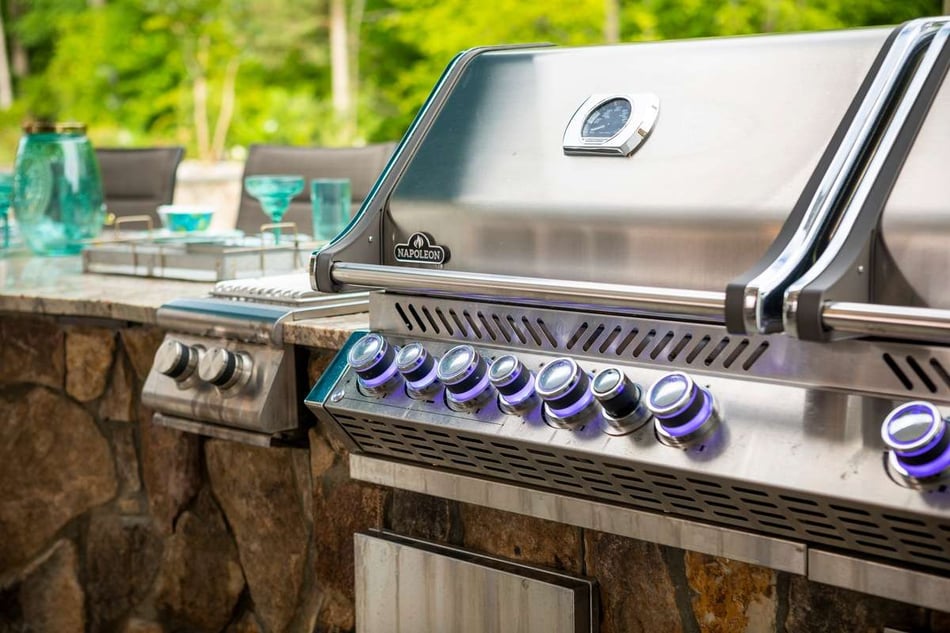 When you're adding so many different elements to your outdoor kitchen space it's critical that they all work together. You want your space to both look and function like it was meant to. After all, a space like this is no small investment. You want to be sure that it's going to come together as you intended.
This can be achieved by choosing the best company for the job. By finding a company that has the experience and the skill to build a project like this, you can feel confident that mistakes will be avoided and that your space will come together in a way that you'll fully enjoy.
Once it does, you'll find that your younger kids now want to invite their friends over to your house all of the time rather than leave. You'll find that your grown children are suddenly coming back home to spend more time with you. Or you'll find that your friends suddenly view your house as the best for entertainment and love coming over to hang out. The point is, regardless of what your specific goals were, by creating a spectacular backyard you are now getting prolonged use out of the space. But even more important, you're spending time together. By bringing people together with activities to enjoy doing collectively, you are creating memories—and that's priceless.
If you'd like to talk about adding an outdoor kitchen and all the amenities to your Ashburn, Aldie, or Leesburg, VA backyard, talk to an expert, choose a solution that rocks, and then get ready to have the ultimate party space.