LAWN CARE SERVICES
A green lawn doesn't just happen automatically. Weeds will pop up, insects will feed and thin or bare spots will emerge if left unattended. It's for this reason homeowners in Ashburn, Aldie, Leesburg, VA and surrounding areas look for a trusted lawn care services
Whether you've tried DIY lawn care, used another lawn service in Northern VA, or simply just can't ignore your lawn's problems anymore, we're here to help you get the lawn you deserve.
Lawn Care Programs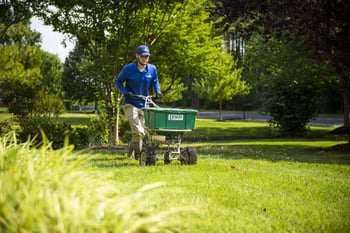 Rock Water Farm provides professional lawn care service programs to fit a variety of needs and budget.
Our 3 lawn care programs include treatments such as:
Soil testing
Fertilizer
Pre-emergent crabgrass control
Post-emergent crabgrass and broadleaf weed control
Grub and insect control
Micro-nutrient treatments
Limestone
Core Aeration
Overseeding
Additional Lawn Care Services for Ashburn, Aldie, Leesburg, VA & Surrounding Areas
Depending upon your lawn's challenges, we also offer additional lawn care services to help remedy other problems or help you to have a worry-free property.
These additional lawn care services include items such as:
Weekly mowing and trimming

Leaf Clean-up

Topdressing

Soil amendments

Turf disease control
One of our lawn care experts will be happy to meet with you to discuss if these lawn care services are appropriate for your property.