Posted by

Todd Thomasson on Aug 24, 2022 9:02:58 AM
One of the exciting aspects of coming up with your custom swimming pool design is adding the various features that will make it truly your own.

There are so many exciting possibilities such as an infinity edge, a waterfall, pool lighting, or even a spa.

Of course, a favorite (and often asked about) is a swimming pool tanning ledge. Also sometimes called a "sun shelf," swimming pool tanning ledges are basically a bump-out within the pool that is designed more for lounging than swimming.

In this article, we'll talk more about some of the specifics of pools with tanning ledges so that you can determine if it might be an option you'd want to consider for your Northern Virginia home.

As with any option there are various considerations (what might be a "benefit" to some could be a downside to another, so keep that in mind as you read).
The Benefits of Pool Tanning Ledges
Most people already have some familiarity with swimming pool tanning ledges. If you are someone who envisions using the pool for a lot of lounge time, then a ledge might be a great choice for you.

Sometimes these spaces are designed large enough for one or more chaise lounges. Some homeowners love the idea of having this space to be "in" the water but not really submerged. It can be a place to relax and read, or maybe have a drink.

Swimming pool tanning ledges are also sometimes big enough to include an umbrella stand and umbrella.

Of course, they can also be designed smaller—just big enough for a bench seat for two. You may have heard this referred to as a "cozy cove." If you have a pool with a really amazing view or maybe an infinity edge, it might make a lot of sense to have a seat where you can sit and enjoy it.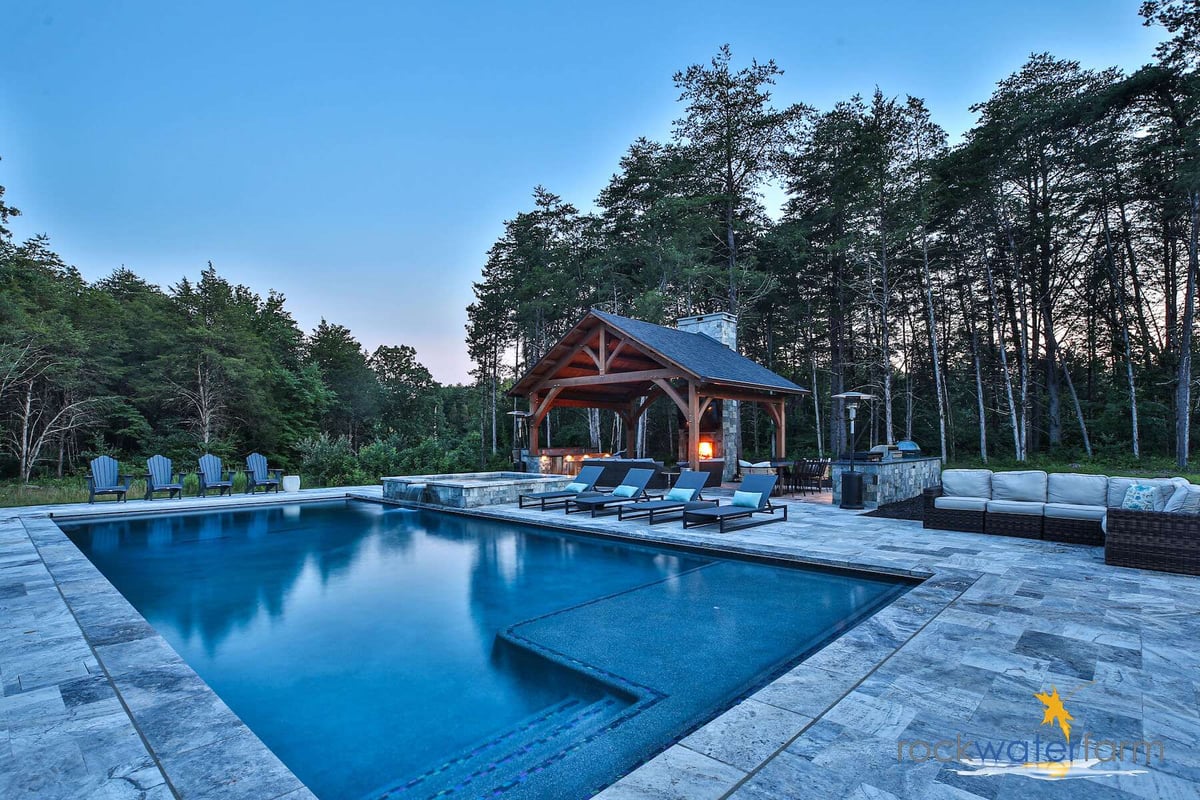 While we've mostly talked about the benefits of pool tanning ledges in terms of lounging, we do often get families with small children (or grandparents who have grandkids) and they want to use the ledge as a place for kids to play.

For children who can't yet swim, ankle-deep water might be the perfect spot to splash and play while the bigger kids swim. Then mom or dad (or grandma or grandpa) can also lounge while keeping their feet cool, too.
Are there Downsides to Swimming Pool Tanning Ledges?
This is a question we sometimes get asked and we love that homeowners want to be wise consumers before making important swimming pool decisions. You absolutely should weigh all the "pros and cons" of any possible decision. But we are always reluctant to call something a "downside" per se.

As we mentioned before, it's all about your specific circumstances.

So, let's talk about considerations.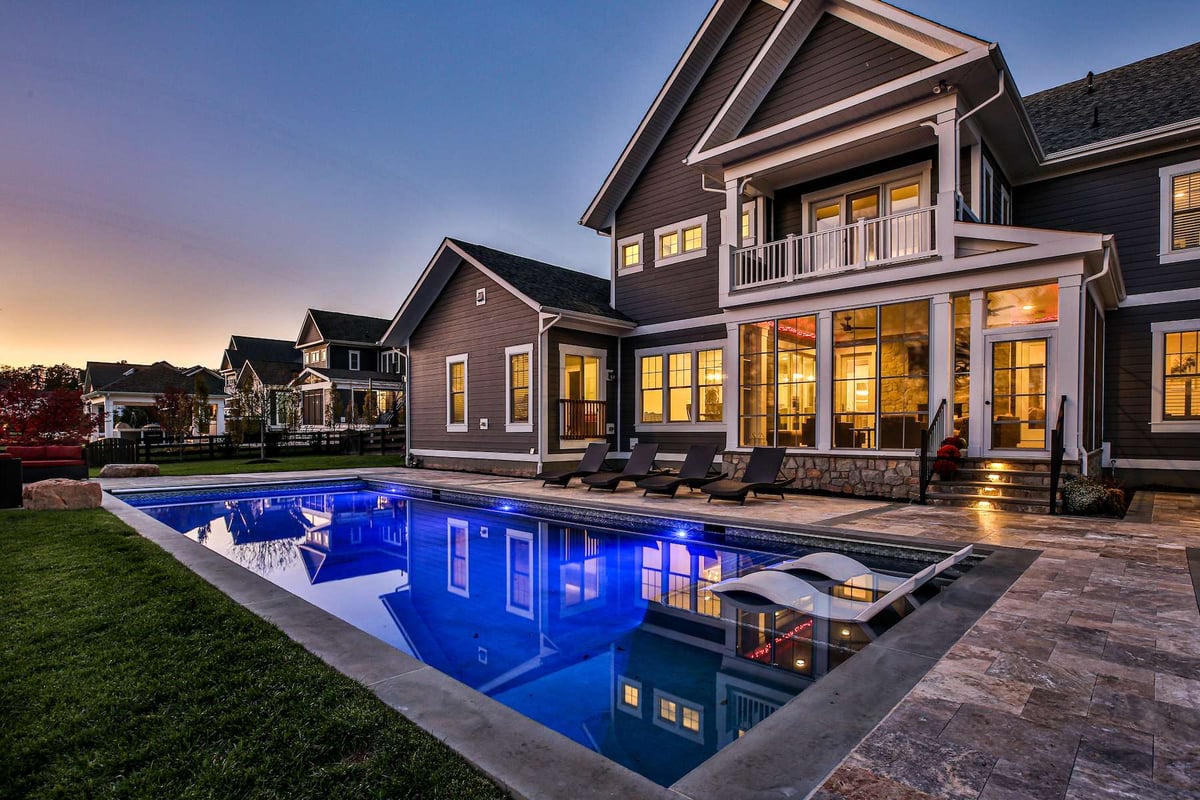 The biggest consideration is whether you want to take up space with a swimming pool tanning ledge. Obviously it is going to cut into your usable swim space.

But if you are someone who sees yourself lounging a lot more than swimming, it might make a tremendous amount of sense.

If you have young children and are primarily considering the ledge for them, it's important to remember that in a few short years, they'll likely be swimming in the main part of the pool. But if you are more interested in swimming pool tanning ledges for the lounge factor, it's something you're likely to get a lot of use out of.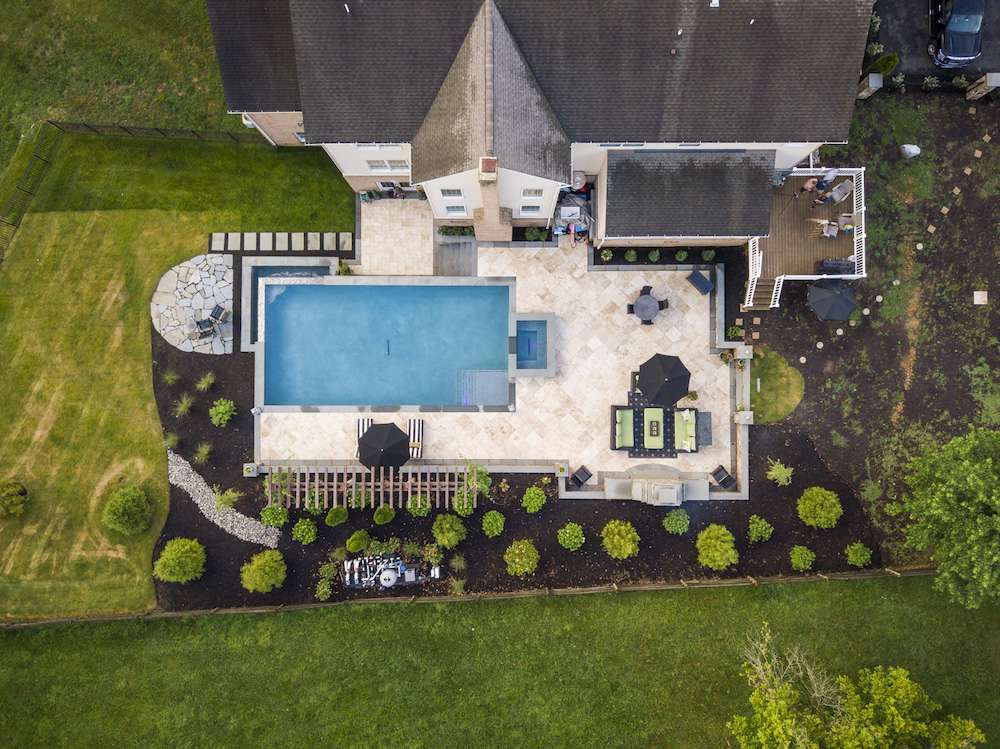 Of course, you can also make your pool larger and then still have plenty of swim space and plenty of lounge space. This is the beauty of having a custom pool designed and built. You are not limited by size.

We generally recommend a longer pool when incorporating a tanning ledge since they do consume standing space. A standard length pool is 40 feet. We would recommend going to 45 or 50+ feet when adding a tanning ledge.
Fun Features With Swimming Pool Tanning Ledges
A swimming pool tanning ledge is also a great place to add some fun features that make your pool even more exciting. You might consider fountains or bubblers. Bubblers look great and also add the relaxing sound of water.

Plus, this is something fun for little ones to play with. You might even consider adding lights to your pool ledge with the bubblers lit up in different colors.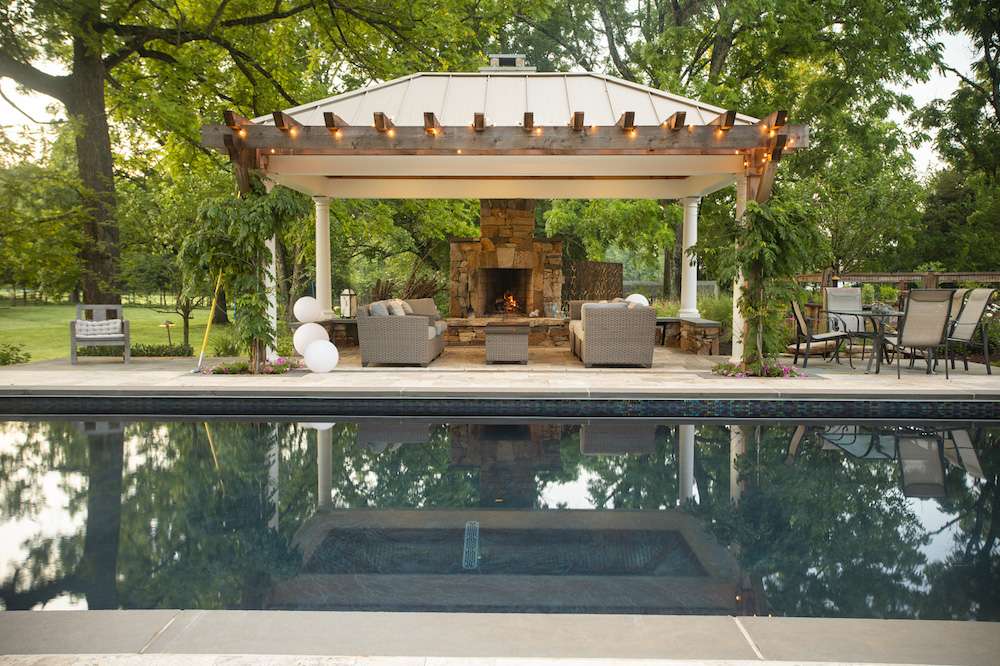 You could also get creative with the look as it can be designed separate from the rest of the pool. Maybe you want to do a fun tile design.

We already mentioned that people often like to add a tanning ledge that is large enough for chairs. We have found that 8x8 is a nice size for two chairs. Obviously if you are looking to fit more chairs, you'll need to go larger.

Again, with a custom pool, you are only limited by your imagination (and budget, which we'll talk about next).
How Much Does a Pool Tanning Ledge Cost?
Swimming pool add-ons obviously also add to the overall price. But it's often not as much as people think it will be.

Depending upon the size of the tanning ledge, it can add between $5,000 to $10,000+ to the overall cost of the pool.

When it comes to add-ons you do not want to skimp if it's something that is going to make you spend more time or get more enjoyment out of your pool.
Working with a Swimming Pool Builder for your Swimming Pool Tanning Ledge
Whether you add a tanning ledge or not, making sure that you really do end up with the pool of your dreams comes down to the company that you choose to complete the work.

The fact is, not all swimming pool builders in Northern Virginia are created equal. Many are just focused on installing your pool and moving on to the next job as quickly as possible.

In fact, many pool builders aren't experienced in even adding pool features, particularly not a custom-designed one.

But when it comes to something as important as your swimming pool, which you'll enjoy for years to come, you want to be sure it's completed exactly as you desire. At Rock Water Farm, we can help ensure that your dream becomes a reality. After all, we know that it's more than just a pool. It's a place where you will make lifelong memories with your friends and family.

If you'd like to get started on planning a dream pool for your Gainesville, Haymarket, or Bristow, VA property, talk to an expert, choose a solution that rocks, and then get ready to enjoy your property to the fullest.