Posted by

Todd Thomasson on Dec 9, 2022 11:12:47 AM
Of all the features that can be added to a pool, a spillover spa is often one of people's favorites. It just adds a whole new sense of enjoyment and use to your pool area.

A spillover spa is basically a spa that is "attached" to the pool by a little waterfall that sends water from your spa over the edge and into your pool. It's an attractive addition that has functional benefits, too.

For instance, spillover spas for inground pools provide you and your family (and guests) with more space to spread out and enjoy your pool area. Sometimes the adults end up in the spa while the kids play in the pool. Of course, we find that most kids love the spa, too.

It's more of an intimate space to gather and also gives people a chance to "warm up" on a chilly swimming day (or night).

If you think you want to add a spillover spa to a pool, you might have some questions about what to expect.

Here are a few of the most common.
#1: What are Some of the Benefits if I Add a Spillover Spa to my Pool?
A lot of people know they want a spa before even starting their pool project. But some homeowners want to weigh what might be considered the pros and cons.

There are definitely aesthetic benefits when you add a spillover spa to a pool. For one, it really ties the entire pool environment together in an appealing way. There's also a therapeutic benefit from having a spa. People enjoy lounging in the hot water, which is said to help relieve aches and pains (particularly sore muscles). A spa provides major relaxation.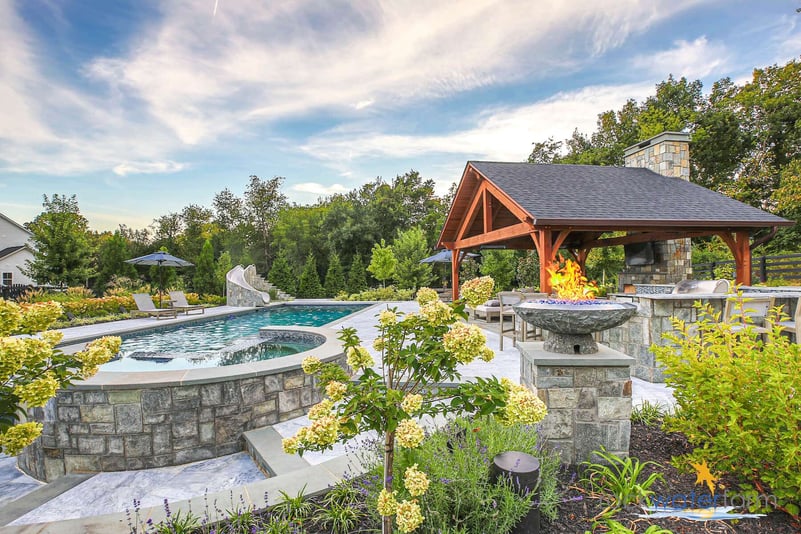 A spillover spa, specifically, also gives you that sound of spilling water. It's a water feature of its own that adds an appealing look and sound to your pool. And it helps improve the circulation of the water, too.

Homeowners also appreciate that they can easily move from the pool to the spa (and the other way around). On a chilly day, it's great to ease into the spa and warm up!

Of course, a spa will require more energy to heat up which can mean higher operational costs. There can also be a bit more overall cost to your project (which we'll talk about next).
#2: What is the Cost of Adding a Spillover Spa to a Pool?
For the most part, an average spillover spa cost does not add that much to the overall cost of a pool.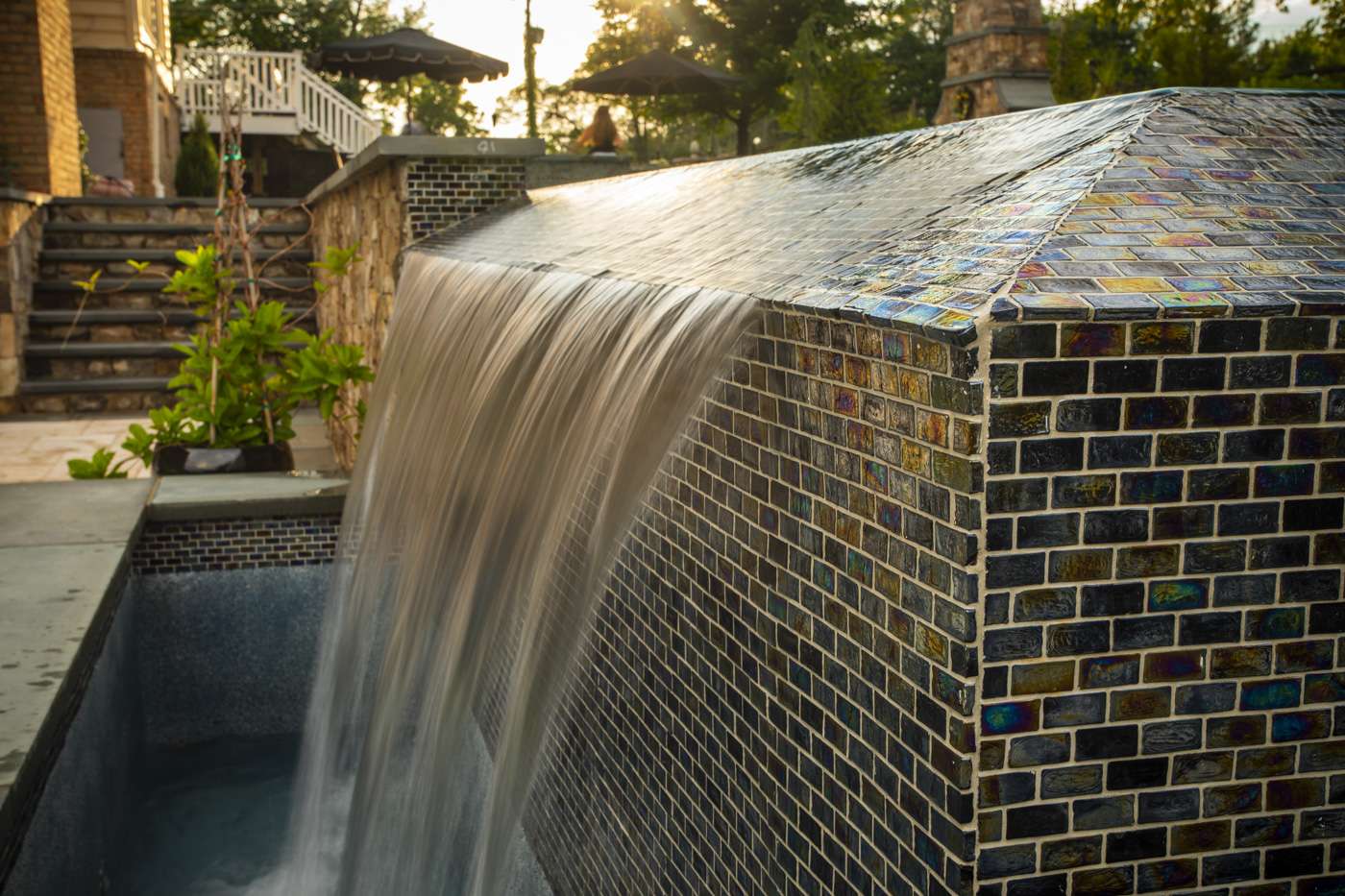 When you're already investing a significant amount of money into your custom pool, it makes sense to spend a little more for a feature that will allow you to get more use out of your pool.

While a typical spillover spa isn't a huge addition, if it's a champagne spa, then it could be as much as $10,000 to $20,000 of additional cost depending on the size, style, materials, and exact location in relation to the pool. A champagne spa is a raised spa that usually features vanishing edges on all sides. It's an incredibly attractive addition that will make your pool feel like a resort destination.
#3: What are Some of the Design Options for a Spillover Spa?
Just like your custom pool can be designed and built to your exact wants and needs, you have plenty of options to add a custom spa as well. Of course, your spa design will largely depend upon what you do with your pool design.

If you have a very modern, linear pool then you will likely want a rectangular spa. But if you have more of a freeform, flowing design, then you may want a circular spa.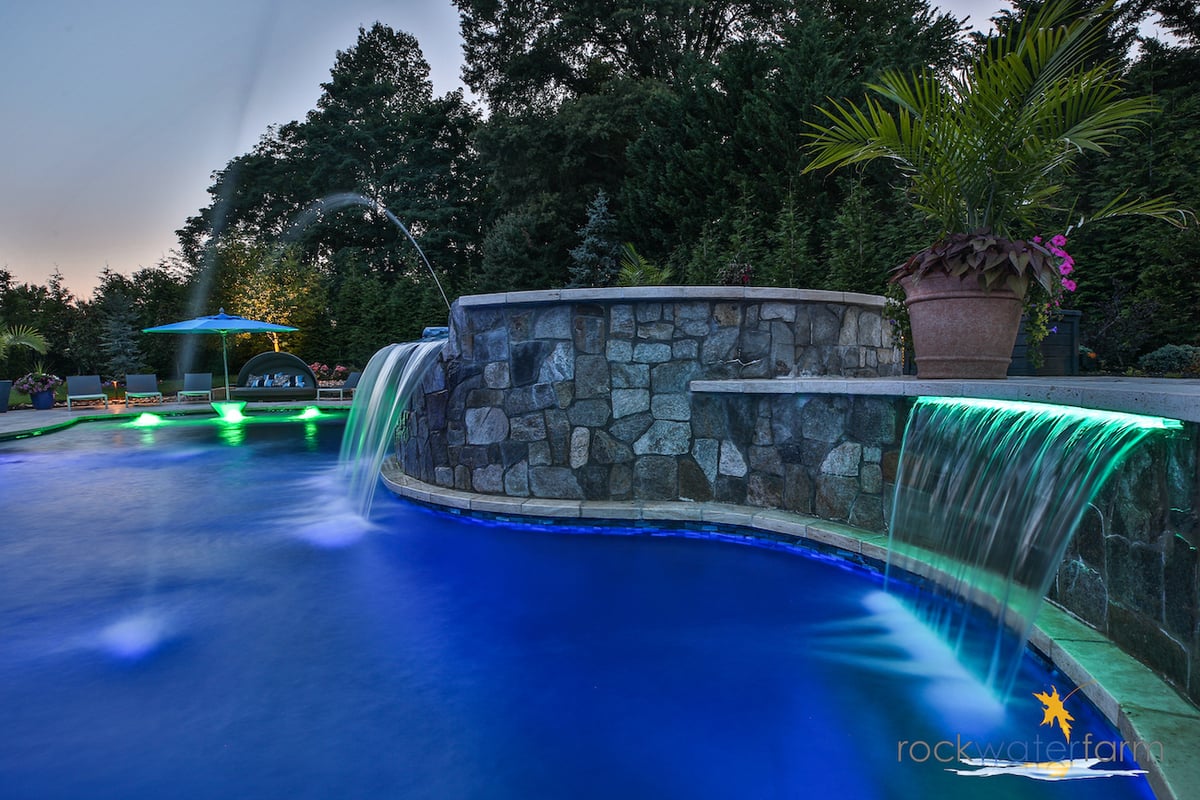 You can also customize the spillover opening in a way that changes how your waterfall looks and functions. And, you'll also want to think about lighting for your spa, including the spillover area. When enjoying your pool at night, the spillover spa becomes a beautiful water feature.

In many ways, a spillover spa makes your backyard pool feel even more like a vacation destination allowing you to feel as though you've escaped to your own private oasis.
Choosing the Best Pool Installation in Northern Virginia
Like other pool features that you might be adding, adding a spillover spa is all about creating a custom design that is truly your own. This really boils down to choosing a company that can do the best pool installation in Northern Virginia.

We know there are a lot of companies to choose from and that the word "custom" gets thrown around a lot. But truly custom swimming pools are "one of a kind." This means they aren't cookie-cutter copies that look like every other pool on the block.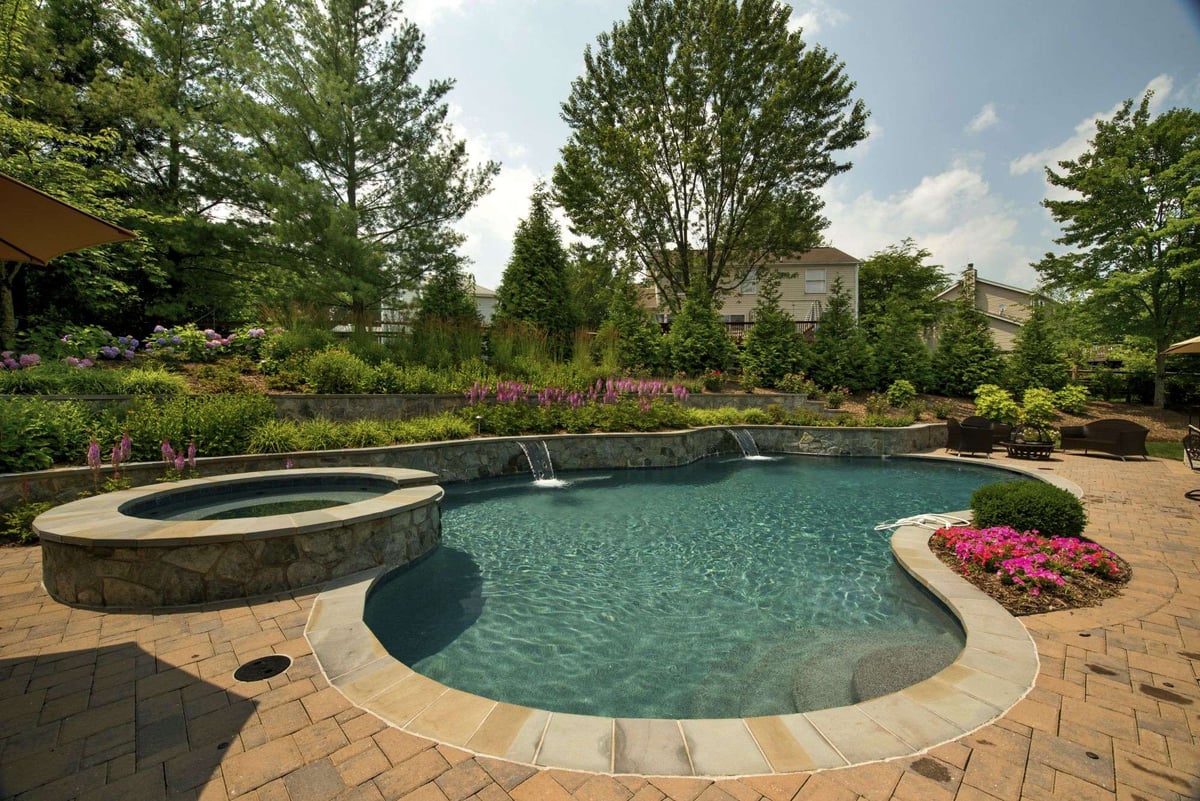 They are only possible from companies that design and build gunite pools. The best spillover spas are part of an overall custom design.

As you begin your search for custom pool builders, make sure that you are looking at companies that use gunite.

It also helps to spend time on various pool builders' websites looking at their project galleries. You want to make sure that they are capable of designing and building the custom pool that you have in mind.

Of all the decisions you need to make when beginning your journey toward your custom swimming pool, choosing the right company to get the job done is the decision with the most riding on it. After all, if you don't choose wisely, you may not end up with the custom pool that you truly desire.
Working with Rock Water Farm for Your Pool Installation in Northern Virginia
At Rock Water Farm, true customization is important to us. We believe that homeowners deserve to make decisions about the factors that will impact their swimming pool design and ultimately end up with a finished product that is unlike others out there.
If that's important to you and you want to be able to say that your swimming pool with spillover spa is truly unique (truly "your own"), then it's critical you make a wise choice when looking for pool design/build services.

When you do, you'll be able to say that there is truly no other pool out there just like yours.

Are you ready to get started on the pool of your dreams at your Haymarket, Gainesville, or Purcellville, VA home? If so, talk to an expert, choose a solution that rocks, and get ready to see your dreams begin to take shape!