Posted by

Todd Thomasson on Feb 28, 2022 11:09:18 AM
Adding a patio to your Northern Virginia home is an exciting endeavor. A patio is going to be the foundation for your outdoor living space from which you can add other amenities. It's a place where you can truly maximize your time outside and begin making special memories with family and friends.
Of course, if you're thinking about having a patio installed, you probably want to know how to prepare for the process. You understand that good design will be essential to your results and you want to make sure that nothing is forgotten in the process. You also want to know what to expect as installation gets underway.

We have you covered!

In this article, we'll talk about what to expect when having a patio installed (starting with the design process and going all the way to the installation period). As a company, we have always been committed to keeping you well-informed and educated as a consumer so that you can make wise choices every step of the way. We know that having a patio built is a big undertaking and we want you to feel comfortable throughout the patio design and installation process.
What to Expect When Having a Patio Built
We'll walk you through what you can expect from Rock Water Farm, but keep in mind that it could be a different process with other landscaping companies. You want a company that takes this process seriously and is very thorough at every step.
It All Starts with Good Design
The patio design is going to be critical to your end result. The design is going to give you a preview of exactly what your patio will look like when it's finished. There should be no surprises.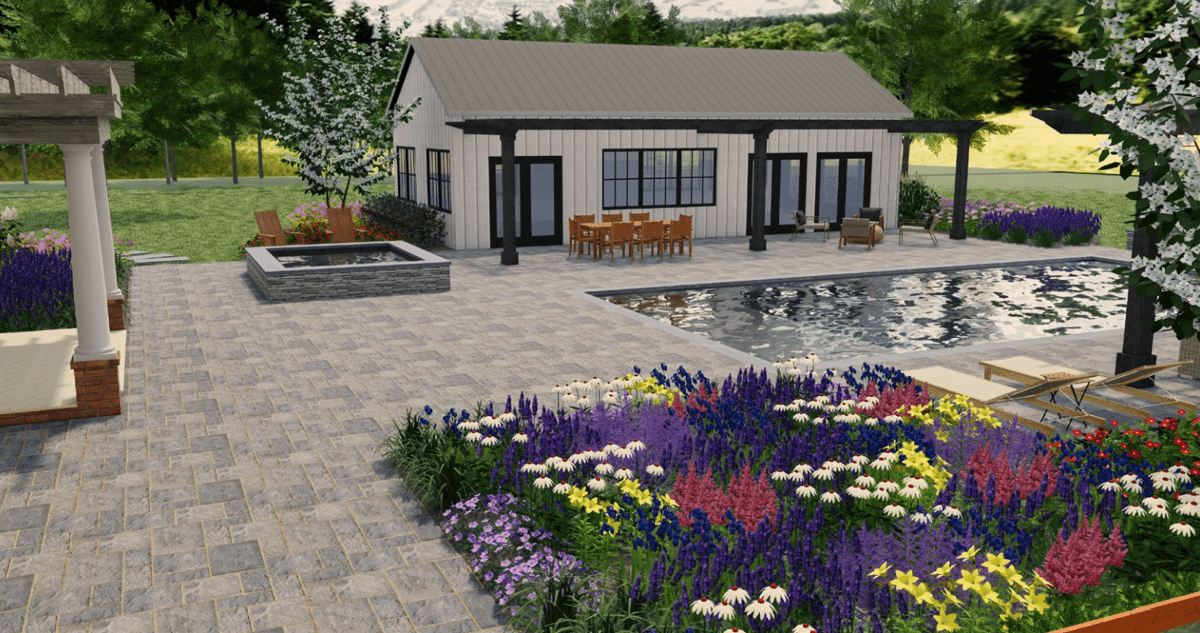 The design also ensures the space can be utilized to its fullest with everything functioning the way it should.

There are several steps to our design process because it's something that we take very seriously. Let's look at what to expect.
Initial Consultation
The patio design and installation process begins with an initial consultation during which we'll get all of the ideas for your outdoor living space.

During the initial consultation, you can expect that we will discuss some of your thoughts and ideas for your project. This might include a ballpark idea of your budget though we'll get much more in-depth with that when we move into the next steps.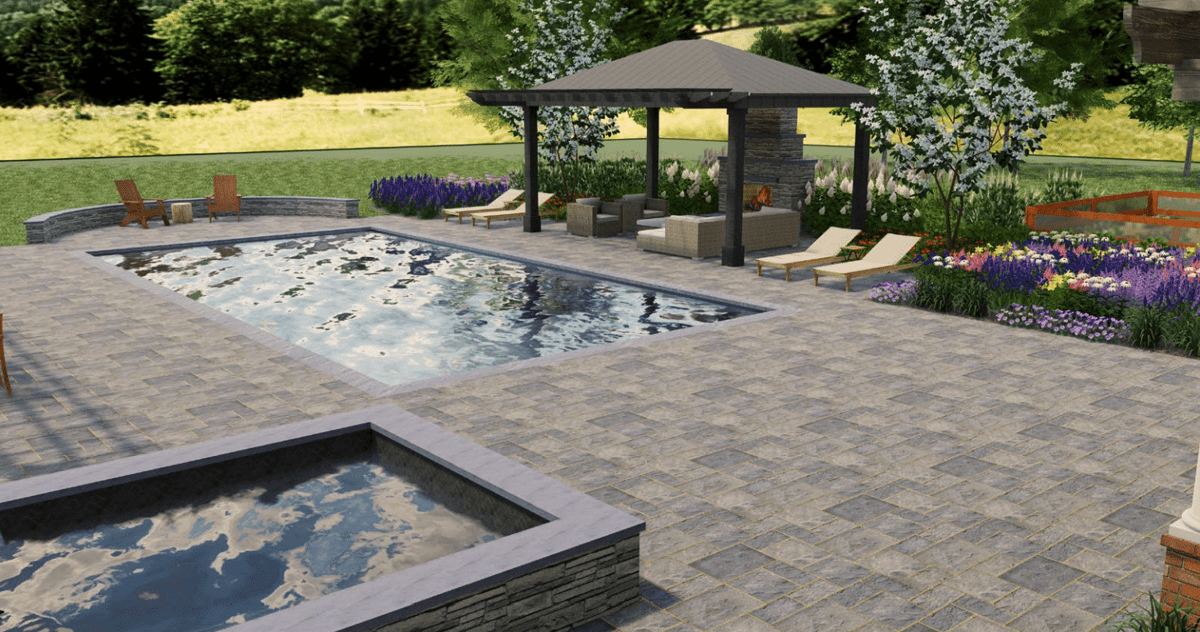 It's these ideas that will go into the preliminary design for your patio design. It can be helpful to share photos that you've saved of projects you like. We can also show you projects we've done to help narrow down what it is you're looking to achieve.

While it is sometimes overlooked, having all the decision-makers in the household present during the initial consultation is incredibly important. As we discuss ideas and devise an initial plan, it is vital that everyone is on the same page. In the past, we've found that times when we have met with just one of the decision-makers of the household and come back with a design, it has been rejected by the decision-maker that was not initially present. Sending us back to the drawing board is a waste of your time and we've found it much more prudent to have everyone available together.
Important Patio Design Considerations
There are so many details that should go into this design process. Most of the clients we work with are interested in an entire outdoor living area, so the considerations extend beyond the patio itself.

Here are just some of those considerations that will come into play during the design process.
Do you plan to eat meals outside and how much space will you need for seating?
Are you interested in eating outside and want to include an outdoor kitchen?
Are you going to have a swimming pool as part of the extended patio design?
Do you envision sitting in front of a fire feature while spending time on your patio?
How much and what type of furniture do you want to incorporate (and where)?
Will you require any built-in or overflow seating for larger parties?
Do you have a sloped property, meaning you might have a multi-level patio?
Follow-Up Meeting
That initial consultation gives us the information we need to create a conceptual design.

We will then share that at a follow-up meeting.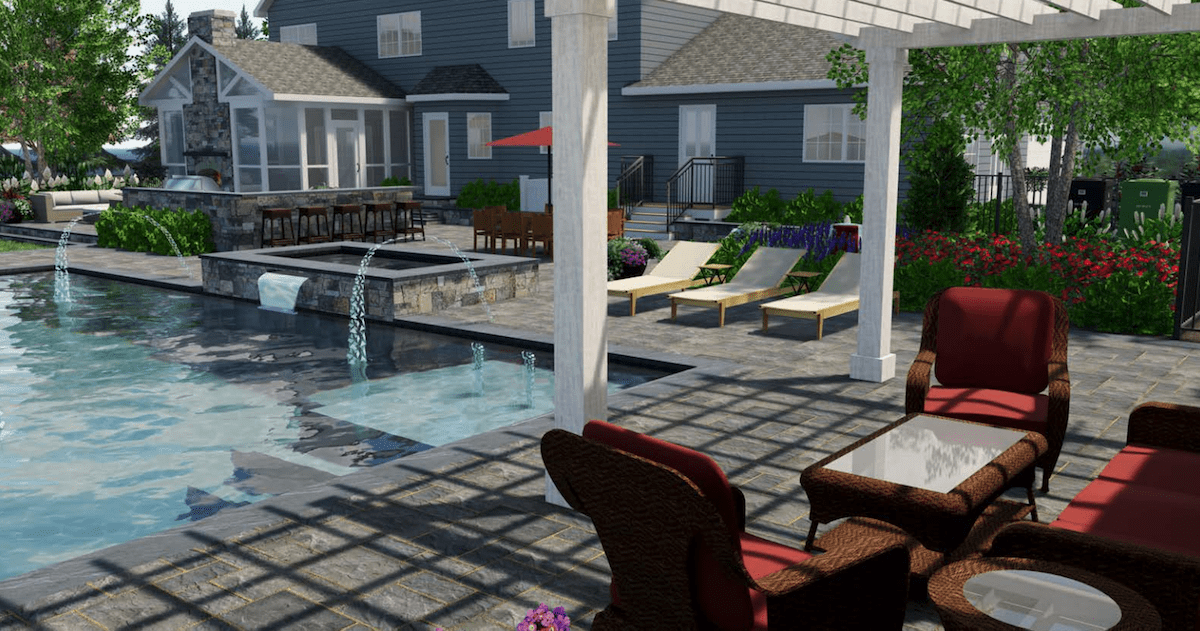 During the follow-up meeting, we'll have some important questions for you about your design, going through it item by item and finding out what you like and what you might change. This is the time to really hone in on specifics and to work out design elements that you want to see in the finished product.
Final Design
By now we've narrowed down exactly what it is that you want. During this final phase, we'll sit down with you to discuss the finalized design. That will include prices and what your budget will allow. If there is more you want to do than what you can afford at once, we may phase the project. We'll start with the patio but if you're adding additional features, we may phase those out over a period of time.
Phasing is a really important aspect of the design process because even if you aren't having certain elements built at the beginning, you still need to plan for them. This can prevent headaches and added costs down the road.
For example, if you want to have a pavilion added to your patio at a later date, you'll want to have the footers installed while you are having the patio installed, or else you're going to have to dig it up at a later date.
The Patio Construction Process
Once the design is finalized, it's time to move into patio construction.

There are many considerations during the patio construction process that must be considered in order for this stage to be performed properly. If these are overlooked or done improperly, it could lead to patio problems down the road such as sinking pavers, a patio with poor drainage, or a leaning edge.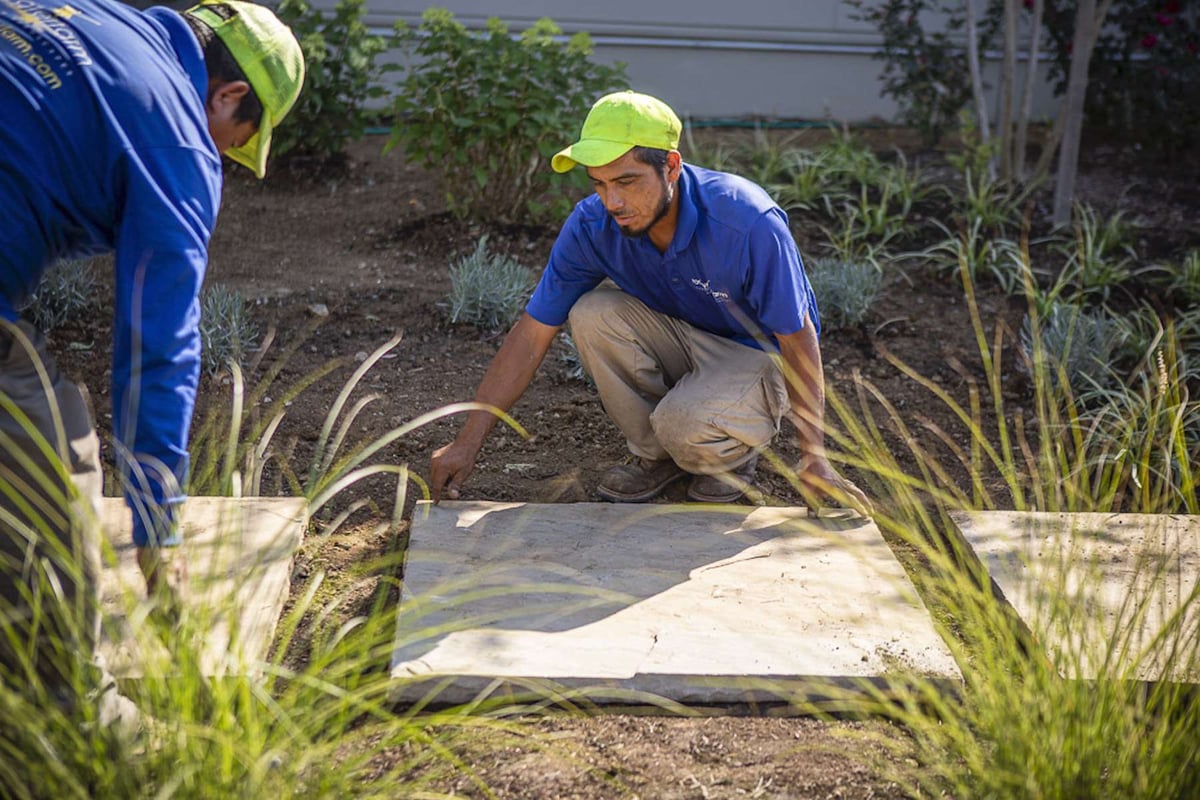 A successful patio build comes down to proper installation. This starts with the base, which needs to be installed properly. Grading and drainage must be taken into consideration to prevent problems in the future.

Using the proper amount of fill is also an important part of proper patio construction and base preparation. Stone is graded and then compacted.

As far as our "material of choice" for the patio construction, Rock Water Farm likes to work with natural stone.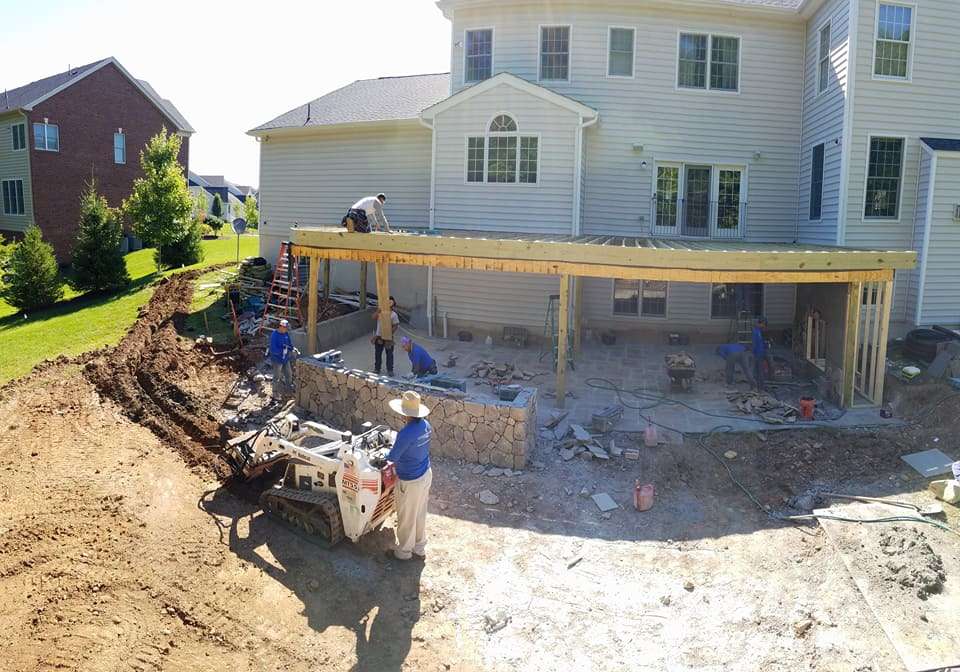 There are many reasons why we believe it is the superior choice. It is incredibly durable, it has classic and timeless appeal, and it is aesthetically beautiful. It also just "fits" with the natural Northern Virginia landscape. However, there are plenty of landscaping companies that aren't comfortable working with natural stone because it can be more difficult and require more skill to install.

We believe it's worth working with a company that can offer you the best.
Getting Ready for your Patio Dreams to Come True
As you begin the patio design and installation process, we know that you want to make sure you're not missing any details. Hopefully, this gives you an idea of what you can expect so that you feel confident and ready to start watching your patio take shape.

Of course, keep in mind that you aren't alone. With the right landscape designer and builder as your partner, you'll be guided to making wise choices that will mean your outdoor living area ends up just the way you want.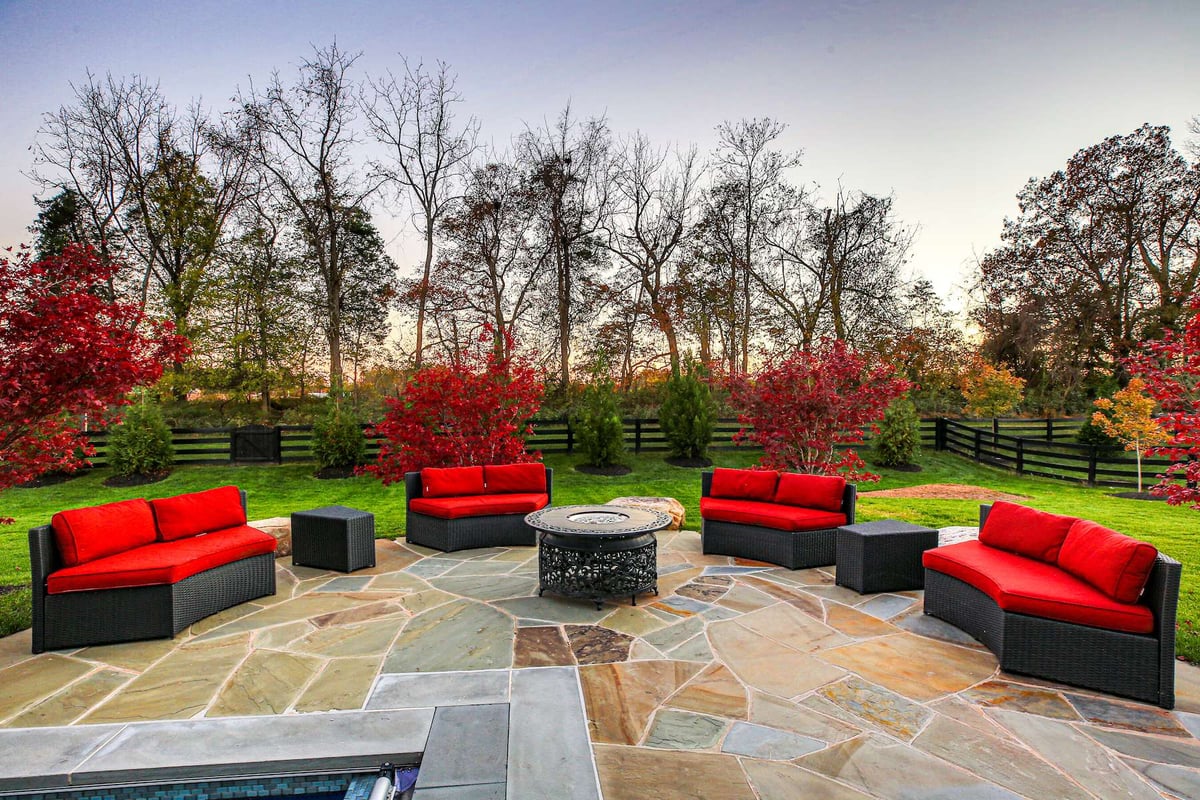 It will also mean that no important details will be afterthoughts and that instead of worrying that you'll be unhappy with your space in the end, you'll be spending all of your time enjoying it!

By making a wise choice amongst landscape designers and builders, you can feel confident that you're in good hands.

At Rock Water Farm, we believe there is no room for error when it comes to investing your hard-earned money into an amazing outdoor living area. When designed and built properly, you certainly won't end up with a boring, run-of-the-mill, or (worst of all) problematic patio—you'll end up with the ultimate outdoor living space that fulfills all of your dreams and then some.

Are you ready to get started on the patio of your dreams at your Haymarket, Gainesville, or Warrenton, VA home? If so, talk to an expert, choose a solution that rocks, and get ready to see your dreams begin to take shape!