LANDSCAPE MAINTENANCE SERVICES
The ongoing beauty of a pristine landscape takes a lot of work to pull off. Weeds will pop up, mulch will need to be refreshed, and shrubs and trees will become overgrown if left unattended. It's for this reason homeowners in Ashburn, Aldie, Leesburg, VA and surrounding areas look for a trusted landscaping company.
Whether you've moved to a property with an established landscape or have recently renovated your outdoor living areas, a proactive landscape maintenance plan will insure that not only will your property look its best, but also that your investment will be protected.
Landscape Maintenance Services
for Ashburn, Aldie, Leesburg, VA and Surrounding Areas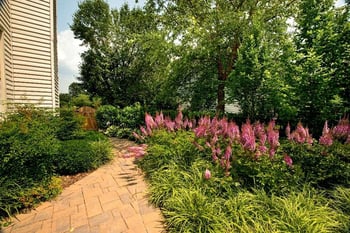 Our knowledgeable team of landscaping maintenance experts know the right way to tackle the largest of projects, right down to the smallest of details.
Landscape maintenance services for Ashburn, Aldie, Leesburg, VA and surrounding residential properties include:
Spring Clean-up

Dividing Perennials

Cutback of Ornamental Grasses and Perennials

Trimming/Shearing/Hand-Pruning of Shrubs and Ornamental Trees

Edging & Mulching

Weed Pulling and Preventative Weed Control Treatments

Fertilization of Landscape Plants

Treatment for Diseases and Insects of Landscape Plants
Every property is different, so our landscape maintenance services are designed to specifically address your home's needs in a way that keeps your property looking its best throughout the year.
Contact Us for a Free Landscape Maintenance Estimate
We'd love the chance to meet with you, hear your concerns and needs and come up with a customized approach that is best for you. Please don't hesitate to contact us for more information.