Posted by

Todd Thomasson on Jan 31, 2023 9:57:31 AM
When it comes to spending more time outside nothing quite sets you up for an amazing experience like a patio. A patio easily becomes the heart of your outdoor living space as a place where everyone can gather and begin making memories.

These days, a patio can be practically anything that you dream up. One of the best things about working with a design/build company is that you can achieve a custom patio design that is truly your own.

If your style and preferences tend to lean more toward modern design, you might be on the hunt for some modern patio ideas.

To help get you started, we've put together some modern patio design ideas to consider.
Modern Design Ideas for my Patio
Are you someone who prefers a modern design? Are you looking for a patio
that doesn't look outdated, boring, or basic?
Then here are some ideas for your patio that you may want to consider.
#1: Incorporating a Linear Design
Modern design is all about straight lines so if you are looking for a modern patio, you likely want a linear design. That might mean a long rectangular or maybe a square patio.

Since this is a custom design, the ultimate decision is all yours.

Of course, you can complement those long, straight lines of your patio with adjacent walkways and even the patio features that you add. For instance, a modern patio might have a square or rectangular fire pit or fireplace.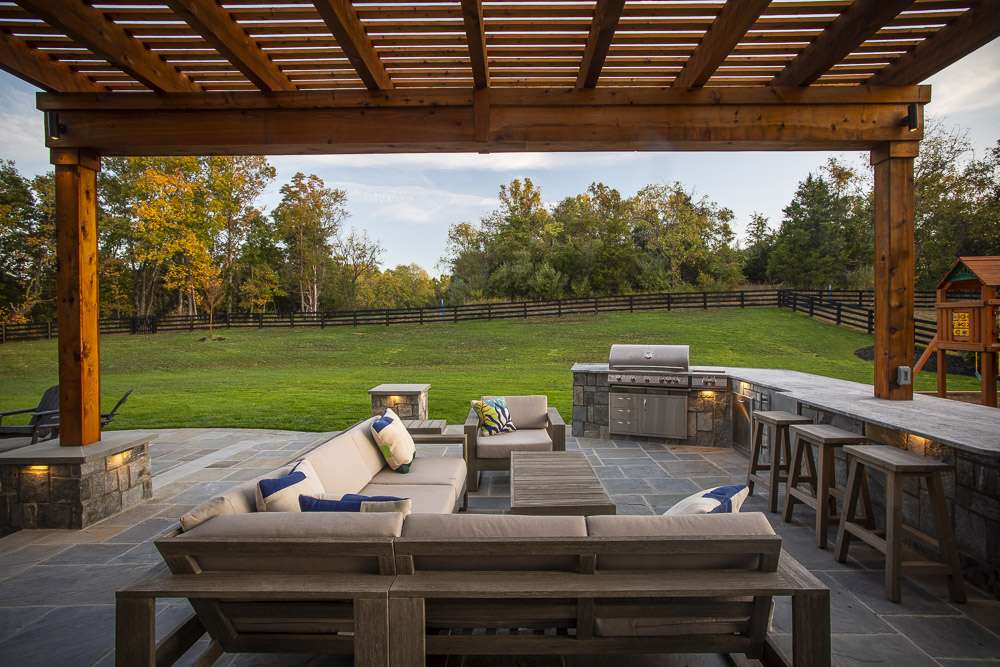 None of this is to say you can't add curves or a more flowy design to your patio or the features incorporated on or around it. Since it's your space, it can truly be whatever you want it to be. But oftentimes, when homeowners talk to us about modern patio designs, they already have a linear look in mind.

There are many linear patio ideas in our Image Gallery if that's the look that you are going for. But you'll also see some linear patios that incorporate some curves. In the end, it's all about the design that will fit your style and your space.
#2: Adding all the Bells and Whistles
One of the great things about the modern patio is that it can have all the bells and whistles that you want. Gone are the days when a patio was a boring hardscaped area with a few chairs and a table in the middle.

Patios are more than just the beautiful hardscaping beneath your feet.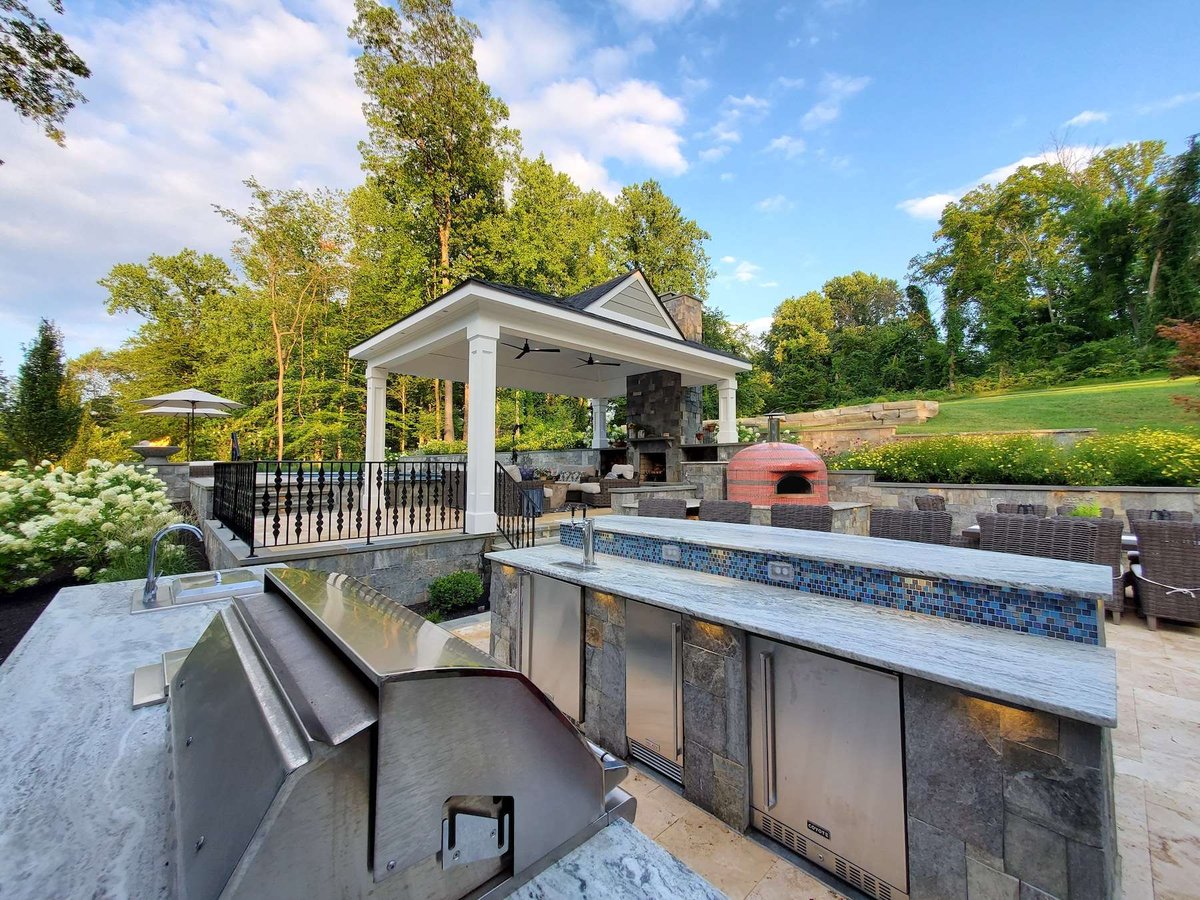 Today's modern patios have some amazing features that make them a special place to spend time.

Some features that might go along with your modern patio ideas include:
Fire features
A pergola or pavilion
Outdoor landscape lighting
Outdoor entertainment elements (like audio/visual components)
A big part of what makes today's modern patios special is that they have these amazing additions. These features are a way to make your patio truly unique.
#3: Amazing Patio Furniture to Complete the Look
We know that the furniture in your patio space is a critical element. Items like couches, lounge chairs, and loveseats have really come a long way in recent years. In fact, some of the patio furniture now available rivals furniture that you might see inside! There are some really amazing options.

When thinking about modern patio ideas, your furniture might be part of that conversation. At Rock Water Farm, we don't sell you furniture, but we want to hear about what you have planned. That's because it will affect your design.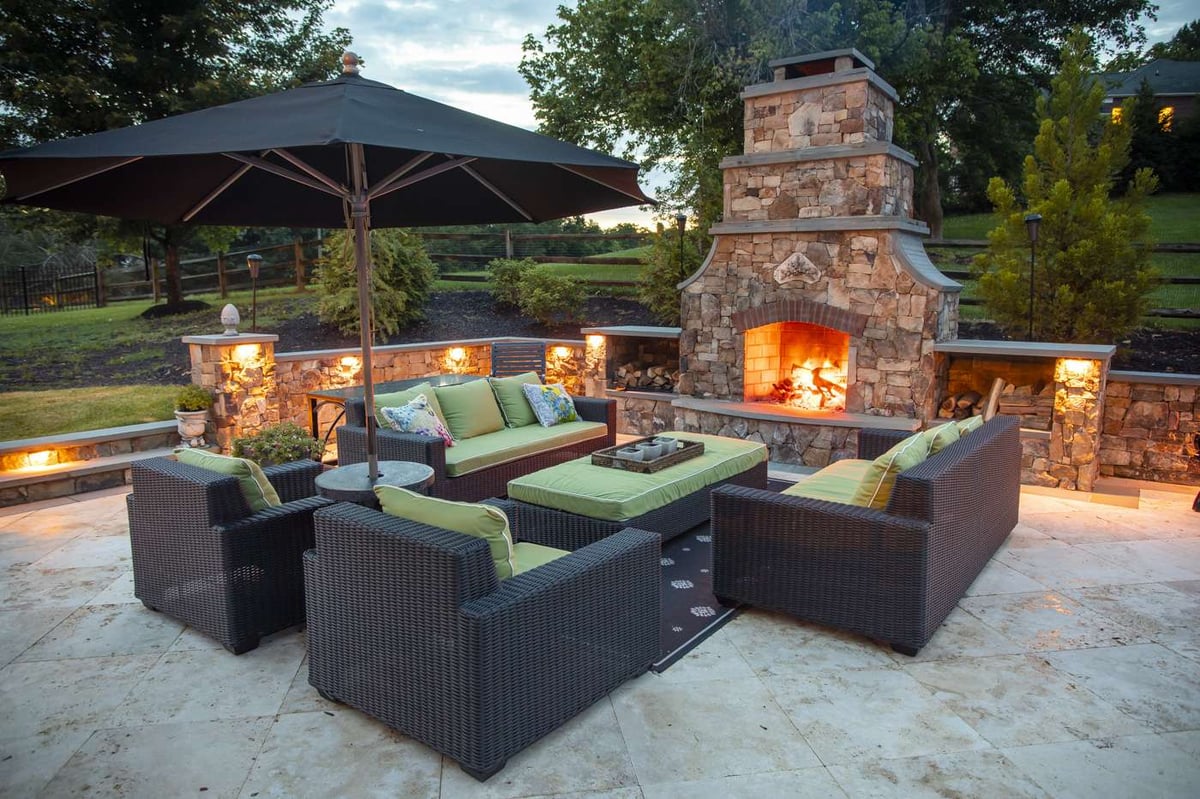 If you have some very specific furniture plans in mind, you want to make sure that your patio design can accommodate them. For instance, if you want a large 10-person table, you want to make sure that you have the right space designed for that.

One of the most frustrating things to see is a finished patio in which the furniture doesn't fit right. At this point, it might be too late to make any changes. If you've ever been on a patio where you can barely move your chair out from behind you without falling off the patio, you know what we mean!

In a modern patio design, it's important that the furniture fits properly!
Your Amazing Modern Patio Hinges on the Best Patio Design and Installation in Northern Virginia
At the end of the day, implementing some of these modern patio designs comes down to working with the right patio design and installation professional.

With the right landscape designer and builder as your partner, you'll be guided to making wise choices that will mean your outdoor living area ends up just the way you want.

While a lot of landscaping companies talk about building patios, many do not go to the great length necessary to ensure your satisfaction in the end.

So much of it boils down to a truly custom design. The finished patio should be truly your own…not a cookie-cutter patio like you've seen a million times.

That means working with a company that offers an extensive patio design and installation process that doesn't cut any corners.

When you make that wise choice, it means that no important details will be afterthoughts and that you won't have to worry that your finished patio falls short of your dreams.

At Rock Water Farm, we believe there is no room for error when it comes to investing your hard-earned money into an amazing outdoor living area. When designed and built properly, you certainly won't end up with a boring, run-of-the-mill, or (worst of all) problematic patio—you'll end up with the ultimate outdoor living space that fulfills all of your dreams and then some.

Are you ready to get started on the patio of your dreams at your Haymarket, Gainesville, or Purcellville, VA home? If so, talk to an expert, choose a solution that rocks, and get ready to see your dreams begin to take shape!