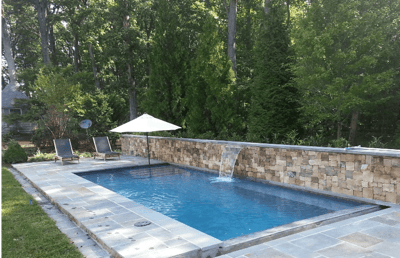 Whether you've just started your research on adding an inground pool or you've been at it for a little while, you want to feel confident that you're making the best choices possible.
But with so much information (and so many options) out there for homeowners in the Ashburn, Aldie, and Leesburg, VA area, it's not hard to start feeling a little bit overwhelmed by it all.
You might be wondering what type of inground pool is best for my backyard?
We understand that even though adding an inground pool is supposed to be exciting and fun, it can quickly become stressful with all of the decisions you have to make.
In order to help simplify the process for you, we've rounded up some of the best tips that will lead you toward having the pool of your dreams.
1. It's no Competition: Material Choice for the Best Inground Pools is Gunite
The material that you plan to use for your pool's construction will be one of the first big decisions you need to make. As you start to research pool material choices, you'll find that there are a lot of options.
The 3 most common pool materials choices for inground pools in Northern Virginia are vinyl, fiberglass, and gunite.
Vinyl Liner
A vinyl liner pool features a sheet of vinyl between the water and the pool structure. Underneath of the liner is a sand or cement-like floor, depending upon what is used for the structure.
Fiberglass
A fiberglass pool, on the other hand, is constructed in a factory or warehouse. The process utilizes a mold in which the fiberglass is shaped. For this reason, it is also often called a "prefabricated pool."
It will then be shipped on a truck to your home and installed in the excavated hole. A fiberglass pool has a smooth surface, though some would say it is too "slippery." It's a matter of personal preference.
Gunite
The material of choice for the best inground pools is gunite. It is superior for several reasons. Gunite pools use a rebar framework that is sprayed with a concrete and sand mixture—a process that is performed completely on site which is why this type of pool is also referred to as a "custom built pool". With the pool taking shape on your property, your design possibilities are only limited by your imagination.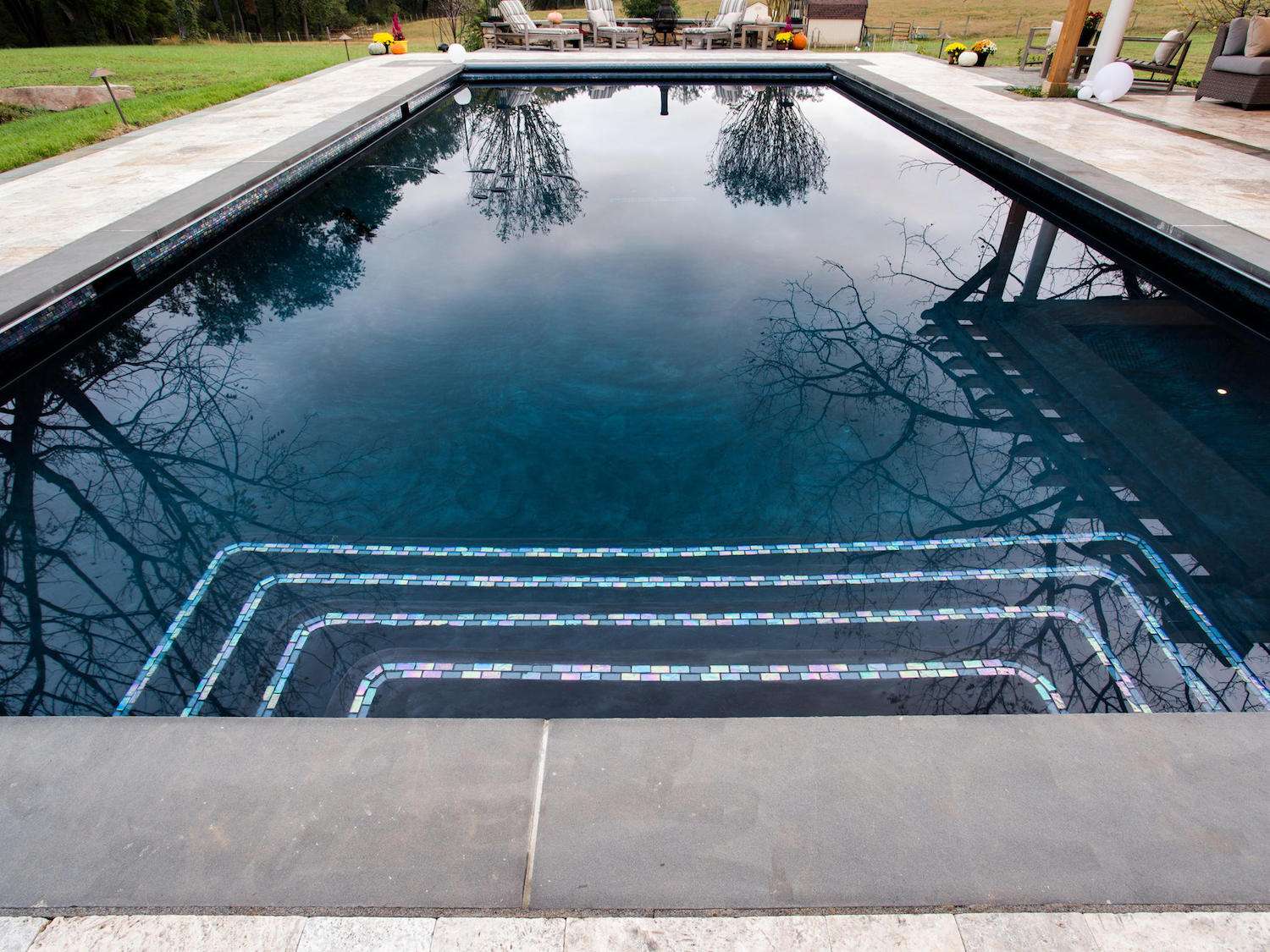 In addition, this spraying method is preferable over a traditional poured concrete pool that requires a wooden framework to hold the shape of the basin. Due to its high level of durability, swimming pools that are built from gunite are truly built to last.
2. Choose a Style that Suits Your Taste and Preferences
When gunite is used for inground pools, the style possibilities are endless. That means you can get incredibly creative with the shape and any features that you decide to include.
Whether that's a very linear pool with straight edges, a curved pool with a freeform shape, or something entirely unique (maybe a combination of both or some sort of shape, like a guitar), you can have it as part of your custom design.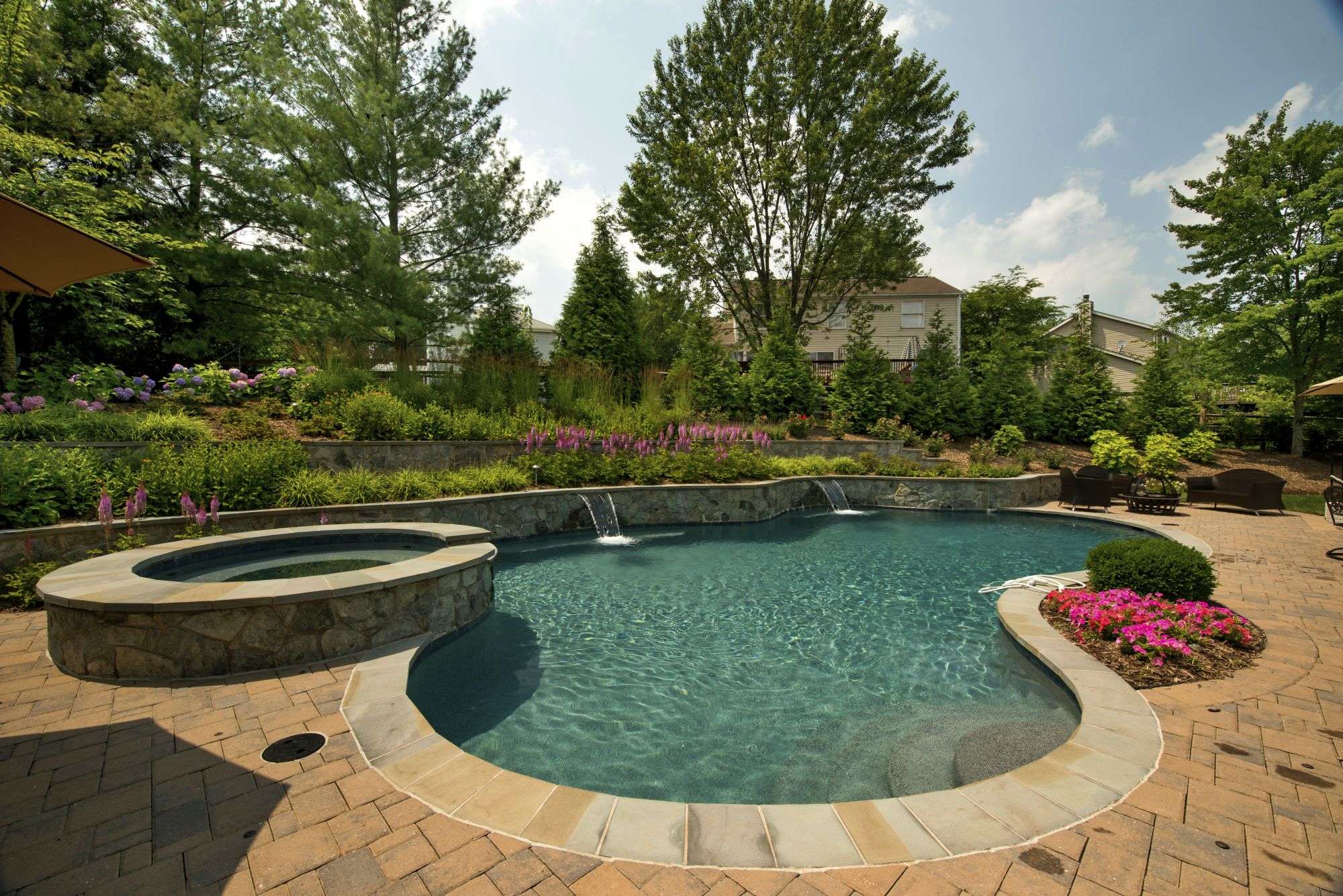 With a gunite pool, you are also not limited in colors of finishes.
When it comes to choosing what style will work best for you, personal preference will be the biggest deciding factor. You should make choices that suit your preferred taste. But you should also keep your home's architectural style and the rest of your landscaping in mind to make sure that everything "fits."
For instance, these Warrenton, VA homeowners chose a black plaster for their pool finish so that it didn't stand out in a weird way from the farmside setting. A pool with turquoise blue waters simply wouldn't have fit with the countryside scenery.
3. Features Can Take Your Pool the Extra Mile
Want a pool that really stands out and is unique to you? Pool features are what can really take your pool to a whole new level of "wow."
Features include additions such as built-in rock formations, waterfalls, "tanning ledges," swim-up bars, beach entry walk-ins, and more. A lot of homeowners get their inspiration for pool features from resorts that they've visited on vacation. Luxury features can be added to inground pools in Ashburn, Aldie, or Leesburg, VA to make your backyard feel like a vacation all of the time.
One feature that is quite popular is an infinity edge. An infinity pool is a swimming pool where the water flows over one or more edge producing a visual effect of water with no boundary. They're often seen at high-end resorts.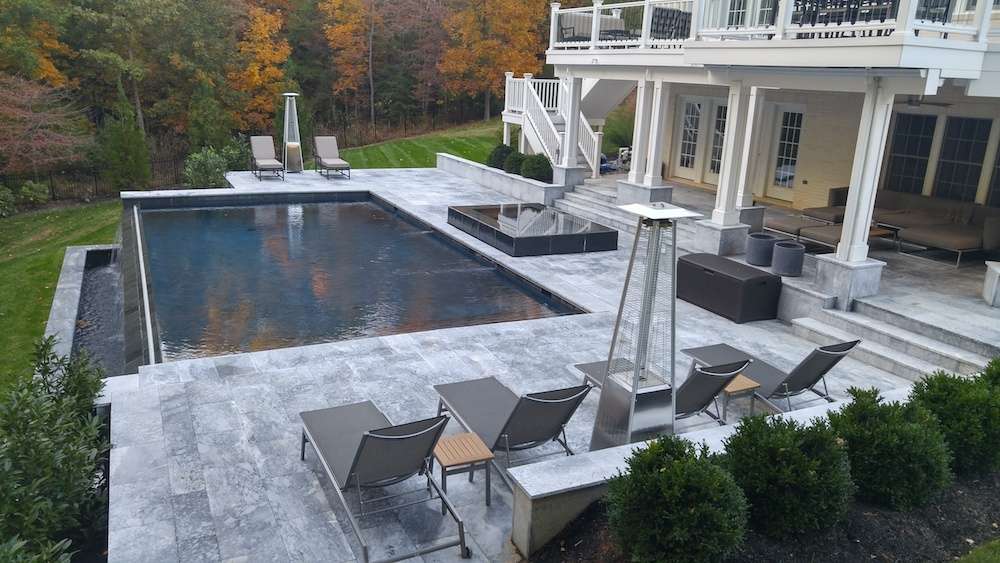 The walls of an infinity edge pool slope downward away from the pool to create the illusion of dropping off and to form a waterfall. The water falls into a catch pool below, which is a basin that sits beneath the edge. This water is pumped back into the main pool.
There's no question that the number one reason homeowners consider an infinity pool design is the "looks." It's such an attractive addition to the property that it really takes a backyard oasis to the next level. However, an infinity pool also has the added benefit of incorporating the tranquil sound of running water onto a property, something that a lot of homeowners really appreciate.
4. The Area Around Your Pool Matters, Too
It's not just the pool itself that matters when it comes to fulfilling your dream. The area surrounding your pool is also critical to the overall success of the space. The last thing that you want is a highly unique custom pool and a cookie-cutter patio and boring landscaping surrounding it.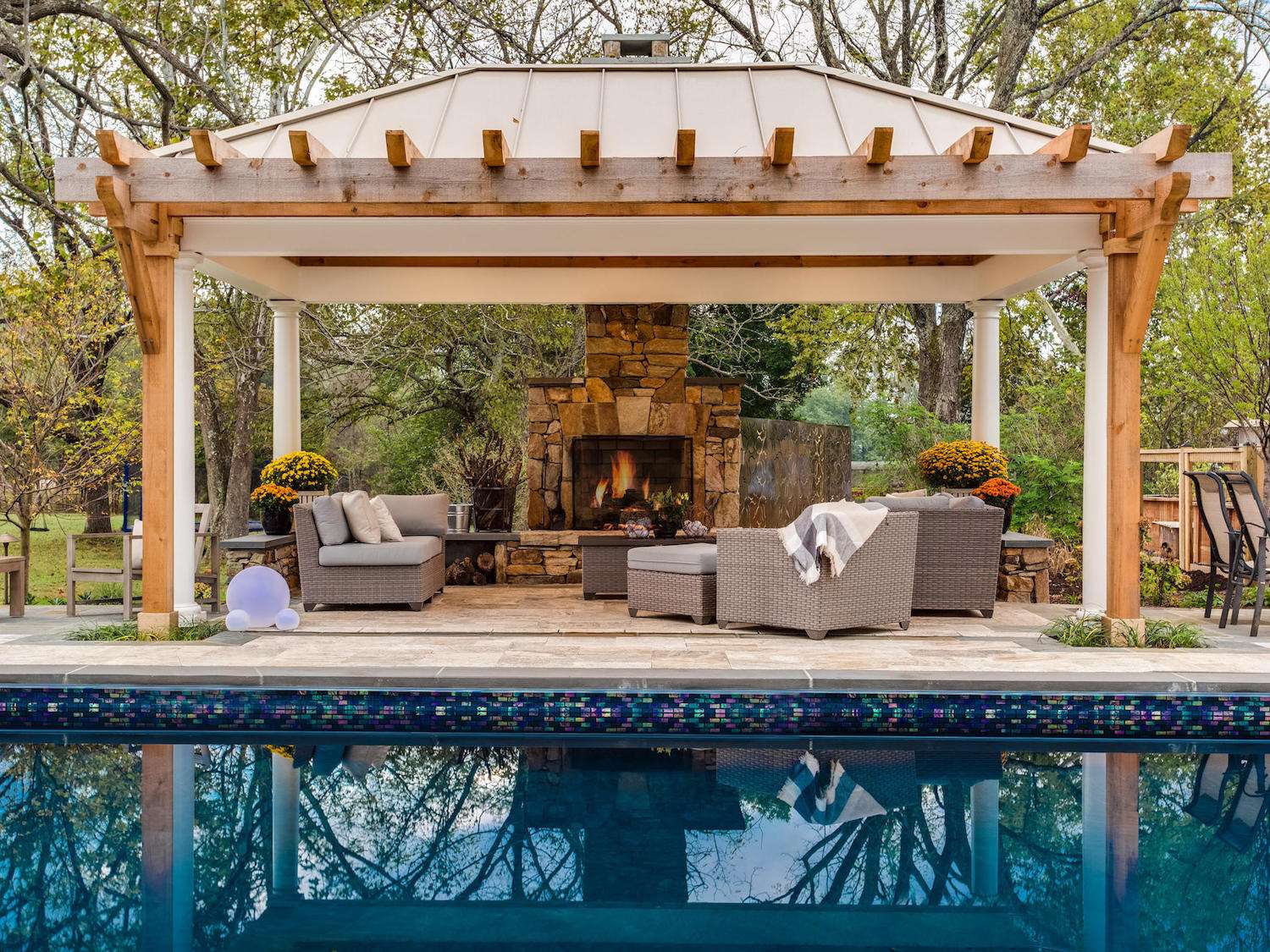 Everything about your pool area should be unique and designed to your wants (and your property).
This is also important because you don't want to have additional work that needs to get finished after your pool is installed. When your pool is finished, you want it to truly be finished. You don't want to start all over with a new project and a new company. You want to be able to get out there and start enjoying every aspect of your new space.
As a result, having the areas around your pool finished at the same time is important.
Some of the additions that make for the best inground pools include the following.
Pool patio
Poolhouse
Pavilion or pergola
Outdoor kitchen
Retaining walls and site grading
Walkways and steps
Fire features
"Poolscaping" (landscaping around a pool)
5. Not All Inground Pool Companies in Ashburn, Aldie, & Leesburg, VA are Alike
It's important to mention that pool companies in the Northern Virginia area can vary drastically. Ending up with your dream pool largely has to do with choosing the right company for the job. Here are some of the common problems that we've witnessed with some of the pool companies out there.
Be on the lookout for these red flags.
A Company Driven by Volume
Some pool companies are driven by volume, trying to get as many jobs as they can in a season. This is common for pool companies that only build pools (and don't also perform landscaping). They have a short season and need to fit in as many jobs as they can. But this can lead them to rush so that they can fit in as many jobs as possible.
You want to find a pool company that is focused on customized work and cares more about quality over quantity.
A Company that Doesn't Offer Landscaping & Hardscaping
When you choose a pool company that only installs pools and doesn't perform any landscaping tasks, then you end up needing to work with two different companies (one for the pool and one for the landscaping). This can lead to a very disjointed look instead of one that was designed to look like one complete space.
In addition, a lot of pool companies in Northern VA that don't have a good understanding of landscape design tend to work with low-quality materials. That often means they only install concrete patios around their pools. If they don't have a landscape design background, it's quite unlikely that they'll install high-quality pool patios such as travertine.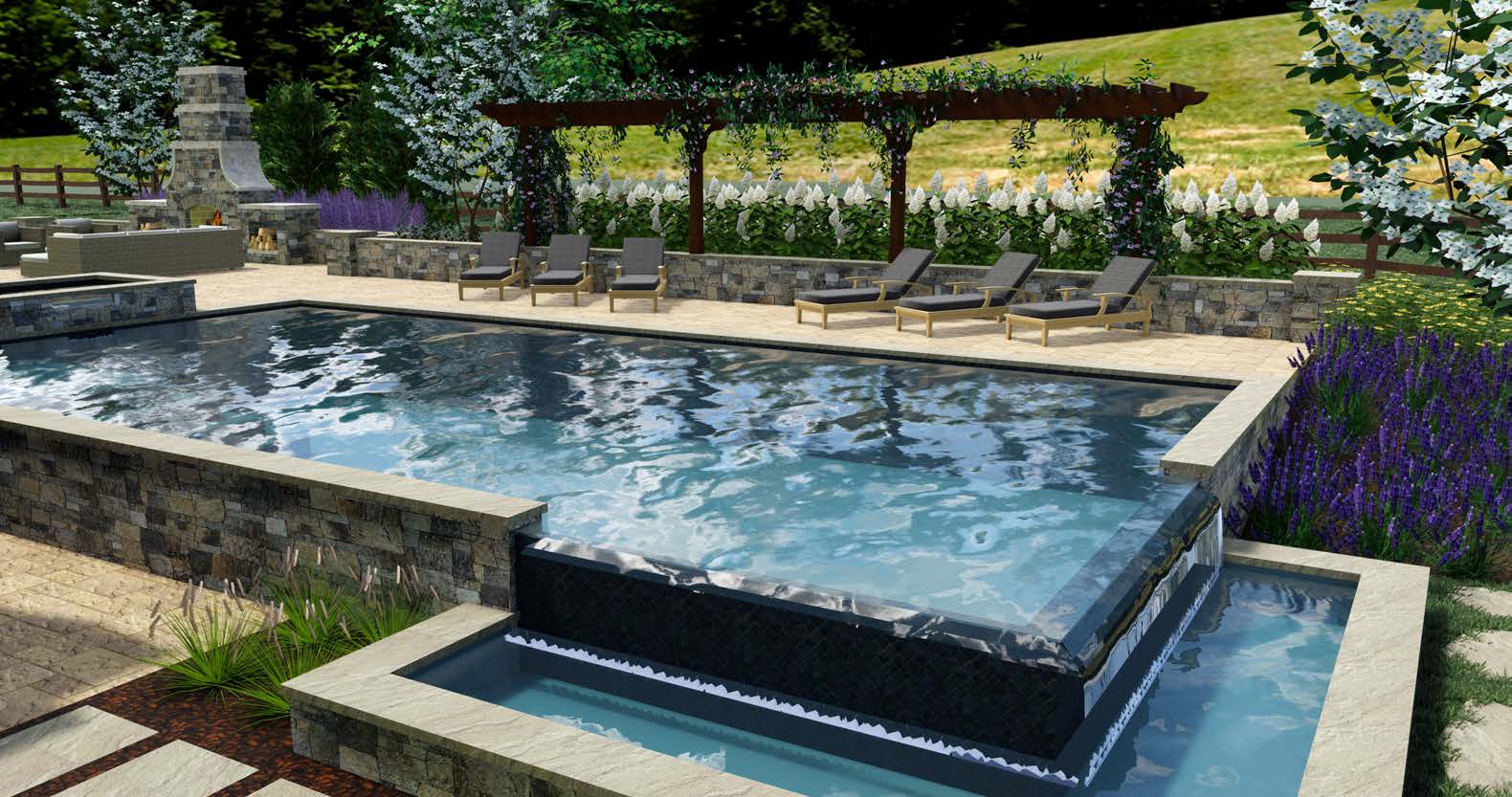 A Company that Installs Cookie-Cutter Pools
The best way to get a sense of whether a company designs and installs original pools is to look at their portfolio. Do all the pools look pretty similar (or even identical)? Maybe there's some variation and they're calling this "custom." But in reality, they're only giving you 3 different designs to choose from.
If you want a truly custom pool, you need to choose a pool company that completes all of their pool designs for the individual; Not a pool company that tells you what to choose from. After all, you deserve to have the custom pool that you've been dreaming of.
Making Your Inground Pool the Ultimate Backyard Retreat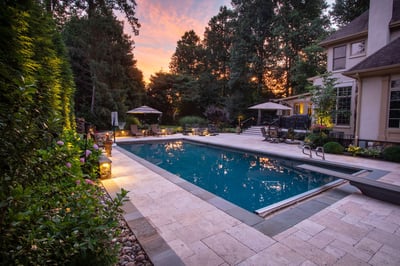 When it comes to something as important as your swimming pool, which you'll enjoy for years to come, you want to be sure it's completed exactly as you desire. It's commendable that you're taking the time to research what's out there and ultimately make educated decisions that you can feel confident you'll be happy with.
The first step in that process will be choosing a pool company that you can trust.
You probably know of some of the horror stories of pool construction that have gone wrong. That includes pool companies that have left behind mounds of dirt or a torn-up yard. Or, sometimes it's just a matter of the pool company that left homeowners with a pool that they didn't really want.
However, by choosing Rock Water Farm, we assure you that won't happen. You won't have to worry about any of those "red flags" that the pool company you've chosen is a bad fit.
Instead, you'll get the job done right and have the end result you had in mind from the start. If you want a beautiful pool that will not only be amazing to look at but will be part of a highly functional space, then we would love to work with you on making those ideas a reality.
Are you ready to talk to an expert about designing and installing a complete backyard pool area at your Ashburn, Aldie, Leesburg, or Warrenton, VA home? If so, talk to an expert, choose a solution that rocks, and get ready to see your dream pool area take shape.