Posted by

Todd Thomasson on Aug 28, 2020 3:23:00 PM
If you're having a complete outdoor living landscape project designed and installed then you want to know exactly what it's going to look like when it's complete. After all, if you're investing heavily into a project, you ought to be able to know what you're getting.
While you may be aware of typical landscape design options, such as an overhead 2D rendering, you may be looking for something more than that. As a visual person, you may want something a lot more realistic so that you can ensure you and your landscape designer are truly on the same page.
What is
3D Landscape Design
?
The use of 3D landscape design is the answer to your worries about a realistic view. Instead of just viewing a project from an overhead viewpoint, you'll see it as a 3D landscape design that allows you to fully visualize the entire space in a lifelike capacity. With depth and dimensions, designed to scale, you'll really get a sense of how the entire project will come together upon completion.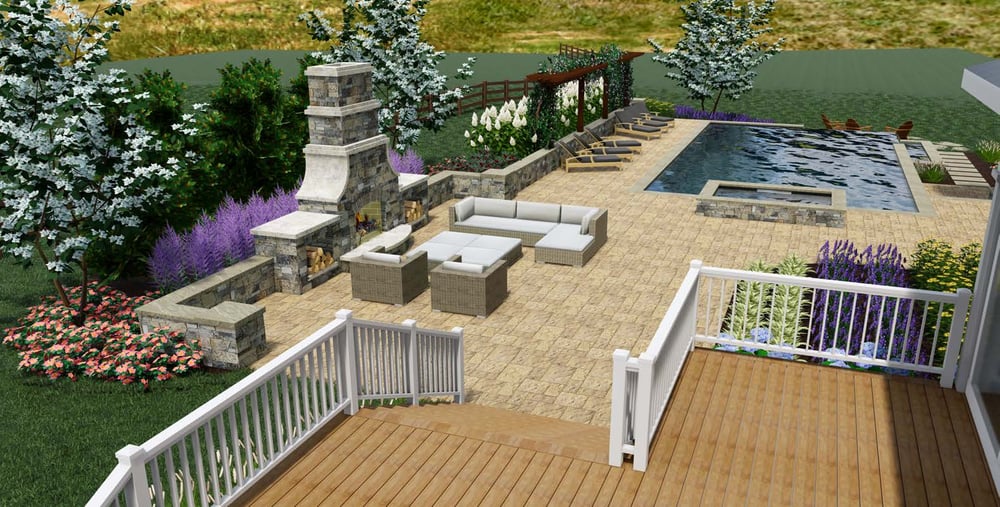 The best way to think of 3D landscape design is that it brings a project to life before it's actually built. You'll be able to see exactly what it's going to look like and even virtually tour the space as it's shown on a computer screen.
Do I Need
3D Landscape Design?
There's no question that 3D landscape design offers exciting possibilities by bringing your design to life. However, it's not necessary for every landscape design project. The truth is, a simpler outdoor project, such as a fairly simple patio with a few landscape beds, really does not warrant a 3D rendering.
Why? It's just not necessary. It's not that difficult to visualize a simpler project. For instance, a patio design with an area for your grill can be fully realized without going to the great lengths that 3D involves. With the use of portfolio pictures and material samples, you'll have no problem visualizing what your finished project will look like using just a 2D rendering to get the shape and layout down pat.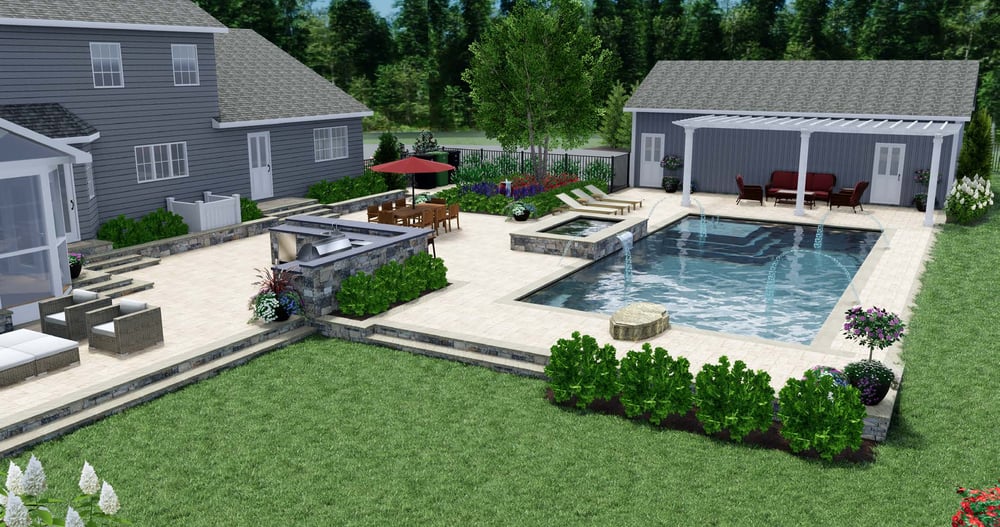 It's when projects get into the realm of having multiple areas—more than one patio, a pool, a pavilion, and/or an outdoor kitchen—that it becomes more and more complicated to try and visualize it all in 2D. Larger scale, complex projects with multiple areas and a lot going on are those that will benefit most from 3D landscape design. It will allow you to see how it will all come together.
How Much Does
3D Landscape Design Cost in Northern Virginia?
While every landscape company has their own way of pricing landscape design, it's important to understand the value that you're receiving for this service. A complex design can be time-consuming and this is even truer when it comes to 3D design. There is a lot that goes into the creation of a design of this caliber. But your landscape design contractor understands the benefit to you—in helping you to fully visualize what you're getting.
Of course, it's mutually beneficial to get everyone on the same page. The last thing that your contractor wants is for you to not be able to understand what your finished project is going to look like and therefore fail to request changes while there's still time. It will make the entire process go more smoothly when everyone knows what to anticipate.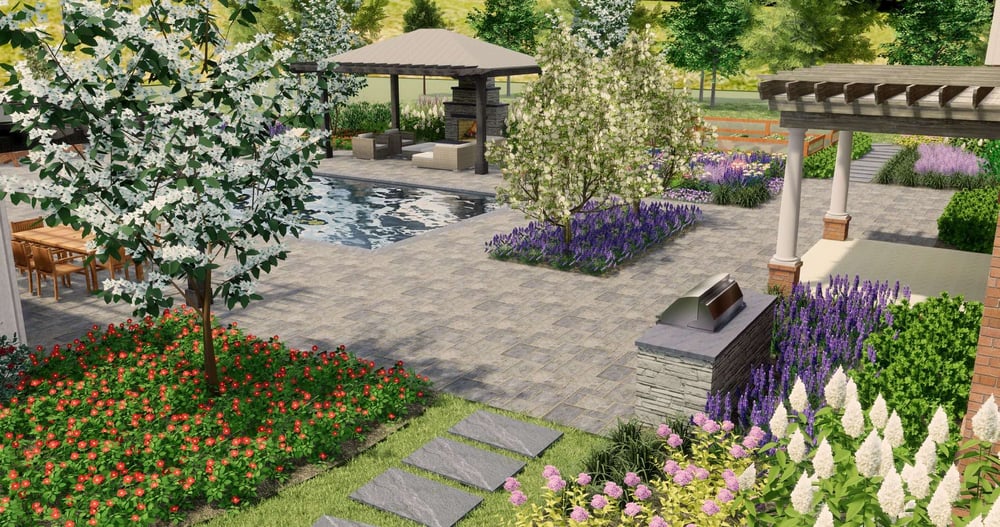 That's why, at Rock Water Farm, we are not charging for 3D landscape design, if the customer is committed to the project. If you've already established a budget and are committing to work with Rock Water Farm on your complete outdoor living space, then we feel that using 3D design will help ensure that we're all working from the same page. That's really important to us and worth our substantial investment of time and energy into the design.
What you should not anticipate is that we will perform a 3D landscape design only. We simply don't operate this way. At Rock Water Farm, we reserve design services for customers alone. After all, if you're seriously interested would you want to be waiting for someone that is not?
This is a service meant to help us build your project exactly the way you envision it and it's part of our overall back-and-forth process, in which we anticipate having you closely involved.
Put simply: we only offer design services for projects that we will also will be building.
Who Offers
3D Landscape Design
?
At Rock Water Farm, we aren't trying to pretend that we are the only company offering 3D landscape design in Northern Virginia. This is a service that other landscape companies are using as well—as they should be, particularly if they are building complex outdoor living spaces.
A highly professional landscape company ought to be able to offer this service for large projects. If they don't, then you have reasonable cause for concern over what your finished project will look like. It may be difficult for you to envision a complex project with a simple 2D drawing.
Of course, with that being said, there are certainly landscape design companies in Ashburn, Aldie, and Leesburg, VA that do not offer 3D design. This is a valuable question to ask during your quest to find the right company for your project. If they can't offer you a 3D rendering of your complete outdoor living area, then you may be more wary of investing your money into their work. After all, a huge benefit to 3D design is that it instills confidence.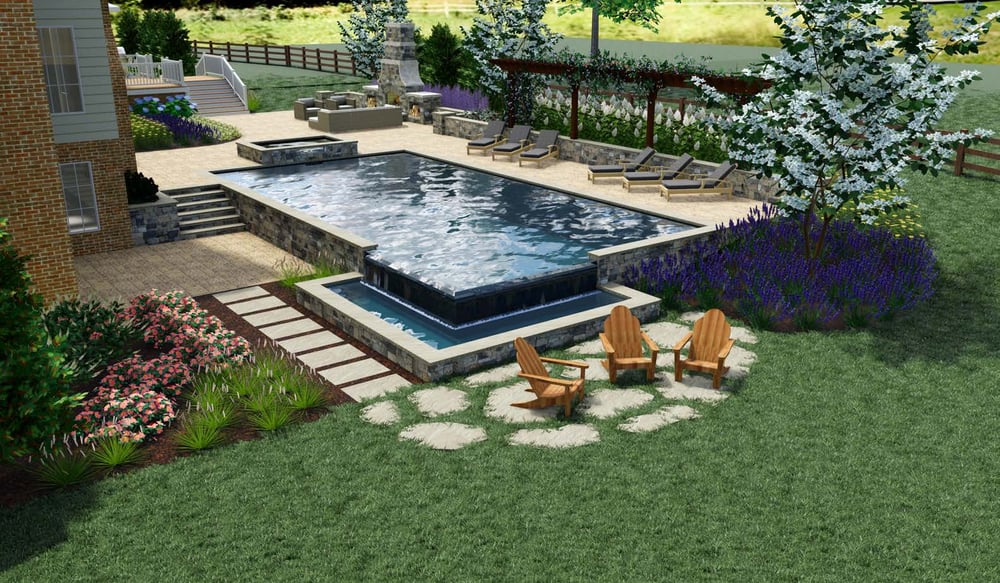 While we do believe a fair amount of landscape design and build companies are offering 3D landscape design, it's also worth noting that not all designs are created equal. As we mentioned, it really does take quite a bit of time, as well as skill, to put together a complex and truly to-scale 3D design. It's a talent that not all landscape design companies possess. As you consider landscaping companies in Northern Virginia that might be a good fit for your outdoor living project, be sure to consider what the design phase of the project will be like as this is a critical element.
One way that you can do this is to review their previous work. Ask to see some of their renderings from other projects. Compare their renderings to portfolio pictures of the finished result. That will provide you with some helpful insight in terms of what to expect.
Choosing a Landscape Design Company
The design of your outdoor living project is a very critical element. After all, it is the design that is going to ultimately drive the finished product. That's why it's so important to choose a landscape company that takes the design phase seriously and can offer 3D design services so that you know exactly what you're getting in the end.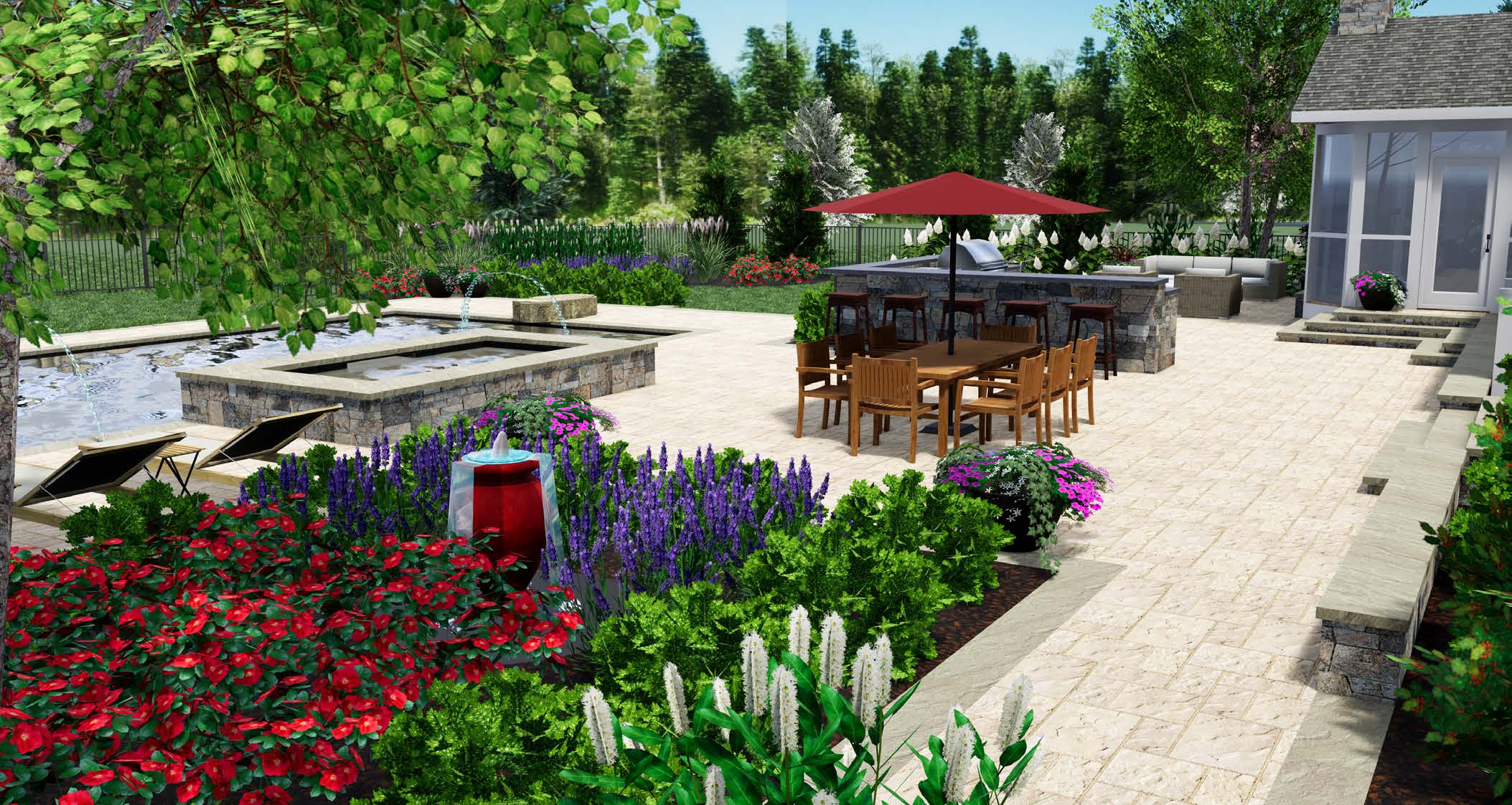 When it comes to something as valuable as your total outdoor living space, the last thing that you want is to leave it to chance. You want to be able to feel fully confident that your ideas are coming to life exactly the way that you want them to. In the end, the only real way to do that is to see those ideas in life-like form prior to the project's completion. By doing so, you'll be able to feel cast your worries aside and know that you're going to end up with exactly what you desire.
If you're ready to see a 3D rendering of your total outdoor living area at your Ashburn, Aldie, or Leesburg, VA home, talk to an expert, choose a solution that rocks, and then get ready to see your dream truly take shape (in 3D)!