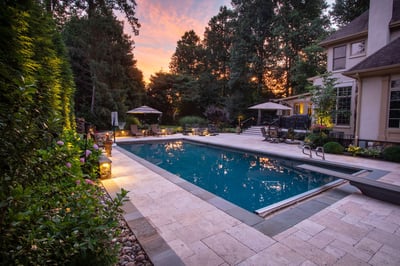 A pool is one of the most exciting features you could add to your property. It can literally take your backyard to a whole new level of entertainment. It's a feature that will allow you to make the most of time spent outside—maximizing every hour and enjoying your days (and evenings) to the fullest.
Of course, if you're planning to add a pool, then you are likely on the lookout for the best pool builders in Ashburn, Aldie, and Leesburg, VA. With a project as important as this, you want to know that you've hired the right pool company for the job. You may already know that a pool is a large investment and you want to ensure that the finished project is exactly what you wanted.
The last thing that you want is to end up with a pool that you don't absolutely love.
If you've performed a search for the best pool builders near me, then you've likely come up with a list of names in our area. At Rock Water Farm, we have been designing and installing pools for many years now and have a strong sense of our competition. We know that we're not your only choice. Even so, some of your options are better than others and we want to help you to choose wisely.
In order to help you in your quest for finding the best pool builders in Ashburn, Aldie, and Leesburg, VA, we've rounded up a list of the top 5 along with some details about them:
Anthony & Sylvan Pools
Town & Country Pools, Inc.
Lewis Aquatech
NVblu
Rock Water Farm Landscapes & Hardscapes
1. Anthony & Sylvan Pools
Anthony & Sylvan is a national chain that is located in 13 different states. In Virginia, the company has branches in Richmond and Ashburn.
Anthony & Sylvan installs mostly concrete pools and concrete pool patios, though they do also talk about fiberglass as an option on their website.
As a large national pool builder, it could be surmised that Anthony & Sylvan is volume-driven. They are looking to install as many pools as they can considering the pool season in Northern Virginia is not year-round as it is in some of their other locations.
2. Town & Country Pools, Inc.
Based in Springfield, VA, Town & Country Pools designs and installs all 3 types of inground swimming pools—fiberglass, gunite, and vinyl liner.
In addition to installing pools, the company has expanded into offering pool maintenance and repairs as well.
3. Lewis Aquatech
Lewis Aquatech markets itself as an "outdoor living company" and their services do include poolscaping (though they are not full-service landscapers), making them a more comprehensive option than just hiring a pool builder.
The company, which is based in Chantilly, VA, has gotten a reputation as a "luxury pool builder" that primarily focuses on ultra high-end pools. We've heard of their involvement in some projects that have pulled them out of the area to perform international work.
4. NVblu
Based in Chantilly, VA, NVblu is a pool builder that installs inground gunite pools. In addition to the design and installation, the company also services pools.
While they perform residential work, NVblu is not devoted to homeowners alone and also has a commercial division.
5. Rock Water Farm Landscapes & Hardscapes
Of course, we hope that you'll also consider Rock Water Farm as you look at the best pool builders in Ashburn, Aldie, and Leesburg, VA.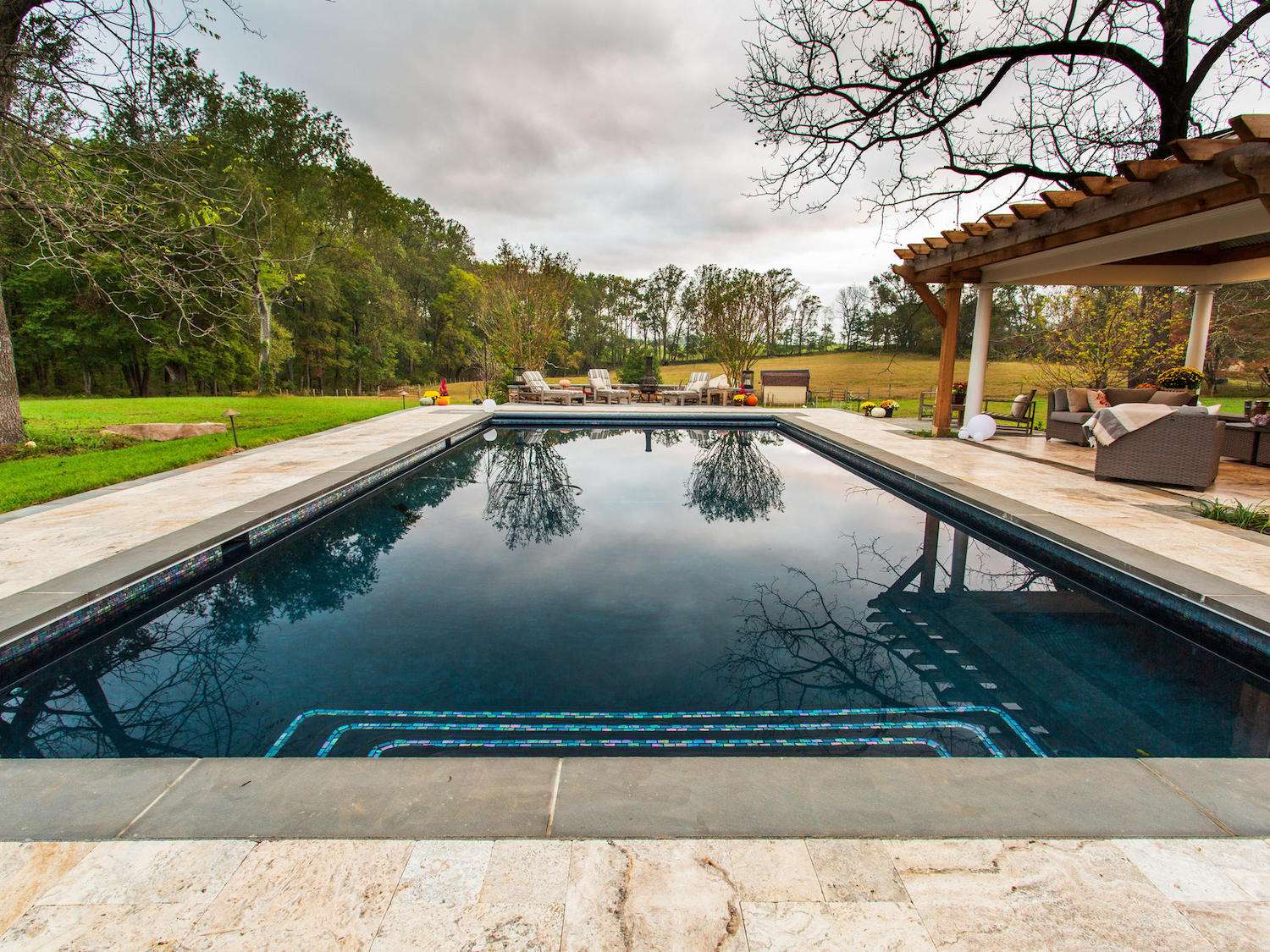 At Rock Water Farm, we only perform custom pool installations and we do not install fiberglass or vinyl liner pools. We find that gunite is the superior product and is therefore the material that we work with for all of our custom pool installations.
There are a few key differences between Rock Water Farm and the other companies on this list. Let's breakdown the biggest ways in which we differ.
Complete Pool Area Design and Installation
As a full-service landscape company that designs and creates complete spaces, we approach the design and functional use of the entire property, not just the pool. Unfortunately, pool companies often get tunnel vision and are driven to just plop the pool, pour a concrete patio, and move on to their next job. They often fail to think about all of the other aspects that should make up the complete design.
In addition to leaving the project lacking, a pool company that doesn't think about the landscape as a whole could cause serious problems.We've heard horror stories of pool patios sinking because proper site grading was not performed and the pool builder just used unstable fill dirt to fill the space left.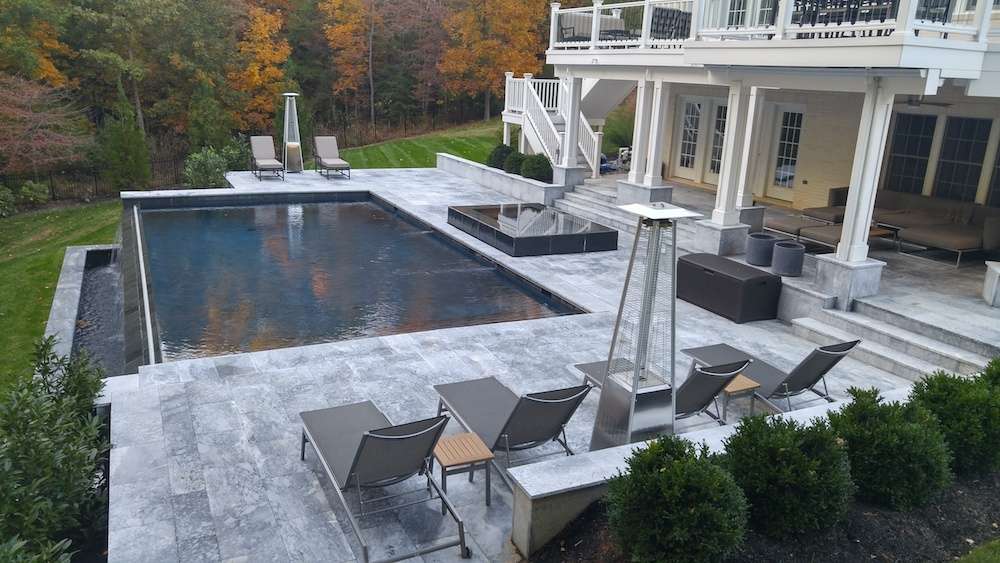 In fact, we've been called in to fix problems with pool areas that pool builders left behind. In some of the worst case scenarios we've seen, the pool builders even left behind a giant pile of dirt where they had excavated the pool and left it to the homeowners to deal with. Had a landscape company specializing in the design and installation of pools handled the project, everything would have been addressed—not just the pool.
Quality Over Quantity
Because we are not solely focused on pool building, we are also not volume-driven, trying to fit in as many pools as we possibly can each season as a large pool builder might. This allows us to really focus on each project and devote our time to making every pool that we work on spectacular.
We don't build cookie-cutter designs. We are focused on customized pool work and every single one of our projects is unique. If you look at some of the large pool builders and their work, you will find that many of the pools look exactly alike.
Size and Local Focus
We are not a national company and we really do stick to focusing on our local service area of Ashburn, Aldie, and Leesburg, VA. We also don't perform any commercial pool design/build work. We are committed to residential pool creation.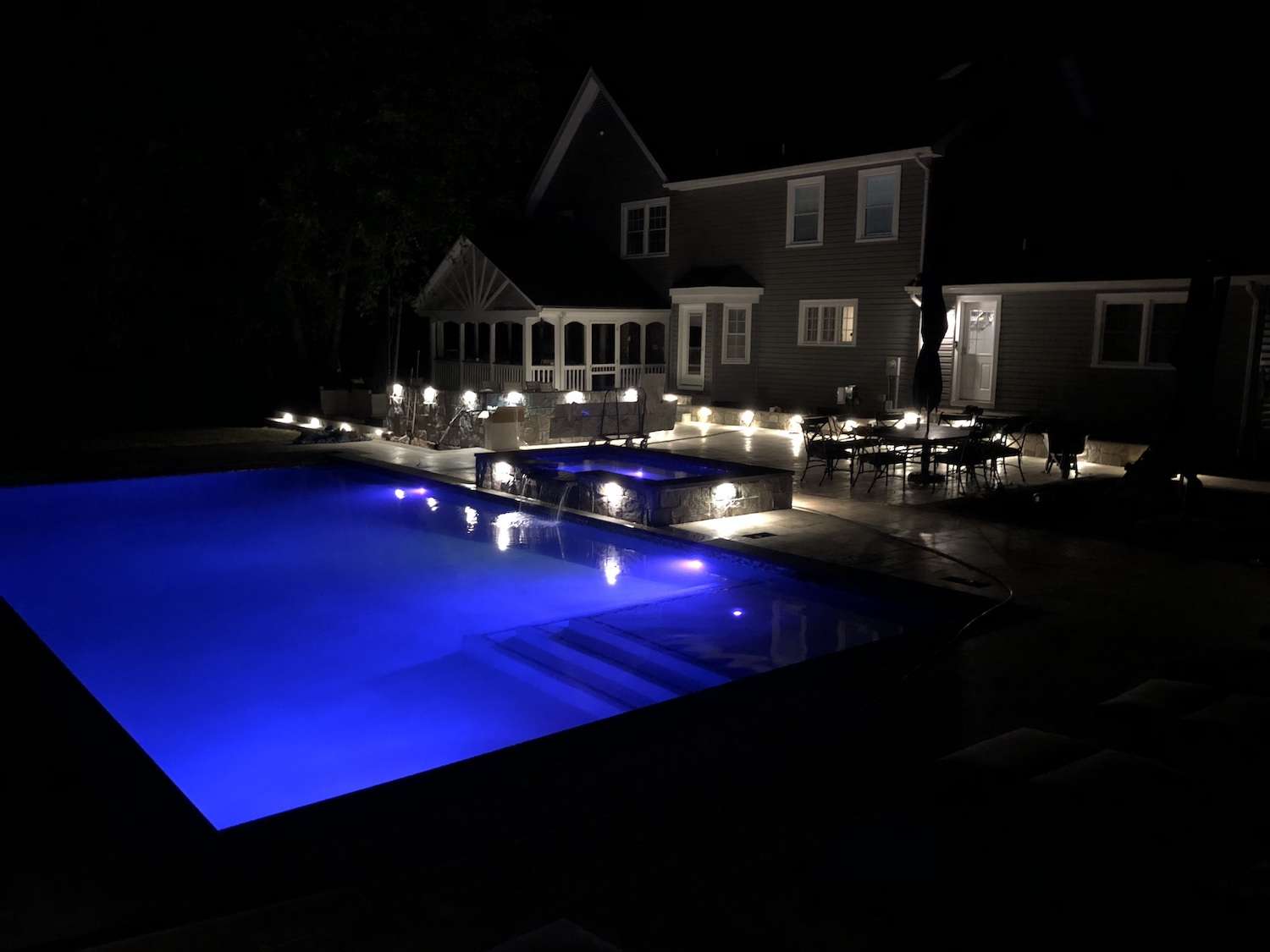 Being a little bit smaller and locally focused has allowed us to really get to know our customers on a more personal level. We are in the business of building long-lasting relationships. In fact, it's quite common for us to design and build a pool for a client and have them ask us to take over their maintenance needs since they are so happy with our company and our service.
Choosing Amongst the Best Pool Builders in Ashburn, Aldie, and Leesburg, VA
When it comes to something as important as your swimming pool, which you'll enjoy for years to come, you want to be sure it's completed exactly as you desire. You don't want there to be more work to do after the project is supposedly finished. You want a turnkey solution. In order to get that, you know that you must hire a company that looks at the big picture and thinks about how to make your pool space truly complete.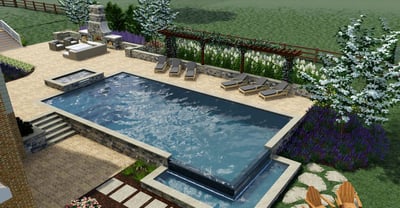 Given the importance of this decision, it's wise that you are performing research and narrowing down your choices to the builder that will work best for you.
At Rock Water Farm, we believe that your backyard isn't just about the pool. It's about the memories that you will make there—and that's why you want a complete outdoor living environment that truly has it all.
After all, once the pool is in, it's yours, and the last thing that you want is to wind up with a mediocre pool that doesn't live up to your dream. However, if you go the cheap route or hire a company that can't do it all, you may find that it feels like the project is never ending as you'll have renovations or additions to make in the future. Unfortunately, that's going to mean more investment and more hassle over time.
Instead, you can make the wise choice from the onset and feel confident that you're getting the pool of your dreams.
Are you ready to talk to an expert about designing and installing a complete backyard pool area at your Ashburn, Aldie, Leesburg, or Warrenton, VA home? If so, talk to an expert, choose a solution that rocks, and get ready to see your dream pool area take shape.