Posted by

Todd Thomasson on Oct 30, 2023 9:51:42 AM
When it comes to maximizing your time outside, it's important that you're comfortable in your outdoor space. A particularly sunny backyard can sometimes make it hard to enjoy your patio if you feel like the sun is beating down on you.

Fortunately, there are various patio shade structures that can solve this problem.

In this article, we'll dive into some patio shade structure ideas for your Northern Virginia backyard. You want something that is both functional and attractive so that you can get the most out of your space.
Backyard Patio Shade Ideas
Adding shade to your backyard patio can make it much more comfortable. Your family and friends won't feel as though they are roasting in the sun. Here are a few ideas to keep in mind.
Incorporate Umbrellas
One of the simplest backyard patio shade ideas is simply incorporating some umbrellas in key areas that get a lot of sun.

Often, homeowners will have us include built-in umbrella stands as part of an outdoor kitchen so that the chef is covered while cooking. You'll want to make sure that an umbrella hole and stand are incorporated into your built-in countertops for this purpose.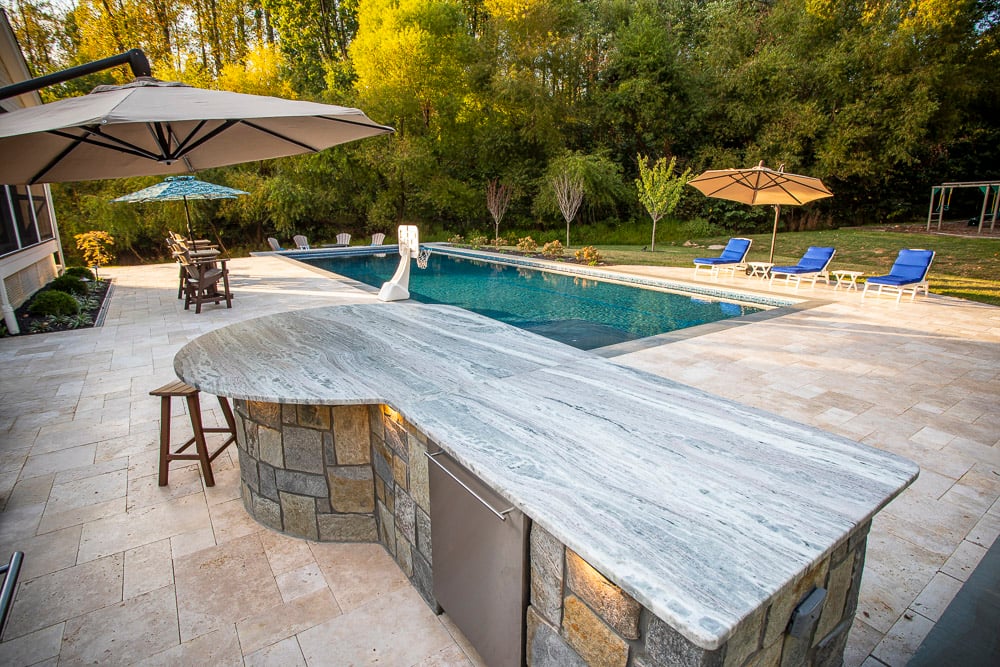 Umbrellas provide some flexibility in that they can be moved around to different stands and they can be taken down if not needed.

But umbrellas have some downsides, too.

They aren't going to provide shade for everyone on your patio (unless you have a bunch of them). And some people find umbrellas to be a bit of an eyesore (particularly if you need a lot of them to shade everyone). One or two umbrellas can be an attractive and useful addition. However, a bunch of umbrellas can start to look cluttered.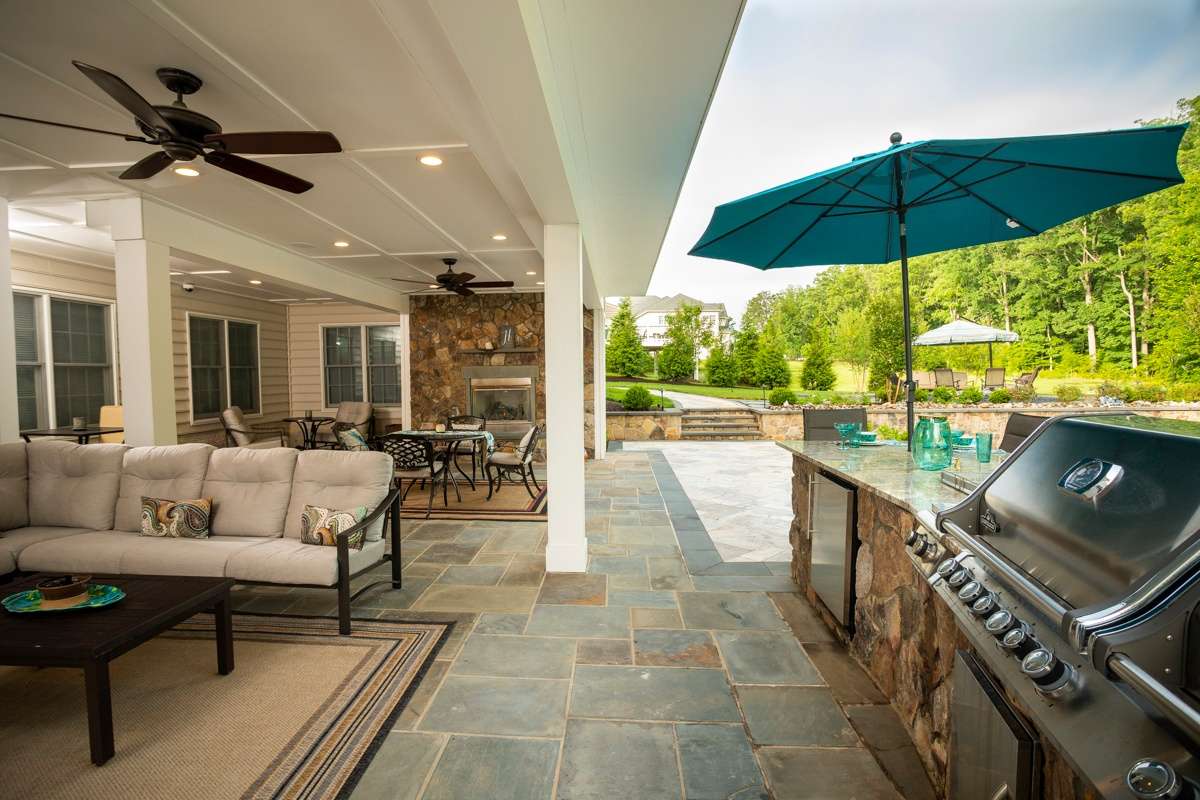 They are also subject to the elements and may need to be replaced over time. It's not a permanent solution in that regard.

If you're looking for a more substantial patio shade structure, you might want to consider a pergola or a pavilion, which we will talk about next.
Add a Pergola
Adding a pergola is a great way to get shade without completely enclosing your patio space. A pergola has an open roof which allows you to see the layered beams above. People like the idea of a pergola because it does allow some sunlight to filter through.

But you can still add a fan or even a retractable sunshade to the pergola itself. Homeowners also appreciate the architectural details of a pergola. Their exposed beams and open feeling add appeal to a space that they don't want to totally "box in."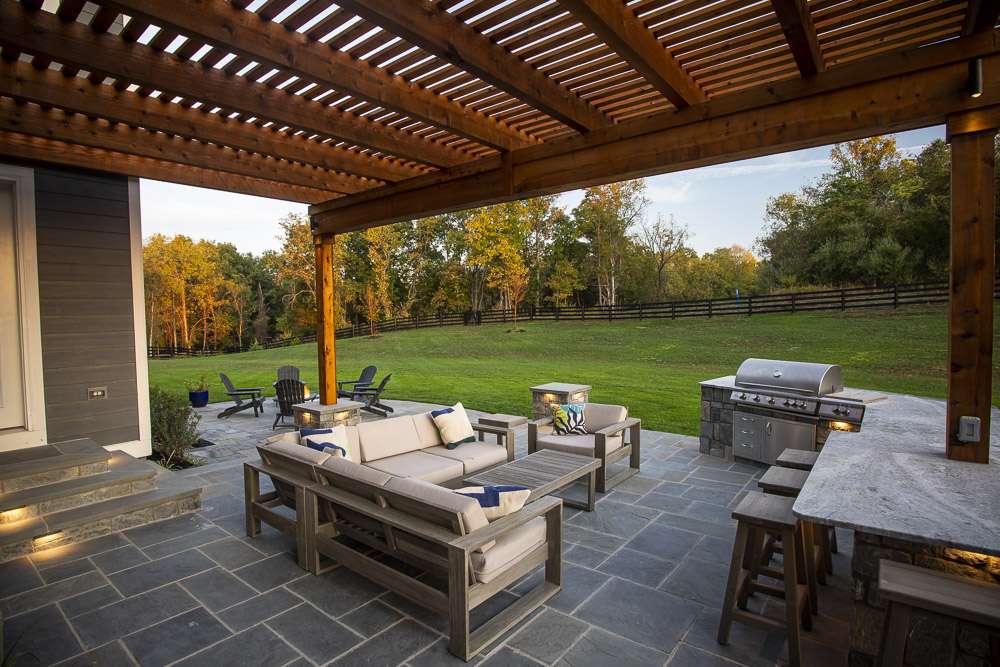 It's important to know that we aren't talking about a cheap pergola that can be built from a kit.

At Rock Water Farm, we are custom designing and building our pergolas so that they are truly one-of-a-kind. These are made from high-quality materials, Timber frame is one that we use often because of the gorgeous appeal of real wood.
Add a Pavilion
Another permanent patio shade structure is a pavilion. This is a pretty significant step up from a pergola. In fact, we describe it as a "house with no walls."

A pavilion has a roof that can protect you from the elements. That means you'll not only be able to enjoy your patio in the heat of the sun but also during rain, snow, and more!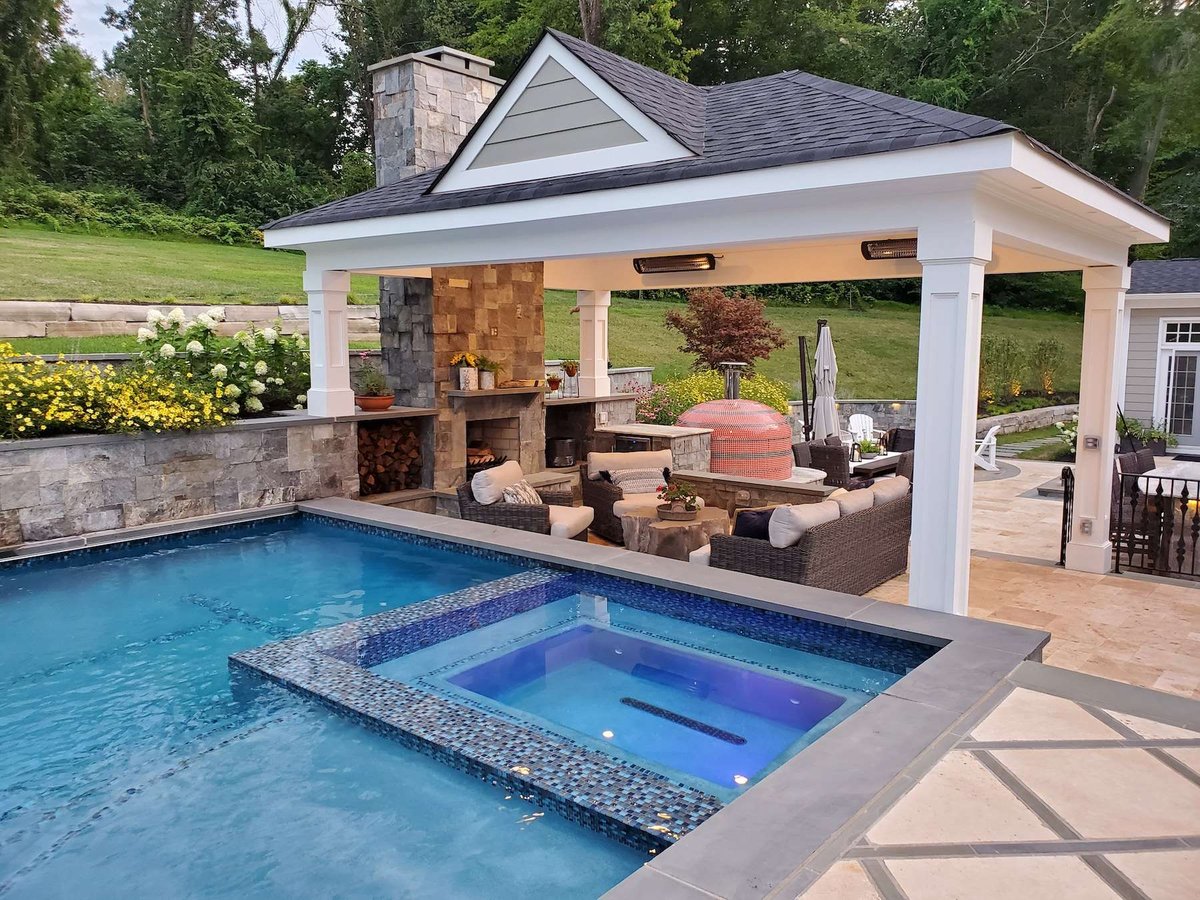 Your pavilion could have a finished ceiling with recessed lighting and a fan. It's much more like an outdoor room.

As far as functionality goes, a pavilion can really open up the possibilities of what you can do outside. Not only will you get ample shade, but with total cover you can add an outdoor television, surround sound, and more.

A pavilion tends to be especially popular if you're adding a pool next to your patio. This patio shade structure really enhances the functionality of the space. Your family or friends can be swimming while others are lounging or dining in the comfort of some shade provided by your pool structure.
The Best of Both of These Patio Shade Structures
There are a lot of reasons to love pavilions and a lot of reasons to love pergolas. Ultimately, you have to consider what your needs are for your outdoor space.

Of course, there's no rule that you have to have one or the other.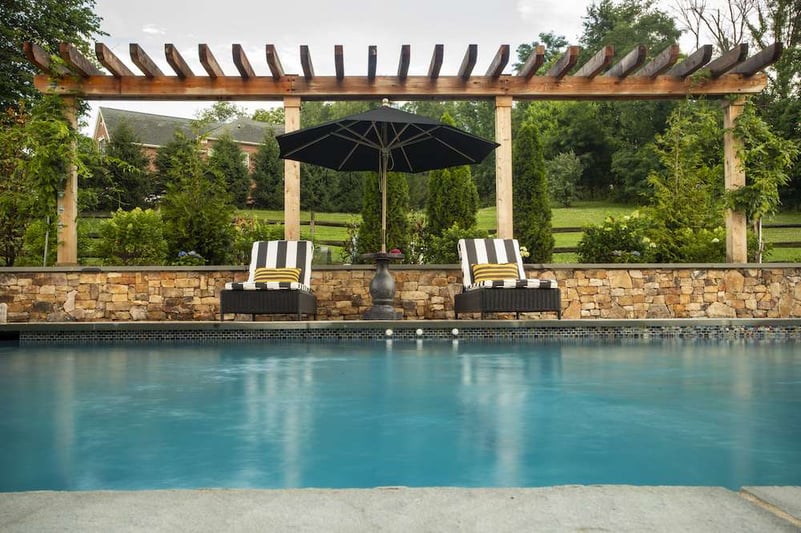 If you really appreciate a pergola for its natural beams, the way it casts unique shadows, and the architectural appeal it can add—but you want the functionality of a pavilion—you could incorporate both into your space and have the best of both worlds.

If you have a large patio, you could definitely use both of these structures to maximize its use.
Choosing Landscaping Services in Warrenton, Gainesville, and Leesburg, VA
Hopefully, these shade structure ideas have given you some things to think about. If you're looking for landscaping in Northern Virginia, you want to make sure that you're choosing a company that can offer you plenty of custom options.

Unfortunately, even some "pros" build their pergolas and pavilions from kits as opposed to building something custom for your property.

At Rock Water Farm, we are designing and building your entire outdoor living area from scratch—including your pergola or pavilion.

Whether you're adding it to a pool area as a place to lounge or you're just looking for one of these structures where you can start spending more time outside, we're going to design something custom that's just right for you and your property.

That includes thinking of every possible detail that will help you get the most out of these patio shade structures. When you choose wisely and hire a company that's ready to provide unique and fully customized solutions, you'll know without a doubt that your outdoor living dreams really will come true.

Are you ready to find a design and build landscape contractor in Northern VA that can take your pavilion or pergola ideas and make them a reality? If so, talk to an expert, choose a solution that rocks, and get ready to see those dreams start to take shape.