Posted by

Todd Thomasson on Dec 19, 2018 7:00:00 AM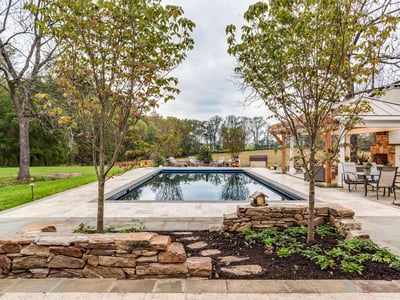 Good design is not just about beauty and aesthetics but also about functionality. In fact, when it comes to an extensive outdoor living design, functionality should always come first. After all, if the space doesn't meet the your needs, you aren't going to use it.
In this particular landscape design in Warrenton, VA, there were some very specific needs that would have to be met in order to make the space usable. Because there were family members with ability challenges who visited the home often, it was essential that the entire space was built on one single level. This would make the space usable by everyone.
On top of that, there were some incredibly specific ideas that the homeowners wanted to incorporate to make the space truly their own.
Old Meets New In This
Landscape Design in Warrenton, VA
While functionality is undoubtedly key, in terms of how the space looked, there were some specific design requests that the homeowners had to make the space one that they could fully enjoy from an aesthetic standpoint. The homeowners liked the style idea of "old mixed with new," or of "modern blended with country."
Since the home is situated on a 60-acre working farm that is in a quintessential Northern Virginia country setting, the addition of modern elements had to be incorporated in a way that worked, not clash, with what as already there.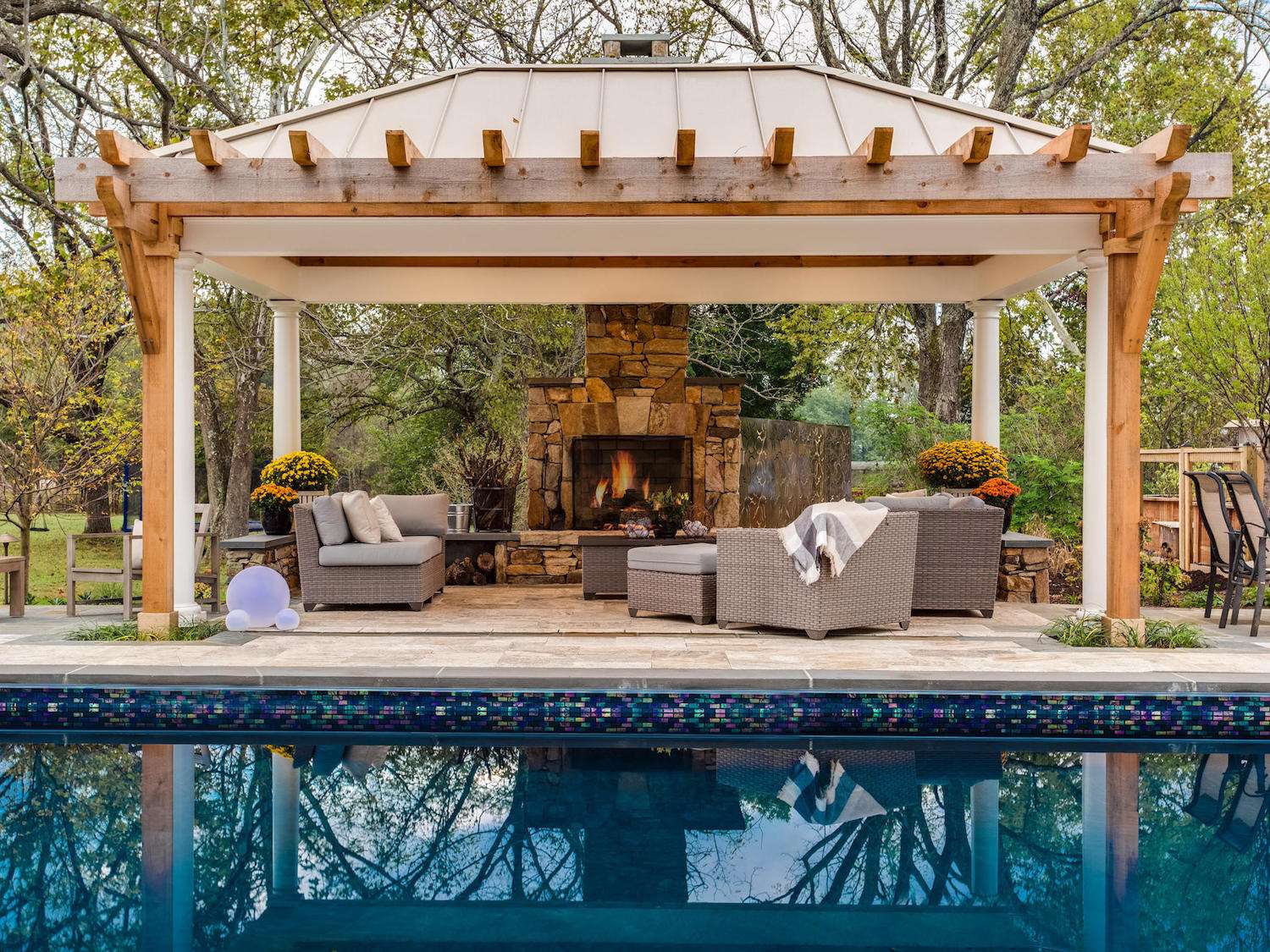 Ultimately, the landscape and pool design ended up featuring a real variety of different materials that helped achieve this goal of blending the old and the new. The property featured a reclaimed stone foundation from a barn that was now gone, but the foundation remained. The stone from that foundation was utilized to build a wood-burning outdoor fireplace as well as the seating wall that was incorporated into this landscape design. On the backside of the outdoor fireplace is stucco, a material that the homeowners also really liked the look of and that created a unique complement to the stone.
The outdoor fireplace is the showpiece of the pavilion, which features a corrugated tin ceiling and is trimmed in cedar—again, an effort to blend modern and country styles. The pavilion creates a comfortable seating area for those who want to enjoy the warmth and beauty of the fire or who just want to be close to the adjacent pool.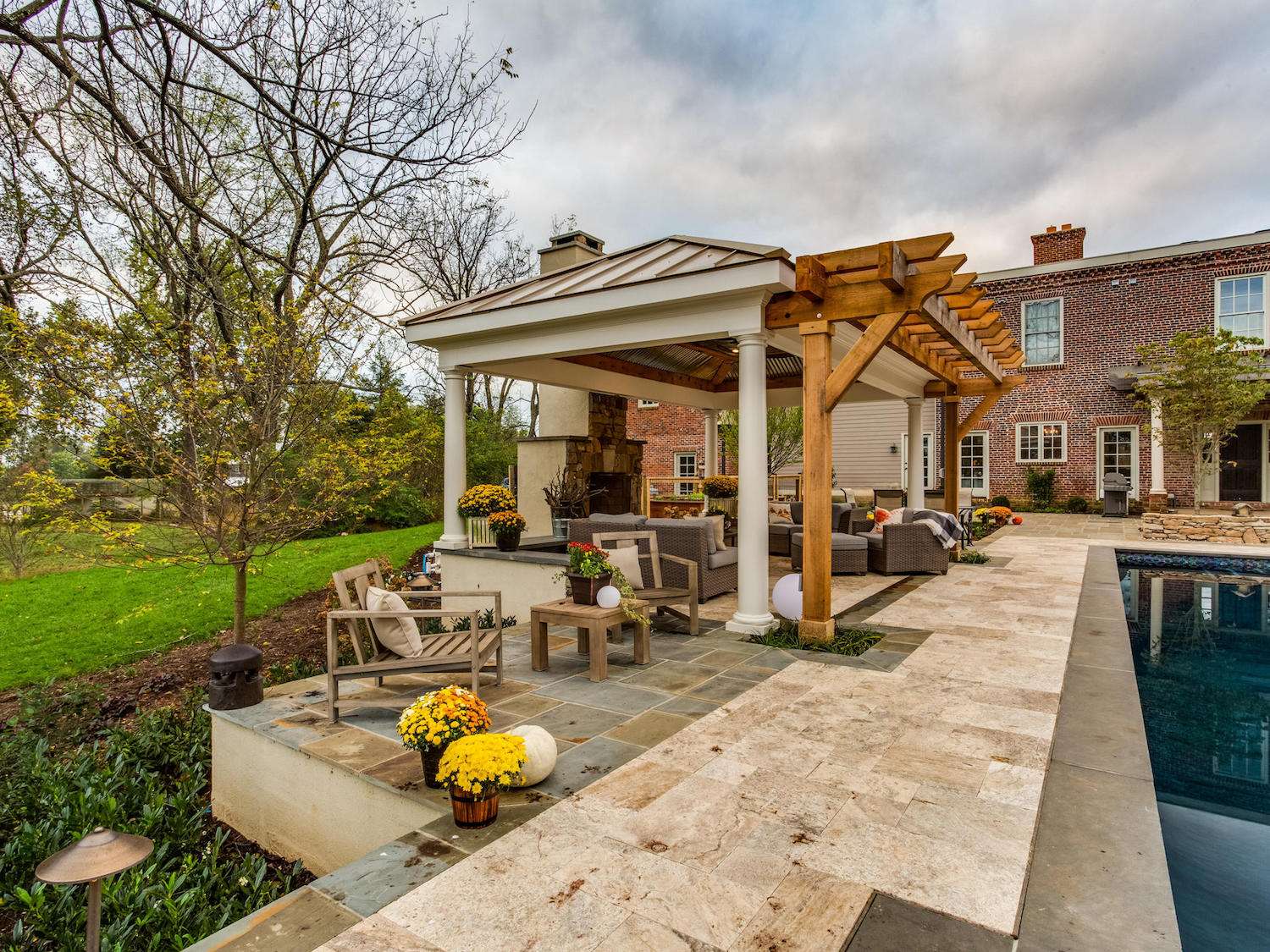 In terms of materials around the pool, there is a unique mix there, as well. The pool patio utilizes silver travertine instead of the typical beige. This is mixed with flagstone, which nicely ties in the country feel. The coping around the pool is a thermal blue stone with six-foot-long slabs, not two-foot pieces as is often used. This gives a very clean-line and sleek look.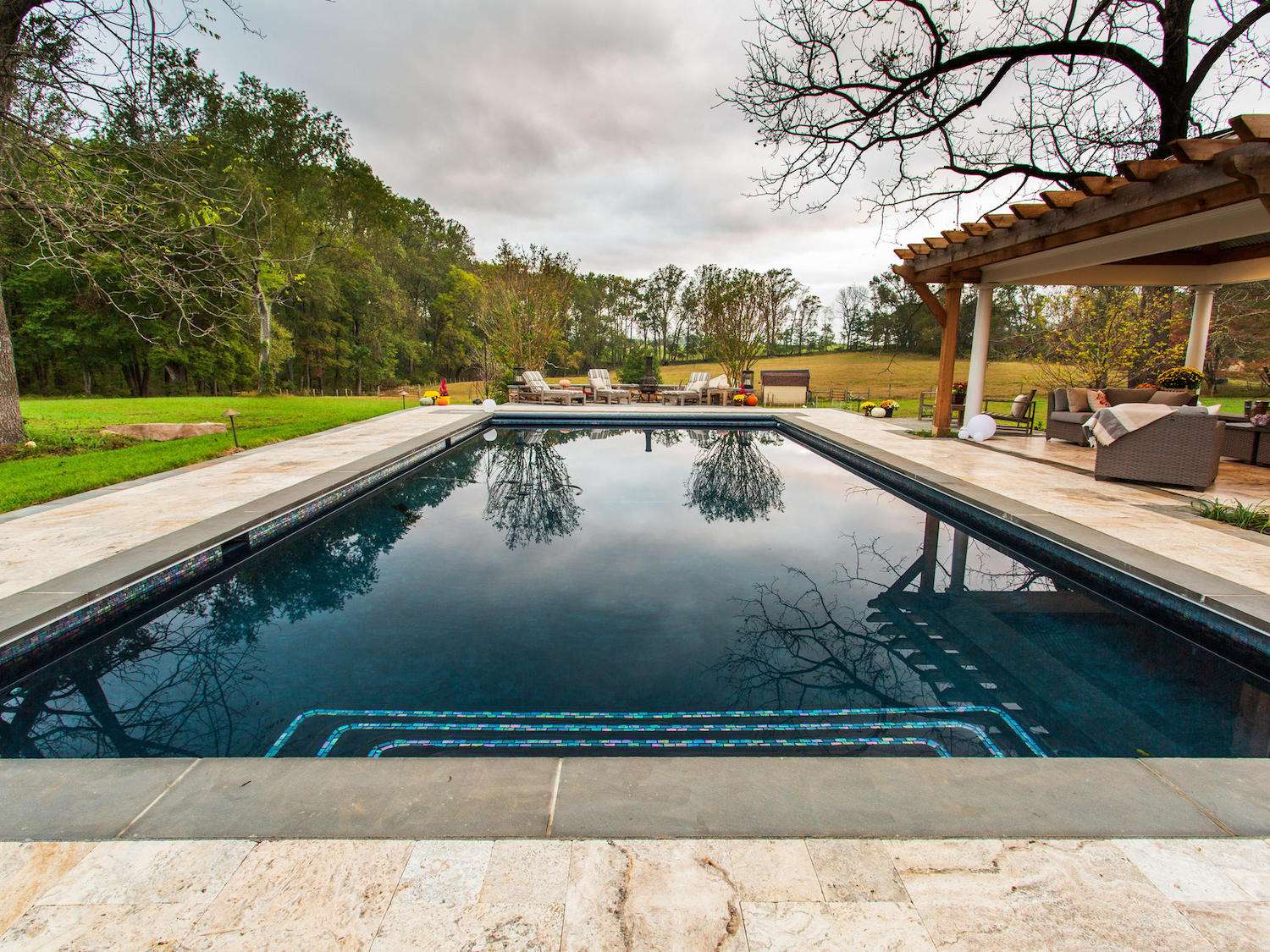 But perhaps most unique of all is the fact that the finish of the pool features black plaster to help prevent the pool from looking out of place in its farm side surroundings. A pool with turquoise blue waters simply wouldn't have fit with the countryside scenery. The pool is not a traditional pool in the sense that it would go from shallow to deep. Instead, it is 3.5 feet deep on either end and 5.5 feet deep in the center.
Given the very open feeling of the property, the family did not want to fence it all in. This was able to be achieved by utilizing an automatic cover on the pool, which took the place of the fence.
Inspiration from Costa Rica and Cooking for
Landscaping in Warrenton, VA
The plants in this landscape design were also very important to the homeowners. They had recently been on vacation to Costa Rica and what they really liked about it was the abundance of plant material they experienced on their trip. When they came home, they had expressed they wanted "a lot of plants."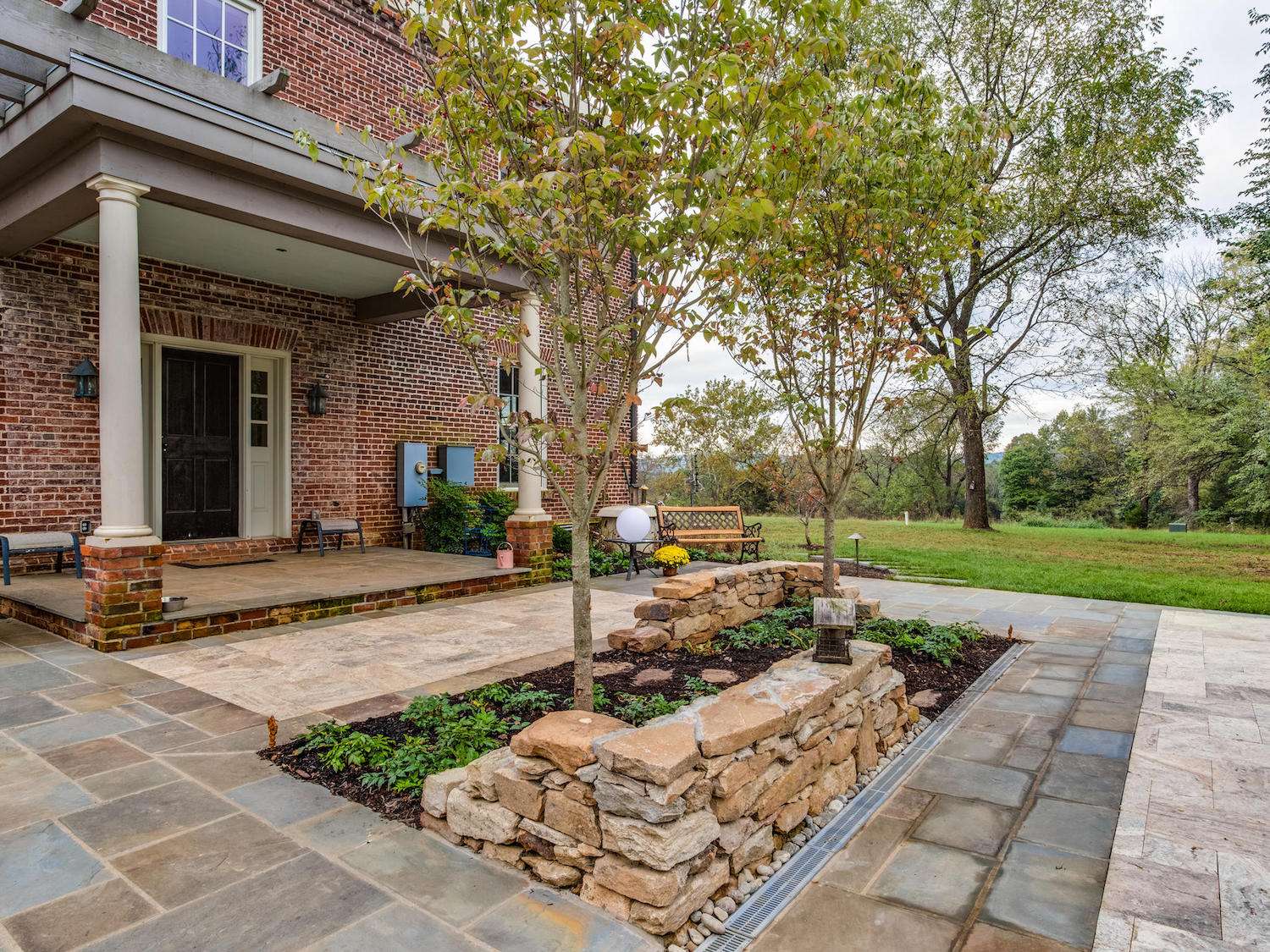 There is a huge variety of plants featured including Otto Luyken Cherry Laurel, Styrax, Coral Bell, Foxglove, Russian Sage, Astilbe, and Limelight Hydrangea, just to name some.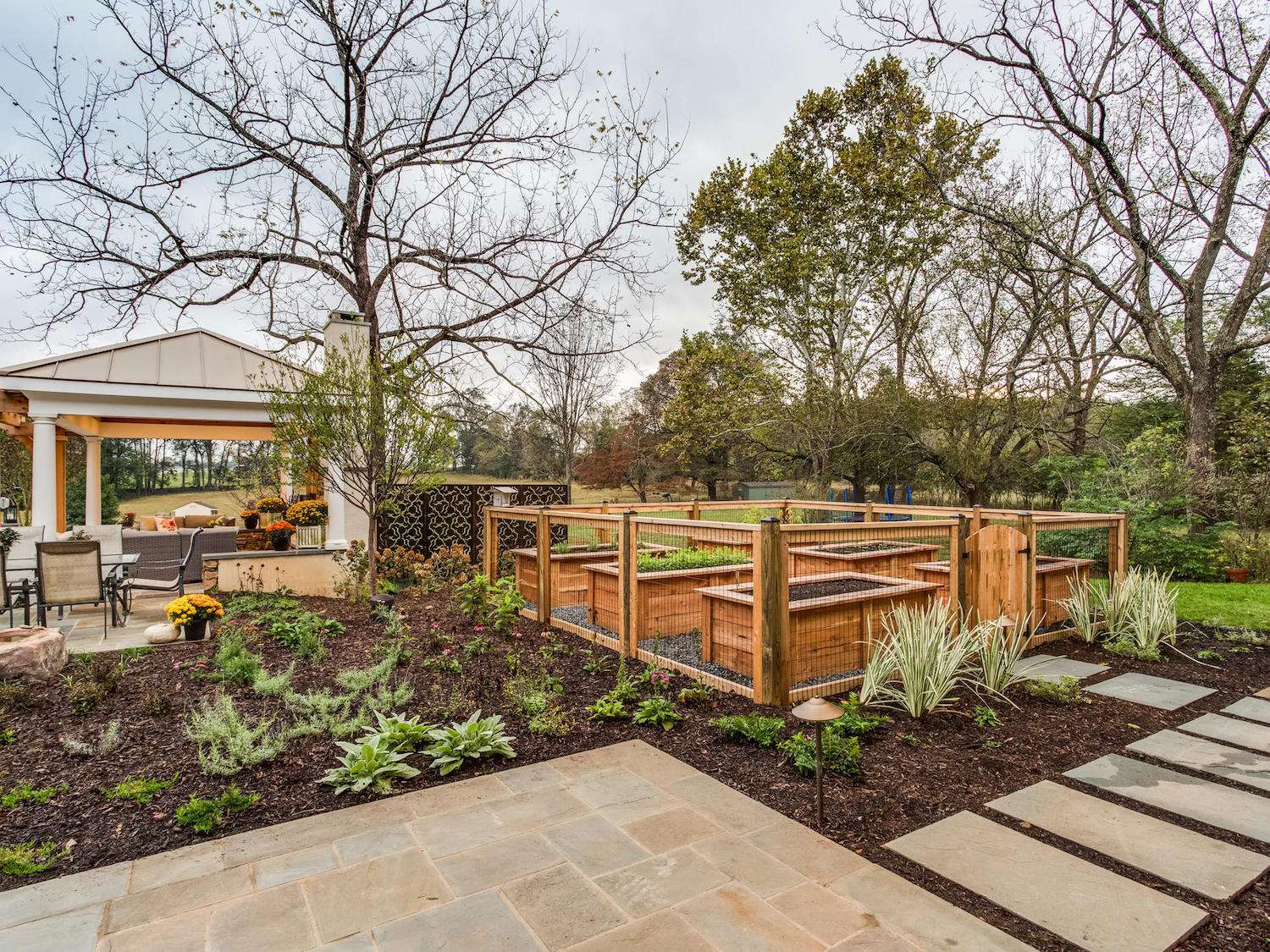 Beyond aesthetics, some of the plants also had a very purposeful value. The interior of the home featured a big commercial kitchen and the homeowners actually had their own food truck. Cooking is an important part of their lives. For this reason, they had a kitchen garden where they grew many of their own vegetables and they wanted an herb garden planted beside it. The herb garden has a range of plants, many with medicinal purposes from a very specific list that the homeowners provided.
Future Plans for this
Landscape Design in Warrenton, VA
While the single-level design has made the outdoor space fully accessible to family members that visit, the homeowners are looking to take it a step further. In the past, when family members had visited, they would have to stay at a nearby hotel since the home itself did not have everything on a single level. But with plans to add a guest quarters building to this project, now the outdoor living design will solve this problem.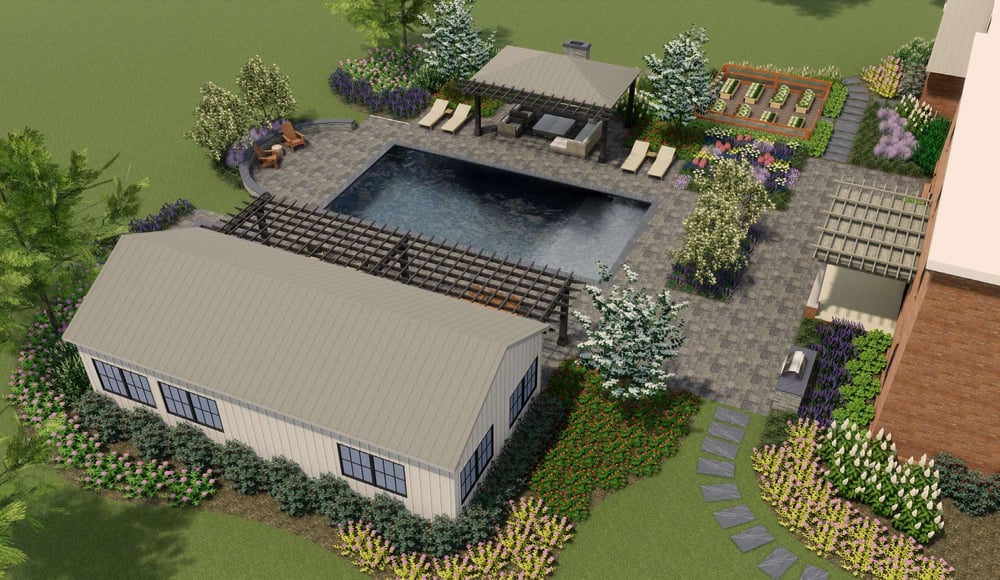 This outdoor building will double as both a "she-shed" where the homeowner can store some of her gardening materials as well as a guest room where visitors can be fully comfortable. Again, the big focus here is on functionality.
Choosing
Landscaping Companies in Warrenton, VA
While there are a lot of landscaping companies in Warrenton, VA to choose from, when it comes to a complex outdoor living design, it's important to choose wisely. Along with finding a company that can handle such an involved project, it's important to choose a pool design and landscaping company that you feel confident will create what you want.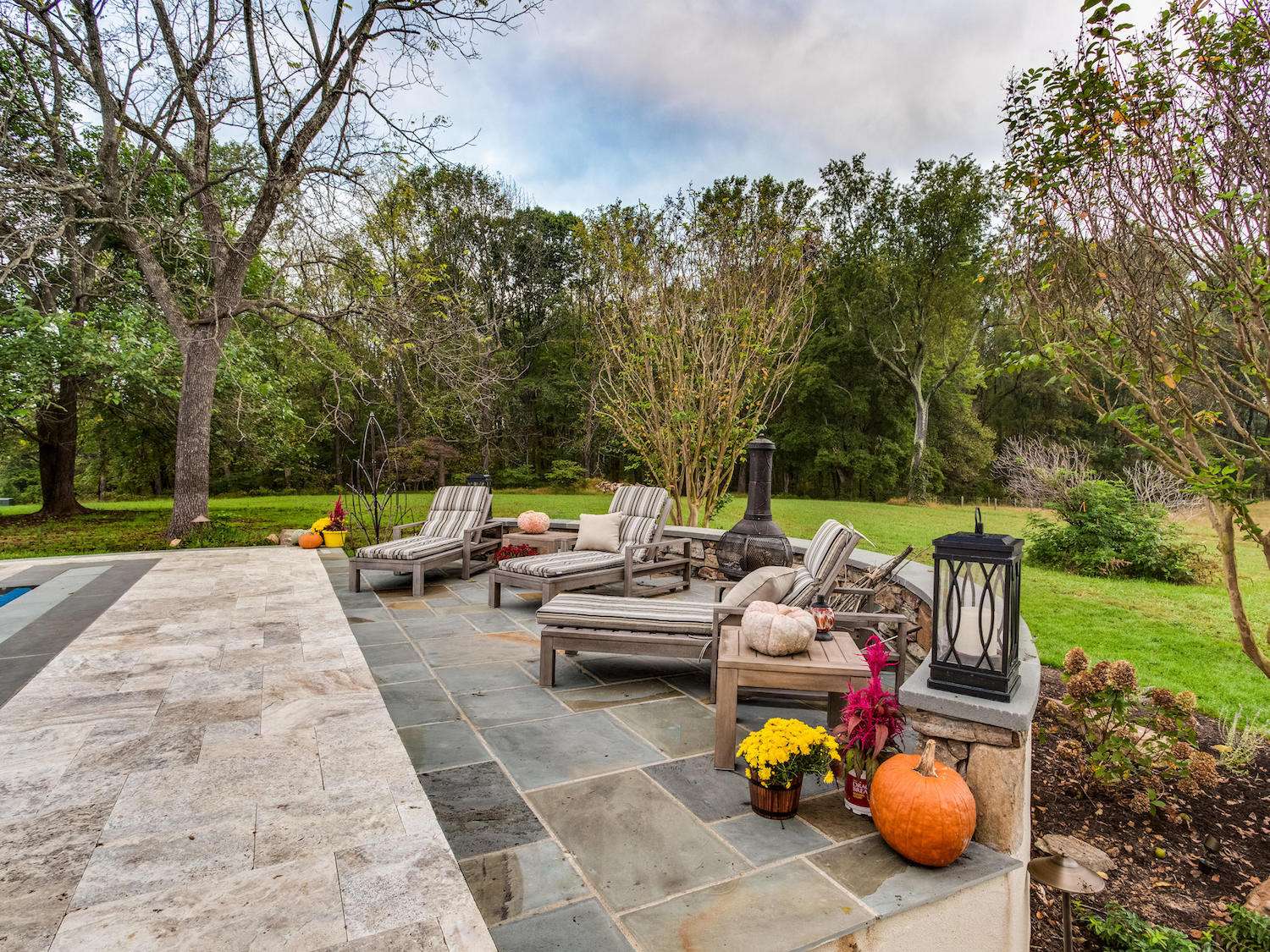 These Warrenton, VA homeowners struggled with that when they were initially seeking out the right company. They expressed that they felt they were not "listened to." They had some very specific ideas that they felt were essential to their project. But instead of listening, other landscapers and pool companies they consulted with told them "here's what to do."
That's why the homeowners ultimately chose Rock Water Farm. They told us we were the first company to "truly listen." It is always our goal to listen closely to our clients' wants and needs (after all, it is your project), and then to guide them with how we can make those things happen.
Sometimes there are local codes and regulations that have to be adhered to and those are items that can't be budged on. But we always look at projects from several perspectives:
The things you have to do, to ensure the project fulfills local regulations

The things you want to do (with a game plan of how to achieve it)

Some things to consider (that is, some suggestions for us to perhaps enhance what you want to do, based on our experience)
We find that when we approach it from the necessities, the homeowners' wants, and then some of our ideas that the design comes together in a way that works for everyone. For these particular homeowners, because we really listened, we hit the design out of the park and from there, we were happy to navigate the homeowners through the entire process. In our minds, it is a privilege to be selected as the guide to your dream space.
Are you ready to talk to an expert who will truly listen about your ideas for your Ashburn, Aldie, Leesburg, or Warrenton, VA home? If so, talk to an expert, choose a solution that rocks, and get ready to see those ideas become a reality.