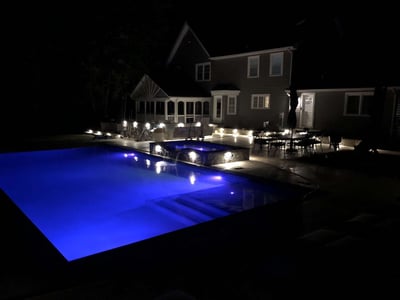 When it comes to house improvement and backyard projects these days, everyone wants customization. It's the hottest trend—and for good reason. Homeowners want finished projects that are unique to their property.
Given its popularity, unfortunately, the word "custom" gets thrown around quite a bit. Oftentimes it's used in circumstances where it's not really warranted. Among those who are guilty of this, pool builders in the Ashburn, Aldie, and Leesburg, VA area often top the list.
Sometimes, what they're calling "custom pools" might not really be custom at all.
In fact, homeowners are sometimes shocked when they get a pool installed and later see that it looks exactly like dozens of others in the pool builder's portfolio. We don't want this to happen to you. It can be frustrating when you assumed you had something one-of-a-kind and unique only to find out that it's actually quite unoriginal.
To help prevent this from happening to you, let's consider some important points.
Material Choices for Custom Pools
First and foremost, if a pool builder is building vinyl or fiberglass pools and claiming to be doing custom work, you should question what you're getting. The truth is, you are limited by these materials to a certain pool shape, layout, and/or depth.
The best pool material choice for custom pools is gunite. If you want something outside of the norm or super custom, then gunite is the way to go, primarily due to the way in which the pool is constructed.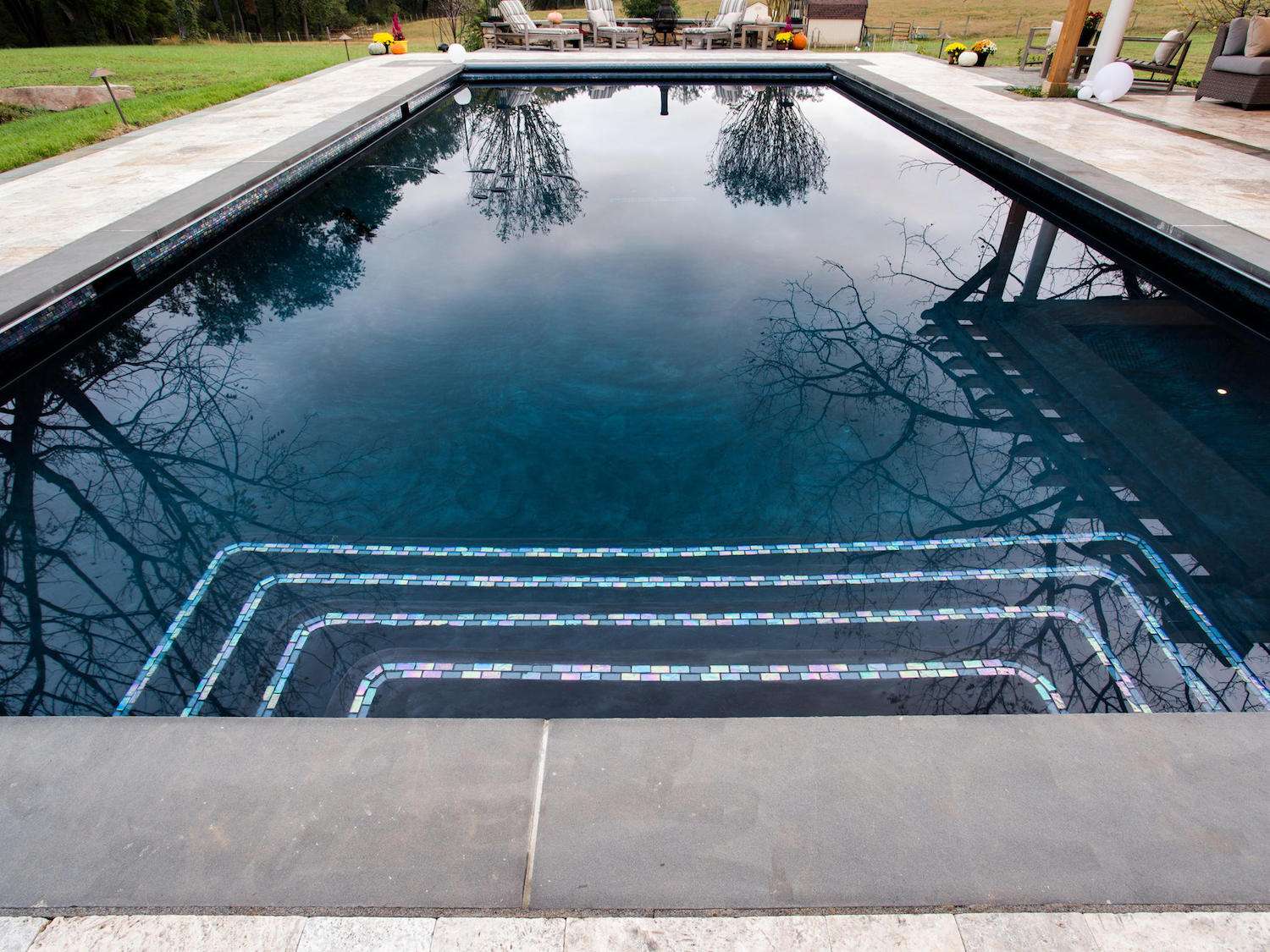 Unlike fiberglass, which is built in a warehouse and then shipped to the site, a gunite pool is constructed entirely on site. This is true of vinyl pools as well, however, the vinyl liner is less customizable than sprayed gunite.
When building a gunite pool, custom pool builders in Ashburn, Aldie, and Leesburg, VA will start off by digging a hole and installing the plumbing. Gunite pools use a rebar framework grid (steel reinforcing rods) that is then sprayed with the gunite mixture (a mixture of cement and sand). The gunite will be smoothed out and then set to completely dry before a smooth finish is applied to the rough surface.
Getting Creative with Custom Pools
When choosing a gunite pool and having it built on site by custom pool builders, you can get creative in so many ways. For instance, you can get incredibly creative with the shape. Think about being able to choose some sort of design—a pool in the shape of a horse head or a guitar are ideas we've seen.
You're also not limited by size in any way. If you want a large pool that is extra-long, you can have that with gunite. You are not limited by what can fit on the truck.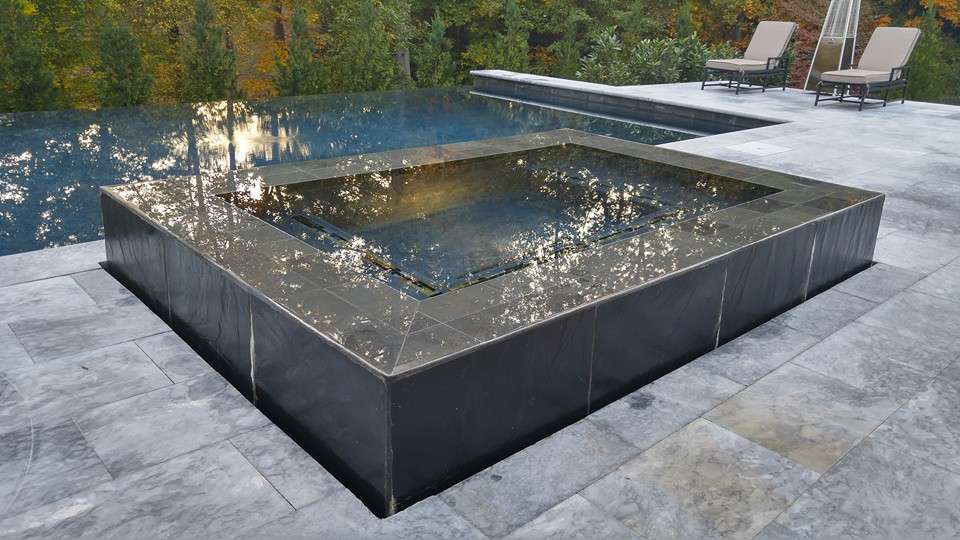 You can also add unique features such as an infinity edge, built-in rock wall formations, or various types of waterfalls. You could create a pool with a walk-in or "beach entry," like those that you see at Caribbean resorts. Or you could even get creative with the depth of your pool. You could have a pool that is extra deep or even one that has unusual depths, like this countryside pool.
With gunite, you are also not limited in the colors of finishes. You can choose whatever you think will best suit your pool's finished look.The options really do abound and that's what will ultimately make your pool unique.
When Other Pool Builders Told You No…
One area where custom pools can really shine is in difficult backyards, such as those with steep slopes or limited space. At Rock Water Farm, we get a kick out of being able to show homeowners what we can do with their backyard when they've been told "No" by other pool builders in the Ashburn, Aldie, and Leesburg, VA areas. It's a real joy to be able to see homeowners get excited about a project that they were starting to think might never happen.
The fact is, a lot of times pool builders say, "No," simply because they're used to building cookie cutter pools on certain types of properties and they don't want to deal with the challenges that can arise in deviating from that model.
However, when you're in the business of building custom pools, some ingenuity and creativity can overcome a lot of property challenges. We have had customers tell us that multiple other pool builders said they'd never be able to have a pool on their property—but we've found a way with creative approaches to make it work.
Customized Areas Surrounding Your Custom Pool
Of course, it's important to mention that the area surrounding your pool is also critical to the overall success of the space. The last thing that you want is a highly unique custom pool and a cookie-cutter patio and boring landscaping surrounding it. Everything about your pool area should be unique and designed to your wants (and your property).
Plus, when your pool is finished, you want it to truly be finished. You don't want to start all over with a new project and a new company. You want to be able to get out there and start enjoying every aspect of your new space.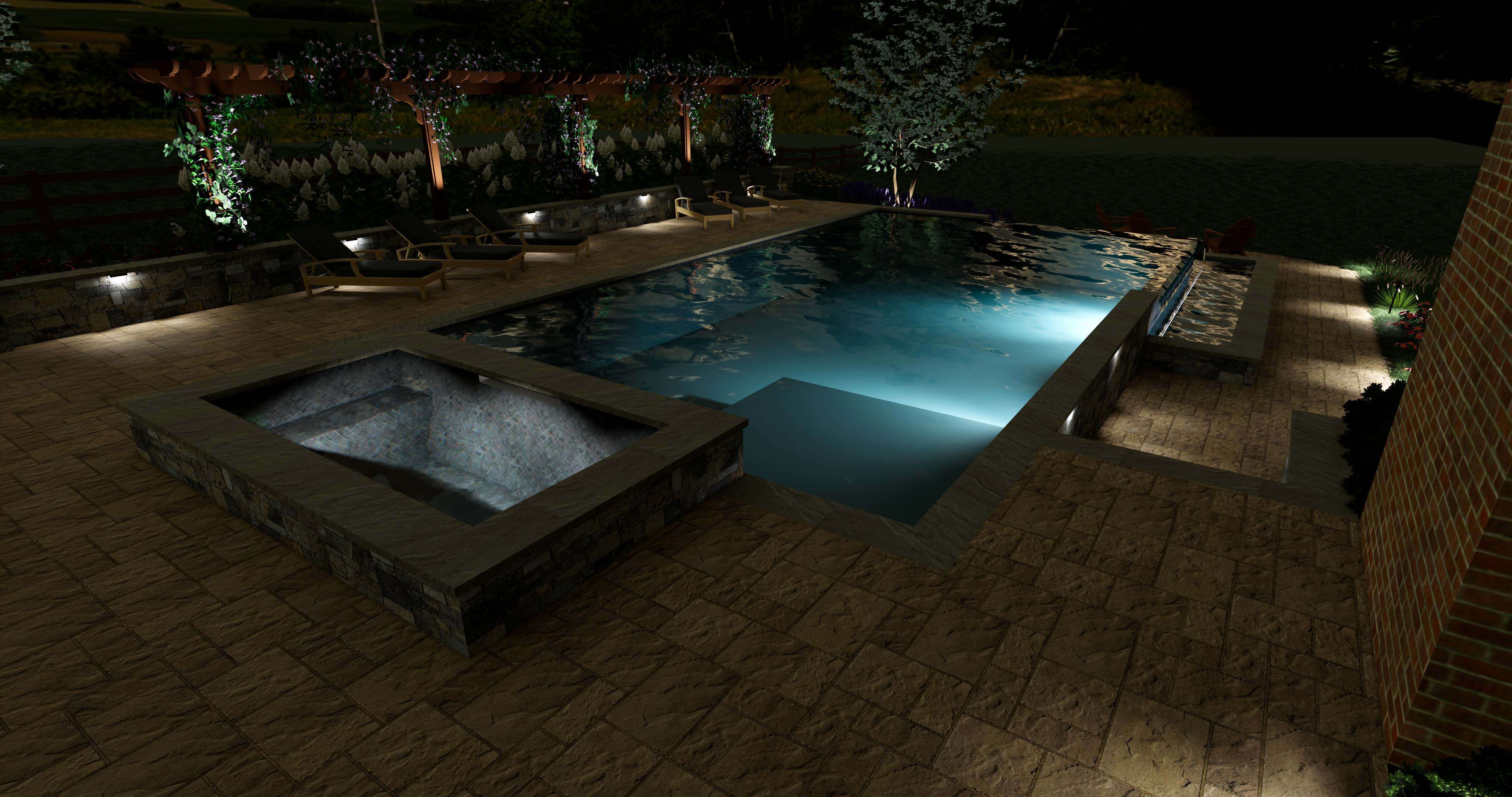 That's why it makes sense to choose a company that can add important pool features that really take your pool space to the next level.
These include features such as the following.
Pool patio
Outdoor kitchen
Landscape lighting
Pavilion or pergola
Retaining walls and site grading
Walkways and steps
Fire features
Pool plantings
Poolhouse
True Custom Pools: When No Two are Identical
The best way to gauge whether or not a pool builder truly designs (and builds) custom pools is to look through their portfolio of projects that they've already completed. Do a lot of them look similar? Perhaps they do several different styles of pools but don't deviate beyond that. If so, their work might not really be "custom" after all.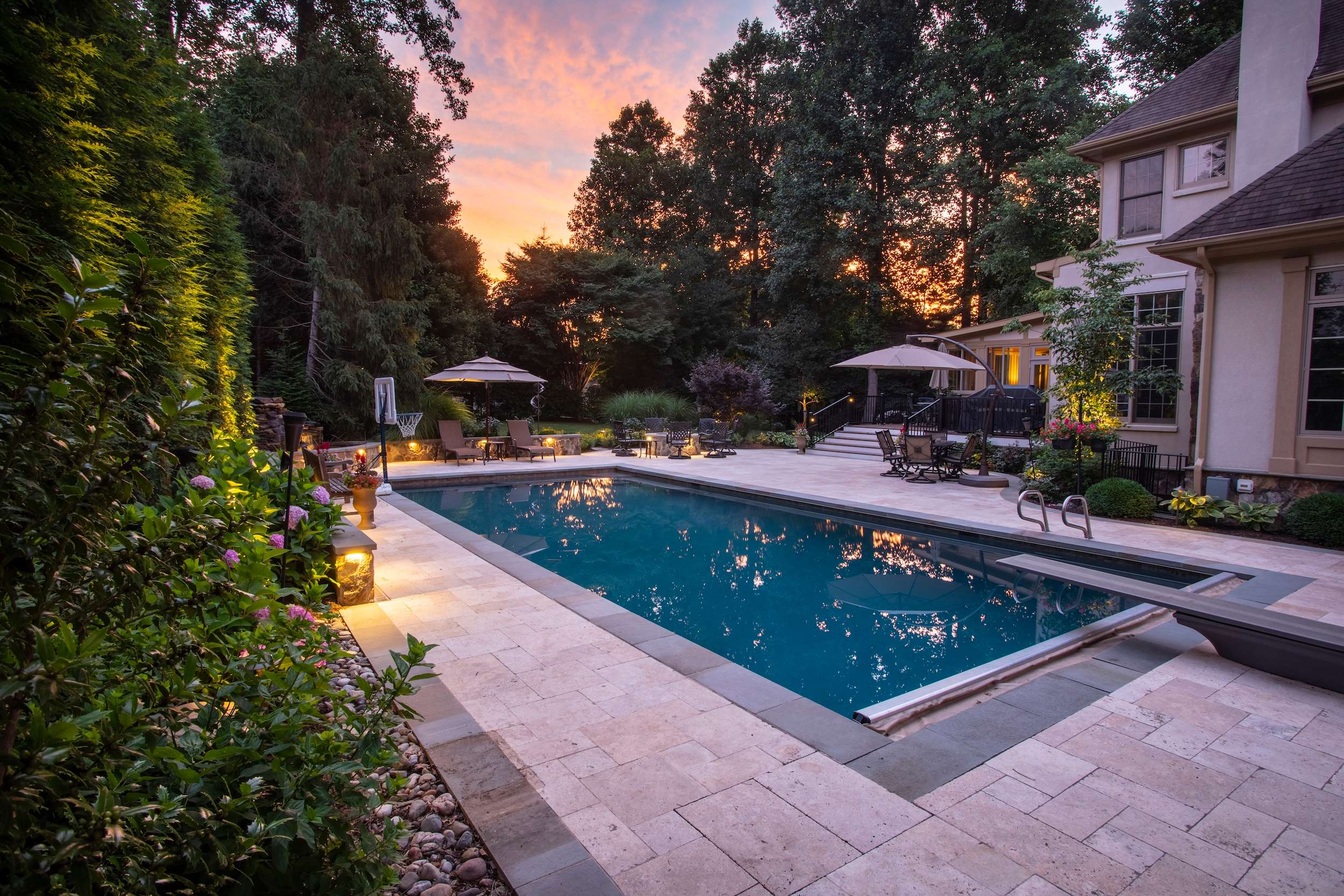 They might just be giving you a handful of choices and calling it "custom."
But if you want something 100-percent your own, then it's important to choose a pool builder that makes customization a top priority.
At Rock Water Farm, true customization is important to us. Here's what we tell our customers:
If we were to have designed and built every single pool on a street and you were to drive down it, you would think a dozen different pool builders built those pools—and that's what we'd want. We build pools that are so different that you could never look at one and say "Yes, that's definitely a Rock Water Farm pool." Each one is wholly original.
If that's important to you and you want to be able to say that your pool is unlike any other out there, then it's critical that you choose a company that will prioritize customization—not just take the easy way out. In the end, you'll be able to say that there is no other pool just like yours.
If you'd like to discuss adding a custom pool to your Ashburn, Aldie, or Leesburg, VA backyard, talk to an expert, chose a solution that rocks, and then get ready to see your dream come to life.