Whether it's a patio, an outdoor kitchen, a pool, or all of the above, if you have an outdoor living project in mind then it's something you've likely spent some time thinking about and are excited to get underway.
You can imagine yourself outside relaxing or making memories with friends and family—and you know that having a great outdoor space can help make it all possible.
Of course, great landscape design in Great Falls doesn't just happen.
It takes both the skills and the know-how from a great professional. That means that choosing the best landscape designer will be one of the most important factors in the overall success of your project.
After all, the last thing that you want is to end up with a project that isn't what you wanted because you didn't find the right landscape design company for the job.
That being said, you might have no idea what to look for when it comes to finding landscaping design in Great Falls, VA.
Don't worry, you're not alone. A lot of homeowners admit they feel lost in the process of finding the best landscape designer. That's exactly why we've rounded up some of our best tips. Here are some things to look for as you seek out the best landscape design company for your project.
No matter who you choose, we want to help make sure you're happy with the results.
1. Look at Examples of Their Work
When searching for landscaping design companies in Great Falls, VA, make sure that you look at examples of their work. This is honestly one of the best ways to get a good sense of the type of projects that they design and build.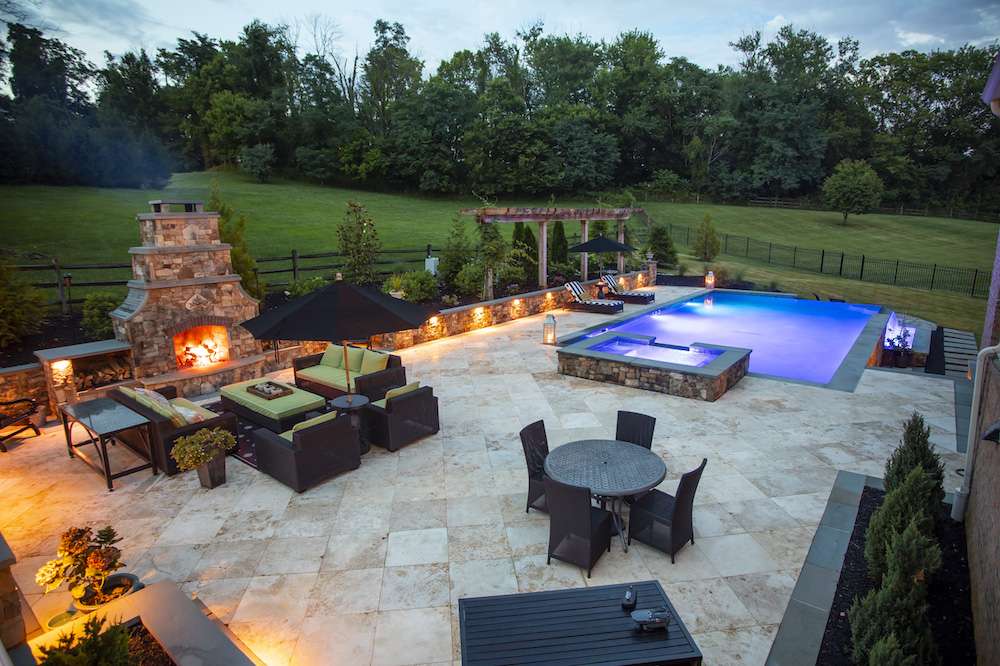 As you're looking at their online gallery, ask yourself some important questions.
Do all of the projects look alike?
The truth is, a lot of landscaping companies build very cookie-cutter designs. As you look at one project after another, they all start to look alike. You've probably seen projects like this maybe even amongst your own neighbors. They all have the same kidney-bean shaped pool or a similar patio design.
But you're looking for something custom. You want something that is truly unique to your home.
Does this company have the ability to build a variety of outdoor living features?
A lot of landscape design companies tend to specialize in certain projects and then that's all they do. But chances are, you want a landscaping company that can design and build a variety of features so that you can have a complete outdoor living place. You're looking for a company that can design and install each of the following.
Patios
Outdoor kitchens
Pools
Pergolas and roofs
Fire features
Water features
Game areas
Landscape lighting
Decks and screened porches
Trees, shrubs, flowers, etc.
Is this company design/build?
Of course, you want to be sure to find a landscaping company that really can design and build. Not all landscape designers in Great Falls, VA operate this way. Some of them only design the project and then pass it onto someone else to build it. Others only build projects after "farming out" their landscape design work to someone else.
The problem with these approaches is that there is a disconnect. When it comes to something as important as your outdoor living area, you really want the same company to design and build the project. That's because nothing should be left to chance.
2. Find a Company that Can Assist You With Ideas
Even if you already have a very clear idea of what you want (and that's great!), it is helpful to find a landscape design company that is also going to be able to support you with their own ideas and expertise. After all, they've likely built many projects like this and will have a very clear idea of what works (and what doesn't).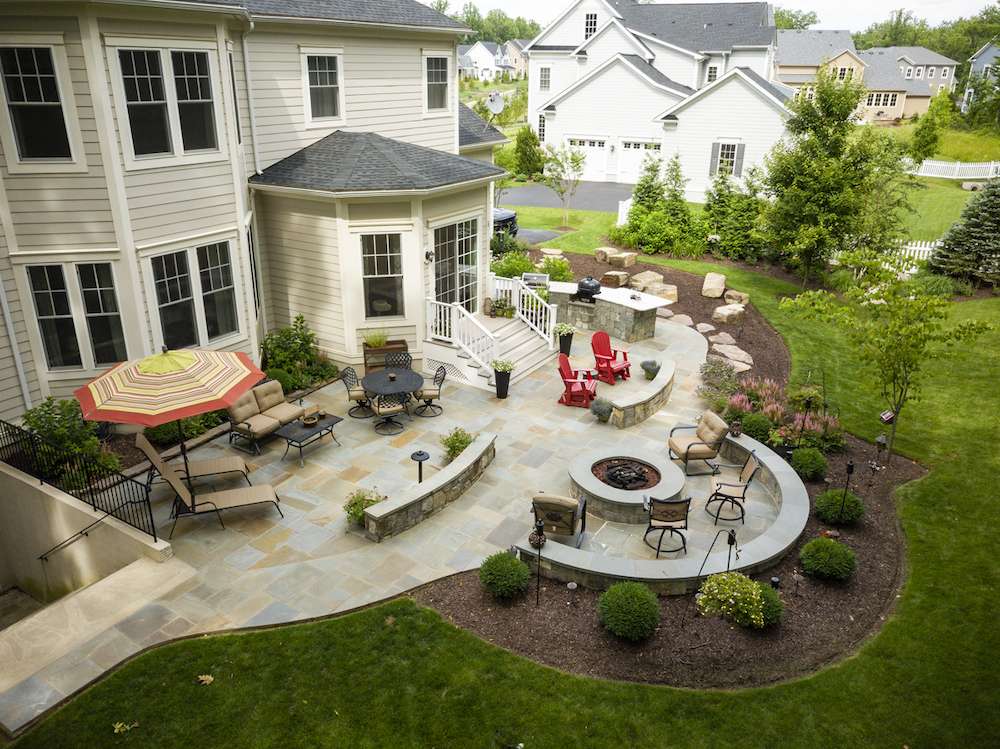 One of the best ways to know whether you've found a company that is going to be helpful and provide lots of resources is to take a look at their website.
Finding these types of resources will also help assure you that you've located a landscape design company that wants to partner with you and work together. Ultimately that is the goal as the best designs are achieved when your ideas are blended with the design professional's expertise.
The design experience can be complex. You want a company that is ultimately going to guide you through the process.
3. Seek a Company That Can Also Maintain Your Finished Project
Another thing that you might want to look for is a company that also offers landscape maintenance. Chances are, once your outdoor living area is complete, you won't feel like spending your weekends maintaining that area, or the lawn that likely surrounds it.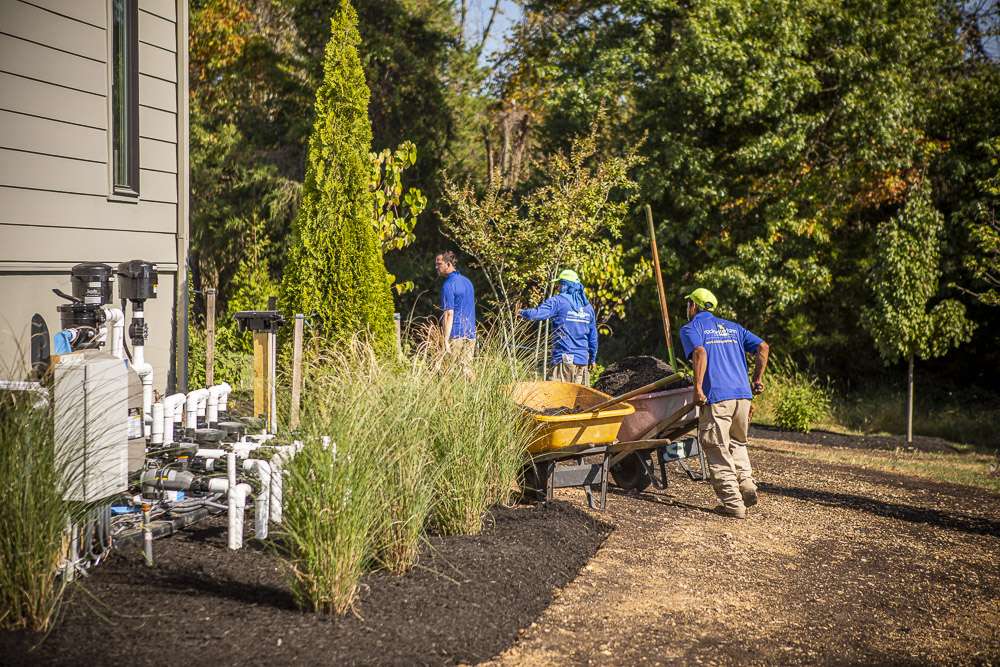 You just want to enjoy it!
But some of the landscaping companies that perform landscape design in Great Falls don't also delve into maintenance. That means that you'll be back to the drawing board and looking for a new company to hire.
Ideally, if you can find a company that offers both, you can ensure that your outdoor living area continues to look and perform as it was meant to. Plus, when the same company that designed and built the project also maintains it, they have a much better idea of exactly what is needed. This will lead to the best possible results and help guarantee that your property continues to look amazing.
Even if you don't need landscape maintenance work right now, you might in the future so it can be beneficial to find a company that "does it all." Look through their website and review the services that they offer. A company with comprehensive landscape services can really bring a lot of value to the table.
4. Look at Online Reviews
Another really great way to find landscape design in Great Falls is to look at the quantity and quality of online reviews for the various companies that you might be considering. Online reviews are a great way to find "social proof" of what other people think about this company and its services.
Testimonials are a helpful tool but you also know that the company picked and chose from the best ones that they wanted to highlight on their website. That's why the truly best place to look for this type of information is third-party review sites like Google Reviews, where the reviews are unbiased.
Review sites like Google ask people to rank their experience on a 5-star scale. If you're truly looking for the best of the best, look for a company with a 4.5-star review or higher. But also take time to read through what people have to say as well as how the company responds as this also gives a good sense of how the company interacts with its clients.
A landscaping company with 75-100+ reviews with a great rating points to a proven track record.
Making Your Best Choice for Landscaping Design in Great Falls, VA
It can admittedly be a lot of work to perform all of this research. Even just these 4 areas that we've suggested looking into can be time-consuming if you really take your time to explore them.
However, it's also really important.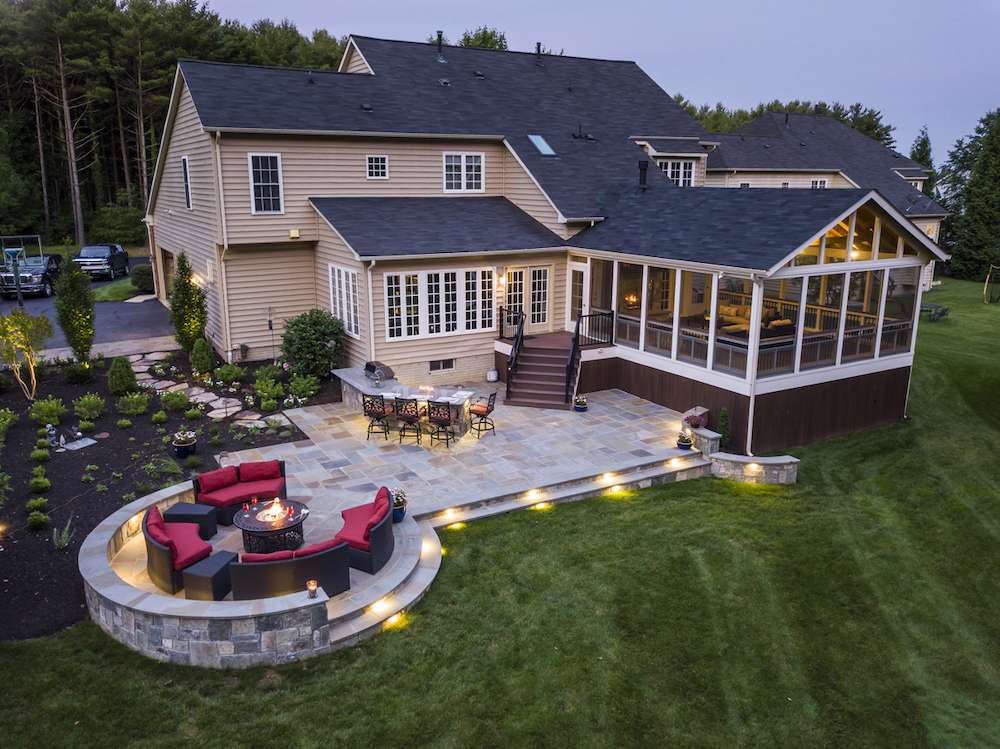 The fact is, something as important as your outdoor living area can't be left in the hands of just anyone. Since design truly is one of the most critical factors in its success (or potential failure), you want to be able to feel confident that you've chosen wisely amongst the different companies out there.
While landscape design companies might seem similar in nature, the fact is, no two are truly alike. So, you definitely want to take your time to choose the best one for you.
In the end, you want to be able to feel fully confident that your ideas are coming to life exactly the way that you want them to. That means working with a landscape designer that you can trust and who will be there for you every step of the way.
We'd love for you to let Rock Water Farm be your guide in this process. Before you even make your final decision, know that we are here to answer any questions that you may have.
If you're ready to begin a great landscape design experience for your Great Falls, VA home, talk to an expert, choose a solution that rocks, and then get ready to see your dream truly take shape!