For some homeowners, a "blank slate" backyard can feel entirely overwhelming. Where do you even begin? You might have some ideas of what you want, but it's hard to see a complete vision of how it will all come together when your yard is totally bare.
But that's exactly what a pool designer and builder loves!
The possibilities are endless when Loudoun County pool builders can come in with their expertise and begin the process of building your dream out of a "blank slate backyard." They can take your ideas and also suggest some ideas of their own—and soon, you can actually begin to see that vision come to life.
That was the case for this Round Hill, VA property, which had nothing but grass. The family knew they wanted a pool where they could swim laps as well as an area where they could lounge. They were also looking for a pool builder who could bring their expertise and ideas to the project.
A Pool Built for Both Training and Relaxation
One of the biggest requests that this Round Hill, VA homeowner had in terms of his "dream pool" was a pool in which he could swim laps. Though he had teenagers who certainly use the pool a lot, too, he was the one who wanted to be able to swim daily laps for training and exercise.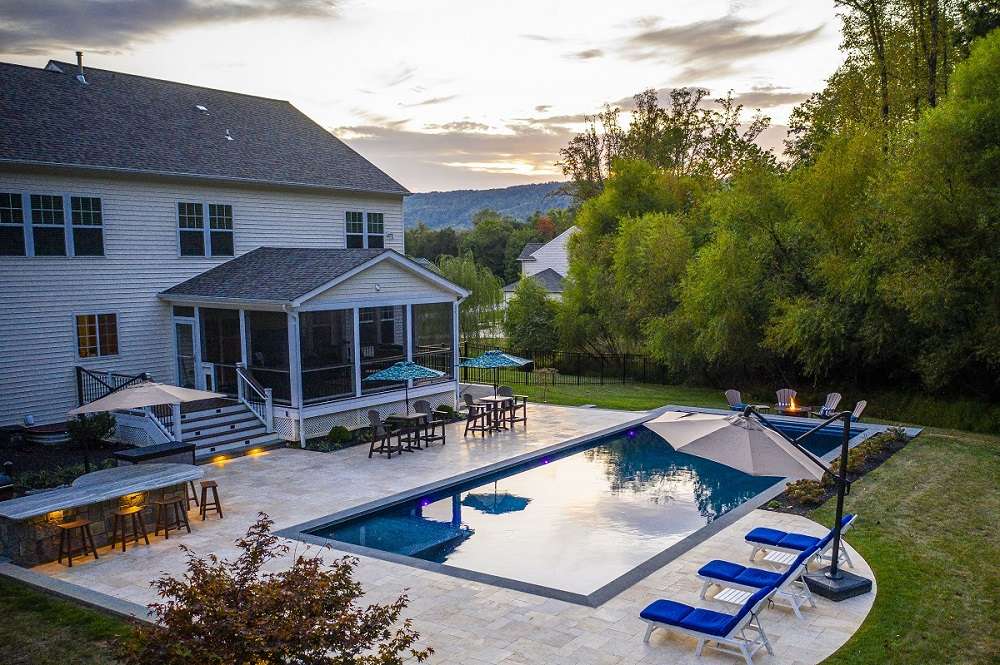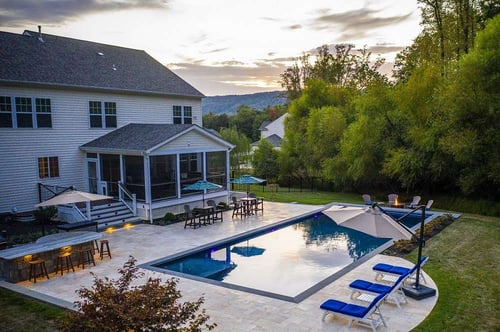 With this request in mind, we created "lanes" with tiling that run the entire length of the pool. This allows the swimmer to have a visual that helps keep them in their "lane" as they swim. Two swimmers can easily swim side-by-side.
The pool is also a full 50-feet in length.
Of course, the pool also gets plenty of use as a hang-out spot and also features a tanning ledge for relaxation. After a tiring workout, the ledge is a great space to cool down.
A Gorgeous Natural Stone Pool Patio with Ample Seating Space
There's no question that the area surrounding a pool can be as important as the pool itself. The pool patio often becomes a hang-out and entertainment space when people are eating or taking a break from swimming.
For this reason, it's important that the pool patio is given plenty of thought. Too often, pool companies in Round Hill, VA, and its surrounding areas, will just install a tiny strip of concrete around a pool and a small square patio. But this doesn't allow for lots of entertaining space or room to spread out.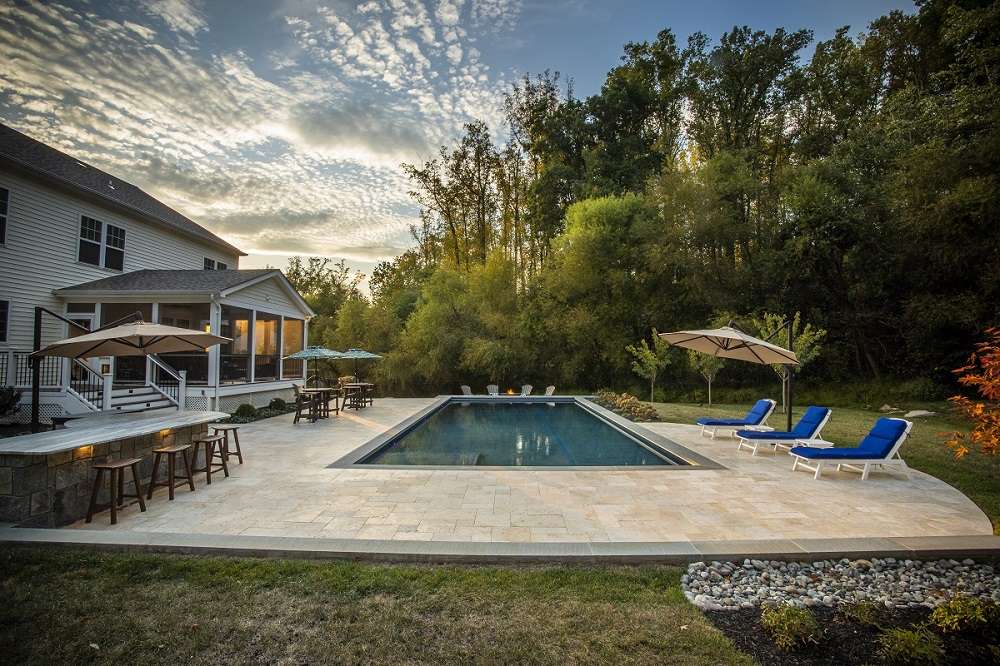 Sizing details are important. It's essential that the pool patio is large enough to accommodate those who will be using it. There's also "scale" to think about. A big 50-foot pool like this one would look silly with a tiny little patio.
Details matter. This includes the material used to build the pool patio.
This particular pool patio was built from travertine, which is, hands-down, the best pool patio material.
Natural stone like travertine has been around for thousands of years. It's highly durable and will hold up even with a lot of foot traffic. Plus, it's not slippery and stays cool underfoot, which is ideal for bare feet in the summer heat.
There is also plenty of space designed for lounge chairs and pool seating so that there is never a shortage of space to spread out and sit down during entertaining. This includes a rounded bump-out for some extra lounge chairs as well as a cozier fire pit bump-out at the deep end of the pool.
An Outdoor Island with Seating
This pool patio also features an outdoor island with a built-in refrigerator where meals, snacks, and beverages can be enjoyed. The island features plenty of seating space so family and guests can gather around.
Outdoor lighting was also incorporated into the island to be able to enjoy the area even after the sun goes down.
Beautiful and Functional Poolscaping
Adding landscaping throughout the pool area was also a valuable addition not only for the aesthetic appeal that it creates but also to add some privacy with strategically placed plantings that block views and allow the family to enjoy alone time without prying eyes.
The landscaping included the addition of large Crepe Myrtle trees, Hydrangeas, various perennial plants, and a Japanese Maple anchored on the corner as a stunning showpiece.
Landscaping is another detail that most Loudoun County pool builders don't think about—or can't help you with. If you hire a company that only builds pools, you're also going to have to hire a professional landscaper to do the landscaping at another point. This can draw out your project longer than you may wish.
But, when you hire a company that is not only skilled at designing and building pools but also handles complete landscaping, you can see the entire dream take shape at once.
The Addition of Landscape Lighting
Attention was also paid to ensure that this entire space was beautifully lit in the evening hours allowing for nighttime use. Landscape lighting was installed throughout the entire pool area. The pool itself can also be gorgeously lit to be fully enjoyed once the sun goes down.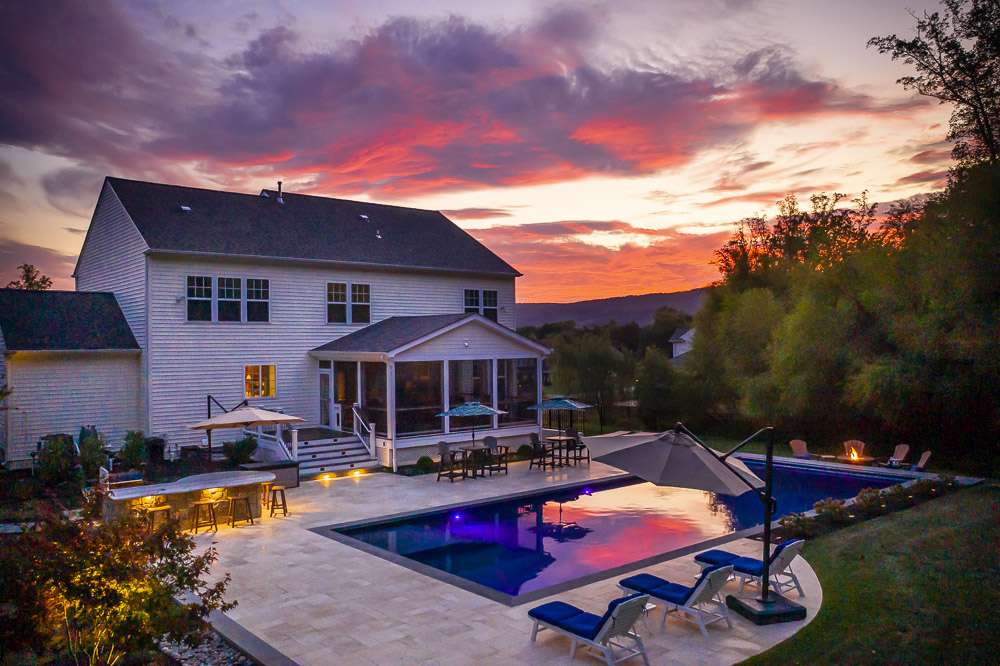 Working with Loudoun County Pool Builders
There's no question that a blank slate backyard can feel daunting. There are just so many different directions it can go. But that's also incredibly exciting and by hiring the right pool designer and builder for the project, it can be a stunning transformation.
Of course, that all hinges on hiring the right professionals.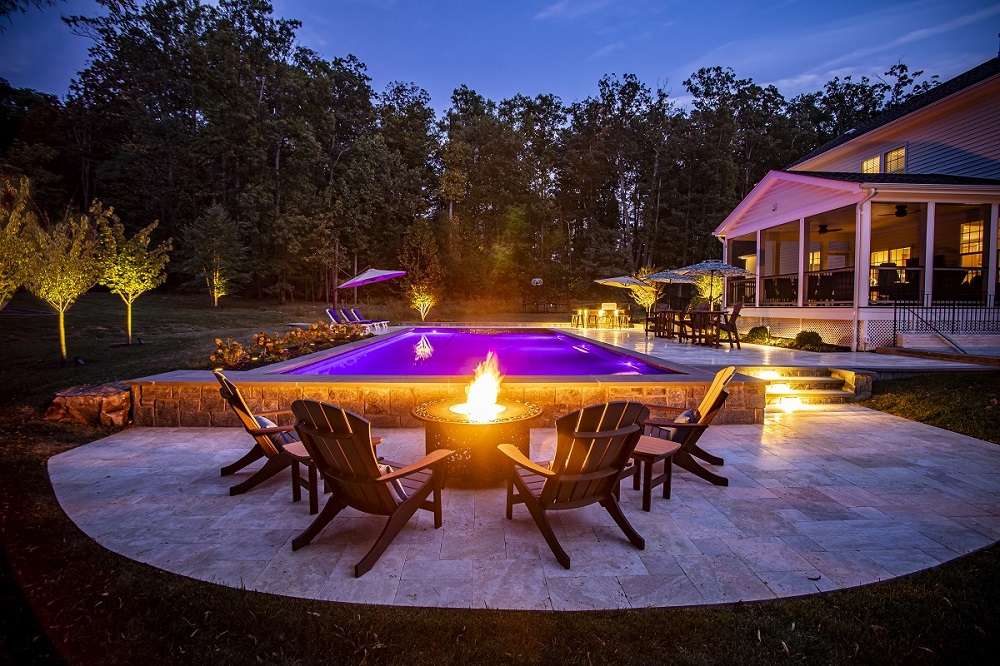 As we've mentioned, not all Loudoun County pool builders are cut out for this type of work. Some companies, such as those that are solely focused on pool builds, are going to install the quickest pool they can get into the ground and move onto the next project. When you're working with a blank slate backyard, like this project was, that still leaves so much to do.
But when you work with a company that not only handles designing and installing the pool but is also skilled at building complete outdoor living areas with hardscaping and landscaping, then you can get the total package.
When it comes to truly getting the most out of your space, that's important.
Making the right choice amongst Loudoun County pool builders can be the difference between a project that meets all of your wants and needs and one that falls short of what you desired.
Are you ready to find a pool company who will bring your ideas for your Ashburn, Aldie, Leesburg, or Round Hill, VA home to life? If so, talk to an expert, choose a solution that rocks, and get ready to see those dreams become a reality.