Posted by

Todd Thomasson on Jun 20, 2023 12:00:19 PM
There's nothing quite like spending time outside. But it can be difficult to do that if you don't have the right outdoor space.

This is why many homeowners consider adding outdoor living areas to their Northern Virginia property. A patio with surrounding entertainment areas and features can really take your outdoor experience to a whole new level.

When you picture your new outdoor living area, do you imagine yourself lounging outside to watch the big game, the morning news, or maybe even a movie with the family?

One of the hottest outdoor living trends is the addition of a patio design with a TV.

Whether you're swimming in your nearby pool or just lounging in the pavilion, having a television enhances the entertainment factor of your space. There's just something extra fun about being able to watch television outside.

Here are a few outdoor TV area ideas to consider.
#1: Make Sure It's Properly Covered
The best outdoor TV ideas start with the right shelter. We typically incorporate TV areas as part of an outdoor pavilion.

A covered space like this will not only protect your television, but it will make it more comfortable to lounge, no matter what the weather. Even if it starts raining, you will be sheltered under the pavilion.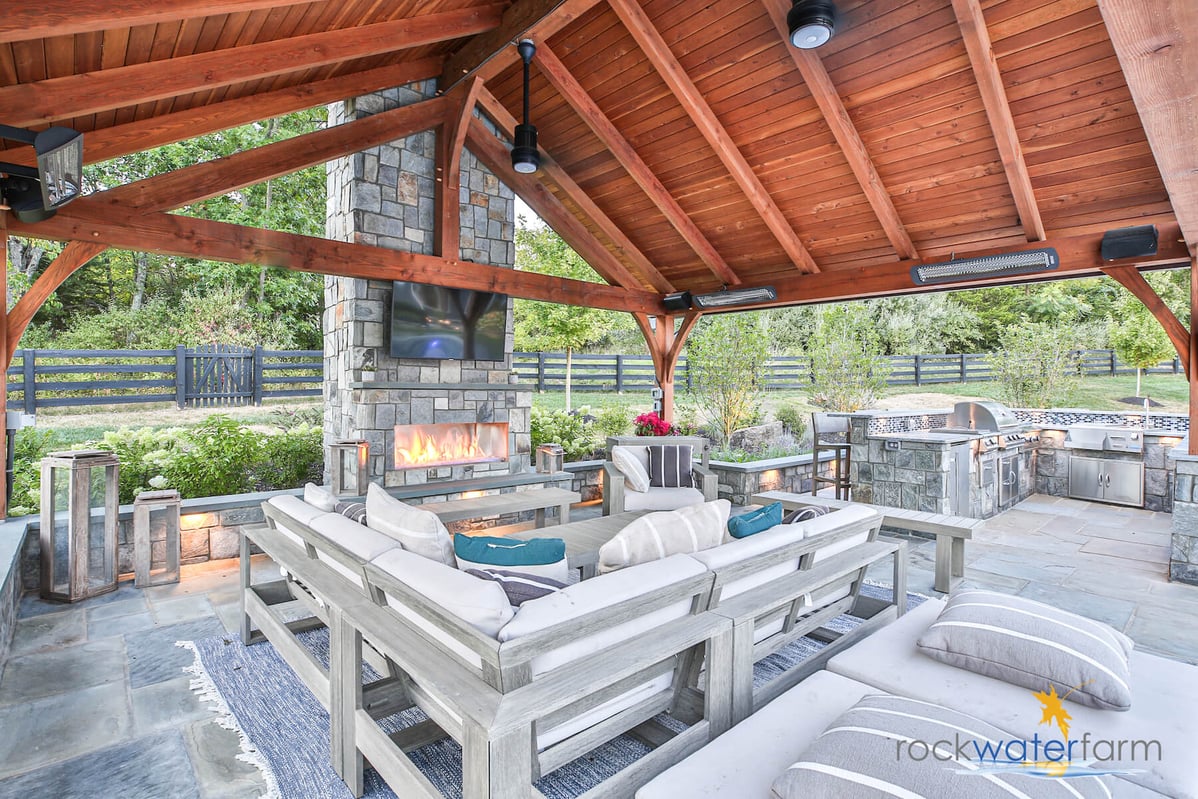 A pavilion also gives you the opportunity to add amenities like overhead lighting and a fan which can make your outdoor space more comfortable as well.

Often, homeowners like the idea of mounting a television above a fireplace. If you have an outdoor fireplace as part of your pavilion, this might make the perfect location for your outdoor TV.

Having a fire feature PLUS an outdoor television will really increase your use of the space. Now you aren't just limited to watching TV outside when it's nice out.

You can stay toasty and warm in the fall and even the winter with an addition like an outdoor fireplace.
#2: Consider the Viewing Areas
If you're adding an outdoor television area, chances are, you won't only be watching from right in front of it. You might want to make sure that those in the pool can also see it. After all, they don't want to miss what's going on with the game.

Or, maybe those playing lawn games or in the spa need a good view. You want to think through all of this.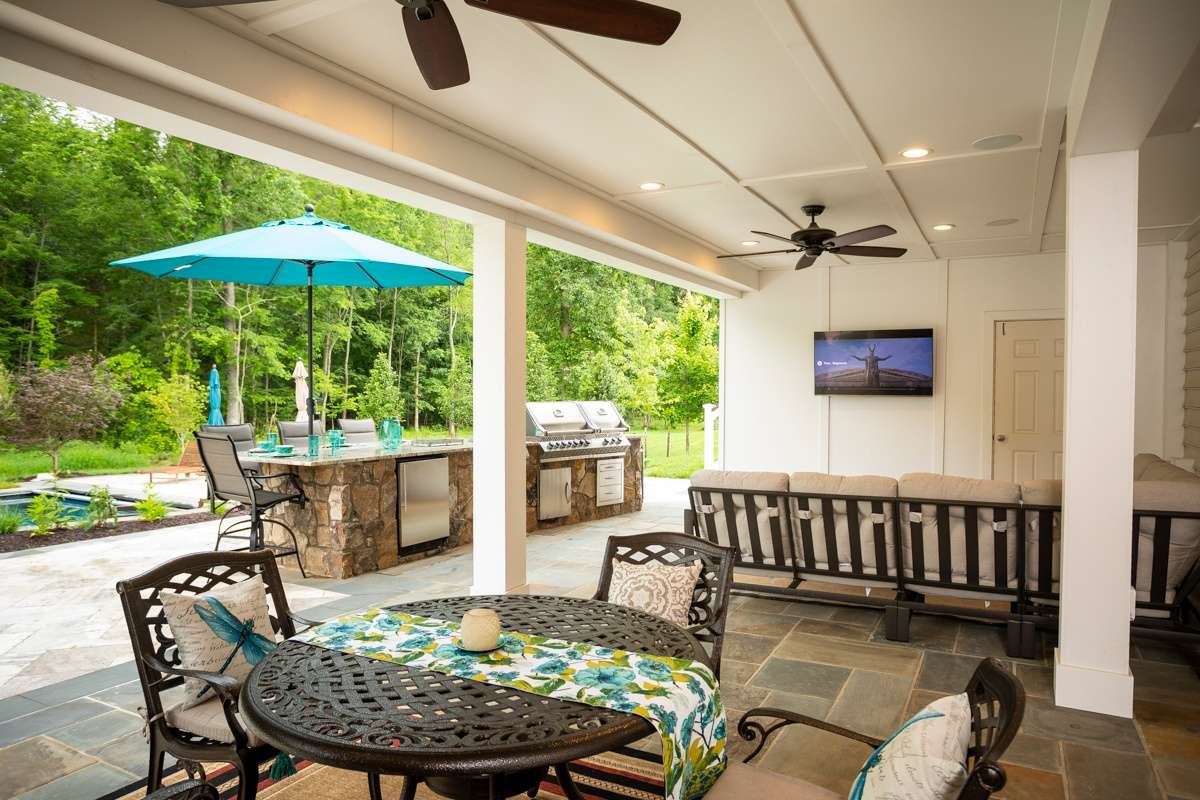 Maybe you're going really big and will even have more than one outdoor TV in your outdoor living area. The sky is the limit when it comes to dreaming about outdoor TV patio ideas. If you have multiple hang-out spots, you may need more than one TV.

Some of our clients have an outdoor television mounted in a way that it can swivel so that the view can change. But you'll definitely want to think through where you plan to watch the TV from.
#3: Don't Forget About the Audio Components
Just like indoors, the audio components of your outdoor entertainment area are important. You might want to consider surround sound with more than one speaker incorporated into your outdoor living area so that you can get the full television viewing experience.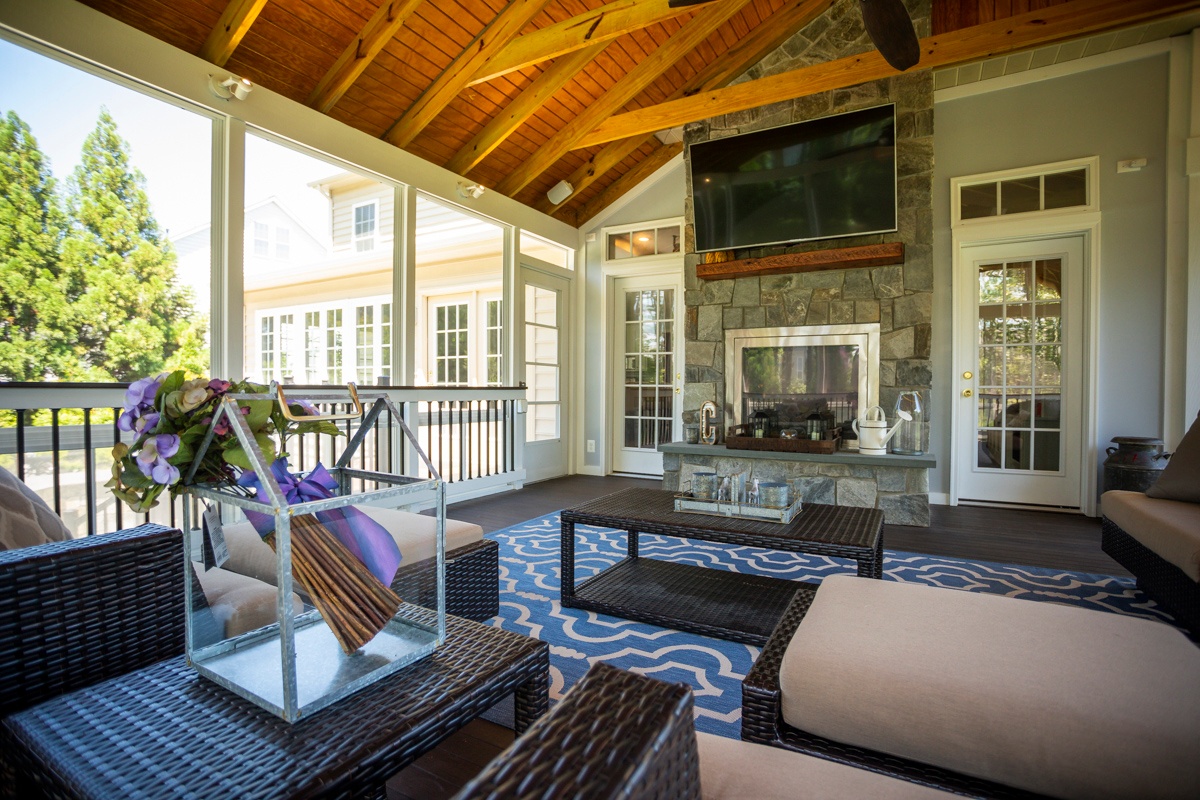 That could mean that even if others can't see the television, they will be able to hear it. When it comes to keeping up with what's going on with the game, this can make a big difference.
#4: Create the Perfect Scene with Outdoor Lighting
One of the things that we love about outdoor lighting is that it can really help set a scene. Movie night is suddenly a lot more special with just the right lighting scheme in and around your pavilion.
Lighting can serve both a highly functional purpose as well as an aesthetic one. It can definitely give a "feeling" to a space that can make it more enjoyable.
No More Boring Patios! Creating the Ultimate Outdoor Living Area
Hopefully, some of these outdoor TV patio ideas will help get you dreaming. These are just a few ideas but the space can ultimately be anything that you want it to be.

The key is to work with the right company for the job. You want someone who can create the ultimate landscape design in Northern Virginia.

With the right landscape designer and builder as your partner, you'll be guided to making wise choices that will mean your outdoor living area ends up just the way you want.
It will also mean that no important details are forgotten. The television area is just one spot in your complete outdoor living space. You want to make sure that no detail goes unconsidered!

Fortunately, when you make a wise choice in landscape design and build companies, you can feel confident that you're in good hands and that your amazing space will come together even better than you dreamed.

By choosing wisely, you can feel confident that your outdoor living area is going to come together the way you desire. That means spending the most possible time in your new space.

If you're ready to see your outdoor living ideas come to life at your Gainesville, Haymarket, or Round Hill, VA home, talk to an expert, choose a solution that rocks, and then get ready to see that dream take shape.