Posted by

Todd Thomasson on May 24, 2022 4:56:02 PM
If you're planning to add a swimming pool to your backyard, you want it to be everything that you dream it could be. The last thing that you want is to ever be disappointed in any way. You don't want to be swimming or trying to enjoy your pool area thinking there were things I wish I knew before installing a pool.
Unfortunately, this happens all of the time. Homeowners don't always know what to ask for or what considerations must be taken into account. It's not only until they're actually spending time in the pool that they realize there are things they would have done differently.
That's why we're talking about what you should know before installing a pool. It can be very difficult and costly to try and make changes to your pool once it's already finished. But the last thing we ever like to see is homeowners invest in a pool they don't absolutely love.
Here is our list of things to consider before building your swimming pool.
1. There is a Reason Some Pool Materials Cost More
At Rock Water Farm, we have been transparent in saying that we believe gunite pools are the superior option. One of the main reasons is that there's really no way to have a custom pool without choosing gunite as the material for construction.
Most homeowners want something truly original and this is only achievable when starting from scratch.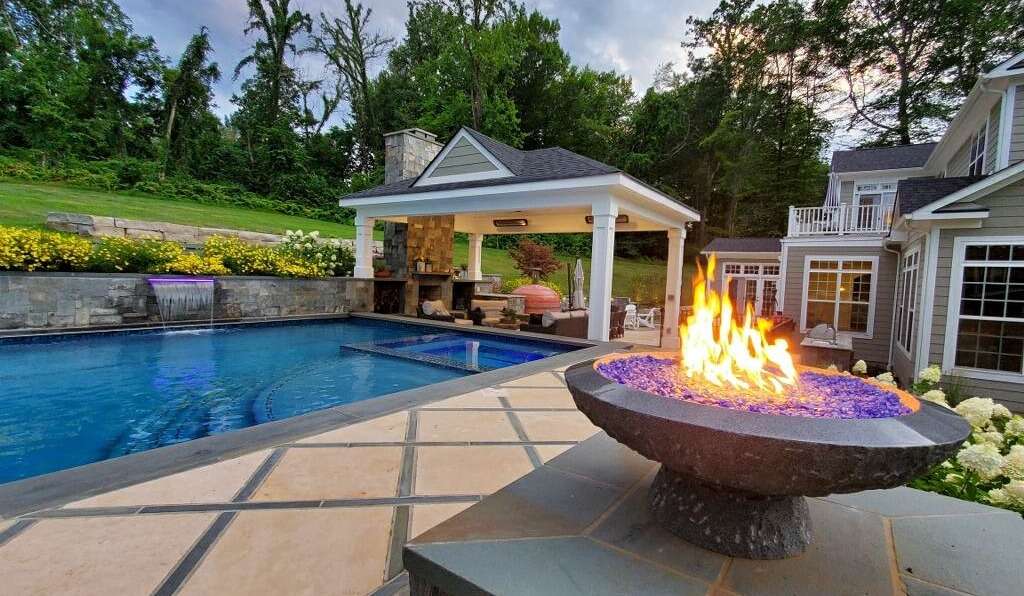 But besides the fact that other materials don't allow for originality, there are some additional downsides that we think homeowners deserve to be aware of so they don't feel dissatisfied with their choice. Here are some points to consider about fiberglass and vinyl pools.
Downsides to Fiberglass
Fiberglass pools are pre-constructed in a factory and then brought to your site. But that means they have size and shape limitations. You can only choose one that's able to fit on the truck and be transported. This means you cannot have an extra-long or deep pool.
Some homeowners also say that they find fiberglass incredibly slippery, which is something they don't realize is a problem until they have the pool.
Downsides to Vinyl Liner
Vinyl liner pools can also have some potential downfalls. For one, a liner is not going to last forever and will need to be changed over time. Pool liners can also float and wrinkle which can become a major frustration for pool owners.
Some homeowners are also not happy with the overall look.
There's no question that a vinyl liner is not going to look as aesthetically appealing as a beautiful tile would look. After the fact, homeowners sometimes wish they'd spent more money so that they were actually satisfied with the results. A gunite pool with gorgeous tile work is also going to bring more value to the backyard than a vinyl liner pool.
Of the pool mistakes to avoid, skimping on the pool type and material is a big one.
As with anything in life, you tend to get what you pay for and this is definitely true with pools. By investing a little bit more in a gunite pool, you can ultimately have a superior pool.
Choosing the Best Pool Patio Materials
The same goes for pool patio materials, which is another area where you do not want to skimp. A lot of pool companies choose cheap pool patio materials like stamped concrete because it is quicker for them to install. But there are downsides to concrete including the fact that it will eventually crack.
But manmade pavers are not necessarily the best choice for something as special as your pool patio, either.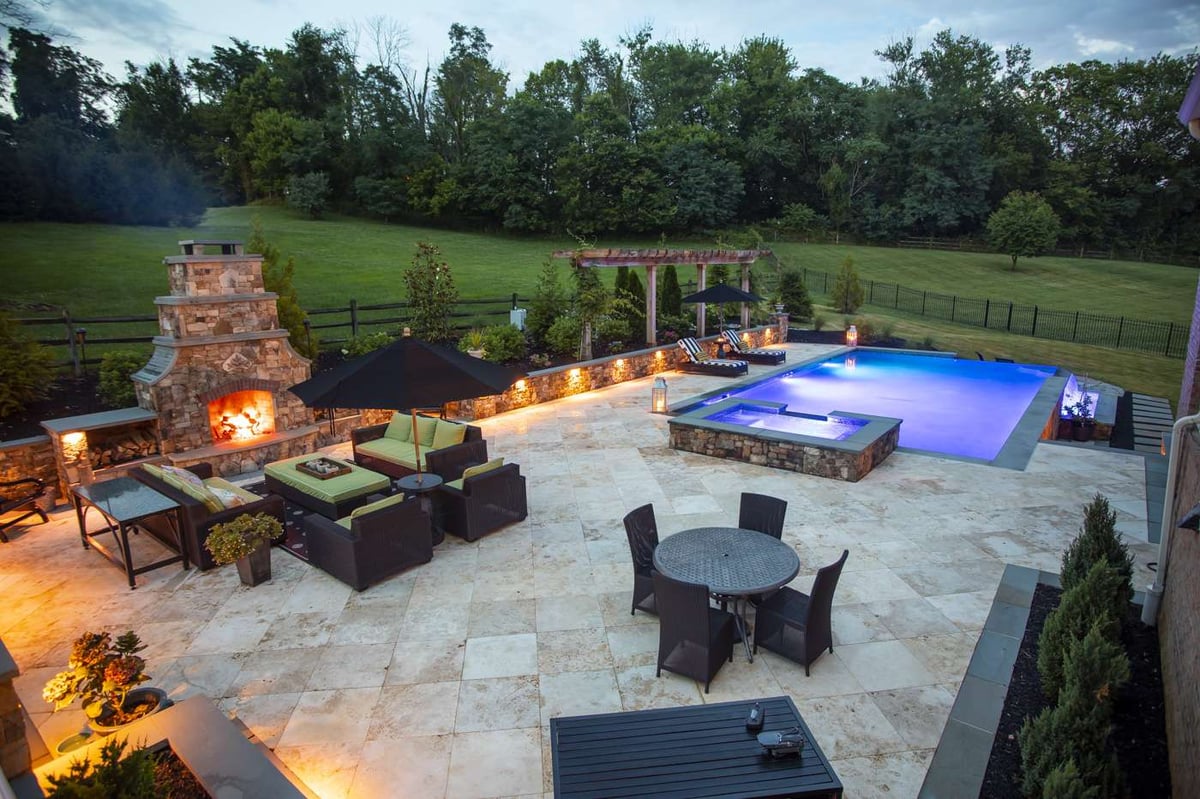 At Rock Water Farm, we believe that travertine is the best material for pool patios. It does not get slippery when wet, it stays cool underfoot, and it is highly durable so it won't leave you with big cracks like concrete will.
2. Pool Features are Important to the Overall Enjoyment
Pool features like waterfalls, tanning ledges, swim jets, spas, infinity edges, pool lighting, and others are more than just "add ons," they really make or break the entire swim experience.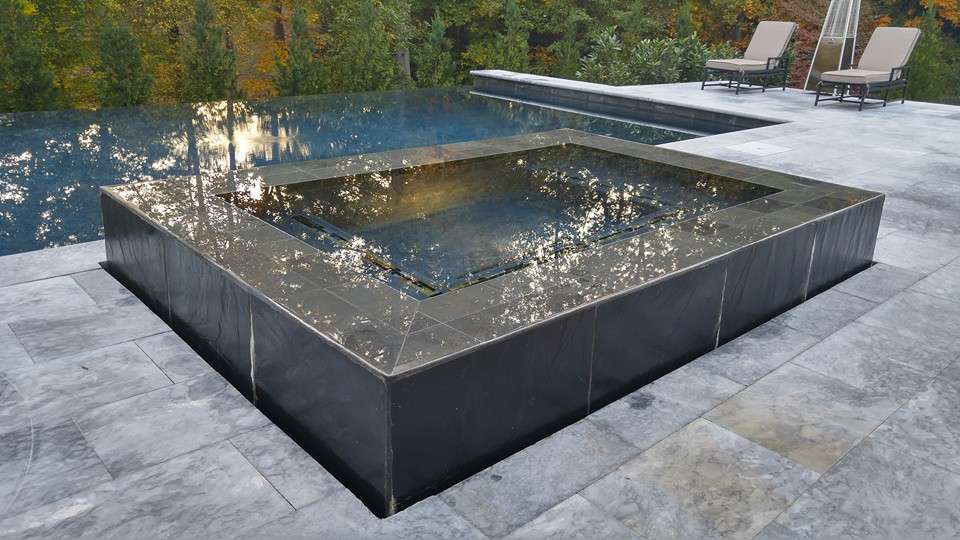 It is these types of pool features that help you spend more time in the pool and truly enjoy it to the fullest. They also help you enjoy the pool more when you're not in it, but sitting by or around it. Elements like lighting and various types of water features make the pool more of an "oasis" where you like to sit and spend time. When homeowners have these features on, they tell us they feel they're getting more of the entire "experience" that they were anticipating.
One of the things to consider before building your swimming pool is what features you'd enjoy the most because very often, these cannot be added at a later date. While you might be able to add features around a pool later on, you won't be able to add features that are actually built into the pool.
For that reason, many homeowners who rather splurge now and get the pool they're truly dreaming of rather than one that falls short, but they have to live with forever.
3. Not Every "Pool Company" Does a Turnkey Operation
One of the biggest unwanted surprises that homeowners run into when hiring a pool company is when it's finished—but not really finished. These are pool builders who have "tunnel vision." That means they're focused on getting your pool into the ground, and that's about it.
But you know that a pool area is so much more than the pool itself!
This happens a lot with pool builders who don't also have landscaping experience. They completely mess up your yard in the process of building your pool and then they don't put it back together. You might be left with huge piles of dirt, torn up or dead grass, and zero landscaping. This can be incredibly frustrating because now you need to go out and hire a landscaper to fix everything.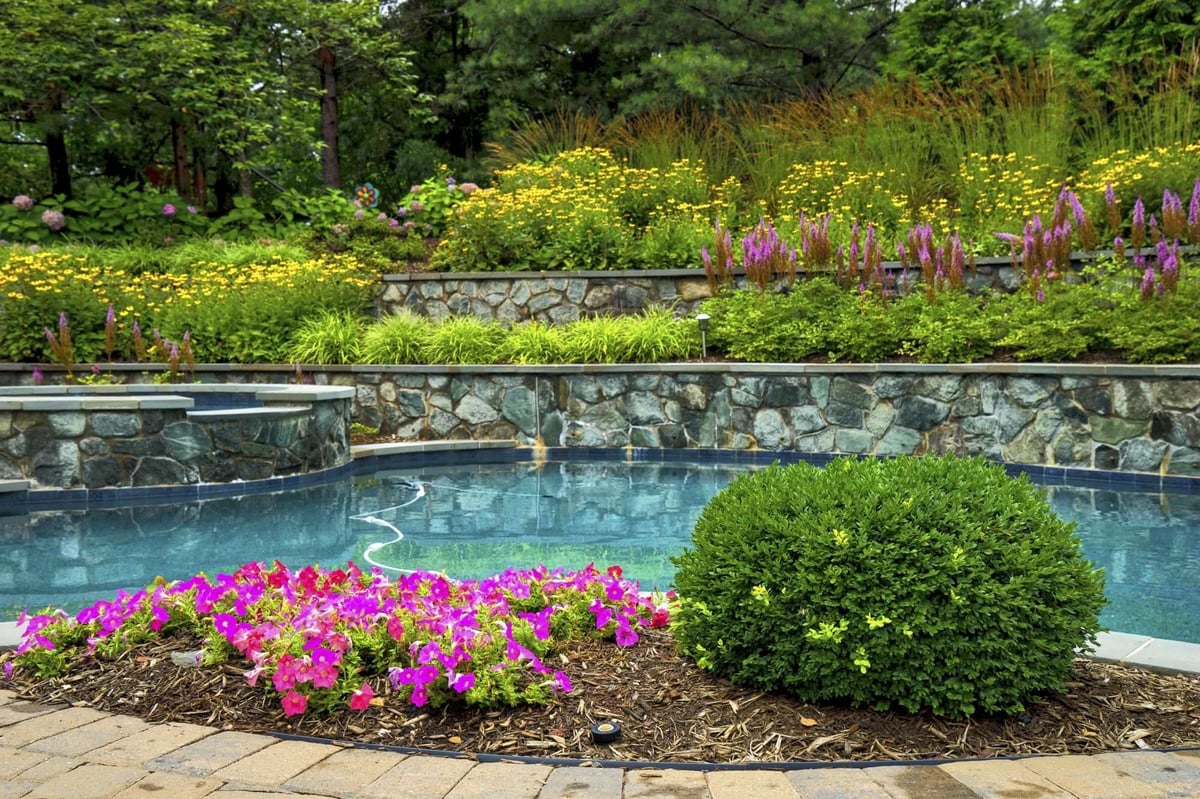 Ideally, you want to choose a turnkey operation that not only puts in the pool but thinks about the entire space as a whole.
That means not only ensuring that all of the landscaping around the pool is taken care of, but that you're given the option for all of the amenities and features you might also want around in and around your pool.
Pool features like we talked about above aren't always offered by standard pool builders. But on top of that, you likely want features outside of the pool like an outdoor kitchen, pavilion, and even lawn areas where people can play lawn games when they aren't swimming. Ultimately, these all become part of the overall pool experience and shouldn't be afterthoughts.
It boils down to choosing a pool company that really does look at the big picture and can offer a turnkey operation. That means when your pool is finished, it truly is finished and ready to enjoy.
4. Choosing the Wrong Pool Company Can Set You Up for Disappointment
Finally, when talking about the things to consider before building your swimming pool, the biggest is feeling confident that you've chosen a company that is going to set you up for success.
When the pool is finished and it's time to enjoy it, the last thing that you want is to be disappointed or feel like it fell short in some way. Of course, you may have never owned a pool before and have no idea what to look for or what you ought to know before you start the process.
This is where choosing the right pool company is absolutely key.
When it comes to something as important as your pool, you want a company that is paying attention to every single detail. Every single detail (even the seemingly small ones), matters—and you need to find a company that understands this.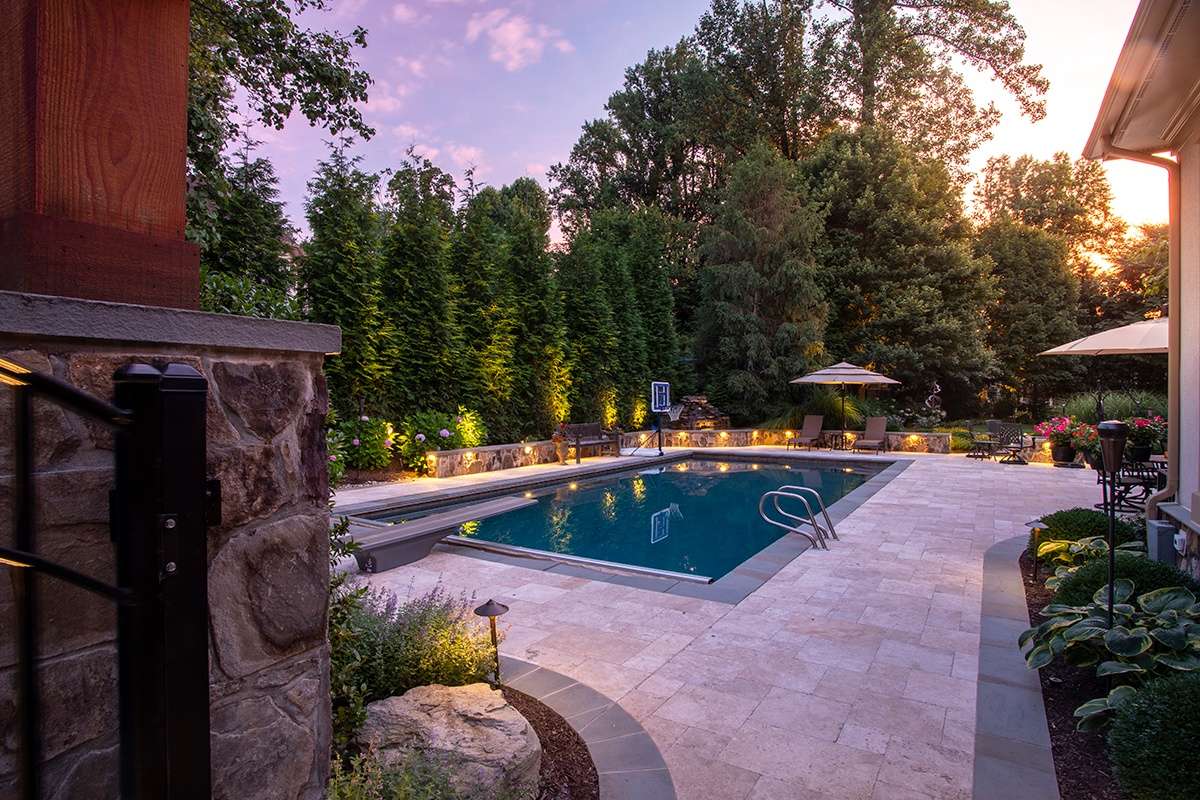 Ultimately, they should be helping to guide you toward ideas that can help make your pool better. The best pools are often a mix of what the homeowner wants and needs and what the pool builder is able to suggest based on extensive experience and knowledge of pools.
Unfortunately, some pool builders construct cookie-cutter designs and fail to offer you all of the options that will help make your pool complete.
Making a Wise Choice in Pool Builders in Northern Virginia
At Rock Water Farm, we look at the big picture, and that's a huge benefit to our clients. We work with superior materials like travertine and gunite. And we'll also take care of all of the features that are in our area of expertise (like the hardscapes, landscapes, or structures) to ensure they're done properly from the start (as opposed to hiring us later to attempt add to what a tunnel-vision pool builder did).
We're also committed to setting you up with what you should know before installing a pool, so that you're considering all of the options and making the choices that are right for you.
In the end, it comes down to being able to offer you your dream pool that meets all of your wants and needs. Once the pool is in the ground, it can't be moved or changed so you're stuck with what you've got. You want to feel confident that it's everything you want it to be so that you can enjoy it to the fullest!
By making the wise choice in pool builders, you'll know you're in good hands.
If you'd like to get started on planning a dream pool for your Gainesville, Haymarket, or Bristow, VA property, talk to an expert, choose a solution that rocks, and then get ready to enjoy your property to the fullest.