Posted by

Todd Thomasson on Jul 14, 2020 10:44:24 AM
Are you looking for swimming pool ideas that will take your pool from ordinary to extraordinary? There are probably a lot of people that have swimming pools in your neighborhood but you're looking to make yours one-of-a-kind.
When you're in the dreaming stage, letting your imagination run wild and thinking of pool ideas that are out of this world is a great way to start deciding what's important to you—and how you're going to achieve a pool that's truly unique.
A lot of times, it's actually the pool features or "add-ons" that take it to a whole new level. If you're truly looking for an amazing pool experience, you'll want to consider various features that will help enhance your space.
To help with the dreaming process, we've rounded up some of our best swimming pool ideas for amazing add-ons that will blow your mind!
1. Add an Infinity Edge for Major Wow Factor
When thinking about pool features that can make your swimming pool feel like it's straight out of a resort, an infinity edge is like no other. An infinity pool is one that has one or more sides where water flows over the edge, producing a visual effect of water with no boundary. This has also been called a "vanishing edge." It's a common pool feature found at high-end resorts.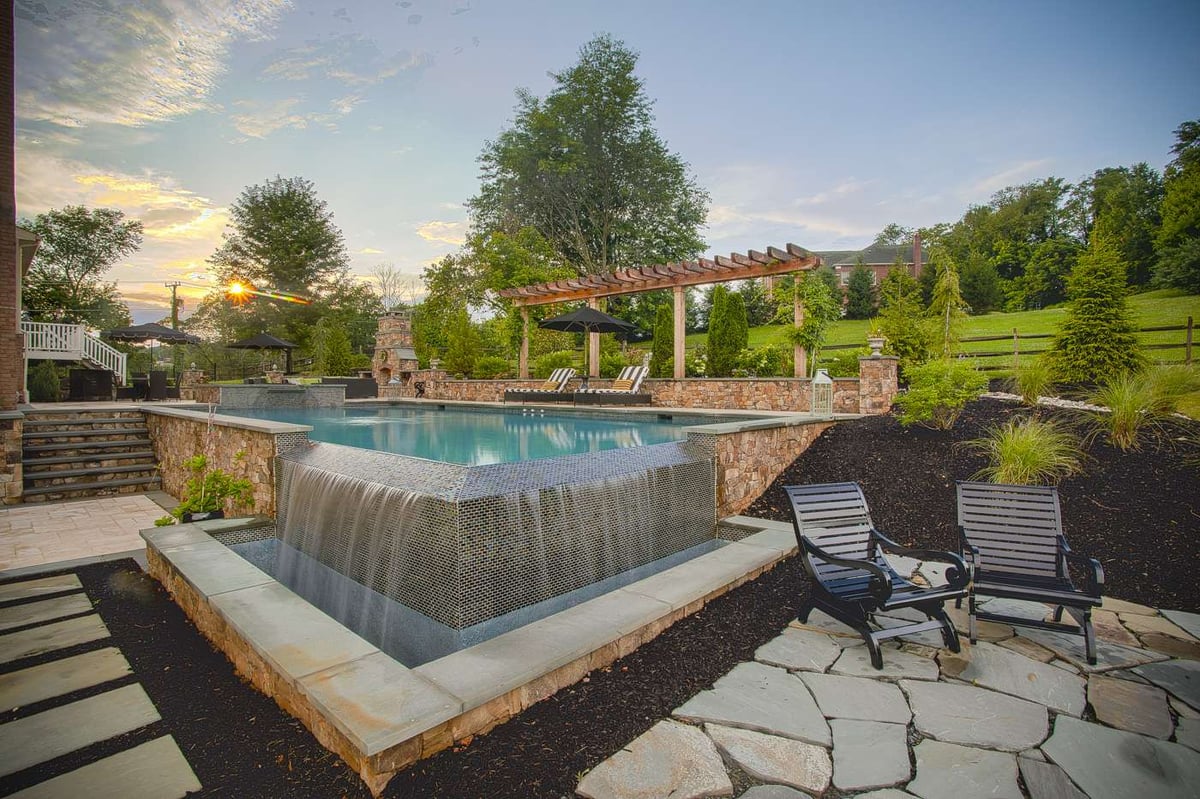 An infinity edge is accomplished by having the walls slope downward, away from the pool, to create the illusion of water dropping away. In reality, it cascades down as a waterfall and lands in a catch pool below. The water is then pumped back into the main pool.
Infinity edges can be particularly impactful if your pool overlooks an area with a stunning view. For instance, if you're at the top of a hill and you have a gorgeous view of fields or land below, situating the pool in a place where the infinity edge appears to drop off the edge can create a really incredible visual effect—and may also become a spot where people want to sit and enjoy that view (meaning you may also need a sun shelf, another great feature, in that spot).
Of course, there's no rule that says you have to have just one infinity edge. You can have more than one edge be an infinity edge for major appeal.
Or, instead of doing the entire edge, you could just create an infinity corner. This would still give you a unique aesthetic addition with the sound of running water but will help keep the cost down. After all, there's no denying that an infinity edge can be an expensive add-on. There is additional engineering in creating the support that will be needed to achieve an infinity edge. Generally speaking, the addition of an infinity edge can be around 20 to 50 percent of the total cost of the pool.
2. Add a Tanning Ledge for Luxurious Lounging
Another great swimming pool add-on, which we alluded to above, is the tanning ledge. These are also sometimes referred to as a "sun shelf." It's basically a bump-out within the pool designed for lounging. A smaller bump-out in the deep-end might just be designed as a place to sit while having your legs in the water. If the deep-end of your pool is where you have an infinity edge situated or where you have a really great view, you might want a sort of bench or seat built in there. We've also heard these called a "cozy cove."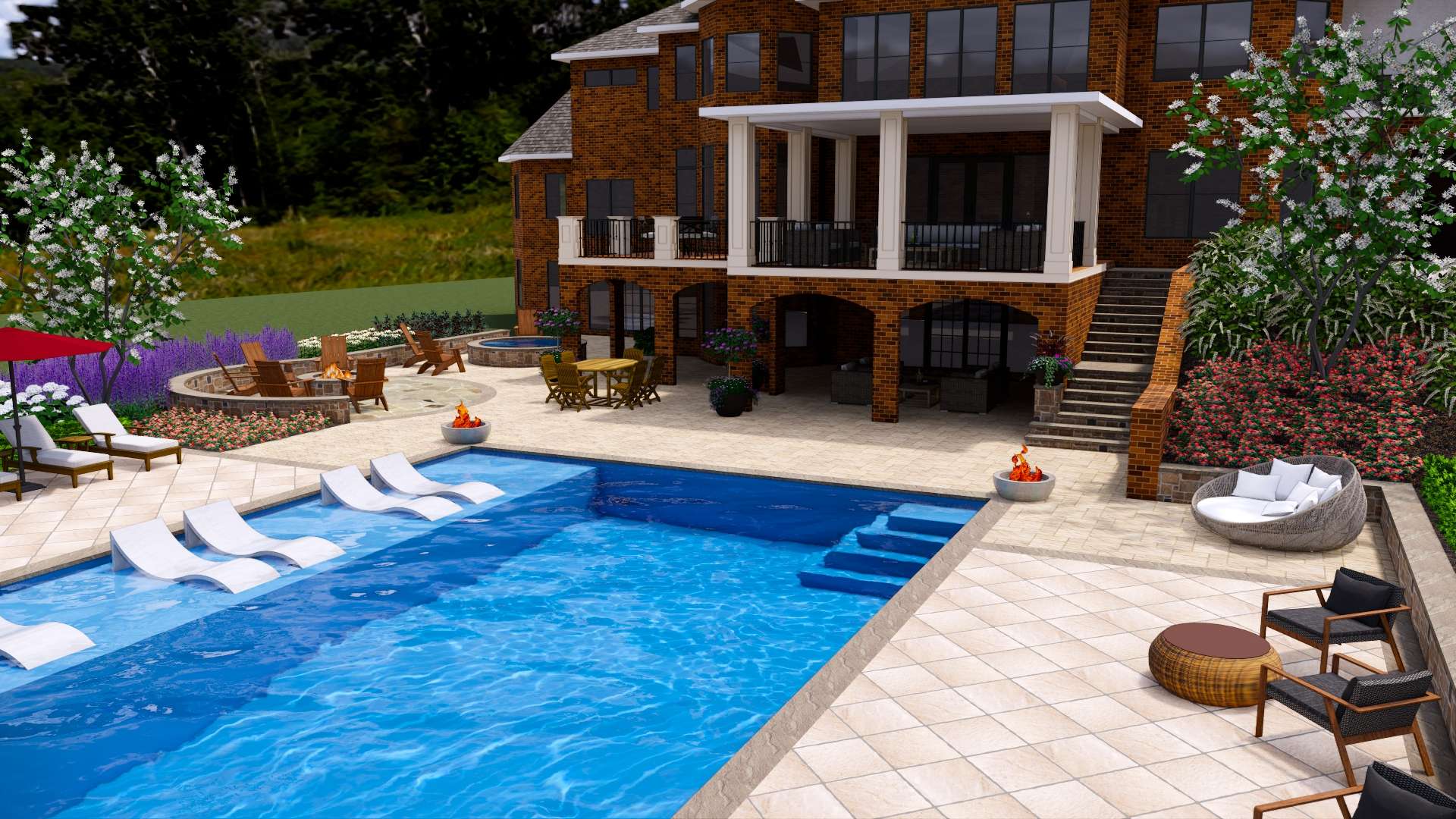 But most people want a larger shelf-like spot, perhaps big enough to fit a chaise lounger. Some homeowners even like the idea of designing these spaces as large enough for an umbrella and multiple chairs. If you have young kids or grandkids, this ankle-deep water can also be a great place for them to splash and play safely while the bigger kids swim. Mom or dad (or grandma or grandpa) can lounge while keeping their feet cool, too.
3. Incorporate Fountains, Jets or Waterfalls for the Beauty and the Experience
When it comes to swimming pool ideas, water features are another great addition. From an aesthetics standpoint, they look great. But they also provide the sound of running water which can really make your space feel a lot more like a vacation destination as opposed to your backyard.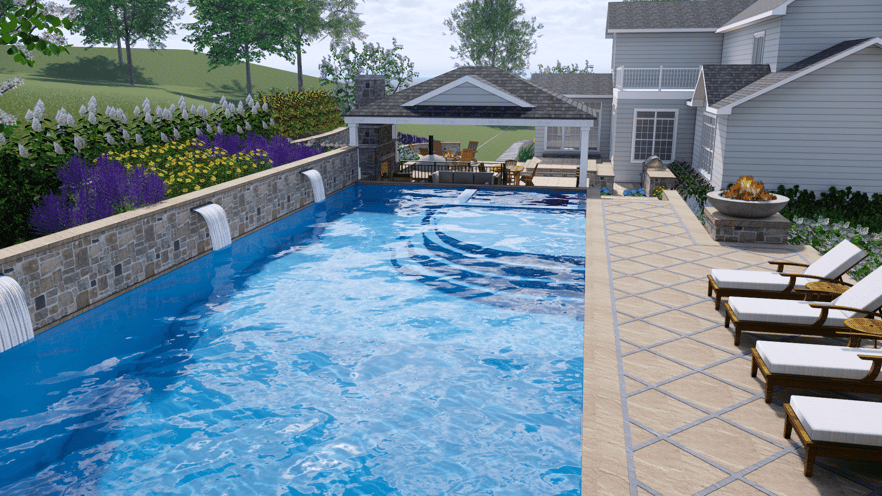 There are a lot of different ideas for water features. Here are a few to get your wheels turning.
Shooting Jets or Fountains
You can have jets on one or more sides shooting water into the pool. At nighttime, you can light up that arch of water with LED lights for a whole new experience. Imagine dining al fresco by the pool with your own personal light and water show entertaining you and your guests! It will feel like being at a resort.
Rock Waterfall
A cascading waterfall can be a stunning addition that will easily become the showpiece of your pool. These can be designed just for looks or can even be an area that's designed for the kids to jump off of (with the depth of the pool being an important consideration in that area). Maybe you want to design a waterfall that the kids can swim under, with a little bumped-out area behind it—almost like a little cove.
Sheer Descent Waterfall
This is basically a waterfall that flows directly into the pool (without making its way down any rocks). This can create a really beautiful look and, again, if lit up, can create a whole different night time experience. This can look like a sheet of calm water that looks almost like glass. And when lit up with LED lighting, it can really be spectacular.
Sometimes, the addition of a raised up spa (another add-on feature we'll talk about) can create the perfect opportunity for a sheer descent waterfall as you'll have the water from the spa cascading into the pool.
Bubblers
If you add a tanning ledge to your pool, you might also want to think about some bubblers in this space for a nice little visual effect—and something the little ones can play with. It looks great and it also adds that relaxing sound of running, bubbling water. Installing tanning ledge lights that help light up the bubblers can also create a really unique and enjoyable night time effect.
4. Install Swim Jets for Swimming in Place
Different from water features which are meant for aesthetic purposes, swim jets are a feature that can be installed for swimming in place. They create a current in a section of the pool that you can swim against. You might think of it as a "water treadmill."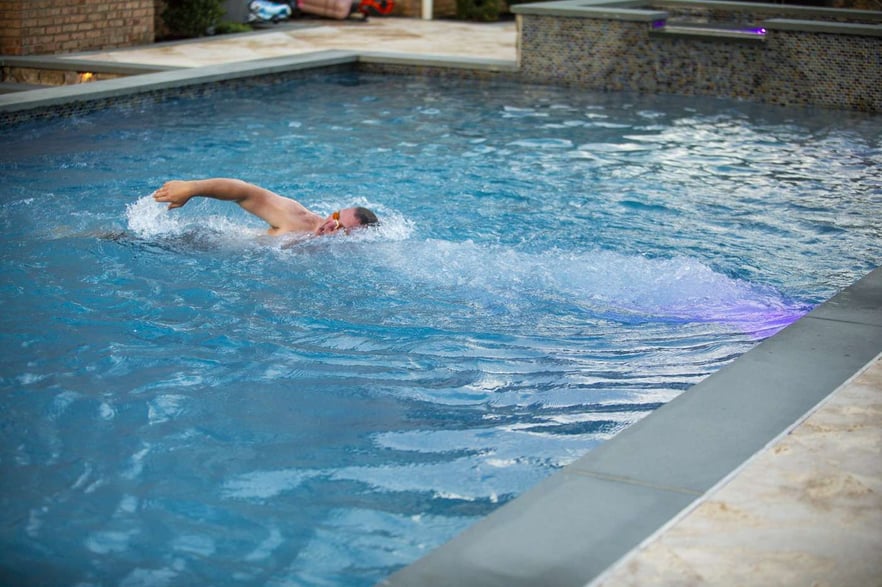 Swim jets are a great addition for homeowners who want to use their pool for both exercise and fun. They don't necessarily want to have a lap lane designated just for exercise purposes—or have to take up a lot of room or get in the way of those who might be lounging or playing. But they do want to find an easy way to fit in their work-outs. Swim jets are an addition that will keep everyone happy.
5. Install a Spa for Ultimate Relaxation
Pools and spas go harmoniously together. Oftentimes, we hear that adults like to lounge in the spa while the kids swim. But we know plenty of families say that their kids also love going back and forth from the pool and the spa (when they need a little downtime or to warm up).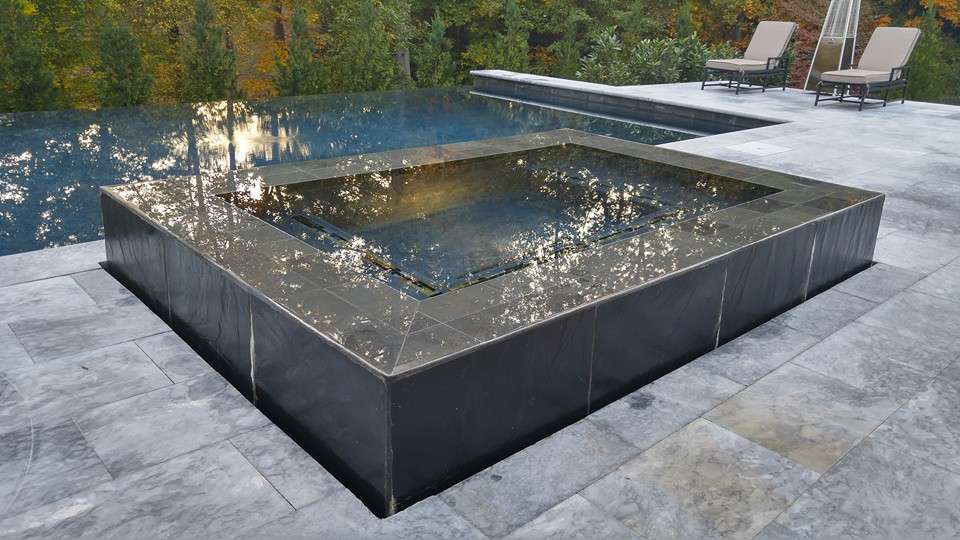 Spas can be designed to be adjoining with the pool or can be completely separate. A lot of it comes down to personal preferences.
When designed together, we can use the water from the spa to create a waterfall effect into the pool, as we mentioned before. But some homeowners prefer that their spa is completely separate as they might want to use it in the fall and winter months when the pool will be closed for the season. We can discuss the options to determine what will work best for you.
6. Illuminate your Pool for Amazing Appeal
Adding pool lights to your swimming pool is a really great way to add a serious wow factor. Today, the color-changing LED lights can actually transform your pool and its water features into your own little light show. It can add ambiance and enjoyment that really takes the pool to a whole new level.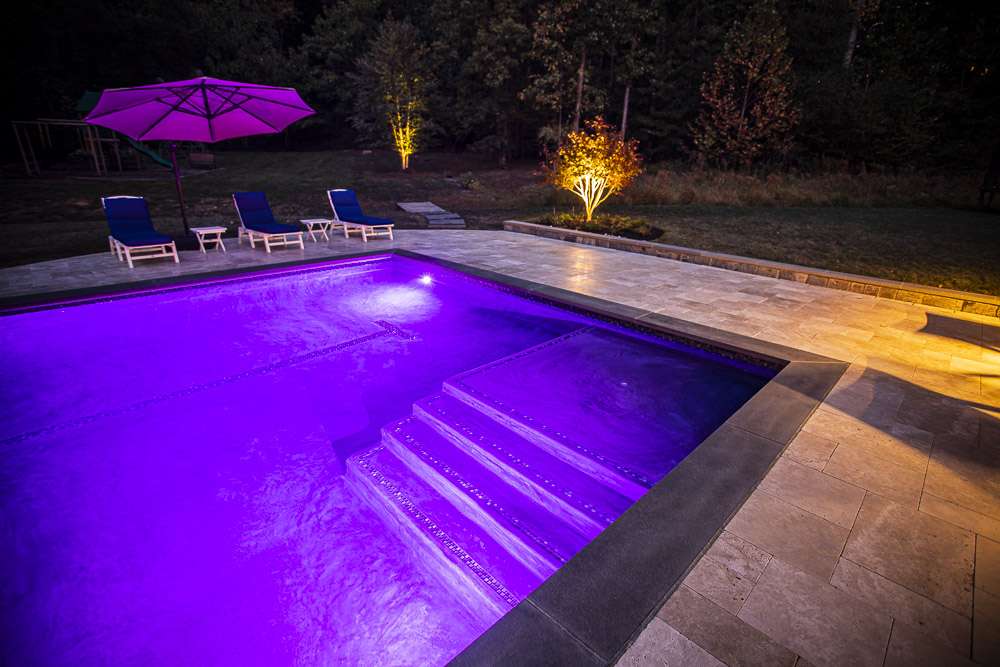 Don't skimp when it comes to pool lights. You want more than just a light in the deep end, as some pools have. Go for lights in the spa and lights in the tanning ledge, too. And, as we mentioned, be sure that you are strategically lighting your water features to add to their appeal.
Don't Forget the Features Outside of Your Pool, Too
While the add-ons that we've mentioned here were focused on pool features inside of the pool, keep in mind that adding features outside of the pool is important to the overall use and enjoyment of the space.
Features like a pool patio, a pavilion or pergola, fire features, game areas, outdoor kitchens, and other add-ons are what help complete the total experience and should not be add-ons or afterthoughts.
If you truly want to spend as much time outdoors in your new pool area as possible, you need to think about the space as a whole. It often ends up being these additional pool features around the pool that keep your family (and friends) spending time in the space.
Choosing
Swimming Pool Builders in Great Falls, Ashburn, or Leesburg, VA
Of course, making sure that you really do end up with the pool of your dreams with these wonderful add-ons comes down to the company that you choose to complete the work. The fact is, not all swimming pool builders are created equal. Many are just focused on installing your pool and moving on to the next job as quickly as possible. In fact, many pool builders aren't experienced in even adding pool features like the ones that we've mentioned.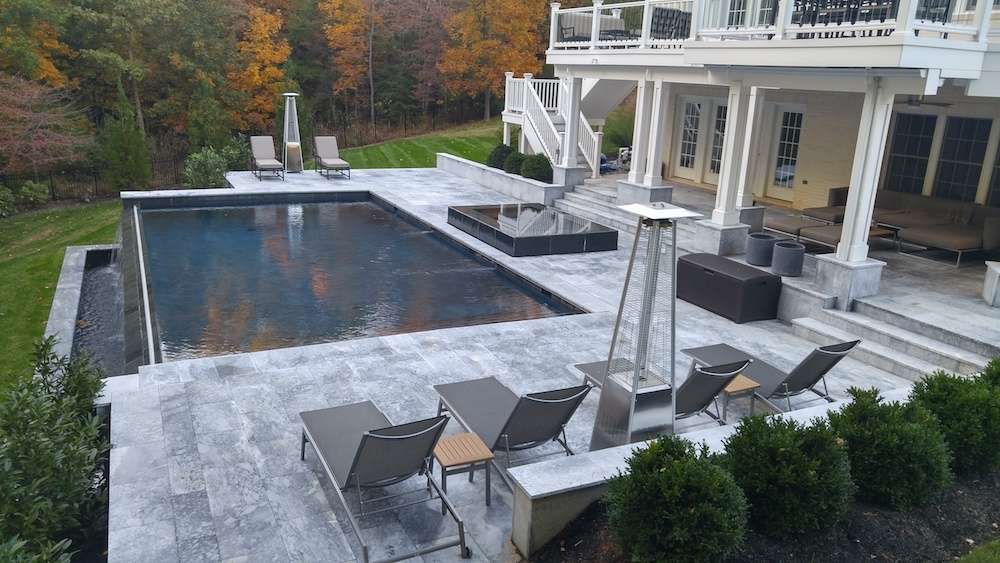 But when it comes to something as important as your swimming pool, which you'll enjoy for years to come, you want to be sure it's completed exactly as you desire—with all of the spectacular add-ons that are going to make it unique.
You don't want there to be more work to do after the project is supposedly finished. You want a turnkey solution. In order to get that, you know that you must hire a company that thinks about how to make your pool space truly complete (both in terms of inside and outside pool features).
At Rock Water Farm, we achieve that by looking at the big picture.
We believe that your backyard isn't just about the pool. It's about the memories that you will make there—and that's why you want a complete outdoor living environment that truly has it all. By making a wise choice amongst swimming pool builders in Great Falls, Ashburn, or Leesburg, VA, that's exactly what you can have.
Are you ready to find a pool contractor in Ashburn, Aldie, or Leesburg, VA that can take your swimming pool ideas and make them a reality? If so, talk to an expert, choose a solution that rocks, and get ready to see those dreams start to take shape.