Posted by

Todd Thomasson on May 5, 2020 3:59:00 PM
Among all the decisions that come with adding a pool, the decision of gunite vs. fiberglass is the very first one to decide upon. These two pool materials are completely different and therefore have their own sets of advantages and disadvantages.
The material from which your pool is constructed is obviously an important decision and you want to invest your money wisely.
You may be worried that you'll make the wrong choice and be disappointed. That may be why you're doing some research at the onset in order to make sure that your pool is a wonderful addition to your backyard—and not a constant source of worry.
You're making a wise choice by putting in time to understand these two different poo materials and which might be best for you.
The
Gunite vs. Fiberglass
Pool Construction Process
A good place to start your understanding of gunite vs. fiberglass pools is to explore the differences in how these two types of pools are built. This will help you to understand what makes them so completely different.
When building a gunite pool, pool companies in Northern Virginia will start off by digging a hole and installing the plumbing. Gunite pools use a rebar framework grid (steel reinforcing rods) that is then sprayed with the gunite mixture (a mixture of cement and sand). The gunite will be smoothed out and then set to completely dry before a smooth finish is applied to the rough surface.
Whereas gunite pool construction takes place on-site, a fiberglass pool is constructed in a factory or warehouse. The process utilizes a mold in which the fiberglass is shaped. It will then be shipped on a truck to your home and installed in the excavated hole.
Gunite vs. Fiberglass Pools
Pros and Cons
Now that you understand a bit about fiberglass and gunite pool construction, let's compare the two materials to determine which might be the best fit for your Northern Virginia home. We'll look at the pros and cons of each.
Gunite Pool Pros
Custom construction:

Because of the fact that it's constructed on site, the design possibilities are only limited by your imagination. That means you can get incredibly creative with the shape and any features that you decide to include such as built-in rock formations or waterfalls. You are also not limited in colors of finishes. If you want something outside of the norm or super custom, then a gunite pool is the way to go.
No size limitations:

On that same note, you're also not limited by size. If you want a large pool that is extra-long or even extra-deep, you can have that with gunite. You are not limited by what can fit on the truck.
Durability:

Gunite is known for being incredibly sturdy and as a result of the steel framework will hold their shape.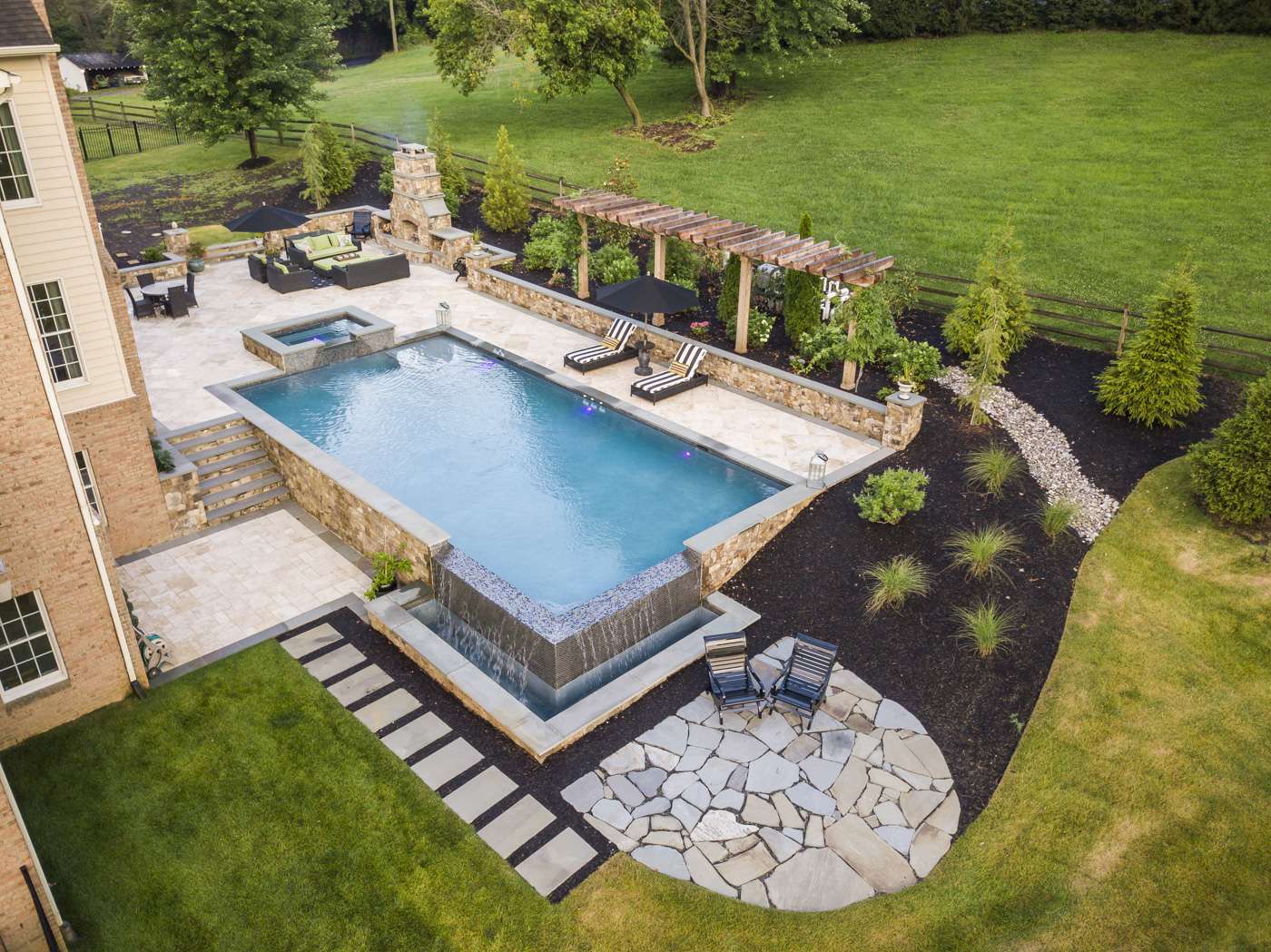 Gunite Pool Cons
Longer perceived build time:

The time involved in building a gunite pool can seem longer than a fiberglass pool, typically because of the fact that it's a more custom job with more nuances.
Surface differences:

Some say that the surface of a gunite pool can be rough but it depends on the finish that you choose. A nicer finish is not going to be rough.
Fiberglass Pool Pros
Shorter perceived build time:

Sometimes a fiberglass pool can be up and running quicker than a gunite pool, but fiberglass can have lead time, too. With fiberglass you're waiting for it to be built in a warehouse versus watching it be built in your backyard.
Surface differences:

A fiberglass pool has a smoother surface, though some would say it is too "slippery." This may be a matter of personal preference.
Fiberglass Pool Cons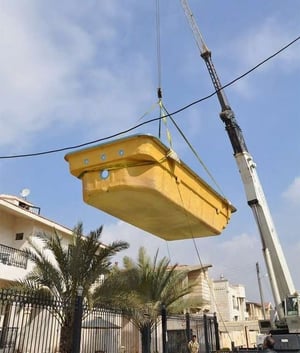 Lacking customization:

Fiberglass pool shells are built in the factory and then shipped to your home. This means that you are limited in terms of customization. You may have a pool mold that looks like every other pool on the block. If you're just looking for a little kidney bean shape pool and don't care about extra features, then this may suffice. But most homeowners want something custom that is unique to their backyard.
Size and shape limitations:

The fact that the pool is shipped to your home means there are limitations in shape and size. It must be able to fit on a truck. You will not be able to have an extra-long or deep pool.
Potentially problematic:

If not manufactured or installed properly, fiberglass pools are more prone to problems. Fiberglass can develop bubbles if it was not manufactured well. In addition, if not installed properly, a fiberglass pool can settle to one end.
Gunite Pool Cost
vs.
Fiberglass Pool Cost
Of course, you'll also want to compare the differing costs of these two pool types. If comparing a gunite pool to a fiberglass pool that is the exact same size, the cost will be virtually the same. However, the fact that most people choose a gunite pool for the very purpose of creating something much more custom and typically much larger is why gunite pools get a reputation for being more expensive.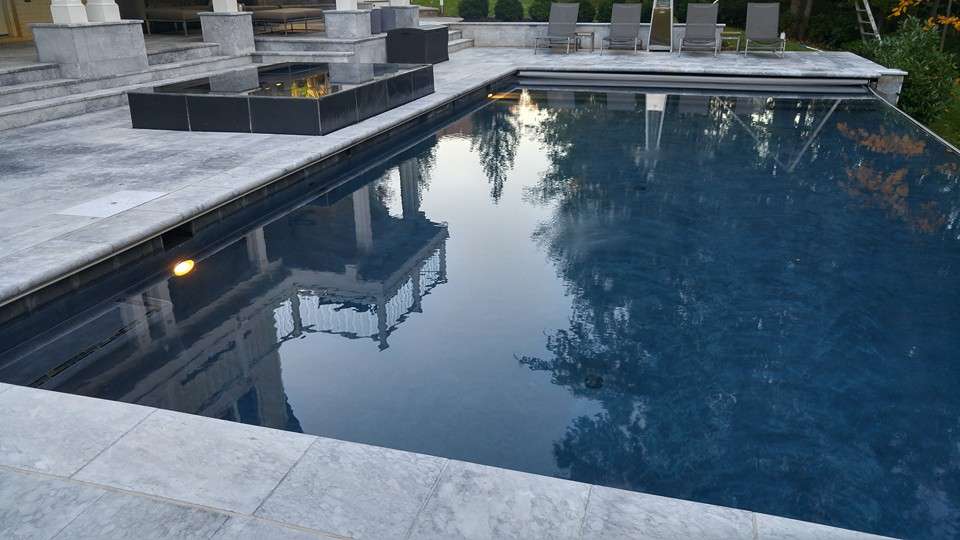 You're probably not going to have a small kidney bean shaped pool installed if you're opting for gunite. Chances are you're looking for a more unique shape or design plus features like sun shelves, boulder waterfalls, and maybe even a spa. And you're likely opting for a pool that is on the larger side. All of that is going to make the cost rise but the value that you get out of it will rise as well.
Gunite Pool Reviews
vs.
Fiberglass Pool Reviews
Another aspect that you might compare is pool owner reviews. There is a wealth of information online that you can research and read through. You'll likely come to the conclusion that a lot of the reviews come down to personal preference.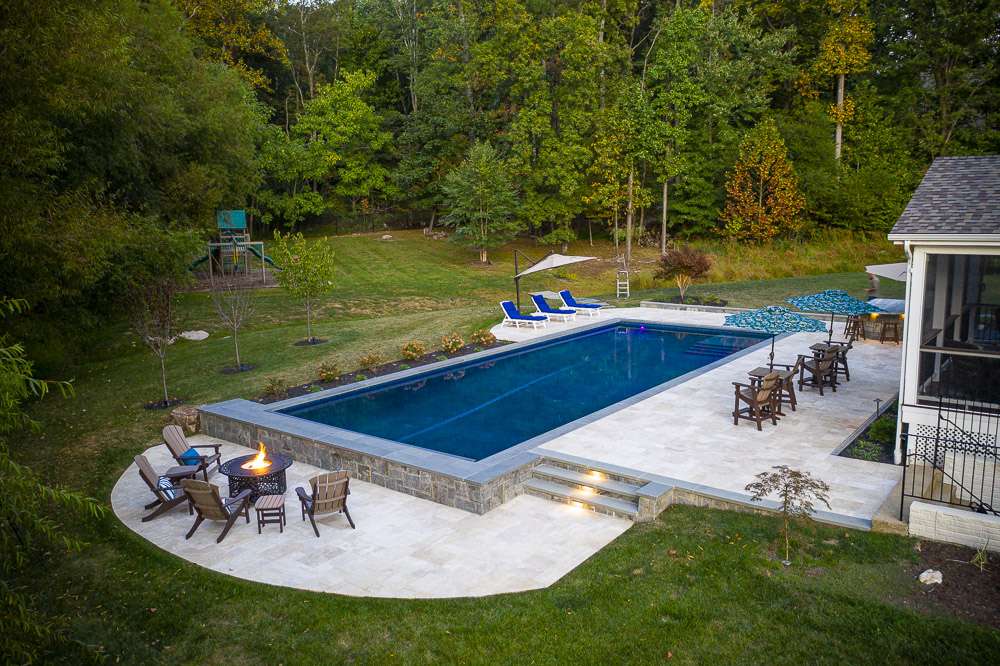 For instance, one review we found said that the homeowner loved their gunite pool because it wasn't slippery like the fiberglass pools he has been in. But you can also find reviews from fiberglass pool owners that say they feel their fiberglass pool is superior due to the rougher nature of the gunite surface. This is the same feature with literally two different perspectives as it's a matter of opinion and preference.
While you read through reviews, be sure to keep personal preference in mind. You will always be able to find pool owners on both ends of the spectrum, but remember to keep your own personal wants and needs at the forefront of your decision making.
Working with
Pool Companies in Northern Virginia
When it comes to the finished product, both gunite pools and fiberglass pools can be a nice addition to your property, assuming they are correctly installed. This is an important fact and is dependent upon working with a pool company that has the experience, skill, and expertise to perform the job correctly. A pool is no small investment and an error could cost you even more.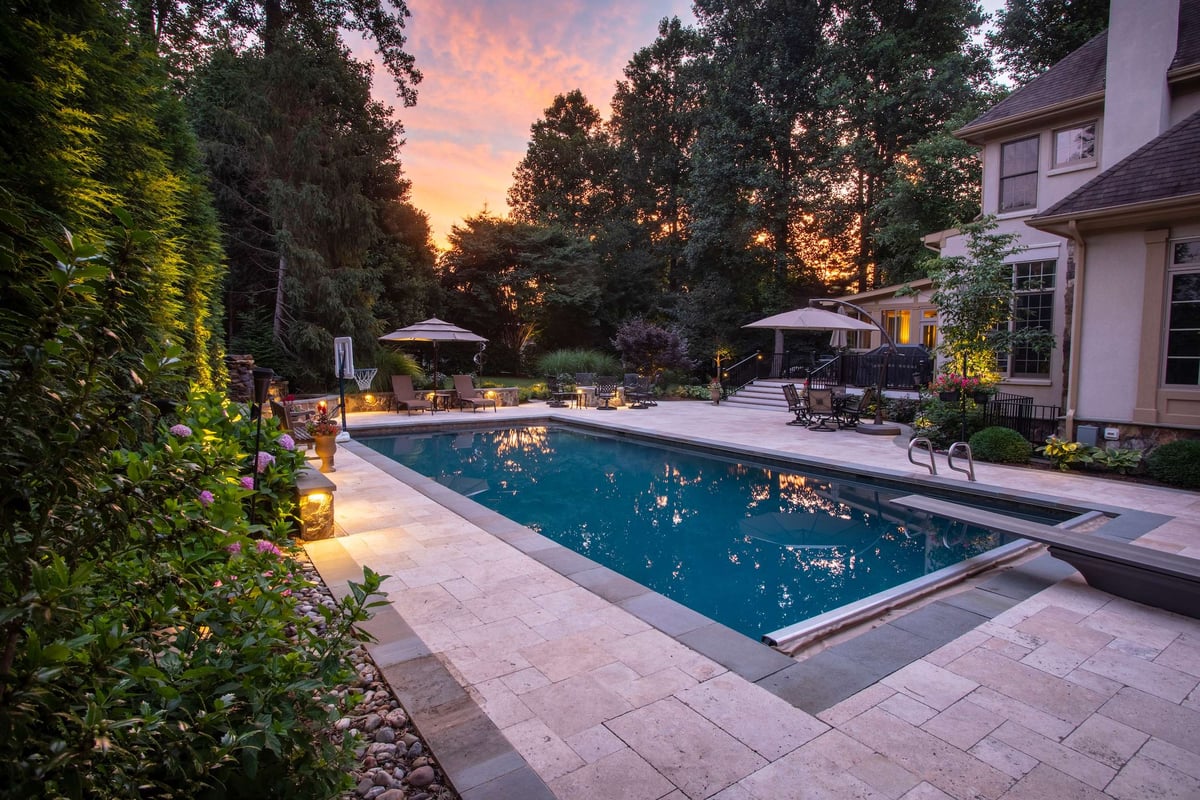 At Rock Water Farm, we design and install gunite pools as we believe in creating truly custom backyards. However, we have worked with homeowners who have already had a fiberglass pool installed. We've performed the work to complete the rest of their space.
Oftentimes pool companies just install the pool and then move onto the next job. Sometimes they even leave a mess behind. This often has to do with the fact that they are experts in pool design but not landscape design.
As a result, we've worked with clients who want the rest of the outdoor space completed with features such as a beautiful patio, pool landscaping, and maybe even an adjoining pavilion and outdoor kitchen. We believe in creating a complete space, otherwise, the pool by itself isn't very enjoyable at all.
The Bottom Line?
If you want something that is truly unique and sets your backyard apart from the rest, then we believe that gunite is the way to go. If you choose to work with Rock Water Farm then we can handle your backyard pool project from start to finish, beginning with a blank slate and transforming it into a complete outdoor living space that fulfills your wildest dreams.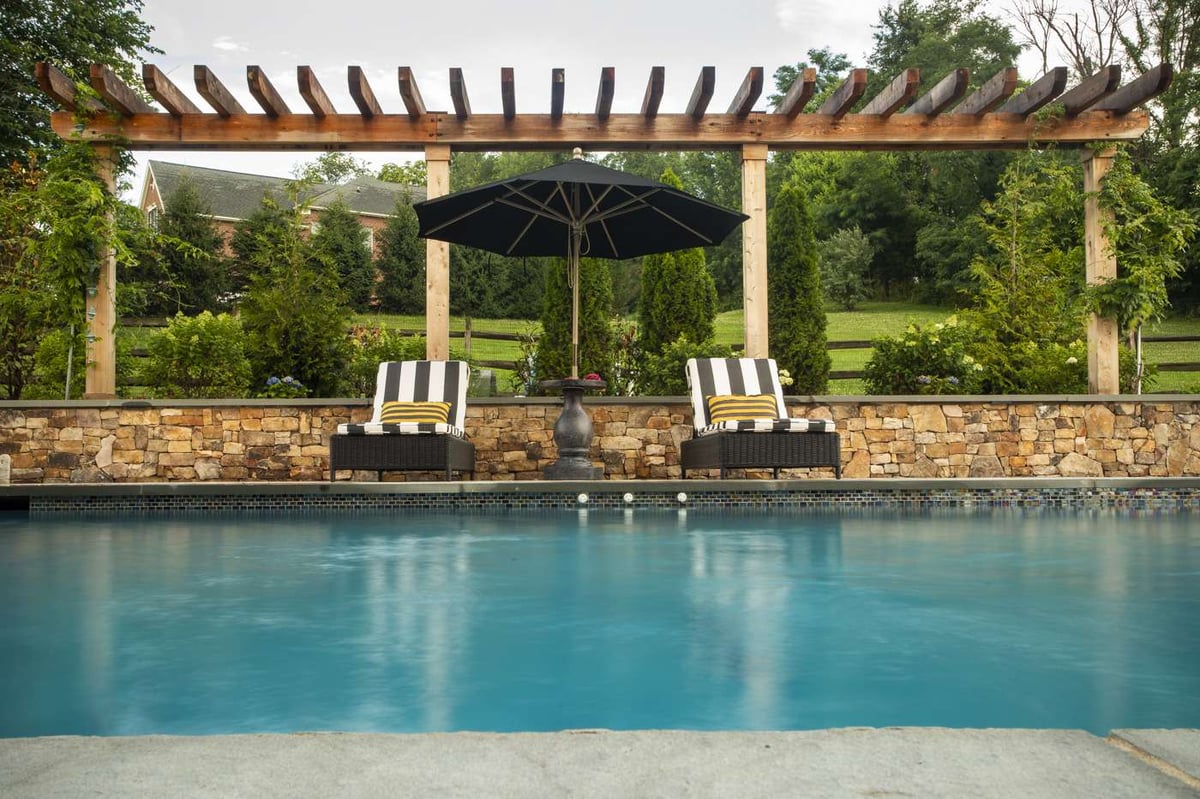 But don't count us out even if you've decided to go the fiberglass route. If you've worked with another pool company to have a fiberglass pool installed, we can still work with you to help complete the space. When the project is all finished, you should be able to truly enjoy your space to the fullest rather than feeling like it's missing something or that you made a poor choice somewhere along the line. By making smart decisions along the way, you are investing in long-term happiness.
If you'd like to discuss adding a pool or poolscape to your Ashburn, Aldie, or Leesburg, VA backyard, talk to an expert, choose a solution that rocks, and then get ready to see your dream come to life.
Image sources: fiberglass pool being installed