Posted by

Todd Thomasson on May 3, 2021 9:35:00 AM
Your swimming pool is the memory-making destination on your property. While you want to enjoy special time with your friends and family, you don't want to be on display for the rest of the neighborhood to see. Pool privacy is important to you.

Fortunately, there are solutions that will help you create privacy around your pool in an attractive way. Landscaping is a great way to make your pool feel secluded and shielded from prying eyes. It can also be an aesthetic addition that adds quite a bit of natural beauty to the space.

To help you get started, we've rounded up some of our best pool privacy landscaping ideas for Haymarket, Gainesville, and Round Hill, VA. You want to be sure to choose a landscape designer who is thinking outside of the box and coming up with solutions to your privacy challenges.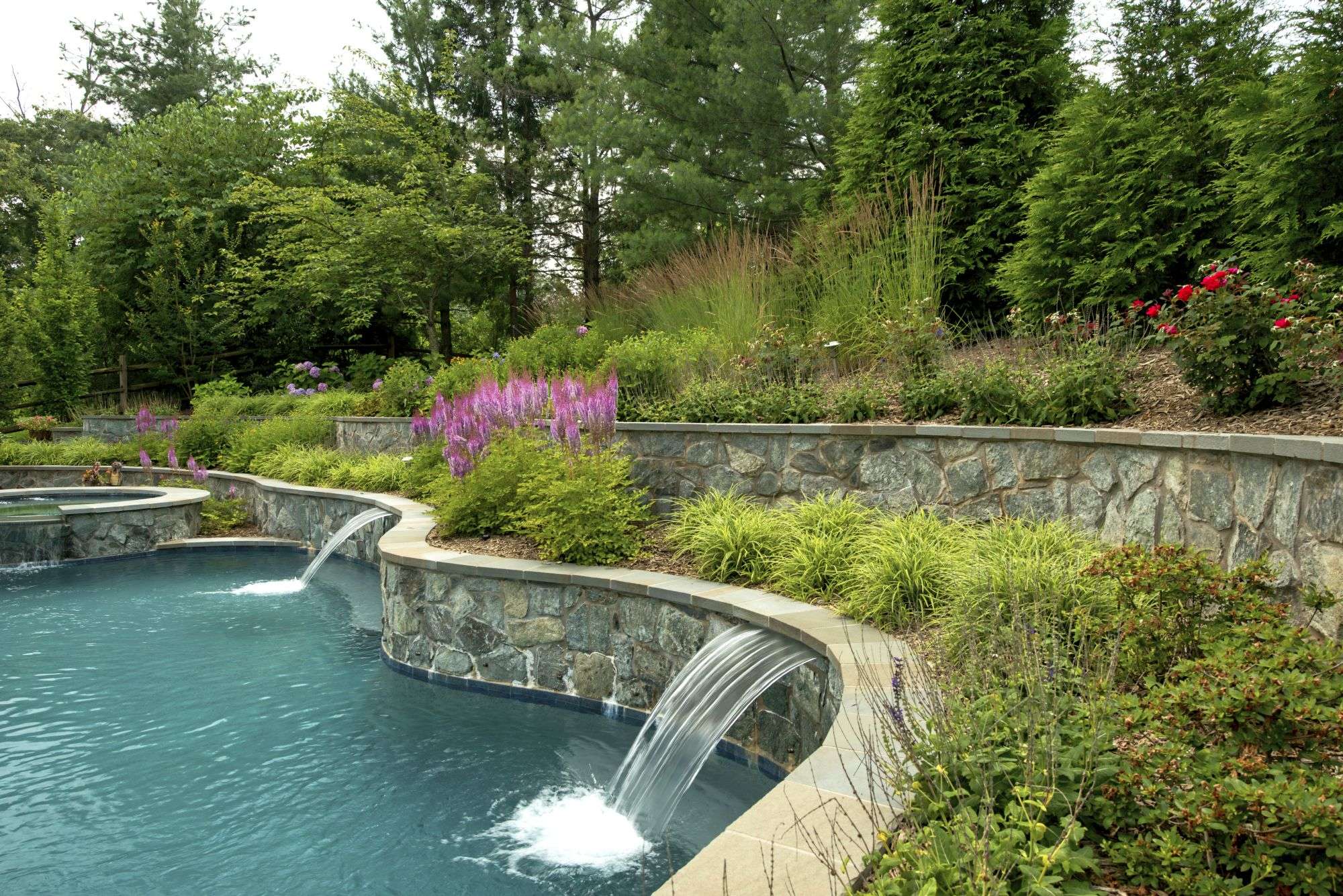 Pool Landscaping Ideas for Privacy
The following are 4 of our best ideas to help you generate privacy around your pool. When you're out enjoying time with friends and family, you don't need neighbors or passerby to be looking in.
1. Plant Choice is Critical for Pool Privacy
As you can imagine, certain plants are going to be more effective as privacy screens than others. Ideally, you want plants that are dense and "hard to see through." The height of plants can obviously also come into play but it's all about a strategic design. Your landscape designer should be paying attention to lines of sight (which will be our next point and we'll explain in more depth).

Here are a few shrubs that you can consider for effective privacy screening.
Bayberry: The evergreen Bayberry shrub can make a nice privacy addition as a result of its dense foliage.
Viburnum: This shrub's fragrant flowers grow tall and wide, helping to serve as a privacy screen.
Gracillimus: Ornamental grasses, such as the Gracillimus species, are another great choice for pool privacy. An added benefit is that most ornamental grasses grow pretty quickly, so you won't find yourself waiting a bunch of seasons for them to fill in.
Tree choices can also be an effective choice for creating privacy. Many evergreen trees grow thick and dense. Green Giant Arborvitae, for instance, is thought to be a "go-to" for privacy screening thanks to its size, shape, and dense foliage. In fact, most arborvitae choices would work well for privacy screening.

Other trees that we like to use for pool privacy include the Hornbeam, Cryptomeria, and the Emily Brunner Holly.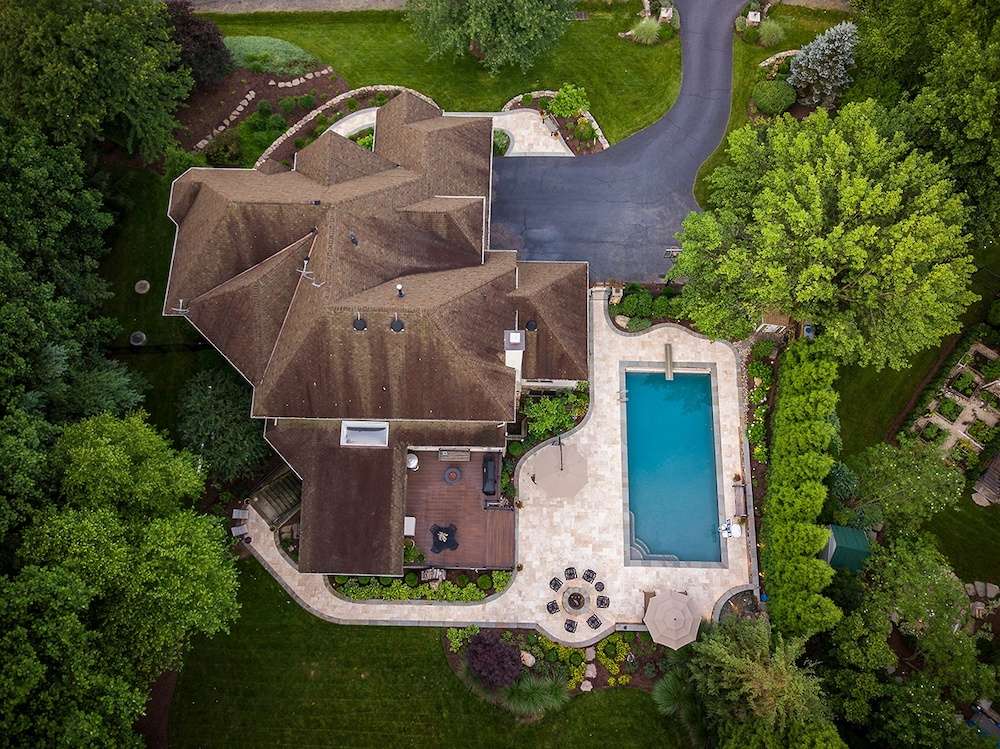 2. Plant Location is Equally as Important for Pool Privacy
As we mentioned, it's not just about the plant that your landscape designer chooses, but also where on the property it is being installed. Location is everything when it comes to privacy around the pool.

While many homeowners assume that a border is necessary to create the most privacy, that's not your only option. In fact, staggering plants can be more attractive and just as effective as creating a full "wall" of row-to-row plant material. It also looks a lot more natural than a formal row.

It's also important to remember that when you are in the pool, you'll be lower. That means even smaller plant material can still effectively serve as a privacy screen. It all comes down to "lines of sight." Your landscape designer should be paying attention to where people will be able to "look in" on your pool. Are there certain views from a neighbor's window that can be screened out? What about the view from the sidewalks and street? When thinking about the strategic placement of plant material, you have to consider what views you are blocking.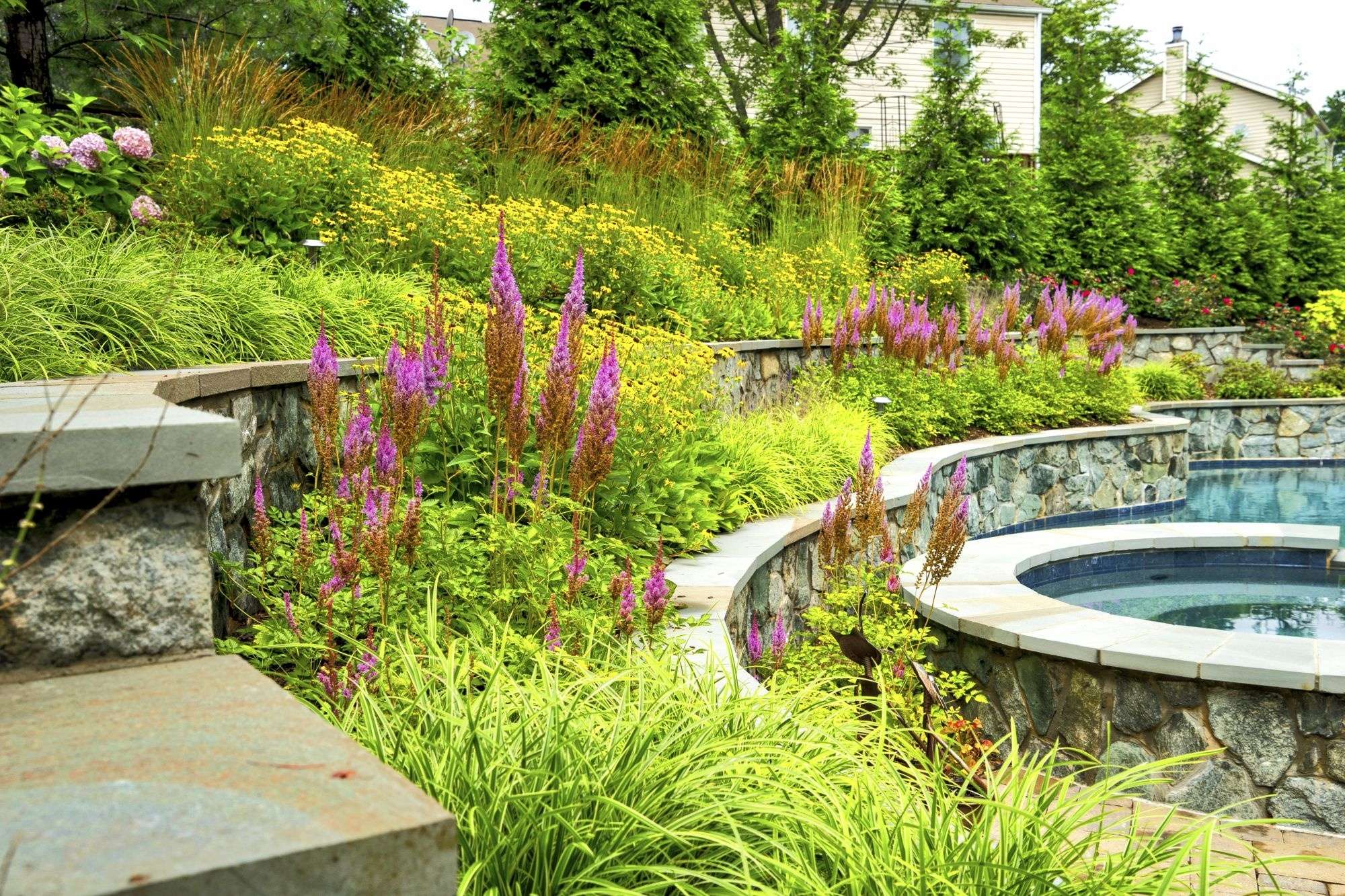 3. Considering the Seasonality of Pool Privacy
While we often think of a pool in terms of summertime use, the fact is, many homeowners are adding elements that are helping them to get year-round use of their pool space.

Fire features and covered pavilions, for instance, are allowing homeowners to use their pool area even in the "off-season."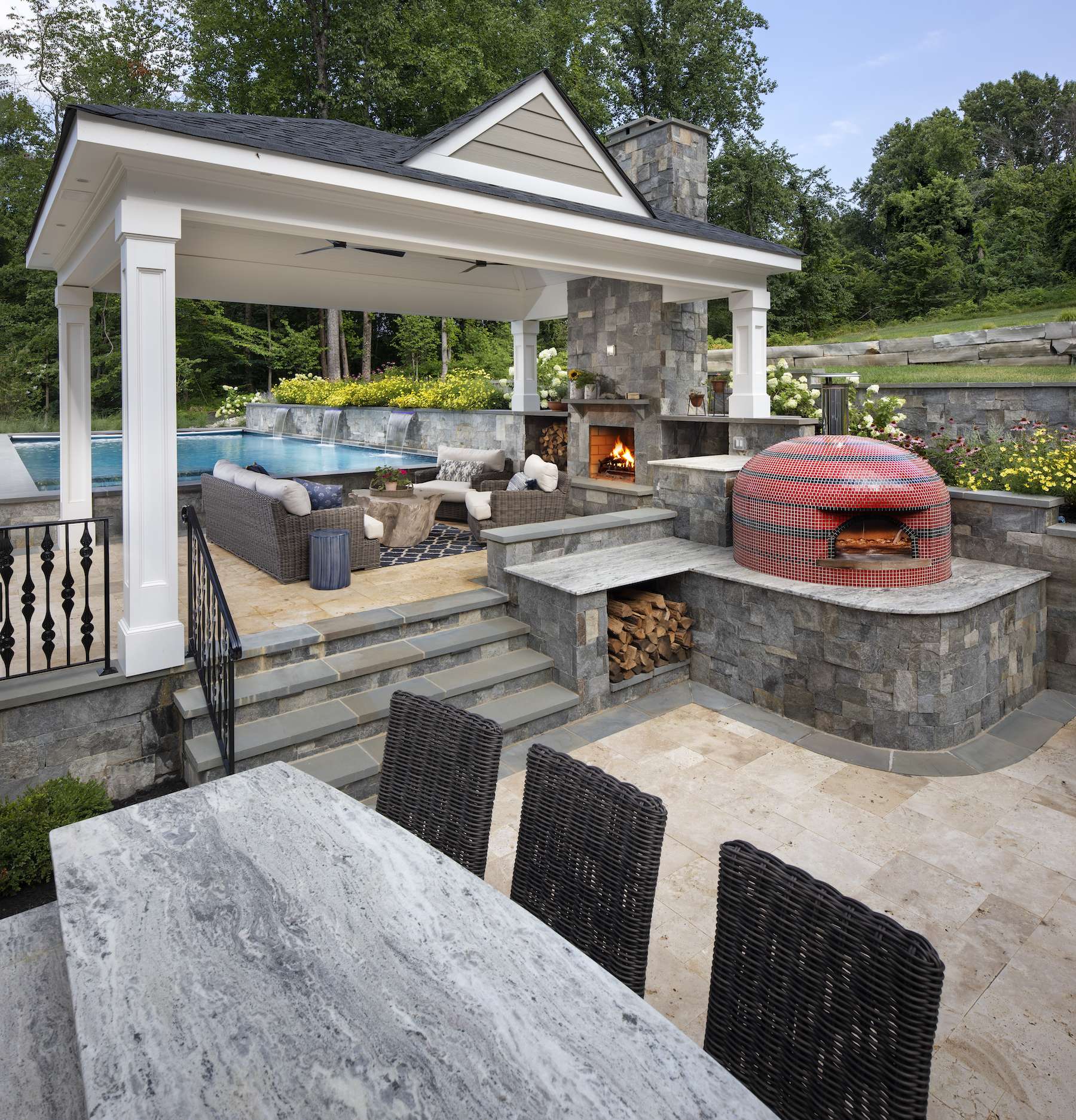 But a lot of people only think about pool landscaping ideas for privacy as those that work during the growing season.

If you plan to use your pool area on more of a year-round basis, thinking about evergreen choices will be important. Sometimes the combination of fencing and landscaping can help a property to be fully secluded but in an attractive way no matter what time of year it is.
4. Using Physical Structures to Create Pool Privacy
Of course, it doesn't have to only be plant material used in a pool privacy plan. Physical structures such as a pavilion, pergola, or outdoor fireplace can all be quite effective for screening purposes. These elements are large and can be strategically placed within the design with privacy in mind.

On that same token, pergolas with drop-down screens or shades can also help block out neighbors' views while also providing some respite from the sun.

Even boulders strategically placed or piled around the landscaped areas can play a role in screening. These can be aesthetic additions that look great while also serving some functional value.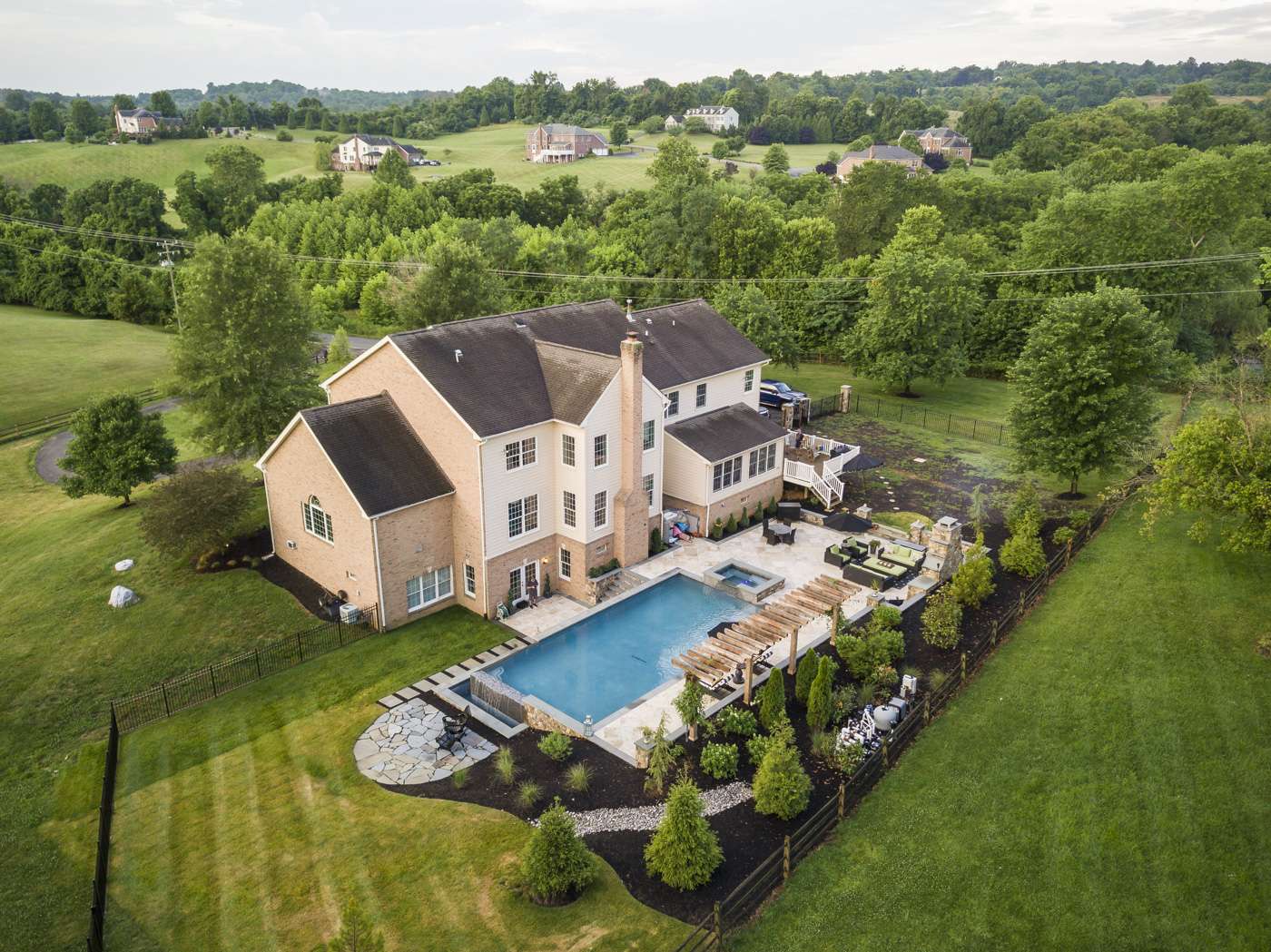 Finding a Landscape Designer Who Will Take Pool Landscaping Ideas for Privacy Seriously
At the end of the day, ensuring that these ideas are effectively utilized will boil down to finding a landscape designer who takes your wants and needs (including the desire for privacy) seriously. That means that they're thinking outside of the box and considering all elements of the design.

The truth is, there's a lot involved and you need to find a landscape designer who can handle the complexity of what you're asking. You don't want someone who is just going to line up some evergreens and call it a day. You want someone who is going to take the aesthetics into account, too.

Plus, each and every project is different and requires a custom solution. That's why you need a landscape designer who will "think outside of the box." You want to ensure that you get the best possible solution for your Haymarket, Gainesville, and Round Hill, VA property's needs.

By choosing to work with Rock Water Farm, we can help walk you through all of the possible ideas. We understand the importance of privacy when it comes to you and your family and friends enjoying your pool to the fullest. We know that you've invested a lot into your backyard and you want to be able to enjoy your pool without any worries. We can work with you to ensure that happens.

If you'd like to discuss more pool privacy ideas for your Haymarket, Gainesville, and Round Hill, VA backyard, talk to an expert, choose a solution that rocks, and then get ready to see your dream come to life.