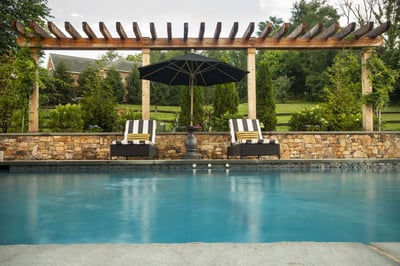 Whether you've been dreaming about your future pool for a long time or it's a newer item on your wishlist, either way, you want to find the best company to make that dream a reality—better than you can even envision.
The first step is finding a pool company. There are a lot of pool builders in Ashburn, Aldie, or Leesburg, VA. But what makes a pool builder great?
When you're investing in something as important as a pool, a "decent" company just isn't good enough. You're looking for the pool design and construction company that goes above and beyond so that you can have that one-of-a-kind pool that you desire.
So, how can you be certain that you're looking for the right characteristics in a company? If you've never gone through the process of building a pool before then you most likely have no idea what to look for or what separates one company from the next.
That's why we've rounded up a list of telltale signs that will help you separate the so-so Northern Virginia pool builders from the absolute best.
1. Great Pool Builders Design and Build Custom Pools
One factor that separates great pool builders from the mediocre ones is that they build highly unique pools—instead of cookie cutter ones. But how can you know that this is a characteristic that a pool builder possesses?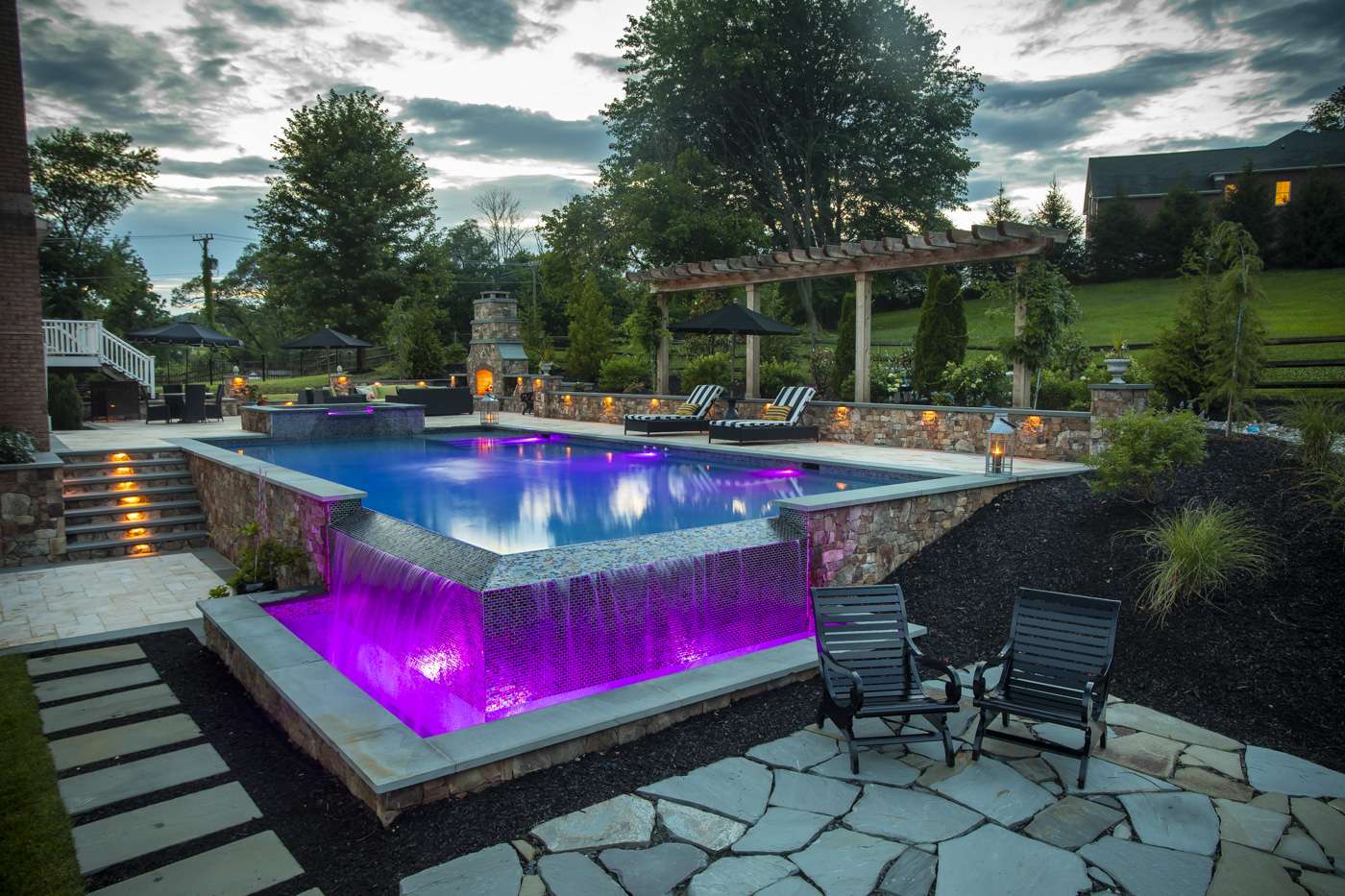 The best way is to take a look at their portfolio. As you look through their photos, take note of whether all of the pools look pretty similar or whether they are all unique in their own right. This can help you to get a better sense of the types of pools that this builder designs and builds (either cookie-cutter or custom).
Look at it this way. Doing a quick drawing, digging a hole in the ground and pouring some concrete doesn't remotely resemble the work of a great pool builder. Any pool company could do that. You want to find the pool companies that have truly original designs.
2. They Build More than Just Pools
It may sound funny to compare pool companies by looking at the areas "beyond the pool," but they're so important. A pool is ultimately so much more than just the swimming area. The areas surrounding the pool matter just as much as the pool itself, if not more.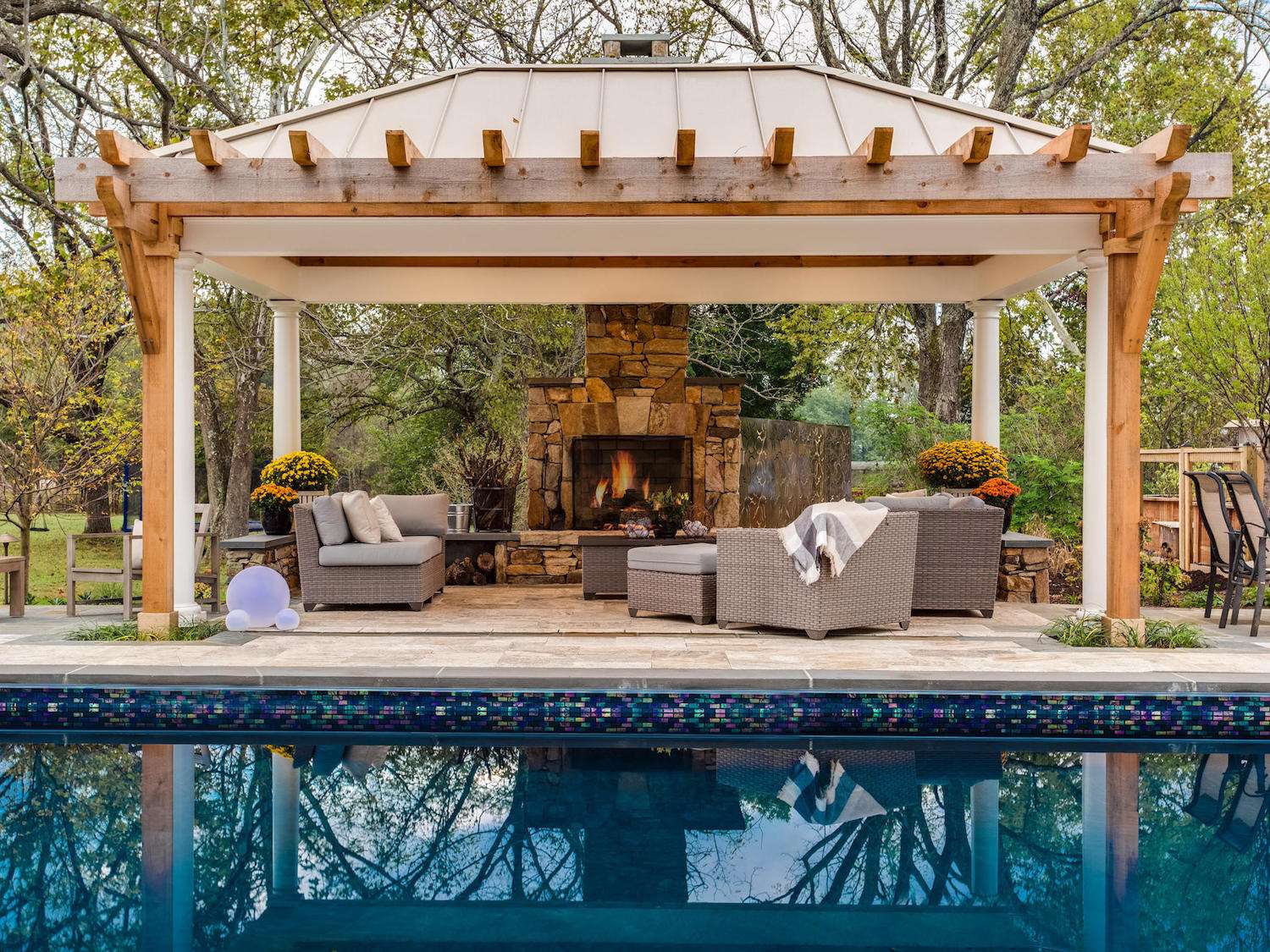 These are the spaces where you will spread out, entertain, and get full enjoyment out of your pool. But not all companies design and build complete pool areas like this. In fact, a typical pool builder is just going to install a standard 3-foot concrete walkway around the pool and maybe a small concrete patio.
Suddenly everything else around the pool becomes "extras" that will require you to hire a landscape design/build company that can add them for you. It means having to start a whole new project instead of just having your pool ready to go.
Unfortunately, trying to add these features later can actually be problematic if they weren't planned for properly. A pavilion requires footers and an outdoor kitchen requires the ability to run utilities. You could even find yourself digging up your new pool area to accommodate items that could have been planned for from the start.
Make sure that you find a pool builder that has the capacity to do it all. Even if you aren't going to do everything at once, they'll plan appropriately so that you aren't stuck with problems that could have been avoided down the road.
Pool builders should take all of these aspects of a pool design into account from day one.
Pool patio
Outdoor kitchen
Landscape lighting
Pavilion or pergola
Retaining walls and site grading
Walkways and steps
Fire features
Pool plantings
Poolhouse
While your inclination is to look for pool builders in Northern Virginia, you should also consider landscape companies that design and build pools. There can be some key differences to the way that these two types of companies approach the process.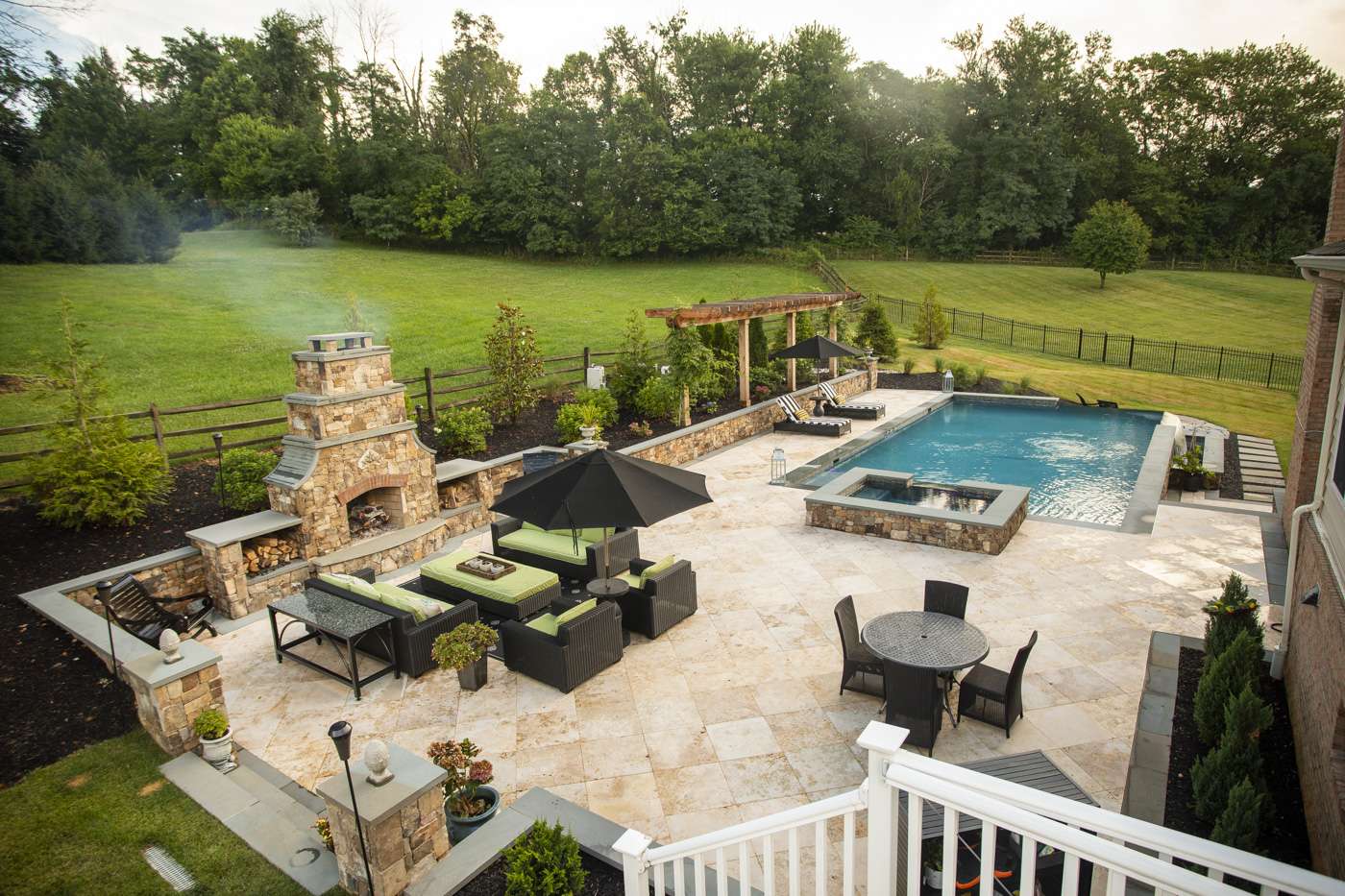 For one, a landscape contractor is an expert in the "land." That means that they'll have a better sense and understanding of how the complete space will ultimately function.
But pool builders are often known to have "tunnel vision," in that they are solely focused on getting the pool in and moving on to the next project. The pool itself is really their only area of expertise. But that could mean that you get left with a mess such as a big pile of dirt and no landscaping. You may end up needing to hire a landscape contractor anyhow.
But if you hire a landscape contractor from the start, these types of details will be considered from day one. That means that when your pool is finished, it's truly finished. All that will be left to do is enjoy it!
3. The Best Northern Virginia Pool Builders Use 3D Design
When it comes to a spectacular pool, a quick sketch isn't good enough. You want to truly be able to envision your pool and all aspects of it. That means finding a company that is highly skilled at design.
The design just may be the most important step of the entire process. After all, it is the design that will dictate the pool's construction and what it will look like upon completion. While many landscape contractors and pool builders work with 2D renderings that offer an overhead vantage point of your pool design, if you truly want to be able to immerse yourself in what your new space will look like, then you want a company that offers 3D pool and landscape design.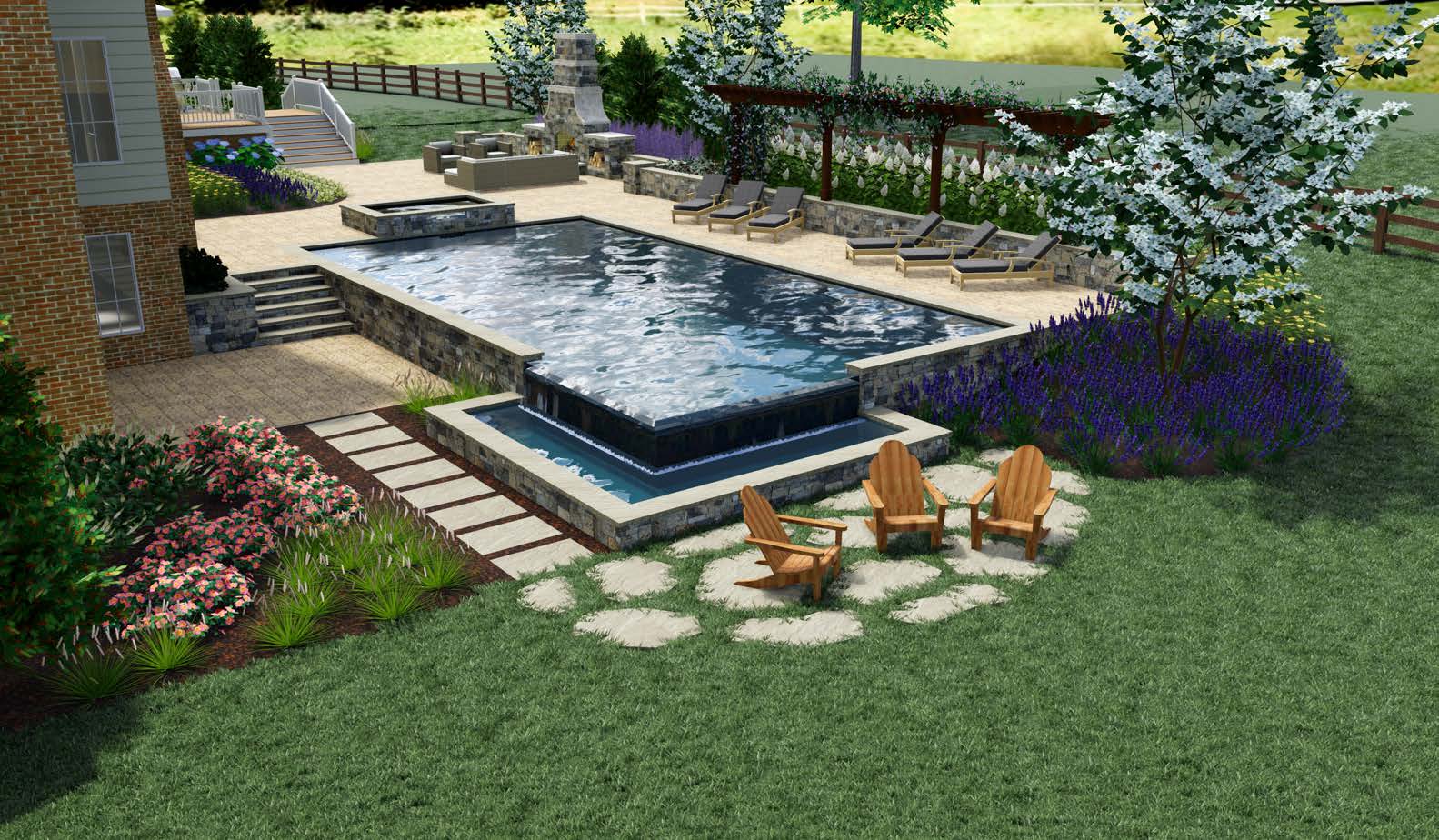 The best way to think of 3D design is that it brings a project to life before it's actually built. You'll be able to see exactly what it's going to look like and even virtually tour the space as it's shown on a computer screen.
When it comes to a space as important as your new pool area, you're going to want this capability. It will help you make decisions as you move closer toward finalizing your ideal pool design.
4. Great Pool Builders Communicate Well
When it comes to a project as important as your new pool, you want to feel that you're working with a company that listens and communicates well. The last thing that you want is to feel left in the dark when it comes to the design and build of your new pool.
Of course, not all pool companies are great communicators so how can you make sure that you've found a company that is?
For one, you should anticipate having a design meeting with your pool builder. Not all pool companies do this. But if you want a truly custom pool that fulfills all of your wants and needs then the pool design process should include sitting down and discussing your new pool in great detail.
It's important to mention that design meetings should take place with all of the household decision makers present. After all, a pool is a big investment and it's ideal for everyone to be certain all decision-makers are on board before beginning the design. The last thing that you'd want is the design to be held up even longer because of failing to be on the same page. There are dozens of directions that could be taken on everything from size, shape, materials, and even features.
A great pool builder will also communicate with you throughout the construction of your pool to keep you abreast of what's going on.
5. Great Pool Builders Build Well
While that may sound like a given, it's obviously important that your pool builder actually builds well. The fact is, certain construction methods are superior to others and the last thing that you want is to hire a pool builder that takes shortcuts or uses subar methods.
At Rock Water Farm, we believe the best pools are constructed of gunite.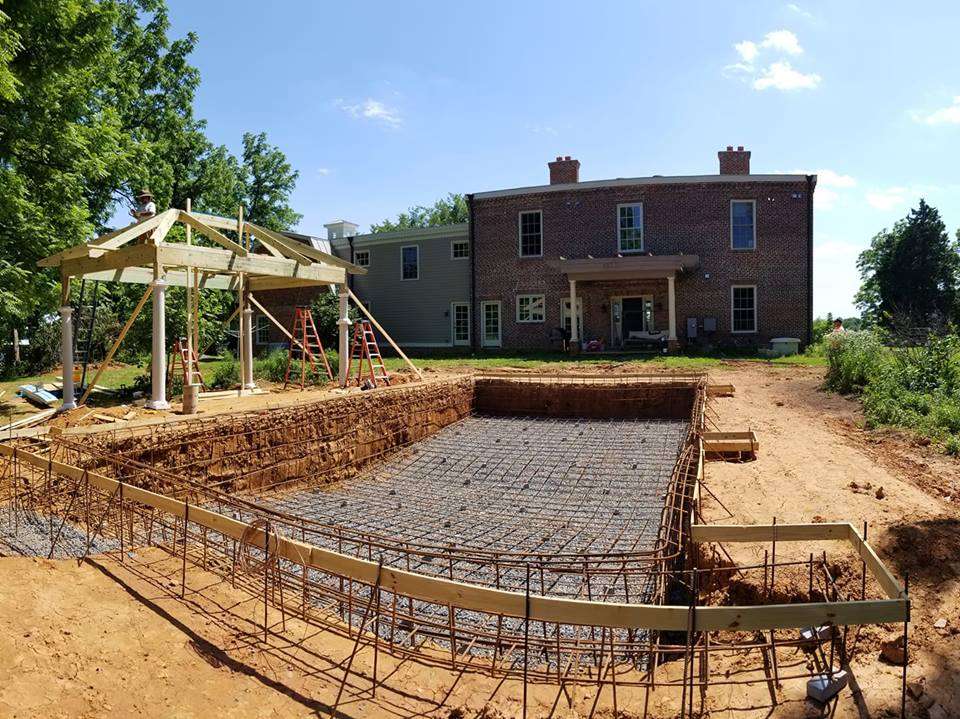 Gunite pools use a rebar framework that is sprayed with a concrete and sand mixture—a process that is performed completely on site which is why this type of pool is also referred to as "custom built." This spraying method is preferable over a traditional poured concrete pool that requires a wooden framework to hold the shape of the basin.
Due to its high level of durability, swimming pools that are built from gunite are truly built to last.
6. The Best Pool Builders Have Great Reviews
All of these signs we've mentioned point toward a great pool builder but that doesn't mean you won't want to back that up with additional "proof." You can also find reviews from homeowners who have already worked with any pool builders that you're considering—and see what they have to say about them.
Take time to read through the reviews that others have posted on third-party review sites like Google. Look for pool builders in Ashburn, Aldie, or Leesburg, VA that have at least a 4.5-star rating in order to be able to feel confident you've chosen the cream of the crop. When it comes to your dream pool, you deserve nothing less.
Choosing the Best Pool Builders in Ashburn, Aldie, or Leesburg, VA
We've given you a lot to digest but choosing a pool builder is a big decision. This is an exciting time for you and your family as your research is bringing you one step closer to the pool of your dreams.
There's obviously a lot to think about (and a lot of important decisions to make) but putting in the time to ensure that you're making wise choices will pay off when you ultimately wind up with the pool that you truly desire instead of one that falls short.
As you move closer and closer to making your pool dreams a reality, we are available to be your guide. With a knowledgeable guide leading your pool creation experience, you'll be able to feel confident that your dream will come to fruition exactly as you've imagined—or perhaps even better.
If you'd like to discuss adding a pool or poolscape to your Ashburn, Aldie, or Leesburg, VA backyard, talk to an expert, choose a solution that rocks, and then get ready to see your dream come to life.