Posted by

Todd Thomasson on May 15, 2023 9:19:23 AM
Fire features can be an exciting addition to your Northern Virginia backyard. Not only do they add light and heat to your outdoor living space, but they also add a sense of ambiance that is like no other. People love gathering around a fire!

One of the choices that you'll have to make when deciding upon what type of fire feature is right for you is going with an outdoor fireplace or an outdoor fire pit. There are pros and cons to each, which we've outlined in this article.

Assuming that you've decided to go with a fire pit, then the next choice you'll need to make is choosing a gas vs. wood fire pit.

Both can be great options. In this article, we'll dive into the considerations to keep in mind as you decide on a wood-burning or gas fire pit.
Is a Gas or Wood Fire Pit Better?
As with many of the decisions you'll have to make for an outdoor living space, much of it comes down to personal preference. One is not necessarily better than the other…it really has to do more with your specific circumstances and what is important to you.

Let's look at some of the differences between a gas and wood fire pit.
The Pros of a Wood Fire Pit
For many homeowners, it is the campfire-like idea of a fire pit that drew them to want one in the first place. There is definitely nothing like the smell and the sound of burning wood. You can't really replicate that snap and crackle that you get with real, burning wood and there is something about it that adds to the ambiance of the experience.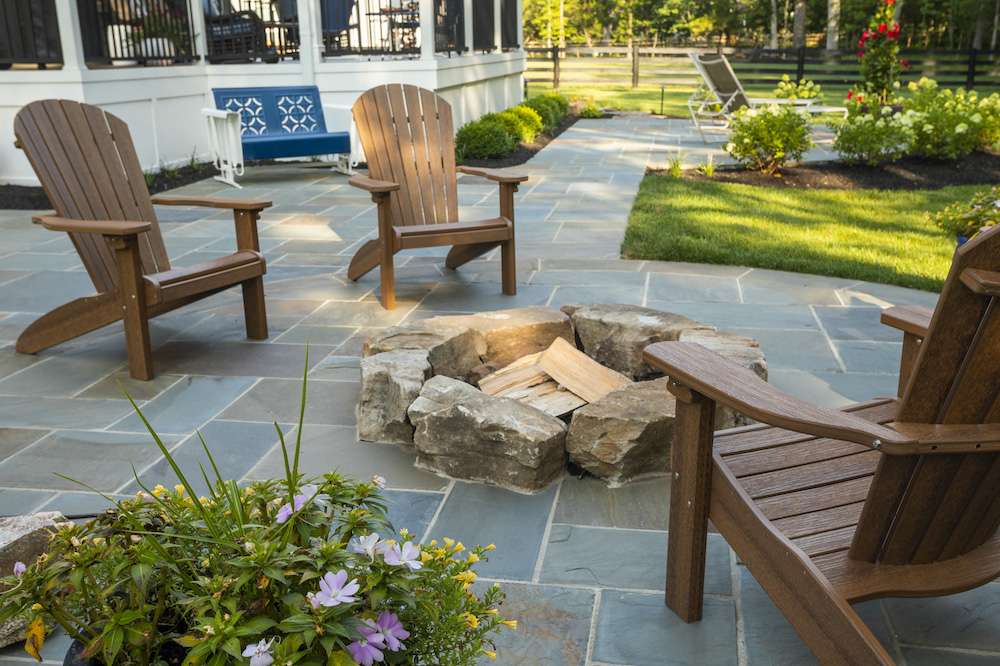 Of course, in order to get that experience, you'll need to always have wood on hand. For some, that is actually part of the experience. If you live in a wooded area, perhaps you'll gather a lot of your own wood. Or, maybe it's not a big deal to go buy some.

Some homeowners might find this to be a downside whereas others will enjoy it. It's all part of the consideration of what's right for you.
The Downsides to a Wood Fire Pit
As we mentioned, sometimes the need to always have firewood on hand can be a burden. Plus, you will need to think about storing it. You'll need to make sure that you keep it dry and that you have a feasible location to keep it.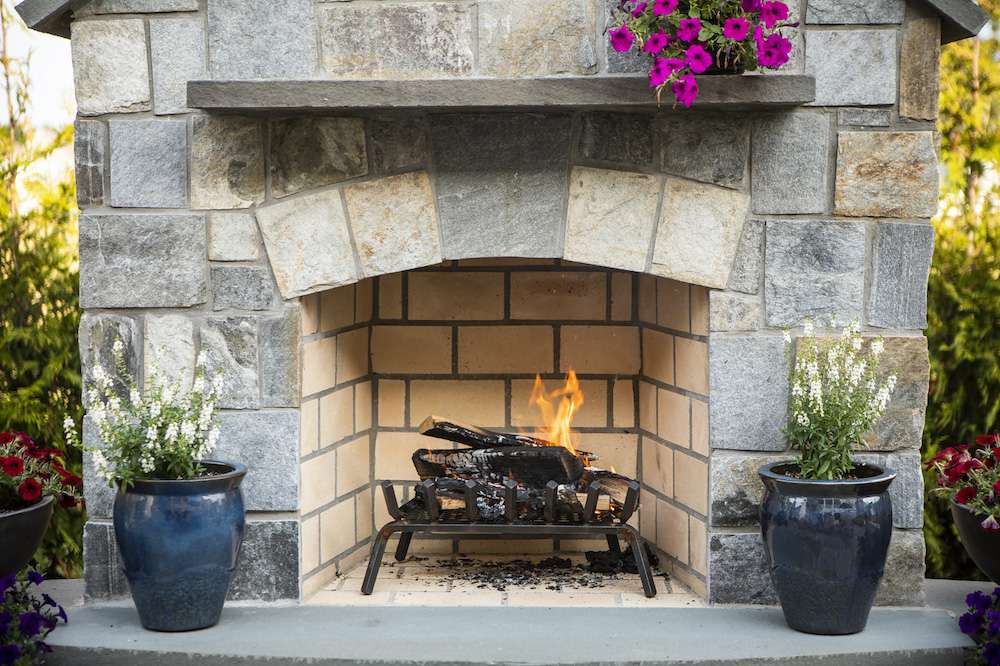 Another potential downside is dealing with the smoke. It does create that distinct aroma but on a windy property, it can also be a hassle. You don't necessarily want smoke blowing in your face and sometimes that can be hard to avoid.
The Pros of a Gas Fire Pit
In the comparison of wood vs. gas fire pit designs, convenience is one of the major factors that sometimes leads homeowners to choose gas. By simply pushing a button, you can have your fire going.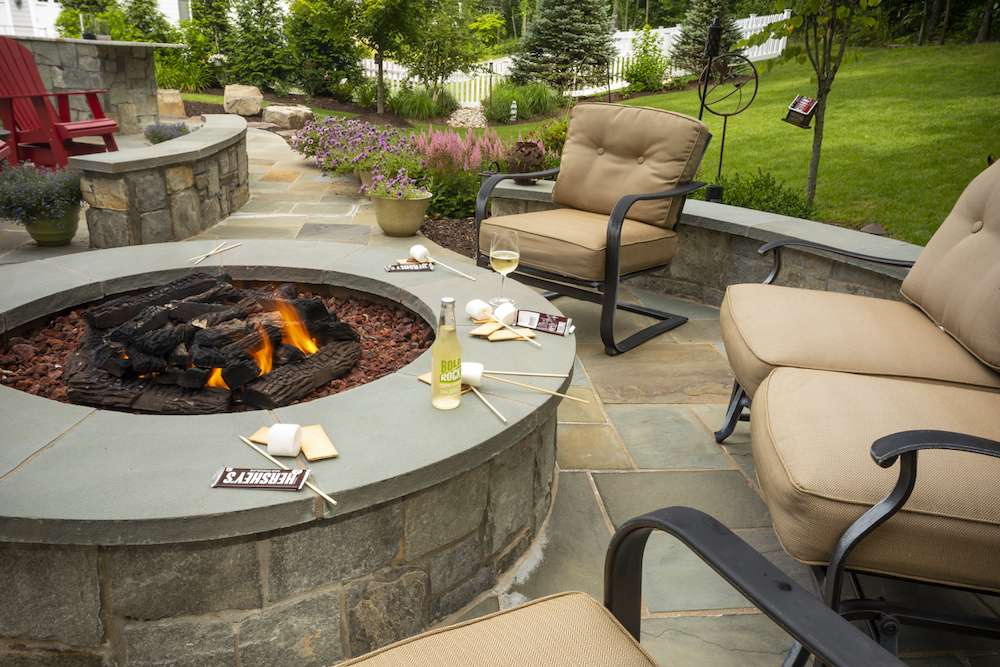 That means you don't have to worry about gathering wood, making a fire, or tending to the fire. It can turn off as quickly as it came on. That also means you don't need to worry about watching it safely burn out. You just shut it off.

If you already have gas services at your Northern Virginia home, then running a line to your fire pit is not going to be a big deal. But if you do not have gas, you'll need to consider a propane tank. Whether or not you already have gas can definitely impact the decision-making process.
The Downsides to a Gas Fire Pit
As you might have guessed, one of the biggest downsides to a gas fire pit is simply that it doesn't entirely replicate a wood-burning fire in terms of smell, sound, or (for some) even experience. It really just depends on what's important to you. If building and keeping a fire is part of the experience, you're not going to get that with gas.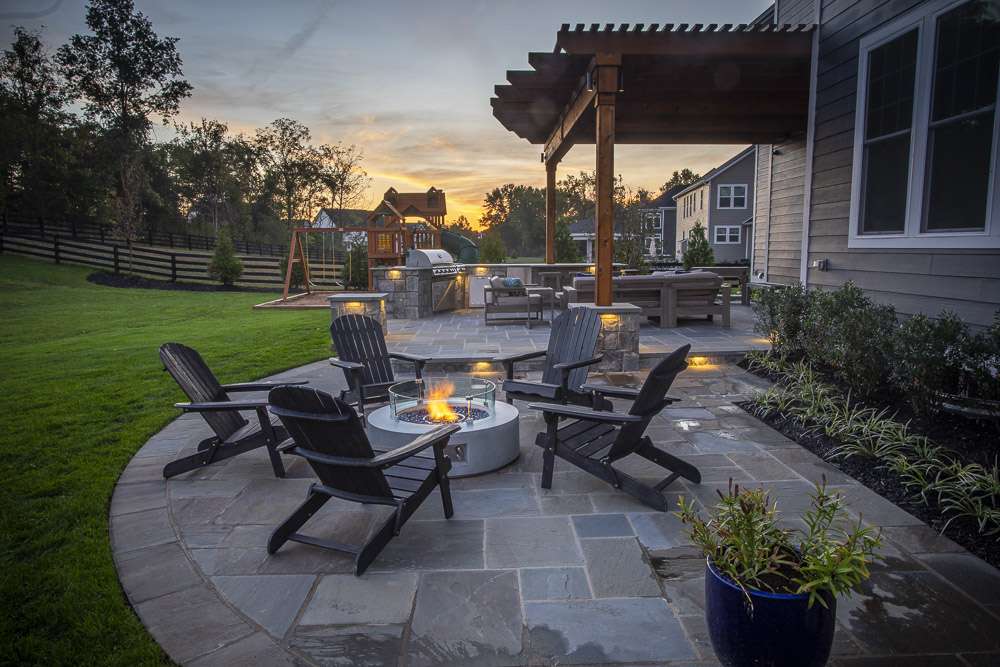 If the smell and sound of a fire were a big part of the reason you want a fire pit, then gas might not be the best option for you. Plus, if you don't already have natural gas in your home, you might find propane tanks to be a hassle.
Making the Choice for your Backyard Fire Pit in Northern Virginia
Having an outdoor living area can certainly feel full of decisions. But it's decisions like these that truly do make the space your own.

As you consider choosing a wood-burning or a gas fire pit, you'll want to think about what's most important to you…and what drew you to want a fire pit in the first place. Most of the time, homeowners already have a gut instinct on what would work best for their home.
Ultimately, you want to choose the option that is going to inspire you to spend more time outside. That decision is going to be different for everyone.

If you're feeling stressed, you should know that at Rock Water Farm, we are here to help you decide. We can talk through the options and help you determine what would make the best choice for your property.

Once you decide on a gas vs. wood fire pit, you'll also have decisions about the size, shape, and seating to consider…and we'll help with that, too.
Choosing Rock Water Farm for Fire Pit Installation in Warrenton, Gainesville, and Leesburg, VA
At the end of the day, these choices should be fun, not stressful. When the process is finished you're going to have an amazing outdoor living space to enjoy and that's something to look forward to.

At Rock Water Farm, our goal is to make our clients happy and to inspire them to spend more time making special memories outdoors. We want your fire pit to become a place that draws you to use your outdoor living area to the fullest. It's a space where you can make amazing memories with your friends and family.

That's why we are here to be your guide. We will work closely with you to determine what is best for your space so that you can enjoy your dream space to the fullest.

If you'd like to talk more about an outdoor fire pit for your home in Warrenton, Gainesville, Leesburg Va or surrounding areas, schedule a free consultation or give us a call at 703-327-1636.