Posted by

Todd Thomasson on Jul 23, 2018 9:41:12 AM
Once you've made the decision that you're going to get a pool, chances are you want to have it completed as soon as possible. Whether you've been waiting a long time for this pool or not, you're excited, and you don't want to just be imagining jumping in—you want to actually do it.
Despite your eagerness, you also know that rushing a job as important as your dream pool could lead to mistakes. Details may be overlooked that could impact the entire pool area for years to come. You would never want to see quality sacrificed just because the pool designer is in hurry.
Even so, it's fair to want to know a realistic timeline for building a pool. You have big future plans for your new pool and you want to know when they can happen. Understanding what's involved in building a quality pool will help you to know what to expect.
How Long Does It Take to Build a Pool?
There is no one, easy answer to this question since there are many factors that can alter the timeline. However, we can walk you through a typical timeline for building a pool to give you a good sense of what to expect. It's just important to understand upfront that the timeline is not set in stone. It's too much of an individualized process to set a specific number that works for every pool and you should be wary of any pool companies in Aldie, Ashburn, or Leesburg, VA that make blanket timeline claims. It's likely a marketing gimmick or even worse, a process they may rush and do hastily just to stick to the deadline.
To help you understand what's involved in a pool timeline, we'll walk you through each of the key steps with an estimated timeframe of how long it typically takes.
Step 1: The Pool Design Process (2 to 4 weeks plus)
The very first step in having a pool built is going through the pool design phase. The timeline for this is going to vary dramatically based on how quickly you, the customer, makes a decision. Oftentimes, there is a lot of back and forth. While the timeline to turn a design around is typically 2 to 4 weeks, the ball is in your court in terms of finalizing the design and signing the contract.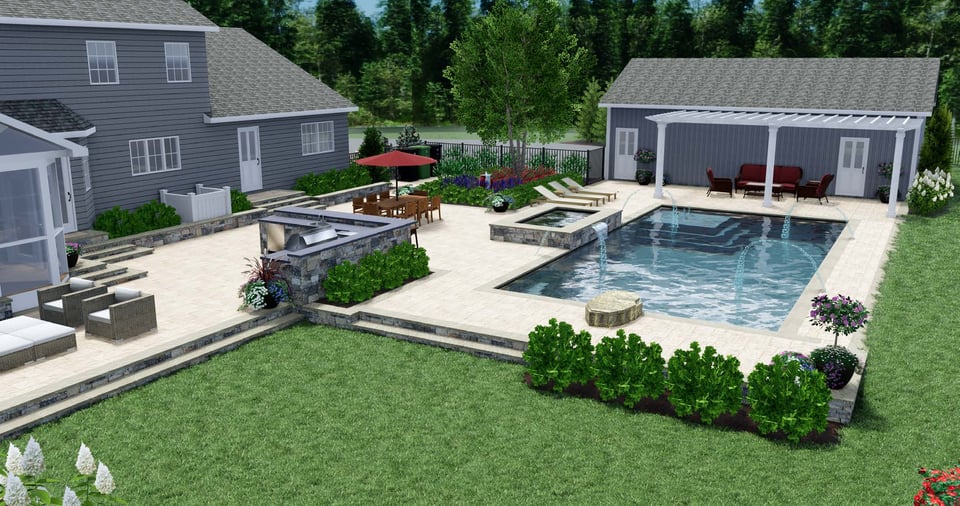 It's important to mention that design meetings should take place with all of the household decision makers present. After all, a pool is a big investment and it's ideal for everyone to be certain all decision-makers are on board before beginning the design. The last thing that you'd want is the design to be held up even longer because of failing to be on the same page. There are dozens of directions that could be taken on everything from size, shape, materials, and even features. We don't want to complete a design only to find out it's not what everyone wants.
Step 2: Consulting with an Engineer (1 to 2 weeks)
Once you've signed the contract and we have the finalized design, we pass the design off to an engineer for approval. This is an important step in the timeline for building a pool as it will ensure that the design is structurally sound and ready to move toward construction.
An engineer will review aspects of the pool design that go well-beyond its looks. Among reviewing structural components, an engineer will also look at how this backyard construction could create the need for stormwater management changes on the property.
Step 3: Permitting (2 to 3 weeks plus)
At this point, we're at the part of the process where your pool design has to go through some red tape. The exact timeline for the permitting process may differ based on your local government and how fast they push papers. For a lot of localities, if you have a septic system, the permitting also has to go through the health department, too.
However, the more meticulous that your designer and engineer are, the easier this process is for municipalities. A less-experienced or detail-oriented company could miss something important, sending the design back into revision and setting the project back several weeks. That's why it's so important to hire someone who knows what they're doing.
Step 4: Time to Dig (2 weeks plus)
Once your permit is approved, it's time to start digging and then install rebar which are the steel reinforcing rods that help hold the structure of your pool. Throughout this entire process, there will be inspections performed. After all that, it will be time to install the gunite, which is a mixture of cement and sand used to form your pool's shell.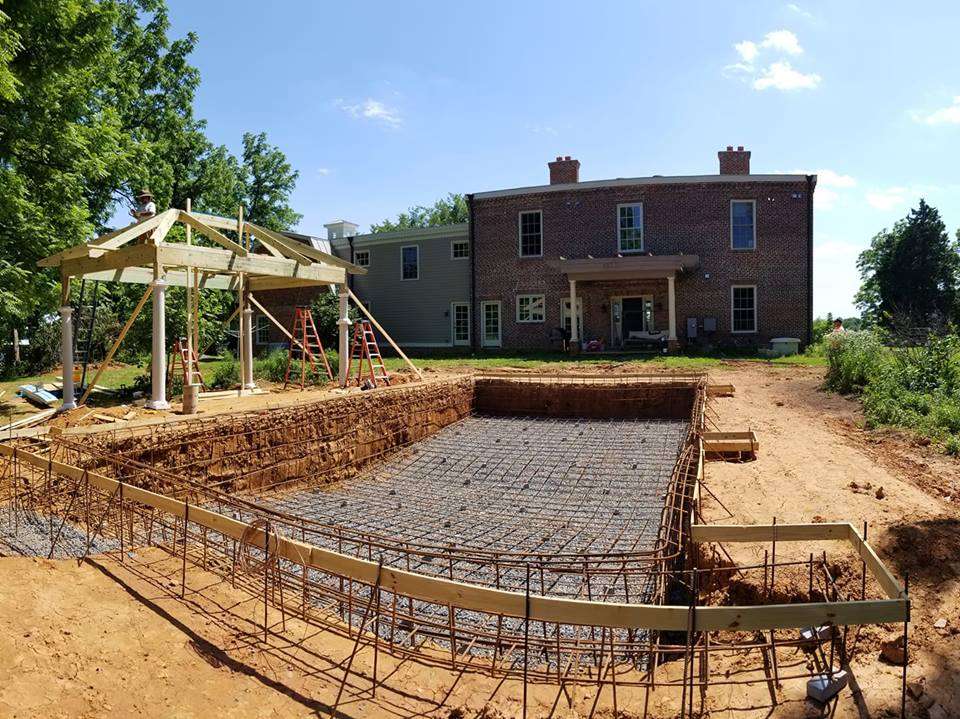 Keep in mind that during this phase there are multiple schedules at play which could potentially slow the process down. Weather delays are also always a concern. In addition, the dig phase is the time when we might discover an unexpected site issue such as buried debris in the yard, which could mean extra excavation (and extra time).
Of course, the hope is that all will go as planned. We always do everything we can in our power to stick to our expected timeline for building a pool. But it's important to note that if a problem does arise, we'll address it appropriately, even if it means pushing things back.
This might feel like a frustration point but it's ultimately a huge benefit for you. Instead of having costly problems with your pool down the line because your pool company ignored a concern that arose, you can feel confident that your pool will function the way it was meant to. You'll avoid costly repairs at a later date and won't lose swim time to problems that should have been addressed sooner.
Step 5: Allowing the Gunite to Cure (28 days)
Once the gunite has been sprayed, it must sit for 28 days before the plaster can be applied. Plaster is the smooth finish applied overtop of the gunite that forms the surface of the pool that you actually see. Before that can be completed, the gunite must fully cure.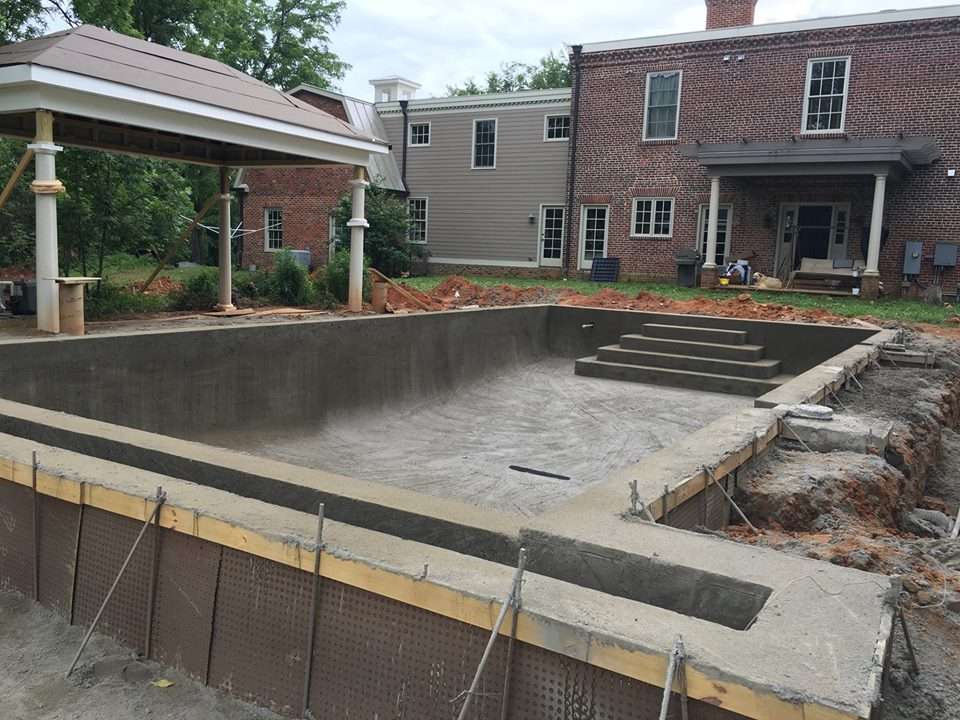 Of course, we're not just twiddling our thumbs during this month-long period. This is typically the time we start building the patio and the features around it. Some of the features that would enhance your backyard include the following:
Outdoor kitchen

Pavilion, pergola, or shaded area

Outdoor fireplace or fire pits

Recreational areas

Landscape lighting
Step 6: Plaster, Customizations, Finishing Touches (2 weeks plus)
Once the gunite is dry we apply the plaster and other finishing touches. From the time that we start digging until the time you can jump into your pool, it's an average minimum of 2 months. But that's assuming there are zero unforeseen circumstances.
Another Note About Realistic Pool Timelines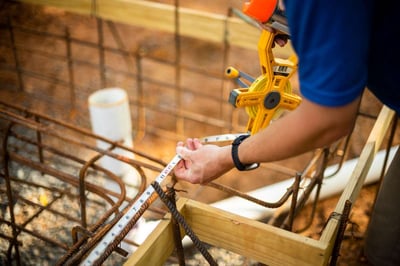 It's important to be honest upfront about what's involved in a pool build. Any company that makes promises or guarantees regarding timelines aren't being completely honest with you about the fact that "stuff happens."
When undergoing a big construction project, the fact of the matter is, things can happen that slow the process down. But no matter what, we'll ensure that steps aren't skipped or mistakes are not made in haste.
Though nobody likes to see their project held up for any reason, the last thing that you want is to hire a pool company that would brush a problem under the rug just to stay on the timeline. Unfortunately, there are pool design companies that would do that.
What to Look For in
Pool Design Companies
We mentioned it earlier, but it's worth repeating. When it comes to a timeline for building a pool, you must be careful about companies who make claims about having your pool ready super-quick. You have to ask: What am I really getting with this company?
We'll give you the honest truth. A lot of pool companies in Aldie, Ashburn, or Leesburg, VA who boast about getting pools in quickly are not giving you the fully finished product when they're supposedly "finished." Yes, they may get the pool installed quickly, and maybe even install a cheap concrete "patio" around it, but that's all you'll get.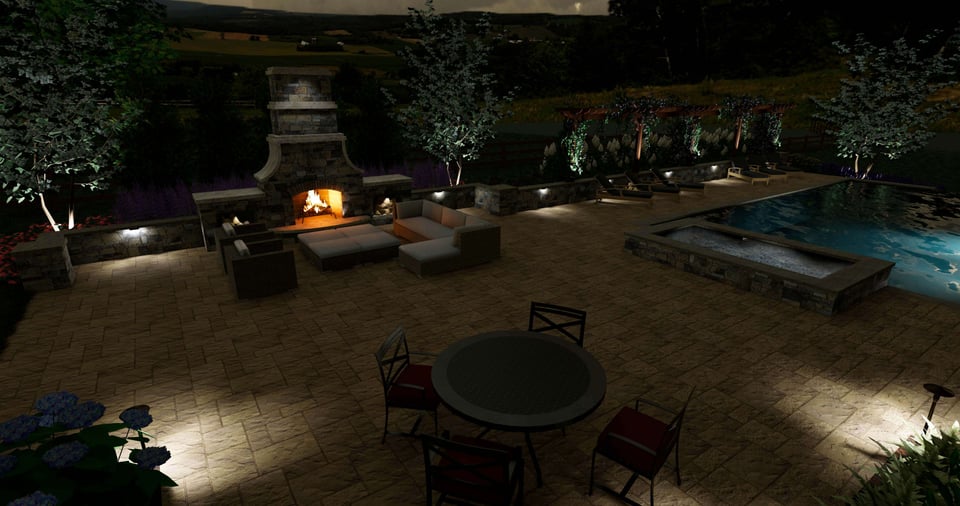 There's no landscaping, no additional features, and maybe they've left a big mess behind, too. We've been called in after pool builds to "fix up" the mess left behind by pool builders who were all about getting the pool in as quickly as possible and moving on. It's even more problematic if these hasty pool builders took shortcuts or rushed the pool build. In these cases, they not only left behind a mess in terms of the landscaping, but they've made mistakes in that will also need to be corrected—at a costly expense.
When looking at pool designers, you want to be sure that you're choosing one who is not so focused on a fast deadline that they're installing your pool hastily or failing to give you everything that you want. Pool features that you've wanted from the very start shouldn't have to be added on later simply because you chose a pool company that couldn't do it all.
Choosing Wisely for the Pool of Your Dreams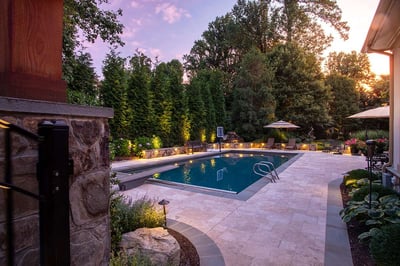 By choosing to work with a pool company who has your best interests at heart, you'll ensure that you get the pool that you truly want in the end. Instead of dealing with future problems, you'll be able to enjoy your pool to the fullest. That means not running into costly problems that bring your swim season to a halt. Any potential concerns will have already been addressed and taken care of. And though it may not be completed overnight, it will be completed right—and that's wildly important when it comes to fulfilling your pool dreams.
If you'd like to discuss adding a pool to your Ashburn, Aldie, or Leesburg, VA home, talk to an expert, choose a solution that rocks, and then get ready to see your dream come to life.