Posted by

Todd Thomasson on Aug 1, 2022 9:42:27 AM
If you're thinking about adding a pool to your Northern Virginia home, you want to feel confident that you've thought through all of the details. Adding a pool is no small endeavor and you want to feel prepared.
Nobody likes surprises, particularly when it comes to money. That's why you might be wondering if there are unexpected costs of an inground pool that could possibly pop up.

In this article, we'll talk about what's involved with the cost of inground pool installation, as well as some of the potentially unexpected inground pool installation costs that occasionally occur.
What is the Typical Cost of an Inground Pool in Northern Virginia?
There are many factors that can impact the cost of an inground pool installation.

If you turn to the Internet for answers, you might see ranges from $50,000 all the way up to hundreds of thousands. A major factor that's not being accounted for is what type of pool you're getting. A subpar material like vinyl liner or fiberglass is naturally going to be cheaper.



But, we understand you're likely looking for a custom pool with some bells and whistles. The last thing that you want is to later regret that you didn't invest more in a quality pool ahead of time.

These days, a modern day pool with all of the modern day features you desire (including a natural stone patio and site restoration) is likely to fall in the $225,000 to $275,000 range. That includes some of the important amenities that you likely desire. It also means a full-size pool (on average around 20 by 40 feet)...not a teeny-tiny pool like you might get for a lower price.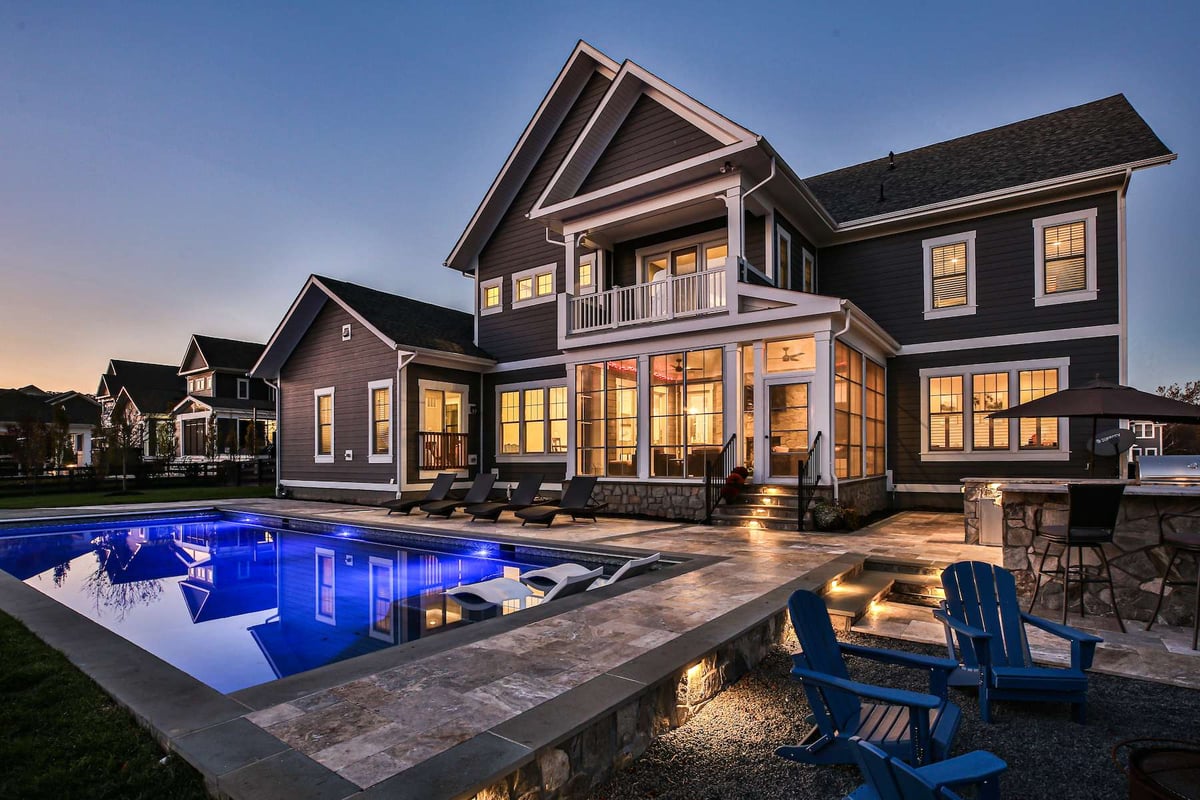 Ultimately, what pool features you decide to add to your pool will impact the cost.

While nobody wants to think there would ever be "surprise costs" during a pool installation, sometimes these do occur. Let's look at a few of those unexpected inground pool installation costs.
1. Unexpected Excavation Costs
Most of the time, excavation goes as planned. But we've had instances where we had to excavate much deeper than anticipated because of rock or unsuitable fill. We had one situation where a client's backyard was a former buried junkyard.

In another instance, the client's backyard used to be a stormwater retention pond that their builder filled. We had to excavate 18 feet.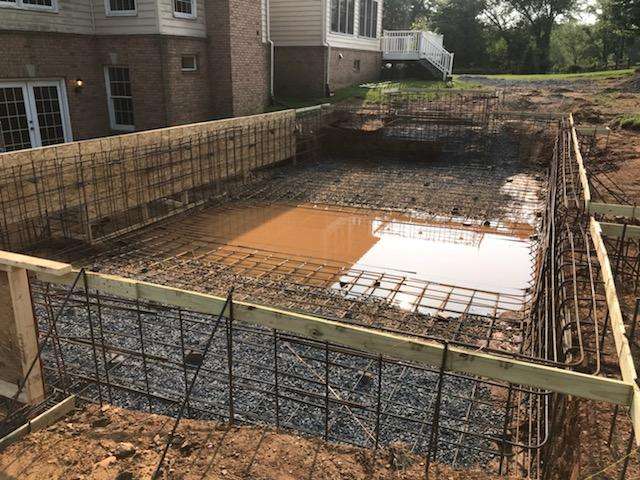 These are extreme cases, but oftentimes we do come across rock and have to dig deeper than we originally intended. This means more gravel, more rebar, more trucking, and potentially more gunite (all of which means unexpected costs).

We share this information not to scare anyone but to be transparent and realistic. Sometimes you don't know exactly what you're going to find in your yard until you start digging. But it's imperative that the job is still done properly so that the integrity of your pool is in no way compromised.
2. Locality Requirements
More and more often, localities are requiring engineered grading plans. This is not necessarily an unexpected cost of an inground pool as this information is available. It's just that we find homeowners don't always realize they'll need these plans.

It can be upwards of $5,000 for this.

It's important to work with a swimming pool builder that is able to help you get the exact plans that you'll need so that your swimming pool build is approved.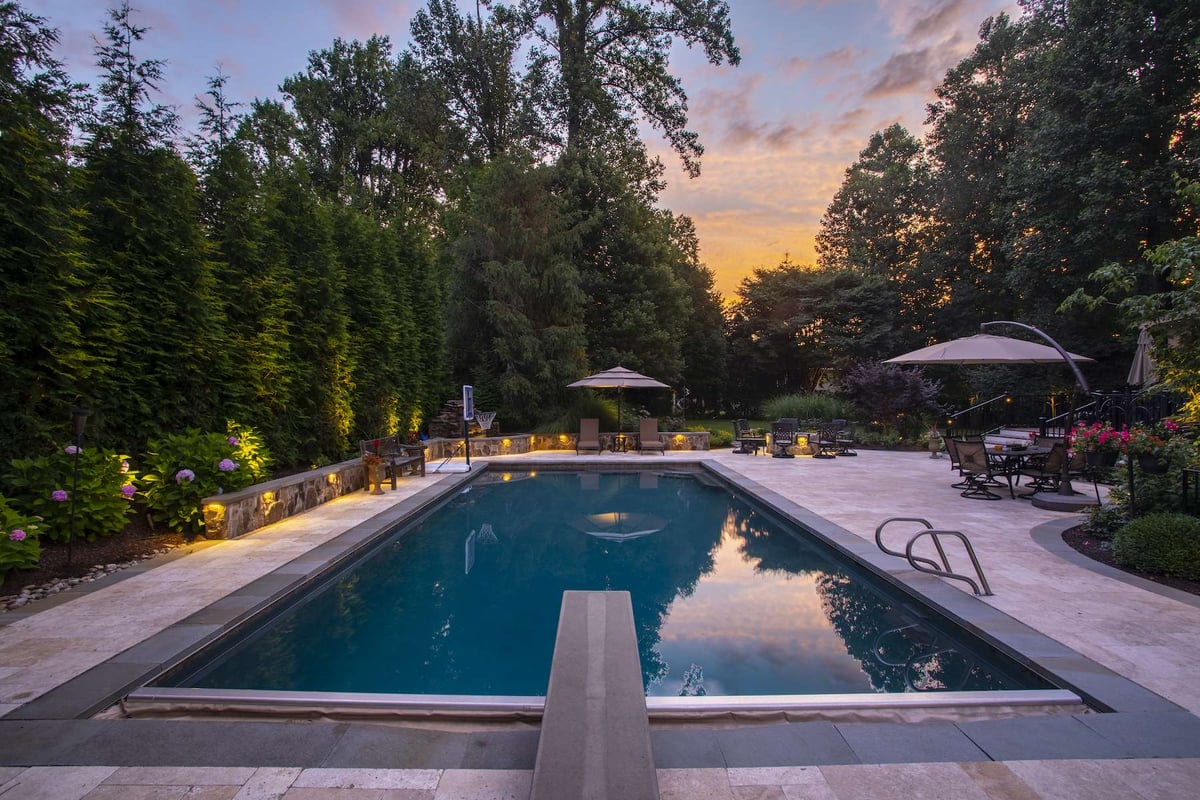 There is an entire pool permit process that has to be done to complete a swimming pool and in some counties, it can be VERY involved.

One of the biggest benefits of working with a pool professional in Northern Virginia, like Rock Water Farm, is the fact that we handle everything from start to finish. Worrying about obtaining permits or fulfilling requirements is out of your hands. Other than putting your signature on some forms, we can handle it all for you.

While sometimes these can be surprising to companies that are not well-versed in the process, with an experienced company that won't be the case.

A lot of homeowners tell us that the peace of mind they gain from letting us take over is invaluable to them. We know the pool permit requirements for every local county and we make sure that they are met so that we keep your pool moving forward as quickly as we can.
3. Future Pool Costs to Consider
As far as unexpected costs of an inground pool, while not related to the installation, we do want to talk briefly about future costs.

Once your pool is installed, there are some ongoing costs to think about.

If you have a pool heater, it will be an ongoing expense to heat your pool (though this is a great way to extend your season). There are also maintenance costs for your pool, including caring for the landscaping around your pool.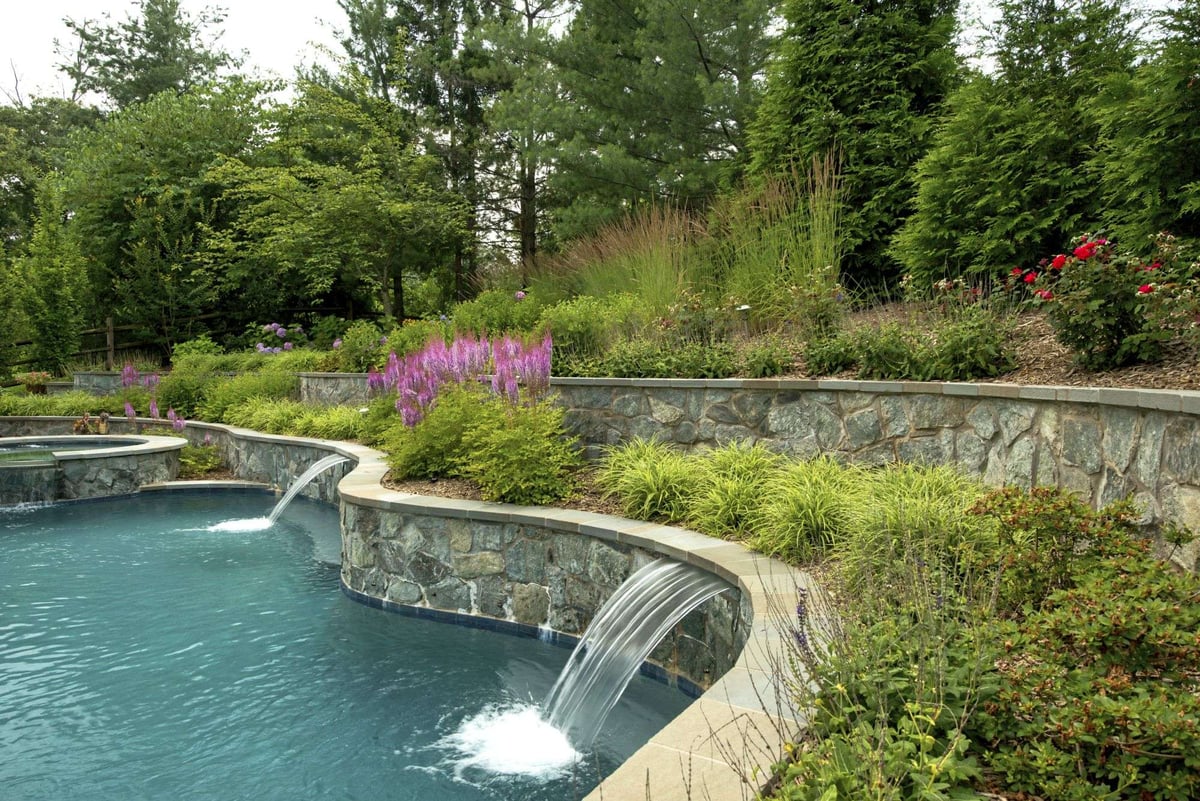 Some good news is that if your pool is built well, there should not be swimming pool repair costs on your radar anytime soon. Whereas vinyl-liner pools need liner replacements over time, this isn't the case with a gunite pool.

As with most things in life, if you invest more on the front-end, you should get more long-term value on the back-end of your pool.

Higher quality materials mean that they'll hold up and last many more years.

This is even true of your pool patio material. We do not build swimming pools using concrete as it is guaranteed to crack. The best pool patio material is natural stone.
Working with a Northern Virginia Pool Company that Will Help Mitigate Unexpected Costs of an Inground Pool
We're always clear that some surprise costs cannot be avoided. When it comes to excavating, sometimes you just don't know what you're getting into until the project begins.

Fortunately, extreme situations are rare.

As far as other surprises, a pool builder that is experienced should be able to help you avoid these. There is SO much involved in a pool build, but an experienced company will have been through it many times (and in different localities, where the rules are different).

At Rock Water Farm, we stay on top of all of the details so that the project continues to move efficiently. "Surprises" can be a hold up, so we aim to avoid these.

We also ensure that everything is submitted properly from the start. Any hold-ups will not be due to us submitting improper paperwork or plans. We've been through this process so many times that we are completely on top of it.

When it comes to something as important as your inground swimming pool, which you'll enjoy for years to come, you want to be sure it's completed right and without lots of bumps in the road.

In order to get that, you know that you must hire a company that knows exactly what's needed to keep your process moving forward and completed the right way. By making a wise choice, you'll have the peace of mind that everything will be handled exactly as it should be.

If you'd like to get started on planning a dream pool for your Gainesville, Haymarket, or Bristow, VA property, talk to an expert, choose a solution that rocks, and then get ready to enjoy your property to the fullest.