Posted by

Todd Thomasson on Sep 26, 2022 8:45:00 AM
It's safe to say that the addition of a swimming pool to your Northern Virginia home is a big deal. Some might go as far as calling it life changing—and it's really not an exaggeration. You'll now have a vacation spot in your own backyard and that can really change the way that you enjoy your summers.

If you have children it might also be the difference between them going to friends' houses all of the time or staying home to hang out at the pool.
Plus, you now have a built-in entertainment spot when you have friends or family over, too.

With so much riding on the addition of your swimming pool, you want to make sure that it's done right.

So much of that boils down to finding the right swimming pool contractor in Northern Virginia. There are quite a few pool builders in Northern Virginia so your choices are pretty varied.

But they're obviously not all going to deliver the same results or experience.

Knowing how to choose a pool builder is important. We'll help tell you what separates the so-so pool builders from the best. Understanding this information will help lead to a wise choice.
What to Look for When Choosing a Pool Builder
The following factors are important if you care about finding the best pool builders in Northern Virginia.
Look for Pool Builders in Northern Virginia Who Do Custom Work
One factor that separates great pool builders from the mediocre ones is that they build highly unique pools—instead of cookie cutter ones. But how can you know that this is a characteristic that a pool builder possesses?

The best way is to take a look at their portfolio.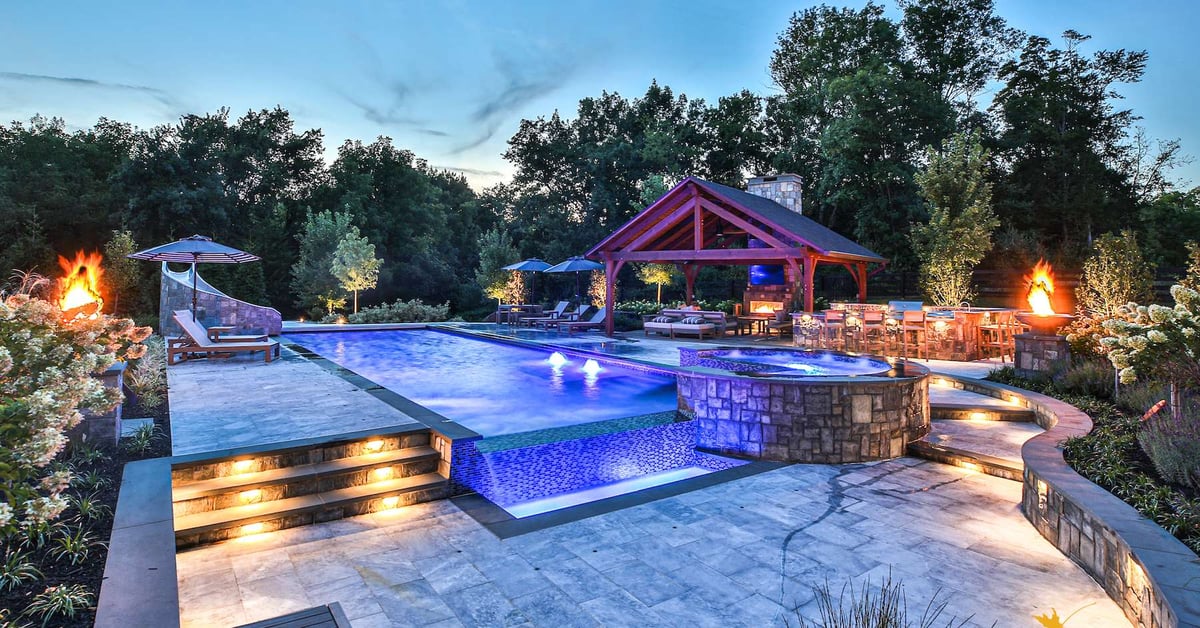 As you look through their photos, take note of whether all of the pools look pretty similar or whether they are all unique in their own right. This can help you to get a better sense of the types of pools that this builder designs and builds (either cookie-cutter or custom).

This is pretty critical when it comes to being truly satisfied with your results.

Look at it this way. Doing a quick drawing, digging a hole in the ground and pouring some concrete doesn't remotely resemble the work of a great pool builder. Any pool company could do that. You want to find the pool companies that have truly original designs.
Seek Out a Swimming Pool Contractor That Does More Than Build Pools
We understand that this might sound confusing. Wouldn't you want to find a company that solely focuses on pools? You might think that makes them the expert.

In reality, oftentimes pool builders who are ONLY focused on the pool have tunnel-vision and they aren't doing any work besides the pool itself. This leaves you with a lot to do once the pool is installed. After all, the areas surrounding the pool matter just as much as the pool itself!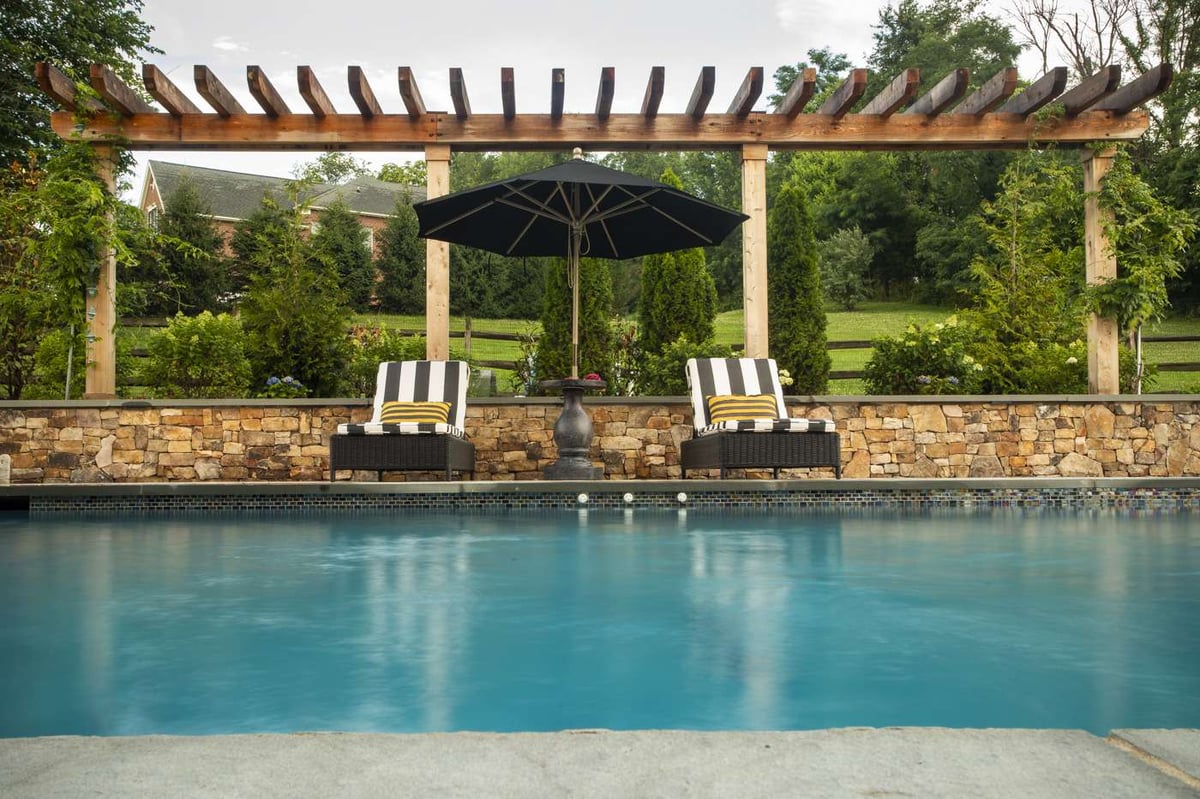 These are the spaces where you will spread out, entertain, and get full enjoyment out of your pool. But not all companies design and build complete pool areas like this. In fact, a typical swimming pool contractor is just going to install a standard 3-foot concrete walkway around the pool and maybe a small concrete patio.

Suddenly everything else around the pool becomes "extras" that will require you to hire a landscape design and build company that can add them for you. It means having to start a whole new project instead of just having your pool ready to go.

Unfortunately, trying to add these features later can actually be problematic if they weren't planned for properly. A pavilion requires footers and an outdoor kitchen requires the ability to run utilities. You could even find yourself digging up your new pool area to accommodate items that could have been planned for from the start.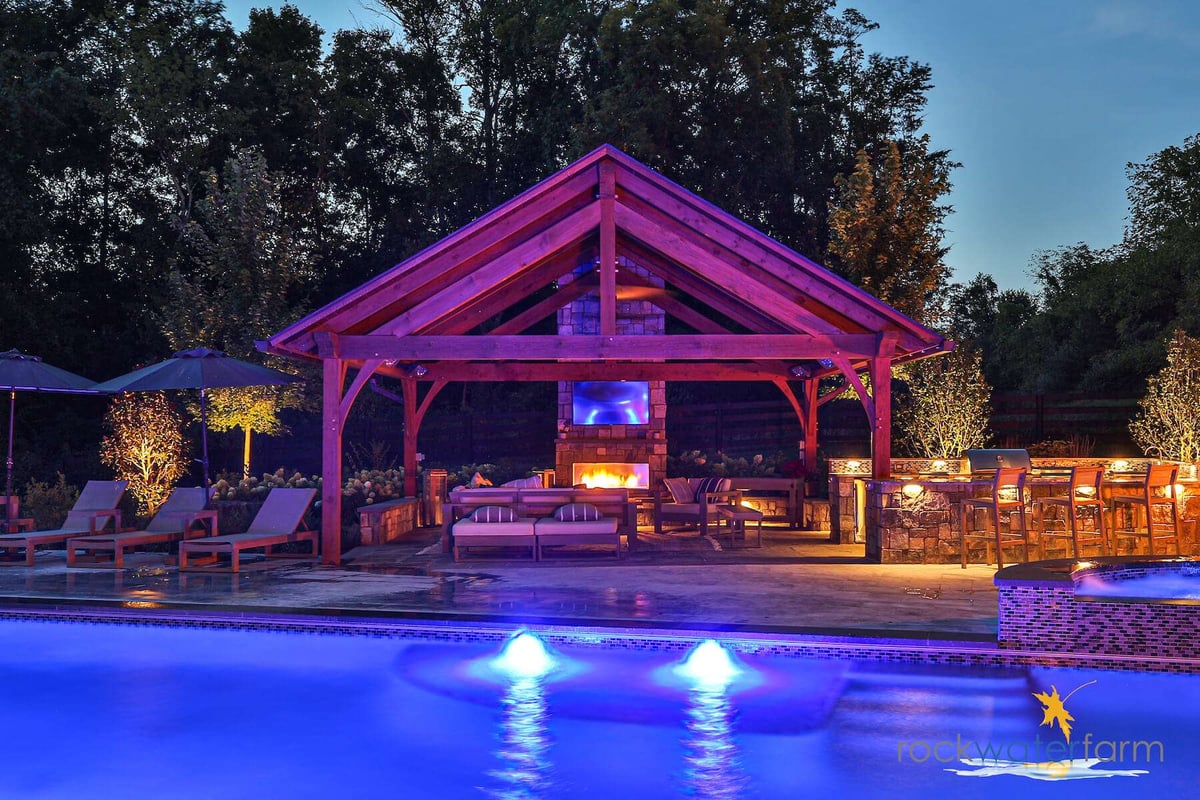 Some of these include:
The pool patio
Outdoor kitchen
Landscape lighting
Pavilion or pergola
Retaining walls and site grading
Walkways and steps
Fire features
Pool landscaping (plants)
Poolhouse
Another problem with finding an ordinary swimming pool contractor who only installs pools is that it is in their best interest to install as many as possible during the season. Their focus is on getting your pool installed quickly and moving on to the next project.

Since the pool itself is their only area of expertise, they might even leave a mess behind like a big pile of dirt that you now have to deal with.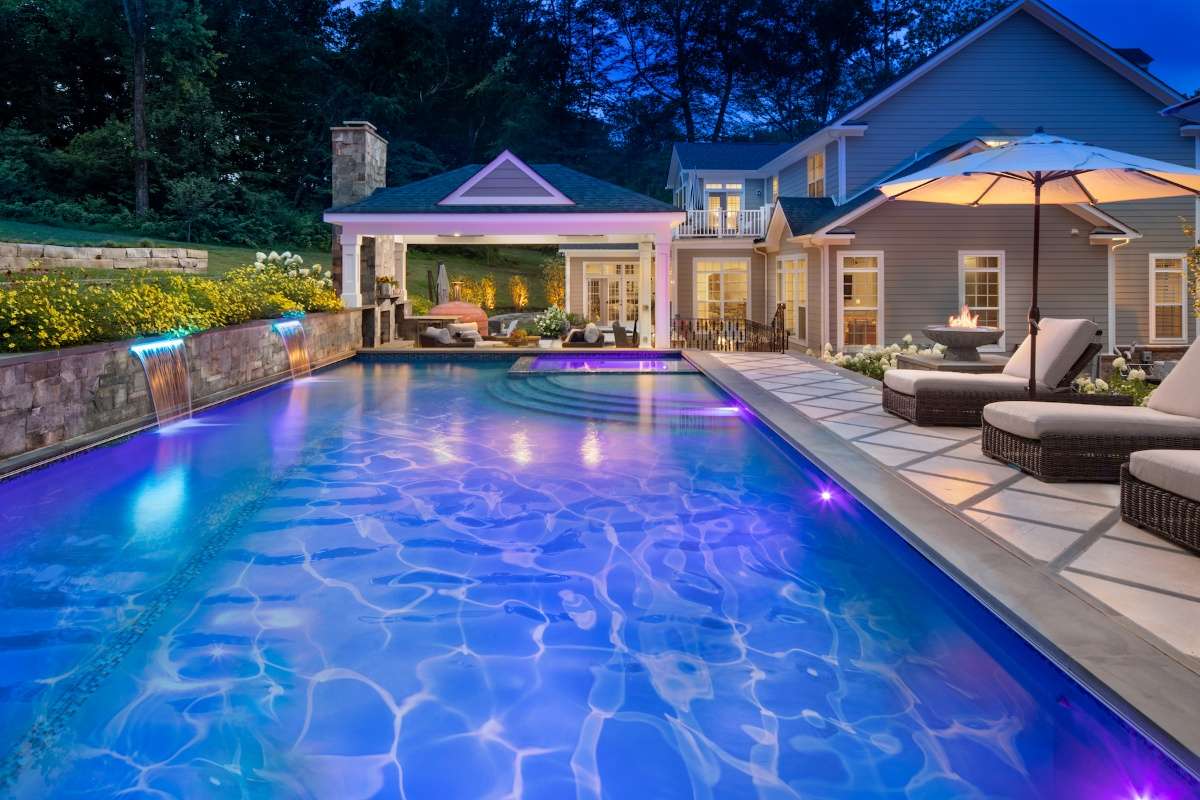 Trust us, we've seen it when we've come in to clean up the mess of pool builders in Northern Virginia whose only focus was to install a pool and move along.

But if you hire a landscape contractor who designs and builds pools from the start, these types of details will be considered from day one. That means that when your pool is finished, it's truly finished. All that will be left to do is enjoy it!
Look for Pool Builders in Northern Virginia Who Use 3D Design
When it comes to a spectacular pool, a quick sketch isn't good enough. You want to truly be able to envision your pool and all aspects of it. That means finding a company that is highly skilled at design.

The design just may be the most important step of the entire process. After all, it is the design that will dictate the pool's construction and what it will look like upon completion.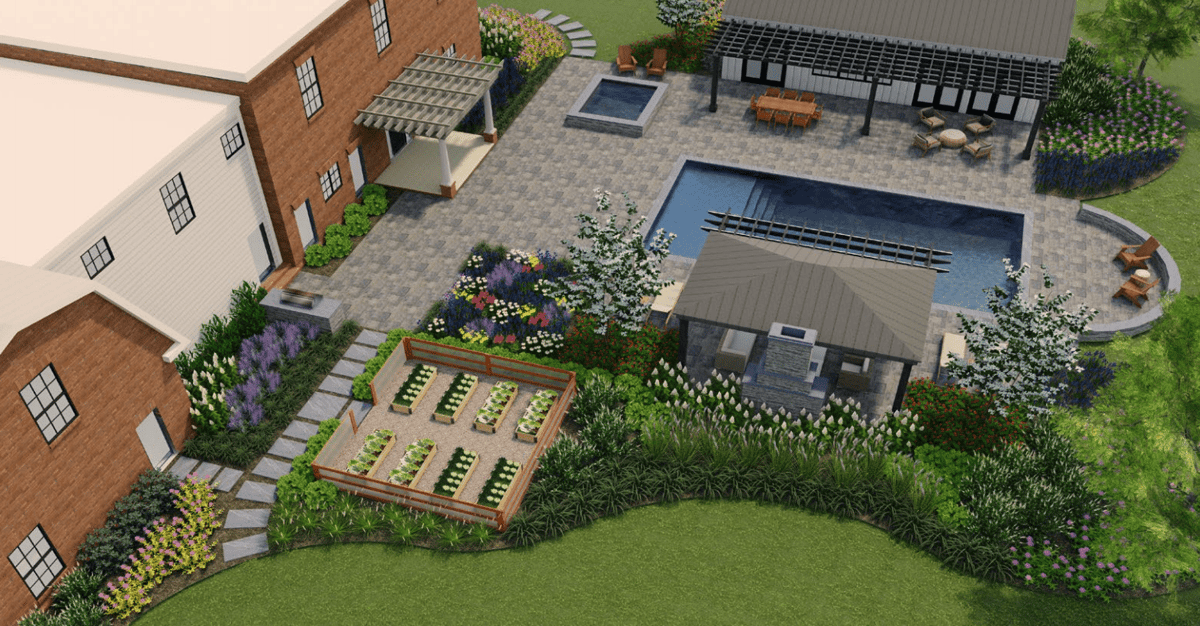 While many landscape contractors and pool builders work with 2D renderings that offer an overhead vantage point of your pool design, if you truly want to be able to immerse yourself in what your new space will look like, then you want a company that offers 3D pool and landscape design.

The best way to think of 3D design is that it brings a project to life before it's actually built. You'll be able to see exactly what it's going to look like and even virtually tour the space as it's shown on a computer screen.

When it comes to a space as important as your new pool area, you're going to want this capability. It will help you make decisions as you move closer toward finalizing your ideal pool design.
Know that the Best Pool Builders in Northern Virginia Deliver a Great Experience
At the end of the day, what matters the most is your swimming pool. However, you would also like a swimming pool contractor that makes the experience of designing and building your pool a positive one. You are going to be dealing with your swimming pool contractor for a long time, after all.

A huge part of this is communication. The last thing that you want is to be left in the dark when it comes to the swimming pool design process. This can actually end up impacting your results.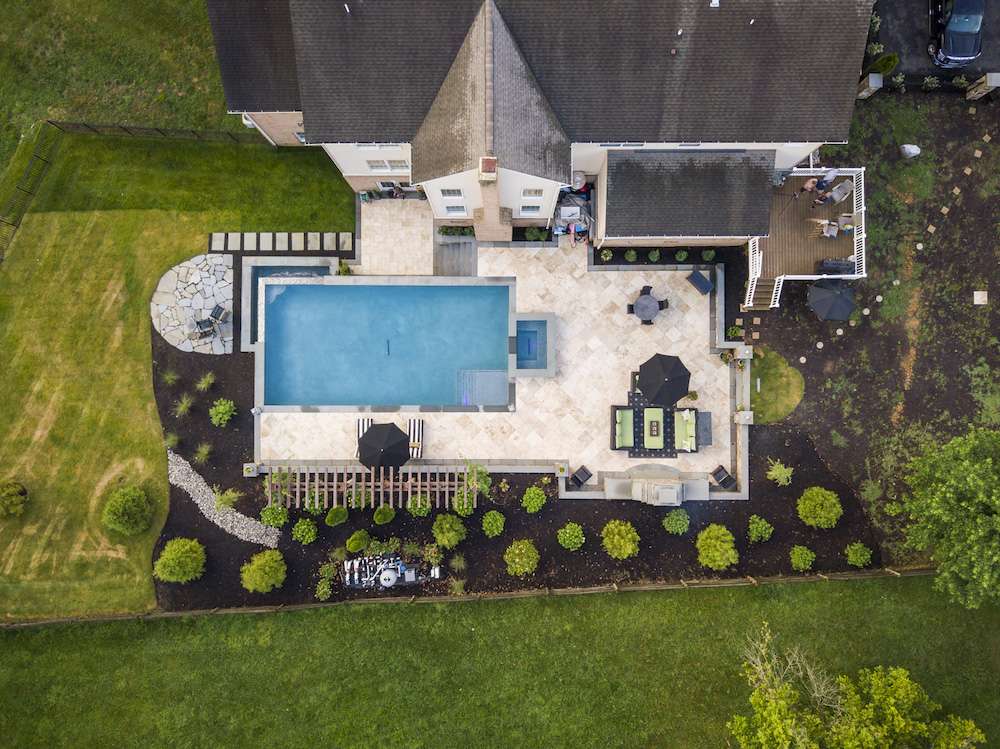 With the best pool builders, you should anticipate having a design meeting. Not all pool companies do this. But if you want a truly custom pool that fulfills all of your wants and needs then the pool design process should include sitting down and discussing your new pool in great detail.

It's important to mention that design meetings should take place with all of the household decision makers present. After all, a pool is a big investment and it's ideal for everyone to be certain all decision-makers are on board before beginning the design.
The last thing that you'd want is the design to be held up even longer because of failing to be on the same page. There are dozens of directions that could be taken on everything from size, shape, materials, and even features.

A great pool builder will also communicate with you throughout the construction of your pool to keep you abreast of what's going on.
When Choosing a Pool Builder, Do Your Research
All of these different things to look for are important when choosing a pool builder. You'll get a sense of whether pool builders are doing these things when you speak to them and ask questions. You can also gather some of these details when spending time on their websites.

And that's all part of doing your research, which is really important.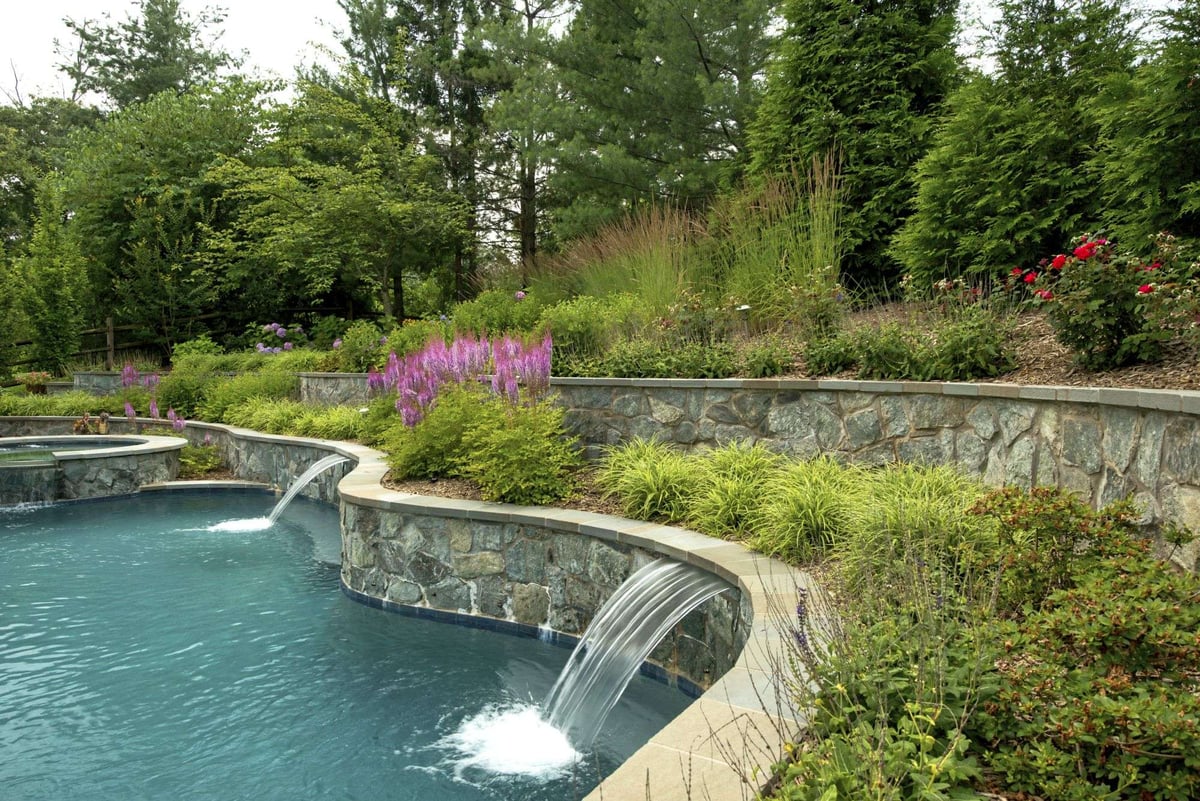 Additional "proof" that you're making a wise choice can also come from perusing online reviews.

Take time to read through the reviews that others have posted on third-party review sites like Google. Look for pool builders in Northern Virginia that have at least a 4.5-star rating in order to be able to feel confident you've chosen the cream of the crop.

When it comes to your dream pool, you deserve nothing less.
Choose a Swimming Pool Builder Who Will Bring Your Dream to Life
We've given you a lot to digest but choosing a pool builder is a big decision.

This is an exciting time for you and your family as your research is bringing you one step closer to the pool of your dreams.

There's obviously a lot to think about (and a lot of important decisions to make) but putting in the time to ensure that you're making wise choices will pay off when you ultimately wind up with the pool that you truly desire instead of one that falls short.

As you move closer and closer to making your pool dreams a reality, we are available to be your guide. With a knowledgeable guide leading your pool creation experience, you'll be able to feel confident that your dream will come to fruition exactly as you've imagined—or perhaps even better.

If you'd like to get started on planning a dream pool for your Gainesville, Haymarket, or Bristow, VA property, talk to an expert, choose a solution that rocks, and then get ready to enjoy your property to the fullest.