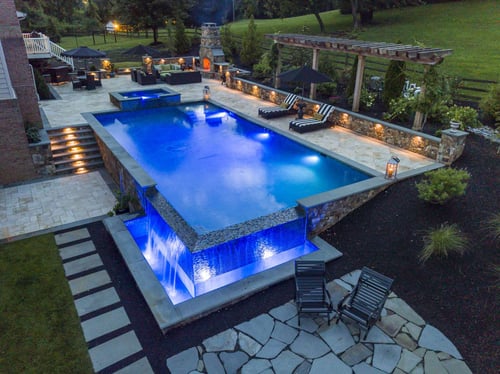 Are you dreaming of a swimming pool in your backyard near Great Falls, VA? Nothing quite transforms a yard into a personal paradise like a pool and whether it's something you've been thinking about and working toward for a long time—or it's a new dream—you might be wondering what's involved in starting the process.
More specifically, how do you go from that dream idea in your head to jumping into that actual swimming pool in your backyard?
If you're interested in the steps involved in actually building a swimming pool, and the timeline for that process, then we've written about that here.
However, in this article, we'll talk more about how you go from that conceptual "idea stage," to actually getting the process going on creating a design for your dream pool. We find that many people have told us that the thought of getting started seemed overwhelming and they didn't know where to begin.
Hopefully, by walking you through some steps, this will seem a bit less daunting and a whole lot more exciting!
Step 1: Start by Researching Pool Design Companies in Great Falls, VA
Chances are you wouldn't make a big purchase without doing some research first and the same goes for choosing a pool company. The fact is, there are a lot of pool designers in Great Falls, VA, so you should begin the process by researching the companies you're interested in and narrowing down your list to the top choices.
Take time to really look through each company's website.
You'll also want to specifically look at (and think about) the following points.
Look at Their Portfolio of Pool Pictures
As you research the different companies, take time to look at their gallery of projects. One thing to consider is how much those projects differ. You probably don't want to find a company that has a portfolio filled with cookie-cutter pools that are all mirror images of one another. You want your pool to be customized and unique, so you need to find a company that designs and builds original pools.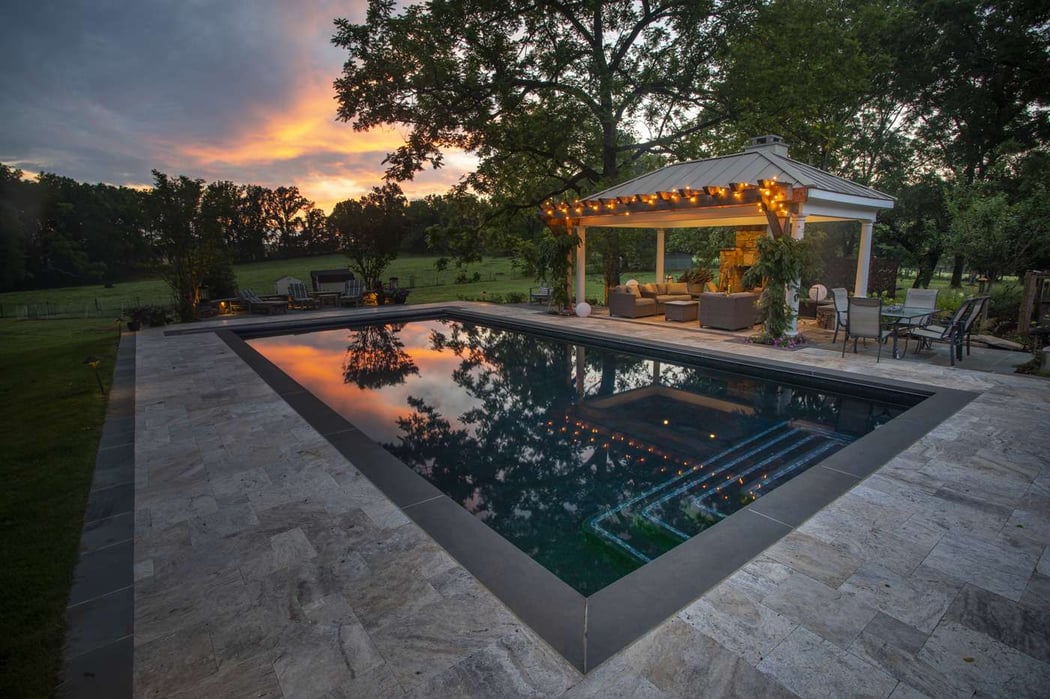 Compare Pool Builders vs. Landscape Design/Build Firms
Another factor to think about as you perform your research is whether to consider a company that solely builds pools or one that is a full-service landscape company, too.
We've talked in more depth about why it could be a mistake to hire a pool company in this article (as opposed to a full service landscape company that builds pools). To sum it up, a lot of pool builders are solely focused on getting your pool in the ground as quickly as possible so that they can move on to the next project. All of their profitability is tied up in installing as many pools as possible. This could lead to a rush job.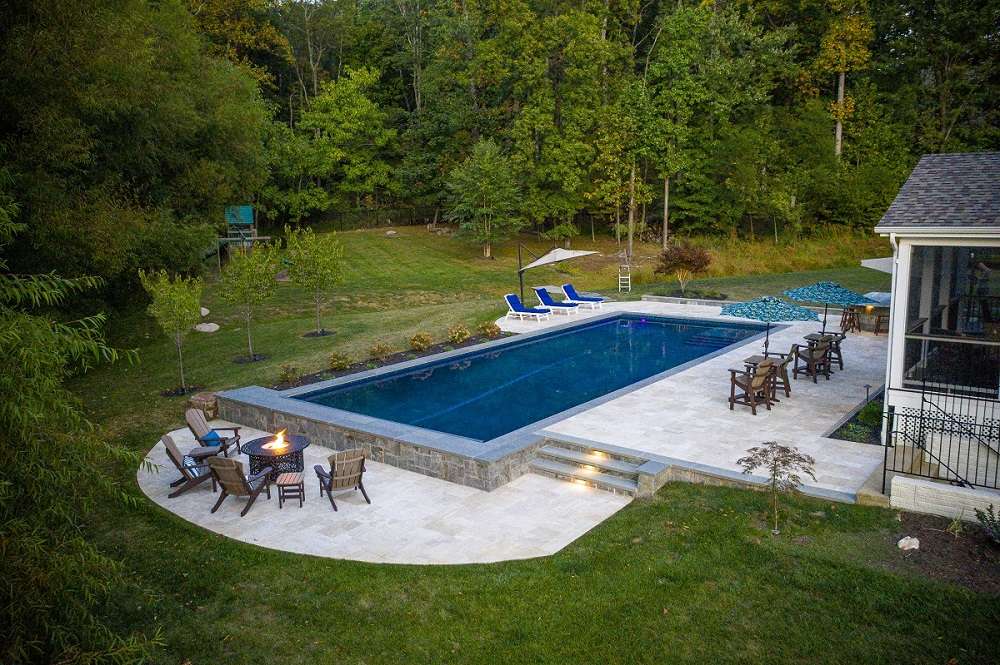 Unfortunately, pool builders typically don't think much about the landscape around the pool, even though it's an essential element. If you have a pool builder install your pool, you're still going to need to hire a landscape company to fix up your landscape. Most people would rather streamline that process. It also helps that a full-service landscape design/build firm can then go on to maintain your landscape to ensure it continues looking and performing it's best.
Compare Online Reviews
Finally, as you perform your research and compare companies, you should also take the time to read online reviews. We advise looking for companies with a rating of 4.5-stars or higher if you are truly seeking the best.
Also, take a close look at the types of comments that people are leaving behind.
Were they happy with the finished result?
Were they happy with the ongoing service?
If there was a problem, was it resolved?
Although there are always going to be people that are difficult to please (and it's important to keep that in mind as even some of the best companies have an occasional bad review), what does the majority have to say? In the sense that they might give you a glimpse into what your experience could be like with this company, online reviews are a lot like having a crystal ball at your fingertips.
Step 2: Meet with Your Top Contenders
Once you've narrowed your list of pool builders in Great Falls, VA, you should meet with them to discuss your project. This is a great time to ask questions, share your ideas, and also see what ideas they might have for your project. Usually, the best results come from a combination of your ideas with a professional's expertise.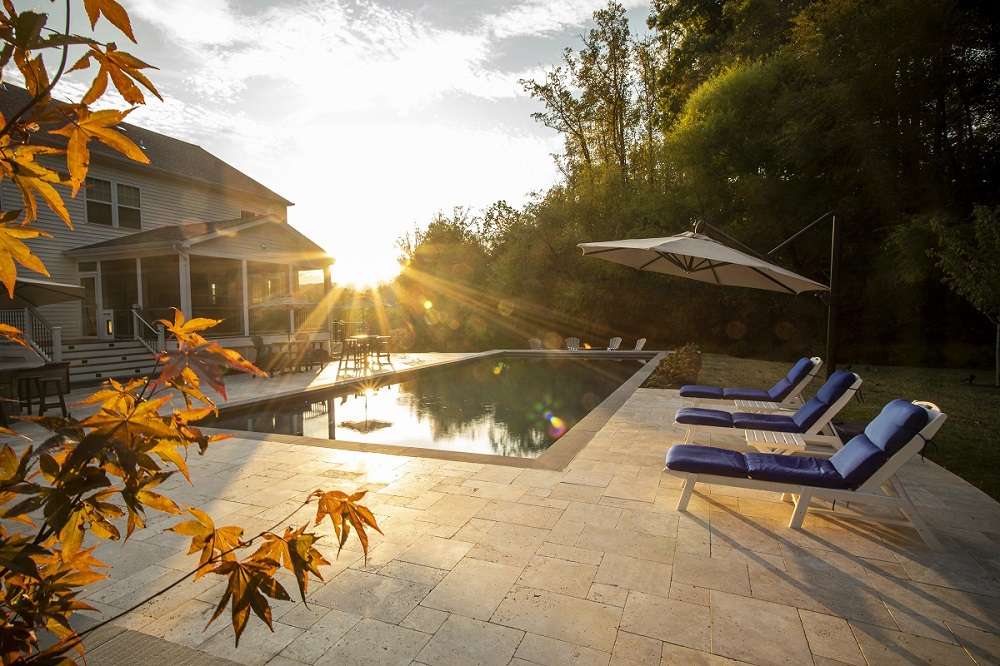 One thing that's really important at this stage is to be upfront with your budget. That will help speed up the process and also keep the conversation more realistic, based around features that can truly be added to your project. After all, it does no good for anyone for a company to move forward with a $500,0000 design if you have a $300,000 budget. Then, it's just going to lead to disappointment as items get removed.
To give you a good sense of cost, "ultimate pools" are $250,000+ with bells and whistles like a multi-level patio, pavilion, kitchen, and outdoor fireplace. The more features that you add, the more the project is going to cost. But these are also the types of features that help make a pool truly unique.
If your ideas are loftier than your budget, then you can always discuss phasing the project. When done right (with the use of a master plan) phasing can be completed in a way that nobody would even realize there's "more to come."
At each stage, the project would look complete.
Phasing properly is important and can save you money in the long-run. It hinges largely on having that master plan in which everything is mapped out. For instance, if you plan to add a pavilion in the future, you'll want to make sure the footers are installed and any utility lines are run before your patio is built. If you don't, then your patio will have to be torn up to add these elements. That's a hassle and an expense you wouldn't have had to deal with if you'd planned ahead with a phased master plan.
Step 3: Choose Your Company and Begin the Design Process
Once you've chosen amongst the pool builders in Great Falls, VA, you can begin the actual design phase, which is when things really start to get exciting. An idea that is in your head is now going to be created as a 3D pool design.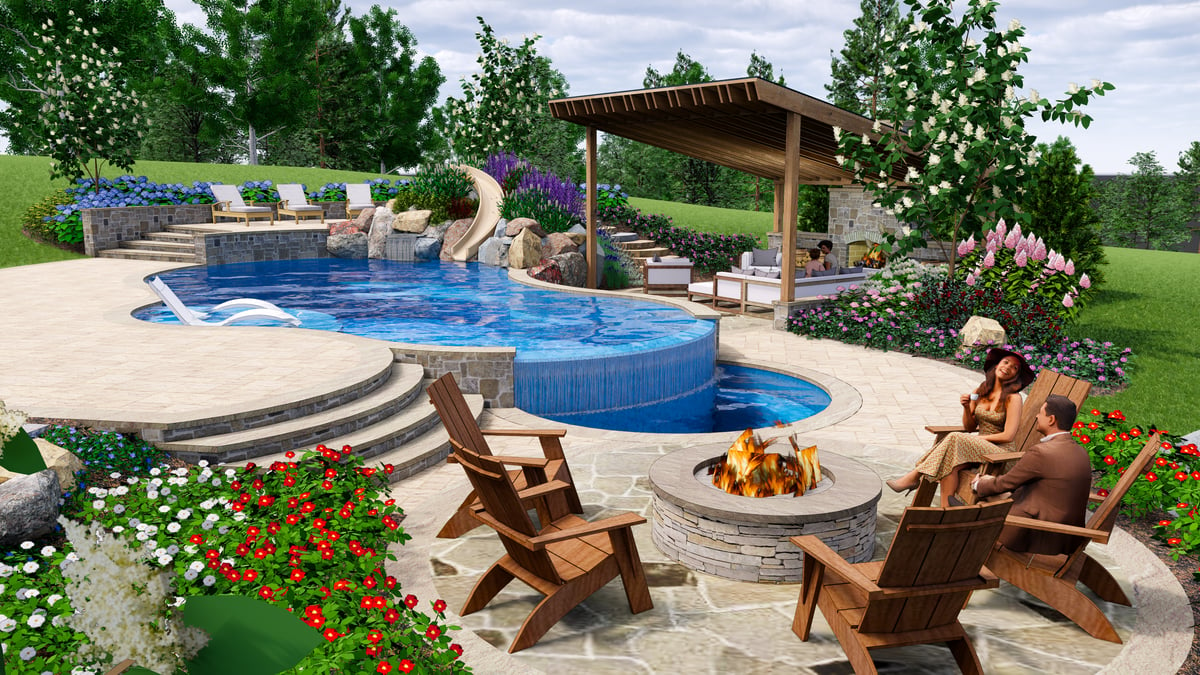 The pool design process can take anywhere from 2 to 4 weeks or longer to complete, largely dependent upon how quickly you make decisions. We recognize that this is a huge undertaking and sometimes that can mean some back and forth in the design process. However, the more upfront you can be with your wants and needs, the faster the project will move forward.
We understand that a lot of homeowners have general ideas in their heads but aren't sure what will work logistically. At Rock Water Farm, we are here to guide you through the process and to make it easy for you. We can take those general ideas in your head and combine them with what we know what will work best for your property.
Again, this does mean that budget and scope need to align for success. In other words, you might have ideas in mind that are out of budget. That's why having a realistic upfront conversation about how much you plan to spend will really help assist the design process and keep everything moving forward.
It's also important to mention, in terms of keeping things moving, that all decision-makers in the household should attend design meetings. A pool is a big investment and making sure that everyone is on the same page at the beginning of the process will ensure a swift process. The last thing that you'd want is for everything to be held up because a decision was made and another decision-maker later disagrees.
There are dozens of directions that we could take on everything from the size, shape, materials, and even features of your pool. When we actually start that 3D design, we want to make sure we've taken the direction that everyone agrees with.
Step 4: Trust Your Landscape and Pool Design Professional
We know that a pool is a huge project and that you might be worried or stressed. But once you've performed all your research, made a choice of a company to work with, and started the design process, we would urge you to trust in their expertise.
At Rock Water Farm, we'll be honest with you that as you begin the actual construction phase your backyard is going to look torn up and you might have a hard time wondering how it's ever going to look like that beautiful 3D design you agreed to.
But we would urge you to trust us.
We will create a beautiful backyard for you.
You might feel anxious as things get underway, but in the end, it's going to be everything that you hoped it could be and more. Before you know it, you really will be jumping into that pool instead of just dreaming about it.
Choosing Wisely for the Pool of Your Dreams
As we've said, there are a lot of pool designers in Great Falls, VA. But you want the best. You want to know that you'll get the pool you've been dreaming of—not one with problems that need to be addressed when you should be spending time relaxing or swimming. After all of the researching and planning you've done, you deserve to be able to just enjoy your new pool to the fullest.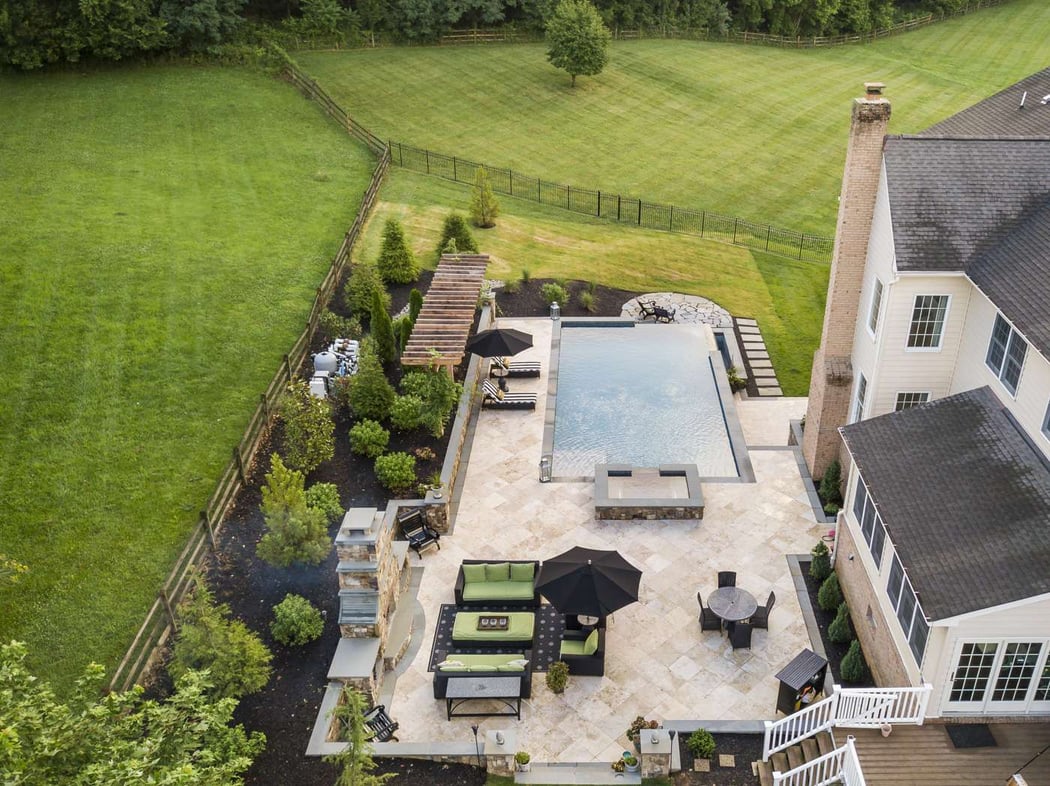 When you work with a company that not only handles designing and installing the pool but is also skilled at building complete outdoor living areas with hardscaping and landscaping, then you can feel confident that you're going to get the total package, without the worries.
In the end, making the wise choice amongst pool designers in Great Falls, VA can be the difference between a project that fulfills your dreams and one that falls short of what you desired.
Are you ready to find a pool designer and builder in Great Falls, VA that will bring your ideas to life? If so, talk to an expert, choose a solution that rocks, and get ready to see your dreams become a reality.