If you're planning to have a pool designed and installed on your Ashburn, Aldie, or Leesburg, VA property, then you obviously want to be confident that you're going to be thrilled with the results. You know that a pool is a large investment but it's also bound to yield many years of enjoyment when it's designed and built well.
As you start thinking about bringing your pool ideas to life, you probably recognize the importance of design in that entire process. It is the pool design that is going to ultimately become the blueprint to take the pool from the visionary stage to reality.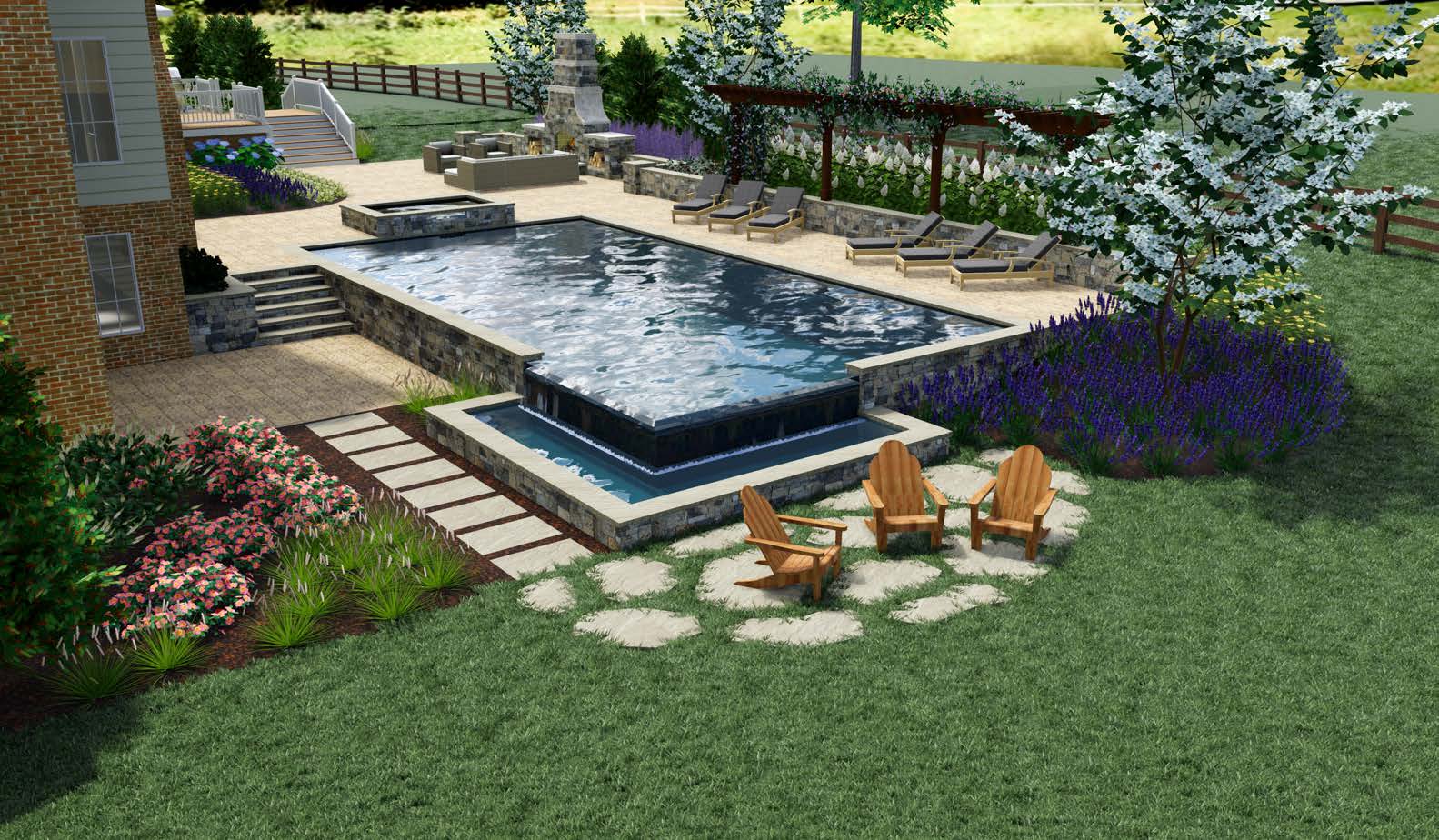 While you may be aware of typical design options, such as 2D rendering, you might be looking for something more advanced than that when it comes to a project as important as your new pool. You might be looking for a pool design that will truly immerse you in the concept so that you can fully visualize what the finished project will look like.
The answer to what you're looking for is 3D pool design and it's not something that every pool builder in Northern VA uses. But it's something that we believe is of vital importance in a project where not a single detail should be left to chance.
What is 3D Pool Design?
In general, the value of a three-dimensional model comes down to the ability to fully visualize your project. With sophisticated computer modeling technology, 3D pool design allows you to see the finished project from multiple angles in a lifelike capacity. With depth and dimensions designed to scale, you'll get a much clearer idea of how the entire project is going to come together upon completion—something that just isn't achievable with an overhead 2D static rendering.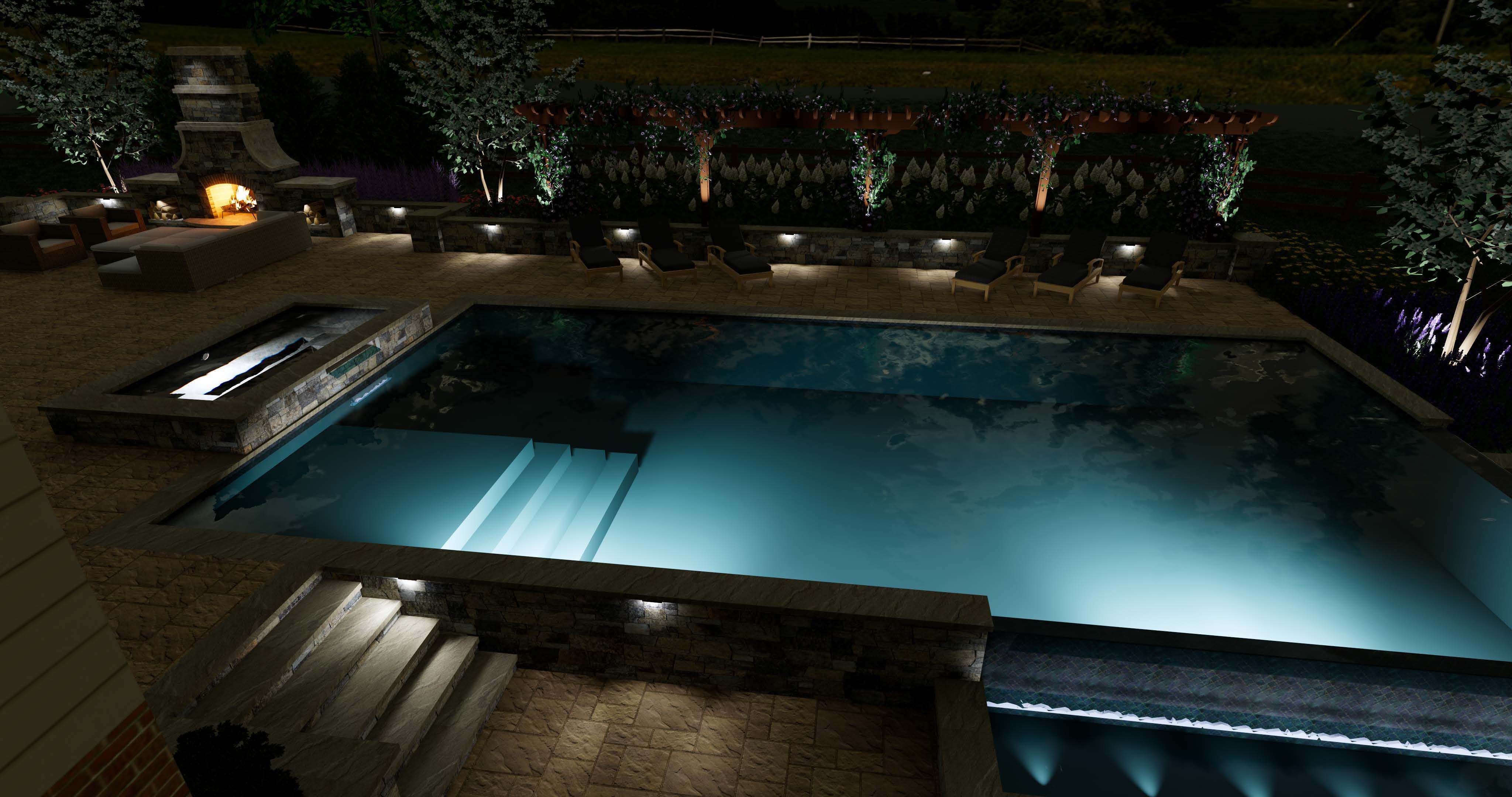 In fact, with 3D pool design, you can even virtually tour the space on a computer screen. In other words, it's almost as though you can "walk through" the project before it's completed.
Why Is 3D Pool Design Essential for my Pool Project?
In our explanation about what 3D pool design is, you've probably already started to understand why you might want it. That clearer picture of exactly what you're getting is really important.
But let's look at a few more specific reasons why we believe it's not just something you want, but something that is essential.
In fact, it is our opinion that you shouldn't settle for anything less.
Without 3D Pool Design, There are Still Uncertainties
With something as important as your pool, the last thing that you want to do is leave anything up to chance. From the large details all the way down to the small details, you want to make sure that everything is being designed and built the way you want it.
However, with 2D design, there may be details of the project that aren't included. There could even be room for certain aspects of the project to be left up to the interpretation of the pool designer or pool builder without you having the chance to weigh in.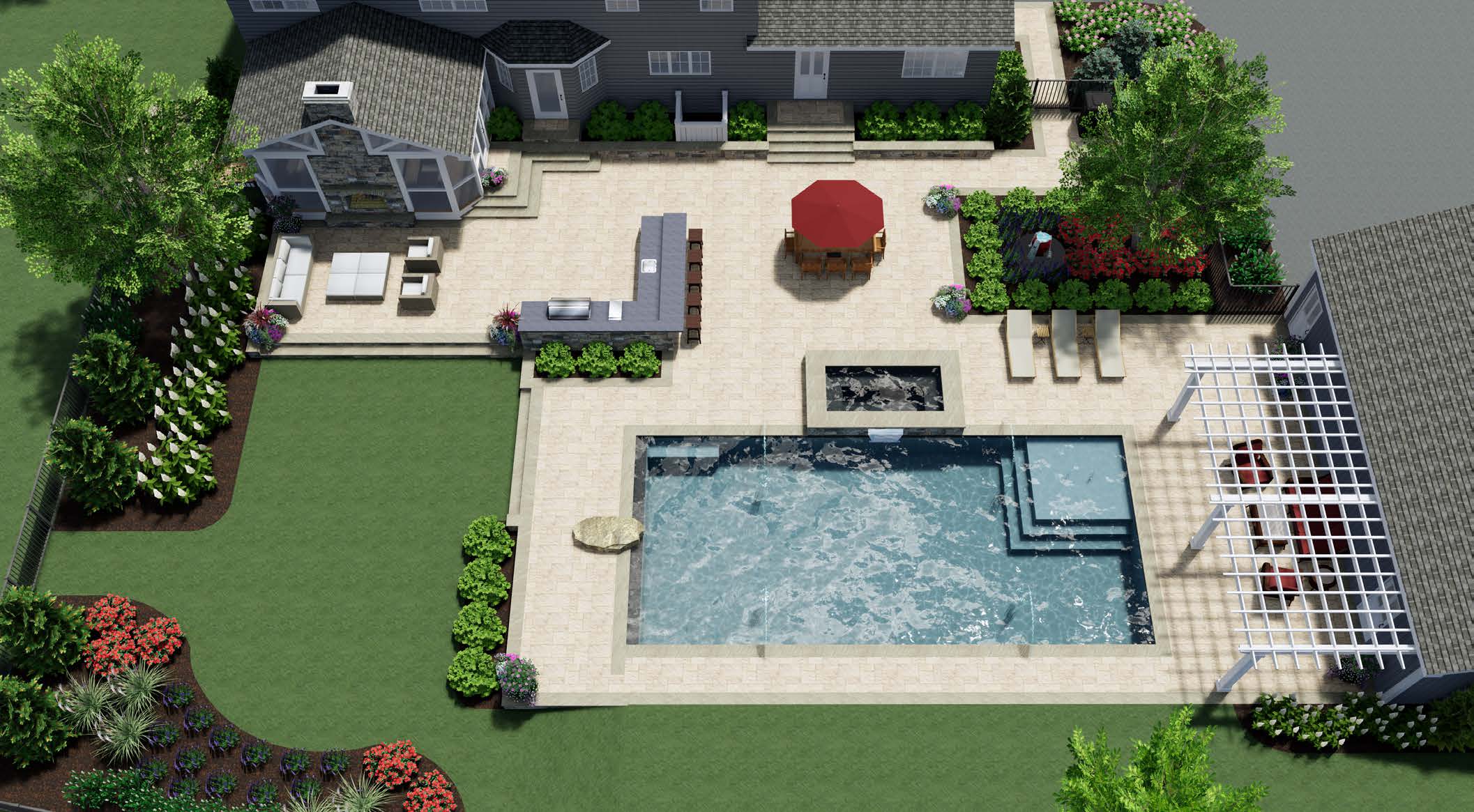 But with 3D design, the project can be viewed from any perspective and every single detail can be reviewed. It allows you to scrutinize the design as closely as you wish and it reduces the possibility of error and miscommunication throughout the design process.
3D Design Can Actually Lead to Cost Savings
With a more intricate and detailed design, a 3D rendering can potentially lead to cost savings on your project.
As we mentioned, with 3D design, you reduce those risks of errors or things that you aren't happy with and ultimately need to correct down the road. When you end up with a finished pool that conforms exactly to your wishes and needs, there is no reason for any additional work to make changes.
Really high-quality and detailed pool design can also ensure that every single item on the design is thoroughly thought through. This can help ensure that the best building choices are made, which can also add up to cost savings. Again, with no single detail being left to chance, you are going to get the most out of your investment.
3D Pool Design Puts Everyone on the Same Page
Finally, working with 3D pool design ensures that everyone is on the same page. This is a goal that can be really challenging to achieve with a 2D rendering, particularly if you are someone who has trouble visualizing things this way.
An overhead sketch isn't going to be able to give you the depth and full-picture view that you might need to really be able to understand what the finished pool will look like.
In fact, what you might be picturing in your head could be different from that of your spouse and even worse, different from that of your pool designer. Who wants to find out that what they thought their pool would look like is completely different from what they end up with?
If you aren't working with a detailed 3D pool design, that's exactly what might happen. Unfortunately, you might not realize all of that until the project is completed, and that's what you're stuck with.
How Much Do Pool Designers Charge for 3D Pool Design
There is no question that 3D design is a lot more complex and time-consuming than ordinary, 2D design. That may mean that pool designers in Ashburn, Aldie, and Leesburg, VA who offer 3D pool design will charge more for it. Given the tremendous amount of added value that you're receiving, that's to be expected and also worth it.
Of course, at Rock Water Farm, we feel that we also benefit greatly from utilizing 3D pool design as it puts us on the same page as our clients. The last thing that we want is for you not to understand what your finished project will look like (and therefore fail to request changes while there's still time).
We want the entire process to go as smoothly as possible for you.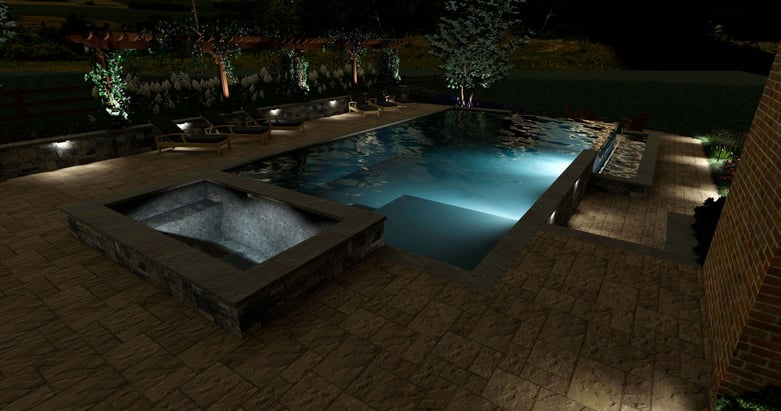 That's why, at Rock Water Farm, we do not charge extra for 3D pool design. If you've already established a budget and are committing to work with Rock Water Farm on the design and build of your pool, then we feel that using 3D design will help ensure that we're all working from the same page. That's really important to us and worth our substantial investment of time and energy into the design.
That being said, we do not offer "design only services," as some design companies do.
We reserve our landscape and pool design services for customers alone. This is a service that is meant to help us build your project exactly as you envision it. Therefore, we only offer design services for the projects that we will also be building.
Who Offers 3D Pool Design?
At Rock Water Farm, we are not trying to pretend that we are the only company offering 3D design. It is a fantastic technological capability and many great companies have adopted it, just as we have.
That being said, there are certainly pool designers in Ashburn, Aldie, and Leesburg, VA that are building pools without using 3D designs. When that is happening, we truly believe it is doing a disservice to the client. If a company is not offering this, you have reasonable cause to be concerned about what your finished project will look like. It may be difficult for you to envision a complex pool design with a simple drawing.
Asking a potential pool company whether they use 3D design is a valuable question. It should give you some insight into their design process and how committed they are to getting all of the details just right.
Choosing the Best Pool Designers for your Pool
The design of your brand-new swimming pool is a very critical element when it comes to its overall success. After all, it is the design that is going to ultimately drive the finished product. That's why it's so important to choose a company that takes the pool design phase seriously and can offer 3D pool design services so that you know exactly what you're getting in the end.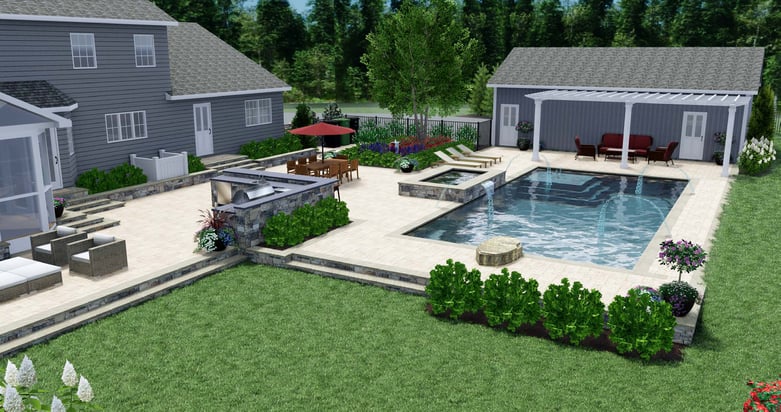 As you weigh your options and consider which pool designer and pool builder might be best for you, be sure to pay close attention to their design process. Ask whether it includes 3D design and what the process entails.
Good design involves some back-and-forth with the designer and the homeowner. As you look at the design closely and request changes, it should ultimately get to the point where it's exactly as you want it.
Working with Rock Water Farm on Your 3D Pool Design & Construction
As you consider who to hire for your brand-new swimming pool, we do hope that you'll consider Rock Water Farm. When it comes to something as valuable as your pool, the last thing that you want is to leave it to chance. You want to be able to feel fully confident that your ideas are coming to life exactly the way that you want them to.
There really is no way to achieve that goal without the use of 3D pool design. We believe the only real way to know with certainty that your pool is being designed to your exact liking is to see those ideas in life-like form prior to the project's completion. By choosing Rock Water Farm to complete your 3D pool design, you'll be able to cast your worries aside and know that you're going to end up with exactly what you desire.
If you're ready to see a 3D rendering of your pool design at your Ashburn, Aldie, or Leesburg, VA home, talk to an expert, choose a solution that rocks, and get ready to watch your dream come to life!