Posted by

Todd Thomasson on Aug 23, 2022 11:18:13 AM
If you have an outdoor kitchen (or are thinking about adding one) at your Northern Virginia home, you might be looking for ways that you can get maximum use of that space.

One of the best ways is with an outdoor kitchen lighting design.
That's because with the right lighting scheme, you can get the most possible use out of your outdoor kitchen, even after the sun has gone down.

The key, of course, is to have a great design. You want your outdoor kitchen to be highly functional but also aesthetically pleasing and beautiful.

To help you get started, we've rounded up some of our best outdoor kitchen lighting tips to consider.
Outdoor Kitchen Lighting Ideas
The following ideas will help get you started dreaming about lights for your perfect outdoor kitchen area.
Add Lights on the Underside of Your Countertops
One of the places that looks amazing with lighting is the underside of your countertops.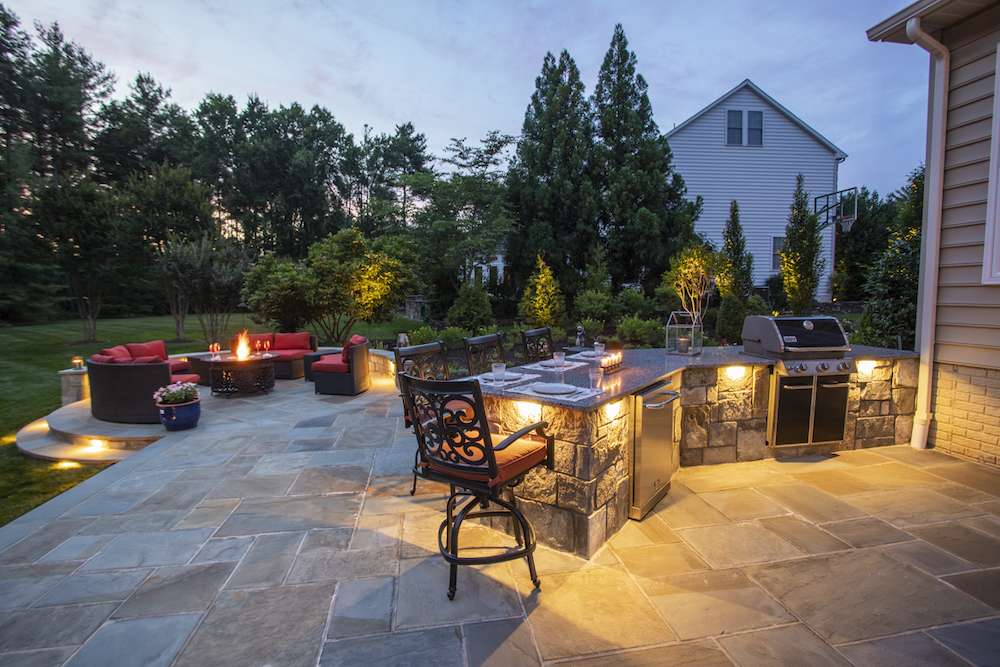 Whether you have a built-in grill with countertops or perhaps an eat-at bar area, having lights installed underneath the granite countertop is both appealing and functional as it shines light on your seating area.
Install Overhead Lights
If your kitchen has some sort of roof like a pergola or a pavilion, then this creates an excellent opportunity to install overhead lighting.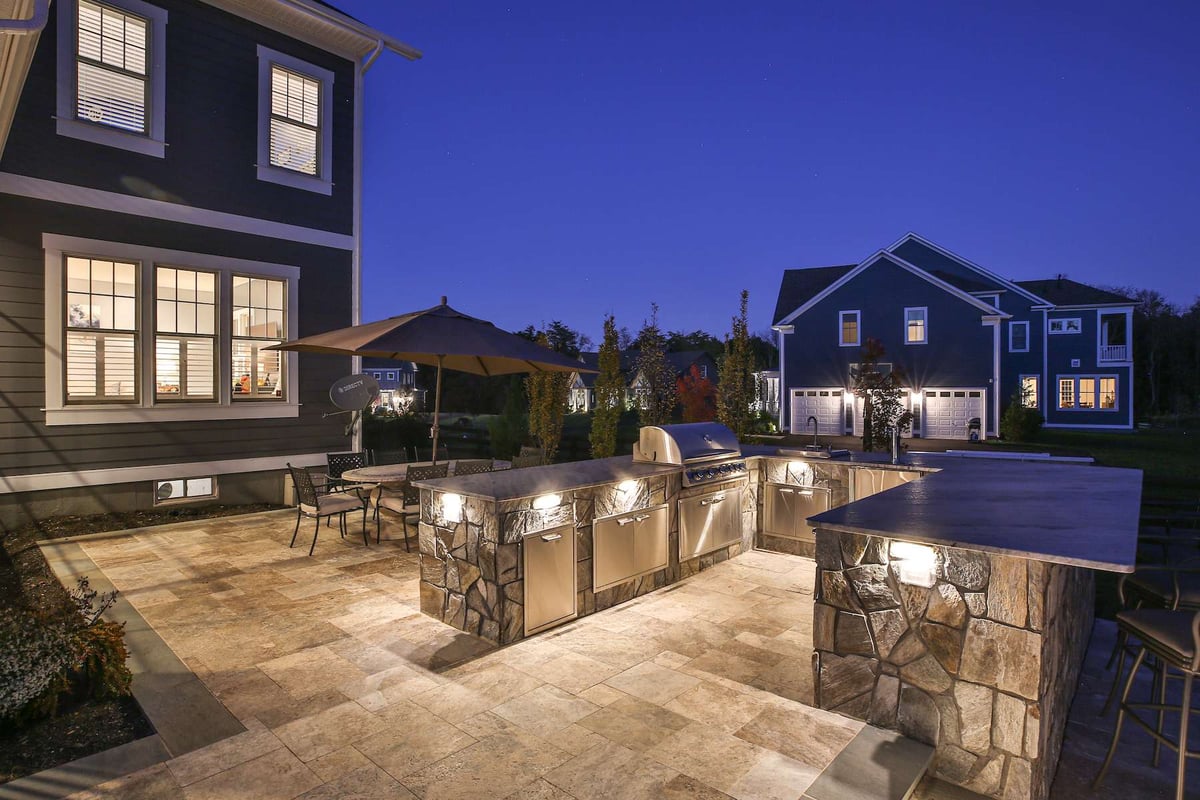 Overhead lights can be really helpful when it comes to actually using your kitchen because it does a great job of illuminating your space. You need to be able to see what you're doing when cooking, serving, or eating in this outdoor space.

Overhead lighting will light up your space so that you can use it to the fullest.
Consider Under Cabinet Lighting
Your outdoor kitchen lighting design might also include under cabinet lighting which is an attractive way to light up the space. It also serves the functional purpose of illuminating whatever is on your countertop space and making these areas easy to use in the evening.
Light Up Steps and Walkways Around Your Outdoor Kitchen for Safe Navigation
Your outdoor kitchen lighting design should also take into consideration how important it is to be able to navigate your outdoor kitchen space safely. This means going to and from the outdoor kitchen.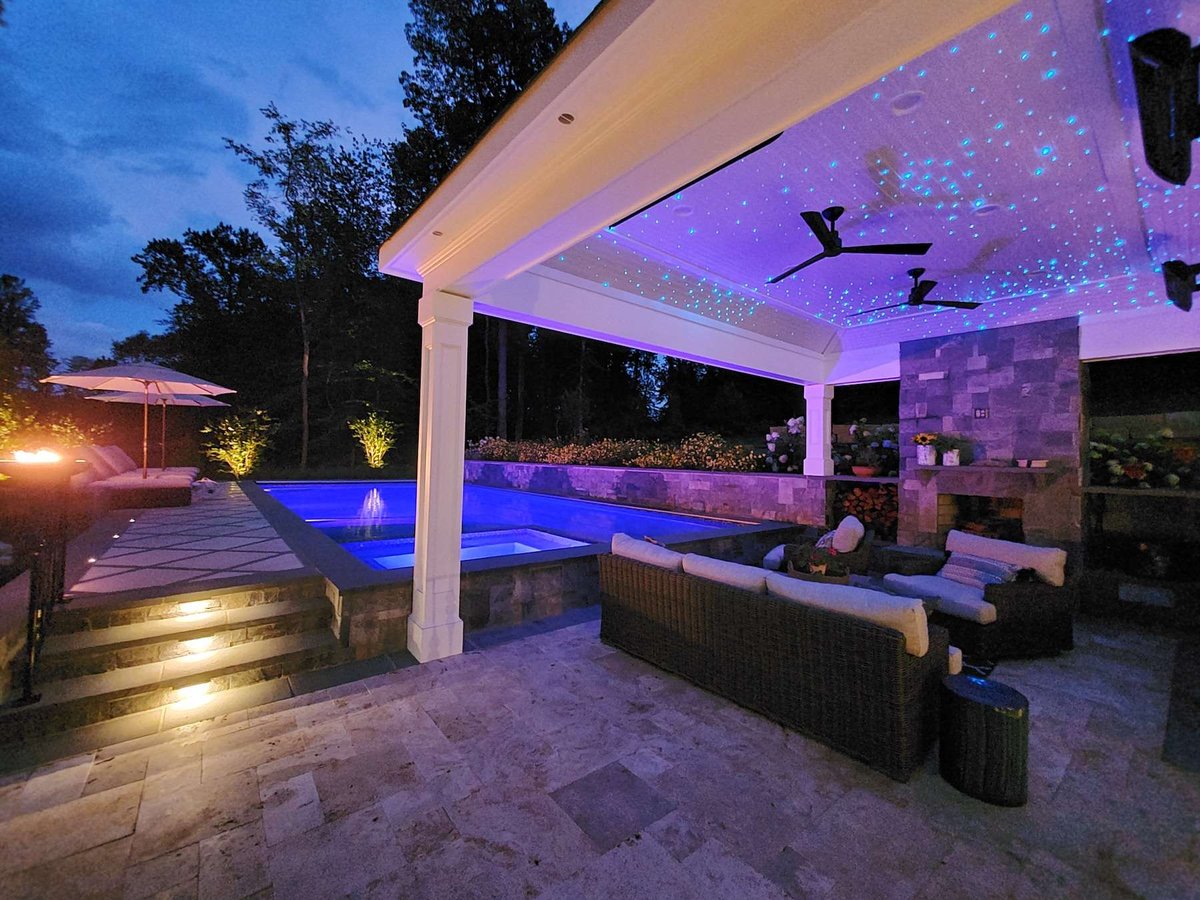 Lighting up steps and walkway areas will be really important.

If you only have a step or two up (or down) to get to and from your kitchen that might not seem like a big deal during the day. But at night, that can easily become a major trip and fall hazard.
Consider Fiber Optic Lights
As far as unique outdoor kitchen lighting ideas, you might also want to consider fiber optic lights in the ceiling, if you have a pavilion over your kitchen. We have created this look before and it resembles a night sky.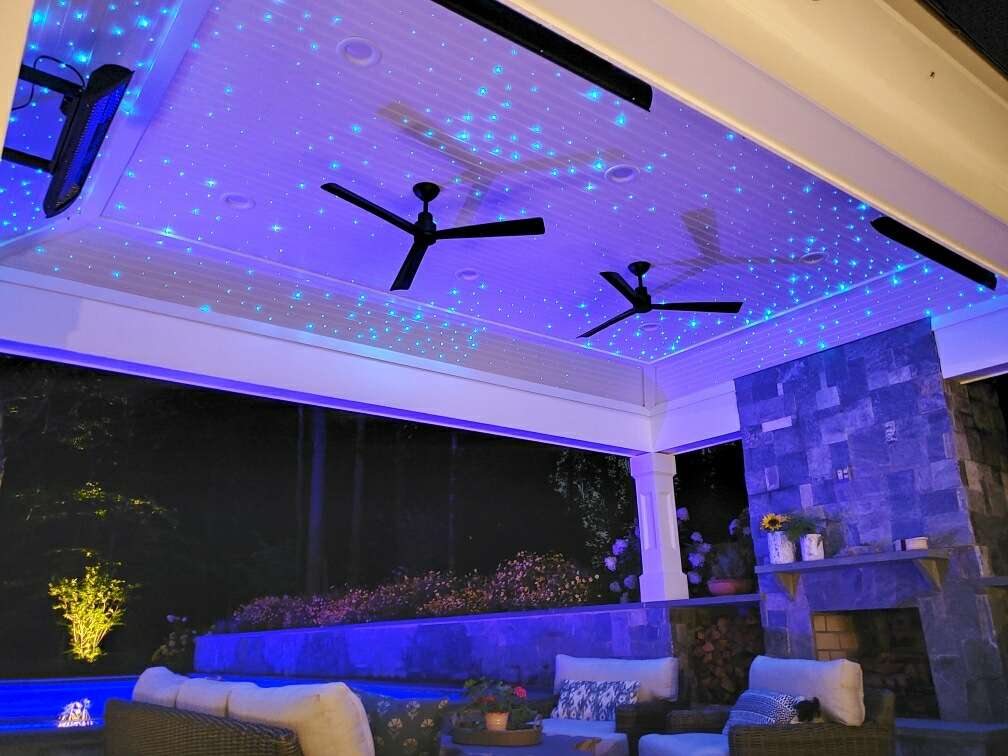 This is a gorgeous way to really take your outdoor kitchen space to the next level.
Think about Fire Features for Added Light AND Enjoyment
While not exactly part of an outdoor kitchen lighting design, we wanted to mention that nearby fire feature additions can also add light to your space. There's nothing quite like the glow of a fire from a fire pit or fireplace to light up your outdoor kitchen area.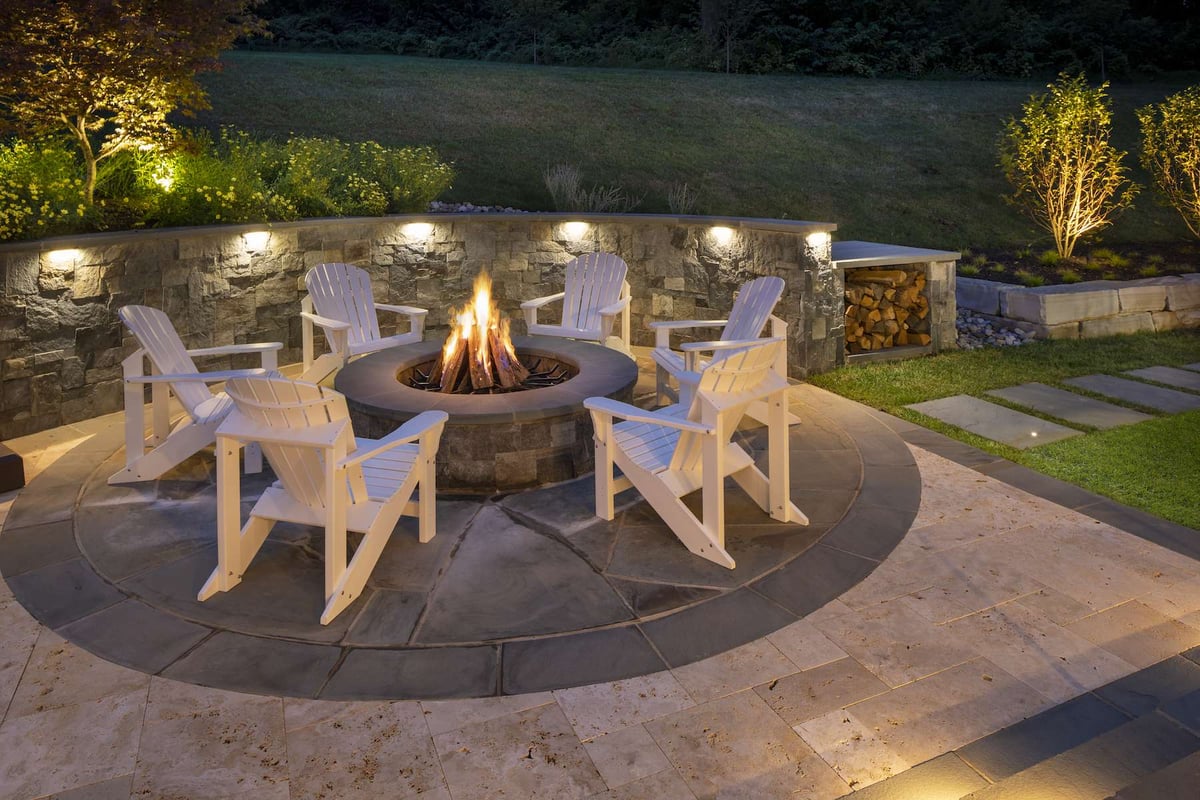 Plus, outdoor fire features give you plenty of added enjoyment. They become a place to cozy up and enjoy the warmth on a chilly night. They are also a spot to roast marshmallows and tell stories around the fire!
Use Lighting Controls to Control Lighting Remotely
With so many homeowners moving toward automation it's no surprise that people want to be able to control their outdoor lights from a mobile device as well. The new systems can definitely be set up this way and people love the convenience and the added security that it offers. You can turn your outdoor kitchen lights on before you even go outside. Everything will be ready to go when you get out there.

There is also a customization benefit to consider.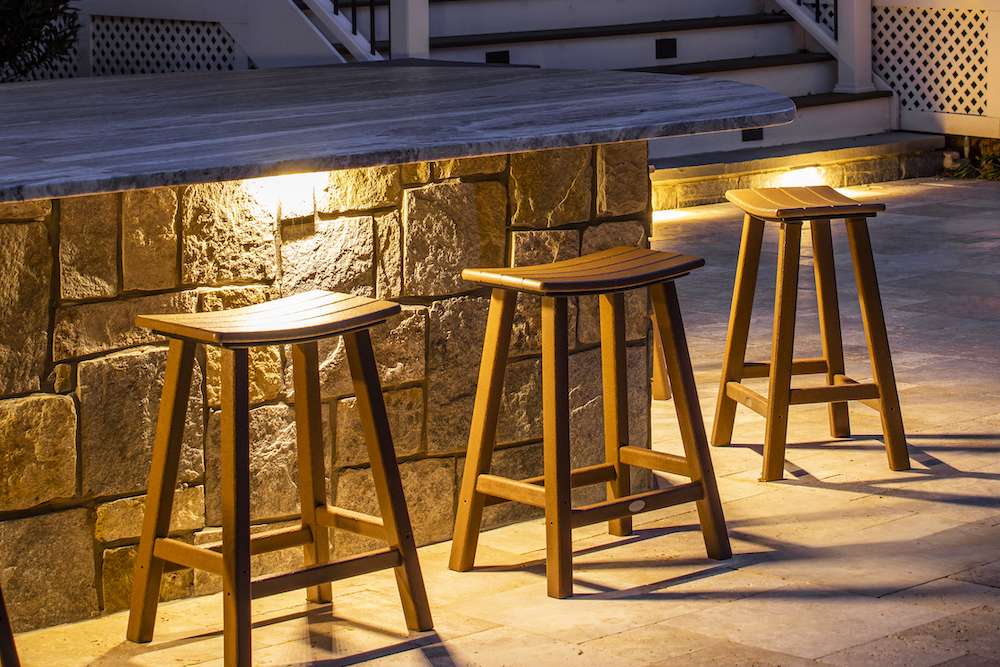 You can even have your outdoor lighting system set up to operate using pre-programmed settings. You might have a "party setting" in which all of the lights come on around the entire property. But you might also have a "quiet time" setting when you're just looking for some subtle ambiance while relaxing outside in the evening hours.

Maybe you want a sort area light up while cooking, a different one lit up while enjoying meals, and still another lit up while having an after-dinner drink. You can create all of these different lighting scenes to your liking.
Hiring a Pro for Your Outdoor Kitchen Lighting Design
There are many reasons why it is important to work with a professional on your outdoor kitchen lighting design. Not only will you get a better overall design (one that is both artistic and functional), but you'll also get better results.

With a pro, you are going to get higher-quality fixtures and LED bulbs. LED is the latest lighting technology and while it costs a little bit more upfront, the benefits far outweigh the added cost. Because LED outperforms old landscape lighting, in the long run, you'll actually save money on your electricity bills and maintenance expenses.

As you consider an outdoor kitchen lighting project for your Northern Virginia home, it's important to recognize that your choice amongst landscape lighting companies is going to be the difference between getting the professional results that you're after or ending up with a project that falls short of your expectations.

Make sure that you do your research and choose wisely.

At Rock Water Farm, we know that professionally installed outdoor kitchen lighting is a large investment. But it's also one that will pay off in many ways. It doesn't make sense to have an outdoor kitchen with poor lighting that makes nighttime meals a challenge. After all, this is the time when you are most likely to be using the space.

There is a great return on outdoor kitchen lighting both in terms of investment but also enjoyment. And when you work with a qualified landscape lighting professional, you gain the peace of mind that you're going to get the most possible benefits.

If you want the best for your outdoor space, then be sure not to cut corners or hire someone who is not up to the job. You deserve the best.

Are you ready to have a property that you are proud of at your Haymarket, Gainesville, or Bristow, VA home? If so, talk to an expert, choose a solution that rocks, and get ready to see your dreams begin to take shape!