Posted by

Todd Thomasson on Apr 20, 2022 4:56:00 PM
Do you want to be able to cook and enjoy meals outdoors? Do you love having friends and family over to your home to entertain?

If so, then building an outdoor kitchen may be part of your overall outdoor living plans. Outdoor kitchens are an outdoor living trend that will never go out of style because it's one of the best ways to truly extend the functional space at your home.

While you might be confident about building an outdoor kitchen, when it comes to exactly what you want (and need), you may be less certain. At the most basic level, an outdoor kitchen plan starts with a grill built into a countertop. But from there, a space like this can be upgraded to include any number of different amenities including everything from refrigeration to cabinets to running water. Outdoor kitchen planning includes considering your overall wants, needs, and the overall cost of the outdoor kitchen.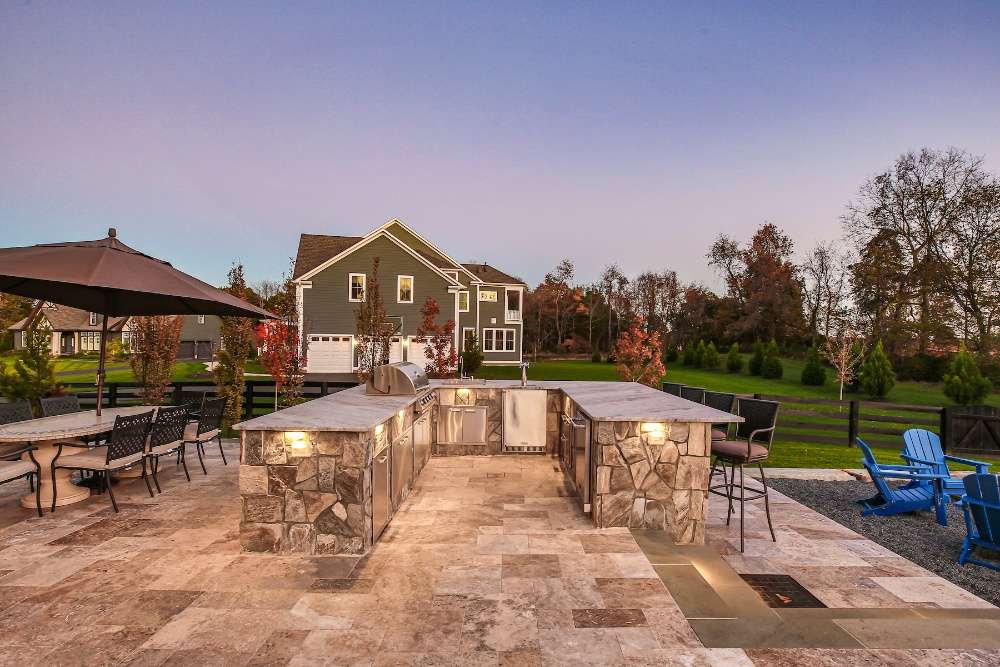 Some introspection can help you narrow down exactly what type of outdoor kitchen will suit your wants and needs. In order to facilitate some helpful discussion, we're asking the questions you should be pondering to help plan the outdoor kitchen that is best for you.

Asking yourself (and the decision-making members of your household) the following questions will help with your outdoor kitchen plans.
1. How Do I Plan to Utilize My Outdoor Kitchen?
Sure, the simple answer to this question is that you plan to cook in your outdoor kitchen. But do you also want to be able to dine in the same area? And how many people do you want to be able to accommodate? Digging deeper into how you envision using the space is really important when it comes to making outdoor kitchen plans.

Maybe you just want a simple set-up with a grill built into a countertop that has a few stools along the overhang area. You and your family can sit there while the resident "chef" performs the grilling—and then you can eat there too.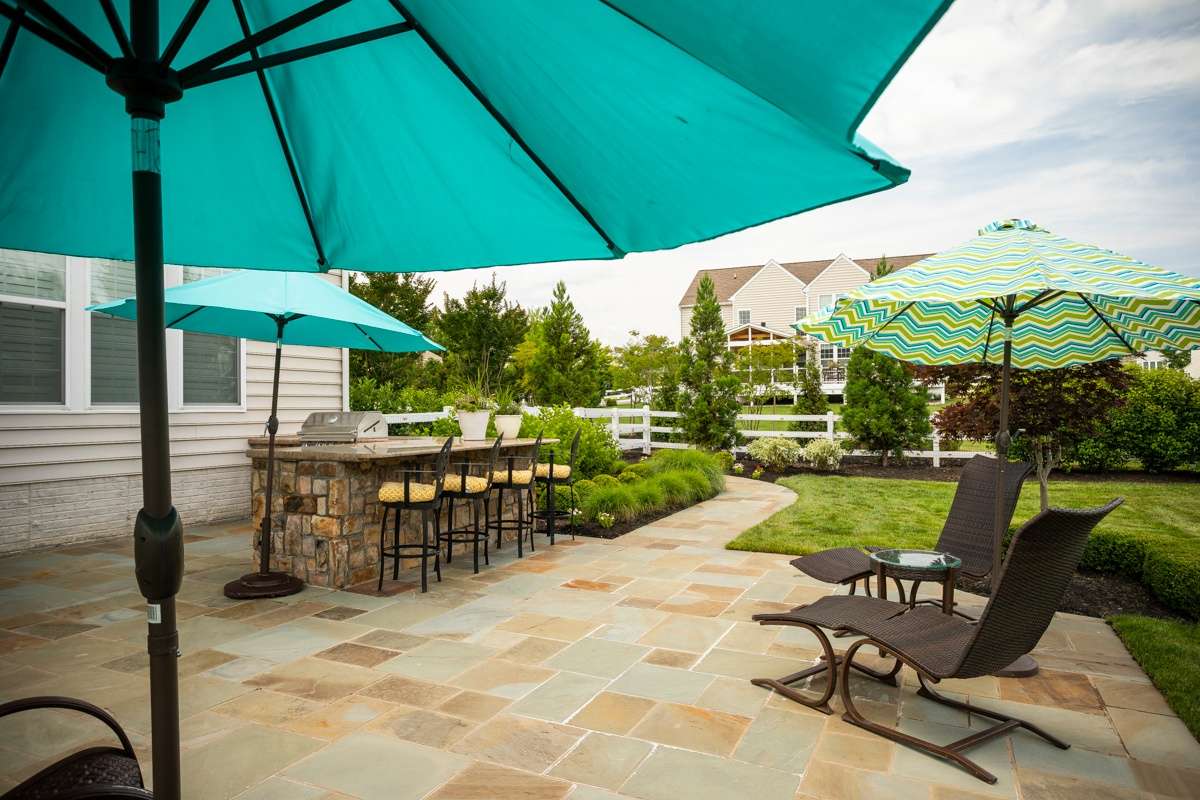 Or, maybe you envision much more than that. You desire that built-in grill with countertop seating space, but you also picture hosting gatherings with several other families. That could mean that you want room for a large dining table in (or adjacent to) the outdoor kitchen. Guests can sit at the grill area and have drinks while the "chef" is cooking but then everyone can move over to a dining area when it's time to eat.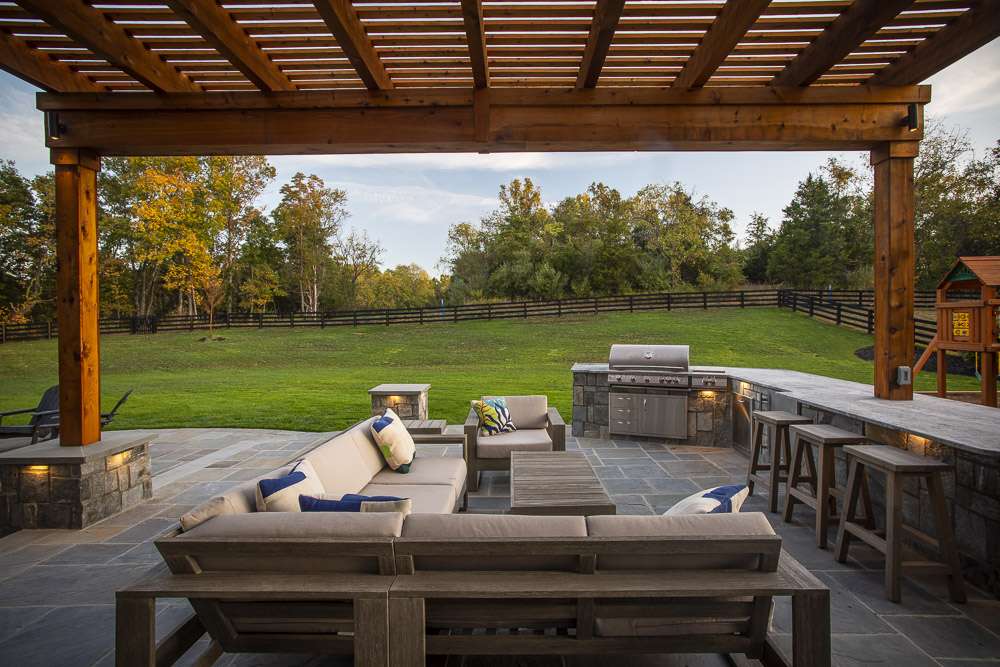 Answering these types of questions will help you to make important decisions regarding the size of your outdoor kitchen. Whether or not you want it all under a roof (with the addition of a pavilion) is also a consideration here.

If you want to be able to grill outdoors rain or shine, then a covered space is going to be very valuable. But, do you also want to be able to sit out there no matter what the weather? Or, will you have a dining table somewhere else on the property and accept that you can't eat outside if it's raining?

We know that this first question is a big one (and has many additional questions that accompany it) but it's a really important first step in determining exactly what you want in your outdoor kitchen. Taking the time to seriously think through how you'll be using the space will help to ensure that you are happy in the long run and that you have no regrets that you wish you'd built it larger and could accommodate more people—or that you wish it had been under a roof so that you could spend time out there, even when it was raining.
2. What Outdoor Kitchen Amenities Matter Most to Me?
It probably comes as no surprise that an outdoor kitchen can be so much more than just a grill. Sure, that's going to be a really important feature (and therefore one that you shouldn't skimp on), but there are many other outdoor kitchen ideas that can help make it even more enjoyable.

Determining which amenities matter most has a lot to do with that first question about how you'll be using the space. If you envision entertaining family and friends, you might need more amenities than if you expect to mostly just spend time there with your immediate family.

Let's look at a breakdown of some of the outdoor kitchen amenities you might want to consider.
Outdoor Cooking Appliances
How and what you like to cook will come into play here.

Are you a family that mostly just cooks burgers and dogs on the grill—or are you a family that gets pretty serious about cooking and wants a fancy grill with all the bells and whistles? These days grills have many options and we are personally fans on the infrared grills that heat up higher and cook faster.

There are also grills that have two cooking compartments so that homeowners can be smoking meat and grilling meat at the same time. Some grills come with rotisseries or view windows to keep a close eye on what you're cooking. We've also seen flat-top grills for those who like cooking hibachi-style.

No matter how fancy (or simple) your grill is and how many (or few) add-ons it has, you do want to be sure to choose a high-quality grill. After all, you're building it into granite countertops so you want it to be able to last.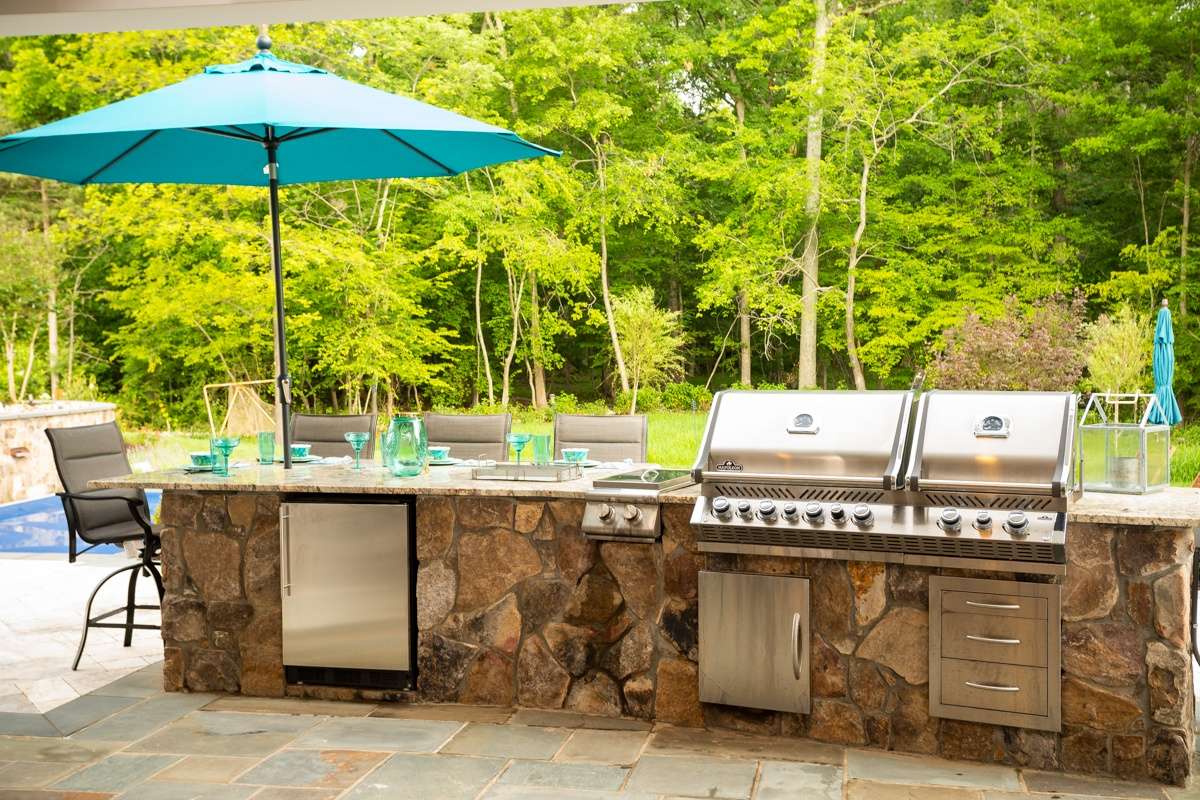 Other outdoor cooking appliances you might want to think about include a power burner (where you can boil a big pot of corn or soup), a pizza oven, warming drawers, or a smoker. We've worked with some homeowners who really love their Big Green Egg, or another smoker that they have, and want it incorporated into the kitchen design. Even if you have a mobile smoker that you plan to move around, you'll want to consider where, in regard to the layout, it can be stored and used. Your cooking amenity choices will obviously also depend on your outdoor kitchen budget.
Other Outdoor Kitchen Appliances
Though not used for cooking, but in conjunction with cooking, additional kitchen appliances like a sink with running water, a dishwasher, a refrigerator and/or freezer, or an icemaker are also valuable to consider. How will these additional amenities enhance your outdoor kitchen? Are they items that will allow you to spend more time out there or help you to avoid running back and forth from your home kitchen? Are they worth the outdoor kitchen costs?

If your outdoor kitchen is going to be situated far from your indoor kitchen, then perhaps it's really important this area is fully functioning. That even means making sure you have plenty of cabinetry and storage space so that you can have a set of outdoor dishware, paper products, cups, and more that never leaves the space. Dragging everything in and out can be a real hassle.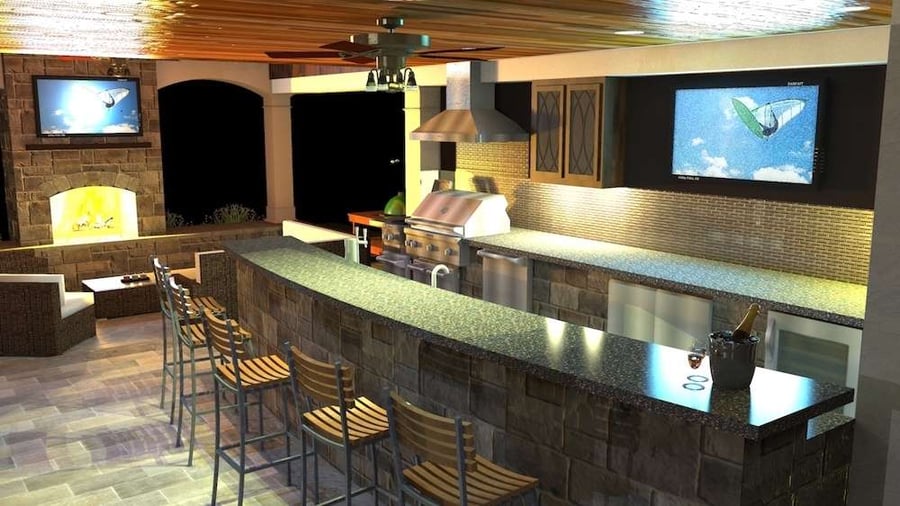 However, if your outdoor kitchen is located just outside your home, maybe it's really no big deal at all to have some items kept inside. This is really a personal preference issue but determining what's going to be most comfortable and functional for your family is important.
Comfort Amenities
There's a whole additional class of amenities that really have nothing to do with cooking but can make your space more comfortable and therefore extend your time there.

You might also want to consider adding an outdoor fireplace to your kitchen which can be enjoyed while you and your guest dine or when you decide to lounge with a drink after dinner. An outdoor fireplace is going to throw both light and heat making your space even more cozy both in the evening hours but also in cooler months when you might not typically have spent time outside.

If heat is a primary concern so that you can spend time in your space in the fall or winter (or even on cool spring or summer nights), then you might also think about infrared heaters that can be added to keep the outdoor kitchen warm when the air is cold.

On the flipside, an outdoor ceiling fan can also make your kitchen more comfortable by providing a nice breeze on hot days. It also has the added benefit of helping to keep bugs away.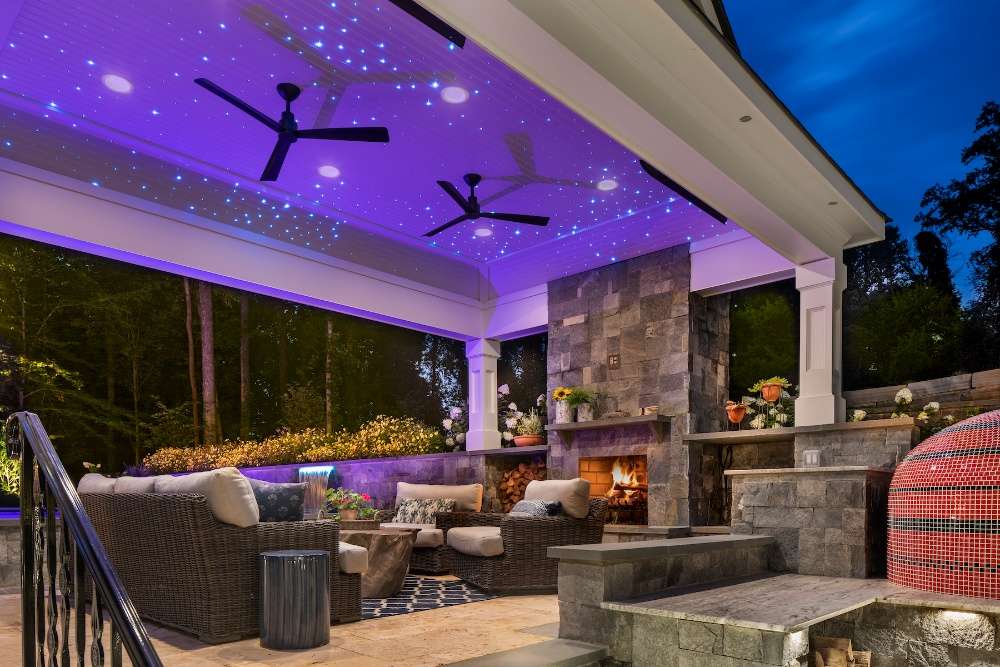 Audio/visual components like surround-sound audio or an outdoor television can also enhance the space. And outdoor lighting can ensure that your kitchen is being fully utilized even after the sun goes down.

These types of amenities have a direct link to the cost of an outdoor kitchen. If you're going as far as covering the outdoor kitchen with a roof, then chances are, you want to maximize your time there. These "comfort amenities" will help you to do just that.
3. What Materials Best Suit My Style and Preferences?
When it comes to outdoor kitchen designs, the materials that you choose for the space is another important consideration. In terms of the flooring or any vertical structures such as the base of your grill or a fireplace, we believe that natural stone is a superior product and there is none like it.

How the natural stone is laid out in your outdoor kitchen is a personal preference decision. We have created all sorts of interesting patterns and designs to help express the individuality of each of our clients. We can blend your ideas and preferences with our expertise to create a design that is truly your own.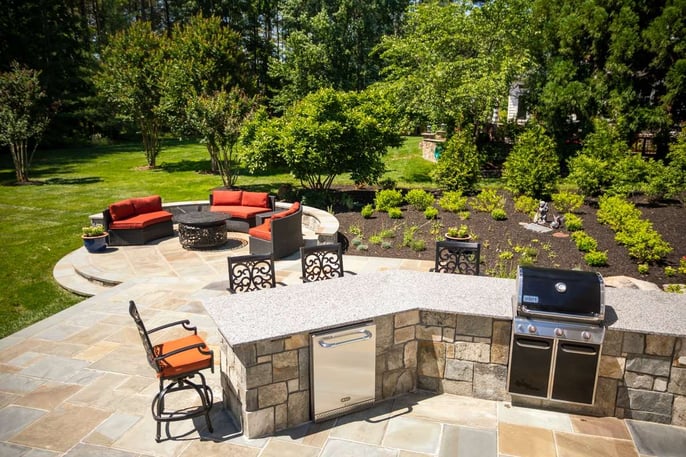 Similarly, as far as a countertop materials, granite is definitely your best choice due to its beauty and durability. You definitely need a countertop choice that is going to hold up to the weather conditions and granite is ideal.
There are many wonderful granite options to choose from in terms of the colors and styles. Many homeowners have a good idea of stone preferences but we can help in terms of what might look best. These types of decisions are what helps your outdoor kitchen to be truly unique.
4. What is My Budget for Outdoor Kitchen Cost?
Understanding cost is important in any outdoor living project. It's important to be realistic. While you might have big dreams for your outdoor kitchen, you might also be fully aware that you can't afford everything you want right now.

The cost of a simple outdoor kitchen can start around $10,000 but go upwards from there, depending upon the ways in which you've answered the questions above. As you add amenities, you obviously increase the cost of the outdoor kitchen, just as if you were to re-do an indoor kitchen.

A pavilion is one of the most expensive additions to an outdoor kitchen plan, particularly if you have one with built-in lighting, full electric or gas, and maybe a wall that includes an outdoor fireplace and mounted television. But it is these types of additions that tend to encourage the most use of the kitchen.

It's entirely realistic to have an outdoor kitchen cost from $10,000 to $30,000+.

If your outdoor kitchen budget doesn't allow for everything that you want all at once, then you might also talk about phasing the project.

Phasing is really important because there are some aspects of the project that will need to be installed early on, even if you're just having a simple patio and built-in grill at first. For instance, installing footers for a future pavilion or running gas lines for a future fireplace needs to be done early on to prevent digging up the patio later.

Working with a landscape designer that offers 3D design is valuable when it comes to phasing a large-scale project. You'll want to develop a master plan that ensures each phase of the total design looks complete the way it is. After all, even if you plan to add more features down the road, you don't want to live with a project that looks partially completed for a few years in the meantime. You want each phase to look fully finished even though you know there's more to come.
Choosing an Outdoor Kitchen Designer & Builder
At Rock Water Farm, we have worked with clients who have wanted a simple outdoor kitchen and those who have wanted a complex outdoor kitchen with every single bell and whistle there is. And of course, we've worked with clients who have wanted to phase their project—so it started out simple and grew in time.

No matter what category you fall into, when it comes to something as valuable as your outdoor kitchen plans, the last thing that you want is to leave them to chance.

You want to be able to feel fully confident that your ideas are coming to life exactly the way that you want them to. By working with a company that takes your ideas seriously and has the know-how to combine them with their expertise, you'll feel confident that you'll end up with the finished project you want.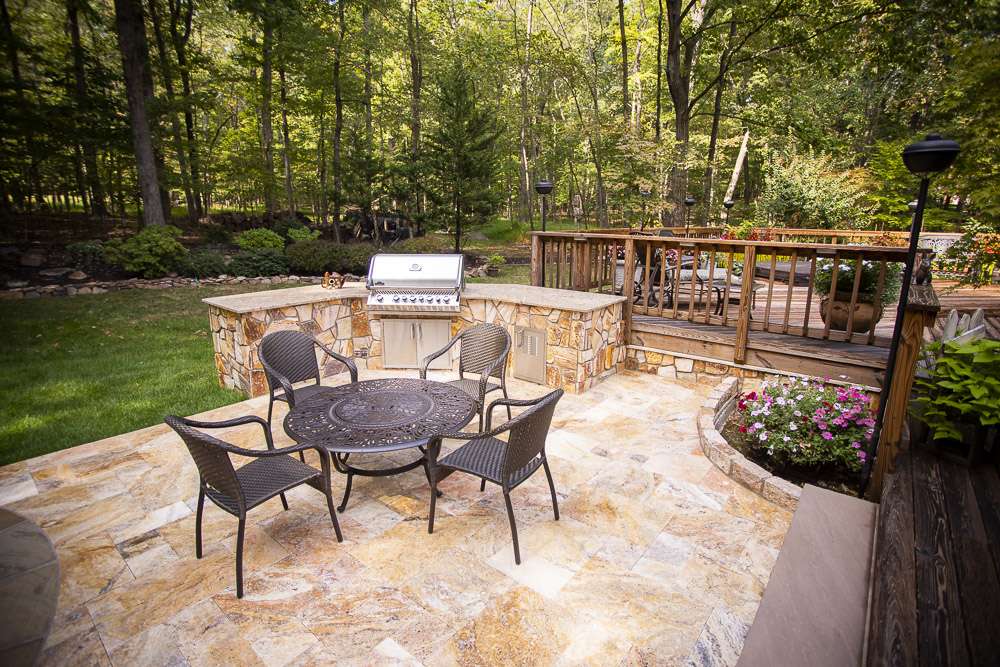 Unfortunately, not all companies are going to take the time to really dig into the process like this. They won't ask nearly all of these questions because they don't really care about getting every single detail the way you want it. Companies like this tend to build cookie-cutter designs. When you look through their portfolio, all of their kitchens (and other projects) look pretty much the same.

But you are unique and your outdoor kitchen design should be, too.

You'll find that Rock Water Farm is incredibly detail-oriented because we know you deserve to have a truly original kitchen to suit your outdoor space. If we're this detail oriented in the preliminary design phase, you can rest assured that we'll be meticulous in every step of the process. In the end, that adds up to peace of mind that you're investing wisely.

If you'd like to talk about adding an outdoor kitchen and all the amenities to your Great Falls, Ashburn, or Leesburg, VA backyard, talk to an expert, choose a solution that rocks, and then get ready to have the kitchen of your dreams take shape.