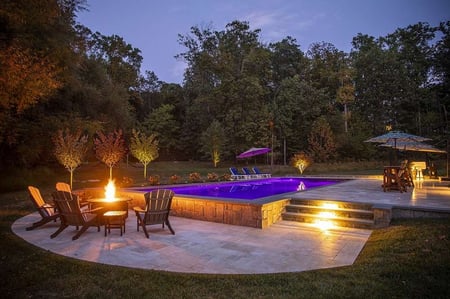 Picture this—the sun is setting and your property is beginning to get dark. In perfect timing, your landscape lighting starts to come on with beautifully lit and strategic uplighting on trees, just the right amount of light to illuminate walkways and stairs, and beautiful accent lighting on the architecture of your home.
Adding landscape lighting is an amazing way to transform your property in the evening hours. But it does more than add aesthetic appeal. Professionally installed landscape lighting has a lot of benefits worth considering.
We've rounded up some ideas to keep in mind as you consider adding landscape lighting to your Great Falls, Ashburn, or Leesburg, VA property.
1. Landscape Lighting Increases Safety and Security
This one might be somewhat of a no-brainer but it's an important point that can't be missed. Adding landscape lighting is significantly beneficial when it comes to enhancing the safety and security of your property.
When it comes to safety, landscape lighting can be incredibly helpful in reducing trip and fall accidents. By lighting up walkways and stairs, you can make your outdoor spaces safer to navigate.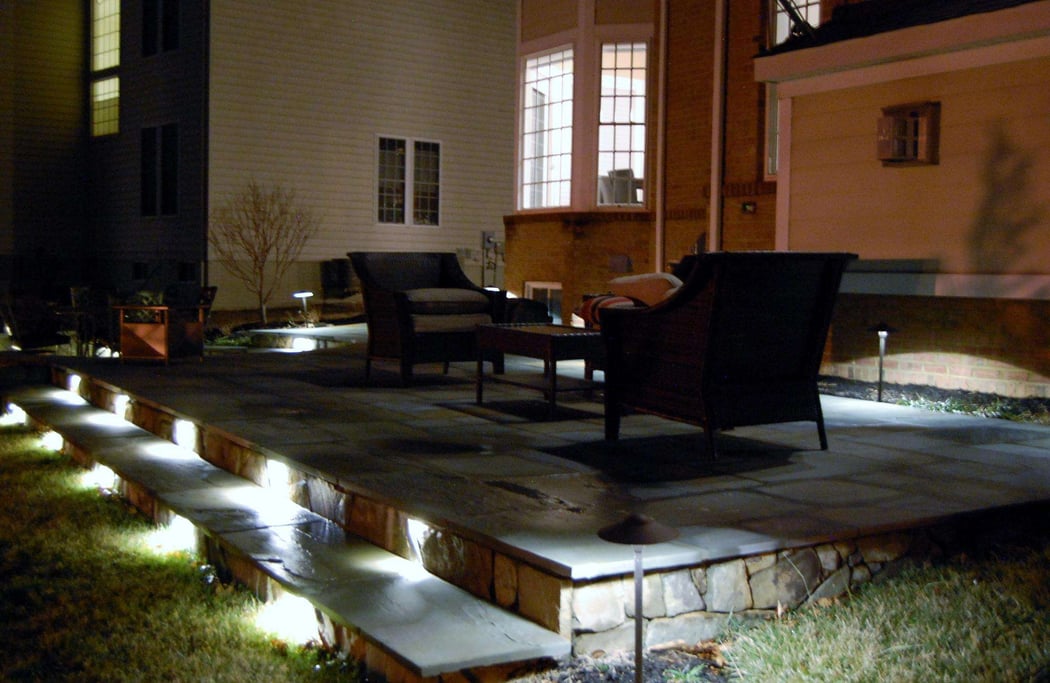 Similarly, lighting can be thoughtfully placed in a way that your walkways safely guide people where they want to go (and light up anything that could unexpectedly be in their path). The same goes for lighting up a driveway. Difficult-to-navigate driveways can especially benefit from proper lighting.
In terms of security, home break-ins remain the number one property concern in America. There's no question that a well-lit home is less of a target than a poorly lit one. Most thieves are going to simply move on to an easier target.
Because lights can also be programmed to come on automatically (and/or be operated from a mobile device), this can also play a dramatic role in increasing security while you're traveling or just out for an evening.
2. Landscape Lighting Extends Your Outdoor Living Space
The functionality of landscape lighting is a major benefit. So often landscape lighting is thought of in terms of the front yard, and it's certainly very important there, but it can also play such an essential role in your outdoor living space. With the proper lighting you can truly enjoy your outdoor space to the fullest, even when the sun goes down.
Of course, we're talking about so much more than a few spotlights that practically blind your guests. What you really want is strategically installed lighting that is customized to your specific functional needs.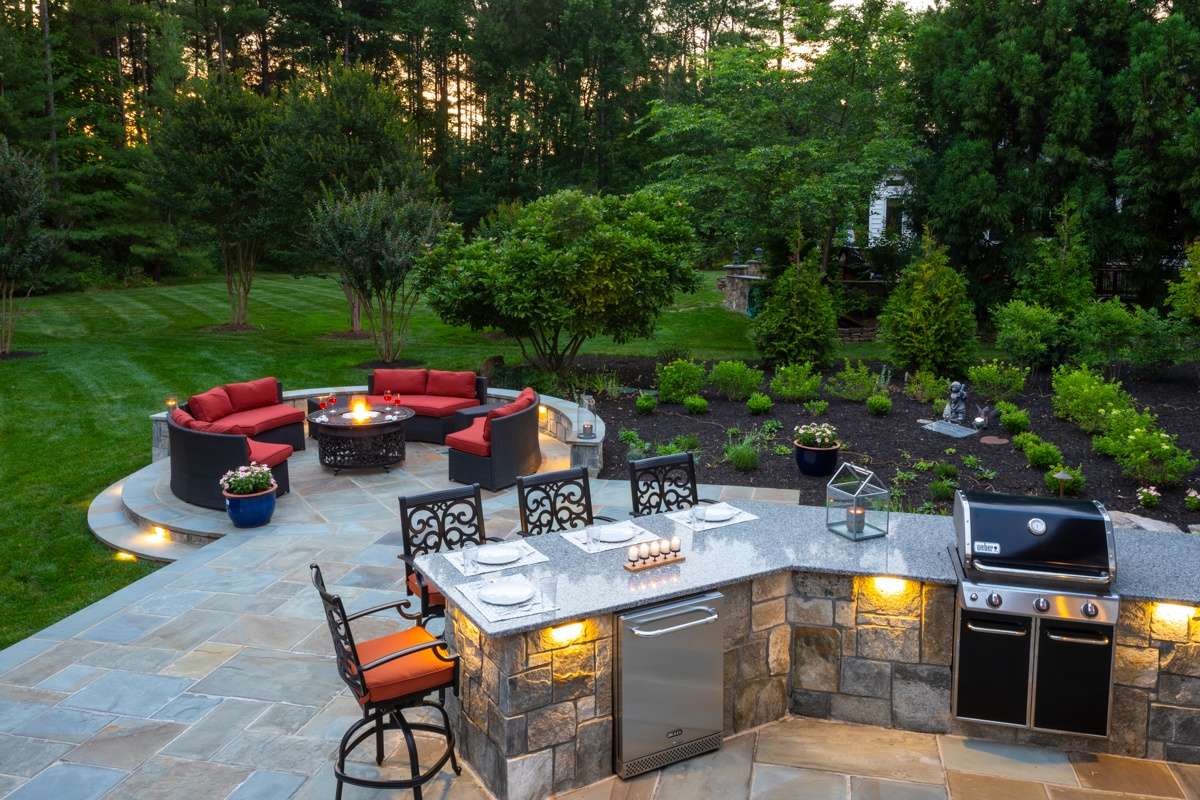 For instance, do you have drawers in your outdoor kitchen that you might be looking through in the evening hours? You don't want to be rummaging through without being able to see! Do you have kitchen counters or bar areas that could benefit from underneath cap lighting? Do you want to make sure that your pool area is lit up so that you can enjoy night swims without being blinded by an obnoxious spotlight?
These are just some examples of some specific ways in which the right landscape lighting design can help you to get the maximum use and enjoyment out of your space.
3. Your Landscape Lighting Can Be Controlled Remotely
With so many homeowners moving toward automation it's no surprise that people want to be able to control their outdoor lights from a mobile device as well. The new systems can definitely be set up this way and people love the convenience and the added security that it offers. As we mentioned, you can turn your lights off and on even when you're not home.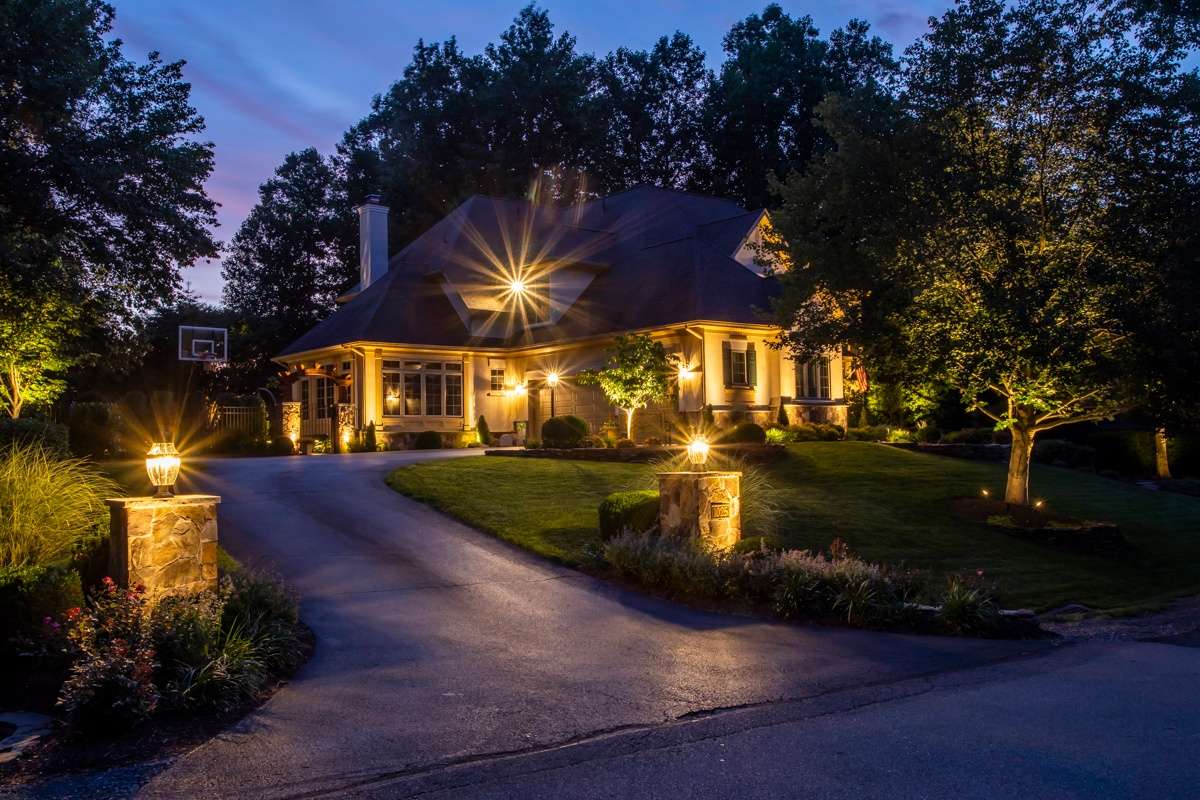 But there's also a customization benefit to consider. You can even have your outdoor lighting system setup to operate using pre-programmed settings. You might have a "party setting" in which all of the lights come on around the entire property. But you might also have a "quiet time" setting when you're just looking for some subtle ambiance while relaxing outside in the evening hours.Maybe you want an area of your property lit up while you're enjoying meals outdoors but you want to create another zone that's just for outdoor swimming. You can pre-program all of these different settings to ensure that your lighting is catering to your exact needs no matter how you're spending your time outdoors.
4. With the Right Lighting You Can Boost Privacy
Although you might be inclined to assume that lighting reduces your privacy (in that you might think people can now see on to your property at night because it's lit up), when installed properly, enhanced privacy can be achieved with certain lighting techniques.
It all comes down to the way that lights are situated in the landscape lighting design.
Because you cannot see light through light, we will utilize strategic uplighting of a tree to generate nighttime privacy. When we work with a client who has a neighbor's property really close to them, we'll uplight some trees that will make it impossible to see past them.
5. The Aesthetic Opportunities are Endless
Chances are, you've seen beautifully lit properties and you have at least some understanding of the way in which thoughtfully placed lights can enhance the aesthetic appeal of a space. There is an element of artistic design to landscape lighting and therefore there's a huge difference between lighting laid out by a professional and a DIY lighting project.
But the lighting possibilities in terms of boosting aesthetics are likely more vast than you might have realized. There are so many lighting strategies and techniques that can be employed by a pro.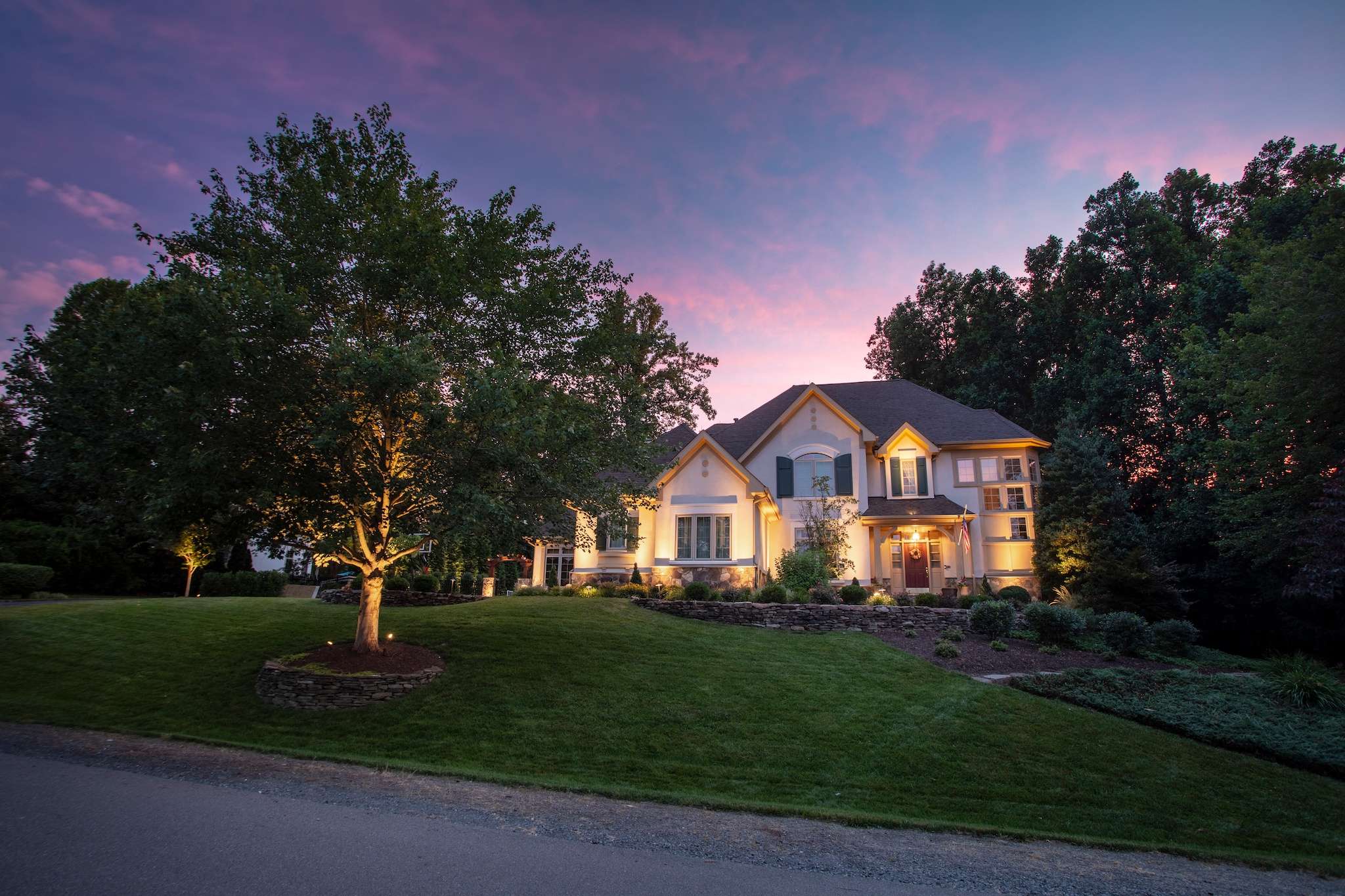 You might be familiar with uplighting trees (using grounded lights to cast light directed upwards at the trunk or canopy for an interesting look). But you might not realize that we can also utilize LED colored lights to enhance that appeal. For instance, we might uplight a Japanese Maple in a soft pink light to create an absolutely stunning effect.
We can also use LED color-changing lights that can be operated from a smart device. This could allow you to light your home up in different ways for different occasions or holidays. It's a unique way to make your home stand out.
Other artistic lighting techniques include silhouetting or shadowing, both of which use strategically placed lights to create really unique effects. Another one is moonlighting. To create this effect, lights are placed in a tree and aimed downward, simulating a look and feel of the moon shining down. It's just another unique way to light a property and can be a unique method to illuminate a walkway without pathlights or to downlight a patio. With this technique, the leaves and branches of the tree cast interesting shadows adding even more aesthetic appeal.
6. The Quality of Professional Lighting is Far Superior
We've already touched upon the fact that professional lighting looks better and it's easy to notice a difference. But the truth is, a professional is not only going to be better from a landscape lighting design perspective but they're also going to utilize higher quality materials. If we're being blunt, the lighting materials that you can buy at a big box store are junk. They're not going to hold up. That's why they're so cheap.
With a pro, you want to get higher quality fixtures and LED bulbs. LED is the latest lighting technology and while it costs a little bit more upfront, the benefits far outweigh the added cost. Because LED outperforms old landscape lighting, in the long-run, you'll actually save money on your electricity bills and maintenance expenses.
7. The Installation is Better, Too
The quality of the lighting fixtures and bulbs is important as is the design, but the actual installation work is also worth mentioning. One of the challenging aspects of installing landscape lighting in Great Falls, Ashburn, or Leesburg, VA is working with our clay soils. You want to dig deep enough to bury the wire or else it's going to get dug up and ruined the first time you have your lawn aerated—and that's a huge headache.
Installing just the right number of lights (not too few or too many) is also important. That's part of the design aspect and it does take an understanding of how much light is needed. Most of the time, homeowners overdo it on the number of lights that they think they need. But it's always best to start with a "less is more" concept and add as needed. Ending up with too many lights takes away from the beauty that landscape lighting can achieve.
8. The Best Results Come from the Best Landscape Lighting Companies
As you consider a landscape lighting project for your Northern Virginia home, it's important to recognize that your choice amongst landscape lighting companies is going to be the difference between getting the professional results that you're after or ending up with a project that falls short of your expectations.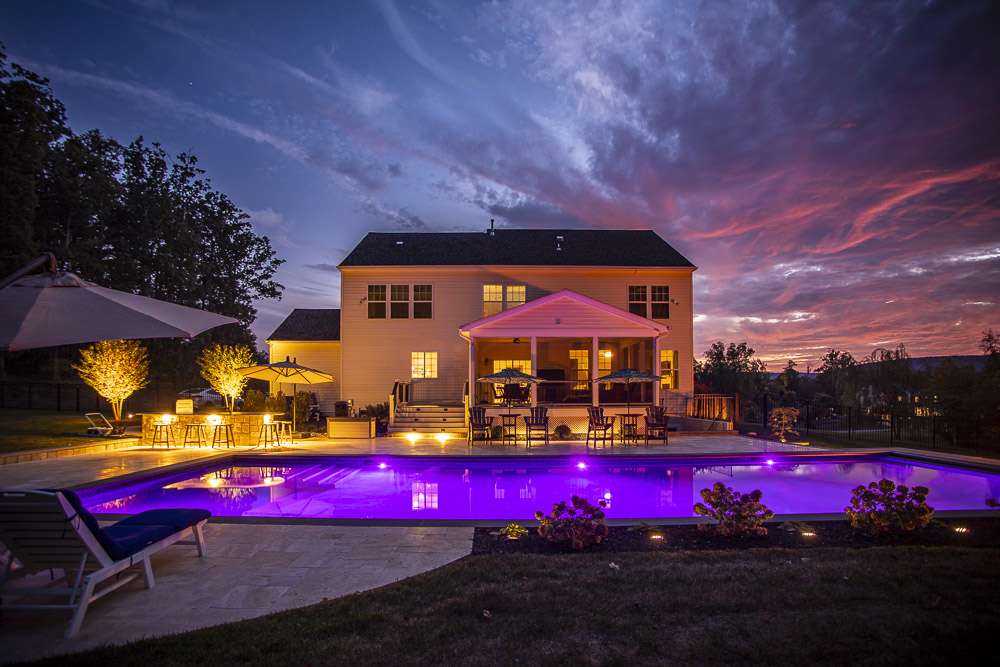 After all, hiring a pro is not a guarantee that they'll have the experience or the know-how to create a gorgeous landscape lighting project.
Some people automatically assume an electrician is the right choice for an outdoor lighting project. But the truth is, a lot of electricians are much more accustomed to working inside of the home, and outdoor lighting is entirely different. You want to choose a landscape company with outdoor lighting experience.
But even if your choice there should be selective. Keep in mind that not all landscapers are well-versed in landscape lighting. They may have installed a few small projects, but are not true experts in working with landscape lighting design. You want to find someone who has an impressive portfolio to back up their work. The last thing that you want is to be that company's "first big job." You don't want to be their guinea pig on honing their skill and beefing up their portfolio.
Making a Wise Investment in Landscape Lighting
High quality, professionally installed landscape lighting can be a substantial investment. But we also believe it's one that can pay off in many ways. That's because the right landscape lighting can be a matter of whether your space is functionally usable in the evening hours, or not. It can also be the difference between a property that is safe and secure and one that is dark and posing trip and fall hazards or remains a potential target to theft. Plus, you know that beautiful landscape lighting can make your property stand out in an aesthetically pleasing way. It can boost evening curb appeal and light your home up in the most interesting and unique ways.
With all of these benefits, it's clear to see that there is a great return (on investment and on enjoyment) with landscape lighting.
When you work with a qualified landscape lighting professional, you gain peace of mind that these benefits are going to be achieved. It is a night and day difference between a home that was professionally lit and one that was done by an unskilled professional or even a DIY approach. If you want the best for your outdoor space, then be sure not to cut corners or hire someone who is not up to the job. You deserve more than that.
Are you ready to find a great landscape lighting company in Great Falls, Ashburn, or Leesburg, VA that will help achieve these benefits? If so, talk to an expert, choose a solution that rocks, and get ready to see your property shine.