Posted by

Todd Thomasson on Sep 21, 2023 4:26:43 PM
If you're thinking about adding an outdoor kitchen by a pool area, you might be in search of some ideas.

We think it's wonderful that you want to maximize your time outside by also being able to cook there.

In this article, we've rounded up a bunch of outdoor kitchen ideas with a pool in mind.

If you already have a pool, chances are you want to add a kitchen so that you can spend even more time outside. After all, there's nothing that makes an outdoor pool party even more fun than food!

And even if you're starting from scratch and adding both an outdoor kitchen and a pool at the same time, you still want to make sure you're making smart decisions. Soon you're going to be spending so much time outdoors!

But first, here are some considerations.
#1: An Outdoor Kitchen by the Pool Should Have Good Views
An important consideration when thinking about a pool with an outdoor kitchen is the views. You want to be able to see the pool area from the kitchen for a couple of reasons.

For one, it can be a matter of safety. If you have children swimming in the pool, you still want to be able to keep a watchful eye on them even when you're cooking. This will allow the kids to still be able to swim even when you're preparing lunch or dinner.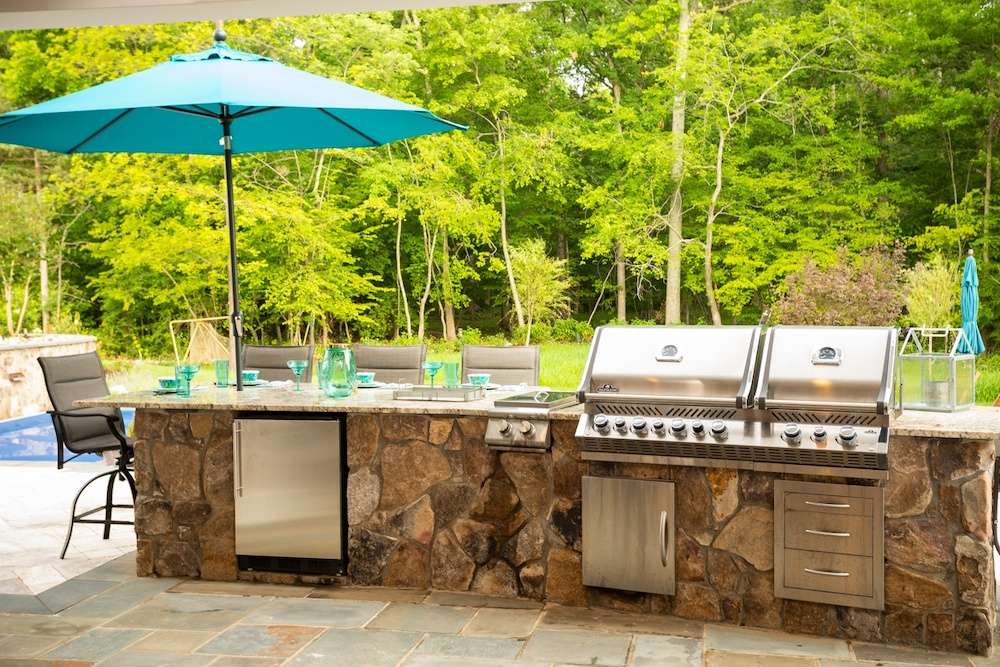 But it's also a matter of enjoyment. People add a pool to their yard because it's enjoyable. Part of that enjoyment is being able to view the pool. It's enjoyable to watch your children, friends, and family making memories. And suddenly cooking burgers on the grill has become a lot more enjoyable, too.

This is why carefully considering the placement of your outdoor kitchen is important. You most likely want everything set up in a way that you'll be able to see the pool from the cooking area.

If you're adding a kitchen underneath a pavilion, you want to make sure that there aren't structures in your way, such as a wall or a beam. These are all considerations that a landscape designer will make when designing your outdoor kitchen by the pool.
#2: Get Out of the Splash Zone!
While you want to be able to see the pool while cooking in your outdoor kitchen, you don't want the grill to constantly get splashed, either.

This is another important spatial consideration. It's a matter of being far enough back from the pool that the kitchen isn't getting wet but also close enough that you can keep a watchful eye.
Sometimes a U-shaped or wraparound kitchen can be a helpful solution. Or, if that doesn't work with your design, it may simply be a matter of installing the cooking area in a precise location where cannonballs won't interfere with your burger prep!

With careful consideration, your landscape designer can help ensure that you'll be able to cook without any splash interference.
#3: An Outdoor Kitchen by the Pool Might Include a Dining Space
Another consideration is whether you want to have your dining area as an immediate part of your outdoor kitchen or if it's going to be a separate space. A lot of this comes down to personal preference. But you also want to make sure that the spaces flow smoothly.

If you're adding a covered pavilion, then your cooking and eating space will both likely be housed underneath. But sometimes homeowners do want to add a separate patio area for dining, perhaps just off of the main cooking area.
You'll want to consider how easy it will be to serve food, too. Even if you have a separate dining area, you probably don't want it so far away that it's inconvenient to serve everyone.

Another popular pool with an outdoor kitchen idea is to have a counter spot where your family and friends can sit while the chef cooks. This is a great way to continue to be able to socialize even while you are preparing dinner.

The people sitting at the counter likely also want to be able to look at the pool, so this is another spatial consideration. A wraparound counter could be the solution as it will allow seats that can still provide a view of the pool.
#4: An Outdoor Kitchen by the Pool Should Have All the Amenities
If your plan is to maximize time outside and avoid having to go in and out for items that might be missing from the kitchen, then you'll want to think about building a kitchen that has all the important amenities.

There are obviously a lot of amenities that can be added to an outdoor kitchen. These are items that are best to plan for in advance of your official design and build as they impact the overall materials used as well as the layout of the space.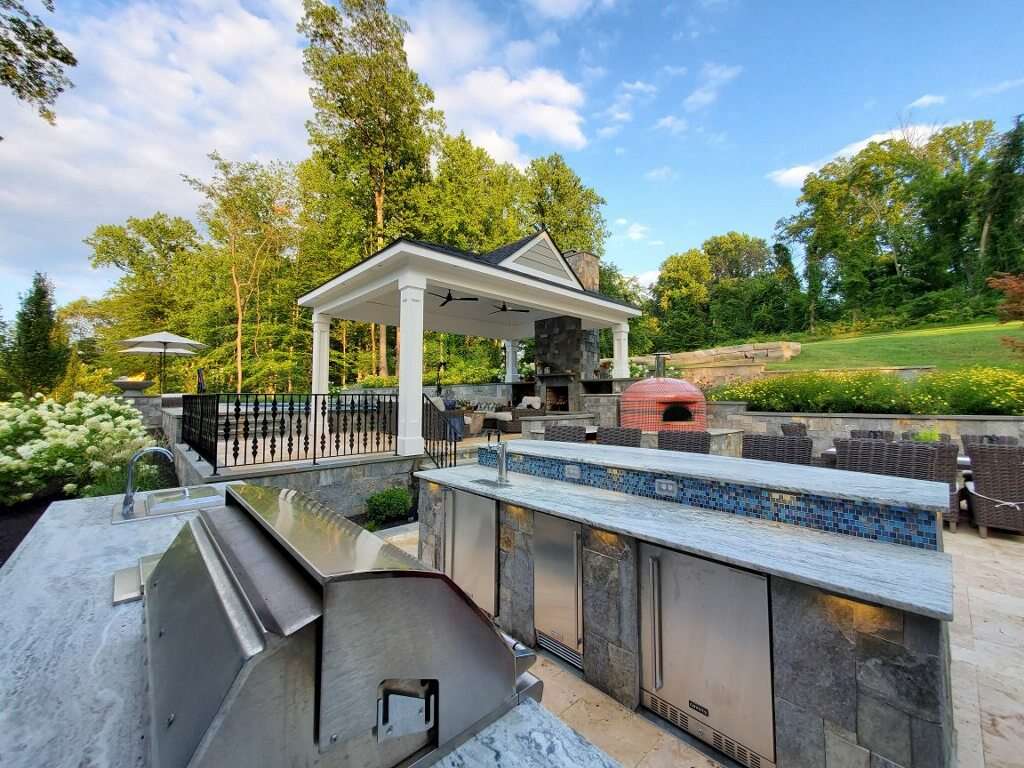 An experienced outdoor kitchen designer will have a good understanding of all the possible amenities available and will be able to make suggestions based on your wants and needs.

Here are some considerations.
Refrigeration for cold drinks
Running water (you'll want to wash your hands after handling raw meat!)
An automatic dishwasher
Cabinets to store plates, utensils, and paper goods
Kegerator
Built-in trash
Cooking appliances (grill, power burner, pizza oven, smoker, etc.)
Infrared heaters
Ceiling fans
Pergola or pavilion for shade/cover
Determining which amenities matter most has a lot to do with how you'll be using the space. If you envision entertaining family and friends, you might need more amenities than if you expect to mostly just spend time there with your immediate family.
#5: Add Audio/Visual Components that Can Be Enjoyed by Everyone
An outdoor kitchen by the pool might also have audio/visual additions that can be enjoyed by both the pool swimmers and the kitchen dwellers.

For instance, some homeowners might add an outdoor television that can be seen both by the chef cooking the burgers as well as those swimming in the pool (or sitting in the spa). Then, you can have the big game on and everyone can enjoy it.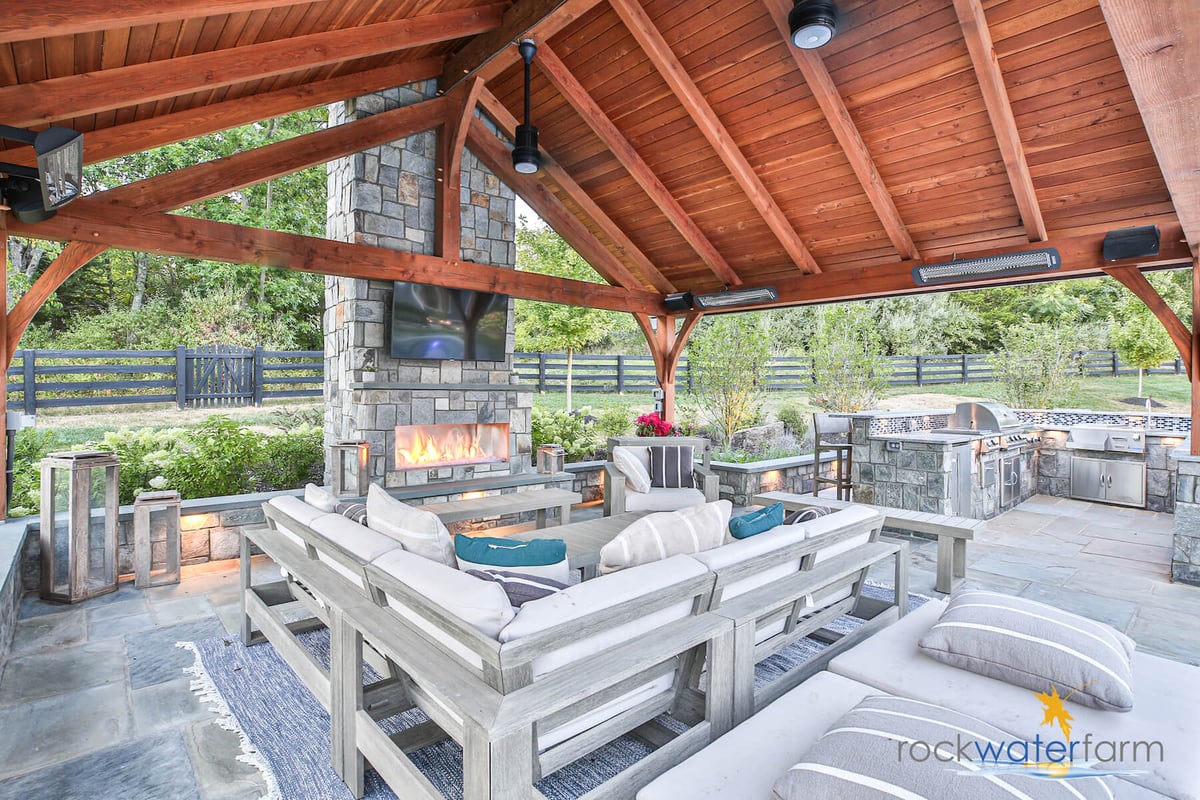 Incorporating outdoor speakers into your space could also allow you to have surround sound for your television so that it can be heard throughout the various spaces. This means that everyone can listen to the game even if they don't see the TV.

You can also use your surround sound to play music in your outdoor space. Nothing quite enhances the outdoor lounge experience like having some of your favorite tunes playing.
Making a Wise Choice for Landscape Design and Installation in Northern Virginia
Getting the most out of your outdoor kitchen and pool comes down to choosing the best landscape design/build firm for the work.

A spectacular space that incorporates many of these ideas is not something that can be built by any ordinary contractor. When details like the "view" or the long list of amenities are overlooked, your space can fall short of what it could have been.

It's important that you find outdoor kitchen and pool designers who are experienced with designing and building larger projects with a lot of detail.

When you're adding so many different elements to your outdoor kitchen and pool spaces it's critical that they all work together. You want your space to both look and function like it was meant to. After all, a space like this is no small investment. You want to be sure that it's going to come together as you intended.

This can be achieved by choosing the best company for the job. By finding a company that has the experience and the skill to build a project like this, you can feel confident that mistakes will be avoided and that your space will come together in a way that you'll fully enjoy.

While a lot of landscape design companies in Northern Virginia say they build outdoor kitchens, most probably don't focus on custom outdoor kitchen designs. A lot of companies out there use prefabricated kits and slap together the same outdoor kitchen for every client. That's a problem because it doesn't take into account many of the specifics that the homeowner may want or need to make their kitchen ideally suited for them.

On top of that, if you're adding a pool at the same time, you also need to make sure that the company you choose to work with is highly skilled at swimming pool design. Many pool builders out there do not get into building complete outdoor living spaces.

At Rock Water Farm our goal is to build outdoor living projects, like kitchens, swimming pools, and any other additions that you're looking for. These spaces keep you outside and enjoying the outdoors to the fullest.

By working with a company that takes your ideas seriously and has the know-how to combine them with their expertise, you'll feel confident that you'll end up with the finished project you want.

Are you ready to have a property that you are proud of at your Haymarket, Gainesville, or Bristow, VA home? If so, talk to an expert, choose a solution that rocks, and get ready to see your dreams begin to take shape!