Posted by

Todd Thomasson on Sep 13, 2019 8:18:35 AM
If you're thinking about installing an inground pool at your Northern Virginia home, then you might be looking at different options. There are a lot of decisions to make, including the type of swimming pool materials.
The last thing that you want to do is make a bad choice when it comes to a project as important as your pool. After all, a pool is a big investment and you want to be happy with the decision you've made for many years to come.
A lot of homeowners get drawn in by the claims made about fiberglass pools such as their supposed faster installation period. But there are fiberglass pool problems that you simply can't ignore.
Ultimately, you must make the decision that is best for you and your family. But we believe it's important that you have the complete picture before making that decision.
A Common Gripe About Fiberglass Pools
If you're thinking about installing a fiberglass pool, then you probably want to know the gripes that homeowners have about them so that you can decide if it's right for you. Even those little details, which might not seem like such a big deal at first, can become annoyances when you think about how much money you've invested into a pool.
One of the biggest gripes that we see have to do with the slippery surface of a fiberglass pool. The fact is, this material can be so slick that pool users can actually slip and fall. This can be a real problem for pool steps, where a slip-and-fall accident can be dangerous. If you take some time to read through the comments on various pool forums online, the slick surface is an issue that is raised a lot.
Fiberglass Pool Installation Concerns
Beyond the slick surface (which is an issue with the material itself), the biggest fiberglass pools problems are actually related to their installation. Due to the fact that fiberglass pools are delivered as a pre-manufactured product, it's important that your contractor follows proper procedure when installing the pool, or the results could be disastrous.
The truth is, digging the hole is the easy part. Once that's completed, the process of backfilling the space around the pool gradually may be the difference between a pool that is properly supported, and one that is not. You've probably seen a fiberglass pool that settled on one end because of improper backfilling.
However, improper installation can be much more problematic than just unappealing settling. If the installation is not performed properly, the results may include everything from pool water circulation due to bad hydraulics to actual walls collapsing because of improper support.
This can lead to incredibly costly repairs if the walls begin to leak. Repairs may require excavation in addition to resurfacing the pool as a whole.
Fiberglass Pool Problems: Lack of Customization
If you can overlook the slickness of the fiberglass pool material and you find a good contractor to install it (so there aren't any installation problems), then these two issues may not be a concern for you.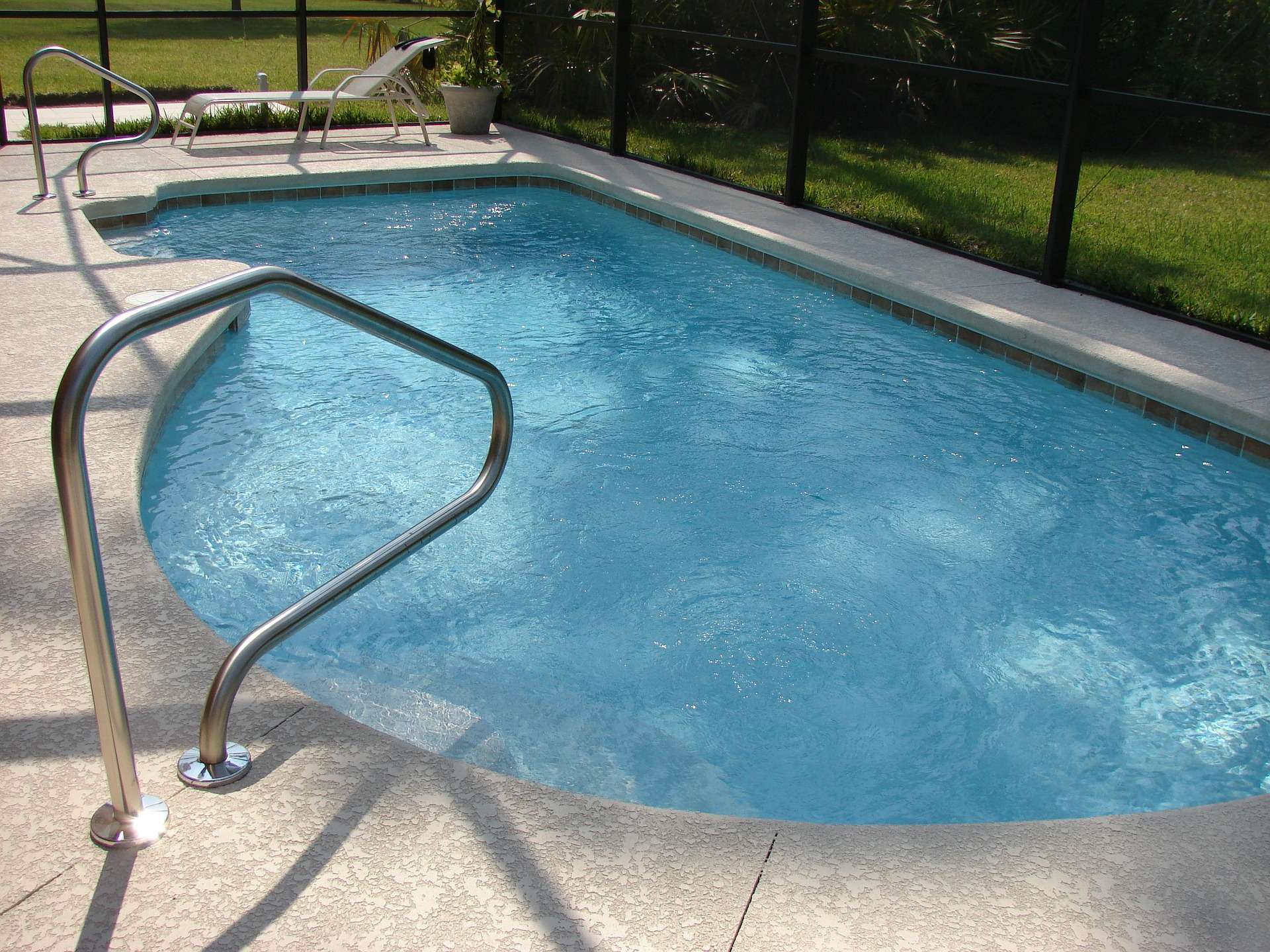 But what we would argue is actually the biggest problem with fiberglass pools is the lack of ability to customize them in any way. When it comes to choosing a pool that suits your unique Northern Virginia home, a cookie-cutter choice just won't do.
Unfortunately, that's exactly what you'll get with a fiberglass pool.
The truth is, you are limited in so many ways. For one, you are limited to what is going to fit on the truck that delivers the pool to your property. That means you can't go extra-large or extra-deep. In fact, fiberglass pools are typically limited to a maximum depth of around four to six feet deep. But what if you wanted an eight-foot deep pool?
You also cannot have the level of customization that you might desire. The idea of "choosing" amongst fiberglass pools is like saying, "you can have option A, B, or C." It's limited in shape to whatever has already been pre-made at the factory. You really can't get more cookie-cutter than that.
As a result, you are also limited when it comes to adding customized features. You can't add a pool bench in a certain spot or a sun shelf exactly where you want it. These types of custom features simply aren't an option with a prefabricated fiberglass pool.
Fiberglass Pools vs. Gunite
With these potential problems in mind, you're probably wondering what your best option might be. We believe that gunite is by far the superior option for some of the very reasons that we've mentioned.
The differences between the two start right from the very beginning, including how they are installed.
Gunite pools use a rebar framework grid (steel reinforcing rods) that is then sprayed with the gunite mixture (a mixture of cement and sand). The gunite will be smoothed out and then set to completely dry before a smooth finish is applied to the rough surface.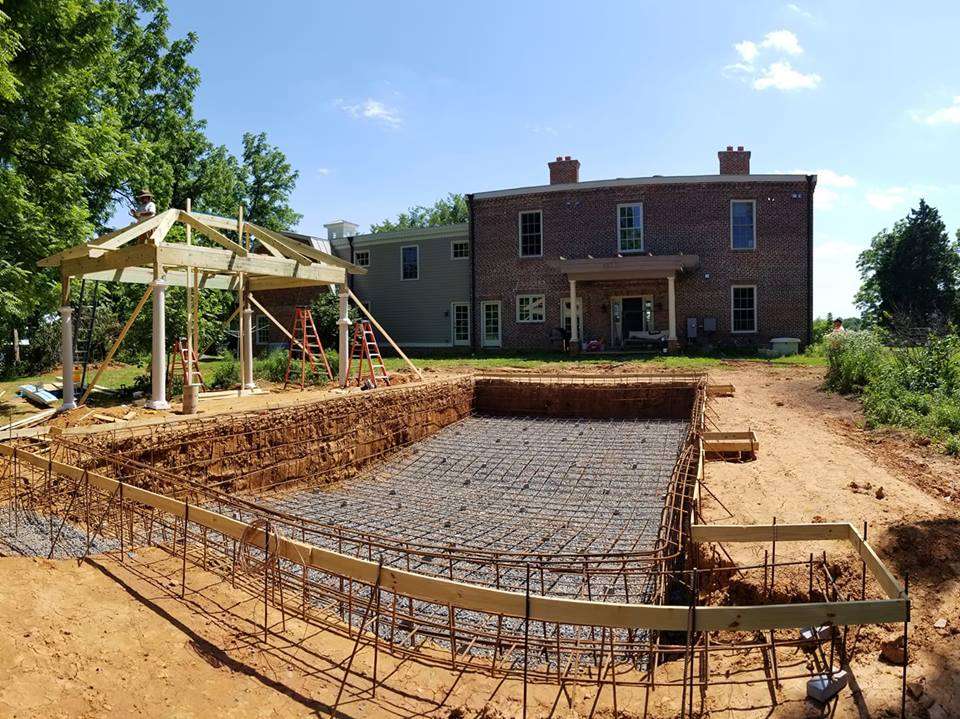 Whereas gunite pool construction takes place on-site, a fiberglass pool is constructed in a factory or warehouse. The process utilizes a mold in which the fiberglass is shaped. It will then be shipped on a truck to your home and installed in the excavated hole.
The fact that your gunite pool is constructed on-site opens up the design possibilities. Instead of having a cookie-cutter molded pool, you can create anything that you desire. That means you can get incredibly creative with the shape and any features that you decide to include such as built-in rock formations or waterfalls. You can add a bench or a sun shelf anywhere that you want it. You are also not limited in colors of finishes.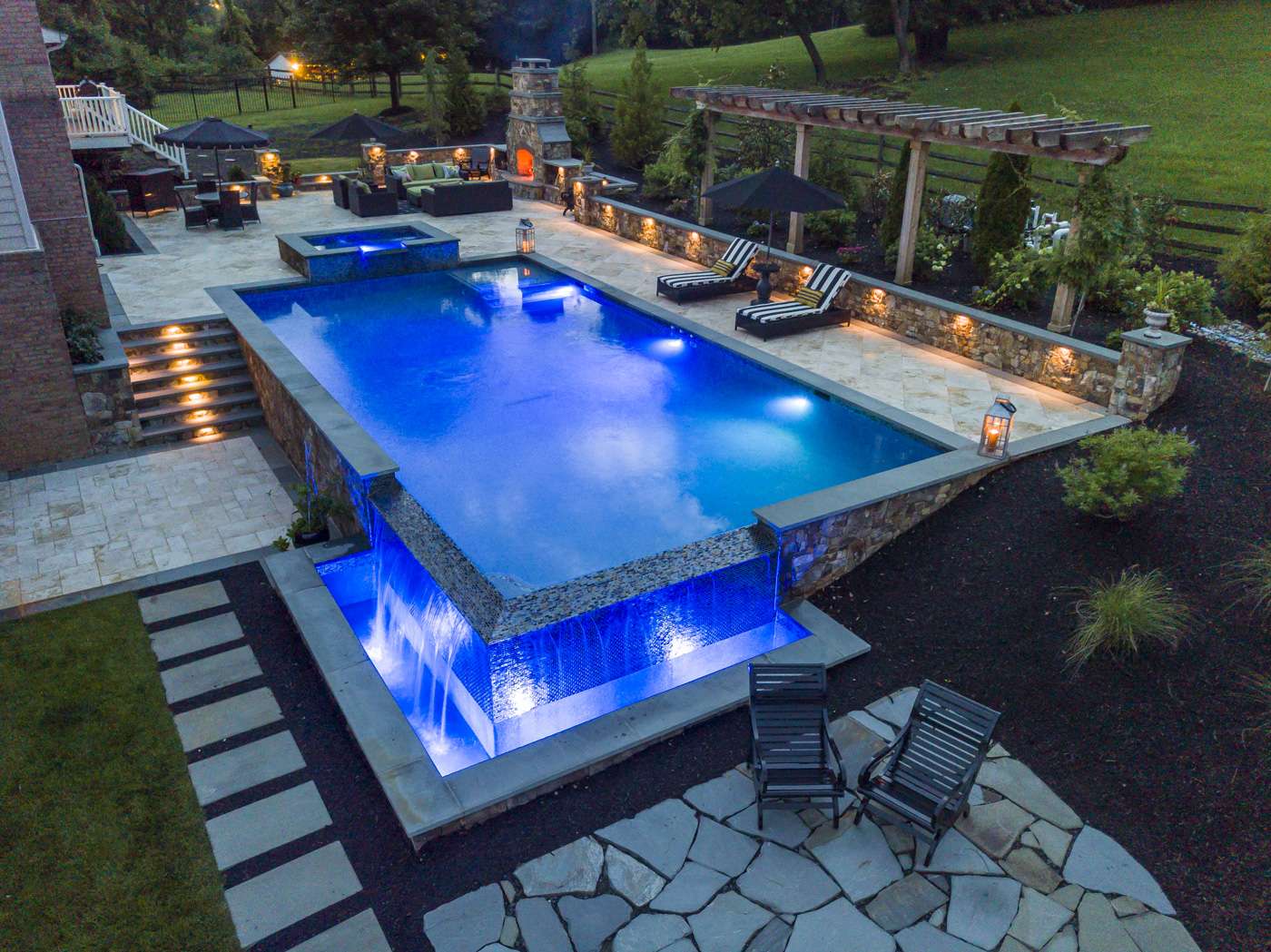 Of course, size is a huge difference as well. At the time that we were writing this, we were working on a big 28 by 50-foot pool, which is huge—but also perfect for this particular property's expansive backyard. Of course, we could never build a pool that big if we were not using gunite. Frankly, a small fiberglass pool in an expansive backyard would just look silly.
Choosing an Experienced Custom Pool Builder
No matter what material you choose, it's important to work with a company that is experienced in that type of installation. While some pool companies choose to offer different types of materials (and therefore different types of installations), we believe in specializing in one type of pool installation that we feel is far superior.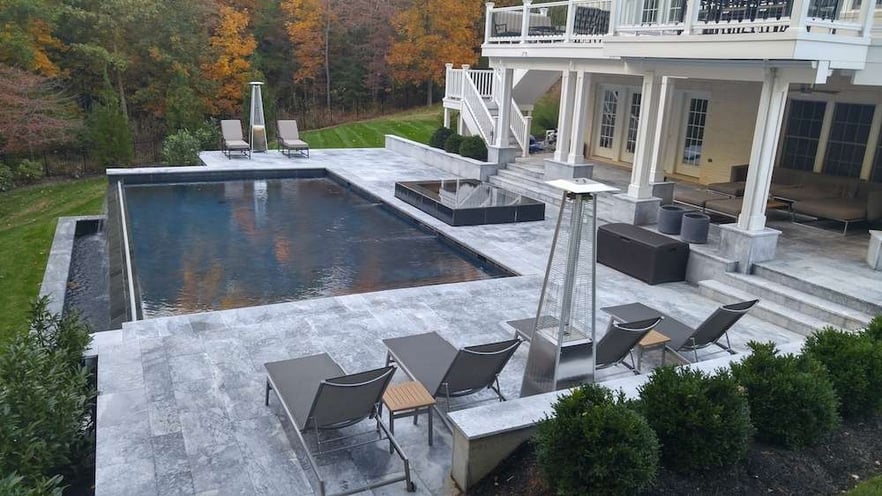 At Rock Water Farm, we solely design and install gunite pools as we believe in creating truly customized backyards—fiberglass pools simply do not allow for this. However, we have worked with homeowners who have already had a fiberglass pool installed. We've performed the work to complete the rest of their space. Even though they may not have a completely custom pool, we have been able to customize the space around it and dramatically improve its overall appearance.
Even so, wouldn't you rather be able to work with one company for everything?
When you choose to work with Rock Water Farm, we can handle not only the pool but also the landscape design, giving you the complete space that you've been dreaming of.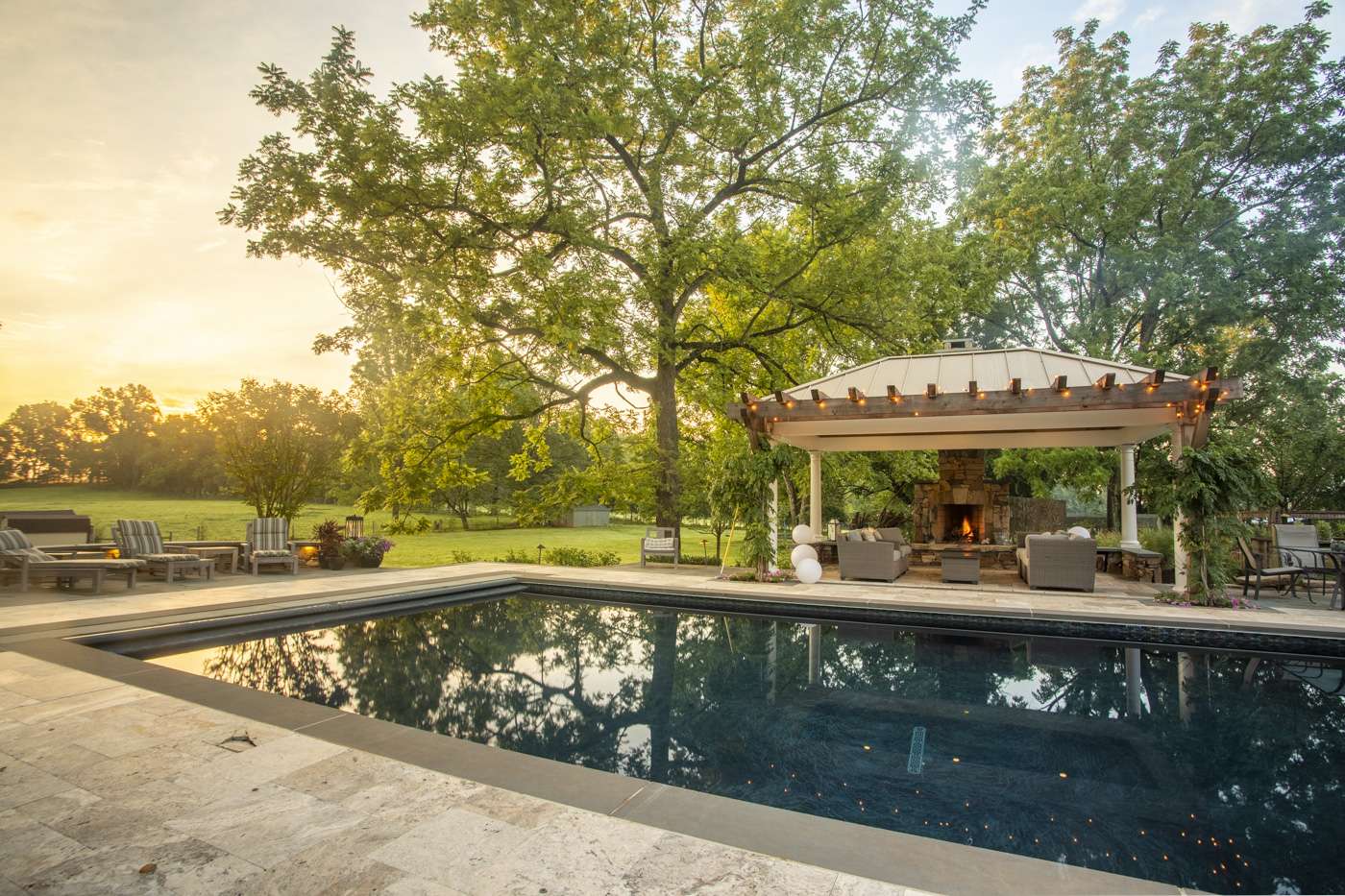 This is an exciting time for you and your family as your research is bringing you one step closer to the pool of your dreams. There's obviously a lot to think about (and a lot of important decisions to make) but putting in the time to ensure that you're making wise choices will pay off when you ultimately wind up with the pool that you truly desire instead of one that falls short.
If you'd like to discuss adding a pool or poolscape to your Ashburn, Aldie, or Leesburg, VA backyard, talk to an expert, choose a solution that rocks, and then get ready to see your dream come to life.
Image sources: fiberglass pool being installed