Posted by

Todd Thomasson on Jul 18, 2022 11:14:17 AM
When it comes to spending time outside, a patio is at the heart of most outdoor living areas. This ultimately becomes a core space where you spend a lot of time—whether it be eating, lounging, cooking, or entertaining.

Of course, a patio by itself is not enough to be a long-term draw. There need to be amenities that help keep people using that space to the fullest.

In this article, we'll talk about some of those backyard patio must-haves that will take your patio to the next level.
Outdoor Patio Features in Northern Virginia
Let's look at some of the top outdoor patio must-haves that will allow you to fully enjoy your space.
1. Patio Fire Features
Fire features definitely add a wow factor and functional enjoyment to your patio. If you're looking for backyard patio must-haves, fire features are likely high on your list.

They can not only increase the entertainment by being a place where you can cozily gather—or maybe roast s'mores—but they also have the functional benefits of adding both heat and light to the outdoor living space at night.

One decision that you'll have to make is fire pit vs. outdoor fireplace, as both have their pros and cons. Ultimately, it comes down to what you are looking to achieve with that space and what your personal wants and needs will be.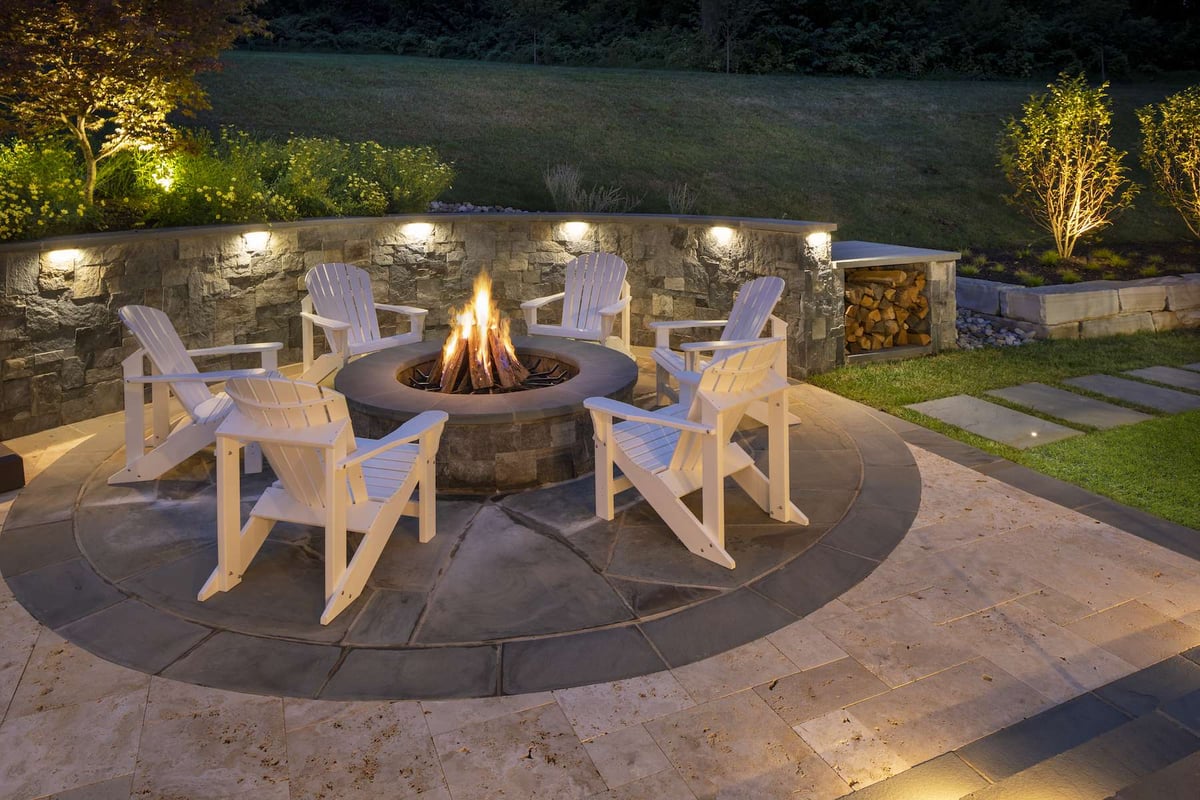 Of course, outdoor fireplaces and fire pits are not your only option. Fire features have come a long way from cheap-looking "tiki torches," and there are other options that you might also want to consider. We have had many customers choose to add fire bowls to pool space, as it adds a significant amount of ambiance.

A gas-powered fire feature like this can be controlled from an app on your smartphone!
2. Outdoor Kitchen
An outdoor kitchen as part of your patio is definitely one way to up the ante of your outdoor experience. With the incorporation of an outdoor kitchen, you can prepare and eat your meals outside.

If you're looking to do as much cooking outside as possible, you might be in want of a "full" kitchen. Even if you add a built-in grill to your outdoor kitchen design, if you're lacking features such as a refrigerator, freezer, ice maker, or even cabinet space to store utensils and other kitchen tools, then you may still find yourself constantly running in and out of the house.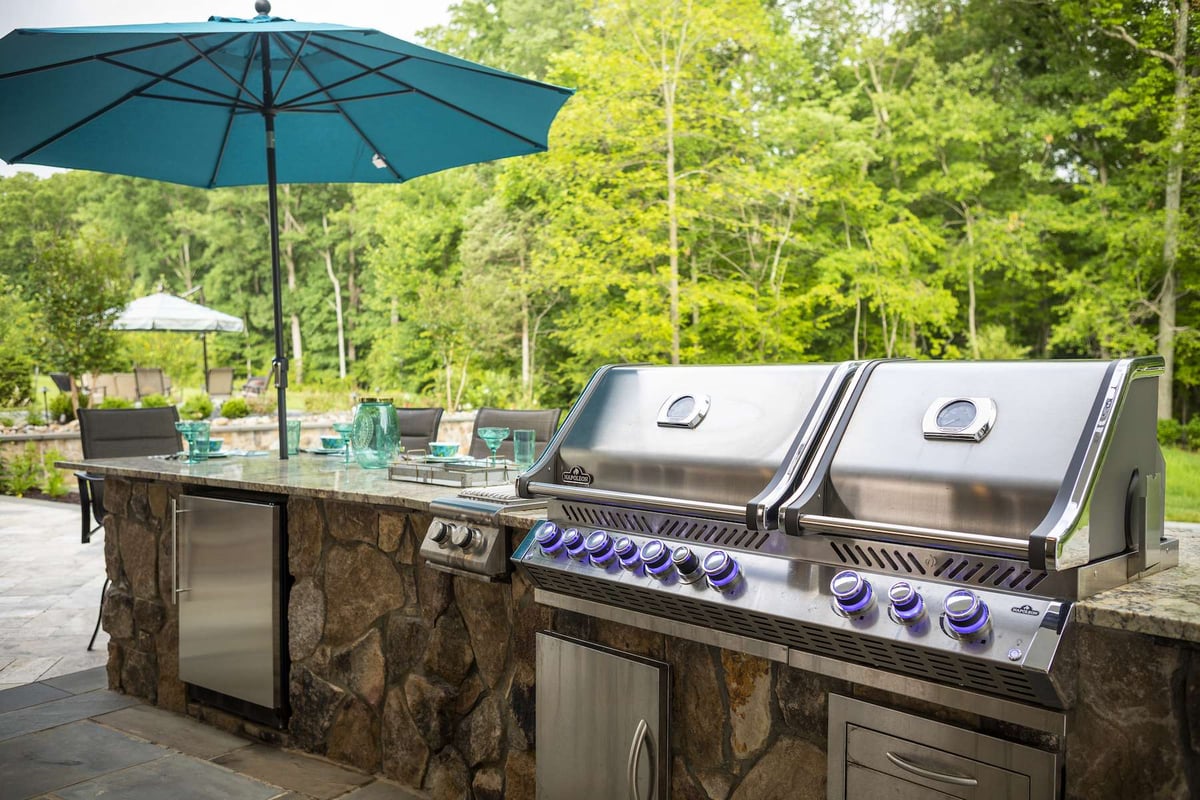 However, by putting everything you'd need in the outdoor kitchen, you can enjoy more time outside without having to leave the space.

Here are some other outdoor kitchen amenities that you might consider if you're looking to maximize the use of your patio area.
An island with seating
Various cooking appliances (smoker, power burner, various grill types)
Dishwasher
Sink
Covered space
3. Outdoor Entertainment Elements
Imagine being able to watch the football or baseball game while cooking your dinner. Or, maybe the kids want to watch a movie while roasting s'mores at the fire pit. When you incorporate audio and visual elements, you can really up the entertainment factor of your patio.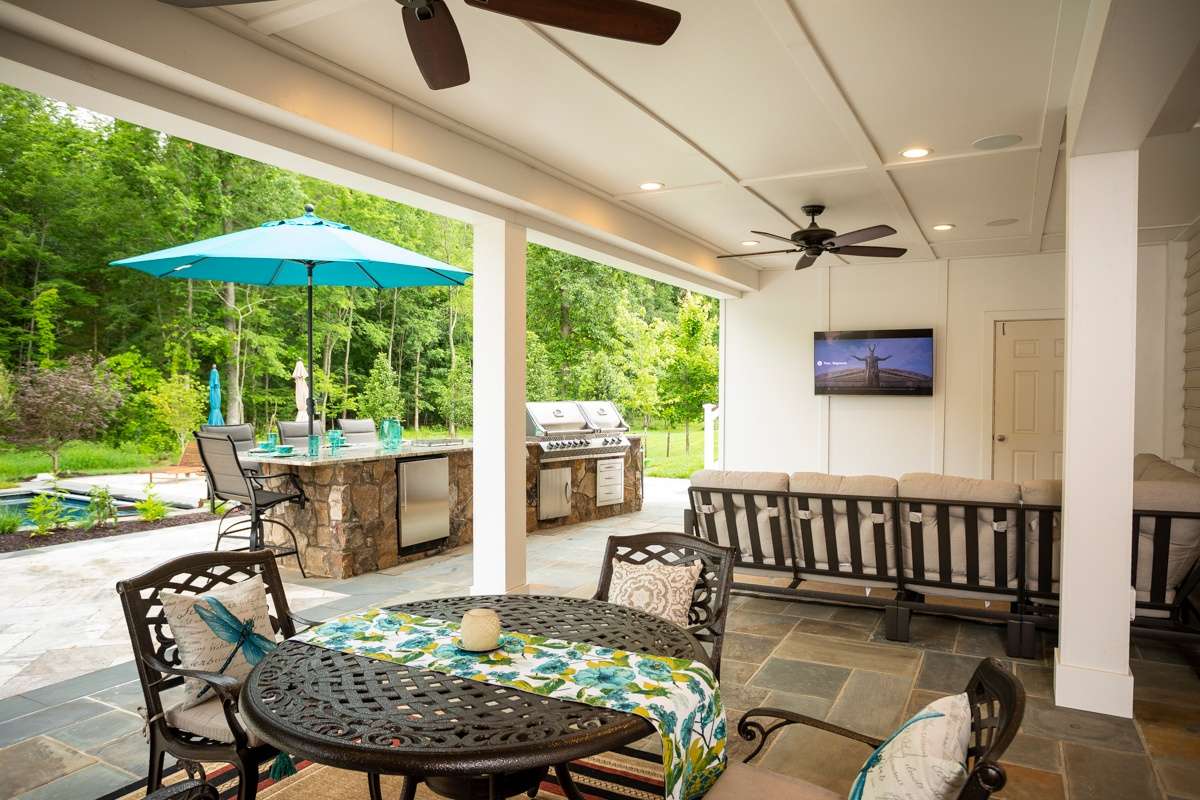 Incorporating outdoor speakers into your space could also allow you to have surround sound for your television or to play music in your outdoor space. Nothing quite enhances the outdoor lounge experience like having some of your favorite tunes playing.
4. Outdoor Lighting
When you incorporate landscape lighting around your patio area, you are able to use that space even after the sun goes down. That's a huge value-add when your goal is likely to spend as much time outside as possible, making this another backyard patio must-have.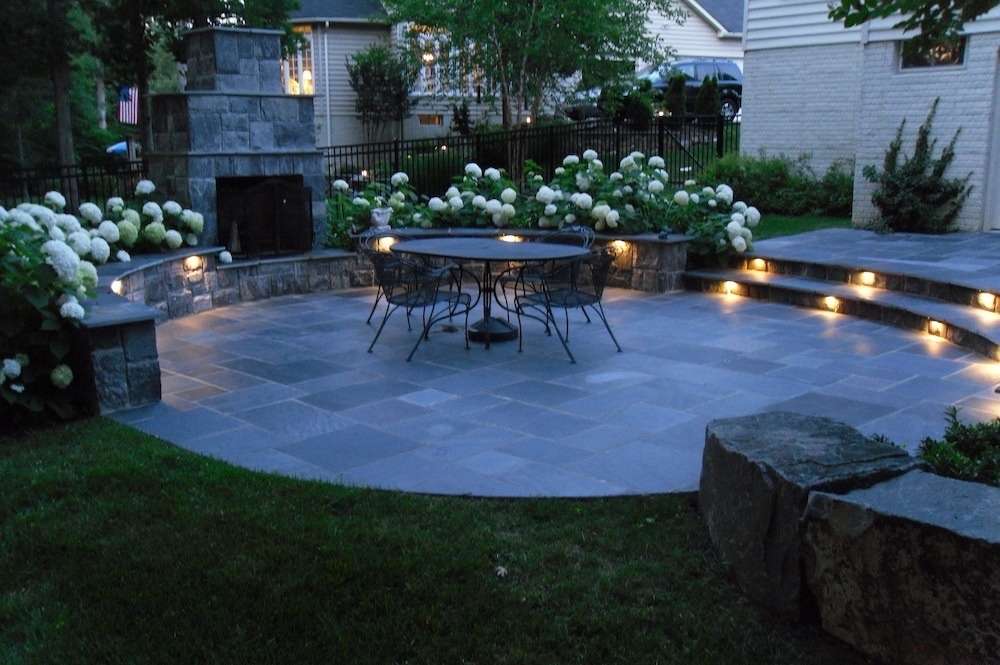 Looking beyond functionality, outdoor lighting is also valuable for the aesthetic appeal it can offer. These days, landscape lighting has come incredibly far. You can take your party to a whole new level with fully automated lighting that can be controlled through an app on your smartphone.
That means you can change lighting setups including brightness and even color! If you're having a special celebration or event you can create theme lighting that would enhance the entire experience. This might include school colors for a graduation party or even team colors to celebrate a win! The possibilities are endless.
5. Amazing Patio Furniture
We can't overlook that outdoor patio must-haves also include your patio furniture. The couches, lounge chairs, love seats, and other furniture elements are really important additions to this space.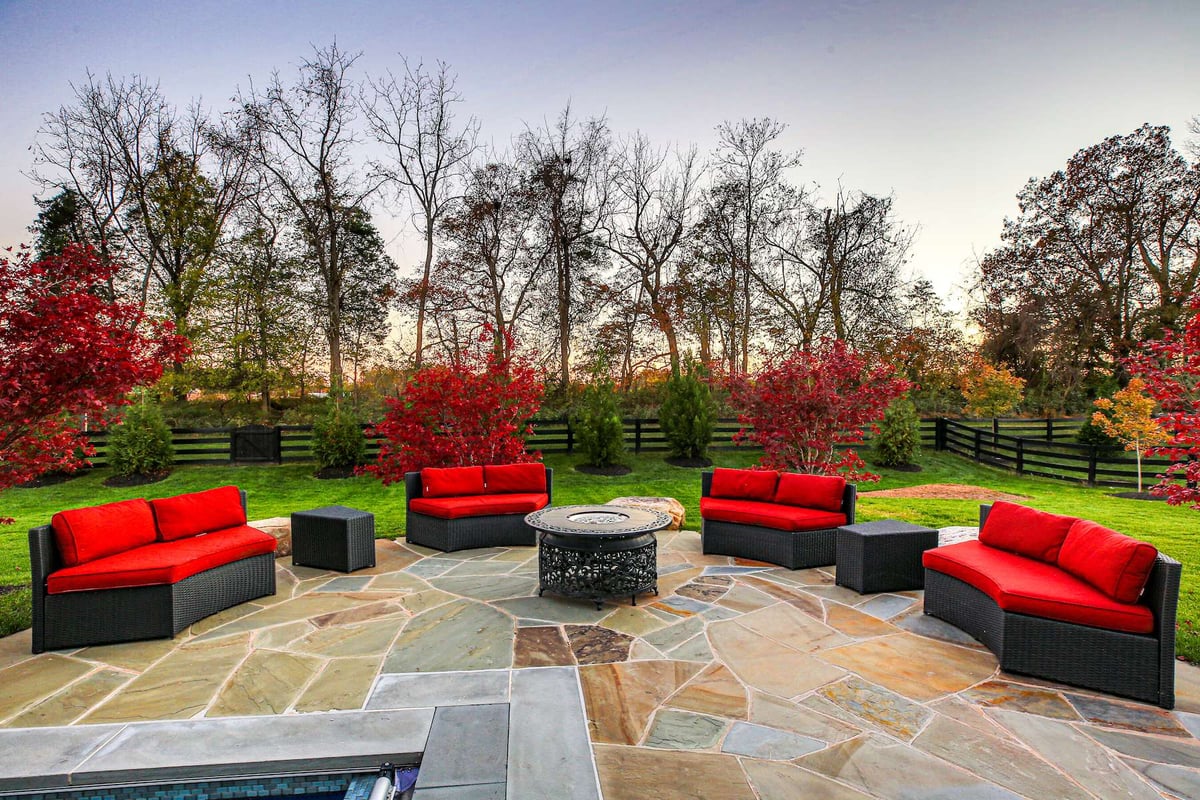 While your landscape designer won't be the one selling you the furniture, they can be involved in what you are planning to incorporate to ensure that the space is designed properly. For instance, if you plan to have a large round table that seats 10 people, you need to make sure that the space will fit that.

The same goes for where you plan to put lounge furniture and other elements. At the end of the day, getting the most out of your patio space means smart choices during the design phase.
Getting All the Right Outdoor Patio Must-Haves with the Right Landscape Designer in Northern Virginia
With the right landscape designer and builder as your partner, you'll be guided to making wise choices that will mean your outdoor living area ends up just the way you want. While a lot of landscaping companies talk about building patios, many do not go to the great length necessary to ensure your satisfaction in the end.

This process should mean that no important details will be afterthoughts and that instead of worrying that you'll be unhappy with your space in the end, you'll be spending all of your time enjoying it!

At Rock Water Farm, we believe there is no room for error when it comes to investing your hard-earned money into an amazing outdoor living area and patio. Whatever your specific goals were, by creating a spectacular backyard you are now getting prolonged use out of the space.

But even more important, you're spending meaningful time with friends and family. By bringing people together with activities to enjoy doing collectively, you are creating memories—and that's priceless.

Are you ready to have a property that you are proud of at your Haymarket, Gainesville, or Bristow, VA home? If so, talk to an expert, choose a solution that rocks, and get ready to see your dreams begin to take shape!