Posted by

Todd Thomasson on Mar 1, 2023 11:00:00 AM
Outdoor kitchens in Northern Virginia remain wildly popular. That's probably because an outdoor kitchen vastly increases the amount of time you're spending outside. It also makes the experience so much more enjoyable. Without having to go in and out of the house to prepare a meal and then bring it outside, you can now cook and dine al fresco.
At the most basic level, an outdoor kitchen starts with a grill built into a countertop. From there, space can be upgraded to include any number of amenities including popular ones like running water, refrigeration, and cabinetry. Oftentimes these designs can become very complex. In fact, it's not uncommon for as much thought to be given to an outdoor kitchen project as would be given for a kitchen inside your home.
An outdoor kitchen for your home is no small project and getting things right before the official design and build is important. We've rounded up 5 critical things to consider before building an outdoor kitchen.
Some of the biggest mistakes we've seen made on outdoor kitchens can translate back to the initial design consultation when important factors were never discussed. Before you even get started outdoor kitchen planning, consider the following 5 questions.
1. How Much Space Do I Need?
Space is one of those essential factors that are often overlooked. We have seen a lot of outdoor kitchens that were designed too small and that can be problematic for several different reasons.
There are a number of common design flaws when it comes to accounting for space. For one, we've often seen outdoor kitchens in Northern Virginia in which there isn't any room to move in front of the grill. The overall spatial layout simply didn't account for room to move about between the grill and dining area. We've also seen outdoor kitchen designs where space considerations were not given on the sides leaving the chef without enough room to have all their supplies.
Another big problem we've seen with outdoor kitchen building is failing to account for how many people it needs to accommodate. Another question to ask yourself is: How many people do I usually entertain? This is important to think about in advance as you want to plan for the right amount of seating around the kitchen island.
You also want to be sure the surrounding patio is big enough to accommodate the furniture you plan to include. If you want to have a table for 10 but the patio is designed for a table for 4, there's going to be a big problem. It may sound obvious, but you'd be surprised how many outdoor kitchen designers in Northern Virginia fail to bring up questions about seating.
They may talk about how big you want your outdoor kitchen to be but may still fail to really get down to the nitty-gritty details of exactly how many people it should seat and where you want the seating. Will guests mostly be eating around the grill at built-in countertop seating or will the cooking station be for cooking only and guests will eat at a nearby table? All of this matters when it comes to the design.
2. What
Outdoor Kitchen
Amenities Do I Want?
The possibilities for the amenities that can be added to your outdoor kitchen are plentiful. A lot of our clients like to add refrigeration in their outdoor kitchens so that they always have cold drinks available. Running water is also a nice addition so that you can wash your hands after handling raw meat or wash the dishes and utensils that you store outside. You may even prefer to have an automatic dishwasher outside if you're going to be storing and utilizing dishware regularly.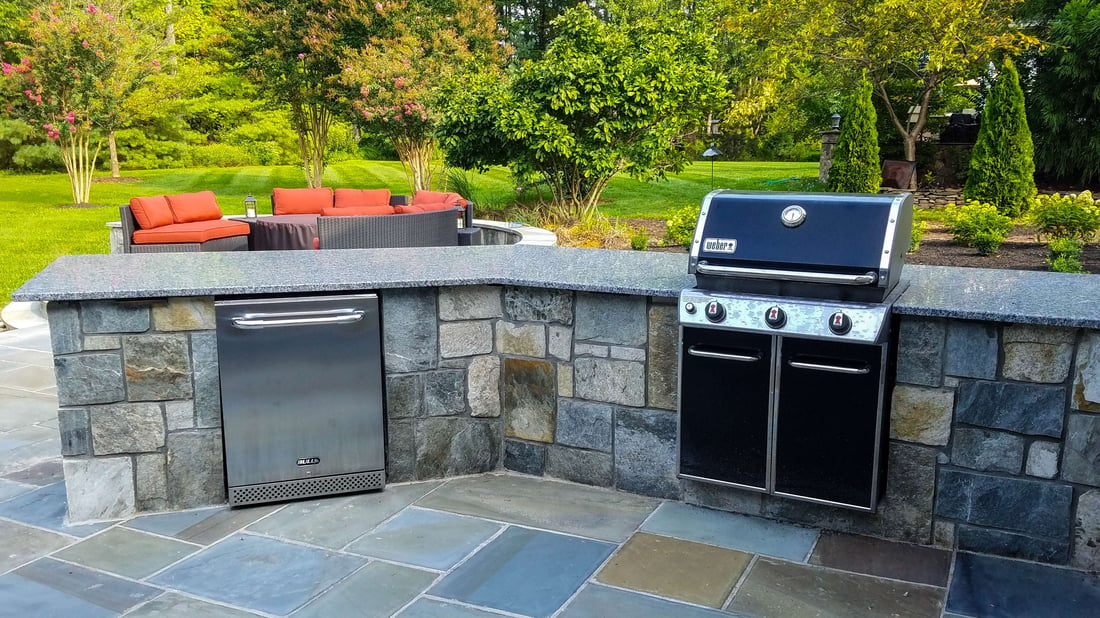 Of course, cabinetry is also an important addition when it comes to storing items. You're going to want storage space so that you can have everything handy outside, limiting your trips in and out of the house. And a built-in trash can is always a nice feature. It can be built to pull out from underneath the countertop.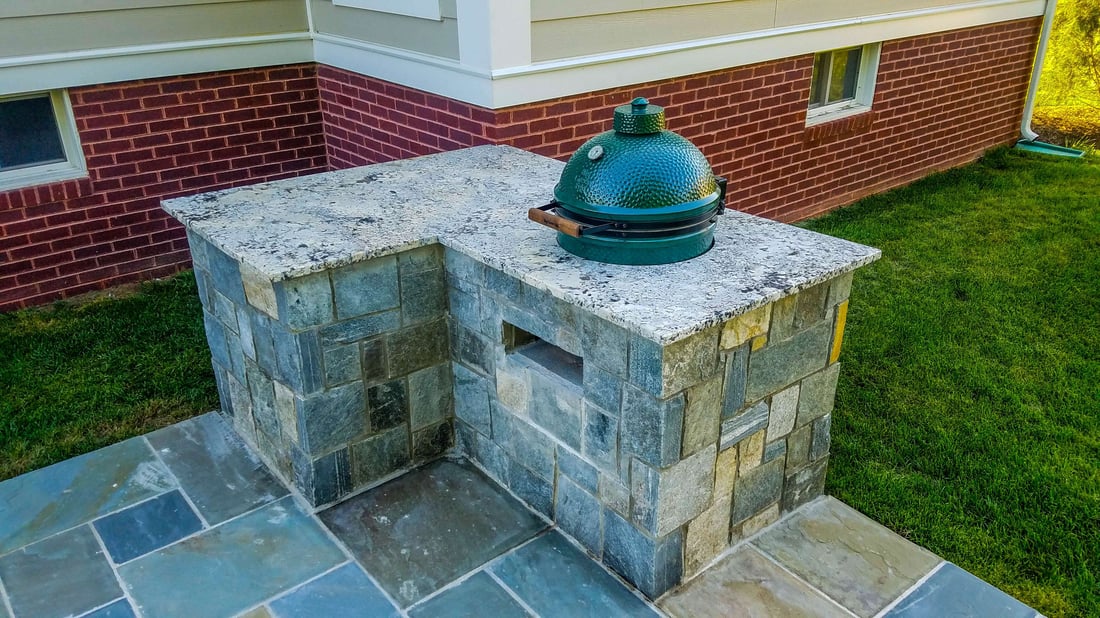 There are obviously a lot of amenities that can be added to an outdoor kitchen. These are items that are best to plan for in advance of your official design and build as they impact the overall materials used as well as the layout of the space.
An experienced outdoor kitchen designer will have a good understanding of all the possible amenities available and will be able to make suggestions based on your wants and needs.
3. How Should Everything Be Laid Out?
Another important outdoor kitchen design consideration is how it's laid out. Everything from traffic flow around the kitchen to where it's placed in regard to the door to the home is considerations that should be taken into account. We typically build outdoor kitchens in close proximity to the door to the house. Not every day can be 75 degrees and sunshine. It does get cold or rainy and sometimes you do need to get inside quickly.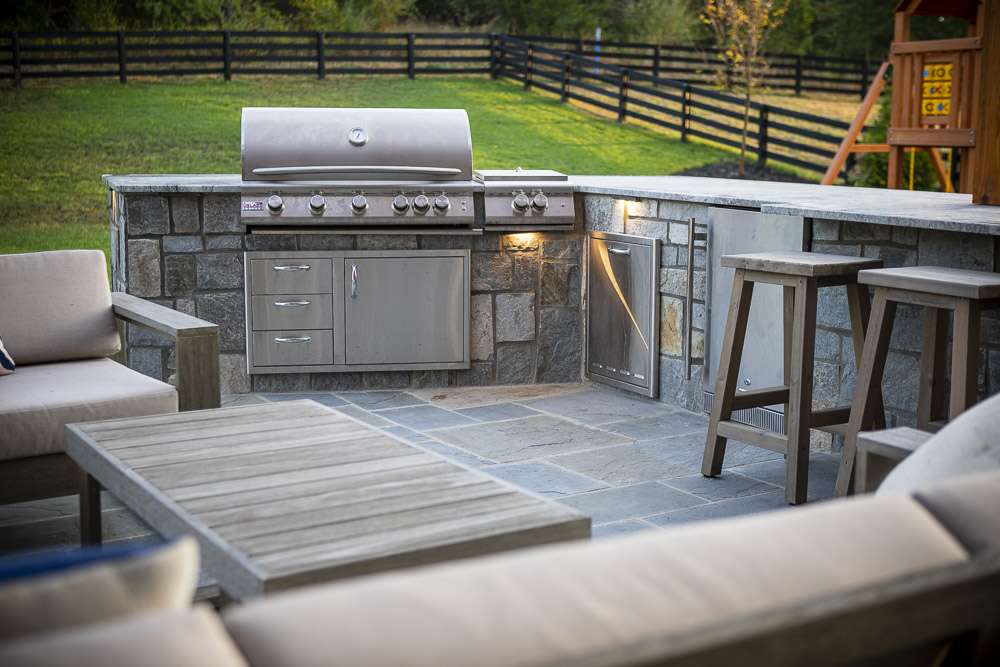 There are so many layout considerations that come into play in order to make your outdoor kitchen as enjoyable as possible and yet oftentimes those "small details" tend to get forgotten in the design phase. At Rock Water Farm we think about everything from whether you can see your kids playing in the yard while you cook burgers to the fact that you won't want to be placing your cooked meat next to the raw meat, so you'll need ample space on either side of the grill to set up your cooking station.
In the end, these "small details" wind up having a big impact on your overall enjoyment of the space. Our end goal is to ensure you get the most out of your kitchen.
4. What Kind of Grill Insert Should I Invest In?
The grill is at the heart of most outdoor kitchen builds and it's not an area to skimp. Choosing an inexpensive grill could be a really big mistake and is something that should be discussed during the design process. After all, you are building the grill into a granite countertop—what are you going to do if it stops working?
In order to prevent your grill from biting the dust, invest in one that is high quality and will last a lifetime. The higher quality grills also come with a warranty so if something does go wrong you won't be the one to incur the repair cost.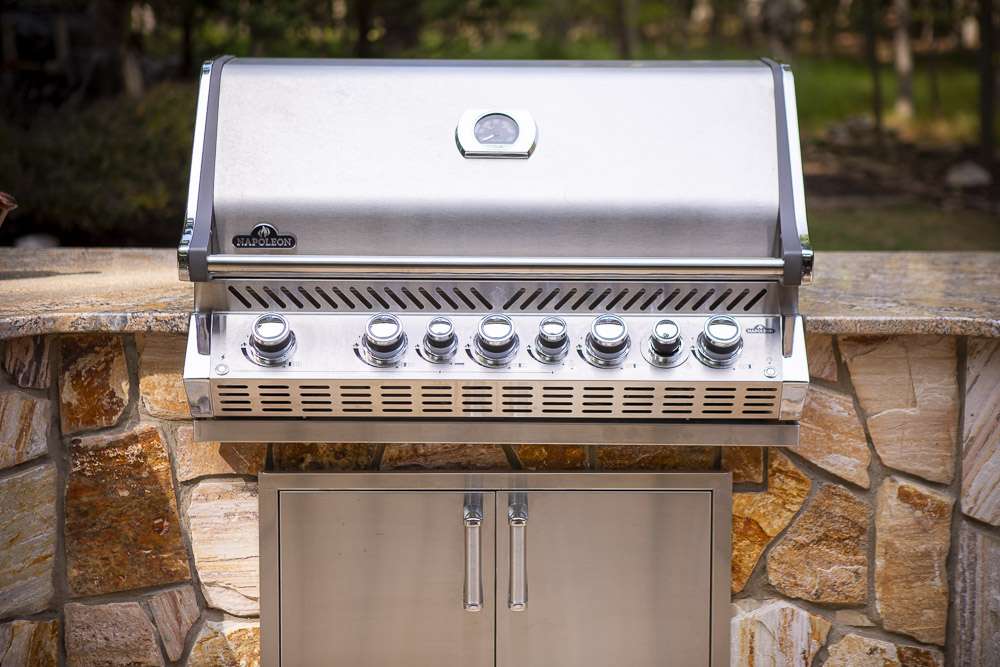 These days grills have many options. We are personally fans of the infrared grills. They heat up higher and cook faster. But there are a number of amenities that are worth exploring.
We've seen some interest in grills that have two cooking compartments so that homeowners can be smoking meat and grilling meat at the same time. There are also grills that come with rotisseries or view windows. The shape and size of grills can also vary. If you're someone that likes to entertain large crowds, you might want to consider a larger grill that can accommodate plenty of food.
5. What Materials Should I Use for My Outdoor Kitchen?
The proper material is such an important aspect when building your outdoor kitchen. At Rock Water Farm, we definitely have preferences and recommendations that we suggest to our clients. In general, we feel that natural stone is a superior material for patio builds. Similarly, we believe that outdoor kitchens should be done in natural stone because of the material's durability but also its beauty. A vertical structure such as the base around your grill is going to wind up being the showpiece of your kitchen.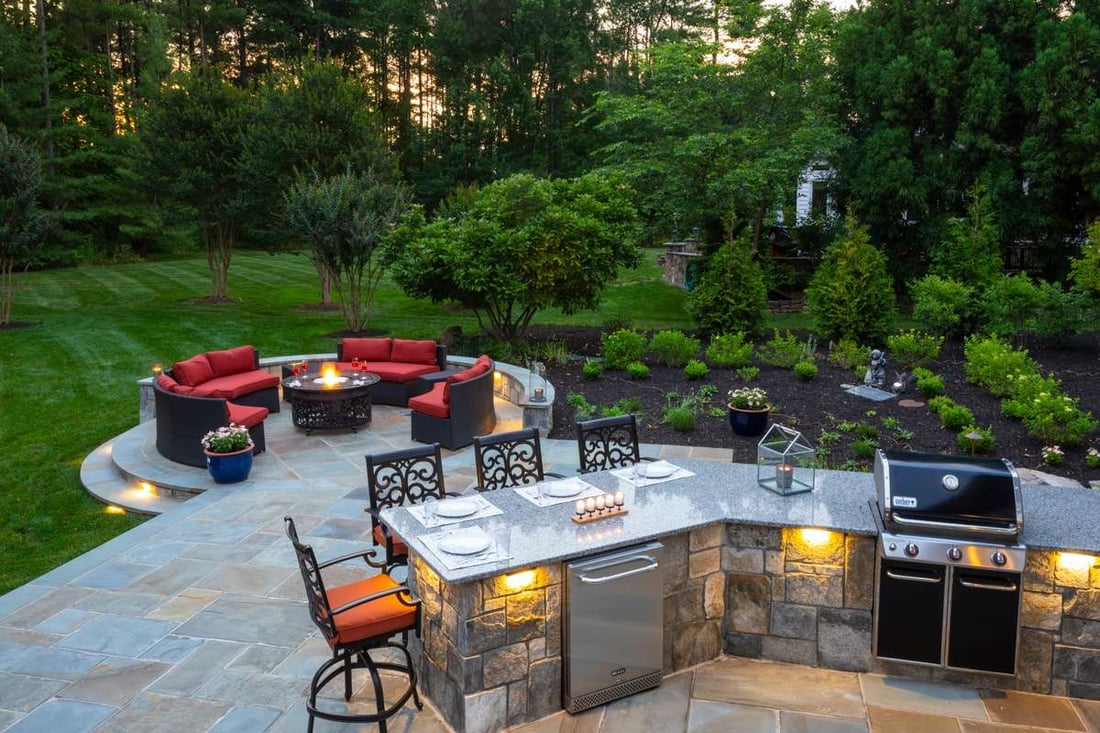 In terms of the countertop, granite is going to be your best choice again because of a combination of beauty and durability. For an outdoor kitchen, you need a product that can stand up to weather and granite is a perfect choice. While something like bluestone is unique, it's also absorbent, and that's a problem outdoors and with spills. Sealed granite is non-absorbent and easy to clean. There's no question that things get dirty when they're outside and your countertop will need a good wipe down. With a sealed granite countertop you can spray it with a household cleaner and just wipe it down and it's good to go!
While we talked about the importance of a high-end grill, another mistake we've seen with outdoor kitchens in Northern Virginia is when the grill is on a completely different level than the materials surrounding it. Yes, you should invest in a high-quality grill that will last you a lifetime but don't go and stick it in cheap block material. Just as you don't want your grill to break down and have to be replaced, you also don't want the material to deteriorate and need repairs. With something as valuable as an outdoor kitchen, don't skimp on material.
Outdoor Kitchen Companies in Northern Virginia
While a lot of landscape design companies in Northern Virginia say they build outdoor kitchens, most probably don't focus on custom outdoor kitchen designs. A lot of companies out there use prefabricated kits and slap together the same outdoor kitchen for every client. That's a problem because it doesn't take into account many of the specifics that the homeowner may want or need to make their kitchen ideally suited for them.
At Rock Water Farm our goal is to build outdoor living projects, like kitchens, that keep you outside and enjoying your space to its fullest. We believe that giving you that kind of experience requires an original outdoor kitchen design. We have the experience and the know-how to work with you on a design that is truly one-of-a-kind, taking into account all those details like how many people you entertain, where your kids play in the yard, or what type of amenities will enhance your overall enjoyment. The end result will be a kitchen that is perfect for you and your family.
If you want to start talking about your outdoor kitchen for your home in Ashburn, Aldie, Leesburg, VA, or surrounding areas, schedule a free consultation or give us a call at 703-327-1636.