Posted by

Todd Thomasson on Mar 21, 2022 11:01:24 AM
An outdoor kitchen can be a really exciting and wonderful addition to your outdoor living space. It becomes a spot to not only prepare and cook meals outdoors, but also to have friends and family over and entertain.
And your outdoor kitchen can be as elaborate as you want to make it, though the more features you add, the more it will cost, of course.
We know that an outdoor kitchen is not a small investment and you might be wondering, Is an outdoor kitchen a good investment?

In this article, we'll explore more about the cost of an outdoor kitchen in Northern Virginia and whether it's worth your investment. Before we go any further, we want to share that an outdoor kitchen can add anywhere from $10,000 to $30,000 or more to the total cost of your outdoor living space.

This is obviously a big range and it's all going to depend upon which amenities and features you decide to add. A simple outdoor kitchen with just a built-in grill and some countertops will obviously add much less money than a full-blown outdoor kitchen with all the different add-on features.

At the end of the day, this is a very personal decision about what will be best for your outdoor space. But we want to help give you some ideas to keep in mind.
1. It's About ROI and ROE
Whenever we look at investing in something, it's natural that we think about the ROI or return on investment. We want to look at some numbers that help us to understand whether we're getting the full value out of our investment.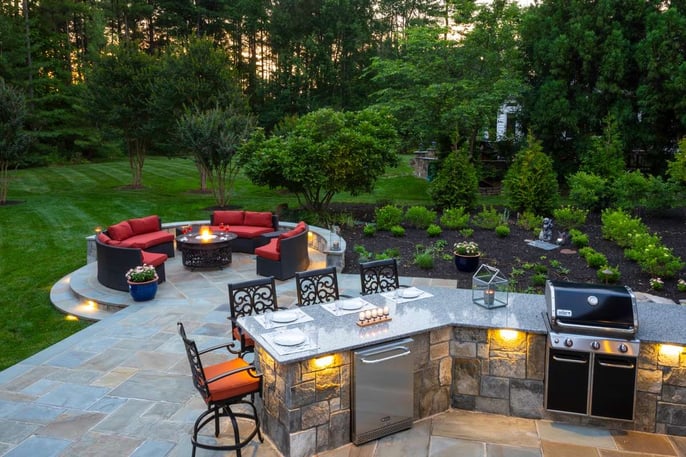 You can look into this data online and find various answers in terms of the ROI of an outdoor kitchen. We have literally seen statistics anywhere from a 60% ROI to a 200% return on investment on outdoor kitchens (in terms of how much value they add to the home).

This data typically comes from homeowner surveys. What often gets overlooked in focusing so much on ROI, is the ROE, or "return on enjoyment."

As people are spending more time at their homes than ever before, ROE is becoming an increasingly popular term and consideration. ROE is all about how much enjoyment YOU, the current homeowner, will get out of the space.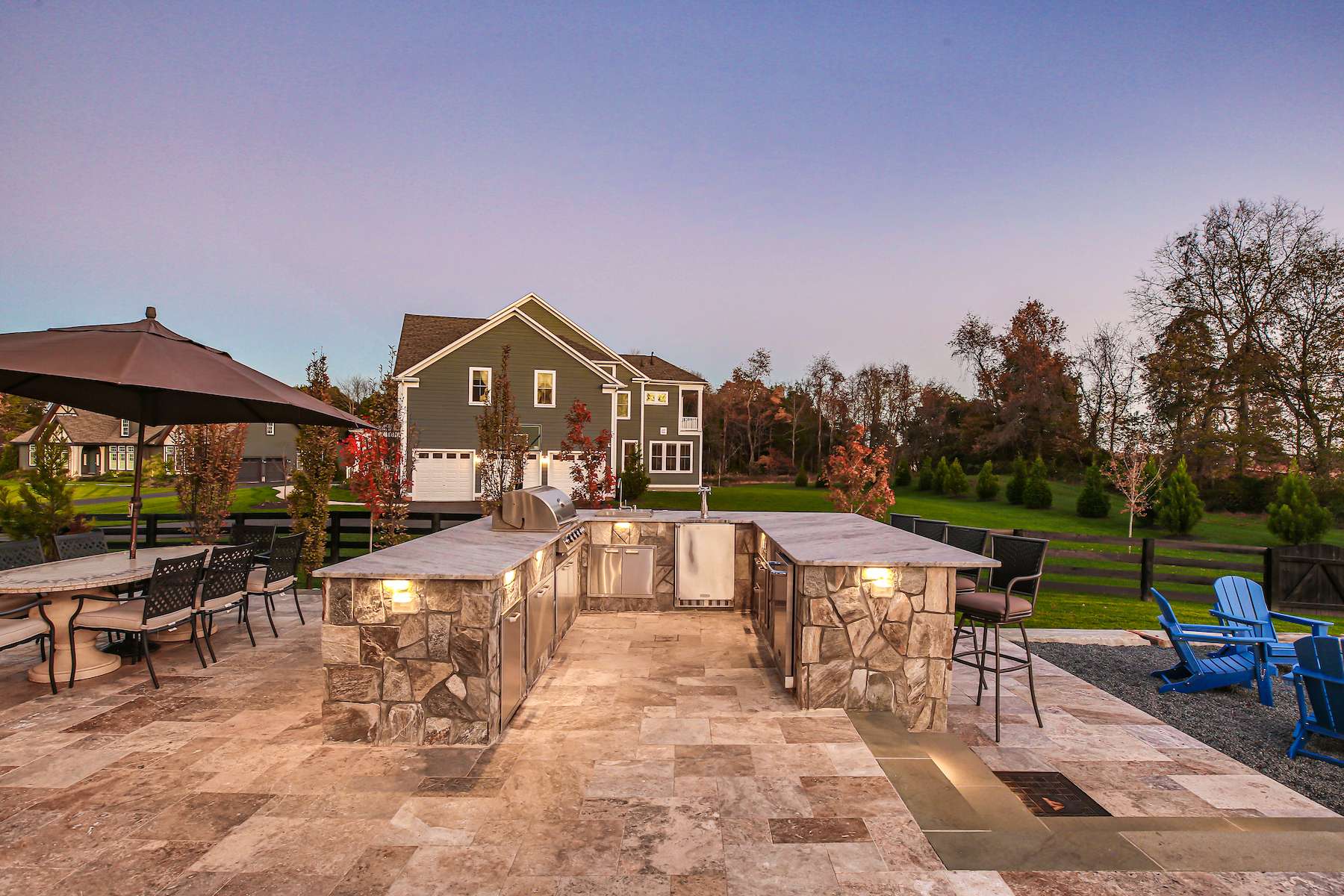 We believe that it's really important to consider ROE when considering the cost of an outdoor kitchen and whether you think it will ultimately be worth it. After all, you are the one that is currently living in the home. It makes more sense to think about your wants and needs than a future homeowner.

As you think about ROE, here are a few questions to ask yourself.
Would having an outdoor kitchen inspire me to spend more time outside?
Will having an outdoor kitchen enhance the time I spent outside?
Do I want an outdoor kitchen to spend more time with my family and/or to entertain those who are visiting our home?
Would having an outdoor kitchen inspire us to share more family meals together or spend more quality time together?
Ultimately, these are the types of considerations that can help you to determine the answer to: Is an outdoor kitchen worth it?
2. Features Add More Money to the Cost of an Outdoor Kitchen, But Might Also Increase Usage
When talking about the cost of an outdoor kitchen, it's impossible not to talk about the different features that are going to impact the price. The more "bells and whistles" that you add to your outdoor kitchen, the more it will impact the cost.

But, it might also help you get more use and enjoyment out of the kitchen. That could easily make paying a little more for your kitchen worth it.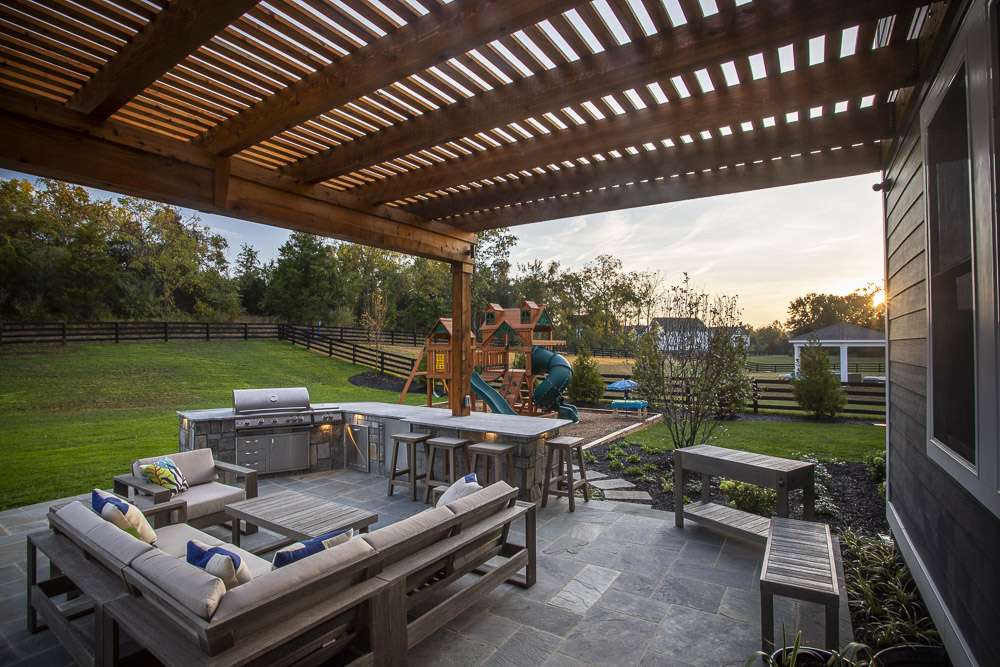 Here are some of the potential ideas of features that can be added to your outdoor kitchen and enhance your overall use of the space.
Various cooking appliances (grill, power burner, warming drawers, etc.)
Smoker
Pizza oven
Cabinetry and storage
Sink
Dishwasher
Icemaker
Refrigerator or wine or beer fridge
Built-in trash receptacles
An island with wrap-around seating
Audio and visual additions
Outdoor fireplace
A pergola for shade
A pavilion for cover so that you can use your kitchen rain or shine
And these are obviously just some ideas to get you dreaming. Your outdoor kitchen can ultimately be anything that you want it to be. We have designed and built outdoor kitchens that have all the bells and whistles of an indoor kitchen. Homeowners have felt it was worth the investment because it allowed them to make special memories and spend more time outdoors, two of their primary goals for adding an outdoor kitchen as part of a complete outdoor living space.
3. Material Choices Also Impact Cost of an Outdoor Kitchen
Another factor when thinking about how much an outdoor kitchen cost is the chosen materials.

In terms of the flooring or any vertical structures such as the base of your grill or a fireplace, we believe that natural stone is a superior product and there is none like it. When you're investing in something like an outdoor kitchen, you don't want to skimp and end up being unsatisfied in the long run because it starts to deteriorate.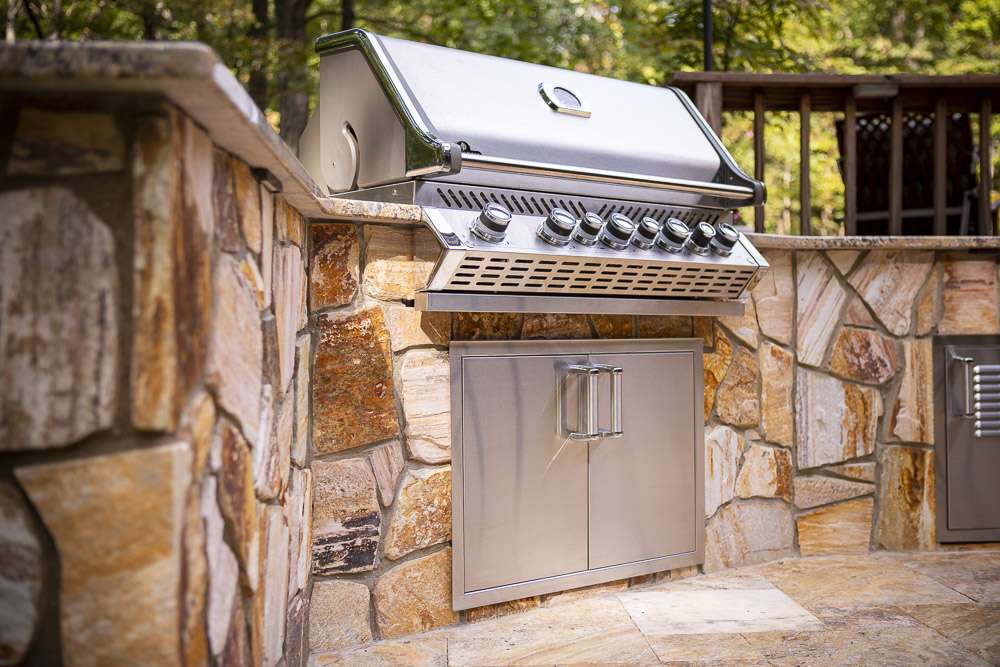 As far as a countertop material, granite is definitely your best choice due to its beauty and durability. You definitely need a countertop choice that is going to hold up to the weather conditions and granite is ideal for this task. When you're investing in a high-end grill and having it built into countertops, you definitely do not want to skimp on your countertop material.
Of course, the same argument can also go for why you shouldn't skimp on the grill. If you're going to have it permanently built into countertops, you wouldn't want to choose a cheap grill that is going to break in a few years.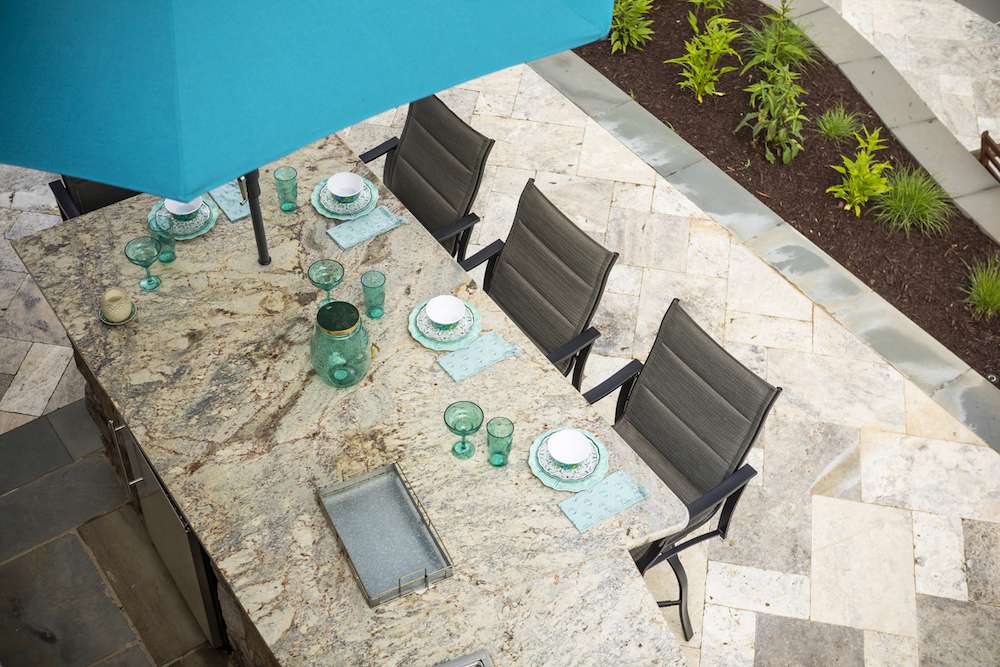 As far as making your selection, there are many wonderful granite options to choose from in terms of colors and styles. Many homeowners have a good idea of stone preferences but we can help in terms of what might look best. These types of decisions are what help your outdoor kitchen to be truly unique.
4. An Outdoor Kitchen With all the Bells and Whistles Can Be Phased
Finally, since we're talking about outdoor kitchen costs, it makes sense to talk about phasing. We understand this is a huge undertaking and you might want to space it out over time.

If you've asked yourself, Is an outdoor kitchen worth the cost? and you feel strongly that it is, then you might be eager to move forward with the project. However, we understand that realistically, not every homeowner wants to do a project of this size all at once.

This is where phasing comes in.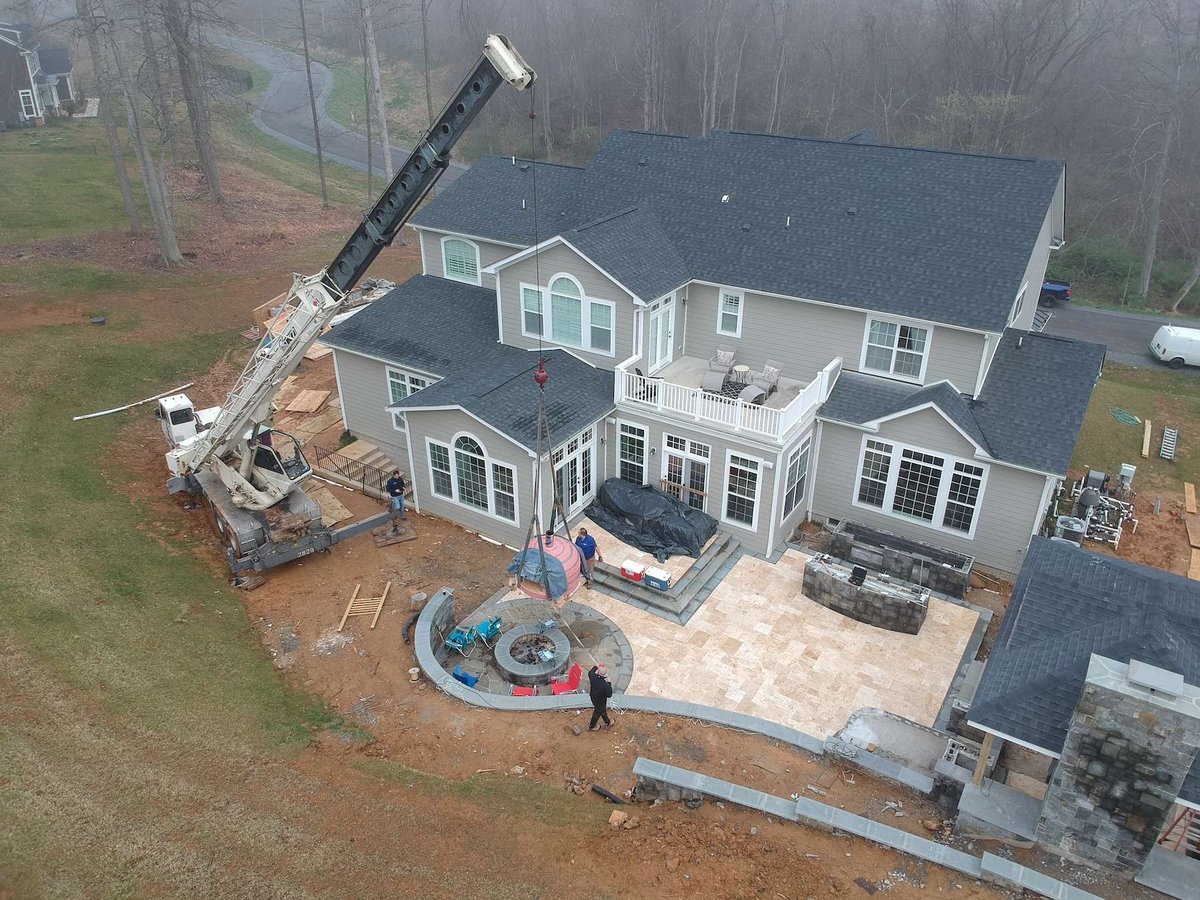 The first step of phasing an outdoor kitchen would be building the patio. It's common for phase one to be the patio and a grill with built-in countertops. But even though your full kitchen isn't going in immediately, you still have to plan for it.

For instance, installing footers for a future pavilion or running gas lines for a future fireplace needs to be done early on to prevent digging up the patio later.

Working with a landscape designer that offers 3D design is valuable when it comes to phasing a large-scale project such as a complete outdoor kitchen.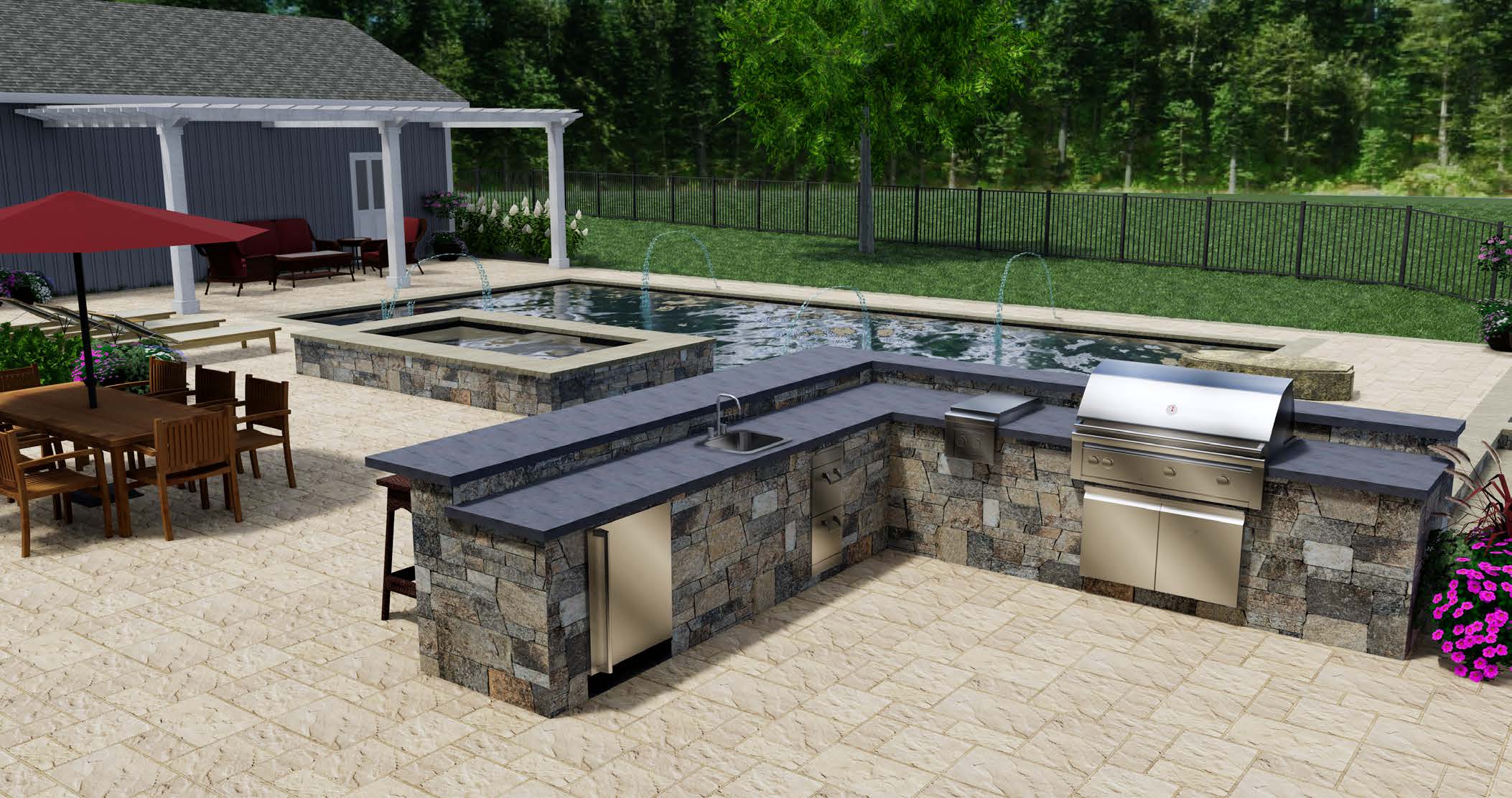 You'll want to develop a master plan that ensures each phase of the total design looks complete the way it is. After all, even if you plan to add more features down the road, you don't want to live with a project that looks partially completed for a few years in the meantime. You want each phase to look fully finished even though you know there's more to come.
Working with an Outdoor Kitchen Designer and Builder in Northern Virginia
Finding the right professional to help you get started with this exciting project is key. When it comes to your new outdoor kitchen, you don't want to trust the process to just anyone.

At Rock Water Farm, we have worked with clients who have wanted a simple outdoor kitchen and those who have wanted a complex outdoor kitchen with every single bell and whistle there is. And of course, we've worked with clients who have wanted to phase their project—so it started out simple and grew in time.

No matter how your project begins, you'll find that Rock Water Farm is incredibly detail-oriented because we know you deserve to have a truly original kitchen to suit your outdoor space. If we're this detail-oriented in the preliminary design phase, you can rest assured that we'll be meticulous in every step of the process. In the end, that adds up to peace of mind that you're investing wisely.

Are you ready to get started on the outdoor kitchen of your dreams at your Haymarket, Gainesville, or Warrenton, VA home? If so, talk to an expert, choose a solution that rocks, and get ready to see your dreams begin to take shape!