Posted by

Todd Thomasson on Aug 24, 2021 9:49:55 AM
An outdoor kitchen can be an exciting addition to your backyard outdoor living space. It helps to make your yard a destination, making it a place to cook, dine, entertain, and even just relax.
Of course, when it comes to getting the outdoor kitchen of your dreams, you need to hire the right outdoor kitchen builder. There are plenty of landscaping companies that claim to build outdoor kitchens but won't necessarily be able to offer what you're looking for.
After all, you don't want a cookie-cutter kitchen that looks like everyone else's or one that was just built from a kit. You want to be able to choose from all of the different options and have something created that is entirely custom-built (and wholly your own!). The only way to achieve that is to find an outdoor kitchen contractor that goes above and beyond.
When it comes to finding such a builder you might not have any idea where to start. That's why we've rounded up a list of tips for hiring an outdoor kitchen builder in Northern Virginia. These will help set you up for success as you begin to make your dream into a reality.
Tips for Hiring an Outdoor Kitchen Builder in Northern Virginia

As we've mentioned not all outdoor kitchen installers are created equally. Some are simply going to be able to do a better job (and provide you with better services) than others.
But if you've never gone through the process before, you really won't know what to look for, including how to separate the good from the bad.
The last thing that we ever like to see is if homeowners later have regrets that could have been avoided with the right outdoor kitchen installer. We want to help give you the inside scoop that will set you up for success.
Here are a few things that will help you choose the best outdoor kitchen contractor.

1. Look at the Company's Portfolio or Gallery when Hiring an Outdoor Kitchen Builder

It's always a good practice to look at a landscape contractor's portfolio or gallery of work before hiring them for a large project. You want to see what work they've done before that is similar to what you're looking for.
One thing to look at when perusing the portfolio is whether all of the projects look identical. This will be a telltale sign that this builder either works from a kit or can only build one kind of cookie-cutter design again and again.
Chances are, you want something custom and truly one-of-a-kind, so you want to make sure that you're hiring a builder who is capable of offering that.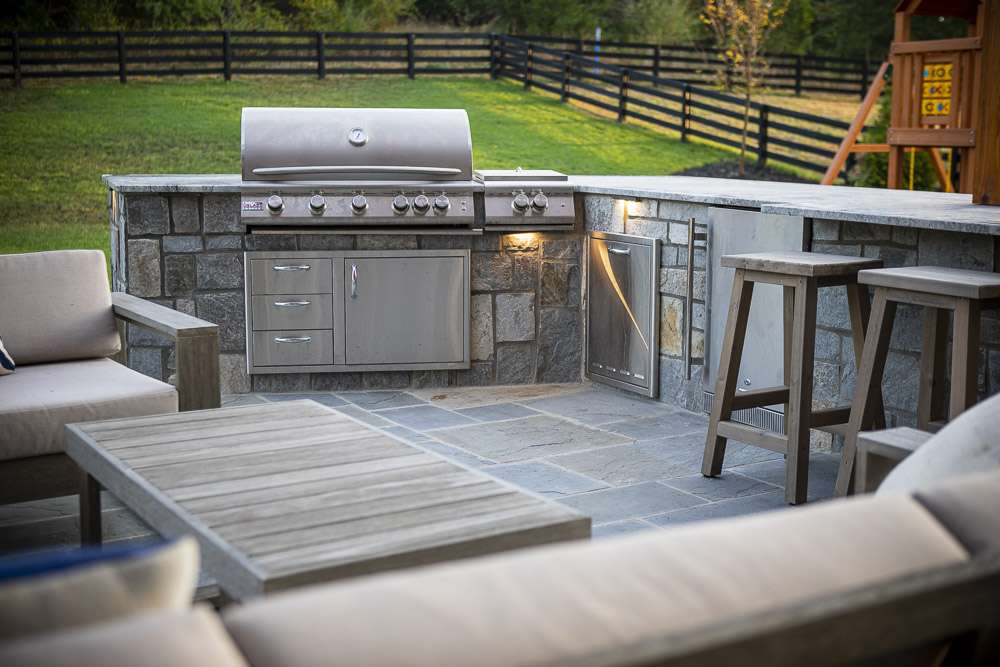 You can also get an idea of the caliber of the work while looking at a portfolio. Are they designing and building high-end, large-scale projects like the one you want? You don't want to end up with an outdoor kitchen builder who has only completed a handful of kitchens before—or one that really hasn't handled the caliber or size project that you're looking for.
You certainly don't want to be the "first" when it comes to something as important as your beautiful new space. You want to have confidence going on that you're going to get everything you are dreaming about.

2. Think about the Amenities that Would Make your Space Special

As you think about hiring an outdoor kitchen contractor, you'll also want to think about what amenities are going to make your kitchen complete. The possibilities for features that can be added to your kitchen are plentiful (again, assuming you hire the right builder). You don't want to be stuck with a builder that can only offer you a handful of options.
Here are some of the popular features that can be added to an outdoor kitchen.
A full kitchen with dishwasher, trash receptacle, refrigerator, storage options, sink, power burner, and maybe even a kegerator or separate wine fridge

Cooking appliances, including a top-of-the-line, built-in grill with all of the bells and whistles (we are personally fans of the infrared grills that heat up higher and cook faster). You might also want a smoker and/or power burning depending on what you plan to cook

A sit-at bar island, perhaps with wrap-around seating

Plenty of countertop space

A pergola or pavilion for shade or covered space

An outdoor television with surround-sound audio

An outdoor fireplace

Outdoor lighting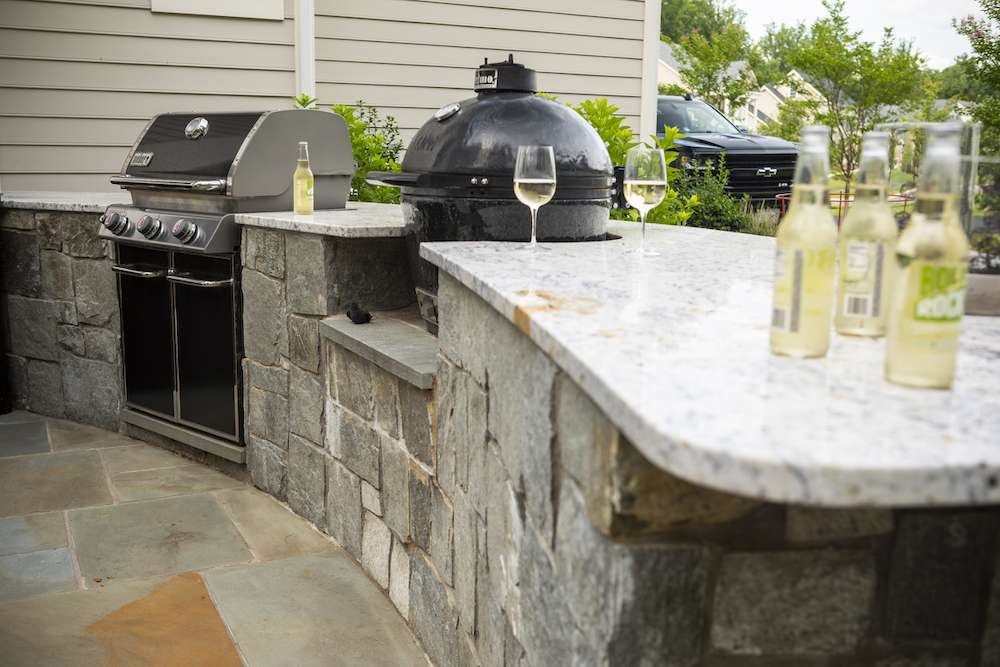 These types of additions are critical to getting the most out of your kitchen. You might already have a lot of ideas in regard to what you're looking for but you likely also want an outdoor kitchen contractor who can make suggestions for amenities that will help meet your wants and needs.
Again, as someone who may have never been through the process before, you might not even know what's available or what's possible. That's why you want someone who isn't going to limit your options in any way.

3. Make Sure Your Outdoor Kitchen Builder is Skilled at Building "Complete Spaces"

When it comes to getting the most out of your new outdoor kitchen, you want to make sure that it works well in your space as a whole. The truth is, when you're adding so many different elements to your outdoor kitchen, you want to make sure that the finished product looks and functions as it was meant to. Getting all of the features that you were looking for but having them laid out in a way that is awkward and uncomfortable to navigate can be frustrating.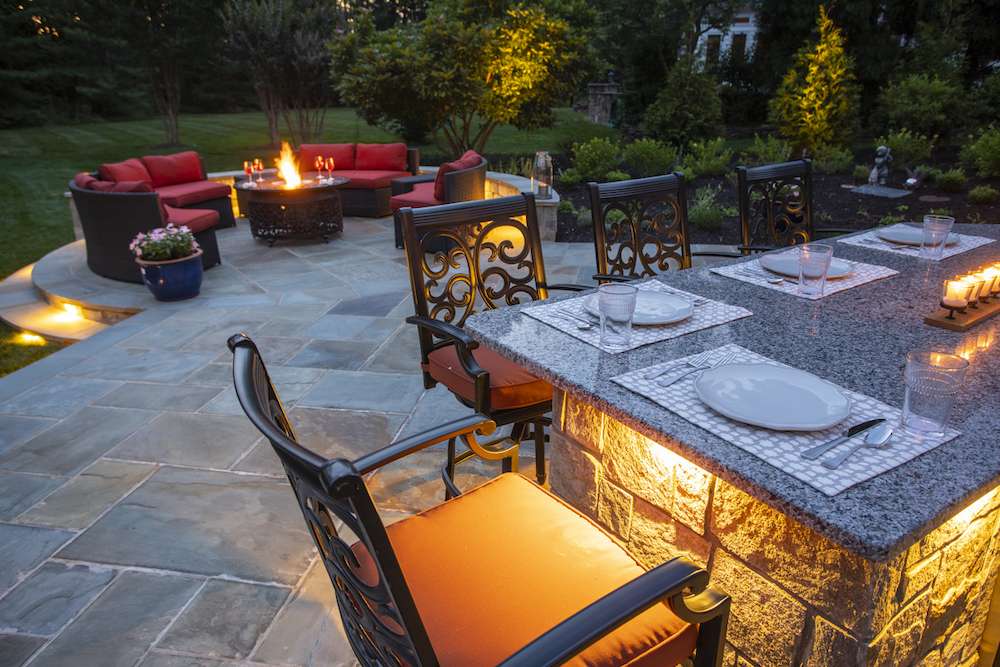 This means choosing an outdoor kitchen builder who really does have an eye for design. That is someone who thinks about how all of the elements look when they come together. But, they also think about how they'll function together. You want your space to be highly functional and that means leaving no box unchecked.
You might think of this as a design/build company that can truly look at the big picture. Whether you also have a swimming pool, a pavilion, lawn recreation areas, a deck, or whatever other area (or feature) you're spending time in, you want to make sure that the big picture design all comes together.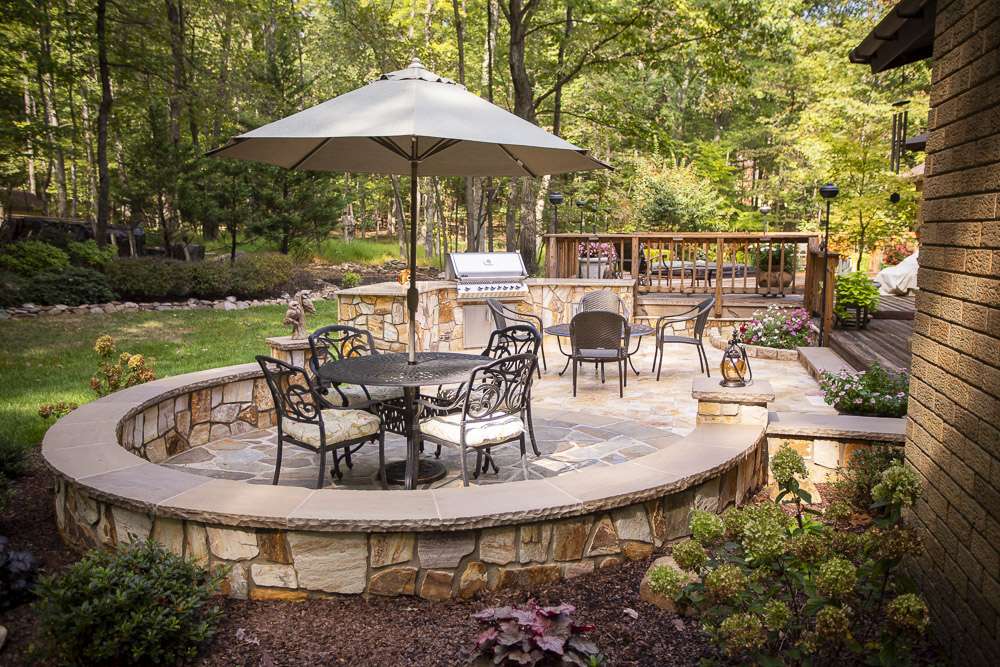 The best landscape designers will help you to create a Master Plan, which will include your complete space. Even if you aren't having everything built at once, you want to make sure that future plans are accounted for. Large landscape projects that include multiple areas (such as a pool, pavilion, and outdoor kitchen), are often built in two or three stages. But you want each stage, when it's finished, to look and function as though it is complete so that only you would know there is more to come.

4. Make Sure Your Outdoor Kitchen Builder Uses the Best Materials

Another important tip that we think homeowners should know is that not all outdoor kitchen builders are going to use the same materials. As with any project, there are varying levels of materials available at various price points and levels of quality. You want to make sure that your landscape contractor isn't skimping.
But the truth is, some are more accustomed to building an outdoor kitchen from manmade pavers or blocks which fit together easily, like legos. If your outdoor kitchen builder is working from a kit, that's what it's going to call for.
But we believe that when you are building something as important and substantial as an outdoor kitchen, that it really isn't worth compromising when it comes to the quality and results. That's why our preference is for natural stone. You can read that more in-depth article for all of the reasons why natural stone is typically the better choice.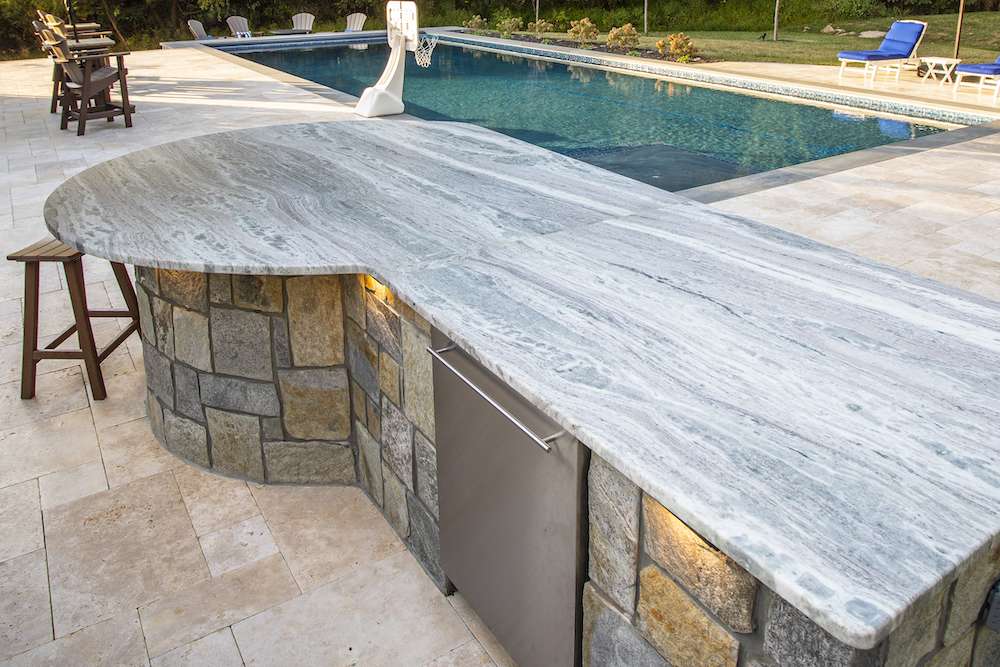 Of course, it might not be in every client's budget to complete the entire project in natural stone. While we like to build both the patio and the added features in natural stone, we do especially believe that any vertical structures should be built with this superior material. That's because things like retaining walls, vertical outdoor fireplaces, and the stone material around an outdoor countertop or bar are really on display. These items end up becoming showpieces of the space.

Of course, there is more knowledge and skill involved with working with natural stone and not every contractor can do it. If you're not being offered natural stone as a choice, it might be that your outdoor kitchen installer doesn't have the know-how to be able to build with it.

Hiring an Outdoor Kitchen Builder in Northern Virginia

We understand that building an outdoor kitchen is a large undertaking and you want to be able to feel confident that you're in good hands. Hopefully this article has given you some things to look for that will help you make the best choice.
At Rock Water Farm, we understand that every client's needs are different, which is why we start each and every project from scratch, designing and building it from the ground up. While some clients have wanted a simple space, others have desired an outdoor kitchen with all of the bells and whistles.
No matter what category you fall into, when it comes to something as valuable as your new outdoor kitchen, we want you to have peace of mind that you're getting everything you were dreaming about.
You'll find that Rock Water Farm is incredibly detail-oriented because we know that you deserve to have an outdoor kitchen that is as unique as you and your property are. We take a blend of your wants, needs, and ideas and our knowledge and experience to create finished projects that are everything you dreamed and more. Soon you'll be spending more time outdoors just like you've always wanted.
Are you ready to get started on the outdoor kitchen of your dreams at your Haymarket, Gainesville, or Round Hill, VA home? If so, talk to an expert, choose a solution that rocks, and get ready to see your dreams begin to take shape!