Posted by

Todd Thomasson on Dec 16, 2022 10:44:44 AM
When it comes to making your outdoor space more usable, a deck can be a wonderful property addition. Decks help to create extended living space right off of your existing home. This not only adds tangible value but really increases the amount of enjoyment that you'll get out of your outdoor space.

It means you can spend more time with your friends and family grilling up some food and dining al fresco, reading a book outside, watching the kids swim in a nearby pool, or just having a place to sit back and relax.

If you are thinking about designing a new deck, you might be on the hunt for possible ideas.

We've rounded up a bunch of deck design ideas to get you started.
1. Incorporate "Bells and Whistles" Into Your New Deck Installation
Just like you would consider add-ons to a patio to make the space more usable and fun, incorporating various bells and whistles into your deck can be a great way to use the space more fully.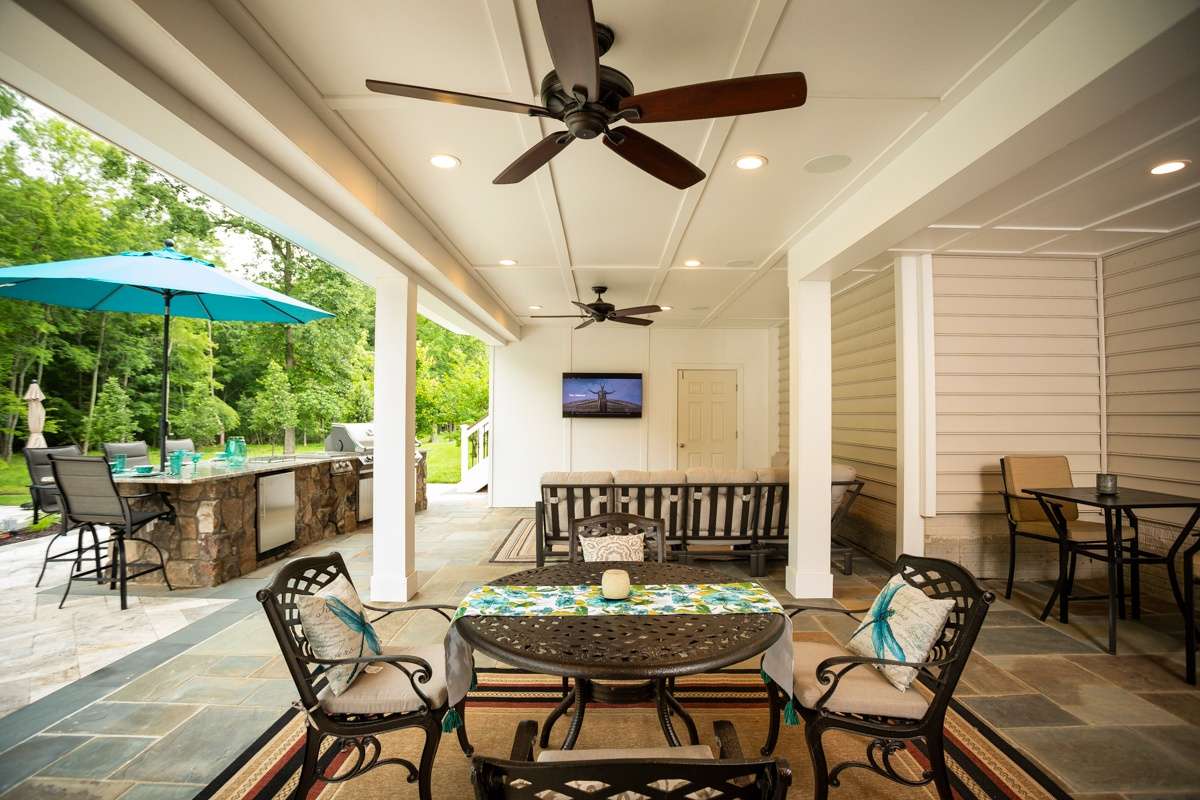 Some of the add-ons that are frequently incorporated into a deck design include deck lighting, fire features, countertops/cooking areas, infrared heaters, and ceiling fans. These types of additions will take your space to a whole new level.

A lot of clients tell us that they feel like every deck in the neighborhood looks the same and they want something unique. It is these types of customized additions that will make your new deck installation your own.
2. Add a Pavilion or Pergola
A step up from some of the bells and whistles mentioned in the first point is adding a large structure to your deck.

The addition of a pavilion or a pergola to your deck is a great way to increase the aesthetic appeal while also adding valuable shade.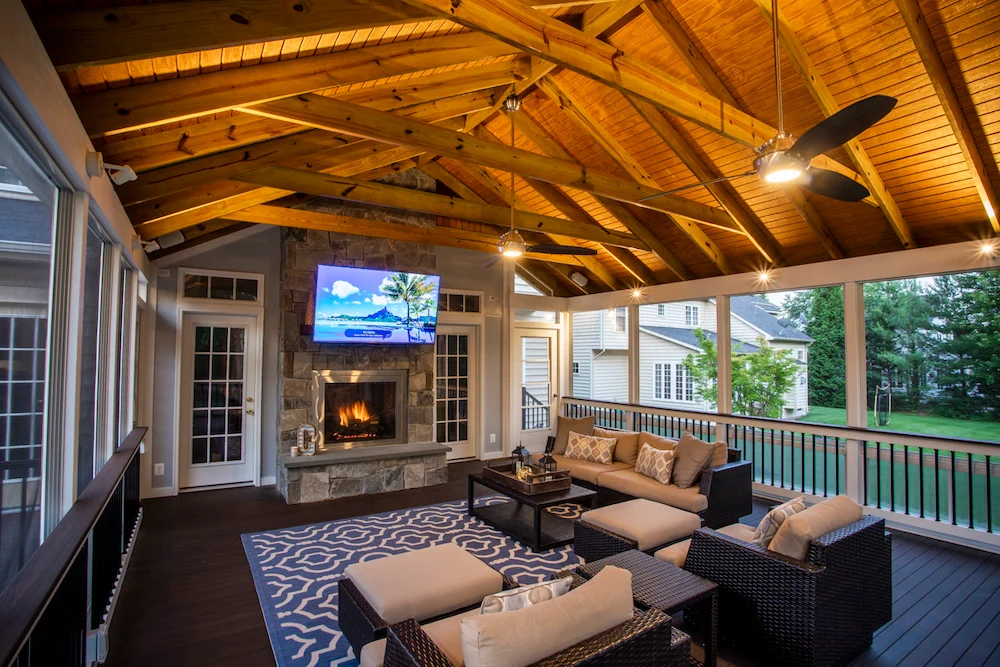 Homeowners like the idea of a pergola because of the open feel to them. They allow some filtered sunlight to come through but they still do a great job of making the space more tolerable on a very hot day. You can also mount a ceiling fan or lights to a pergola.

A pavilion is more of a complete roof and will not only provide shade but it will also shelter you from the elements.

We'll talk more about enclosing your deck space in the next point.
3. Consider Screening In Your Deck (Or Just Adding a Roof)
One of the nice aspects of a deck is that you have the possibility to screen it in, making it more of a year-round room. We know that people love relaxing and spending time outside, but as the weather gets chillier, it doesn't happen as often. That's why one of the deck design ideas to consider is enclosing the deck.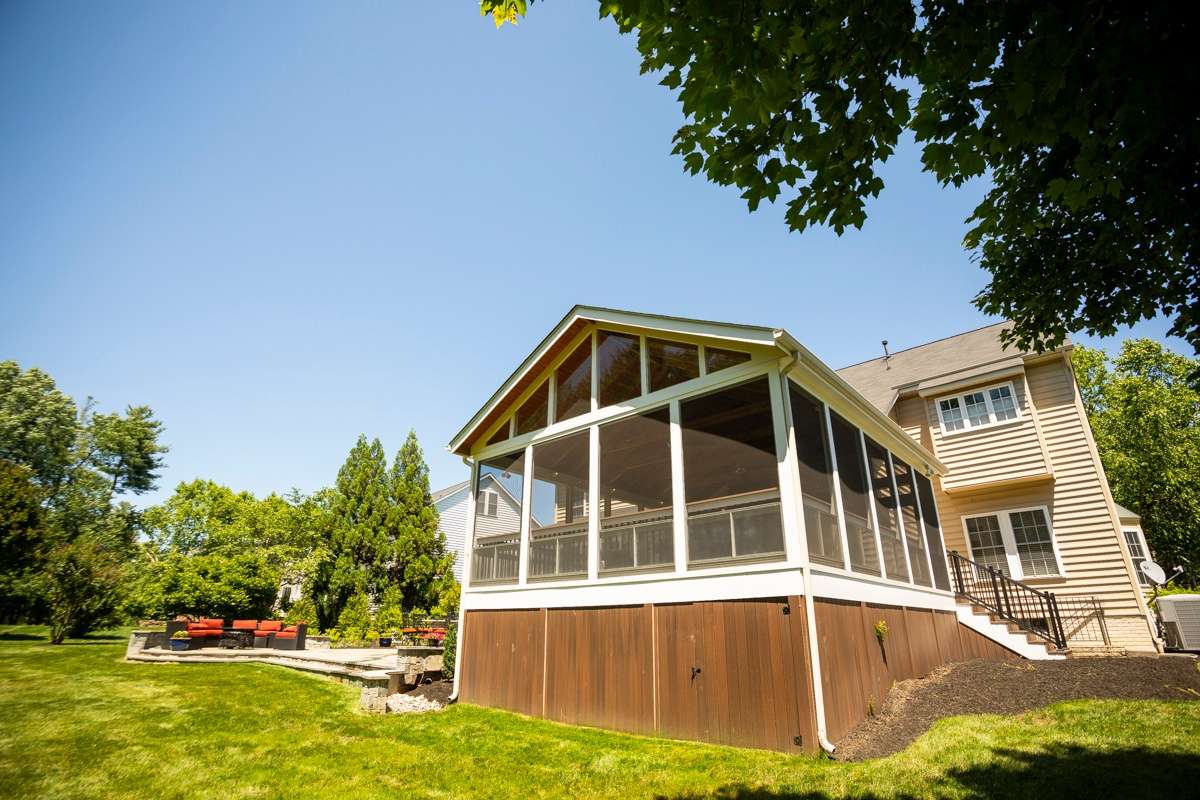 Of course, how far you go with this idea is up to you. While some homeowners add walls and windows, making the deck more like a true "sunroom" (also sometimes called a "Florida room"), others just add a roof.

If you don't want to create a true "room," a roof will still give you the ability to use your deck during inclement weather. You might still consider motorized screens, as these will help keep the bugs away when they are down.
4. Deck Shapes and Layout
As you think about deck design ideas you'll also want to consider the shape and layout. Gone are the days when a deck has to be a boring square. Decks can be custom designed to fit your space the way you want.

Bump-outs and multi-level decks are also a way to enhance your deck space. For instance, you might add a grill to a bump-out area so that the cooking spot is separated from the rest of the deck.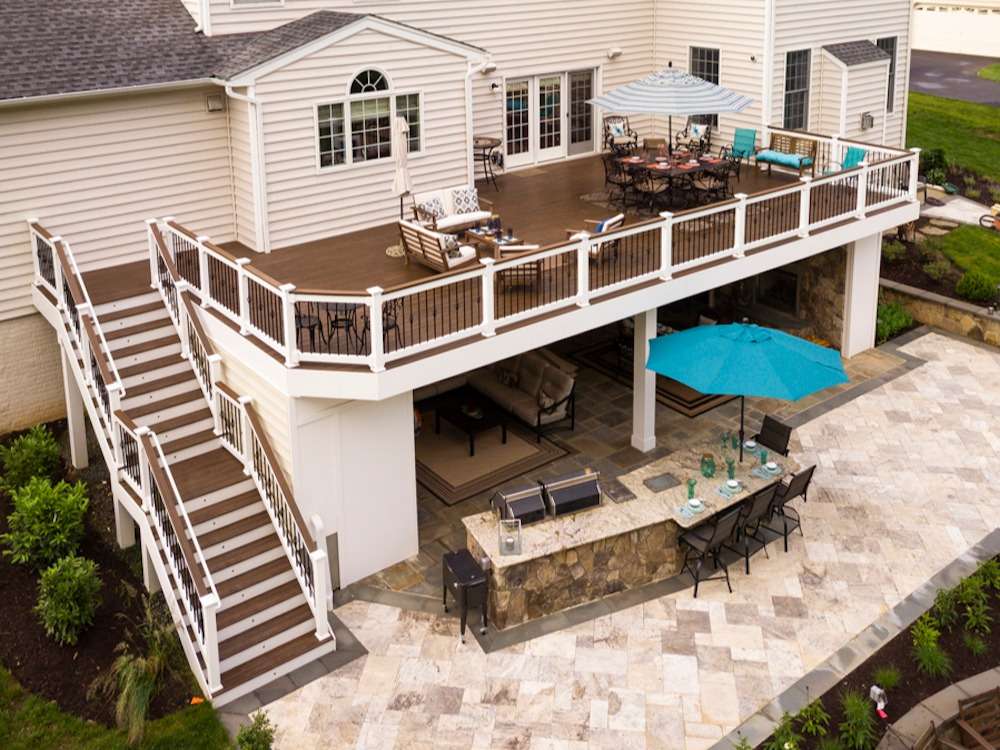 Or, perhaps you want a deck that has a step-down area where you dine so that it's almost like a separate "room."

We can get creative with designing a new deck for you, based on your wants and needs.
5. Don't Forget Premium Materials
Finally, when talking about deck design ideas, we want to be sure to mention the importance of going with a company that uses the latest decking materials. There are still some deck builders that work with pressure-treated lumber even though today's deck materials have come so far.

The superiority of new deck-building materials is the reason why we will not work with pressure-treated lumber.

Pressure-treated lumber will ultimately need ongoing maintenance or even replacement as time goes on. That means that while you might pay more for new decking material, it's also going to be long lasting without the maintenance.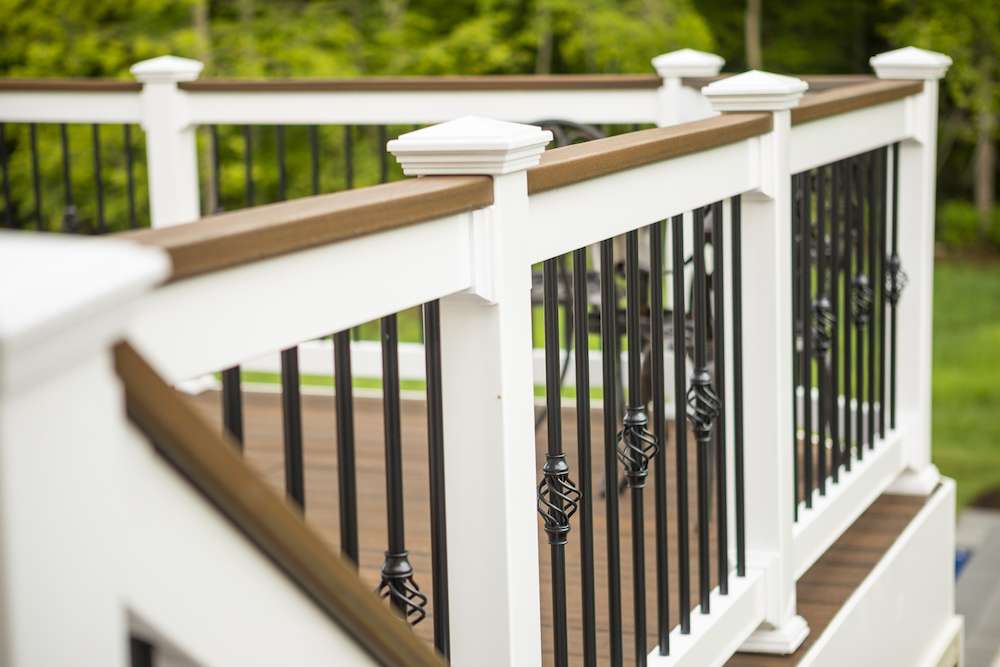 Consider some of these points.
The new decking materials won't succumb to rot or require regular and ongoing maintenance. In order to extend the life of a wood deck, homeowners generally have to paint, stain, or seal the decking periodically. However, with wood alternative materials, like composite, decks need only be swept or washed occasionally to maintain the look.



Since wood decks can warp or are more likely to experience weather damage and breakage, there's a safety factor, too. Even naturally occurring knots in the wood can compromise structural safety in a way that will not happen with a man-made product that is structurally engineered to be safer and sturdier.



Whereas wood can succumb to termite and boring-insect damage, this isn't a concern with composite or other new decking materials.



These new materials also do not splinter, which is particularly important when walking barefoot on the deck. Families with children or pets really appreciate this benefit.
Making a Choice for Deck Installation in Northern Virginia
At the end of the day, when it comes to implementing these deck design ideas, or others, you want to make sure that you choose a company that is up to the task. The truth is, a lot of deck builders only do cookie-cutter designs. They assemble builder's grade decks and really don't know how to deviate from that.

This is why it's really important to work with a landscape design/build company that creates custom designs. Only then will you get a one-of-a-kind deck that sets your property apart.

At Rock Water Farm, we know that you want to get the most out of your new deck installation. After all, you're investing your hard-earned money into this space. You don't want a deck that looks like everyone else's!

That's why we work closely with homeowners to create a custom solution for their property.

We'll talk about some of the features that you want for your deck and we'll combine some of our deck design ideas and expertise with what you've already come up with. We know that when designed and built properly, your deck (and the surrounding areas) can become an oasis where you'll create a lifetime of memories.

Are you ready to get started on the deck of your dreams at your Haymarket, Gainesville, or Purcellville, VA home? If so, talk to an expert, choose a solution that rocks, and get ready to see your dreams begin to take shape!