Posted by

Todd Thomasson on May 17, 2022 11:34:36 AM
Are you thinking about adding a swimming pool to your backyard? If so, then you're likely looking for something that is going to be amazing—and that your family will make memories in for years to come.
You don't want an ordinary, cookie-cutter swimming pool. You want something with some major "wow factor" that you can truly call "your own."

That means you'll need a custom pool design.

A lot of companies claim to be "custom pool builders" in Northern Virginia. But when you start to look through their portfolio of swimming pool designs, you might realize, they pretty much all look the same!

You need to find a custom pool builder who truly starts the process from scratch and designs each and every pool to the specific homeowner's wants and needs.

If you're getting started with a custom swimming pool, it's important that you know a few things about the process. These are some decisions that you'll likely need to make when designing your custom pool. Bear in mind that if you aren't asked about making these types of decisions, you aren't really getting a custom pool. You are having these factors pre-determined (or decided for you).
1. What Size, Shape, and Depth Do You Want for Your Custom Swimming Pool Design?
When having a truly custom pool designed and built, you have a lot of choices in regard to the size, shape, and depth of the pool. You can make customized design decisions that make the pool completely your own. Let's look at these different decision areas and why they matter.
Choosing a Pool Size
One big decision that you'll get to make is the size of the pool. With a fiberglass pool, you are incredibly limited in the overall size as these pools are made in a factory and then delivered to your property already complete. The pools have to be the right size to fit on a truck and be transported to your home.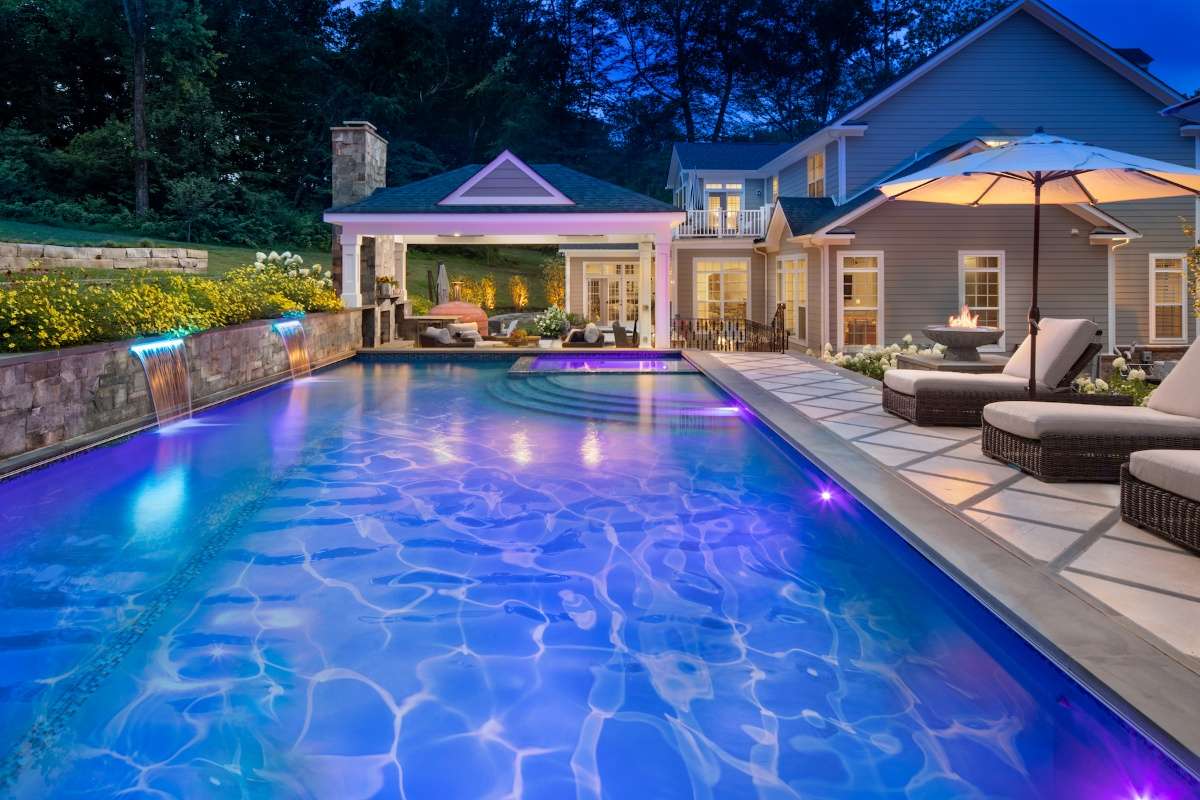 But with a custom swimming pool design, you can choose the size that works for your wants and needs, your property specifications, and your budget.
Choosing a Pool Shape
The same goes for choosing a shape. You are going to be very limited with a fiberglass pool. But with a custom, gunite pool, you can have any shape that you want.

Some people like the idea of a freeform, flowing shape. Others are really keen on a linear design. Of course, you can honestly get as customized as you want and even do an out-of-the-box idea like a horse head, a guitar, a piano, a painter's pallet, or whatever else you can dream up within your budget.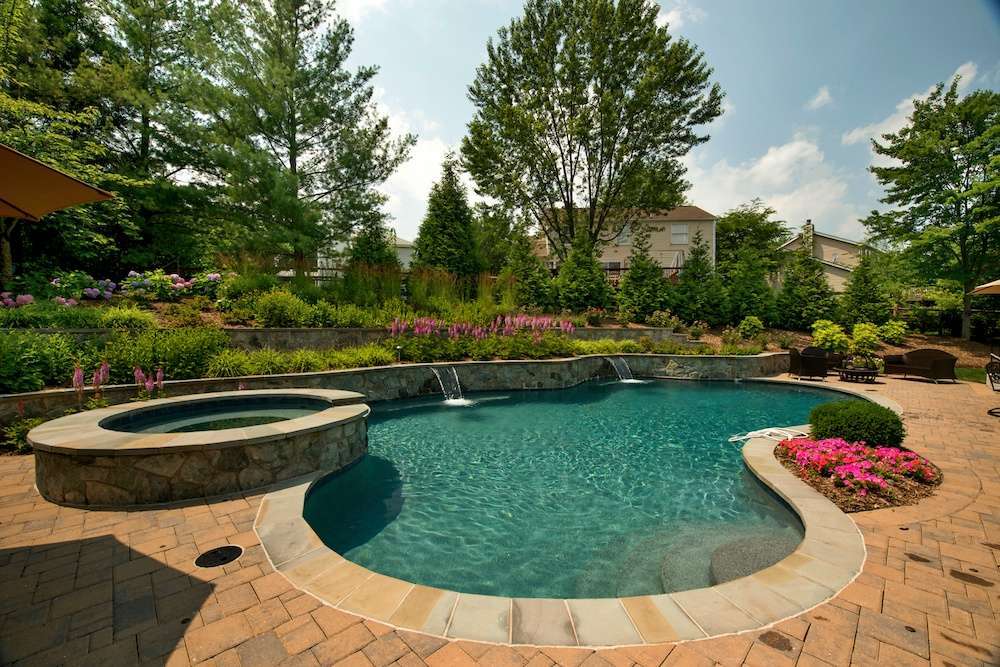 The key is that with a custom swimming pool design, you aren't limited to the shape that your pool builder needs you to do. You can choose what works for you and your property.
Choosing a Pool Depth
Finally, you guessed it, all of these same limitations apply when it comes to pool depth. You can't have an extra-deep end with a fiberglass pool or even a vinyl liner. But when it's a truly custom design made using gunite, you can have a custom depth.
2. What Pool Materials Do You Want For Your Custom Swimming Pool Design?
Another important choice is pool materials. Selections for materials like coping, tile, and even plaster can truly make your pool "your own."

This Warrenton, VA pool, is a great example of a unique material choice that is ideally suited to the natural landscape around it. The homeowners selected a black plaster to help prevent the pool from looking out of place in its farmside surroundings. Had they chosen a bright blue plaster that gave the look of turquoise waters, it would not have looked right in the countryside setting.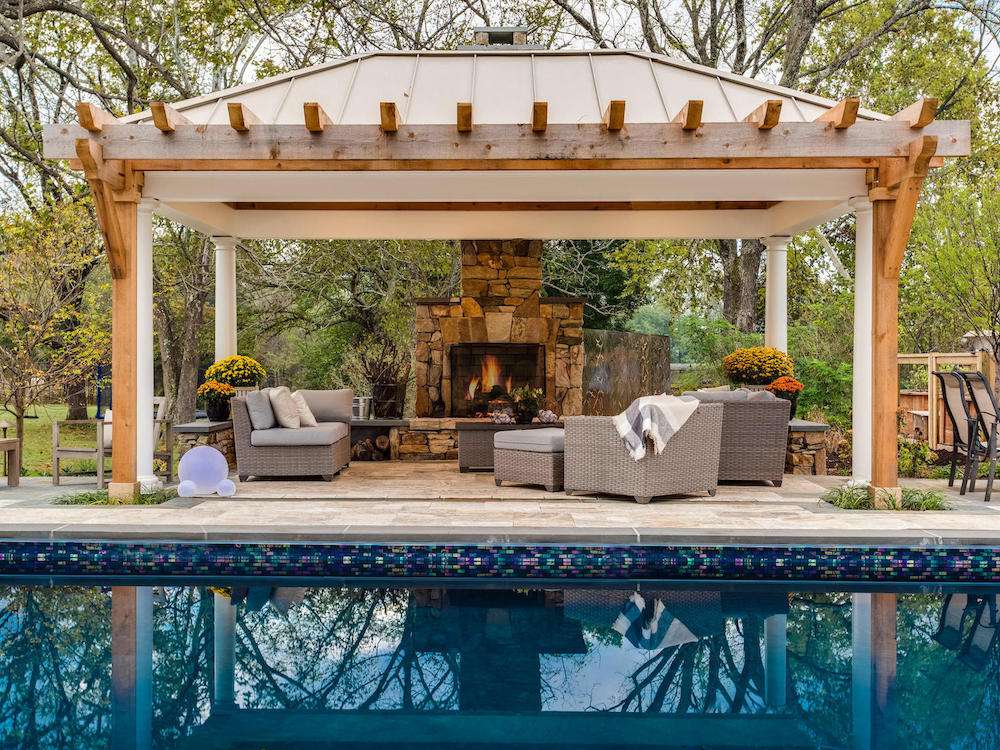 Even the pool patio material is a personalized choice and should be part of your custom pool design. A lot of typical pool companies aren't going to give you much option and just go ahead and include a concrete patio. But this is many steps down from what we believe is by far the best pool patio material: Natural stone.

In our opinion, natural stone is the best material for pool patios- particularly travertine.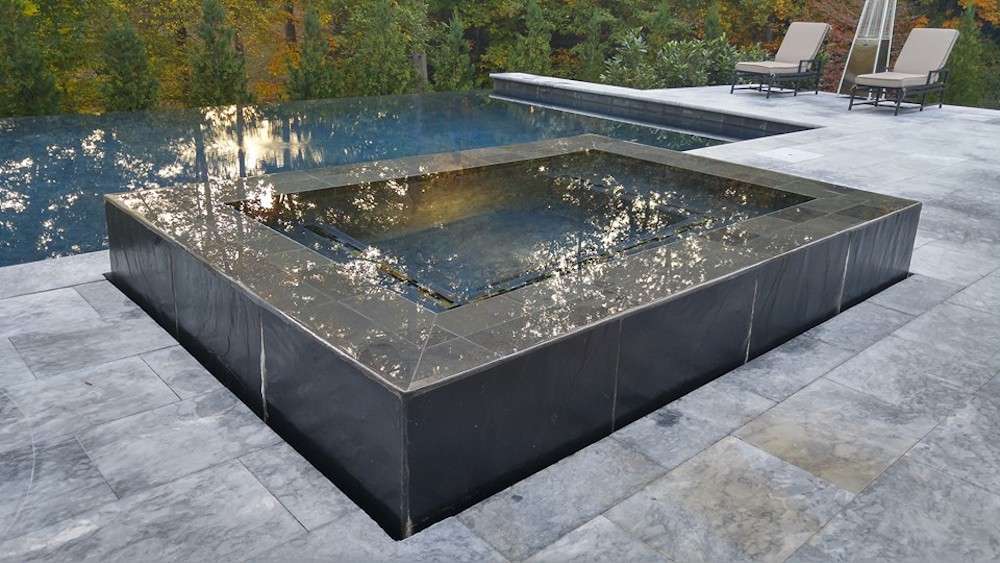 It is simply best suited for a pool area in a way that concrete or even pavers can't match. When you're investing in something like a pool, you obviously don't want to skimp when it comes to the patio as it's key to your overall enjoyment of the pool area. If you're on a budget you might consider using travertine around your pool area and something else for the extended patio.

But you definitely deserve to have a choice. We think it's a major disservice when pool builders opt for the cheapest material so they can install it quickly and move on to their next project.
3. What Swimming Pool Features Do You want with Your Custom Pool Design?
Another decision that you get to make with a custom design is what features you'd like to add to your pool. It is these features that can truly take a pool project to the next level. After all, you won't spend 100 percent of your time outside swimming. You'll be hanging around the pool area, too. So, you want the pool features to help enhance that time.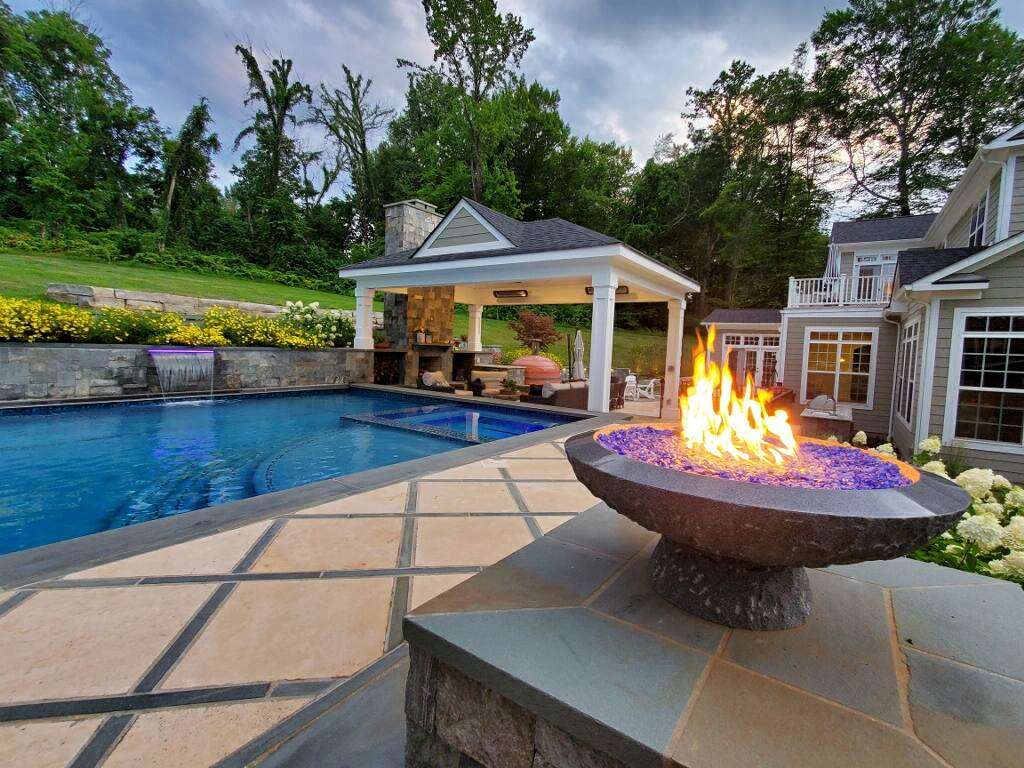 There are so many features that can really add to your enjoyment of your pool area. Here are some to consider.
Outdoor kitchen
Landscape lighting
Pavilion
Pergola
Fire features
Pool house
Recreation or game areas
There are also features within the pool that can either enhance your enjoyment while in the pool or nearby it. These include the following.
Tanning or "sun shelf"
Water features
Custom rock wall
Waterfalls, jets, fountains, bubblers, and other water features
Color-changing pool lights
Beach entry
Infinity edge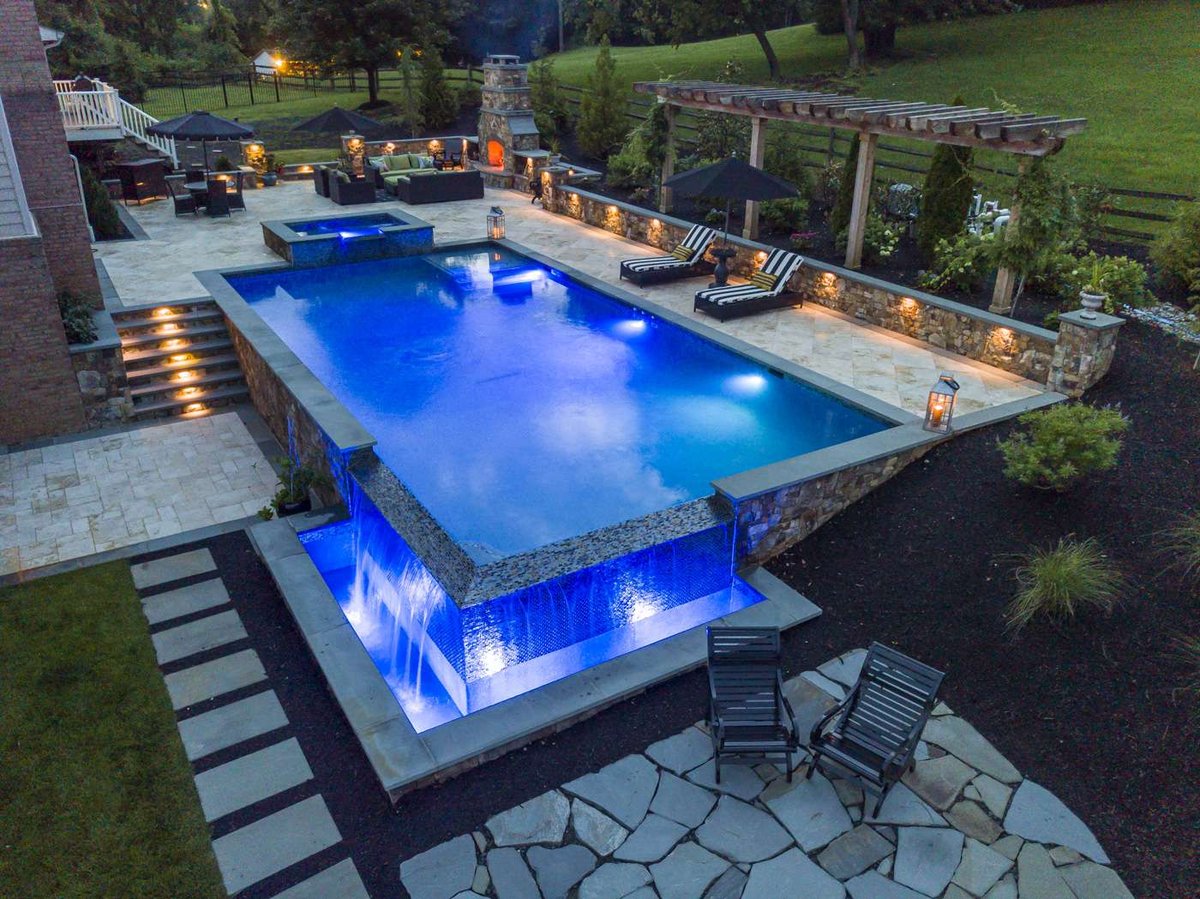 The fact is, all of these added features simply aren't an option if you don't choose a custom pool. You'll be stuck with what the pool builder is accustomed to building or what is even possible to achieve with your limited options.
4. Which Custom Pool Builders in Northern Virginia Should I Hire?
Clearly, you can see the importance of a custom pool design. If you don't want to end up with a "pool like everyone else has" and you want to be able to make some of the above choices to highly customize your options, then you can't just choose any-old pool builder.

We know the word "custom" gets thrown around a lot. But truly custom swimming pools are "one of a kind." And they are only possible from companies that design and build gunite pools.

You simply can't get the customization factor with a vinyl liner pool or one that is fabricated in a shop (fiberglass).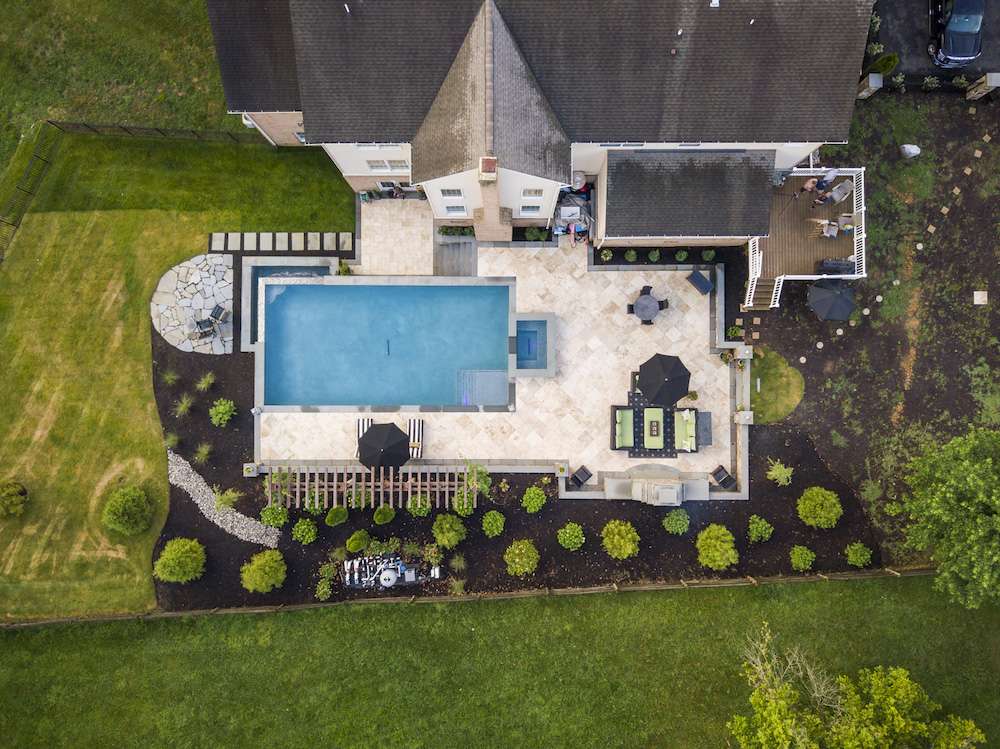 As you begin your search for custom pool builders, make sure that you are looking at companies that use gunite.

Also, take the time to browse their image gallery and look through photos of swimming pools. As we mentioned, while a lot of companies like to claim that they build custom pools, if everything looks the same, they probably aren't doing very much "out-of-the-box" thinking.

Oftentimes pool builders might offer several different styles of pools but don't deviate beyond those options. When this is the case, they aren't really "custom" after all.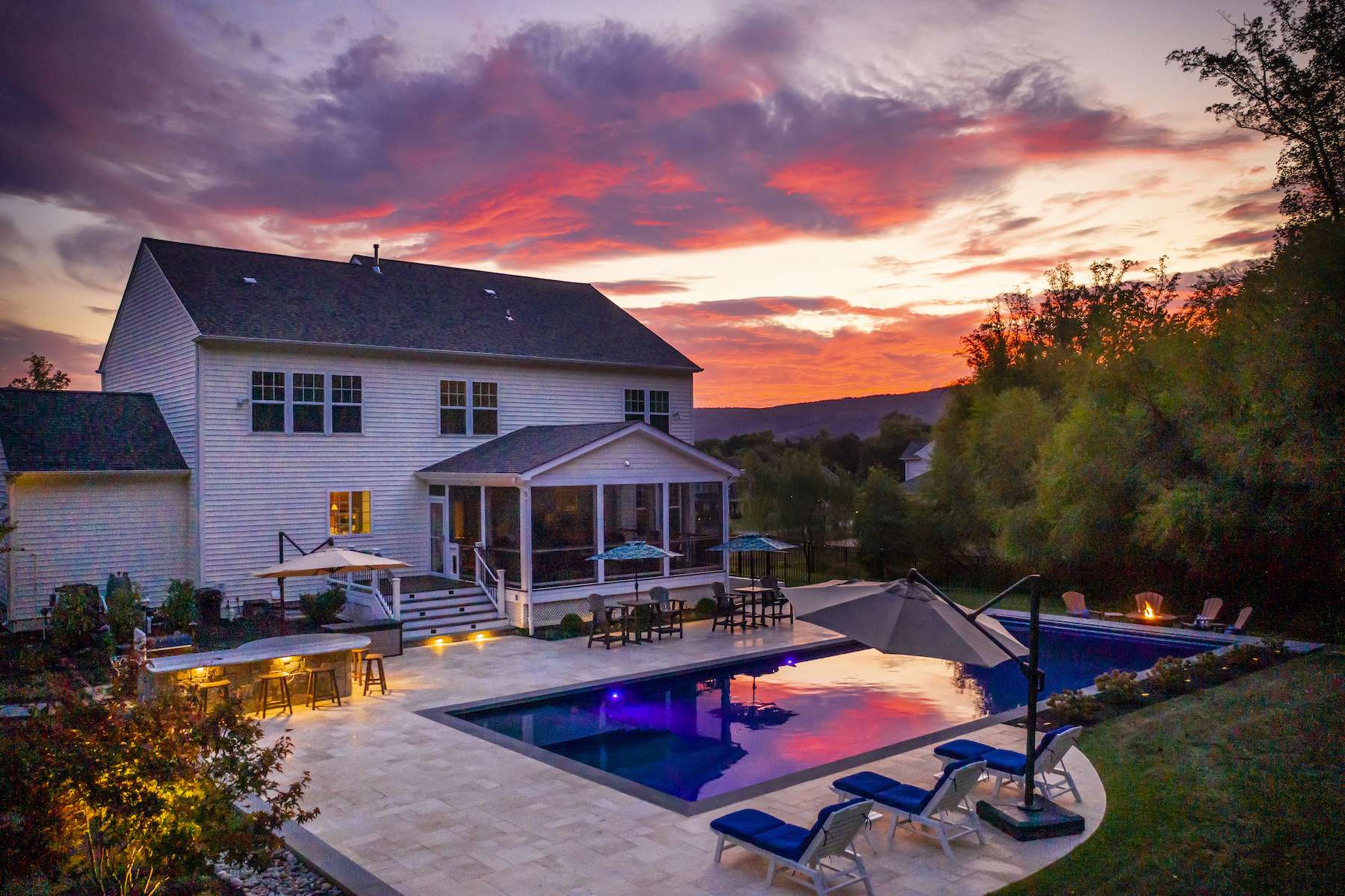 Of all the decisions you need to make when beginning your journey toward your custom swimming pool, choosing the right company to get the job done is the decision with the most riding on it. After all, if you don't chose wisely, you may not end up with the custom pool that you truly desire.

This is why it's important to invest time in researching your options. You want to choose a company that makes customization a priority.
Working with Rock Water Farm for a Custom Swimming Pool Design
At Rock Water Farm, true customization is important to us. We believe that homeowners deserve to make decisions for the factors that will impact their swimming pool design.

If that's important to you and you want to be able to say that your swimming pool is truly unique (truly "your own"), then it's critical you make a wise choice. When you do, you'll be able to say that there is truly no other pool out there just like yours.

If you'd like to get started on planning a dream pool for your Ashburn, Aldie, or Leesburg, VA property, talk to an expert, choose a solution that rocks, and then get ready to enjoy your property to the fullest.