Posted by

Todd Thomasson on Aug 6, 2020 10:55:20 AM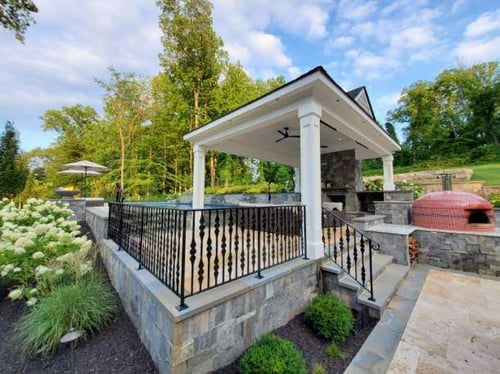 Extending your time outdoors and enjoying that time to the fullest comes down to adding features that enhance your backyard.
Whether you envision your outdoor area as a spot for total relaxation, one for fun, recreation, and exercise—or maybe a little bit of all those things, it ultimately comes down to the outdoor living features that you add to support those ideas and plans.
Adding a pavilion or a pergola are two such features that can take your backyard in Great Falls, Leesburg, or Ashburn, VA to a whole new level.
Both pergolas and pavilions are free-standing architectural structures that can add detail and functionality to a landscape. They help create gathering areas in which your family can dine and entertain guests, or you can relax such as sitting to read a book or watching the kids play nearby.
In this article, we'll look at a variety of pavilion and pergola ideas so that you can start to narrow down what's best for you. That will include design and cost considerations that may impact your decision as well as how to plan for a pergola or landscape pavilion design now or in the future.
What are the Differences Between a Landscape Pavilion Design and a Pergola Design?
As we mentioned, both of these features are architectural structures that can be added to your outdoor living area. But a pergola and a pavilion have some pretty specific differences.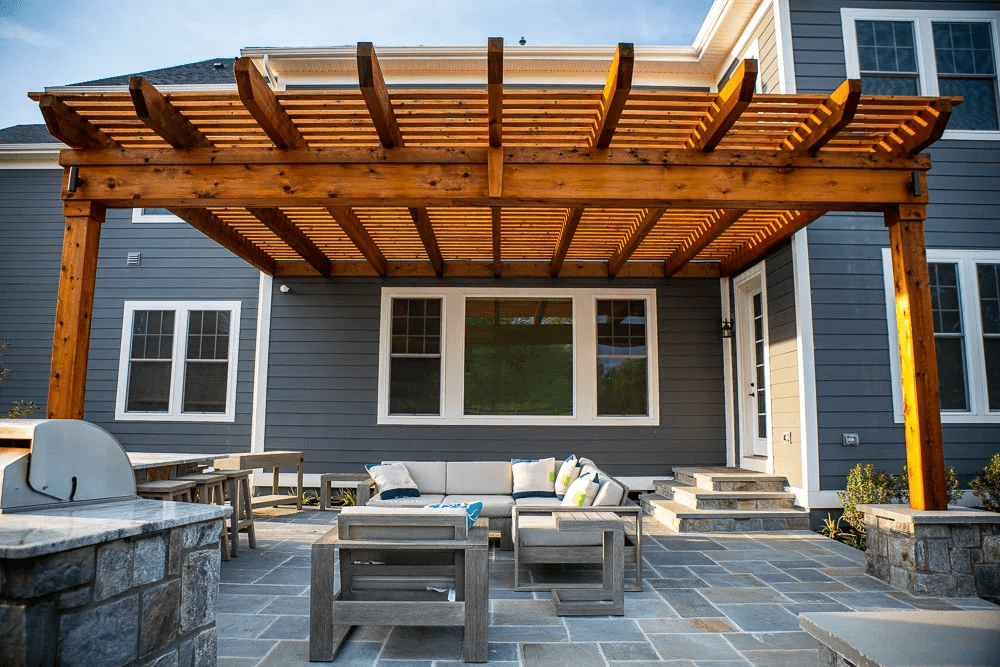 A pergola has an open roof, allowing you to see the layered beams above. A pavilion, on the other hand, is like a house with no walls. It has a roof and sometimes even has a finished ceiling to which recessed lighting or even a ceiling fan could be added. While both can provide shade, the covered aspect of a pavilion will also protect you from rain and weather elements. It's much more like an outdoor room.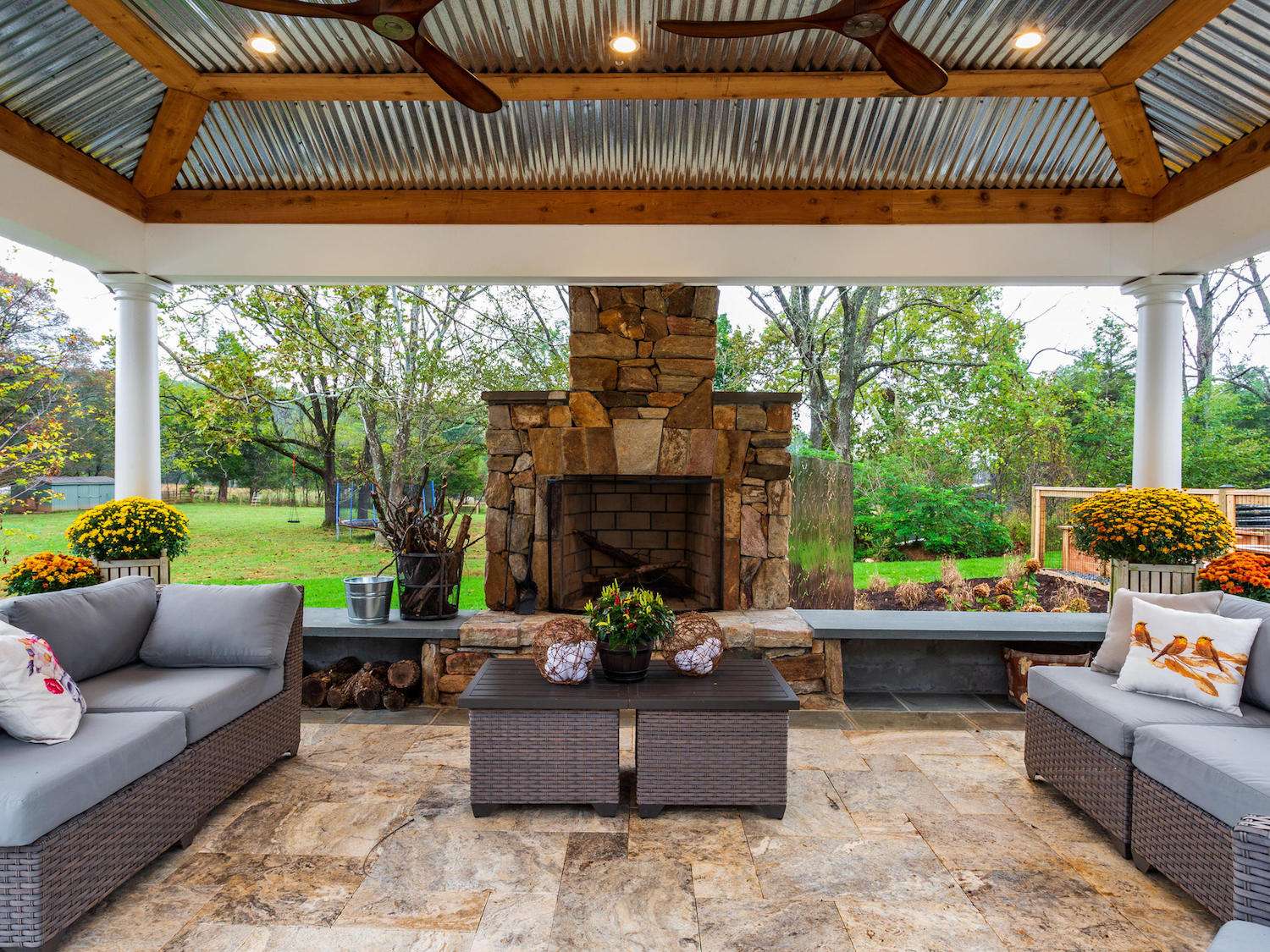 Which of these two options is best for you? It really comes down to your wants and needs.
Pergolas tend to be appreciated for the charming architectural detail that they can add. With their exposed beams and their open feeling, homeowners often choose a pergola for the aesthetic appeal they add to a space that they don't want to totally close in. A ceiling fan, lighting, and even sun shades can also be added to a pergola to extend its functionality.
A pavilion, of course, extends functionality even further. With the construction of a true outdoor "room," you have true protection from the elements which opens up the possibilities of what can be added. With the total cover, you can include elements like an outdoor television or an outdoor fireplace and even spend time there when it's raining (or snowing, too!).
Adding a Pool Pergola or Pool Pavilion
These structures tend to be popular as part of a pool patio. Adding a structure near your pool can really enhance the functional use of the space. Your family or friends can be swimming while others are lounging or dining in the comfort of some shade provided by your pool structure.
Which structure is right for your pool area again comes down to your wants and needs. It's a very personalized decision. We have built both pergolas and pavilions near pools and both have looked and performed great.
In terms of the benefits, both a pergola and a pavilion provide some shaded space, which will be highly valued in the heat of the summer. After all, you (and your guests) want a comfortable place to sit and relax when not in the pool as opposed to sitting with the sun beating down on you.
A pergola is going to provide more "filtered shade" as some sunlight may come down between the exposed beams. Some homeowners achieve additional shade by adding sun shades to their pergola.
Of course, if you plan to also cook, dine, and watch TV outdoors—and you don't want weather to stand in your way—then you may need a more fully enclosed area, like a pavilion.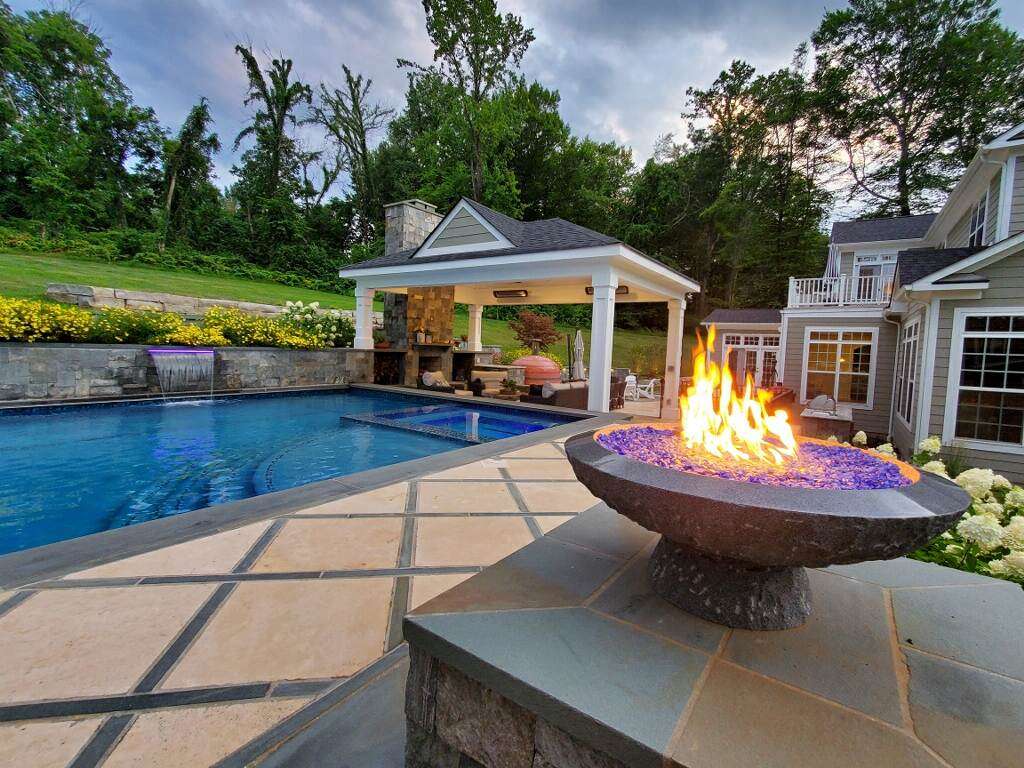 There's no question that both features can enhance your pool area. We can help you determine what's right for you—and your budget. We'll talk transparently about costs (next) as it's obviously an important consideration in choosing between these two structures.
How Much Does a Pergola or Pavilion Cost?
Beyond the "wants" that you have for your pavilion or pergola, budget is obviously another dictating factor to consider. If you're considering one of these structures, you might be wondering how much you can plan on spending.
Size, materials, architectural complexity, and added features are going to be some of the biggest factors dictating the variations in price. Still, we can at least provide a starting range to get you off on the right foot for planning.
Starting Cost of a Pergola
Pergolas start at $10,000 and can go to $35,000 or more, depending upon the size and features. It's important to keep in mind that we're not building pergolas from kits, as some landscape builders would do.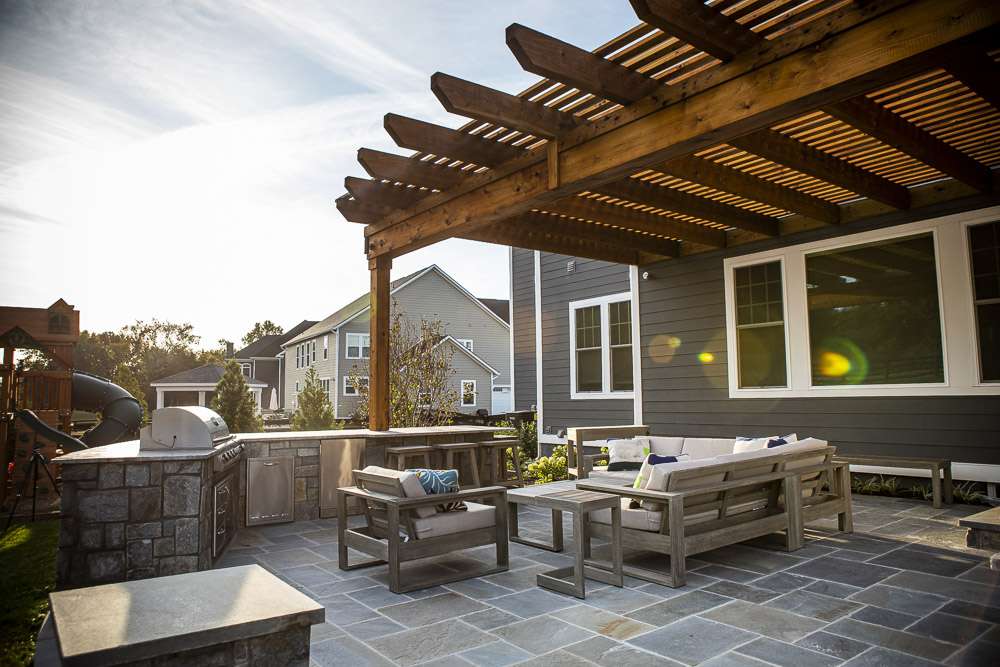 Instead, these are custom-made, original pergolas constructed from high-quality materials.
Starting Cost of a Pavilion
A pavilion is naturally going to cost more. If you choose a pavilion, as opposed to a pergola, it's likely that you have more features that you plan to add. That's where the cost can really begin to increase.
Pavilion costs usually start at $35,000 and can go upwards from there. At $35,000, you're going to have a relatively basic and small pavilion. But a pavilion that also features desired add-ons such as infrared heaters, fiber optic ceiling lights, an outdoor kitchen or fireplace, and more can be anywhere from $50,000 - $100,000 depending upon size and specifics of the features that you add.
These features are important, though. While the structure itself is critical it tends to be the add-on features that are really going to help you maximize the use of your outdoor living room.
For instance, with the covered area, you can now add an outdoor kitchen and be outside cooking up dinner even when there's inclement weather. With some infrared heaters and recessed lighting, you can have a warm and well-lit spot where you can sit and watch the kids swim in the evening hours. There's no doubt it's these added features that help make your space complete.
Thinking Ahead: Phasing Your Pavilion or Pergola Project
As you consider the cost of a pergola or a pavilion, it might be something that you desire but that doesn't fit into your immediate budget. If that's the case, then you want to consider building these future plans into your current "master plan," and having the structure added down the road.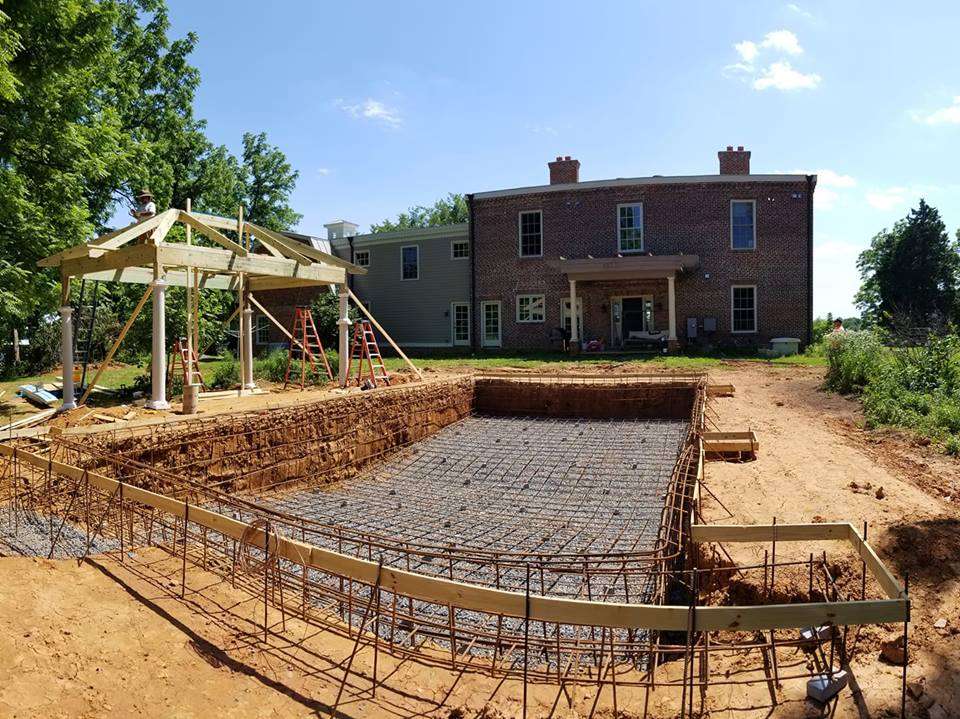 Both structures are large add-ons so it's important not to make them last-minute thoughts. Unfortunately, this can happen when working with a landscaper or pool company that doesn't think about anything beyond the scope of their initial project.
But this can be problematic as a pavilion or pergola are not easily built as afterthoughts. They need to be part of the original construction plan if you want to limit your headaches and even your costs.
The main reason for this is because there are footers that need to be built into the ground. Depending upon what kind of features you might have in your covered space, electrical lines or possibly even plumbing should also be run early on. Anything being installed underground should all be completed during the digging phase so that excavation only has to happen once. The last thing you'd want is to have to dig up your patio (and have it re-installed).
That's a major hassle you should not have to deal with.
The bottom line? Even if you're going to add a landscape structure at a later date, it should at least be planned now in order to keep the cost down and to simplify the future build.
Finding a Professional to Complete Your Pavilion or Pergola Design
Once you decide to have one of these structures designed and built, it's important that you choose the right company to complete the work. There are a lot of landscaping and pool companies that claim to build pergolas and pavilions, but you must consider what you are really getting. Anyone can purchase a pavilion or pergola kit and plop it in the backyard.
But, will it withstand the test of time?
Will it truly have the unique and custom feel to it that you were looking for?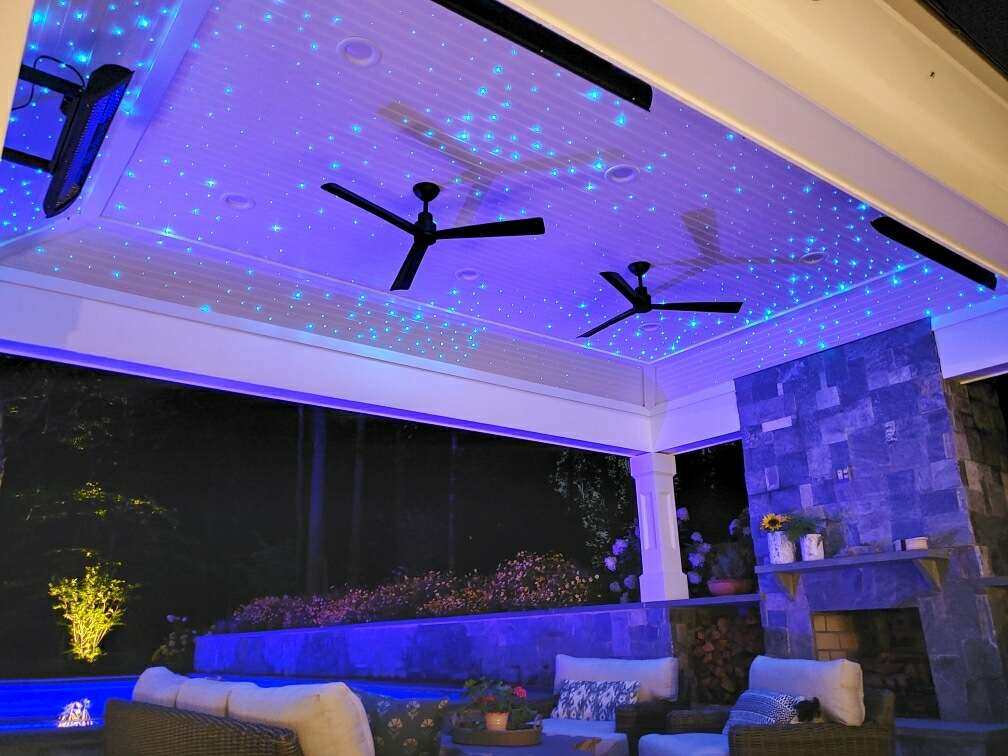 If it's not built using an original design and high-quality materials, then the answer will be no. You deserve more than that. If you're looking to truly enhance your outdoor living experience, then you want more than a structure built from a kit.
On top of that, you also want to be confident that your outdoor structure is going to fit within your outdoor living space as a whole. After all, a pergola or pavilion is just one part of an overall landscape design, and you want everything to blend and work together.
At Rock Water Farm, we are designing and building everything within the landscape or pool area from scratch. That means you end up with a custom result. We also look at the big picture and consider how each and every aspect of the total project will work together so that you are happy with all of it.
We believe you deserve to end up with an overall finished project that fits your dream. By making a wise choice about who to hire, you and your family will be able to enjoy an outdoor living space that meets everyone's wants and needs.
Are you ready to find a pool company and landscape contractor in Great Falls, VA that can take your pavilion or pergola ideas and make them a reality? If so, talk to an expert, choose a solution that rocks, and get ready to see those dreams start to take shape.