Posted by

Todd Thomasson on Aug 16, 2021 10:29:20 AM
When you think about your dream outdoor living space, you know that the patio is at the heart of it all. Whether the finished product is going to also include a pool, a pavilion, an outdoor kitchen, or other amenities, you want to be sure that your patio can accommodate it all. That's why it's important to consider patio size ahead of having it built. It's a key element of planning a patio layout.

Of course, you might not have any idea where to start. You may be wondering, how big should my patio be?

There are some essential considerations that a qualified landscape designer will take into account when designing a patio layout.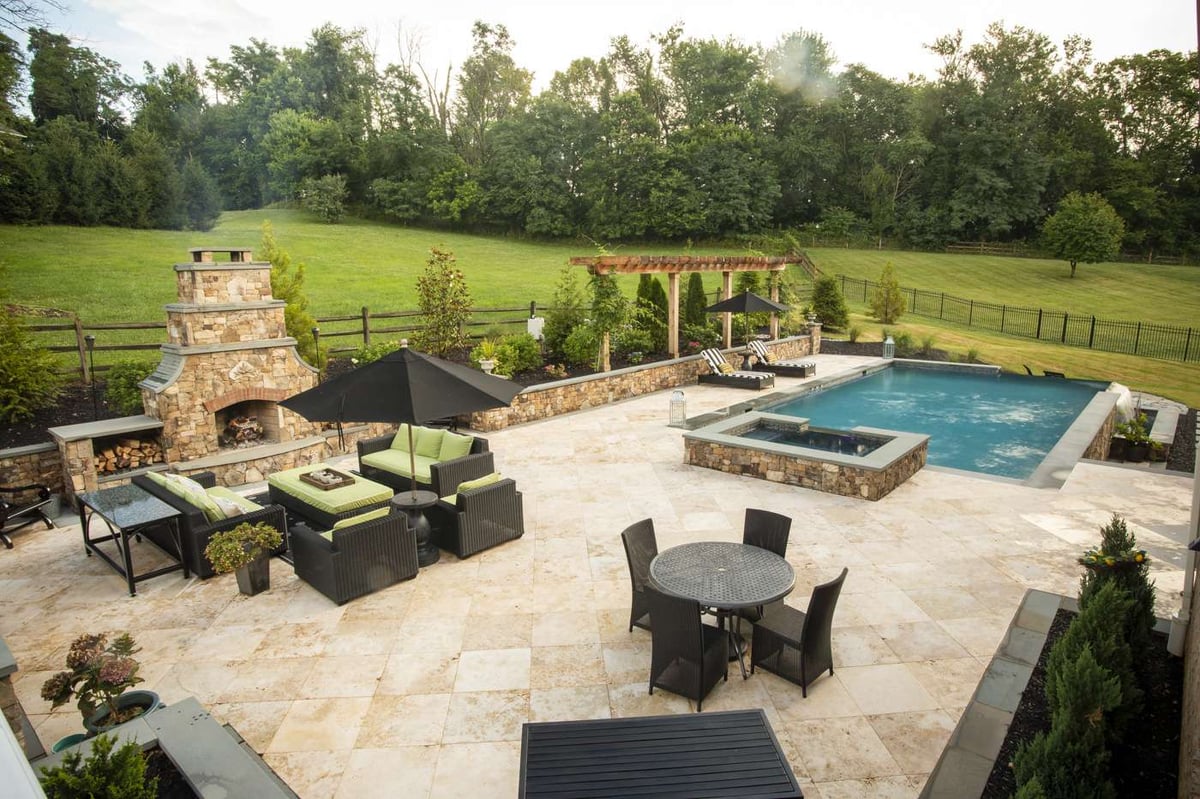 Unfortunately, not all landscape designers take the time to think through every detail. This is particularly true when it comes to the cookie-cutter patio designs that many landscape contractors throw together. You've likely seen them before. Someone has a beautiful home and then this tiny kidney bean shaped patio that just doesn't suit it. It's really too small to be highly functional.

Because we want you to make the best decisions and be happy with your finished patio space, we're talking about what should be considered when determining your ideal patio size and layout. Everything from the patio dimensions to the placement of various amenities within your patio space should be considered during the design phase so that you end up with a finished product you absolutely love (and use often).
You shouldn't have to realize that your patio isn't all you dreamed it could be when it comes time to use it.
Here are 3 things to consider when planning your patio layout and patio size.
1. How do you Envision Using the Patio Space?
How you plan to use the patio is a vital detail when it comes to determining its size, shape, and layout. This includes everything from how many people you think you'll host on your patio to what you'll do.
Do you plan to eat meals outside and how much space will you need for seating?
Are you interested in eating outside and want to include an outdoor kitchen?
Are you going to have a swimming pool as part of the extended patio design?
Do you envision sitting in front of a fire feature while spending time on your patio?
How much and what type of patio furniture do you want to incorporate (and where)?
Will you require any built-in or overflow seating for larger parties?
These are just some of the questions that you should be pondering as you and your landscape designer begin planning a patio layout, including the necessary size and shape to accommodate all of your needs.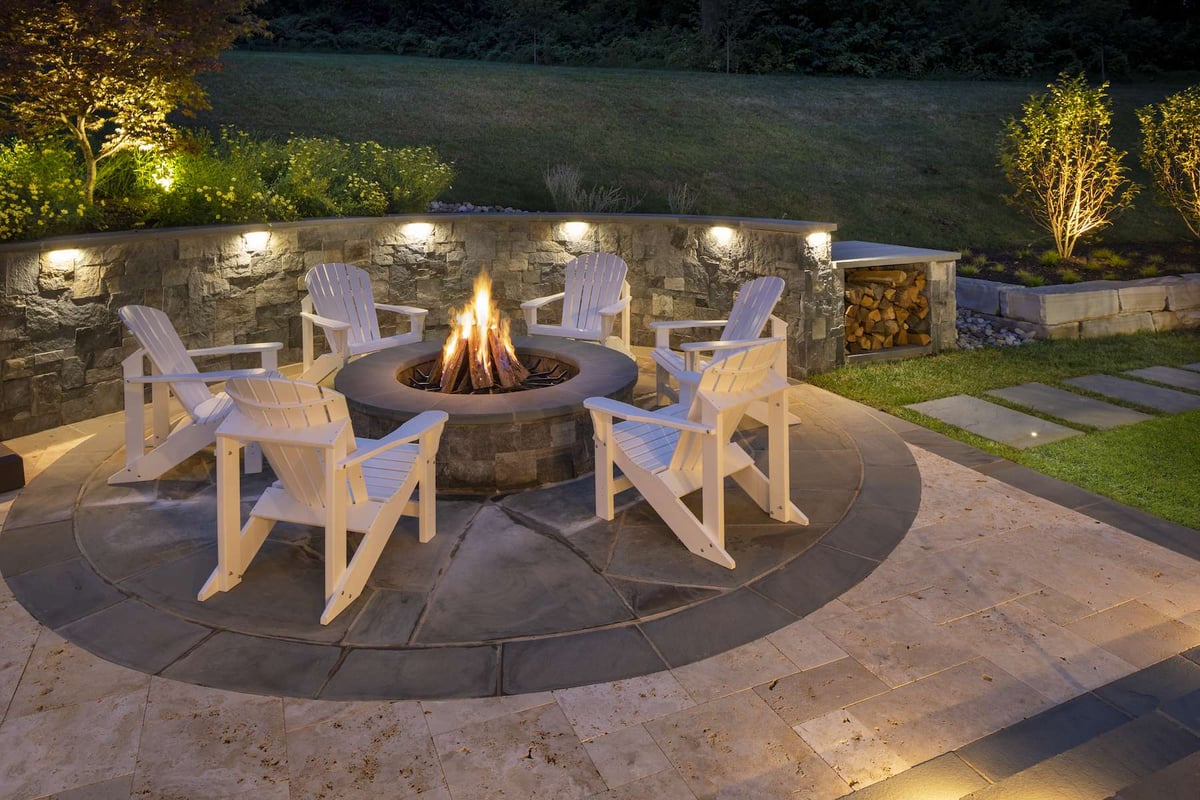 It's not uncommon for homeowners to have multiple uses in mind for their patio space and that's completely fine! In fact, this could lend itself to a landscape design with multiple areas such as one for cooking, one for dining, one for swimming, and one for lounging and having a nightcap. This can really enhance the overall use of the space as a whole with plenty of "outdoor rooms" to spend time in.

Of course, if your landscape designer is not taking the time to dig into all of these specifics, then you should potentially be concerned that you'll end up with a cookie-cutter design and layout. It might fall short of meeting your wants and needs when it's finished. That's why expert patio planning is so important.
2. Your Property Grading and Possible Need for Stairs Must be Considered for Patio Size and Layout
Here in Northern Virginia, many of our clients' properties are sloped and hilly which as we mentioned above, can lend itself to a multi-level patio. This can actually be a lot more appealing and interesting than just one huge flat patio and many homeowners prefer this type of patio layout. It helps to create the sense of having different "rooms."

But it will also be a key consideration when it comes to determining the appropriate patio sizing and layout. Your landscape designer should consider the best place to install various stairs and walkways that will need to connect these different areas.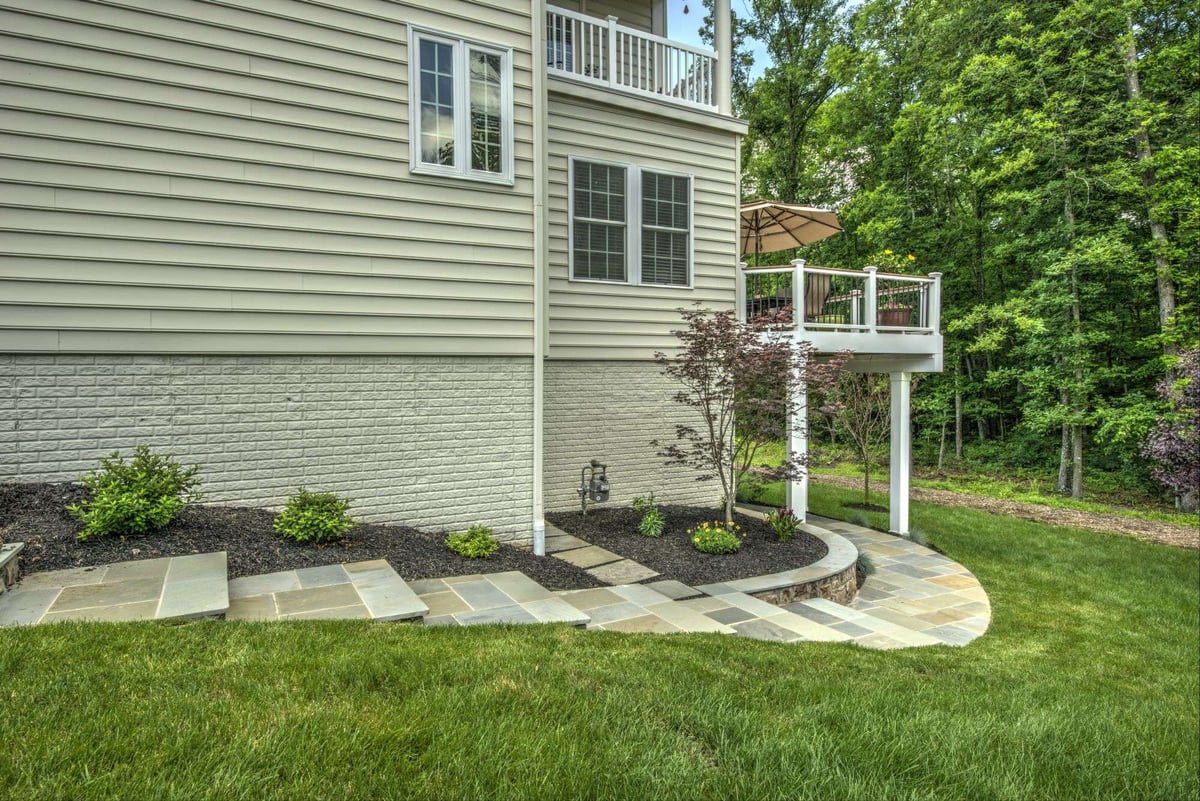 It's so important that it all flows. The last thing that you want is to have steps that stick out like a sore thumb. The layout will be critical to ensure it flows with the overall space and adds both appeal and functionality.

Sometimes homeowners desire both a deck (for the upper level) and a patio, so it's also important that these spaces work well together.

Again, it's critical that the steps are laid out in a way that makes sense for both spaces. Sometimes when these areas aren't planned at the same time, the steps end up being located in a spot that obstructs a view on the patio (or worse, makes it less usable). The last thing that you want is a set of steps right in the middle of your usable patio space.
3. Consider the Added Amenities in Your Patio Space
As we mentioned in the first point, how you plan to use your patio will be key when it comes to designing the layout. But you want to make sure that all of the amenities are laid out in a way that makes the space highly usable.

Where do you want your outdoor kitchen in conjunction with where you'll be eating? You must also consider what utilities might be needed when planning a patio layout. Will you be running gas lines to an outdoor kitchen or to a fire feature?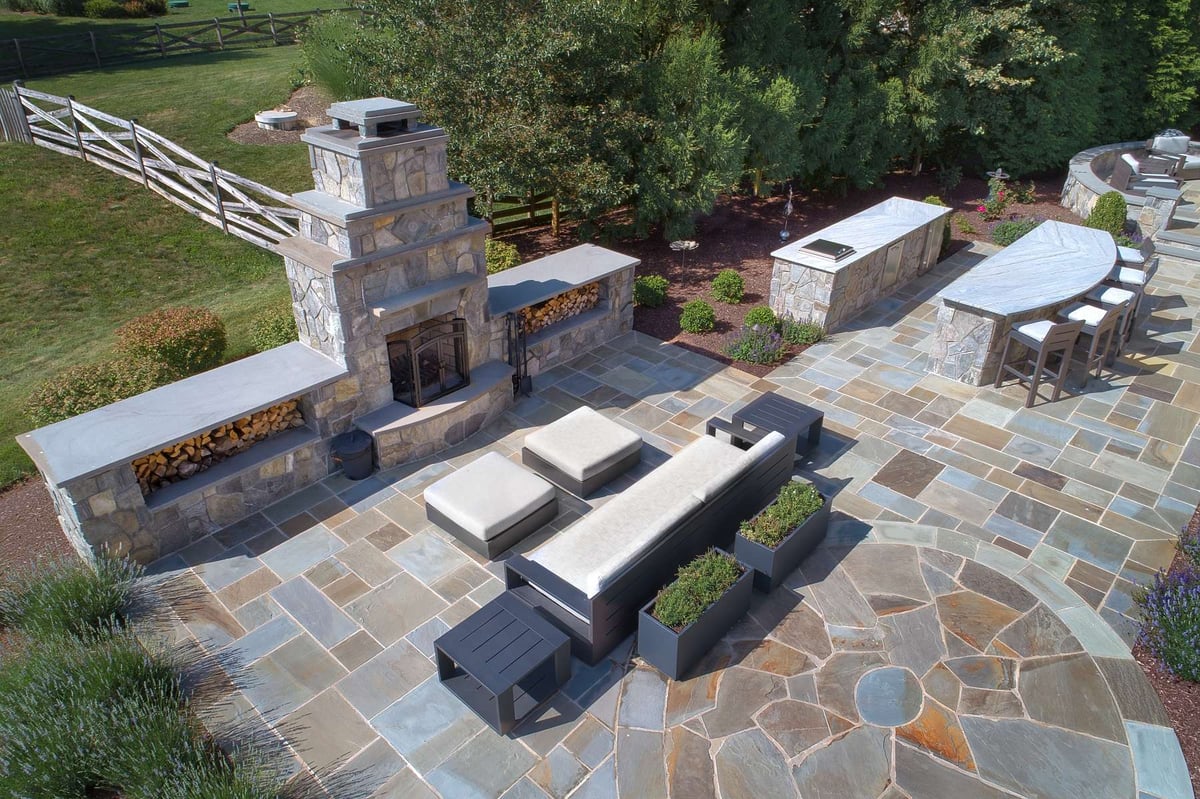 At the end of the day, a patio is made special and more usable by the features that are added to it. But these can often be difficult or even impossible to add at a later date so you want to make sure they are planned for in advance. The last thing that you want is to have to dig up your patio to run utility lines for an outdoor kitchen at a later date. Even if you plan to phase a project in two or three stages, you still want it done in a way that nobody but you knows it's incomplete.

These are all reasons why any future plans are discussed at the time of the design so that a master plan can be created.

Another consideration in terms of the amenities is the direction of the wind. If you have a wood-burning fire feature, then you want to make sure that you're considering the best location for that amenity so that it's not blowing smoke into everyone's faces. Usually, a wood-burning fire pit is designed as its own separate space, almost "off" the main patio.

An outdoor fireplace, on the other hand, won't blow smoke since it's directed up and out of the chimney. However, an outdoor fireplace is best situated at the corner of a patio where it doesn't take up usable space for seating.

It's all part of patio planning ahead for the ideal layout.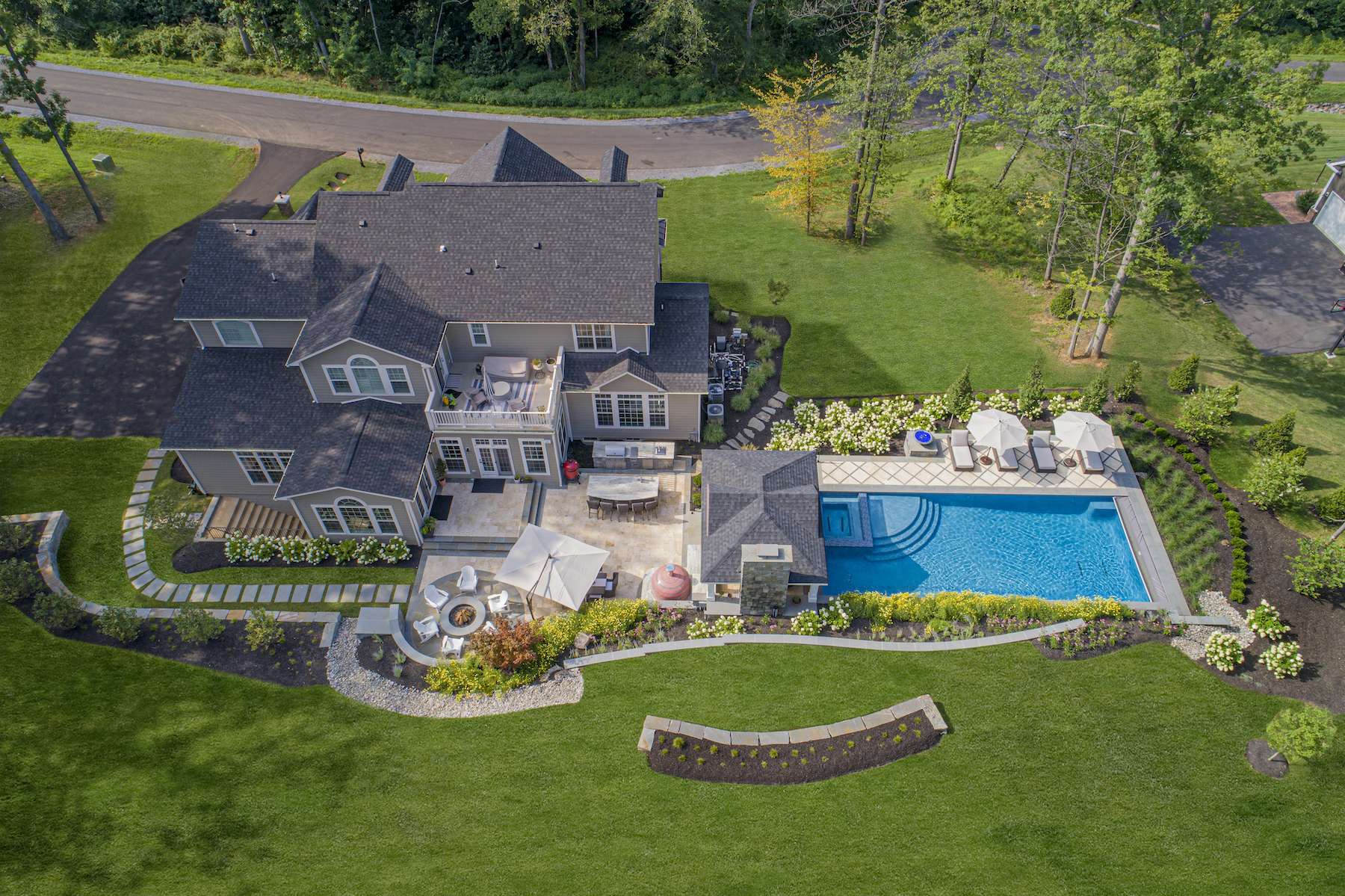 Enjoying the Patio of your Dreams
We understand that there is a lot involved when it comes to planning a patio layout and choosing what size patio you need. You might be worried that there is a detail you are missing or something you're not thinking about. But when you work with a reputable landscape designer, they will make sure to think of every single detail.

In fact, they might also have ideas that you haven't thought of. Considering the fact that a landscape designer has completed many patio designs over the years, they should have ideas that help enhance the ones you already have. Together, you can blend your ideas with the expertise of a professional designer for the patio of your dreams.

All of this is an exciting undertaking—assuming that you're working with the kind of company that really is thinking of everything.

If you want to feel confident that your new patio is going to be completed right, then it's vital that you make a wise choice amongst landscape designers. At the end of the day, patio size and layout comes down to so many considerations—and you want to know they're all being covered.

This can be the difference between a finished project that you absolutely love and one that falls short of your dreams.

At Rock Water Farm, we believe there is no room for error when it comes to investing your hard-earned money into a patio you can be proud of. We know that when designed and built properly, your patio can become the oasis that you will make a lifetime of memories.

Are you ready to get started on the patio of your dreams at your Haymarket, Gainesville, or Round Hill, VA home? If so, talk to an expert, choose a solution that rocks, and get ready to see your dreams begin to take shape!