Posted by

Todd Thomasson on Jun 28, 2021 9:31:24 AM
If you're having a swimming pool design in Northern Virginia created, you want to make sure that every single detail is accounted for. Your swimming pool is going to become a place where you spend so much of your time with your family and friends. You want to make sure that everything is perfect.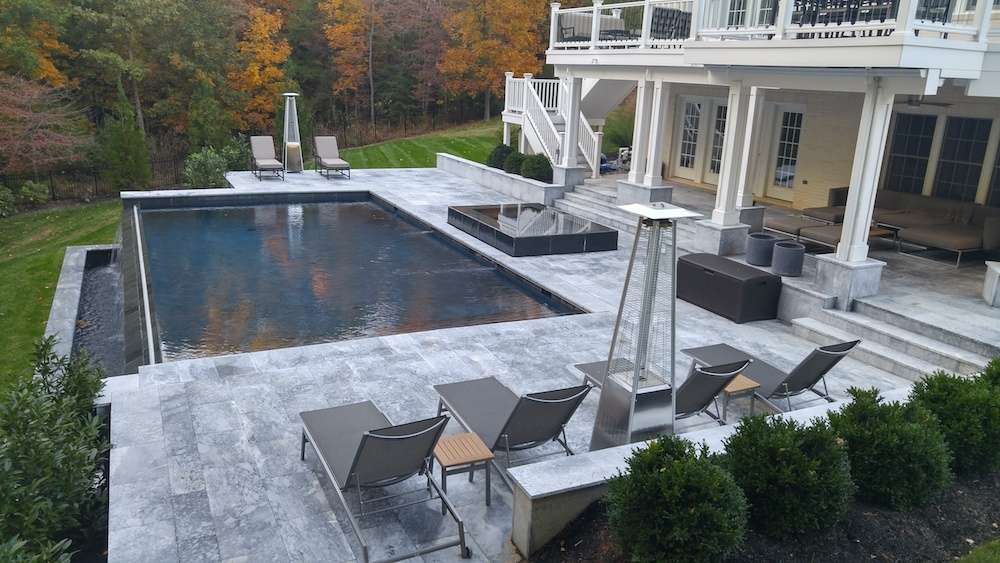 Unfortunately, pool mistakes can take away from your enjoyment and instead create hassles and headaches that you now have to deal with (instead of enjoying time in your pool).

We've rounded up some of the pool design mistakes that we've seen so that you can be sure to avoid them.
Common Pool Mistakes in Northern Virginia
While some of these mistakes are a bigger deal than others, you want to do what you can to avoid all of them. The last thing that you need is problems to deal with at a time when you're supposed to be enjoying your pool.
1. Failing to Consider the "Big Picture"
When it comes to swimming pool design mistakes, the trouble is that some companies have what we'd call "tunnel vision." They're focused on the pool and the pool alone. But a pool area should be so much more than the pool itself. A big part of the enjoyment comes from the amenities in and around the pool including features like an outdoor kitchen, a pavilion, or even lawn areas where people can play lawn games.

Too often, these are thought of as "extras," and tacked on at a later time. But if they aren't planned for, you might not have the appropriate space or they'll never look like they were meant to be part of the swimming pool design.

That's not to say that you have to do everything all at once.

In fact, we often phase projects to make them more budget-friendly for homeowners. But you still want the future plans to be part of your swimming pool design. There are elements that should be taken care of during phase one, such as putting in footers for a future pavilion or running electric or plumbing, so that you won't have to come back in and tear apart your yard again.

It's all part of looking at the big picture.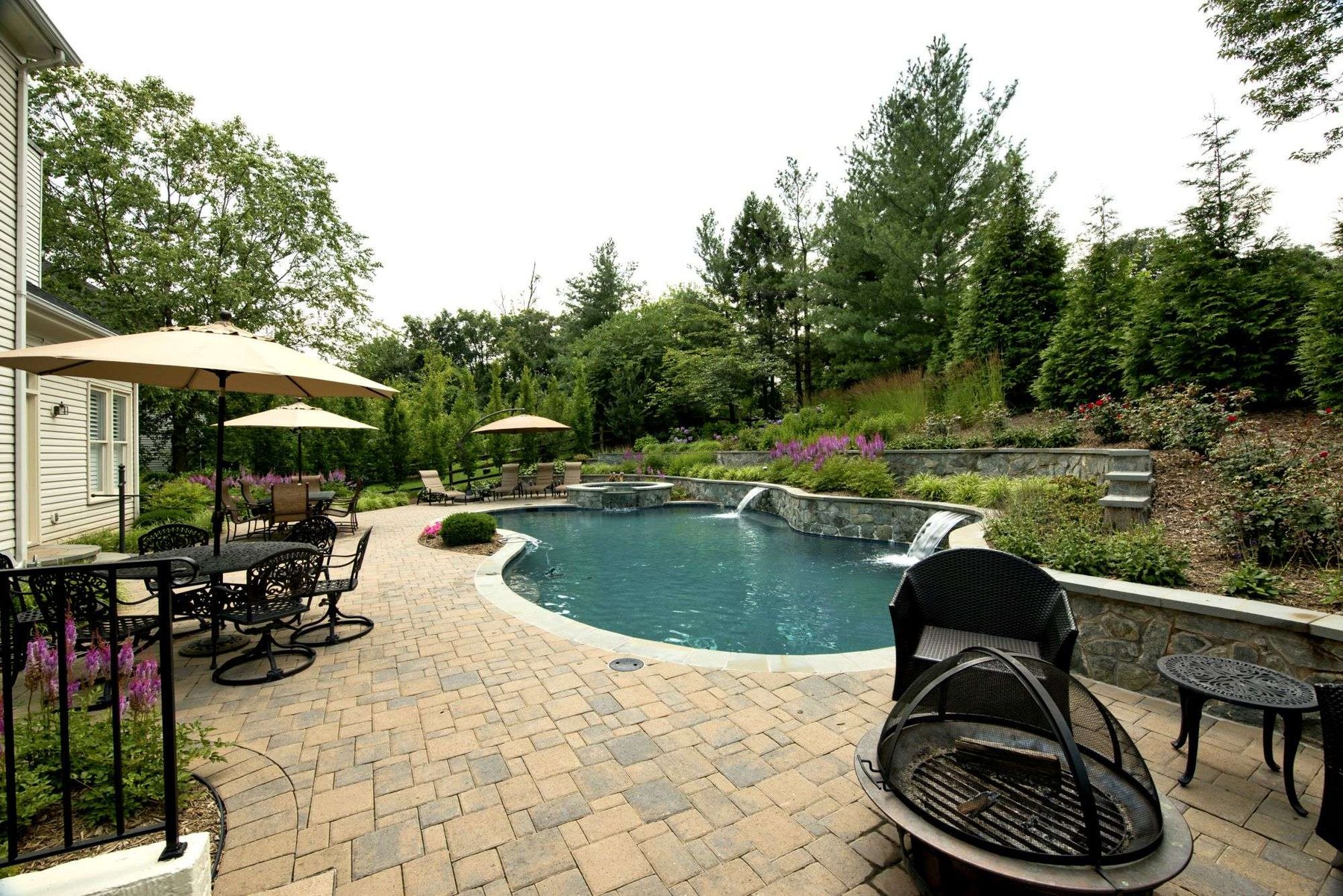 2. Making Poor Landscaping Choices around a Pool
The landscaping around the pool also contributes to your overall enjoyment of the space. You want your landscape professional to select plants that will make your whole pool area more aesthetically pleasing. There's no question these choices contribute to the overall look and "feel" of the space.

But a common pool mistake that we see is poor plant choices.

For instance, selecting plants that are thorny or that attract bees are not wise choices right around a pool area, where people will be spending lots of time. You also don't want plants that are going to drop debris on the pool deck or in the pool all of the time.

Even worse, if your landscaper fails to think about the future growth (including underground growth with the roots), of any plants around your pool, you could have major problems down the road. If a tree is planted too close to the pool patio and it starts lifting up the pavers, that could be a big deal. Or, maybe a shrub will start to outgrow its space and crowd into the pool area where people are sitting. When planning plants around the pool, future size must be considered.

There's also a missed opportunity if your landscape professional is not thinking about plants that can help you add privacy around a pool.

Landscaping can play a huge role in creating natural privacy screening. Wide and dense trees and shrubs can screen out the view of nosy neighbors when strategically placed within the swimming pool design.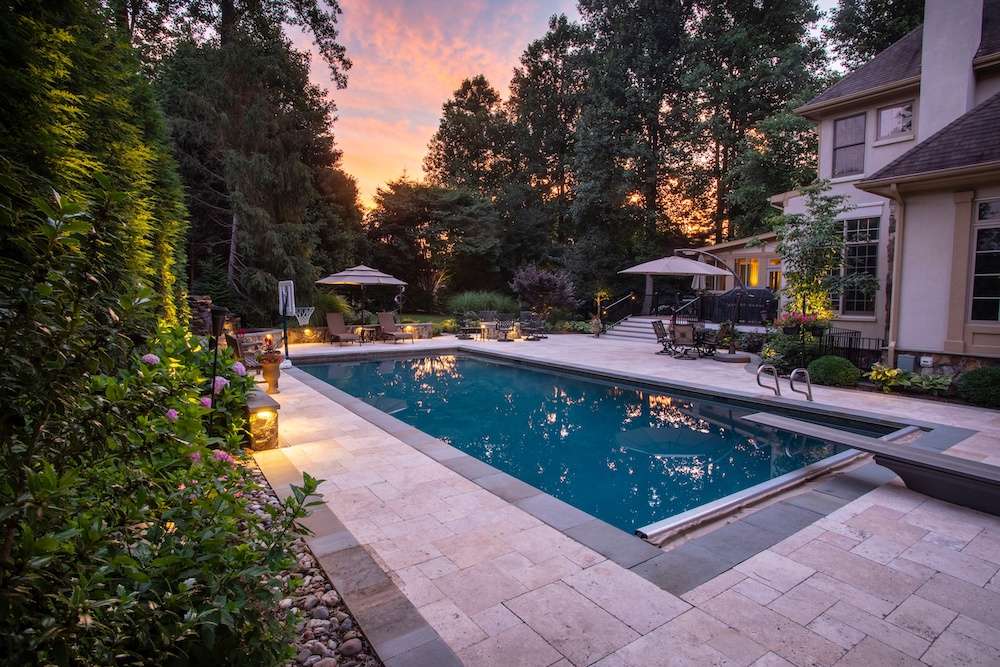 3. Using a Cheap Patio Material
Another pool mistake is the use of a cheap patio material that is going to take away value from the overall design. A lot of pool companies do opt for cheap pool patio materials like poured or stamped concrete because it's quick for them to install. That means they can quickly pour your patio and move on to the next job. But there are a lot of downsides to concrete, including the fact that it will eventually start to crack (and there's no simple or attractive fix for cracks).

But even manmade pavers are not the optimal choice for something as special as your pool patio. We believe that natural stone is the best pool patio material. Specifically, we think pool patios should be built using travertine.

Travertine does not get very slippery when it's wet, it stays cool underfoot, and it is highly durable and won't crack like concrete. It also looks beautiful and is available in a lot of color variations. Travertine opens up the possibility for a lot more creativity with patterns and patio designs as well.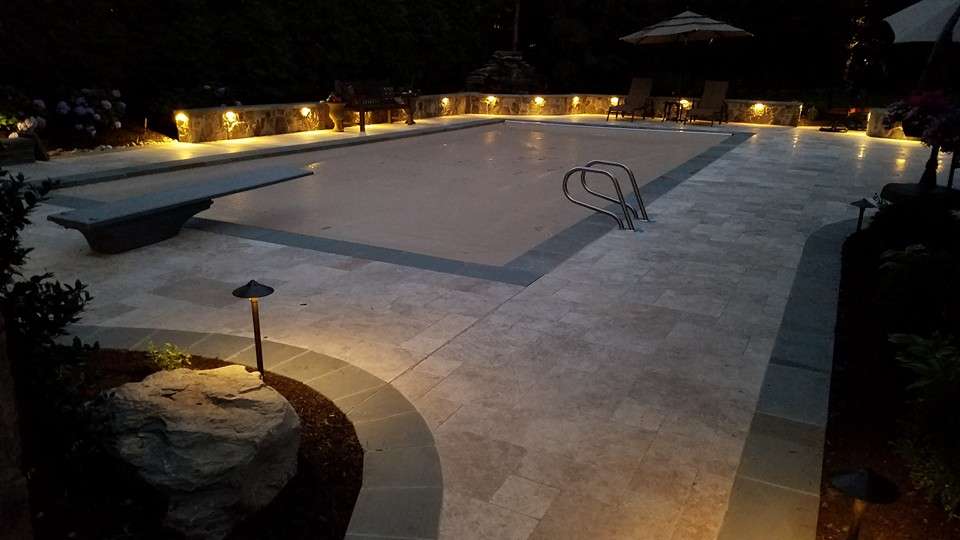 4. Grading Mistakes
Some of these mistakes are a bigger deal than others. In terms of serious issues, site grading is a big one. Grading mistakes can be detrimental to the overall success of your pool. While pools must be inspected so you know the pool itself will be graded properly, most pool builders in Northern Virginia don't think about the rest of the yard.

We've heard so many horror stories about pool builders who have left behind massive piles of dirt. Then you have to call in a landscape professional to fix what they did (when you could have just hired a landscape professional that installs pools in the first place). Too often, pool builders are focused on digging the hole for your pool and not considering how that hole will affect the rest of your property.

Besides leaving behind piles of dirt, it could also mean that you have grading challenges that need to be addressed. Perhaps now that the pool is dug, it's abundantly apparent that you'll need retaining walls or maybe even steps because of the grading changes in your yard. These should have been part of the swimming pool design from the start. They should never be after thoughts.

If you leave grading changes unaddressed, it could mean that every time it rains you have a mudslide across your pool patio and into your pool water. Or, it could mean that the landscaping around your pool constantly washes out.

These are all reasons that grading needs to be thought about from the start. It goes back to our first point about considering the "big picture." There's a lot to think about when it comes to a swimming pool design.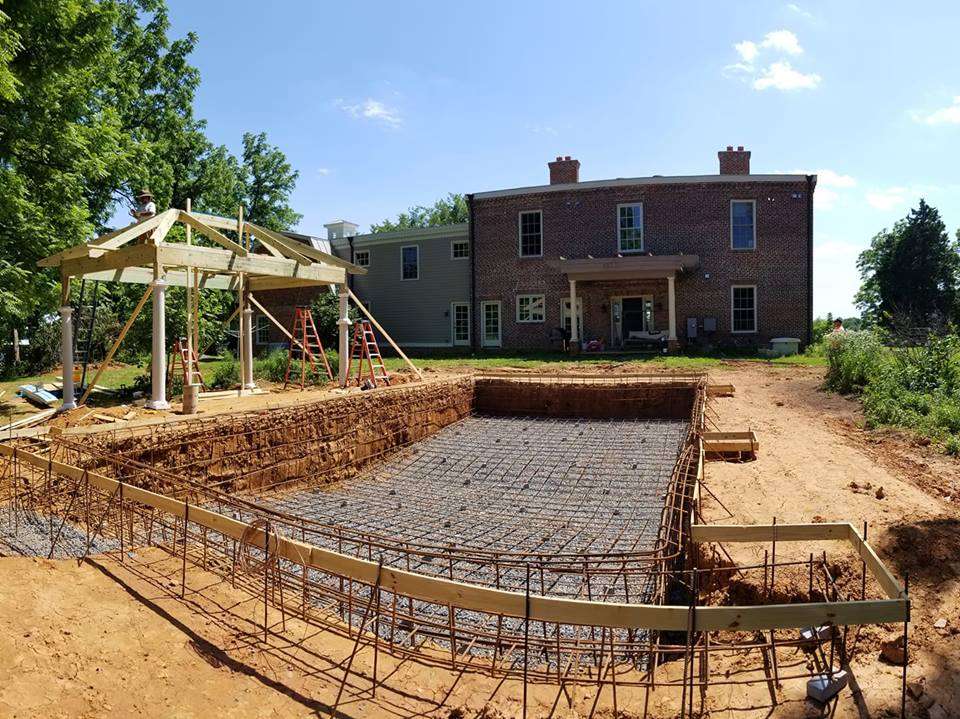 5. Failing to Choose a Custom Pool
When it comes to pool materials, you have various choices. One choice that we think can become a pool mistake is choosing anything but a custom option.

Fiberglass pools often draw people in because of claims that they can be installed faster. But there are some fiberglass pool concerns you should be aware of (which are detailed in the article we linked to). These include the lack of customization, the limitations (including depth), and smaller gripes such as how slippery they can be.

If you want your pool to truly be unique and made from a superior material, then we believe that custom gunite pools are the way to go.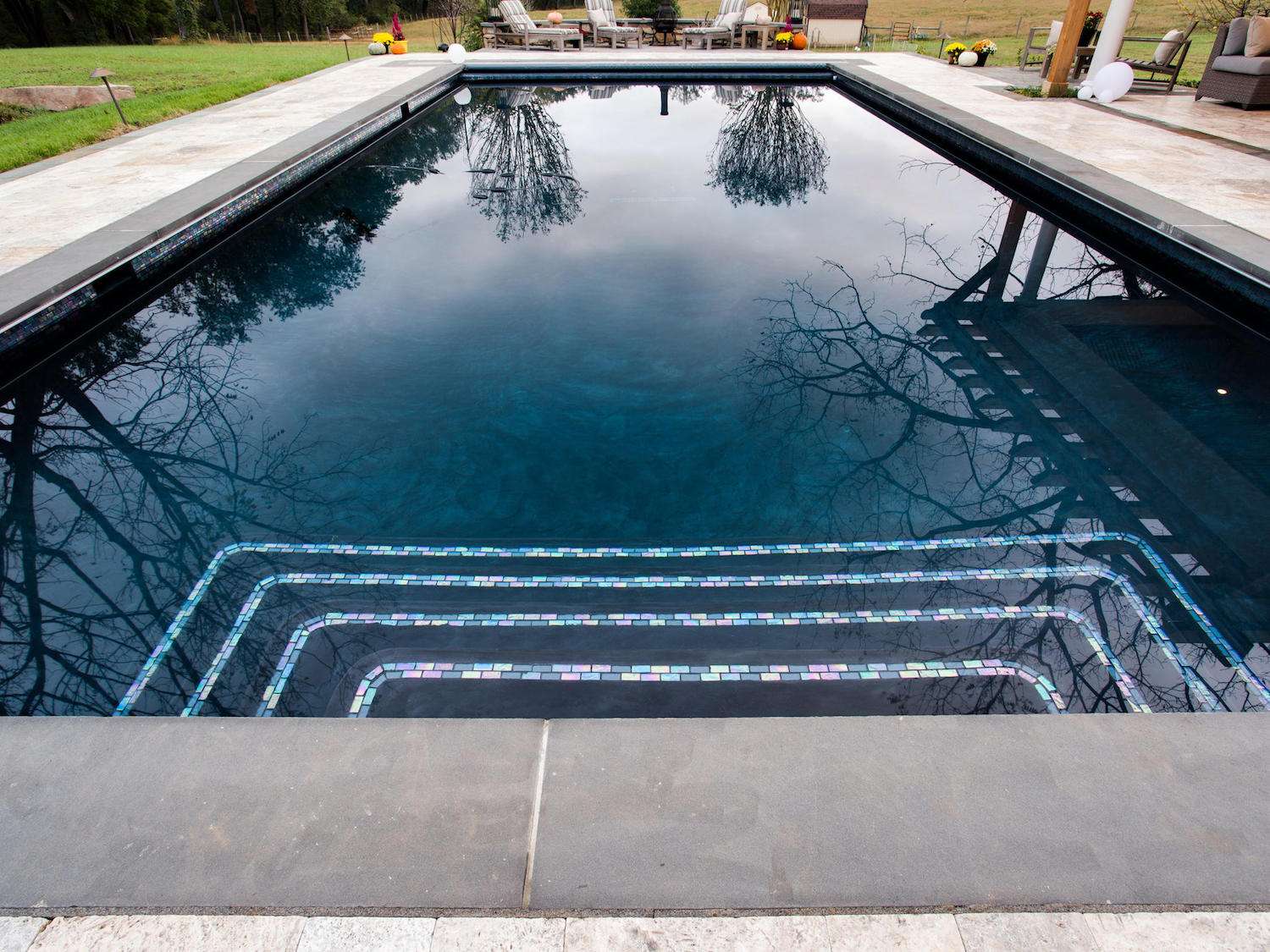 6. Hiring the Wrong Pool Company
As you might imagine, these mistakes and countless others boil down to who you've hired to handle your pool. It shouldn't be your job to think of all the potential things that can go wrong. You want to be able to feel confident that the pool company you've hired is doing that thinking for you and making the best choices.

The truth is, there are some swimming pool companies in Northern Virginia that do not even work with a swimming pool design. They'll just have you pick a pool from a catalog or sheet that has several cookie-cutter choices. Plus, they won't be able to offer you all of the features that help make your pool area complete. These will have to be add-ons later and you'll have to bring in a landscape designer at that point to fix up your pool area.
Making a Wise Choice and Avoiding Pool Mistakes
At Rock Water Farm, we look at the big picture, and that's a huge benefit to our clients. We work with superior materials like travertine and gunite. And we'll also take care of all of the features that are in our area of expertise (like the hardscapes, landscapes, or structures) to ensure they're done properly from the start (as opposed to hiring us later to add to what a tunnel-vision pool builder did).

We can be your one-stop-shop for all of your dream pool wants and needs. Once the pool is in the ground it can't be moved and you're stuck with what you've got. But if you plan for everything from the very beginning, you'll end up with an overall finished project that fits your dream. By making that good first decision about who to hire, you and your family will be able to enjoy a dream pool that meets everyone's wants and needs.

If you'd like to avoid pool mistakes for your Gainesville, Haymarket, or Bristow, VA property, talk to an expert, choose a solution that rocks, and then get ready to enjoy your property to the fullest.