Posted by

Todd Thomasson on Jul 26, 2021 9:50:39 AM
An outdoor fireplace can be a welcomed addition to your outdoor living space. It can add elegance and appeal while also throwing off heat and light. It also easily becomes a focal point of the space. After all, there's a reason why people have been gathering around fires for years—they are mesmerizing and comforting.

If you're thinking about adding one of these features, then you might have some questions about outdoor fireplaces. We're here to answer them! That's why we've rounded up some of the questions we've received from clients in the past.

It all boils down to the fact that we want to help set you up for success.
Outdoor Fireplace FAQs
Here are some of the more common questions that we receive about outdoor fireplaces in Northern Virginia.
1. Should I choose an outdoor fireplace or fire pit?
One of the common questions about outdoor fireplaces that we receive is whether it's the right choice -- or whether a fire pit makes more sense. The answer really depends upon what you are looking to achieve with the space.

In fact, we've written an entire article on outdoor fireplaces vs. outdoor fire pits, which will provide all of the details you could be seeking on the pros and the cons. But we can give you a quick summary.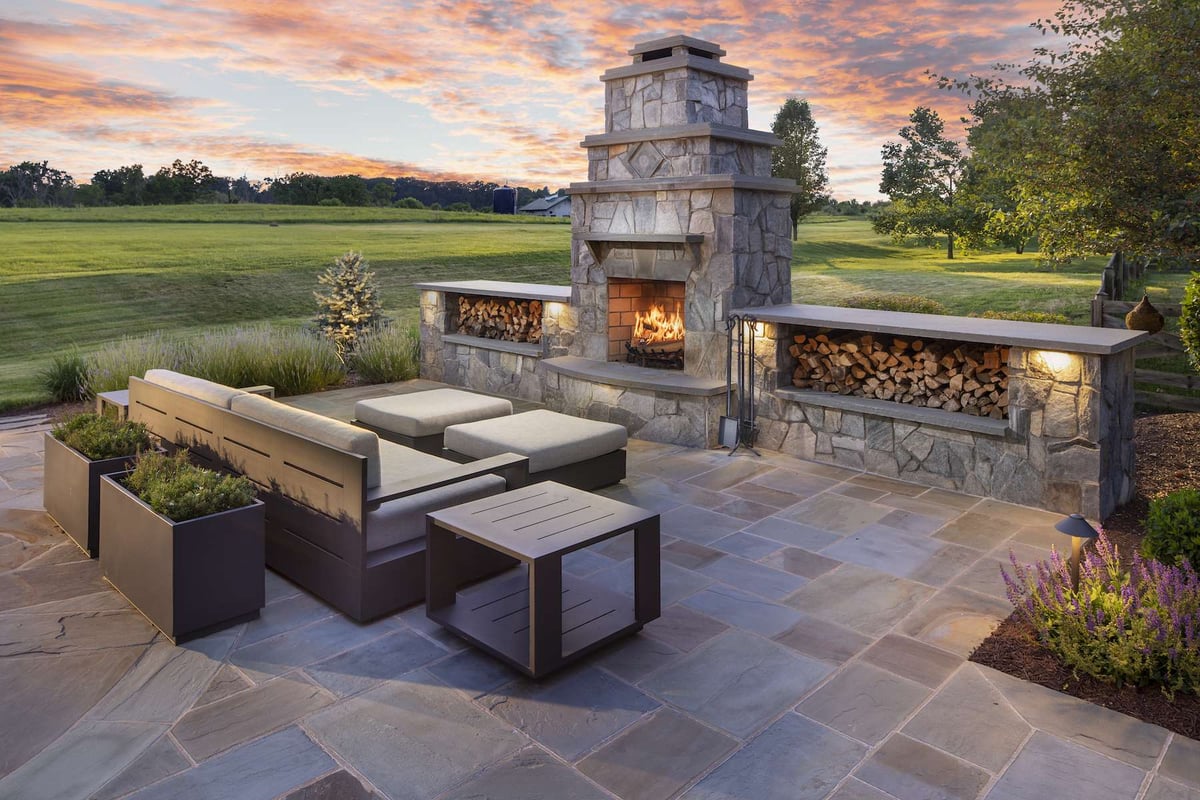 Unless people are specifically seeking that campfire-like experience of a fire pit, we tend to generally steer homeowners toward an outdoor fireplace. A fire pit can take up a large portion of the patio (as much as 150 to 200 square feet), which means you will need to dedicate quite a bit of space solely to fire pit use.

An outdoor fireplace, on the other hand, can be built on the edge of a patio, keeping the rest of the space open. It may only use 50 to 75 square feet of space.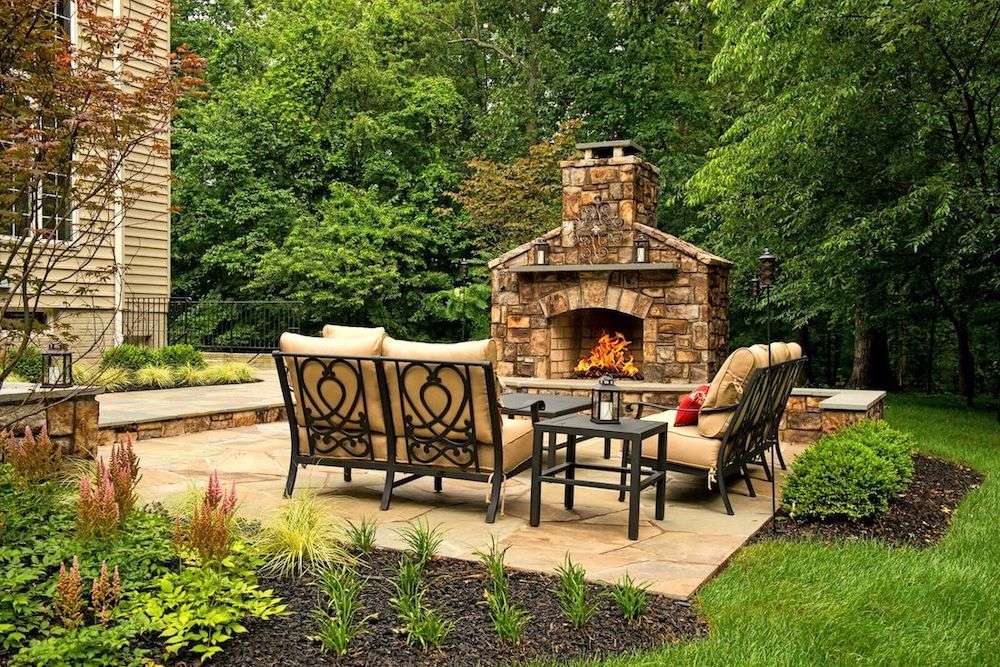 In addition, you must consider that there is no way to account for wind changes with a built-in fire pit. One night the smoke might be blowing away from your seating area but the next it might be blowing right at you - and the fire pit itself is immovable. Whereas smoke in an outdoor fireplace is directed to blow up the chimney, a fire pit can produce smoke around your seating area.

Smoke is less likely to interfere with entertaining in an outdoor fireplace.

Of course, there are certainly homeowners who love the idea of a campfire-style fire and a fireplace just isn't what they're looking for. We're always committed to ensuring that the outdoor living feature we're designing and building for you suits your wants and needs.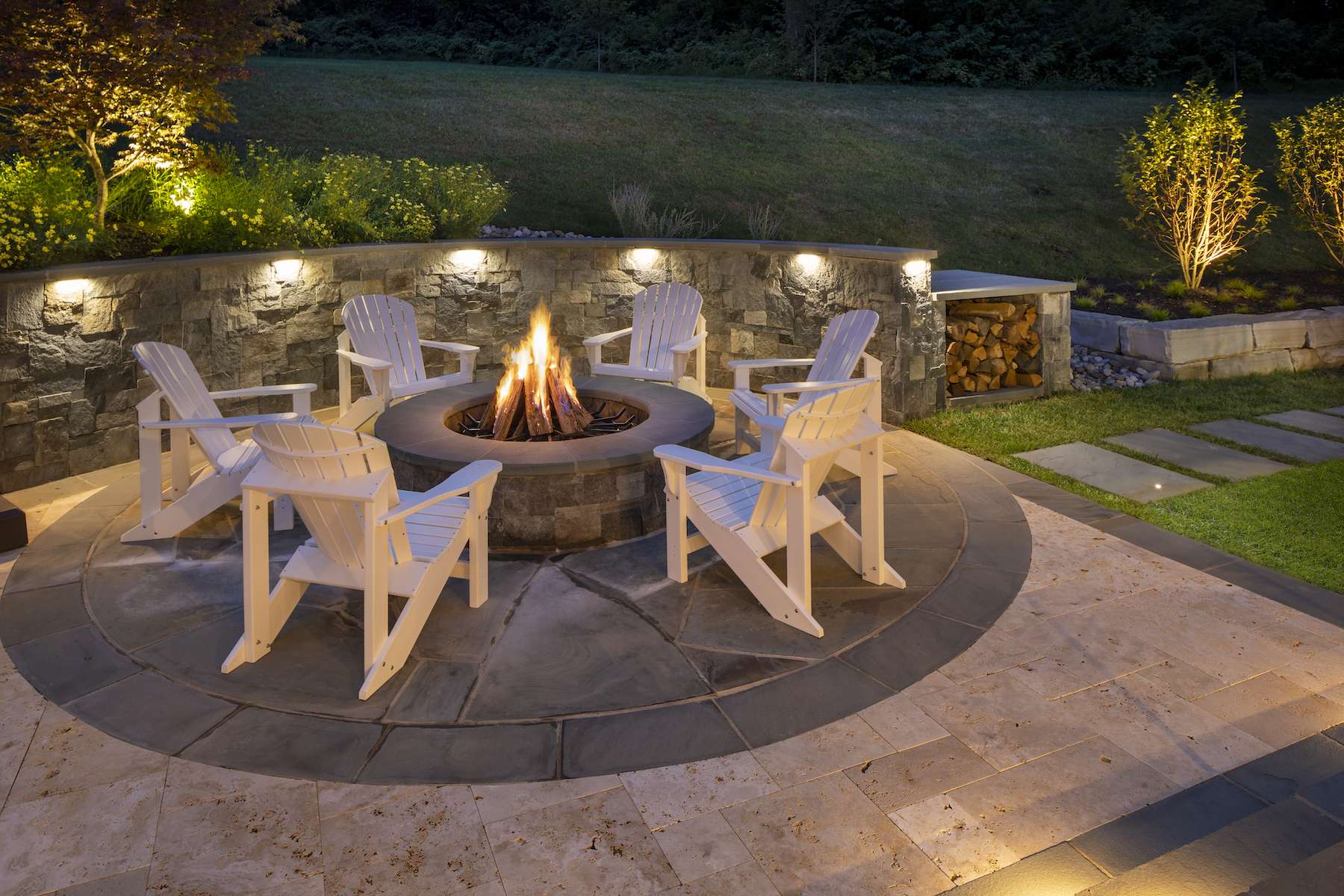 2. Where is the best place to put an outdoor fireplace?
As with any outdoor living space addition, location is everything. We talked above about how an outdoor fireplace can be situated on an edge of the patio, maximizing your space. But which edge to put it on will all depend upon the layout of the space as a whole.

Oftentimes, homeowners are interested in multi-area patios in which different "spots" are designated for different purposes. For instance, you might have a main dining area but then move to a cozy conversation spot after dinner. The latter might be the perfect location for a fireplace.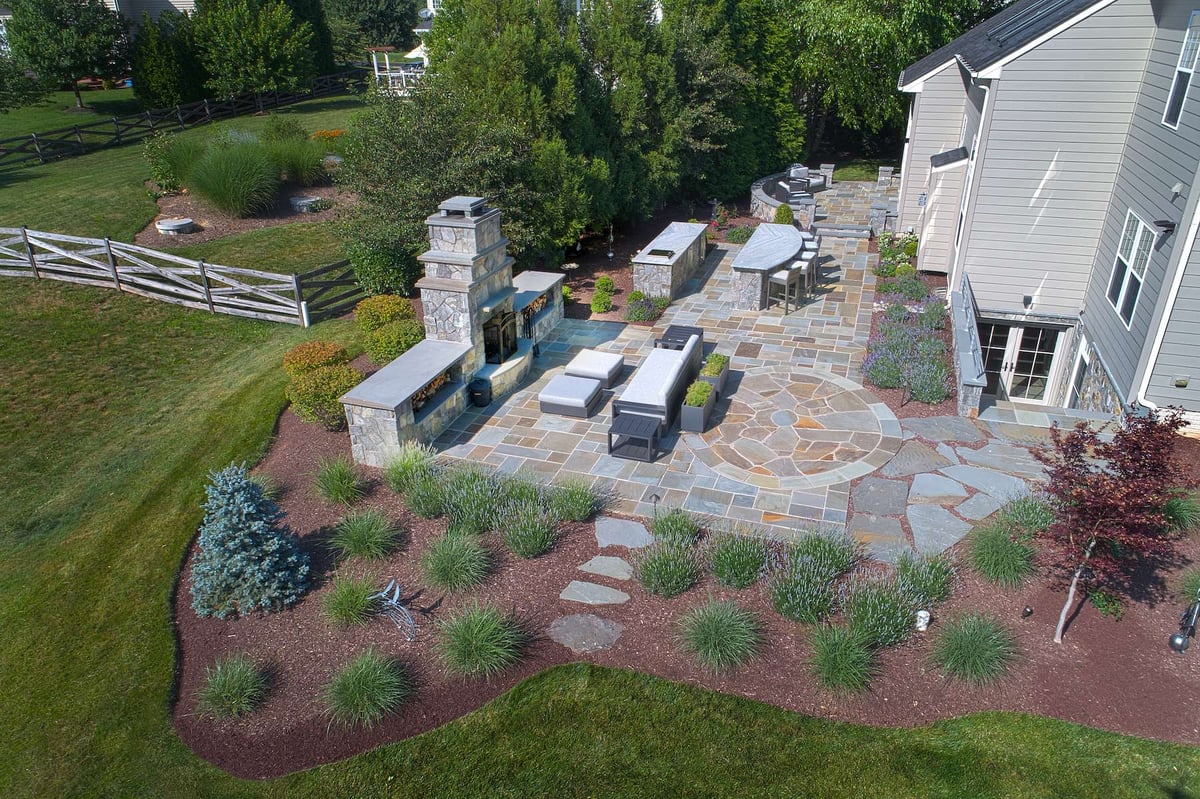 With an outdoor fireplace, you don't have to think about the direction that the wind blows because the smoke is being directed up and out a chimney, so that's a benefit in terms of location. But you may need to think about wood storage if you are having a wood-burning fireplace built. If you plan to have wood storage built right into the fireplace, you'll just need to make sure there is enough room.

It also helps to consider what type of furniture you'll have in the space.

Even if you don't have an exact plan of what furniture you'll be using, an idea of whether you like chairs more than couches (or vice versa) can help in laying out the space and determining the perfect location for the outdoor fireplace.
3. Should I choose a wood-burning or gas-burning fireplace?
This is another one of the common questions about outdoor fireplaces that we receive and it's again one that is dependent upon what you're looking for.

Gas-powered fire features have a level of convenience to them in that all you have to do is push a button and the fire starts. Of course, you do need to make sure that gas lines are run to the fire feature ahead of building your patio.

But many homeowners like the authenticity of a real, wood-burning fireplace and they say there is nothing like it. Wood-burning fires have the look, sound, and smell that many people appreciate in a fire feature in the first place. Even the act of building the fire is often part of the fun.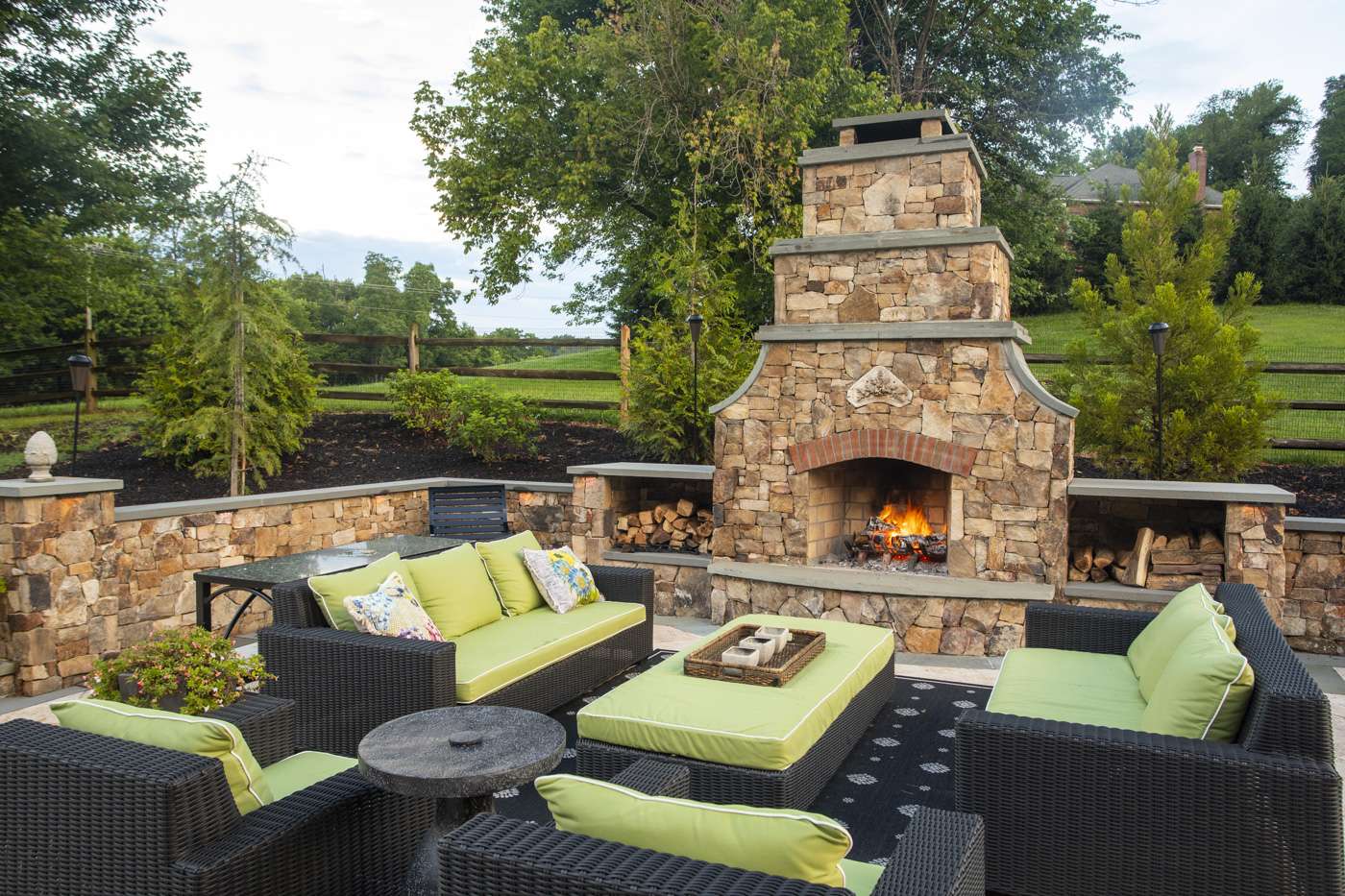 4. What type of maintenance is involved in an outdoor fireplace?
The biggest maintenance task of a wood-burning fireplace is cleaning out the debris. One of the nice things in that fireplace vs. fire pit debate is that the debris in a fireplace does not immediately become an eyesore if not cleaned out. It's much more hidden and not as on display as it would be in a fire pit.

In general, fire pits are considered a bit more maintenance.

While we build fire pits with the proper drainage so that rainwater won't collect, you still must be regularly clearing out debris or keeping the fire pit covered. Otherwise, when rain falls, it will pool amongst the debris and not only create a messy eyesore but will become a potential mosquito breeding ground.

If you have a wood-burning fire feature, then wood collection and storage might also be considered maintenance tasks. While in theory, making a fire could be seen as maintenance, for most people, the act of building a fire is not considered "maintenance," but rather part of the fun!
5. How much does an outdoor fireplace cost?
You might also be wondering what cost you can expect for an outdoor fireplace. At Rock Water Farm, we work with natural stone for these types of features as nothing else compares. When you have a big vertical structure like an outdoor fireplace, it naturally becomes a focal point. That means you want it built with the best material.

Of course, natural stone does cost more than man made pavers. You're getting a superior product, after all. The cost is determined by both the size and complexity of your outdoor fireplace as well as the labor and material.

We have written an entire article on why natural stone is the superior choice.

We've also written an article that goes more in depth in terms of natural stone cost. In that article we explain that a natural stone patio with features, like an outdoor fireplace, typically ranges between $30,000 and $60,000.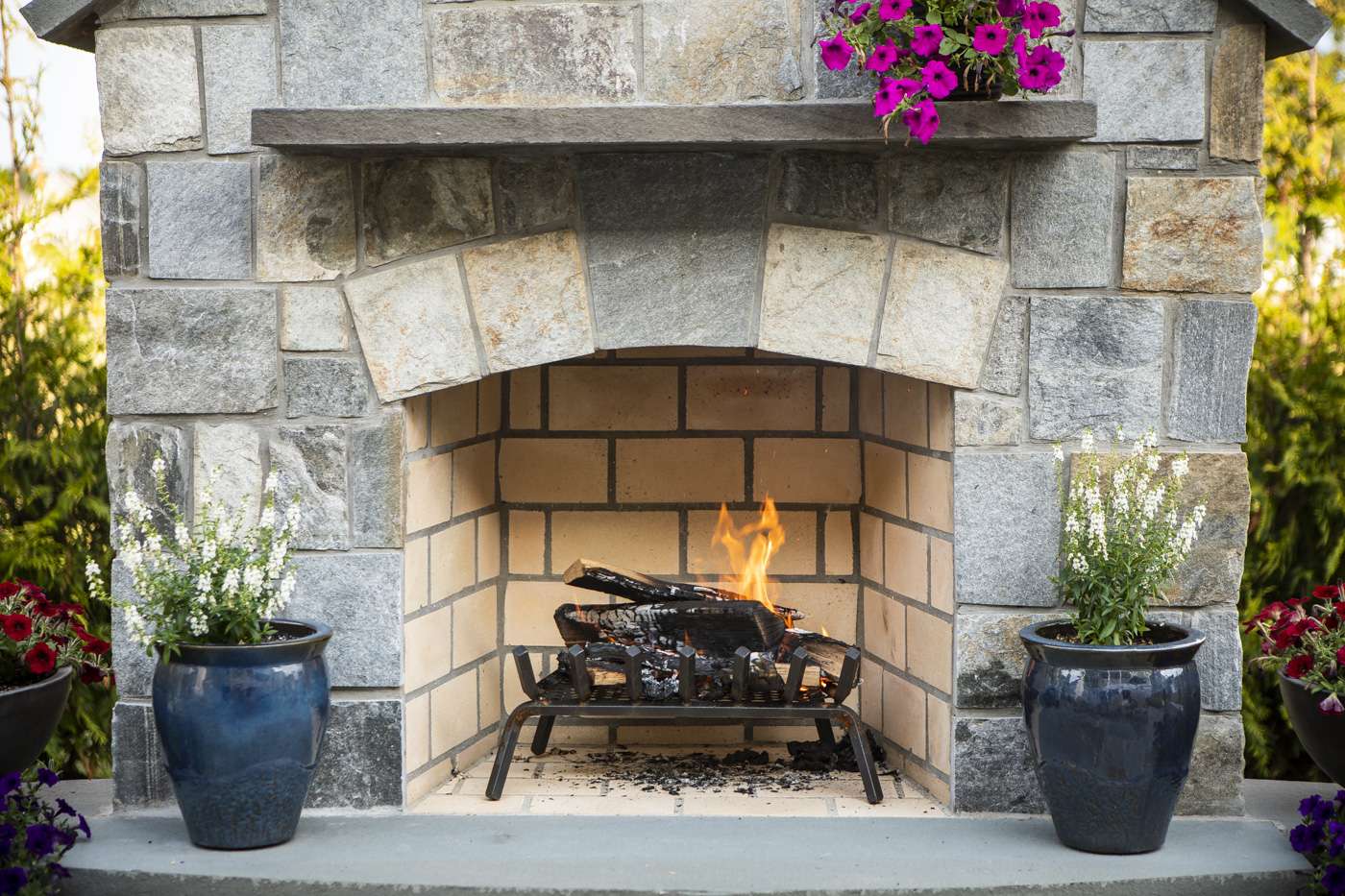 Considerations You Should Think About with an Outdoor Fireplace
That covers some of our common outdoor fireplace FAQs. But if you have a question that was not addressed, we are always here to help.

In addition to answering some of your frequently asked questions, we also want to share a few things you should be thinking about the answer to if you're considering adding an outdoor fireplace.

Knowing the answers to these questions will help us to come up with a design that will best suit your needs.
How many people will be seated in the fireplace area at one time?
Do you already have a place to store wood or do you want built-in storage where it can be stacked and will remain dry?
What furniture do you envision around the space?
Are you interested in a mantel?
How tall do you envision your outdoor fireplace? Are you interested in a multi-tier option?
Do you need any privacy screening in this area?
Are you considering a pavilion?
Choosing an Outdoor Fireplace Builder
It's important to recognize that outdoor fireplace designs and builds are not a mastered skill set for all landscape professionals. In fact, many of them even build these from kits or from manmade blocks which they assemble like legos.

But at Rock Water Farm, we are completing one-of-a-kind custom outdoor fireplace designs that are completely original and built from the ground up using natural stone.

You might even find that a lot of landscaping companies push their clients toward fire pits. These are generally a simpler build (particularly if they're not being creative in the design).

But at the end of the day, you deserve a company that is skilled at the design and construction of these masterpieces. An outdoor fire feature ends up becoming a really integral part of your outdoor living space and you want to make sure that it's done right!

By choosing wisely, you can feel confident that your outdoor fireplace is going to come together the way you desire. Instead of standing out like a sore thumb or detracting from the overall aesthetics, your beautiful fire feature will be the reason you love spending even more time in your outdoor living area.

If you're ready to see fire pit or fireplace ideas to life at your Gainesville, Haymarket, or Round Hill, VA home, talk to an expert, choose a solution that rocks, and then get ready to see that dream come to life.