Posted by

Todd Thomasson on Jan 31, 2022 2:02:52 PM
When it comes to making memories outdoors with family and friends, having a beautiful space to spend time is key. A deck can be the perfect addition to provide you with usable space.
One of the things that is so nice about adding a deck is that it gives you extended living space right off of your existing home.

Of course, when it comes to adding a deck, you want a finished product that lives up to the rest of your backyard. While there are a lot of deck companies out there, you want a deck builder in Haymarket or Gainesville, VA that can design and build a one-of-a-kind space that will help set your property apart.

But how do you go about finding a deck builder that is going to help your deck live up to your dreams?

In this article, we'll talk about how to separate the standard deck builders who complete cookie-cutter designs from the deck builders that build truly gorgeous, customized decks.
Things to Look for When Hiring a Deck Builder
A simple search for a deck builder in Haymarket or Gainesville, VA will yield many results. How can you begin to narrow down your options and choose a company that is going to truly meet your needs?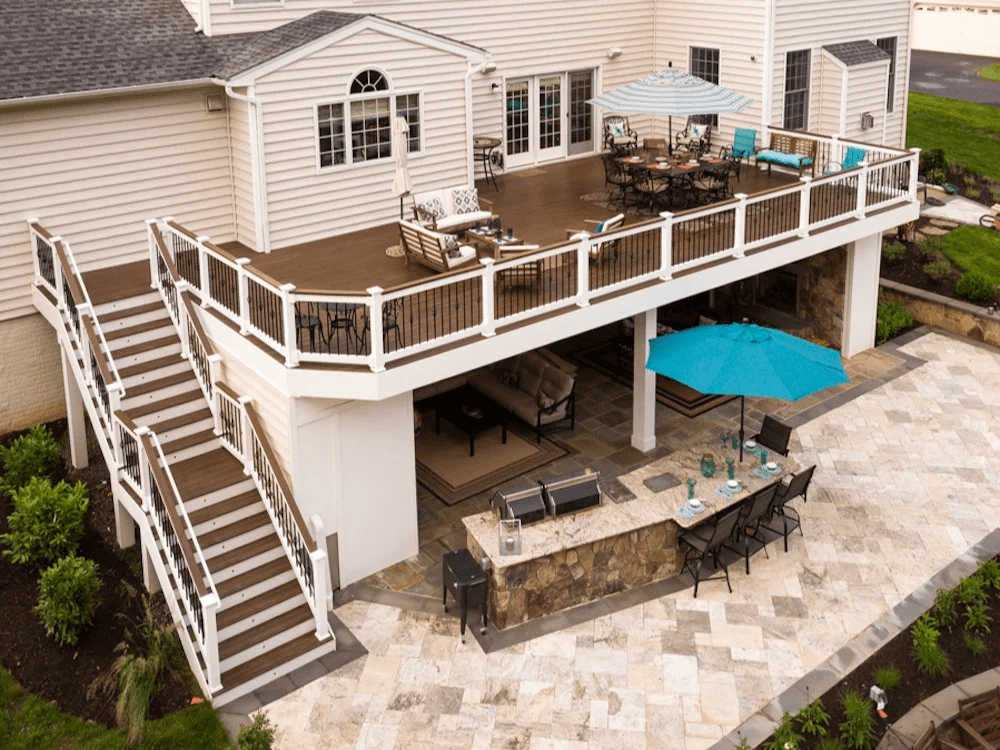 We've rounded up some things to look for when hiring a deck builder that will narrow the playing field.
1. A Portfolio Showcasing Custom Decks
First and foremost, when choosing a deck builder, you want to seek out companies that have custom projects on display in their portfolio.

If you start browsing through photos of decks that they have built and they all look the same, that should raise a red flag that your unique ideas aren't going to be heard. Your deck is likely to look just like the others that you're seeing in their portfolio.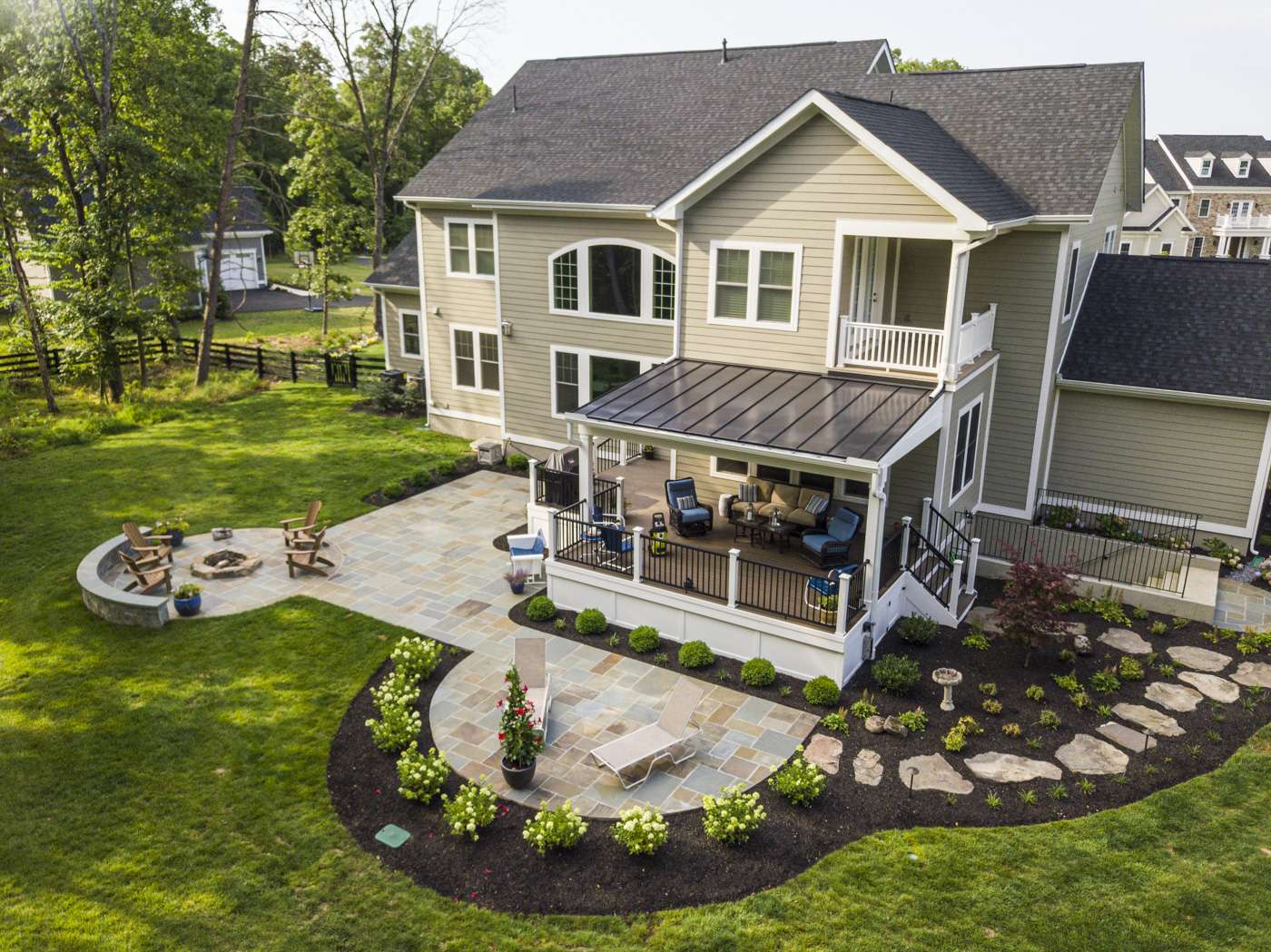 For some homeowners, that's fine. In fact, that might be exactly what they want. But we would guess that if you're reading this article about choosing a deck builder it's because you are invested in having something that is truly one-of-a-kind. You probably aren't looking for a standard or run-of-the-mill simple deck.

Along with all that, you likely want a deck builder who can incorporate special features into your deck. This might include adding a roof, adding a pergola, or adding other features that make your deck extra special.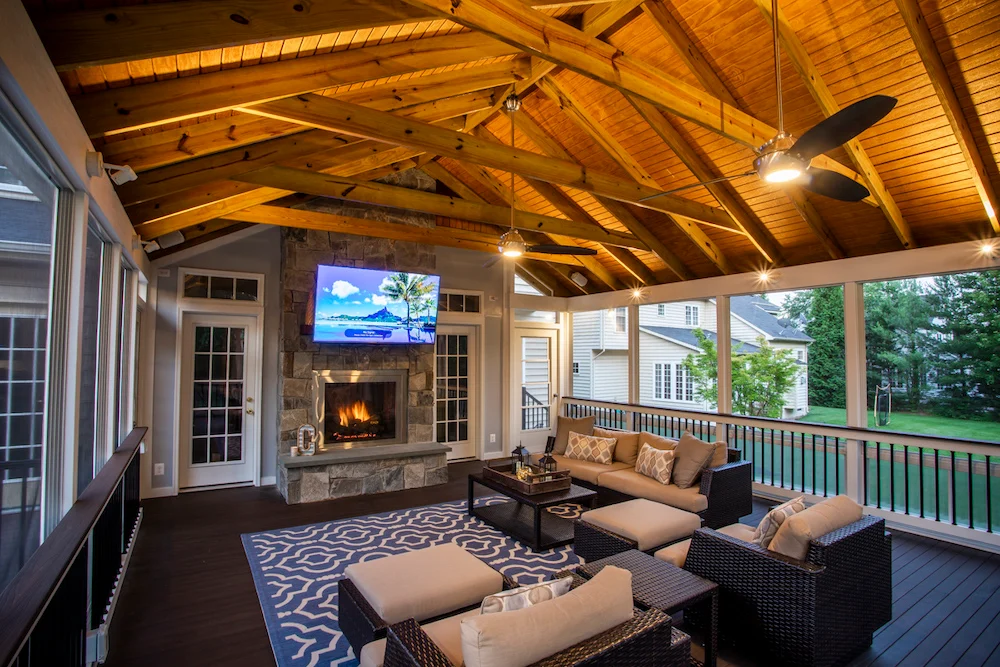 Some of these features might include the following.
Countertops with a built-in grill
Ceiling fans
Fire features
Step-down or step-up areas so that your deck feels "multi-level"
Lighting
You might also be considering a unique shape for your deck or having areas that "bump-out." Sometimes homeowners bump out a portion of the deck as a little dining or cooking cove. You might be looking for something much more than a little square deck.

In fact, maybe you're even looking for a fully screened-in deck so that it's more like a four-seasons room.
2. A Commitment to Using the Best Materials
There are still a lot of deck builders that work with pressure-treated lumber, even though it is ultimately a subpar product for decks. A deck built from pressure-treated lumber is going to cost less at the onset, but over time all of the maintenance costs will really start to add up.

A wood deck will need to be pressure-washed and stained and sealed (or painted and sealed) regularly, and even when well-cared for, it can begin to deteriorate.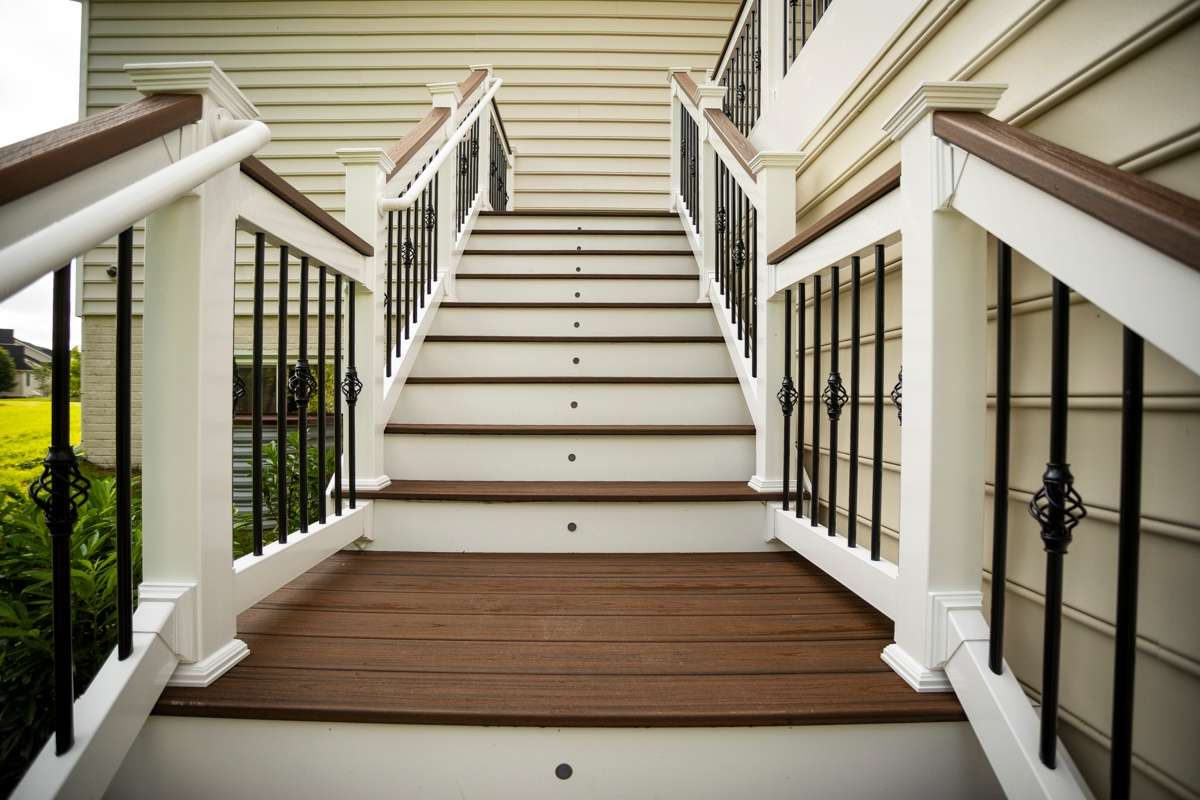 The superiority of today's new decking materials is why we will not work with pressure-treated lumber.

Today's new deck building materials will not succumb to rot or require a lot of ongoing maintenance. However, with wood-alternative products such as composite, decks only need to be swept or washed occasionally.

Since wood decks can warp or are more likely to experience weather damage and breakage, there's a safety factor, too. Even naturally occurring knots in the wood can compromise structural safety in a way that will not happen with a man-made product that is structurally engineered to be safer and sturdier.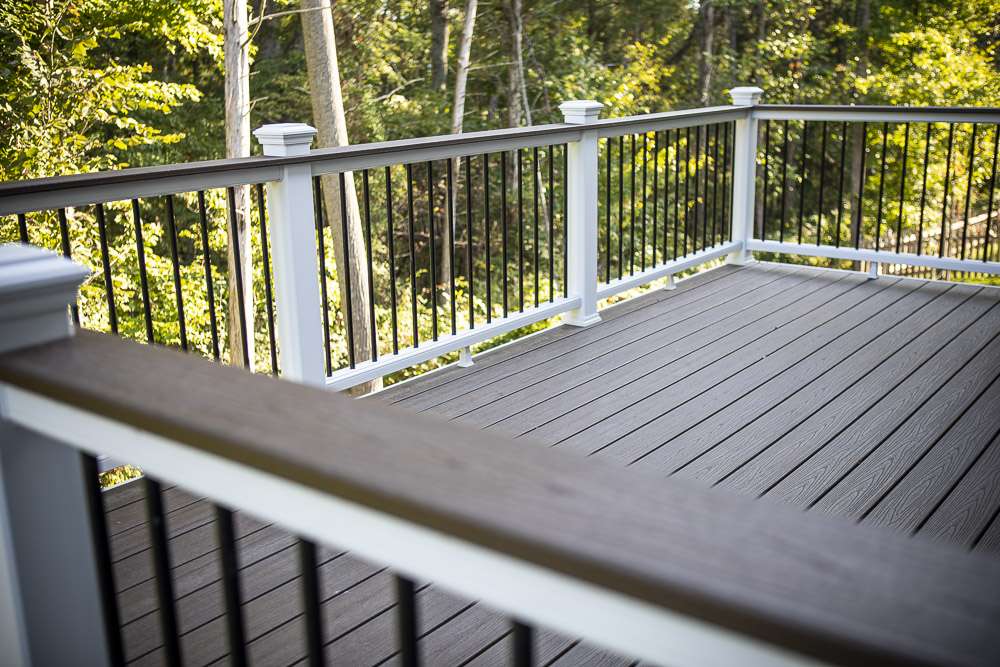 In addition, wood decks can succumb to insect damage such as termite damage. But this isn't a problem with new composite decking materials.
Splinters are also a problem of the past with superior deck building materials.
All of these reasons point toward the importance of choosing a deck builder that uses the best materials.
3. A Deck Builder that Can Offer Other Services
Finally, we might also recommend that when searching for a deck builder in or around Haymarket or Gainesville, VA you also look for a company that can do more than just decks.

There are many companies that solely build decks, but the truth is, the deck is just one piece of your outdoor living area. You might also be interested in a deck and patio combination.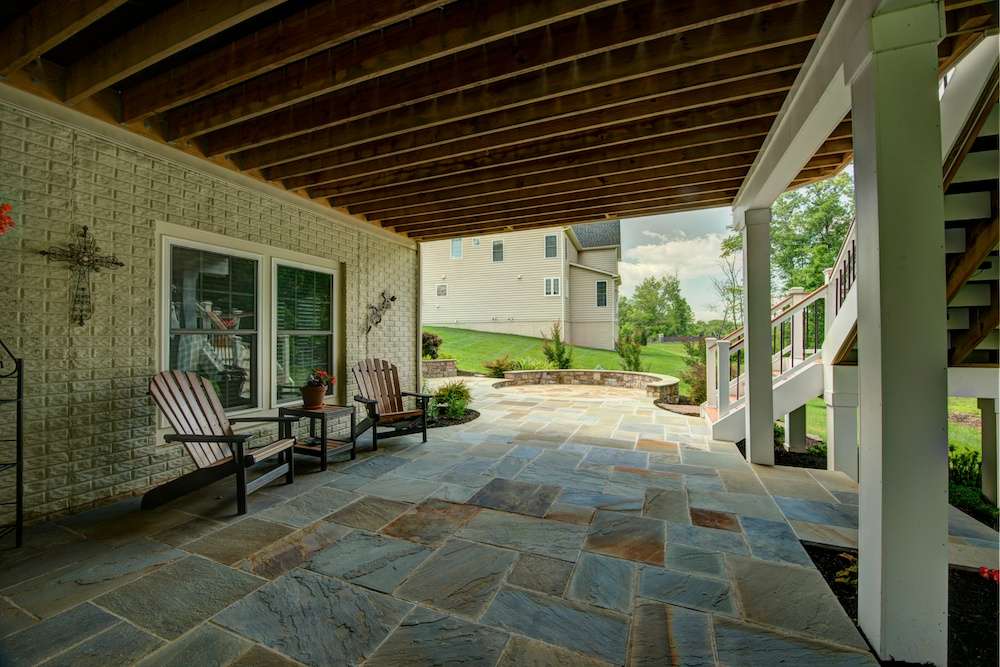 Deck and patio combinations can give you the best of both worlds. While you might have an upper-level deck that attaches to an upper-level door, you might want your basement or lower level to exit to a patio.

There are a lot of benefits to having the same company build both. In fact, when you have a separate deck company build a deck and a separate company building a patio, there can be problems in the way in which the two spaces "mesh." Making sure that the deck and the patio work well together is important. For instance, you want to make sure that the stairs leading up to the deck aren't obtrusive to the patio in any way.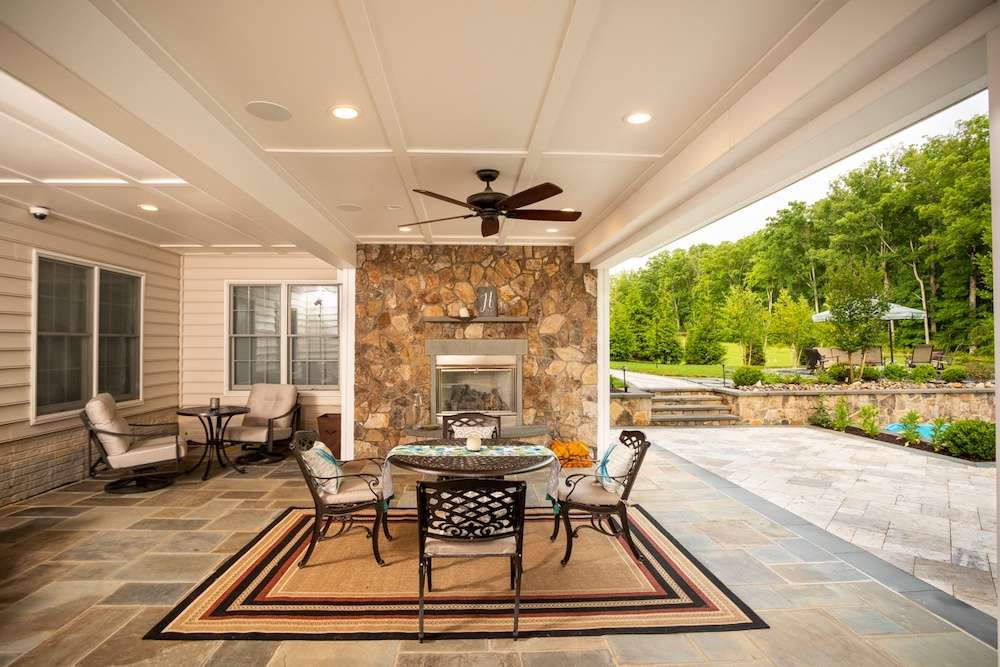 Ideally, if you are going to have both spaces, you want them to be designed at the same time if possible. Even if that means you'll have them built in phases, you want to make sure that both spaces are incorporated into a master plan so that they work well together from both an aesthetic and a functional standpoint.

When you have a deck built, you now also have some covered space that could be used beneath it.

Some homeowners love the idea of creating usable space underneath an upper-level deck. This can be achieved with special roofing material that allows any rainwater coming off of (or through) the deck to be filtered away. That means you can have recessed lights, a ceiling fan, and other features that make the underneath space feel like a true outdoor "room."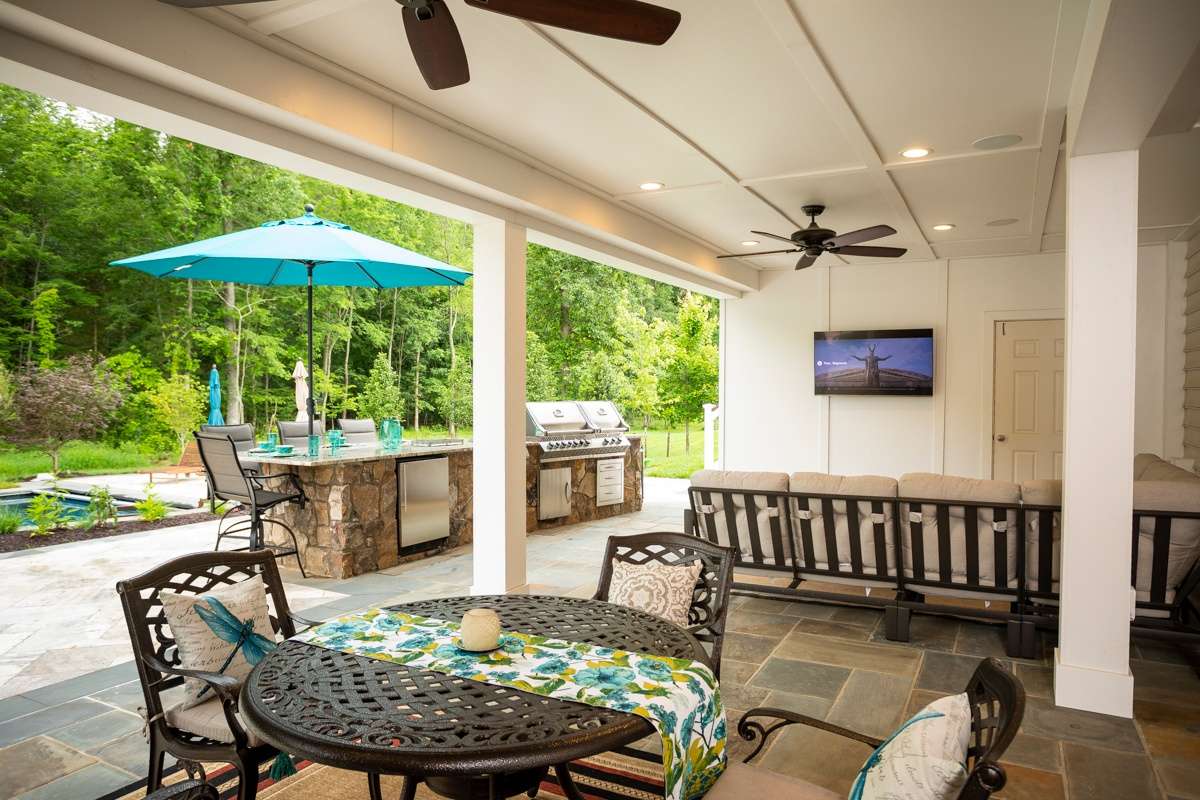 The areas around your deck out in the rest of the yard also make your outside more usable as a whole. Oftentimes homeowners tell us they spend time on the deck for certain activities like dining or lounging but then they migrate to other areas of the property for other activities. Some additional features that you might consider throughout your property could include the following.
Outdoor kitchen
Pavilion
Swimming pool
Poolhouse
Recreation zones
Landscape plantings
Pizza oven
In addition to designing and building other components of your outdoor living area, you might also want a company that can maintain it all. After all, you won't get the full enjoyment out of your space if your landscape is in disarray.

At Rock Water Farm, we can design and build complete outdoor living spaces and transition directly into maintaining them, too.
Hiring a Deck Builder
Deciding to add a deck is a really exciting undertaking. Soon, you're going to be enjoying your outdoor space more than ever before!

Of course, as you can tell, it's important to recognize that not all deck builders are going to be able to accommodate your requests. Many standard deck builders are still using builder's grade materials and boring, cookie-cutter designs.

But working with a company that can design and build a one-of-a-kind space will help set your property apart.

At Rock Water Farm, we believe there is no room for error (or for boring) when it comes to investing your hard-earned money into a space that you can be proud of. We know that when designed and built properly, your deck (and the surrounding areas) can become an oasis where you'll create a lifetime of memories. With something so important, we know that you only want the best.

Are you ready to get started on the deck of your dreams at your Haymarket, Gainesville, or Round Hill, VA home? If so, talk to an expert, choose a solution that rocks, and get ready to see your dreams begin to take shape!