Posted by

Todd Thomasson on Nov 4, 2022 10:15:00 AM
The outdoor kitchen trend is as hot as ever. In fact, outdoor kitchens have evolved so much in recent years that you might be wondering if you're in need of an outdoor kitchen update.

Whether you purchased a home that has an existing (but lackluster) outdoor kitchen, or maybe you added an outdoor kitchen many years ago, we've rounded up some outdoor kitchen remodel ideas to give you plenty of inspiration.
Outdoor Kitchen Remodel Ideas
Regardless of whether you want to make a few small changes or go for a complete outdoor kitchen remodel, these ideas will get you started.
#1: Upgrade Cooking Appliances
In recent years, the appliances market has really taken things to new heights. There are so many more choices now that weren't previously available. Many homeowners want to add new appliances that weren't on the market when they first had their outdoor kitchen built.

Perhaps you are looking to upgrade to a fancy grill with all the bells and whistles. There are grills with multiple cooking compartments so that you can smoke meat and grill at the same time. Some grills even come with rotisseries or view windows to keep a close eye on your cooking.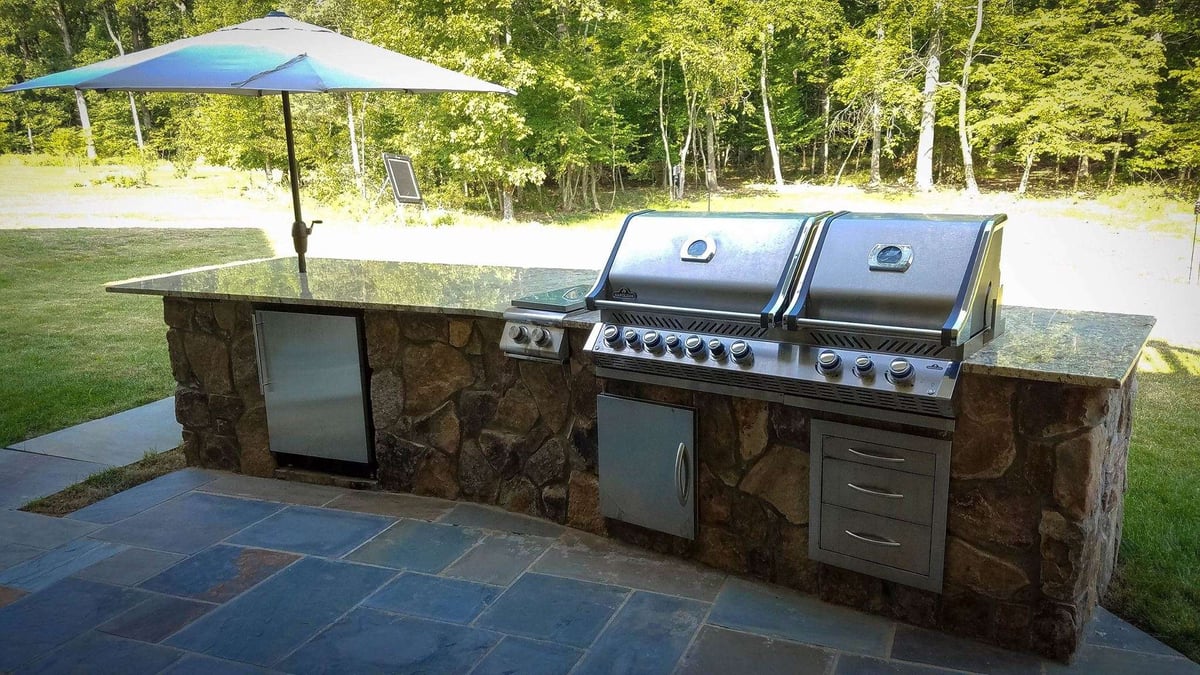 Flat-top grills for hibachi-style cooking have also taken off in recent years. '

With so many exciting choices, it's not uncommon for us to build outdoor kitchens with more than one cooking appliance. Smokers are another example of a really popular option. Whether you have a Big Green Egg or another type of smoker, we often have homeowners tell us they want an outdoor kitchen that can include ALL of their cooking toys.

Other outdoor cooking appliances you might want to think about include a power burner (where you can boil a big pot of corn or soup), a pizza oven, and warming drawers. Whatever your cooking preferences might be, you want to find the right appliances to meet your needs.
#2: Add Seating or Expand the Kitchen Footprint of Your Outdoor Kitchen Update
Oftentimes, an outdoor kitchen update is necessary because homeowners need more space. Their outdoor kitchen might be a tiny cooking area or maybe a small seating area. But as their family and their needs have grown, they've realized they need a lot more space.

In other cases, sometimes homeowners inherit a small kitchen from a previous homeowner that didn't entertain much, but they want to do an outdoor kitchen update that will accommodate their large gatherings.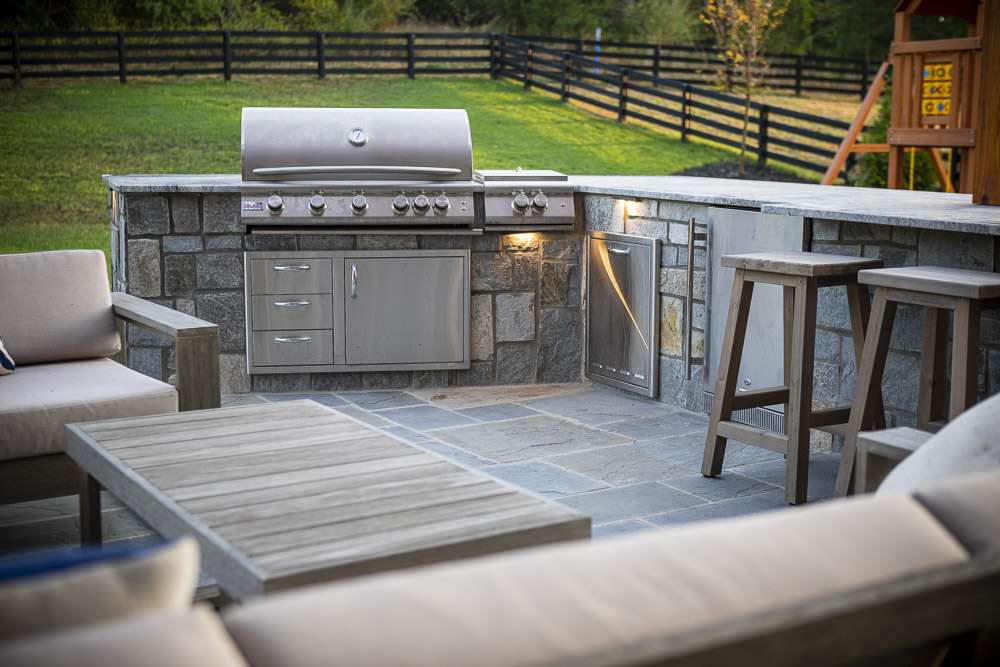 We can add patio space that can help support your entertainment goals and allow you to spend more time in (and get more use out of) your outdoor kitchen.

Or, if you're looking to add to the amenities in your outdoor kitchen (like mentioned in the point above), you might need the outdoor kitchen itself to expand.

We can work wherever your goals and needs are focused.
#3: Incorporate Entertainment Amenities in your Outdoor Kitchen Remodel
If you feel like you have a very basic outdoor kitchen, your outdoor kitchen update might be all about upgrading the entertainment amenities.

For instance, maybe you feel like your space could really use an outdoor fire feature. By adding an outdoor fireplace or fire pit, you can incorporate a "lounge spot" right near your kitchen to make cooking, dining, and relaxing even more enjoyable. It also adds ambiance and warmth that will help make eating outdoors more enjoyable.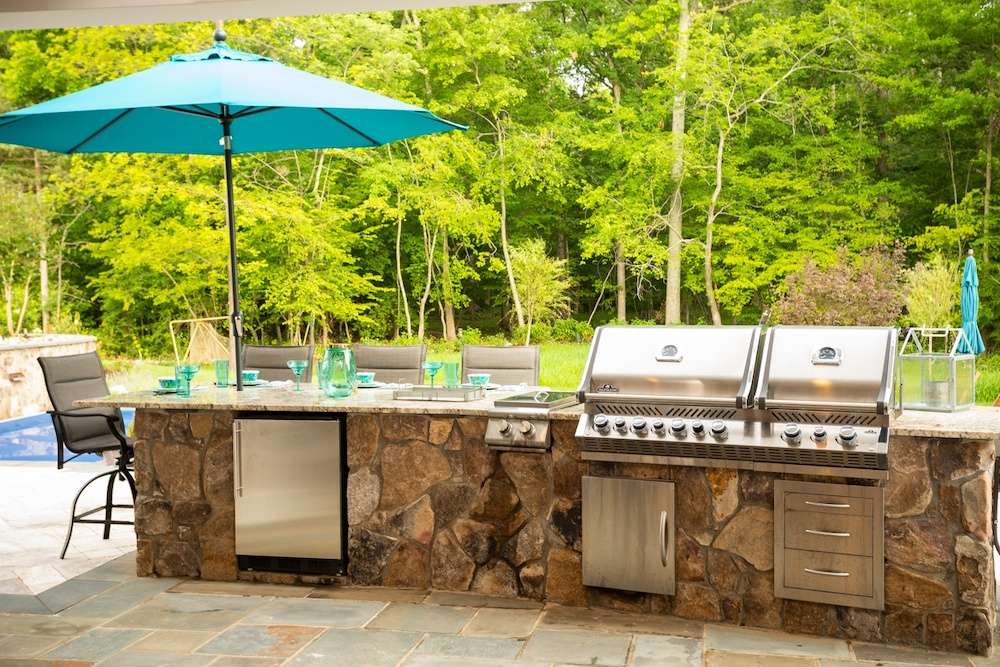 Just imagine…after enjoying a delicious meal from your outdoor kitchen you and your family or guests can then move over to the lounge area to sit by the fire and share some after-dinner drinks. The warmth and the beauty of fire tend to bring people together and make the experience even better.

Audio and video additions are another popular outdoor entertainment amenity.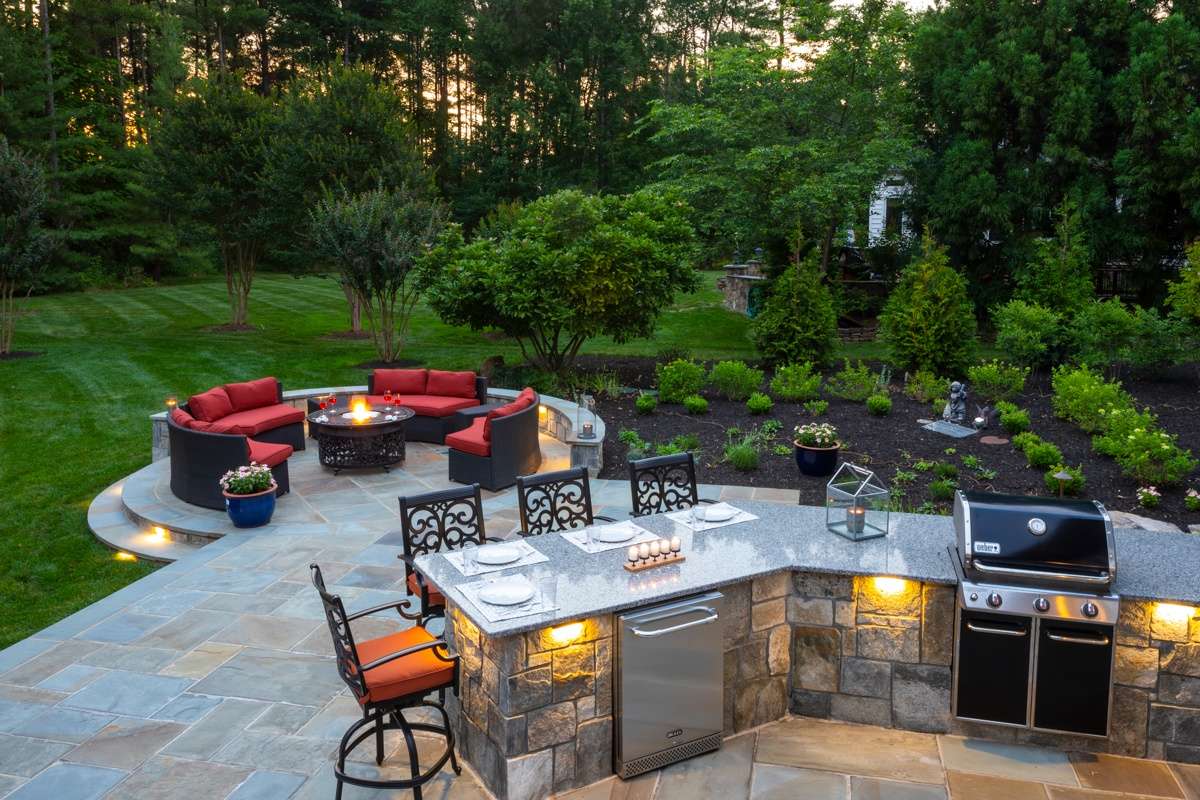 You can also incorporate television into your outdoor kitchen so that you don't have to miss a second of the game, even when you're getting food prepared for everyone. Or, perhaps you and your friends want to watch the game while dining.

Incorporating outdoor speakers into your space could also allow you to have surround sound for your television or to play music in your outdoor space.

Nothing quite enhances the outdoor lounge experience like having some of your favorite tunes playing.
#4: Add Outdoor Lighting to Get the Most Out of Your Kitchen
Outdoor lighting is another amenity that has come incredibly far and if you had your kitchen built a long time ago, you might have outdated lighting.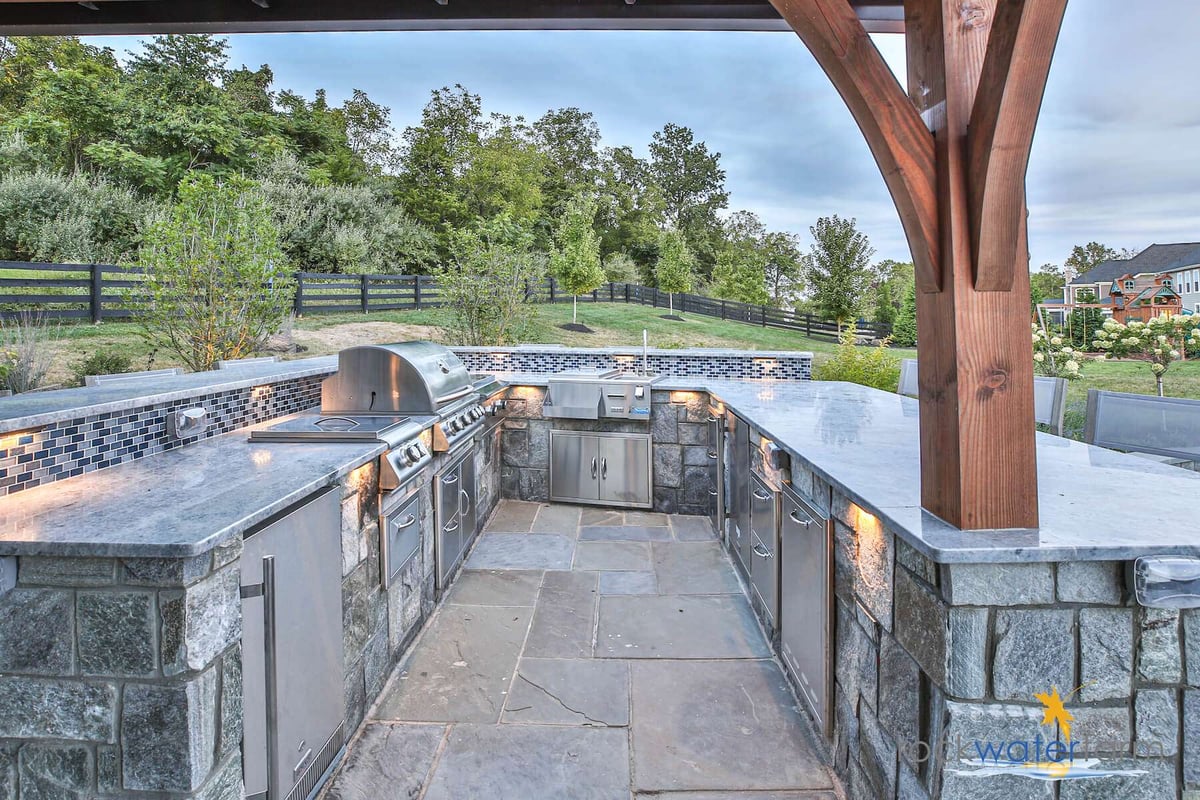 Great lighting is really important when it comes to getting the most out of your space. If you can't see what you're doing, your outdoor kitchen might not get used to the full extent.

If you have an outdoor kitchen that is poorly lit, this is a great way to complete an outdoor kitchen update that will help you get much more use out of your space. Lighting around seating areas, prep zones, and more will help you to truly use your outdoor kitchen to the fullest.
#5: Add a Pavilion to Your Outdoor Kitchen
These days, more than ever, homeowners are asking us about covered space. They realize that they want to use their outdoor kitchen rain or shine and they really want it to be covered. A pavilion also gives you the opportunity to incorporate additional amenities that we talked about like an outdoor television or surround sound. And, it can allow you to add additional furniture options.

We'll be honest that adding a pavilion to an outdoor kitchen in which a future pavilion was not part of a "plan," is no small endeavor as it will mean digging up your space for footers and other construction.


It's always optimal when homeowners plan ahead for a future pavilion so that the footers can be dug and initial wires can be run during the time of construction. But we know that's not always how things work out. People's wants and needs change (or, in many cases, they purchase a home with a space that was designed by someone else).

Though this type of outdoor kitchen update will require some more significant construction, it certainly can be done!
As you might have guessed, a pavilion is one of the most expensive additions to an outdoor kitchen plan, particularly if you have one with built-in lighting, full electric or gas, and maybe a wall that includes an outdoor fireplace and mounted television.

But it is these types of additions that tend to encourage the most use of the kitchen. It means that you can now enjoy your outdoor kitchen no matter what the weather! And you can add all sorts of amenities that will make it a space you never want to leave.
Getting Started with an Outdoor Kitchen Installation in Northern Virginia
At Rock Water Farm, we have worked with clients who have wanted a simple outdoor kitchen and those who have wanted a complex outdoor kitchen with every single bell and whistle there is.

And of course, we've worked with clients who have wanted to phase their project—so it started out simple and grew over time.

If you have an existing kitchen and you're considering an outdoor kitchen update we'd love to talk about the possibilities. Whether you already have lots of outdoor kitchen remodel ideas to get that conversation started, or you're looking to lean entirely on our expertise, we're here to help.

Either way, you want to be able to feel fully confident that your ideas are coming to life exactly the way that you want them to.

By working with a company that takes your ideas seriously and has the know-how to combine them with their expertise, you'll feel confident that you'll end up with the finished project you want.

Are you ready to have a property that you are proud of at your Haymarket, Gainesville, or Bristow, VA home? If so, talk to an expert, choose a solution that rocks, and get ready to see your dreams begin to take shape!