Posted by

Todd Thomasson on May 6, 2020 3:17:28 PM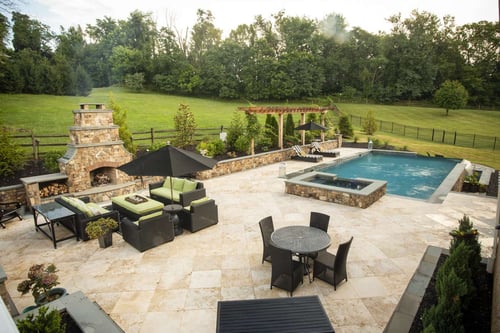 When it comes to a great outdoor living space, your patio is at the heart of it all. Whether you go on to add additional features like an outdoor kitchen or a pool, you'll still find that the patio is the place where everyone gathers. It's where you can socialize with friends, enjoy outdoor meals, or even just relax by yourself. Hardscaped patio space is so important to functional outdoor designs that some homeowners even incorporate more than one patio into their complete space.
While you know that a patio is an essential part of your outdoor living area, you might have a number of questions about the logistics. For one, you might be wondering how much does a patio cost?
We understand that beginning the process of designing and building a patio can be a significant undertaking and you want to have a good foundation of information so that you know what's involved.
Patio Material Options and Their Impact on Patio Cost
One of the factors that will most significantly impact price is the patio material choice that you select. Certain materials cost more than others.
The cheapest material choices for a patio are poured concrete and concrete pavers. Unfortunately, this is a case of "you get what you pay for." While these options are cheaper, you should know that concrete is prone to cracking (and eventually will). Repairing a cracked poured concrete patio can be difficult and unattractive.
Pavers are easier to repair than poured concrete (the paver can simply be lifted out and replaced), but this is still a man made material that's not going to stand the test of time.
Choosing a Natural Stone Patio
At Rock Water Farm, our clear preference is natural stone, which has been quarried directly from nature. Travertine and various flagstones make popular choices for a patio and both have an elegance that can't simply be replicated with manmade pavers. Of course, these days, concrete pavers are being made to try and simulate the look of natural stone. But at the end of the day the fact remains—it's not the real thing.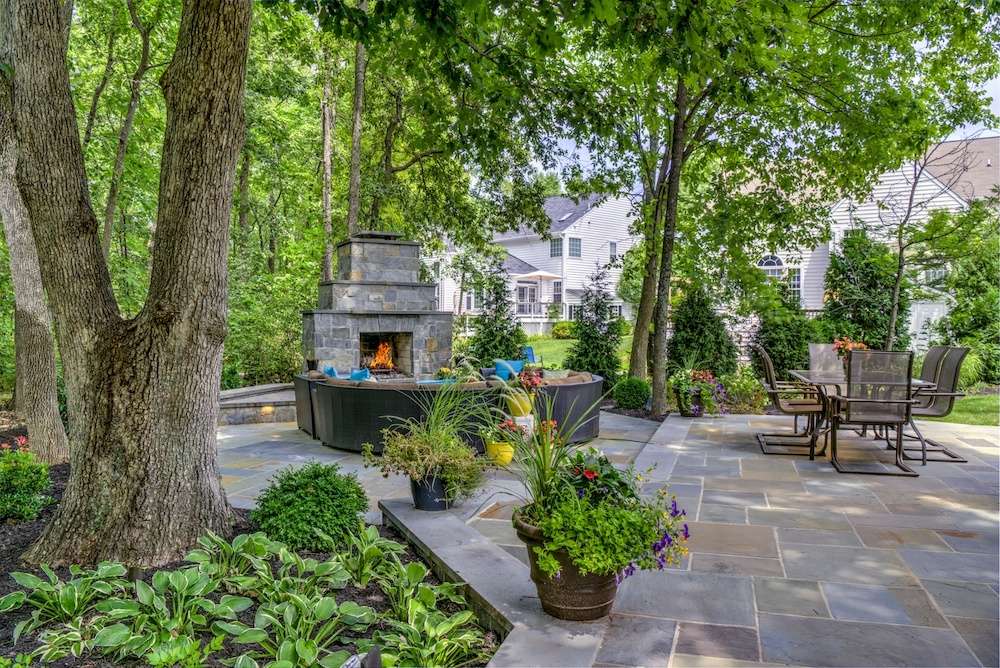 Because we work almost exclusively with natural stone, it's important to recognize from the onset that our prices will likely be higher than those of other patio builders in Northern Virginia.
The natural stone patio cost is more not only because you're paying for a superior product but also because the installation of a natural stone patio is more labor intensive. It takes more time to install natural stone than it does manmade pavers, which are made to fit together easily.
However, we feel that the value you receive out of natural stone is unbeatable. Whereas manmade pavers are going to weather over time and begin to expose aggregate (the tiny rocks and pebble that comprise structural filler in the concrete), natural stone is going to stand the test of time. The same is true of its authenticity and timelessness. Natural stone is never going out of style.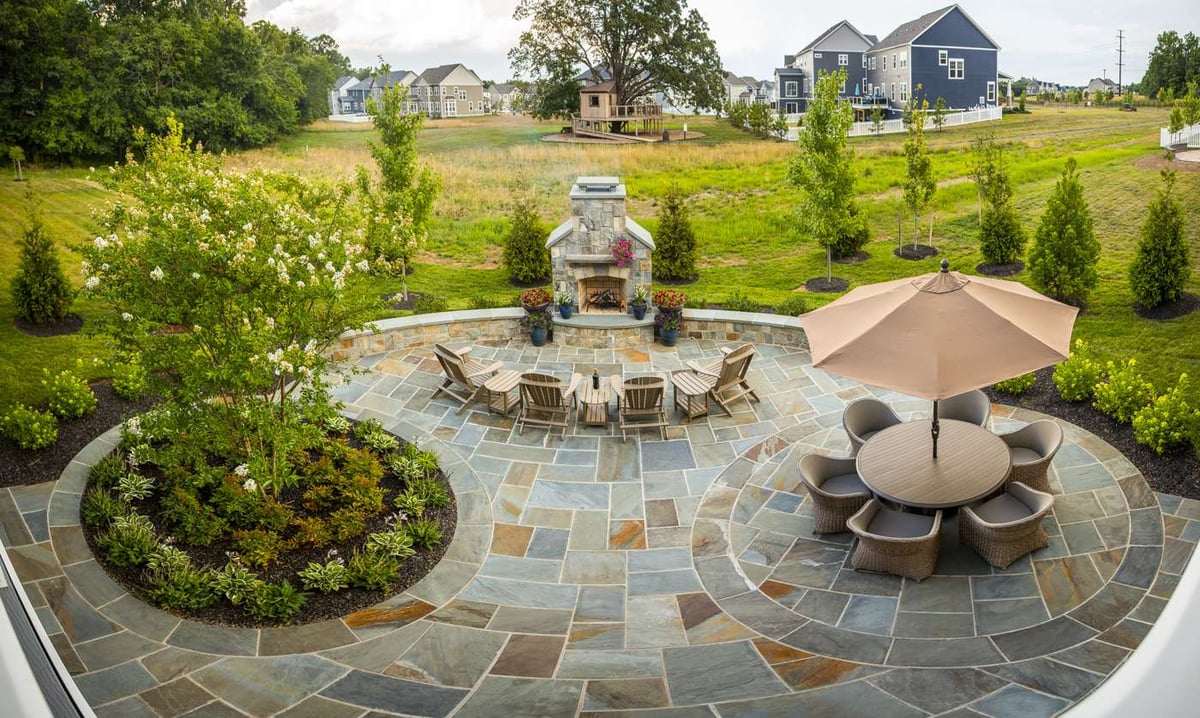 This is important from an ROI perspective as well. Natural stone is going to hold its value for the long haul—and that's important when you're making a large investment. Wouldn't you rather pay a little bit more for a product that's going to last a lifetime and give you an optimal return on investment? We find that once most homeowners understand what they're paying for, they'd prefer to invest in the highest quality patio so that they can count on long-term enjoyment and ROI.
How Much Does a Patio Cost to Build?
As you probably already understand, patio cost is determined by both the cost of the material and the labor.
In terms of specifically how much a patio will cost, there are many factors that can dramatically impact the price. Let us at least give you some starting points so you can have a place to begin in answering how much does a patio cost?
Natural stone patios start at $20,000.
This would be a base price for a basic patio without any features or add-ons. It's honestly the features that make a patio unique so most people start with this patio cost and build from there.
(We have built some patios for slightly less, but they are typically pretty small, just enough to accommodate a small table and a grill).
Natural Stone Masonry Walkways are between $7,000 and $15,000+
One of the features that most homeowners consider adding to their patio areas are walkways. These generally start around $7,000 and go up from there, depending upon the size, material, and how elaborate the design may be.
Natural stone patios with features range between $30,000 and $60,000
A lot of the natural stone patios that we design and build fall into this range as they also feature outdoor kitchens or fire features.
The "Ultimate" Patios are upwards of $60,000
Of course, we also work on a lot of ultimate backyards that really have all of the bells and whistles. The patio is at the heart of them but they also feature outdoor kitchens, fire features, pavilions, and possibly even pools.
Patio Value vs. Patio Cost
When it comes to evaluating cost, you have to also evaluate how much value you're going to get out of that patio. We've already talked about the return on investment being higher with natural stone. But in considering "value," we're talking about more than just dollar amounts. We're talking about the return on enjoyment that you will get out of this patio. This is also a critical piece to factor into the overall "value" the patio will bring to your property.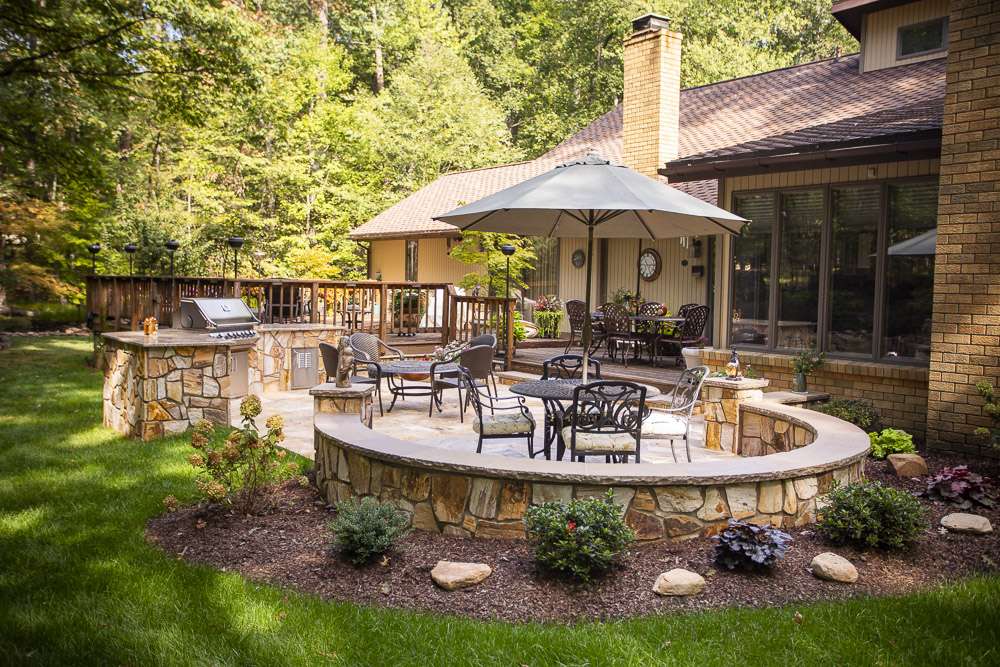 In the end, you want to invest in a patio that is going to get maximum use and enjoyment for years to come and it's important to weigh those factors in your overall cost comparison process.
Choosing a Patio Company that Can Deliver Value for Your Investment
When it comes to receiving the full value of your investment, it also means choosing a patio company that is going to be able to deliver on expectations. The last thing that you want is to end up with a patio that falls short because the company you chose was not able to design or build the patio of your dreams.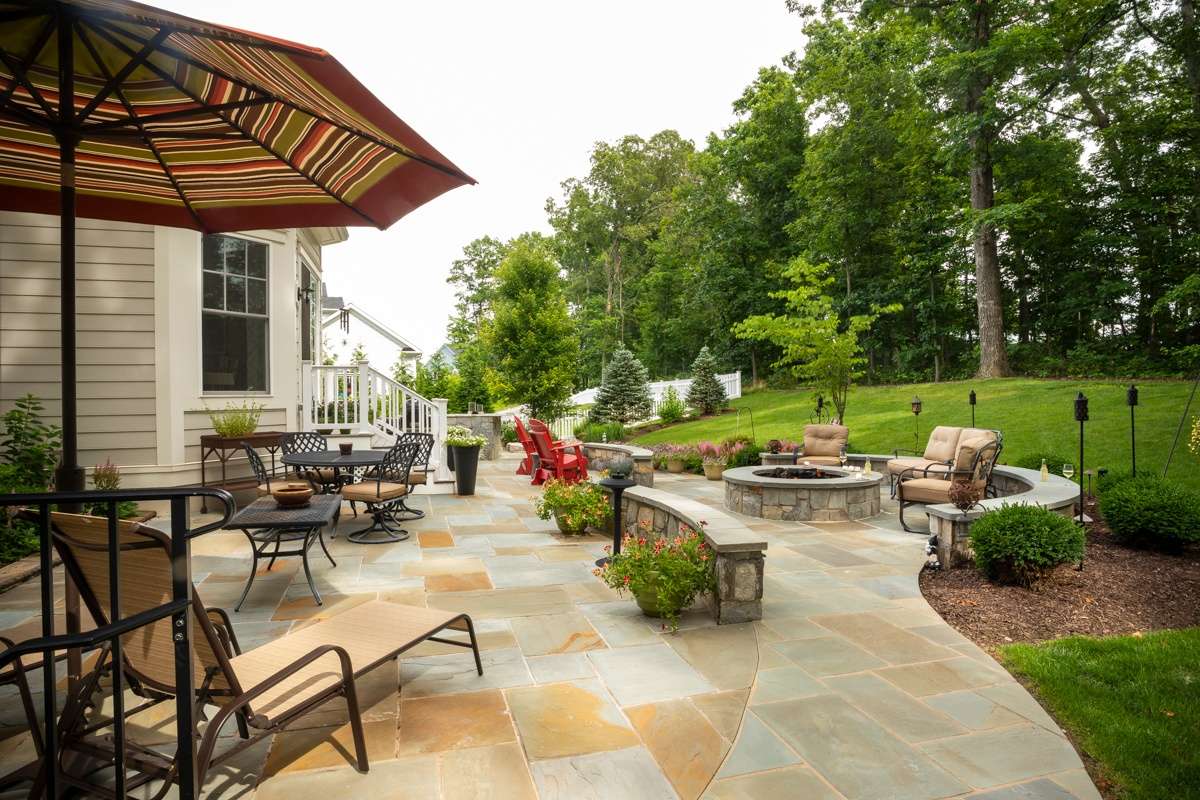 The truth is, a patio is a significant construction undertaking and it requires skills and expertise that not all companies have. It's more than just laying down stone. Everything from the excavating stage through the actual construction phase needs to be performed the right way or your patio could ultimately fail. Surely, you've heard horror stories or seen patios on your friends' or families' properties that have problems. They might be sinking or creating unexpected drainage issues.
When you're investing a lot of money into a patio you want to be confident that it's not only going to look great but it's going to be built properly so that it functions great, too.
This means you should also be factoring the quality of the company into your overall patio cost. Though you might find there is some variation in patio prices from one company to another, you have to question what accounts for those differences? It is ultimately worth paying a little bit more for a highly qualified company to build your patio than one that could make detrimental errors that impact your investment.
Making the Wise Choice That is More Than Just Patio Cost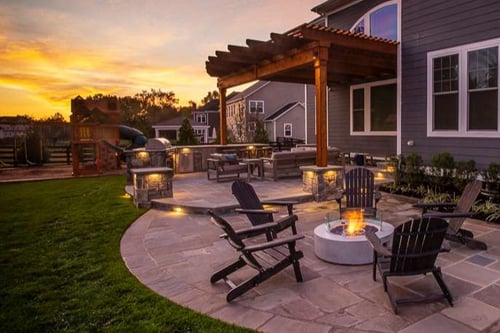 There's no question that choosing the best company to build your dream patio should come down to more than just the price tag. You want a company that has the experience and the know-how to design and build a patio that doesn't only look spectacular but functions properly and gives you great return on investment and return on enjoyment for years to come.
At Rock Water Farm, our expertise starts from the very beginning with our design process and extends all the way through to our skilled building. Every little detail is taken into account and the result is a patio that exceeds your expectations.
We truly care about our clients and their projects and want you to end up with a patio where you can make memories with friends and family well into your future. That's why you can count on us to lead you in the right direction and help bring your backyard dreams to life.
If you're ready to talk more about your patio at your Ashburn, Great Falls, or Haymarket, VA home, schedule a free consultation, or give us a call at 703-327-1636.