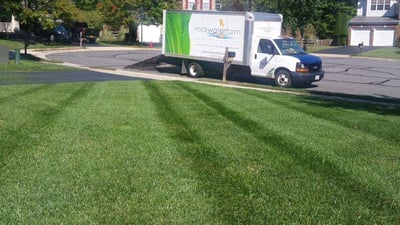 Most people go to a lot of trouble to try to make sure their lawn looks great. Whether it's proper mowing, lawn care treatments, or watering, getting lush green grass can take a lot of work.
But what happens when you put all that effort in and you don't feel like you're reaping the benefit? You just can't seem to get the lawn looking the way you hoped. Whether it's off-color, thin, not resilient to drought and other stresses, or has other issues, it's frustrating when your lawn isn't looking its best—despite what you might feel like are your best efforts.
Chances are you just might be missing some critical lawn care services if you're not getting the results you want. Lawn aeration, seeding, and topdressing are three very crucial tasks that are often neglected. Those three services, performed in that order, can make a huge difference in the overall look of your lawn. Here's exactly what they are and why you need to include them.
First:
Lawn Aeration Service
We find that most of our clients know that lawn aeration means making small holes by pulling small plugs throughout the yard but most people don't understand why they need it. Aeration is important because it allows more water, oxygen, and nutrients to penetrate the soil and get down to the root zone—where it's really needed. Lawn aeration helps to relieve soil compaction and improve root development. As roots are able to grow deeper, the result is a thicker, healthier lawn.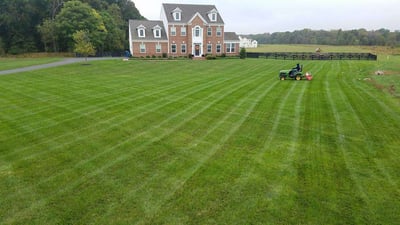 A lawn aeration service is performed by running a commercial-grade aerator across your lawn. At Rock Water Farm, we always do a double pass giving you the best possible results. We find that a lot of our competitors do not perform a double pass.
We also find that many of our clients ask about doing it on their own. The problem with trying to tackle lawn aeration on your own is that the equipment you rent will have been used (and potentially beat up) by many users before you. It's also not likely to be at the same professional level as the machine we run and therefore not necessarily as effective. It's typically not much more money to just hire a professional. You'll get better results and also be safer in the process. The best time to have lawn aeration done is in the fall when it will not disrupt the layer of crabgrass control that most put down in the spring.
Second:
Lawn Seeding Service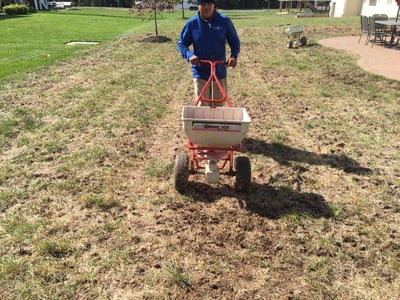 The best time to seed the lawn is immediately following lawn aeration when the seeds can fall into the holes that we created in the lawn. The fall weather provides the ideal conditions for seed germination, increasing the odds that your new grass will survive and mature.
To perform a lawn seeding service, we use push spreaders that are correctly set to properly seed your lawn at five pounds per thousand square feet. Seeding is another service that we find homeowners sometimes tackle on their own. The problem with that is the fact that seed sold at box stores is not always clean and may even have filler mixed in. With low-grade seed, you wind up growing weeds and paying extra money for weed control (essentially shooting yourself in the foot). But we use the highest-rated and cleanest varieties on the market—specifically, the top-rated, blue-tag fescue.
Third:
Topdressing the Lawn
Topdressing is another important but often neglected service that can help produce a lush, green lawn. After we aerate and overseed, we will topdress the lawn with compost, allowing it to fall into the holes we made. As the compost mixes with the clay, it helps create a better layer of topsoil by improving soil structure and microbial life.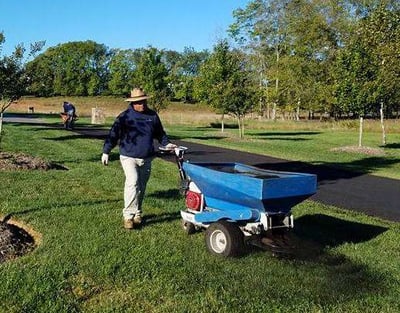 Topdressing the lawn should be done right after aeration as it's not nearly so useful to do it without the holes already there. As mentioned, the idea is for the topdressing to mix in with the existing clay soil. This is another service best left to the professionals as we use equipment to ensure that the material is spread out evenly.
That is a lot more effective than just slinging it out of a wheelbarrow. Even spreading is also important to the health of your lawn. If you end up with areas of clumped compost it can smother the yard. We also make two passes with topdressing to ensure your lawn gets good coverage.
Using Rock Water Farm for
Lawn Aeration
, Topdressing, and Seeding
At the end of the day, you must ask yourself whether you feel like spending your weekend performing these services, or whether it's best left to the professionals. What is your time worth to you? Not only are these services time-consuming, but lawn aeration, in particular, can be dangerous for an untrained professional to tackle. You could risk damaging your yard, or maybe even if your vehicle, with rented equipment. You're also likely going to get subpar results due to the type of equipment you'll be able to rent. In addition, rental equipment for topdressing is not commonly available. It's unlikely that you'll be able to properly topdress your lawn on your own.
Investing in a professional to perform these services will ensure the work is done right and that you get the best possible results. It will also ensure the work is done when the timing is right. We find that homeowners who decide to do it on their own tend to procrastinate. If you wait too long, the grass seed may not germinate as well (or potentially at all). At Rock Water Farm we'll make sure you get all three services done properly to help get the greenest and healthiest grass possible.
To find out more about lawn aeration, topdressing, and seeding with Rock Water Farm, contact us for a free consultation or give us a call at 703-327-1636 so we can answer your questions.